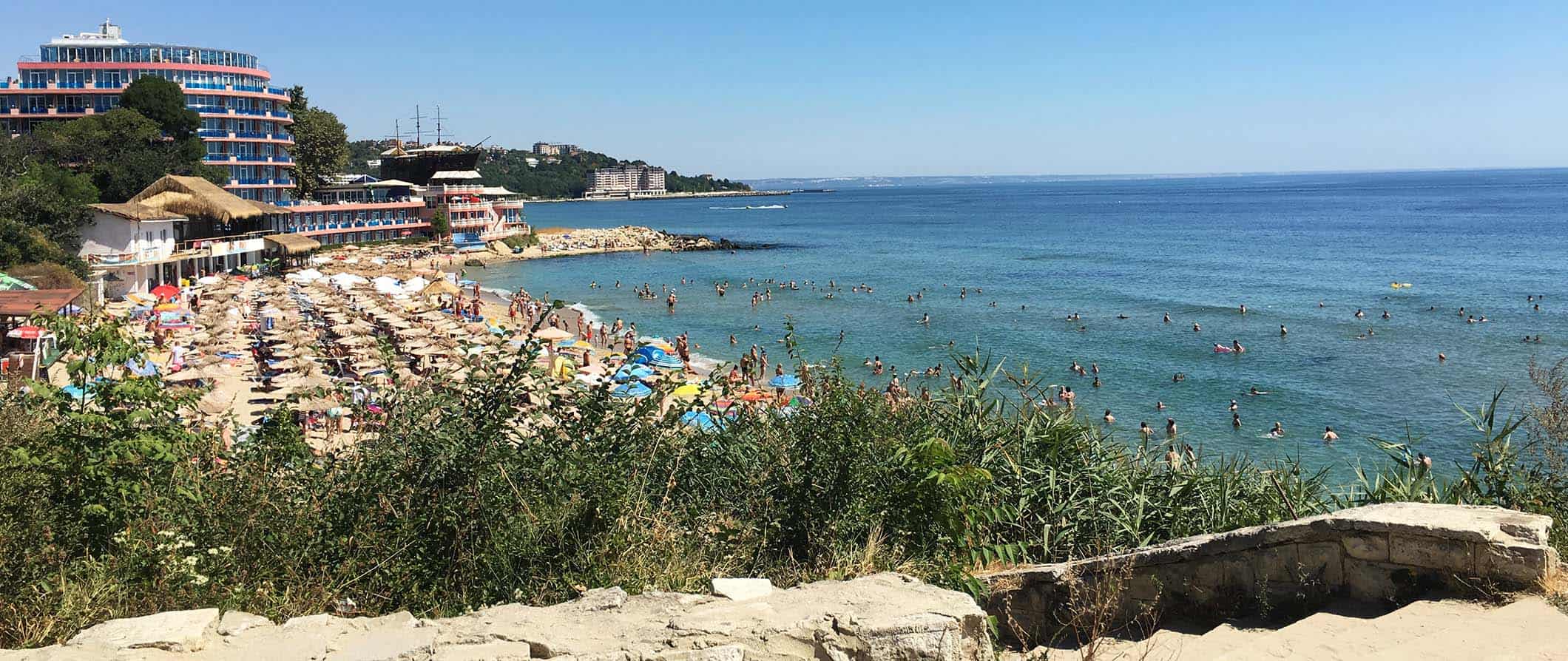 Varna is the third-largest city in Bulgaria and is a major tourist destination, especially during the summertime when its beautiful beaches fill up with visitors. Varna has a bunch of interesting historical sites, but it is mostly a summer destination. It's commonly known as the "sea capital" of Bulgaria. I had a lot of fun here wandering the streets, meandering through the vast central park, and sunning myself on the beach. At night, the bars and nightlife heave with tourists and locals looking to enjoy their summer holiday. It may not be an off-the-beaten-path destination, but it's a fun one and definitely worth a visit. If you only have time to hit one beach town, pick Varna!
Top 5 Things to See and Do in Varna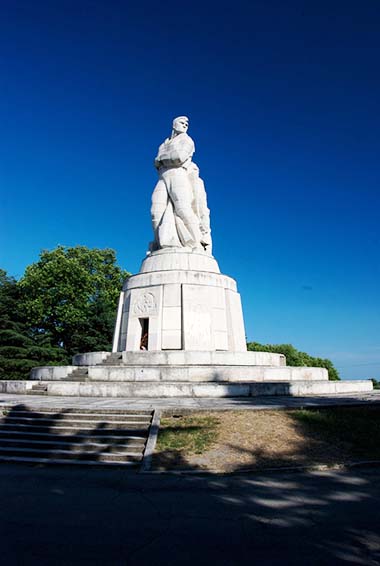 1. Primorski Park
Established in 1878, this park stretches for 5 miles — it is the largest of its kind in Europe. There is always something going on here, and there are several cafés located nearby, in addition to an aquarium and a summer theater.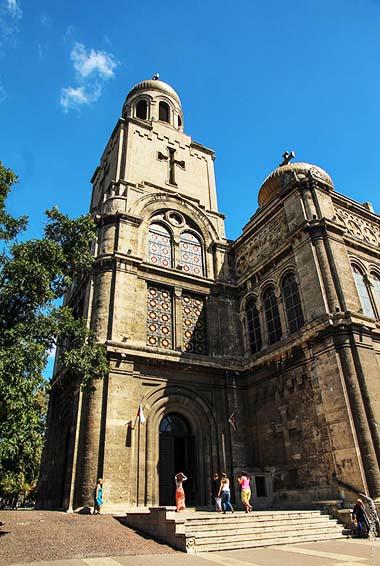 2. Tour the churches
Varna has a good collection of Eastern Orthodox Churches. Pay a visit to Theotokos Panagia, the Assumption of Mary Cathedral, or the Church of St. Nicholas the Miracle Worker. As another option, head out of town to see the Aladzha Manastir cave monastery.
3. Varna Necropolis
This prehistoric archaeological site is home to the oldest processed gold, dating back 7,000 years. This fascinating exhibit can be found at the Archaeological and Historical Museum Varna. It's open daily (except Mondays) from 10am-5pm. In the summer, it's open every day. Admission is 10 BGN.
4. Wander Kraybrezhna Aleya
This is a coastal lane that offers beautiful beach views and some of Varna's hottest and most lively night action. During the summer, there are lots of clubs, restaurants, and bars open — however, most of them are closed later in the year.
5. Pobiti Kamani
Also known as the Stone Forest, this is a natural attraction located about 10 miles southwest of Varna. Years and years ago it was the seabed. There are several large caves that used to be grottos, which are fun to explore and hike through. It costs around 5-11 BGN to get there via bus or train and takes 30-45 minutes.
Other Things to See and Do
(Click the title to expand the text)
1. Visit the History Museum
Originally built in 1851 as the Belgian Embassy, this embassy- turned hotel-turned prison, and then turned-Museum of the Revolution (it's had an interesting evolution!), is now an integral piece of history itself. It overlooks the ruins of the Roman baths and is covered in ivy. It rocks. It's open daily from 10am-5pm (except Mondays, as well as Sundays in the winter).
2. Check out the Ethnographic Museum
Within a revival-era mansion lies one of the most impressive museum collections the country has to offer. There are several displays of agricultural implements and exhibits on wine-making, weaving, and fishing practices from the 19th and 20th centuries. There is also a lot of period furniture, costumes, and jewelry. Admission is 5 BGN and it's open daily 10am-5pm, except for in the winter when it's closed Sundays and Mondays.
3. Check out the Zoopark
This little place is home to a range of animals, including wolves, lions, monkeys, a camel, goats, a bear, and various birds. The displays aren't super impressive and many of the animals are housed in concrete enclosures. Admission is 1.50 BGN. It's open daily in the summer from 9am-6pm and in the winter it closes at 4:30pm.
4. Go to the Festival and Congress Center
This is one of the most prestigious cultural institutions in the entire Balkan's region, located on the Black Sea shore (next to the Sea Garden) in the center of the city. It is quite modern-looking and much of the building is set underground. Various festivals, cinema and theater performances, exhibitions, shows, conferences, symposia, and congresses are held here. There is also a handful of restaurants and café-bars here.
5. National Astronomy Observatory
This attraction is host to many neat things including a projection of the solar system in different seasons (and from different points of the world), the Foucault Pendulum, teaching expositions, binoculars, and telescopes for use. Entrance is a mere 5 BGN.
6. Explore the Naval Museum
Varna's history is tied to the sea, so if that interests you, consider paying a visit to the Naval Museum. The highlight here is the "Drazki," a destroyer that torpedoed a Turkish cruiser during the Balkan War in 1912. Admission is 2 BGN. The museum is open Tuesday-Sunday from 10am-6pm and Tuesday-Saturday from 9:30am-5:30pm.
7. Go bungee jumping
If you need a thrill, you can try bungee jumping off the 100 foot high Asparuhov Most bridge. Expect to pay around 72 BGN.
8. Grab a drink at Hotel Cherno More
The top floor of this hotel offers the best view of Varna so here to watch an incredible sunset (and have yourself a refreshing drink too!).