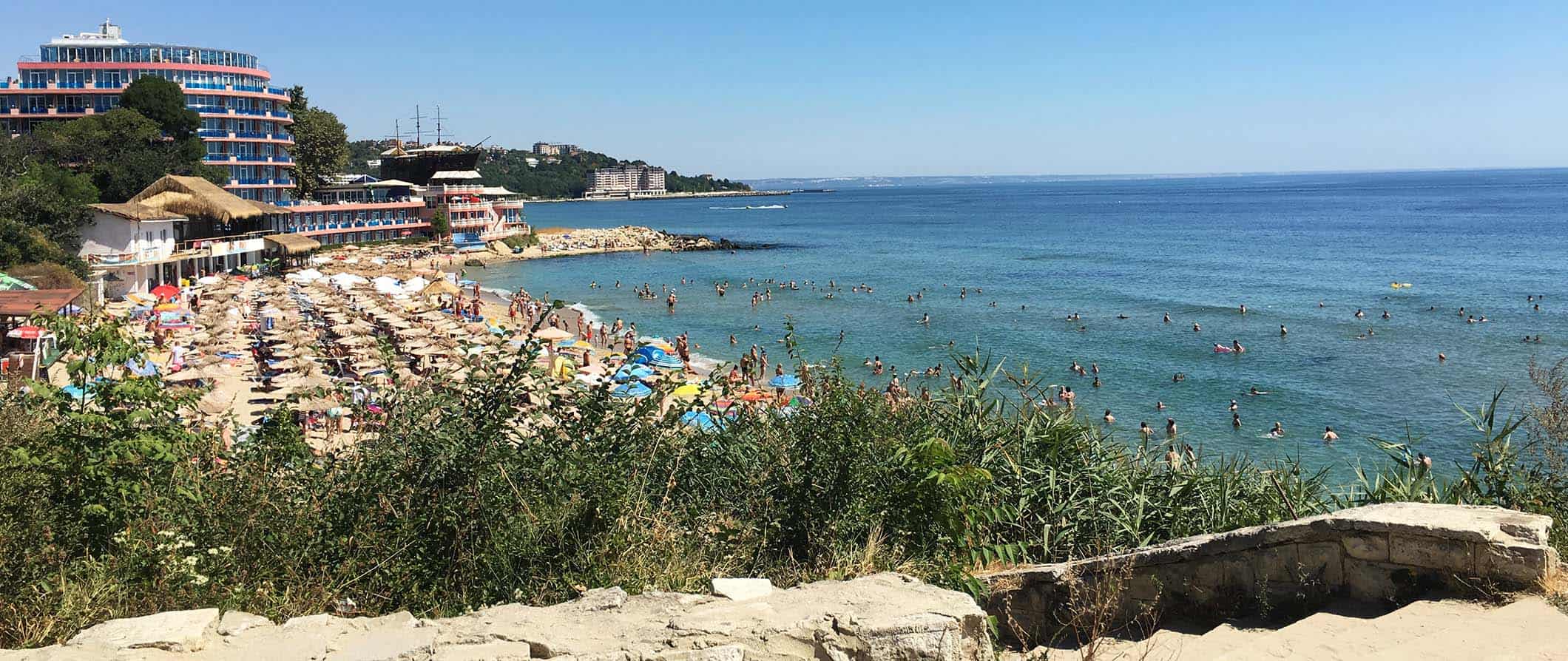 Varna is one of Bulgaria's most popular destinations. While just over 335,000 people call the city home, during the summertime, its pristine Black Sea beaches fill up with over 1 million people, drawn to the sunny weather and fun nightlife.
I had a lot of fun wandering the streets, visiting the Roman Baths, walking through the big central park, and just hanging out at the beach. At night, the bars and restaurants are teeming with people looking to enjoy their summer holidays.
It may not be an off-the-beaten-path destination, but it's a fun one and definitely worth a short visit. If you only have time to hit one beach town in Bulgaria, pick Varna.
This Varna travel guide can help you plan your trip, save money, and ensure you make the most of your visit.
Top 5 Things to See and Do in Varna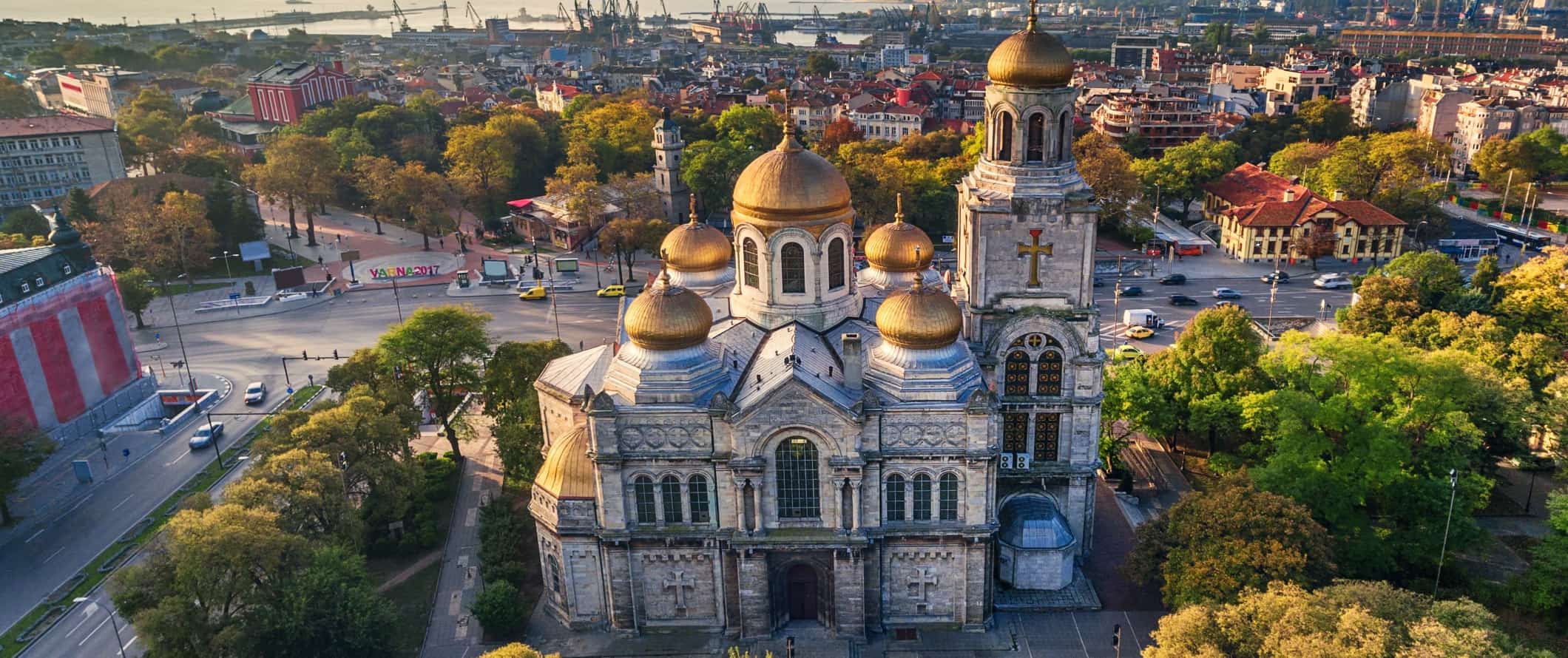 1. Visit Primorski Park
Established in 1878, this spacious park overlooks the sea and spans over 8 kilometers (5 miles). Also known as The Sea Garden, it is the oldest public park in Varna and one of the biggest city parks in the Balkans. It stretches along the Black Sea and offers sweeping views and great people-watching. Throughout the park, you'll find some beautiful fountains from the early 1900s. The "bridge of wishes" can be found at the start of the main alley and legend has it that if you walk backward with your eyes closed your wish will be granted. There is even a small pond with boat rentals within the park. You'll always find a concert or event going on here during the busy summer. There's also an aquarium, zoo, and planetarium worth visiting here too.
2. Tour the Dormition of the Theotokos
Don't miss the 19th-century Dormition of the Theotokos Cathedral, where you can climb its narrow stairs for stunning views over the city and sea. The stunning cathedral opened in 1886 and features iconic golden domes that have become a symbol of Varna. It was originally built as a Christian monument to the people who fought and died in the Russo-Ottoman wars (which occurred between the 16th and 20th centuries). Within the walls, you'll find stunning frescos and colorful murals.
3. Visit the Varna Archaeological Museum
This museum is home to the treasure discovered in the Varna Necropolis, a prehistoric archaeological site and burial ground on the western end of Varna that was discovered in 1972. The Gold of Varna, as the discovery was dubbed, contains the oldest processed gold in the world, dating back 7,000 years to when the Thracians lived in the area. The museum also oversees the two most famous open-air archeological sites in Varna, including Roman baths and the grotto of Aladzha Monastery in the Golden Sands Nature Park. The museum was founded in the late 1800s and is housed in a historic Neo-Renaissance-style building. It is one of the largest museums in Bulgaria. Aside from the exhibits, you'll find a library, a café, and a children's museum here as well. Admission to the museum is 8 BGN and you can check out the archeological sites for an additional 4 BGN each.
4. Wander Kraybrezhna Aleya
This is a coastal walkway that meanders along the beach and offers scenic views. It is one of the best places to spend a day by the sea in Varna. During the summer, there are lots of clubs, restaurants, and bars open — however, most of them are closed later in the year as Varna is mostly a summer getaway destination. If you are visiting during tourist season, this is one of the top places to experience a little of Varna's nightlife, with many clubs staying open to the early morning hours.
5. Go to Pobiti Kamani
Pobiti Kamani, or Stone Desert, is a 50-million-year-old collection of stone pillars that were once part of an ancient reef on the Black Sea. The giant tube-like pillars are somewhat of a mystery – some experts believe that they formed from coral activity while others believe they formed from weathering. First discovered in 1829, the area was soon preserved as a natural landmark. They're strange structures, measuring up to 7 meters (22 feet) and surrounded by one of the few deserts in Europe. You'll feel as though you've stepped into another world because the desert landscape is so different from the rest of Bulgaria, complete with flora and fauna like cactuses and reptiles. Entrance is 3 BGN.
Other Things to See and Do in Varna
1. See the Roman Baths
Varna's Roman Baths date to the 2nd century CE and are remarkably well-preserved. They're the largest in Bulgaria and the fourth largest in all Europe. Wander around the complex and learn about how the Romans used their advanced floor and water heating systems to keep the baths going. Admission is 4 BGN.
2. Hang out at the beach
Leave the city behind and check out Varna's lively beach scene. There are tons of clubs, bars, and cafes along the shoreline where you can grab a cocktail or a beer. If you want to get away from the craziness of the main beach, head to nearby Fichoza for a quieter time.
3. Visit the History of Varna Museum
Originally built in 1851, this building was once the Belgian Embassy, a hotel, and a prison before becoming the History of Varna Museum. This museum's exhibits take you through the post-independence age (1878-1939) of Varna with recreated rooms from the period, a photography and postcard collection, and other artifacts, including historic brewing equipment. It's a great place to learn more about this often-overlooked city. Admission is 5 BGN.
4. Check out the Ethnographic Museum
Within this Revival-era mansion lies one of the most impressive museum collections Bulgaria has to offer. It covers life from the 19th and 20th centuries and showcases agricultural tools, wine-making, weaving, fishing, and more. There is also a lot of period furniture, clothing, and jewelry covering this period in Varna's history. Admission is 4 BGN.
5. Go to the Festival and Congress Center
This is one of the most prestigious cultural institutions in the Balkans. There are always festivals, cinema and theater performances, exhibitions, shows, conferences, symposia, and other events taking place here. It's also home to a handful of restaurants and cafés. Try to catch something there while you're in town. Check the website to see what's on during your visit as there is always something interesting going on.
6. Visit the Astronomical Observatory
The Astronomical Observatory is the largest and most modern observatory in the Balkans. Its main highlight is the epic projection of the solar system in different seasons (and from different points of the world) on a giant hemispherical dome. There are always educational seminars taking place here, and you can use the observatory's telescopes too. It's super informative! Admission is 5 BGN.
7. Tour the Naval Museum
Varna's history is tied to the sea so consider paying a visit to the Naval Museum. Opened to the public in 1923, the highlight here is the Drazki, a destroyer that torpedoed a Turkish cruiser during the Balkan War in 1912. There are also exhibits featuring model ships, uniforms, anchors, artillery, and more. Admission is 5 BGN.
8. Go bungee jumping
If you need a thrill, go bungee jumping off the 30-meter (100-foot) Asparuhov Most bridge. You'll soar through the air above a canal with a panoramic view of the city spread out before you. It's 80 BGN for one jump.
9. Explore Aladzha Manastir Cave Monastery
This mysterious rock monastery is composed of a series of caves that were first inhabited by 11th-century hermits. Little else is known about the monastery's origin or why they used the caves, though they are decorated by colorful frescoes from the 13th and 14th centuries. There are also catacombs and a tiny archaeological museum here. Tickets are 5 BGN.
For more information on other cities in Bulgaria, check out these guides:
Varna Travel Costs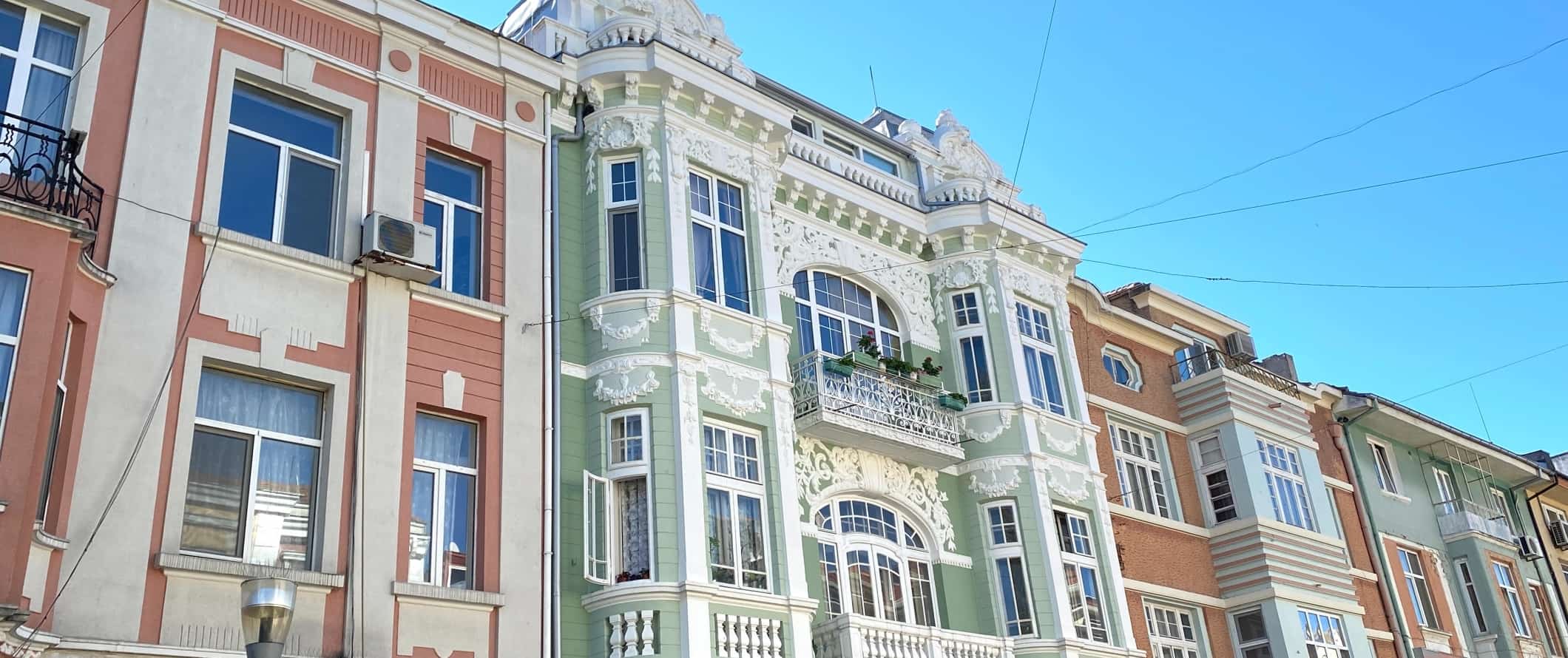 Hostel prices – Most hostels in Varna cost 16-20 BGN per night for a dorm bed in a room with 4-6 beds. Private rooms cost 50 BGN per night. Free Wi-Fi is standard and most hostels have self-catering facilities.
For those traveling with a tent, wild camping is illegal in Bulgaria. There are some campgrounds outside the city, though most are for RVs or cabin rentals and don't have websites where you can book a spot.
Budget hotel prices – Budget two-star hotels cost 40-100 BGN, but there aren't too many of them in the city. For a three-star hotel, prices start at 70-115 BGN per night. Expect basic amenities like TV and free Wi-Fi.
Airbnb is available in Varna, with private rooms starting at 25-40 BGN per night. You can find an entire home/apartment for 50 BGN per night, though prices average double that or more so be sure to book early.
Food – Bulgarian cuisine is hearty and similar to that of its Balkan neighbors. Meaty stews with lamb, goat, or chicken are common, as are sausages and all kinds of yogurts (dairy products are big here). Popular dishes include kebapche (grilled mincemeat), shopska salad (a salad with tomato, cucumber, and cheese; similar to Greek salad), and moussaka (an eggplant dish, usually with ground meat).
Street food like banica (cheese pastry) is as little as 1.50 BGN. You can pick up a hearty shopska salad for 7 BGN or a kebab for half that.
A fast-food meal (think McDonald's) costs 10 BGN. A traditional meal at a casual restaurant shouldn't cost more than 15 BGN, while a local beer at the bar is 4 BGN. If you want to splash out, a three-course meal costs around 30 BGN.
Lattes cost around 3 BGN while bottled water is around 1.65 BGN.
Grocery shopping is very cheap here. A week's worth of basic staples like pasta, rice, seasonal produce, and some meat or seafood costs around 45-65 BGN.
Backpacking Varna Suggested Budgets
If you're backpacking Varna, expect to spend 55 BGN per day. This assumes you're staying in a hostel dorm, cooking all your meals, limiting your drinking, taking public transportation to get around, and doing mostly free activities like enjoying the beach. If you plan on drinking or partying, add 10-20 BGN to your daily budget.
On a mid-range budget of 140 BGN per day, you can stay in a private Airbnb, eat out for most meals at cheap fast food joints, enjoy a couple of drinks, take the occasional taxi to get around, and do more paid activities like visiting museums and going bungee jumping.
On a "luxury" budget of 275 BGN or more per day, you can stay in a hotel, eat out for all your meals, drink more, rent a car or take more taxis, and do whatever tours and activities you want. This is just the ground floor for luxury though. The sky is the limit!
Accommodation
Food
Transportation
Attractions
Average Daily Cost
Backpacker
20
15
10
10
55
Mid-Range
50
40
25
25
135
Varna Travel Guide: Money-Saving Tips
Varna is generally very affordable, but it's a popular beach destination for vacationers from all over Europe so be prepared to pay more during peak summer season. Here are some ways to save money in Varna during your visit:
Stay with a local – Nothing's cheaper than sleeping for free! Couchsurfing connects you with locals who can give you a free place to stay while sharing their insider tips with you. It's an awesome cultural exchange website. Just send your requests early in the summer.
Take a free walking tour – Walking tours are a great way to get familiar with a city and its culture. Varna's municipality organizes a free Varna Highlights Walk a few times a week, starting at the Tourist Information Center. Check with them for exact times and dates.
Visit during the off-season – Winter is Varna's off-season, which is a great time to visit if you want to save money on accommodations. Keep in mind that many businesses are closed during this time, however, prices are also much lower so it's a trade-off.
Get a Varna City Card – The Varna City Card has tons of good deals, including free admission to 15 museums and a free beer tour and tasting. It's 24 BGN for a one-day pass, 30 BGN for a two-day pass, and 36 BGN for a three-day pass.
Bring a water bottle – The tap water here is safe to drink so bring a reusable water bottle to save money and reduce your plastic use. LifeStraw is my go-to brand as their bottles have built-in filters to ensure your water is always clean and safe.
Where to Stay in Varna
While Varna is a resort and hotel destination, there are a couple of hostels here worth staying in. Here are my suggested places to stay:
How to Get Around Varna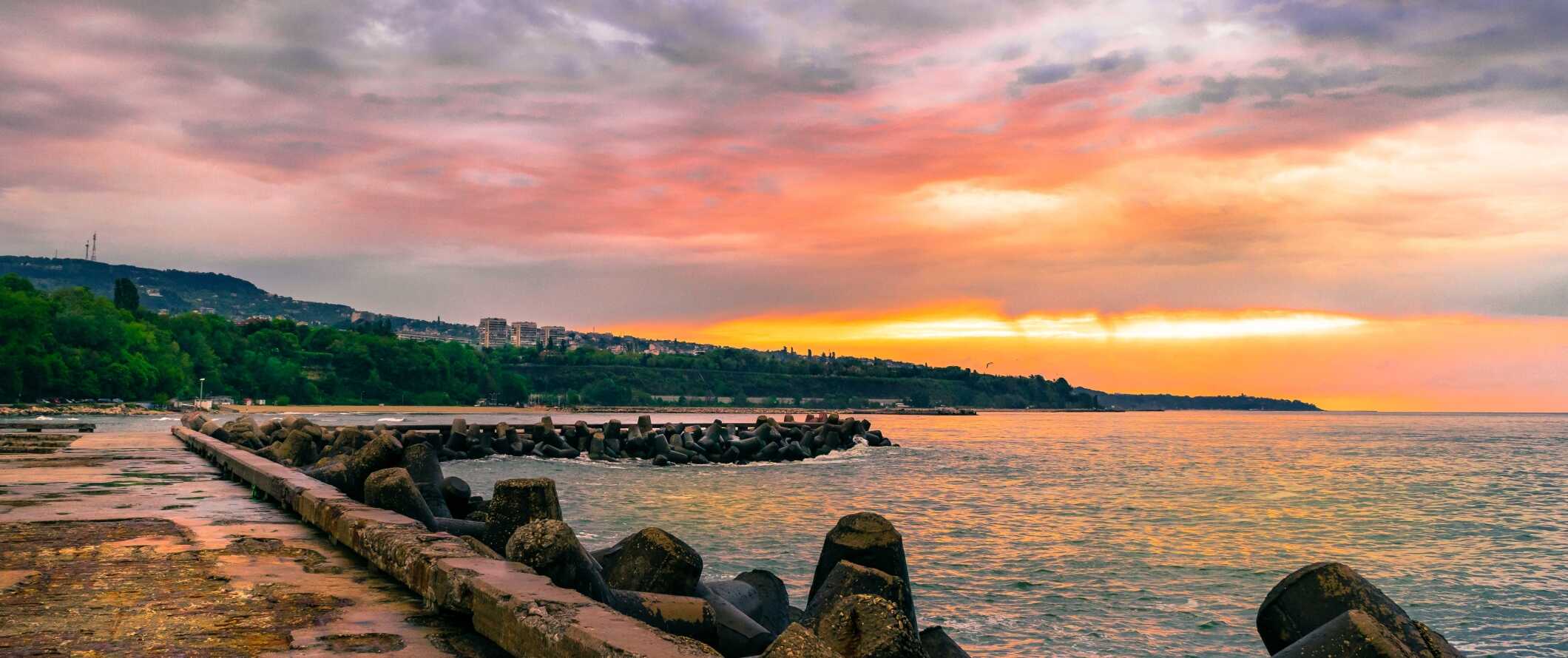 Public transportation – Varna is a small city that's well connected by bus. You can buy a one-way fare for 1.60 BGN. To check schedules and plan your route, use the Moovit app.
Taxi – The starting rate for a taxi in Varna is 2 BGN, and then an additional 1.61 BGN per kilometer. Just make sure your driver uses a meter as some drivers will try to scam visitors by not turning it on.
There are no ride-sharing services like Uber here.
Bicycle – Varna is easy to get around by bicycle. You can rent a bicycle 17 BGN per day from Rent a Bike Varna, or hourly for 4 BGN.
Car rental – Car rentals are super affordable, costing as little as 25 BGN for a multi-day rental. However, unless you're leaving the city to explore the region you won't need one. Drivers need to be at least 21 years old to rent a car. An IDP (International Driving Permit) is also required.
For the best car rental prices, use Discover Cars.
When to Go to Varna
Being a beach destination, the best time to visit Varna is in the summer. The area experiences the highest temperatures between June and August, with average daily highs hovering around 27°C (81°F). It rarely gets cooler than 15°C (59°F) at night. This is the busiest time of year for Varna so expect inflated prices and larger crowds.
If you're more interested in visiting Varna's historic or scenic attractions than hanging out at the beach, spring (April-May) is the best time to visit. Temperatures are pleasant, with highs around 22°C (72°F), and rain is minimal.
Fall (September-October) and Winter (December-February) are the least busy times to visit with temperatures dropping below 0°C (31°F) in winter. Many of Varna's attractions close for the late fall and winter season so I'd probably skip a winter visit if you can.
How to Stay Safe in Varna
Varna is a very safe city. Violent crime is rare here so petty crime like pickpocketing is the most common danger you'll face (but even those incidents are rare). Nevertheless, always keep your valuables secure and out of sight just to be safe.
Don't leave your valuables unattended at the beach as theft there can occur (especially during the summer).
When taking a taxi, make sure the driver uses the meter so you don't get ripped off. If they don't, get out and find a driver who will.
Solo female travelers should generally feel safe here, however, the standard precautions apply (never leave your drink unattended at the bar, never walk home alone intoxicated, etc.).
If you're worried about getting scammed, you can read about common travel scams to avoid here.
If you experience an emergency, dial 112 for assistance.
The most important piece of advice I can offer is to purchase good travel insurance. Travel insurance will protect you against illness, injury, theft, and cancellations. It's comprehensive protection in case anything goes wrong. I never go on a trip without it as I've had to use it many times in the past.
Varna Travel Guide: The Best Booking Resources
These are my favorite companies to use when I travel. They consistently have the best deals, offer world-class customer service and great value, and overall, are better than their competitors. They are the companies I use the most and are always the starting point in my search for travel deals.
Skyscanner – Skyscanner is my favorite flight search engine. They search small websites and budget airlines that larger search sites tend to miss. They are hands down the number one place to start.
Hostelworld – This is the best hostel accommodation site out there with the largest inventory, best search interface, and widest availability.
Booking.com – The best all around booking site that constantly provides the cheapest and lowest rates. They have the widest selection of budget accommodation. In all my tests, they've always had the cheapest rates out of all the booking websites.
HostelPass – This new card gives you up to 20% off hostels throughout Europe. It's a great way to save money. They're constantly adding new hostels too. I've always wanted something like this and glad it finallt exists.
Get Your Guide – Get Your Guide is a huge online marketplace for tours and excursions. They have tons of tour options available in cities all around the world, including everything from cooking classes, walking tours, street art lessons, and more!
The Man in Seat 61 – This website is the ultimate guide to train travel anywhere in the world. They have the most comprehensive information on routes, times, prices, and train conditions. If you are planning a long train journey or some epic train trip, consult this site.
Rome2Rio – This website allows you to see how to get from point A to point B the best and cheapest way possible. It will give you all the bus, train, plane, or boat routes that can get you there as well as how much they cost.
FlixBus – Flixbus has routes between 20 European countries with prices starting as low 5 EUR! Their buses include WiFi, electrical outlets, a free checked bag.
SafetyWing – Safety Wing offers convenient and affordable plans tailored to digital nomads and long-term travelers. They have cheap monthly plans, great customer service, and an easy-to-use claims process that makes it perfect for those on the road.
LifeStraw – My go-to company for reusable water bottles with built-in filters so you can ensure your drinking water is always clean and safe.
Unbound Merino – They make lightweight, durable, easy-to-clean travel clothing.
Varna Travel Guide: Related Articles
Want more info? Check out all the articles I've written on backpacking/traveling Bulgaria and continue planning your trip: