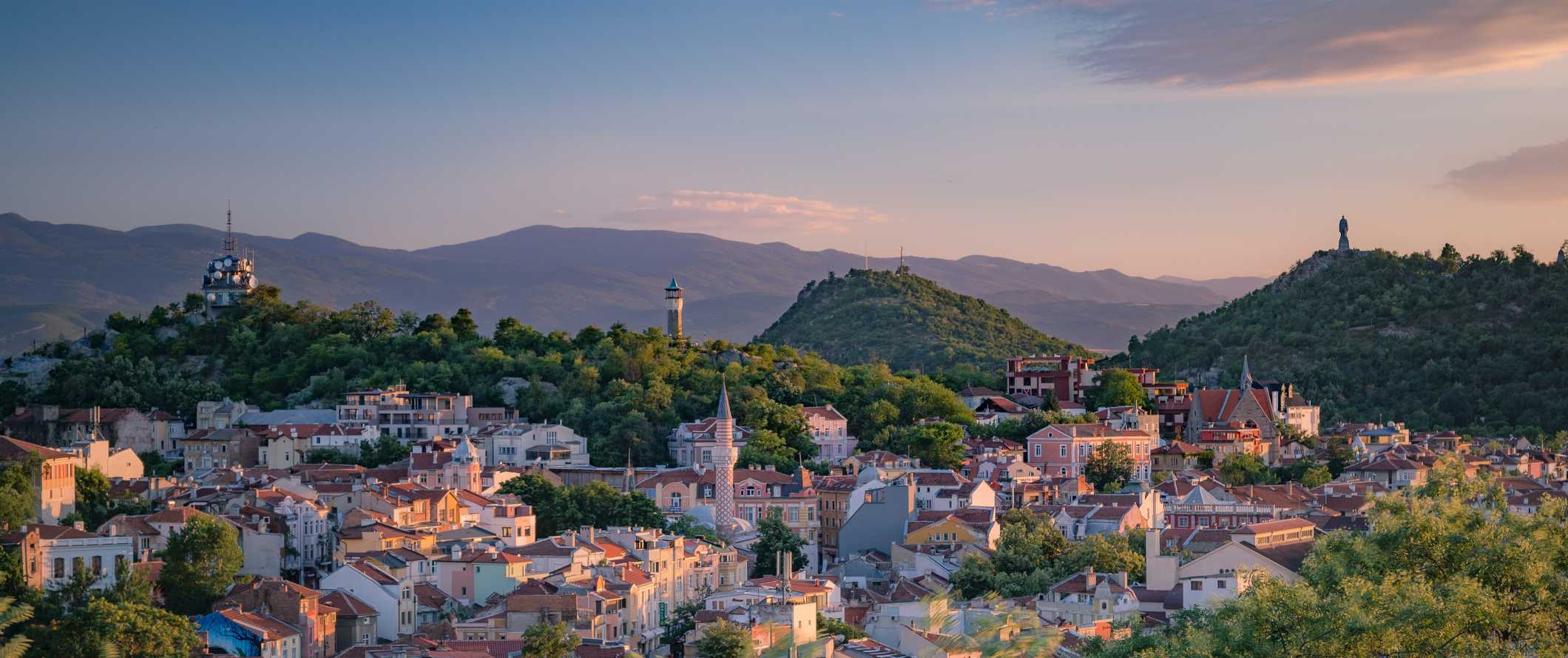 Plovdiv is the second-largest city in Bulgaria. It's also one of the oldest continuously inhabited cities in Europe, its history stretching back all the way to the 6th century BCE.
Plovdiv's museums, artsy neighborhoods, cobbled streets, Roman ruins, and brightly painted 19th-century mansions make this city a fun, budget-friendly destination.
I loved my time visiting here and it became one of my favorite places in Bulgaria. I found the city to be a peaceful oasis with wonderful parks and ruins that lacked the tourist crowds of Sofia and the Black Sea coast.
Since the city is in the middle of the country, it's an easy place to visit as you move from one end of the country to the other.
This travel guide to Plovdiv can help you plan your trip, save money, and make the most of your time in this charming destination.
Top 5 Things to See and Do in Plovdiv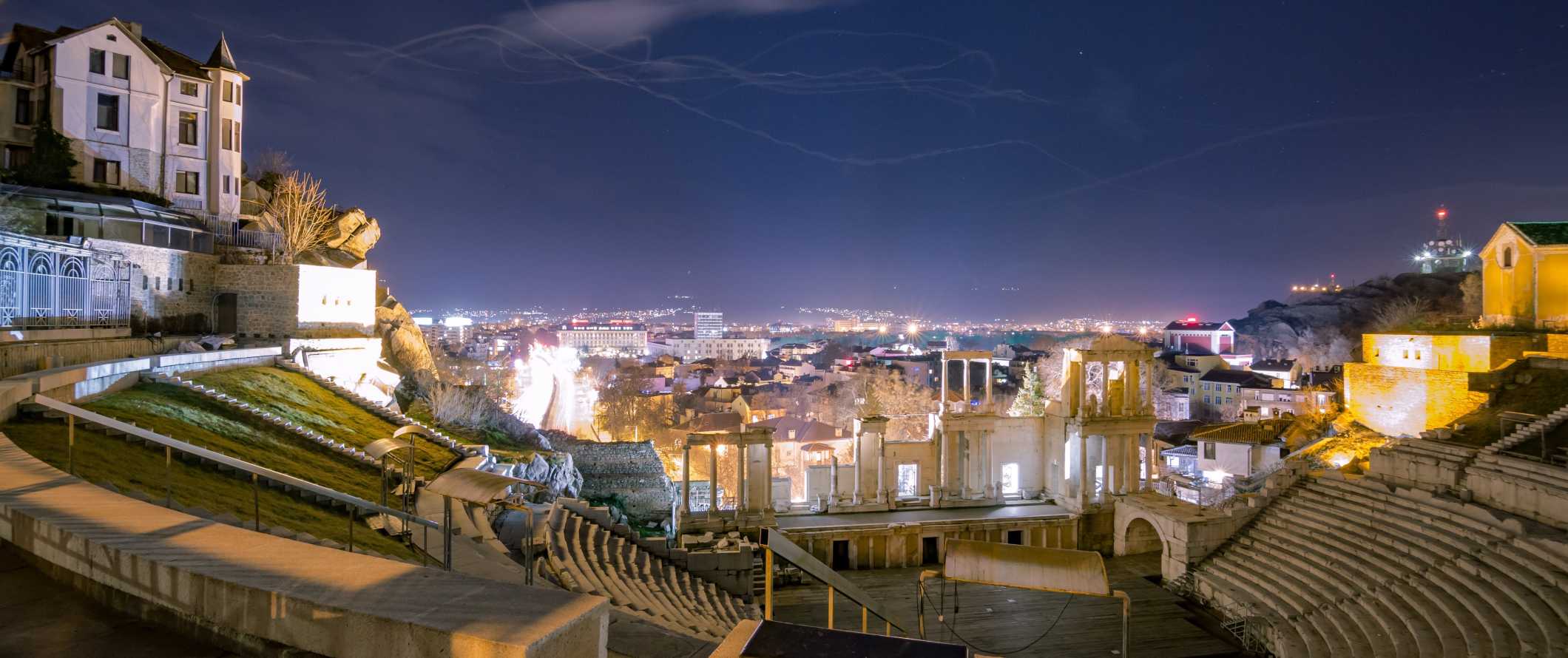 1. Attend the Night of the Galleries
Every year on September 28th, every single art gallery in Plovdiv stays open into the early hours of the morning. The event is also known locally as Plovdiv Night and is organized by the Open Arts Foundation. Inspired by a similar event in Berlin, Plovdiv began the citywide celebration in 2005. Every attraction in the city participates with its own unique offerings, including public and private museums, art galleries, theaters, cultural centers, bookstores, art spaces, and even urban clubs. Admission is free no matter where you go. You can take free chocolate tours, attend poetry readings, and take part in free events at various bars and cafes too. Tens of thousands of people take part!
2. See the Roman Amphitheater
This ancient Roman theater dates to the first century CE. Modern-day Plovdiv sits on what was once the ancient Roman city of Philippopolis, and the massive ruins of the theater are located in the heart of the city center. Its 28 rows of marble seats once seated up to 6,000 people and it was used for athletic displays such as gladiator fights. Incredibly, the expansive ruins were only recently discovered in the 1970s after a landslide revealed part of the ruins. The Bulgarian Conservation School then began excavating the area and removed around 4.5 meters of earth to uncover the entire structure. It's one of the best-preserved Roman amphitheaters in the world. Today, it's used as a stage for drama, music, and opera performances. You can tour the site for 5 BGN.
3. Tour the Archaeological Museum
One of Plovdiv's original cultural hubs, the museum was first established in the late 1800s. The collection grew until it was officially designated as an Archaeological Museum in the 1920s. Experience the ancient history of the prosperous city of Philippopolis, one of the most important ancient Balkan cities, which once occupied the same land where Plovdiv was built. The collections are organized chronologically, and you'll begin the tour with Neolithic exhibits and then move through rooms full of artifacts that span the ages. This museum hosts over 100,000 items, including Roman pottery and jewelry, and an enormous collection of Thracian gold works from Panagyurishte (a town in southern Bulgaria) that date to the 3rd century BCE. Admission is 5 BGN.
4. Stroll the pedestrian street
Knyaz Aleksandar I is the main street in Plovdiv and is lined with cafés and shops in pastel-colored Baroque buildings. It stretches 1.75 kilometers (1 mile) and is one of the longest pedestrian streets in Europe. If you want to walk the whole thing, you can begin at the covered bridge which stretches over the Maritsa River. The bridge itself is filled with shops and offers nice views of the river. The long street is always filled with people. The area is lively and colorful with cool shops and unique street art. It's the best place for people-watching and to enjoy the local pace of life.
5. Day trip to Asenovgrad
Asenovgrad is an important agricultural and religious area in Bulgaria, dotted with monasteries and churches. On a visit to Asenovgrad, you can explore 5 monasteries, 15 churches, and 58 chapels. The town has been dubbed "The Little Jerusalem" due to its many religious institutions. It was first founded by the Thracians around 300 BCE and called Stenimachos. Like the rest of Bulgaria, the area is rich in history. The town also served as an important military stronghold in various wars over the years. Be sure to check out the Asenova Fortress for sweeping views of the surrounding hills and Asenitsa River. A bus or train from Plovdiv costs around 3 BGN and takes about 30 minutes.
Other Things to See and Do in Plovdiv
1. Take a free walking tour
Whenever I visit a new city, the first thing I do is take a free walking tour. It's the best way to see the main sights and learn about the culture on a budget. Plus, you'll get to connect with a local expert guide who can answer all your questions. Free Plovdiv Tour organizes a free daily tour that lasts two hours and covers all the main highlights. Just be sure to tip!
2. Tour Hindlian House
A wealthy Armenian merchant named Stepan Hindlian once owned this house in the Old Town, which was built between 1835-40. It contains an extensive collection of historic furniture from that period and the walls are covered in detailed landscape paintings. There's also an entire marble bathroom and a high-domed ceiling. It's a neat look at the lavish lifestyles of the city's former wealthy residents. It costs 5 BGN to visit.
3. Visit the Philippopolis Art Gallery
Bulgaria's first private art gallery is housed inside a stunning building designed in the National Revival Style of the early 1800s. You'll see works from 19th and 20th-century Bulgarian masters, including Vladimir Dimitrov, Anton Mitov, and Dimitar Gyudzhenov. There are also often exhibits from modern contemporary artists on display. Admission is free.
4. Attend the International Folklore Festival
Starting on the first weekend of August, Plovdiv turns into one giant open-air folklore music and dance festival. For five days, the streets are filled with parades, concerts, and dancing. Everyone dresses in traditional colorful regalia as they sing and dance. It's extraordinary to see! For information about each year's event, check the Visit Plovdiv website.
5. Go wine tasting
Bulgaria has some surprisingly tasty wines, and there are dozens of wine cellars scattered around Plovdiv that you can visit. You can take a tour of these cellars or venture out into the Thracian wine region to visit some of the area's best vineyards. The Thracian wine region covers the Thracian Valley, the Rhodope Mountains, and parts of the Balkan Mountains range and the Black Sea Coast. Most tours cost 160 BGN for a full day, and you'll get to visit several wineries, with lunch included.
6. Check out the Cultural Center Thrakart
This building, with its floor-to-ceiling windows, showcases an extensive collection of Roman floor mosaics, as well as various Roman artifacts, pottery, and sculptures dating to the 3rd century CE. There's also a section highlighting historic glassmaking techniques that's super interesting. Admission is 8 BGN.
7. See Sveta Marina Church
This little church from the 16th century does not get the attention it deserves. In addition to its 17-meter (56-foot) wooden pagoda-shaped bell tower and its 170-year-old iconostasis (a wall of religious icons and paintings), the church's outer walls display Old Testament murals. It won't take you long to see it all, and it's free.
8. Wander the Tsar Simeon Central Garden
This immaculate green space is the perfect escape from the hectic shopping area of Plovdiv's main street. There's a restored fountain of the Goddess Demeter and a Viennese pavilion at the center of the park. The Singing Fountains on the lake also put on a light show with water effects every Thursday, Friday, and Saturday at 9:30pm. It's the perfect place to wander, relax, and people-watch.
9. Make a trip to Bachkovo Monastery
Just outside of Plovdiv, this monastery dates to 1083 (although most of it was built in the 17th century). The main attraction in the monastery is the Church of Sveta Bogoroditsa, with its interior completely covered in colorful frescoes painted by Zahari Zograf in 1850. The refectory is also full of murals displaying the building's history. Pilgrims often come to the church to pray in front of the Madonna, which is encased in gold and silver. It's free to visit the monastery, but the on-site museum costs 4 BGN to visit.
10. Visit the Ethnographic Museum
This museum is housed in a 150-year-old building built in the Renaissance style. It's enveloped by a tranquil garden and takes you through Bulgarian life from the 19th century to the early 20th century using cultural artifacts like furniture, clothing, and tapestries. There are over 40,000 items in its collection so there's a lot to see! Admission is 6 BGN.
11. Hike Nebet Hill
Nebet Hill makes up one of the seven hills around Plovdiv, and it's the site of a giant former Roman fortress. There's not much left from the fort — all you'll find are some ruined walls and towers — but most people come up here for the views over Plovdiv, especially at sunset.
12. Explore "The Trap"
The Trap is the nickname given to the neighborhood of Kapana, which used to be the center for merchant trade and craftspeople. Nowadays, it's an artsy neighborhood filled with trendy restaurants, cafes, street art, bars, and galleries. Most of the area is now a pedestrian-only zone too so it's perfect for wandering and exploring on foot.

For more information on other cities in Bulgaria, check out these guides:
Plovdiv Travel Costs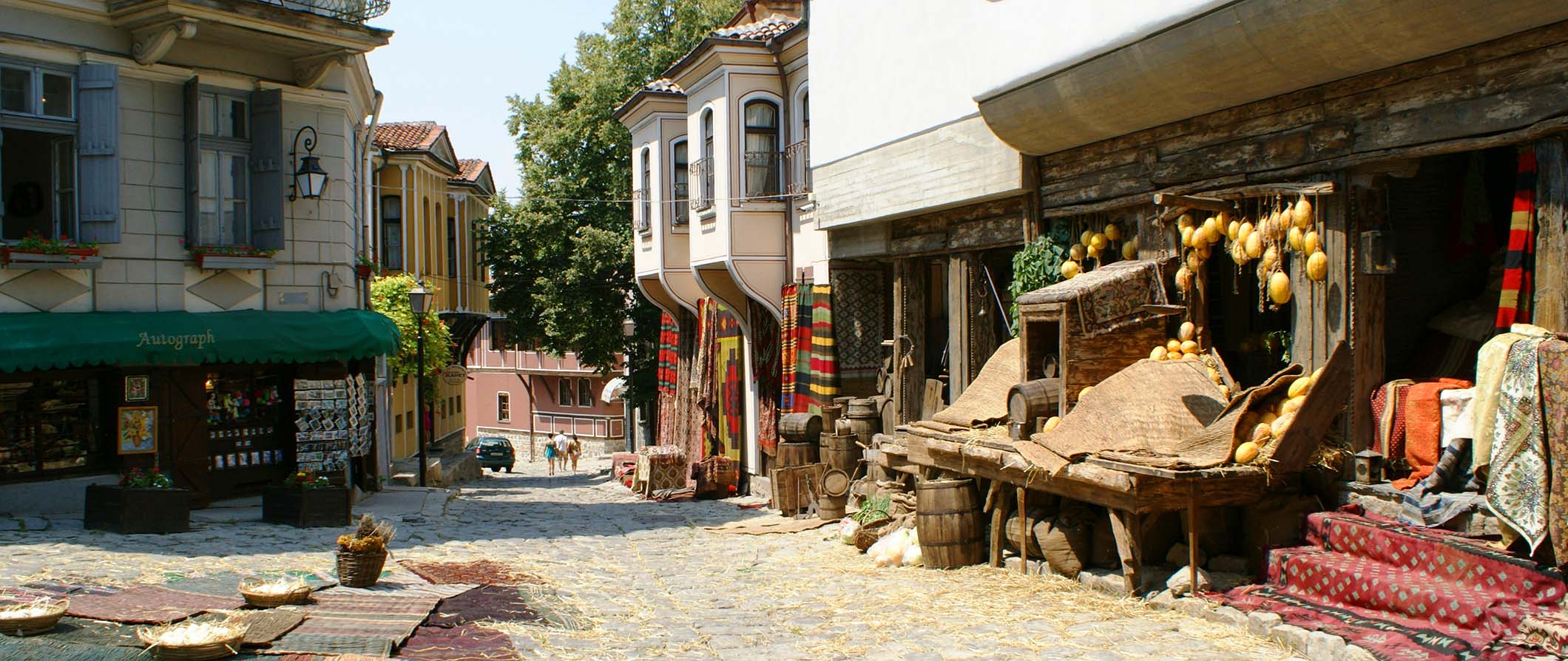 Hostel prices – Most hostel dorms in Plovdiv cost around 20 BGN for a bed in a 5-8-bed dorm. Private hostel rooms generally cost 53-65 BGN per night. Free Wi-Fi is standard and most hostels also include free breakfast.
Budget hotel prices – Budget two-star hotels cost 55-75 BGN per night. Expect basic amenities like free Wi-Fi, TV, and occasionally free breakfast.
Airbnb is an affordable option in Plovdiv, with private rooms costing 35-70 BGN per night. You can find an entire home/apartment for 55-100 BGN per night. Prices double when not booked early, however, so be sure to book in advance to find the best deals.
Food – Bulgarian cuisine is hearty and similar to that of its Balkan neighbors. Meaty stews with lamb, goat, or chicken are common, as are sausages and all kinds of yogurts (dairy products are big here). Popular dishes include kebapche (grilled mincemeat), shopska salad (a salad with tomato, cucumber, and cheese; similar to Greek salad), and moussaka (an eggplant dish with ground meat).
You can find food like banica (cheese pastry) for as little as 1.50 BGN, or you can pick up a hearty shopska salad or kebab for around 5 BGN.
A fast-food meal (think McDonald's) costs around 11 BGN. A traditional Bulgarian meal at a casual restaurant with a drink shouldn't cost much more than 15 BGN.
If you want to splash out, a three-course meal at an upscale restaurant costs around 30 BGN.
Beer is around 3-4 BGN while a latte/cappuccino is around 3 BGN. Bottled water is 1.38 BGN.
If you plan on cooking your own meals, expect to pay between 40-60 BGN per week. This gets you basic staples like pasta, rice, seasonal produce, and some meat.
Backpacking Plovdiv Suggested Budgets
If you're backpacking Plovdiv, expect to spend 60 BGN per day. This assumes you're staying in a hostel, cooking most of your meals, limiting your drinking, taking public transportation to get around, and sticking to mostly free activities like walking tours and hiking. If you plan on drinking, add 5-10 BGN to your daily budget.
On a mid-range budget of 135 BGN per day, you can stay in a private Airbnb, eat out for most meals at cheap cafes and fast food joints, enjoy a few drinks, take the occasional taxi, and do more paid activities like visiting museums and the Roman amphitheater.
On a "luxury" budget of 230 BGN or more per day, you can stay in a hotel, eat out anywhere you want, drink more, rent a car to get around or take more taxis, and do whatever tours and activities you want. This is just the ground floor for luxury though. The sky is the limit!
Accommodation
Food
Transportation
Attractions
Average Daily Cost
Backpacker
20
20
10
10
60
Mid-Range
50
35
25
25
135
Plovdiv Travel Guide: Money-Saving Tips
Prices in Plovdiv are pretty consistent compared with other destinations in Bulgaria, making it a very affordable place to visit. There are lots of cheap and free things to do here so it will be hard to break the bank unless you are looking to really try to spend your money. Here are some ways to cut your costs in Plovdiv:
Stay with a local – If you plan ahead, you can usually find really nice Couchsurfing host in Plovdiv. This way, you not only have a free place to stay, but you'll have a local host that can share their insider tips and advice.
Get a Plovdiv City Card – The Plovdiv City Card has tons of good deals, including free admission to 12 museums and a free wine tour. It's 24 BGN for a one-day pass and 36 BGN for a three-day pass.
Take a free walking tour – Walking tours are a great way to get familiar with a city and its culture. Free Plovdiv Tour is an excellent company to try. Be sure to tip your guide at the end!
Look for free events – Many of Plovdiv's events and festivals are free to attend, so ask your hostel or host what's going on during your visit.
Limit your drinking – Alcohol here is cheap so it can be all too easy to spend more than you want by going out to the bar. Buy your drinks from the store instead of the bar or cut back on your drinking altogether. Those cheap beers add up!
Skip the taxis – Taxis are cheap here, but they also add up. Stick to public transportation if you're on a budget.
Bring a water bottle – The tap water here is safe to drink so bring a reusable water bottle to save money and reduce your plastic use. LifeStraw is my go-to brand as their bottles have built-in filters to ensure your water is always clean and safe.
Where to Stay in Plovdiv
Plovdiv has some excellent and affordable hostels. Here are some of my favorite places to stay:
How to Get Around Plovdiv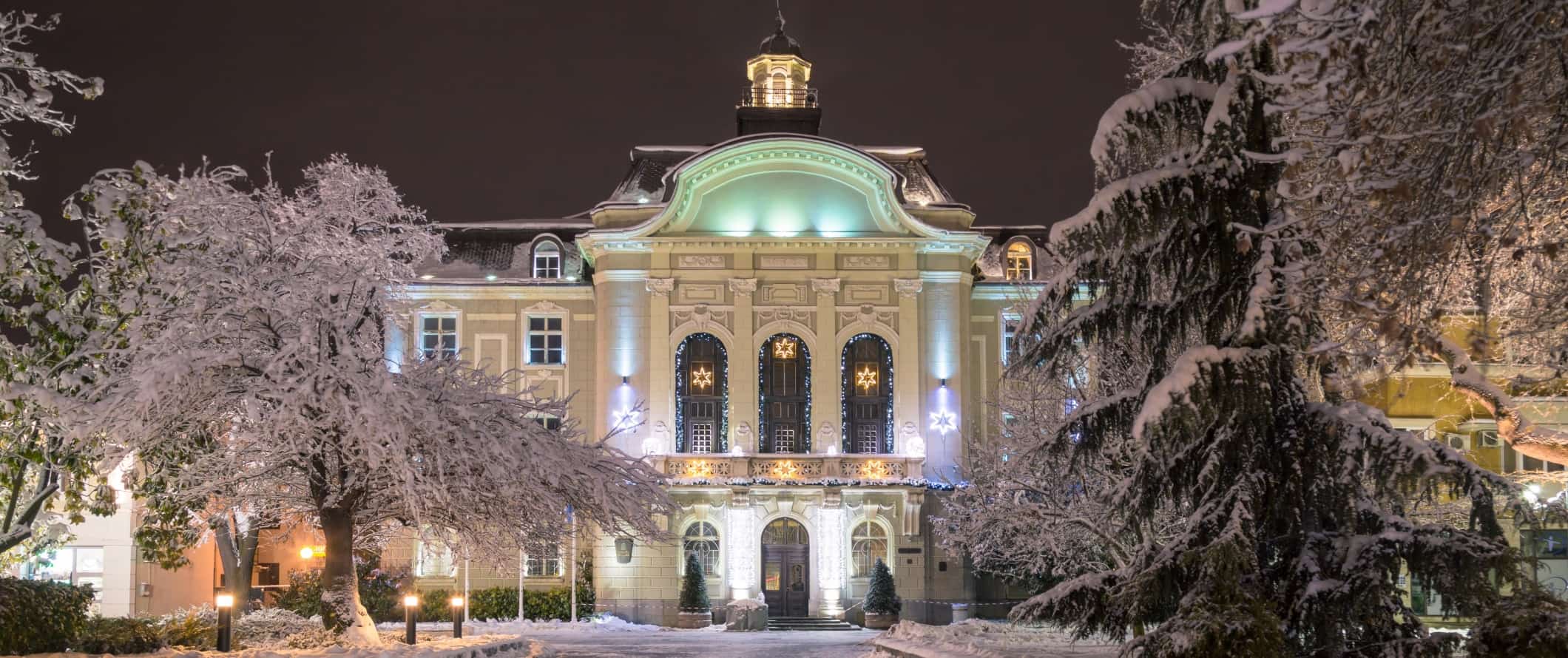 Public transportation – Most of Plovdiv's main attractions are within walking distance to one another, so you'll rarely have to use public transportation. If you do need to take it, the bus is really the only way to getting around. A one-way ticket costs 1 BGN so it's super affordable.
Taxi – The normal start rate for a taxi in Plovdiv is 1.50 BGN, and then it's an additional 1.60 BGN per kilometer. Make sure your taxi is metered as some drivers have been known to try and overcharge tourists.
Uber is not available here.
Bicycle – Renting a bicycle in Plovdiv is an excellent way to get around the city center. You can rent a bicycle for eight hours from Plovdiv Bike Rent for 18 BGN. A 24-hour rental is just 20 BGN.
Car rental – Car rentals can be found for around 27 BGN per day for a multi-day rental. You won't need a car to get around the city, however, if you want to explore the region it might be helpful. Drivers need to be at least 21 to rent a car. An IDP (International Driving Permit) is required.
For the best car rental prices, use Discover Cars.
When to Go to Plovdiv
Spring and summer in Plovdiv are lovely times to visit, with the average daily temperature hovering around 31°C (88°F) between May and August. The busiest months (July and August) bring in lots of tourists and higher accommodation prices so be sure to book early if you're visiting in the summer.
Fall (September-November) is also pleasant, with temperatures ranging from 7-18°C (46-66°F). There aren't as many tourists as in summer so things are a bit cheaper and a bit quieter. It can get chilly and windy, though, so pack warm clothing.
Winter temperatures drop below 3°C (27°F) and the city sees very few tourists during this time. It's not the best time to visit, but you can still visit a lot of the museums if you come in winter. Generally, however, I'd skip a winter visit if you can.
How to Stay Safe in Plovdiv
Plovdiv is a very small and safe city. Violent crime is rare, as are scams and petty crime. Of course, you'll always want to keep your valuables secure when you're out and about just to be safe (especially on crowded public transportation and in busy tourist areas).
Solo female travelers should generally feel safe here, however, the standard precautions apply (never leave your drink unattended at the bar, never walk home alone intoxicated, etc.).
Some taxi drivers have been known to overcharge their customers, so make sure your driver has a metered cab before you get in it. You can read about common travel scams to avoid right here.
If you experience an emergency, dial 112 for assistance.
The most important piece of advice I can offer is to purchase good travel insurance. Travel insurance will protect you against illness, injury, theft, and cancellations. It's comprehensive protection in case anything goes wrong. I never go on a trip without it as I've had to use it many times in the past.
Plovdiv Travel Guide: The Best Booking Resources
These are my favorite companies to use when I travel. They consistently have the best deals, offer world-class customer service and great value, and overall, are better than their competitors. They are the companies I use the most and are always the starting point in my search for travel deals.
Skyscanner – Skyscanner is my favorite flight search engine. They search small websites and budget airlines that larger search sites tend to miss. They are hands down the number one place to start.
Hostelworld – This is the best hostel accommodation site out there with the largest inventory, best search interface, and widest availability.
Booking.com – The best all around booking site that constantly provides the cheapest and lowest rates. They have the widest selection of budget accommodation. In all my tests, they've always had the cheapest rates out of all the booking websites.
HostelPass – This new card gives you up to 20% off hostels throughout Europe. It's a great way to save money. They're constantly adding new hostels too. I've always wanted something like this and glad it finallt exists.
Get Your Guide – Get Your Guide is a huge online marketplace for tours and excursions. They have tons of tour options available in cities all around the world, including everything from cooking classes, walking tours, street art lessons, and more!
The Man in Seat 61 – This website is the ultimate guide to train travel anywhere in the world. They have the most comprehensive information on routes, times, prices, and train conditions. If you are planning a long train journey or some epic train trip, consult this site.
Rome2Rio – This website allows you to see how to get from point A to point B the best and cheapest way possible. It will give you all the bus, train, plane, or boat routes that can get you there as well as how much they cost.
FlixBus – Flixbus has routes between 20 European countries with prices starting as low 5 EUR! Their buses include WiFi, electrical outlets, a free checked bag.
SafetyWing – Safety Wing offers convenient and affordable plans tailored to digital nomads and long-term travelers. They have cheap monthly plans, great customer service, and an easy-to-use claims process that makes it perfect for those on the road.
LifeStraw – My go-to company for reusable water bottles with built-in filters so you can ensure your drinking water is always clean and safe.
Unbound Merino – They make lightweight, durable, easy-to-clean travel clothing.
Top Travel Credit Cards – Points are the best way to cut down travel expenses. Here's my favorite point earning credit cards so you can get free travel!
Plovdiv Travel Guide: Related Articles
Want more info? Check out all the articles I've written on backpacking/traveling Bulgaria and continue planning your trip: