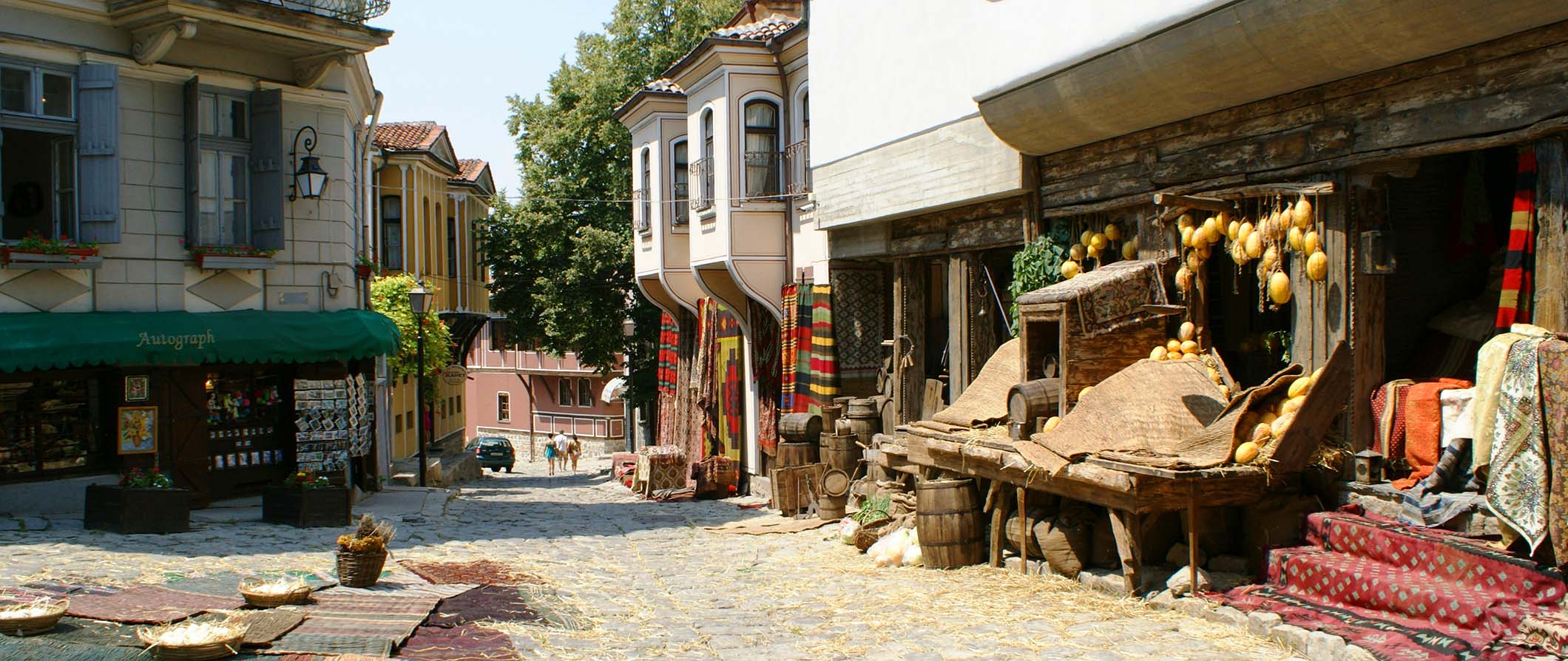 Plovdiv is the second-largest city in Bulgaria, and (fun fact) is the oldest continuously inhabited city in Europe.
Plovdiv's museums, artsy neighborhoods, cobbled streets, Roman ruins, and brightly painted 19th-century mansions make the city pretty spectacular.
I found the city to be a peaceful oasis with wonderful parks and ruins that lacked the large tourist crowds of Sofia and the Black Sea coast. Since the city is in the middle of the country, it's an easy place to visit as you move from one end of the country to the other.
This travel guide to Plovdiv will help point the way by giving you tips on what to see, costs, suggested budgets, and ways to save money.

Plovdiv
Top 5 Things to See and Do in Plovdiv
1. Attend the Night of the Galleries
Every year on September 28th, every single art gallery in Plovdiv stays open into the early hours of the morning. The admission is free no matter where you go. You can take free chocolate tours, attend poetry readings, and take part in free events at various bars and cafes too.
2. See the Roman Amphitheater
This ancient Roman theatre dates back to the first century A.D. and its 28 rows of marble seats once seated up to 6,000 people. Nowadays, it's used as a stage for drama, music, and opera and is open daily from 9am-6pm (except in the winter when it closes at 5pm). Admission is 5 BGN ($2.85 USD).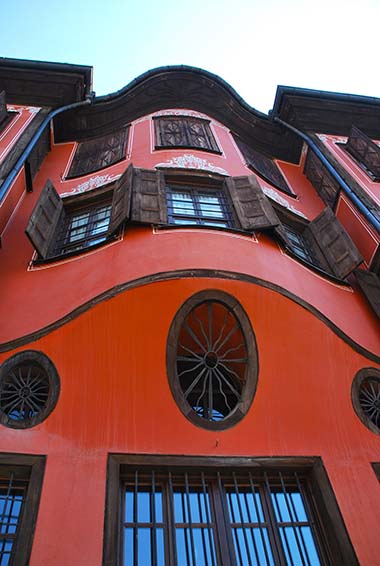 3. Visit the Archaeological Museum
This museum has over 100,000 items, including artifacts like Roman pottery and jewelry, and an enormous collection of Thracian (an ancient tribe in the area) gold works from the town of Panagyurishte dating to the 3rd century B.C. Admission is 5 BGN ($2.85 USD) and it's open daily (except Mondays) from 10am-6pm.
4. Walk the pedestrian street
Knyaz Aleksandar I is the main street in Plovdiv.. This pedestrian area is lined with cafés and shops in pastel-colored Baroque buildings. The street is always filled with people, and when the weather is nice, you can sit outside and watch the world go by.
5. Visit Assenovgrad
Assenovgrad is an important agricultural and religious area in Bulgaria dotted with monasteries and churches. Be sure to check out the Assenovata Fortress for sweeping views of the surrounding hills and Asenitsa River. A bus or train from Plovdiv costs 2-3.50 BGN ($1.15 USD-2 USD) and takes about 30 minutes.
Other Things to See and Do in Plovdiv
1. Tour Hindlian House
A wealthy Armenian merchant named Stepan Hindlian once owned this house in the Old Town, built between 1835 and 1840. It contains an extensive collection of furniture in relatively good condition from that period, and the walls are covered in detailed landscape paintings. There's also an entirely marble bathroom and a high domed ceiling. It costs 5 BGN ($2.85 USD) to visit. Opening hours are daily from 9am-6pm, except in the winter when it closes at 5:30pm.
2. Visit the Philippopolis Art Gallery
Bulgaria's first private art gallery is housed inside a stunning old building designed in the National Revival Style of the early 1800s. You'll see works from some of the 19th and 20th-century Bulgarian masters, including Vladimir Dimitrov, Anton Mitov, and Dimitar Gyudzhenov. There are also often exhibits from modern contemporary artists on display. Admission is free, and the museum is open daily from 10am-7pm (except in the winter when it closes at 6pm).
3. Attend the International Folklore Festival
Starting on the first weekend of August, Plovdiv turns into one giant open-air folklore music and dance festival. For five days, the streets are filled with parades, concerts, and dancing. Every nationality dresses in their traditional colorful regalia as sing and dance — it's extraordinary to see!
4. Go wine tasting
Bulgaria has some surprisingly tasty wines, and there are 32 wine cellars scattered around Plovdiv. You can take a tour to visit some of these cellars or venture out into the Thracian wine region to visit some of the area's best vineyards. The Thracian wine region covers the Thracian Valley, the Rhodope Mountains, and parts of the Balkan Mountains range and the Black Sea Coast. Most tours start at around 127 BGN ($72 USD) for a full day, and you'll get to visit several wineries. Lunch is usually also included.
5. Check out the Cultural Center Thrakart
Down in the Tsar Obedinitel Underpass, you'll find this neat building with floor-to-ceiling windows showing off its extensive collection of Roman floor mosaics, as well as various Roman artifacts like pottery and sculptures. Opening hours are daily from 9am-7pm, except in the winter when it closes at 6pm. Admission is 8 BGN ($4.50 USD).
6. See Sveta Marina Church
This little church from the 16th century does not get the attention it deserves. In addition to its 56-foot wooden pagoda-shaped bell tower and its 170-year-old iconostasis (a wall of religious icons and religious paintings), the church's outer walls display Old Testament murals. It won't take you long to see it all.
7. Wander the Tsar Simeon Central Garden
This immaculate green space is the perfect escape from the hectic shopping area of Plovdiv's main street. There's a recently restored fountain of the Goddess Demeter and a Viennese pavilion at the center of the park as well. The Singing Fountains on the lake also put off a light show with water effects every Thursday, Friday, and Saturday at 9:30pm.
8. Make a trip to Bachkovo Monastery
Just outside of Plovdiv is the Bachkovo Monastery, dating back to 1083 (although most of it was built from the 17th century). The main attraction in the monastery is the Church of Sveta Bogoroditsa with its interior covered completely in colorful frescoes painted by Zahari Zograf in 1850. The refectory is also full of murals displaying the building's history. Pilgrims often come to the church to pray in front of the Madonna, which is encased in gold and silver. It's free to visit the monastery, but the onsite museum costs 2 BGN ($1.15 USD) to visit, and the refectory is 6 BGN ($3.40 USD).
9. Visit the Ethnographic Museum
The exterior of this 150-year-old museum is in the Renaissance style and painted in bright blue and has a surrounding tranquil garden. The museum will take you through Bulgarian life from the 19th century to the early 20th century using cultural artifacts like furniture, clothing, and tapestry. The museum is open 9am-6pm (until 5pm in the winter), and admission is 6 BGN ($3.40 USD).
10. Hike up Nebet Hill
Nebet Hill makes up one of the seven hills around Plovdiv, and it's the site of a giant former Roman fortress. There's not much left behind — all you'll find are some ruined walls and towers — but most people come up here for the views over Plovdiv, especially at sunset.
11. Explore "The Trap"
The Trap is the nickname given to the neighborhood of Kapana, which used to be the center for merchant trade and craftspeople. Nowadays, it has turned into an artsy hipster neighborhood filled with trendy restaurants, cafes, street art, bars, and galleries. Most of the area is now a pedestrian-only zone too!
Plovdiv Travel Costs
Hostel prices – Most hostel dorms in Plovdiv cost between 17-21 BGN ($10-12 USD) per night for a room with four-six beds. A dorm with eight beds or more costs about 16 BGN ($9 USD) per night. You won't really find anything bigger than ten beds here though.
Private single hostel rooms start from about 44 BGN ($25 USD) per night, while a double private room starts from about 62 BGN ($35 USD).
Budget hotel prices – Nightly rates for a budget two-star hotel room with a private ensuite bathroom start at about 44 BGN ($25 USD). For something close to the city center, expect to pay at least 53 BGN ($30 USD) per night.
Airbnb is another affordable option, with shared accommodation (like a dorm) starting at 17 BGN ($10 USD) per night. For a private room, expect to pay about 35 BGN ($20 USD) per night, while you can find a full studio apartment in the city center for about 62 BGN ($35 USD) per night.
Food – Street food in Plovdiv is very cheap. You can find food like banica (dough, cheese, and butter) or banitsa (a breakfast pastry) are as little as 1.50 BGN ($0.85 USD), or you can pick up a hearty shopska (like a Greek salad) or kebab for about 5 BGN ($2.80 USD).
A meal at McDonald's will cost about 8 BGN ($5 USD). A meal at a mid-range restaurant with a drink shouldn't cost more than 10 BGN ($6 USD), while a local beer at the bar is about 2 BGN ($1.15 USD). An average entree at an upscale restaurant is about 20 BGN ($11 USD), although some dishes can be as much as 30 BGN ($17 USD) without wine.
Grocery shopping is very cheap, costing about 30-35 BGN ($17-20 USD) per week for bread, meat, fruits, and other basics.
Backpacking Plovdiv Suggested Budgets
If you're backpacking Plovdiv, expect to spend about 58 BGN ($33 USD) per day. This is assuming you're staying in a hostel, eating local food, cooking some of your meals, and using local transportation (or just walking). You can visit some museums and historical attractions per day on this budget.
On a mid-range budget of 101 BGN ($57 USD) per day, you can stay in two-star hotels (or a private hostel room), eat out for all your meals, rent a bicycle to get around, and visit more attractions and tours.
On a luxury budget of 327 BGN ($185 USD) per day in Plovdiv, you'll stay in a four-star hotel, eat out for all your meals, drink whatever you want, take any tour, and use taxis to get around. Really, on this budget, there won't be anything you can't do.
You can use the chart below to get some idea of how much you need to budget daily, depending on your travel style. Keep in mind these are daily averages – some days you'll spend more, some days you'll spend less (you might spend less every day). We just want to give you a general idea of how to make your budget. Prices are in USD.
Accommodation
Food
Transportation
Attractions
Average Daily Cost
Backpacker
$10
$10
$3
$10
$33
Mid-Range
$25
$10
$7
$15
$57
Luxury
$60
$40
$10
$75
$185
Plovdiv Travel Guide: Money Saving Tips
Prices in Plovdiv are pretty consistent compared with other destinations in Bulgaria, making it a very affordable place to visit. There are so many cheap or free things to do here that it will be hard to break your bank here (unless you're going the luxury end but then again, you wouldn't need any money saving tips if you were!). Here are some of my ways to save money in Plovdiv during your visit:
Couchsurf – If you plan ahead, you can usually find really nice Couchsurfing host in Plovdiv. This way, you not only have a free place to stay, but you'll have a local host that can tell you the best places to go and things to see.
Take a free walking tour – Walking tours are a great way to get familiar with a city and the culture. Free Plovdiv Tour is an excellent company to try. (Be sure to tip!)
Look for free events – Many of Plovdiv's events and festivals are free to attend, so ask your hostel or host what's going on during your visit.
Pack a water bottle – A water bottle with a purifier will come particularly in handy here. Save money and thousands of plastic bottles and get a bottle that can purify the tap water for you. My preferred bottle is LifeStraw ($49.99).
Where To Stay in Plovdiv
Plovdiv has some really excellent hostel acccommodations. Here are my favorite places to stay in the city:
How to Get Around Plovdiv
Bus – Most of Plovdiv's main attractions are within walking distance to one another, so you'll rarely even have to use public transportation. Otherwise, the bus is really the only mode of getting around. A one-way ticket costs 1 BGN ($0.55 USD), and you can buy it on the bus. The Easy Way website will help you plan your trip.
Taxi – The normal start rate for a taxi in Plovdiv is 0.90 BGN ($0.51 USD), and then an additional 0.90 BGN ($0.51 USD) per kilometer. The base rate at night may be slightly higher. Make sure your taxi is metered, however; some drivers have been known to charge as much as 4 BGN ($2.25 USD) per kilometer, especially to and from the airport.
Bicycle – Renting a bicycle in Plovdiv is an excellent way to get around the city center. You can rent a bicycle for eight hours from Plovdiv Bike Rent for 12 BGN ($7 USD).
When to Go to Plovdiv
Spring and summer in Plovdiv are always lovely, with the average daily temperature being about 88°F (31°C) between April and October. There's very little rainfall, and the temperature rarely dips below 62°F (17°C). However, the busiest months (July and August) makes for lots of tourist congestion and higher accommodation prices.
Since Plovdiv is inland, winter temperatures are not so extreme as elsewhere. January is the coldest month, but even then the lowest average temperature is around 46°F (8°C). If you want less tourist traffic, this is an excellent time to come!
How to Stay Safe in Plovdiv
Plovdiv is a very safe city. Scams and petty crime like pick-pocketing are the most common danger you'll face, but those incidences are rare. Some taxi drivers have been known to overcharge their customers, so make sure your driver has a metered cab before you get in it.
If you're worried about getting scammed, you can read about the 14 travel scams to avoid right here.
Always trust your gut instinct. If a taxi driver seems shady, stop the cab and get out. If your hotel is seedier than you thought, move somewhere else.
If you don't do it at home, don't do it in Plovdiv! Follow that rule, and you'll avoid being the victim of petty crime.
The most important piece of advice I can offer is to purchase good travel insurance. Travel insurance will protect you against illness, injury, theft, and cancellations. It's comprehensive protection in case anything goes wrong. I never go on a trip without it as I've had to use it many times in the past.
Plovdiv Travel Guide: The Best Booking Resources
These are my favorite companies to use when I travel to Plovdiv. They are included here because they consistently find deals, offer world-class customer service and great value, and overall, are better than their competitors.
Momondo – This is my favorite booking site. I never book a flight without checking here first.
Skyscanner – Skyscanner is another great flight search engine which searches a lot of different airlines, including many of the budget carriers that larger sites miss. While I always start with Momondo, I use this site too as a way to compare prices.
Airbnb – Airbnb is a great accommodation alternative for connecting with homeowners who rent out their homes or apartments. (If you're new to Airbnb, get $35 off your first stay!)
Hostelworld – This is the best hostel accommodation site out there, with the largest inventory, best search interface, and widest availability.
Couchsurfing – This website allows you to stay on people's couches or spare rooms for free. It's a great way to save money while meeting locals who can tell you the ins and outs of their city. The site also lists events you can attend to meet people (even if you're not staying with someone).
Booking.com – The best all around booking site that constantly provides the cheapest and lowest rates. They have a no money down policy, great interface, and the widest selection of budget accommodation. In all my tests, they've always had the cheapest rates out of all the booking websites.
Intrepid Travel – If you want to do a group tour around Europe, go with Intrepid Travel. They offer good small group tours that use local operators and leave a small environmental footprint. If you go on a tour with anyone, go with them. And, as a reader of this site, you'll get a discount when you click the link!
The Man in Seat 61 – This website is the ultimate guide to train travel anywhere in the world. They have the most comprehensive information on routes, times, prices, and train conditions. If you are planning a long train journey or some epic train trip, consult this site.
Rome 2 Rio – This website allows you to see how to get from point A to point B the best and cheapest way possible. It will give you all the bus, train, plane, or boat routes that can get you there as well as how much they cost.
World Nomads – I buy all my travel insurance from World Nomads. They have great customer service, competitive prices, and in-depth coverage. I've been using them since I started traveling in 2003. Don't leave home without it!
Plovdiv Gear and Packing Guide
If you're heading on the road and need some gear suggestions, here are my tips for the best travel backpack and for what to pack!
The Best Backpack for Travelers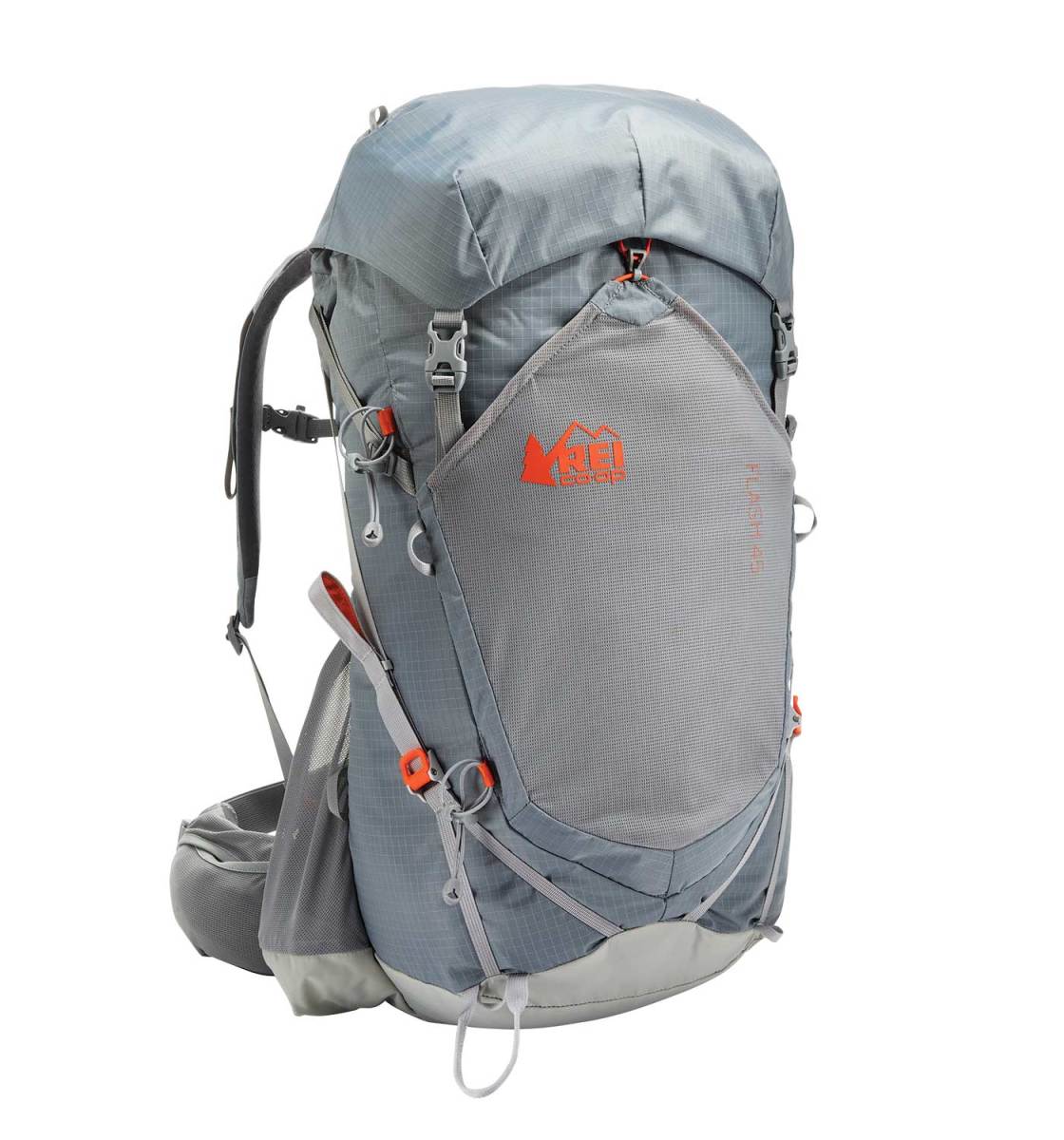 What's the best backpack for traveling long-term? I recommend the
REI Flash 45 Pack
. It's light and comfy, front loading, and fits perfectly in an airplane's overhead bin.
Size:
45-47L
Straps:
Thick and cushy with compression technology that pulls the pack's load up and inwards so it doesn't feel as heavy.
Features:
Removable top lid, large pocket at the front, hydration compatible, contoured hip belt
If you want something different, refer to my article on how to choose the best travel backpack for tips on picking a pack and other backpack suggestions.
What to Pack for Your Trip
Clothes
1 pair of jeans (heavy and not easily dried, but I like them; a good alternative is khaki pants)
1 pair of shorts
1 bathing suit
5 T-shirts (Unbound Merino is my preferred company. If you're a member of NM+, you can get 15% off your purchase)
1 long-sleeved T-shirt
1 pair of flip-flops
1 pair of sneakers
6 pairs of socks (I always end up losing half)
5 pairs of boxer shorts (I'm not a briefs guy!)
1 toothbrush
1 tube of toothpaste
1 razor
1 package of dental floss
1 small bottle of shampoo
1 small bottle of shower gel
1 towel
Deodorant
Small Medical Kit (safety is important!!!)
Miscellaneous
Female Travel Packing List
I'm not a woman, so I don't know what a woman wears, but Kristin Addis, our solo female travel guru, wrote this list as an addition to the basics above:
Clothing
1 swimsuit
1 sarong
1 pair of stretchy jeans (they wash and dry easily)
1 pair of leggings (if it's cold, they can go under your jeans, otherwise with a dress or shirt)
2-3 long-sleeve tops
2-3 T-shirts
3-4 spaghetti tops
1 light cardigan
Toiletries
1 dry shampoo spray & talc powder (keeps long hair grease-free in between washes)
1 hairbrush
Makeup you use
Hair bands & hair clips
Feminine hygiene products (you can opt to buy there too, but I prefer not to count on it, and most people have their preferred products)
For more on packing, check out these posts:
Plovdiv Travel Guide: Related Articles
Want more info? Check out all the articles I've written on backpacking/traveling Bulgaria and continue planning your trip: