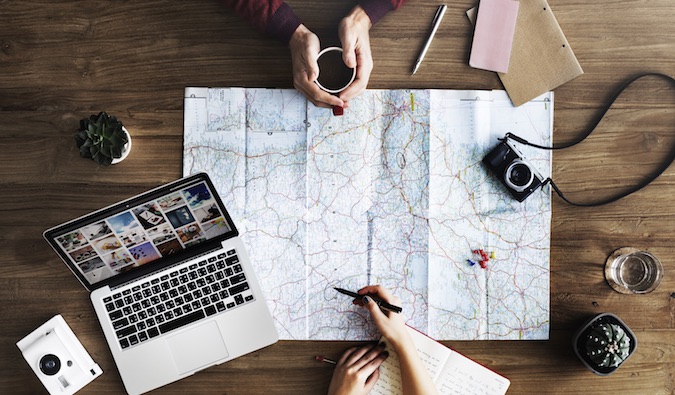 Last Updated: 8/9/20 | August 9th, 2020
Back before the Internet (you remember those days, right?), when people wanted to plan a vacation, they used a travel agent. These lovely folks would book your flights, cruises, resort stays, honeymoons, and everything in between. They would take care of all your arrangements and be there to liaison between you and the company.
They were who you called when things went wrong. They got you the deals you couldn't find on your own because you didn't have access to the resources they did.
But travel agents feel antiquated now.
As online booking websites and the sharing economy have become more popular, travel agents have diminished in importance (9/11 and the 2008 recession didn't help either).
The Internet age have made it easy for us travelers to cut out the travel agent and plan our own trips by booking directly with airlines and hotels (or, nowadays, with locals — thanks, Airbnb).
Moreover, the many deal websites out there helping us find cheap airfares and hotels have allowed consumers to find the cheap prices that used to be the domain of agents.
The web has cut out the middle man and the age of travel agents seems to be on the decline.
According to Ryan Geist of Burner Air:
The direct-to-consumer websites cut down the time it took to plan a trip from hours or days to minutes. And there is complete transparency. You can bargain-shop with a click of your mouse. It's been devastating to an industry entrenched in tradition and stale relationships.
And yet, though "the death of travel agents" has been touted since Expedia debuted, they still exist, though greatly diminished in number (the number of freelance travel agents went from 124,030 in 2000 to 66,670 in 2019).
But that's still a pretty high number.
In fact, 43% of travelers still prefer to use an agent when booking flights.
That is because they still offer value for certain types of travel (they're heavily used for luxury, corporate, and group travel), as well as for their expertise and special business relationships — not to mention their time-saving, stress-relieving, and problem-solving skills.
Travel agents are useful if you're doing a very costly or complex trip, planning a honeymoon or something fancy, or traveling with a large group. They have access to a number of deals and bulk buying options we DIY solo consumers don't, especially when it comes to tours, high-end flights, and cruises.
As Patricia Serrano from Fresh Traveler puts it:
It's very easy to book a flight from New York to Miami today, and if that's all you want, then you should do it online. But if you're looking for flights for a group of more than 10 people or a flight itinerary like JFK-MIA-BOG-EZE-LAX-SEA-ORD-EWR, then a travel agent would be of great help.
They are also perfect for people who just don't want to handle a big, complicated trip themselves. Travel agents offer them peace of mind. As Ryan said, "Logistics can be simple or complicated, but they almost always induce a headache. People will pay good money to someone they trust to just 'handle it' for them."
Alicia Saba from The Splendid Traveler echoes this:
Travel agents are still used for expert guidance, personalized travels, and to save time. The Internet has made it easier to book your own travels, but with that comes informational overload. Travel planning is a time-consuming process, and you don't really know if you're taking full advantage of your vacation time or planning experiences that align with your interests and travel style.
As Cheryl Oddo from Carefree Vacations says,
People want firsthand knowledge and experience, the inside track on getting the most out of their vacation, making it memorable and affordable. They want someone to say 'that's a mistake, I recommend this instead,' and to explain travel insurance, passport requirements, visas, self-drives in foreign countries, customs and cultures, and all of the 'how-tos.'
I agree with all of them.
Travel agents are for people who don't want to spend hours researching their trips, are not experienced travelers, or are traveling in such a large group that the economics and logistics of booking it yourself do your head in.
I'm not surprised that travel agents have seen a rise in usage of the last few years, especially among millennials who try to outsource time-intensive activities.
If you're traveling with a group of 15 people for your grandmother's birthday on a cruise, a travel agent can definitely get you a better deal than you can yourself. Agents come in handy when buying in bulk because they often have access to deals (this applies to airline tickets too).
Planning a honeymoon or a luxury trip? Complicated round-the-world trip for a family of four? The highly specialized nature of travel agents makes them great for these kinds of trips too.
Take cruises. Travel agents have relationships with cruise lines and access to deals we everyday consumers don't. Doug Parker from Cruise Radio advises that you start with a travel agent, as they have relationships with the cruise companies and can often get better rates and last-minute deals. Travel agents often can find much lower prices and can also act as a liaison to cruise companies when something goes wrong.
Agents talk to cruise lines all the time so if you want that 15 person trip to go smoothly, an agent would be better.
And that's another place where travel agents could come in handy: when trouble crops up. Patricia advises, "Travel agents can save you time and money when you are in an emergency. A lot of airlines and hotel chains have preferred numbers for travel agents so they can get in touch quickly with the people who can best resolve your situation. "
Ryan agreed: "A travel agency's greatest assets are its unique and leveraged relationships, its ability to problem-solve for its clients in real-time, 24/7, and its role as a cat herder for group travel. When you're in trouble, there is no substitute for a knowledgeable, reliable, and leveraged travel agent."
So am I suddenly enamored with travel agents? No. I still personally don't use them. I like booking trips, know where to find deals, and don't plan family trips for twenty. Give me a flight on points, a hostel, and a bus ticket, and I'm all set.
If you're planning a trip to Bermuda for you, your spouse, and family, it's pretty straightforward: go online, find a cheap flight, book a hotel or Airbnb, and off you go.
Backpacking through Europe? A travel agent can't tell you to go with the flow. They aren't going to get you deals on hostels, backpacker tours, train tickets, or beat those budget airline carriers.
Every travel agent I spoke to agreed with me on this point. "If you're staying in budget accommodations and not looking to preplan any activities or transportation, you're better off booking on your own," Alicia responded.
But if you are organizing a huge group, need dozens of plane tickets, for which we use a travel agent), a honeymoon, a complex itinerary, or an expensive trip, a travel agent is probably a good idea. They will make life easier, get you bulk discounts, and be there in case anything goes wrong.
If I were planning a trip that fell into one of those categories, I would look into a travel agent, even if it was just to test the waters.
They'll save you tip and be worth the price you pay for a seamless, stress-free trip.


Book Your Trip: Logistical Tips and Tricks
Book Your Flight
Find a cheap flight by using Skyscanner. It's my favorite search engine because it searches websites and airlines around the globe so you always know no stone is being left unturned.
Book Your Accommodation
You can book your hostel with Hostelworld. If you want to stay somewhere other than a hostel, use Booking.com as it consistently returns the cheapest rates for guesthouses and hotels.
Don't Forget Travel Insurance
Travel insurance will protect you against illness, injury, theft, and cancellations. It's comprehensive protection in case anything goes wrong. I never go on a trip without it as I've had to use it many times in the past. My favorite companies that offer the best service and value are:
Want to Travel for Free?
Travel credit cards allow you to earn points that can be redeemed for free flights and accommodation — all without any extra spending. Check out my guide to picking the right card and my current favorites to get started and see the latest best deals.
Need Help Finding Activities for Your Trip?
Get Your Guide is a huge online marketplace where you can find cool walking tours, fun excursions, skip-the-line tickets, private guides, and more.
Ready to Book Your Trip?
Check out my resource page for the best companies to use when you travel. I list all the ones I use when I travel. They are the best in class and you can't go wrong using them on your trip.