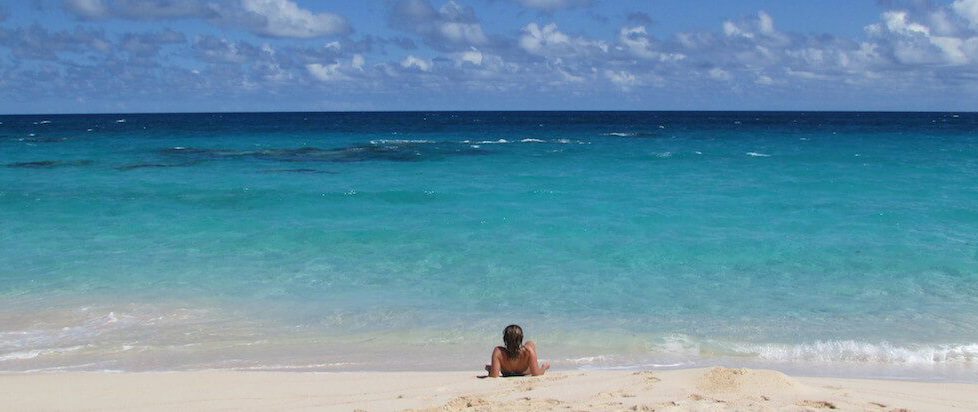 Bermuda is beautiful, sun-kissed, and relaxing. Sadly, it's also bloody expensive. Bermuda is not the cheapest destination in the world as it's the home to banks, tax-avoiding businesses, and the rich and powerful. The resorts and hotels on the island cater to an upscale crowd, but that doesn't mean you should avoid this place. If you have a slightly larger budget, you'll find an island with some of the most beautiful beaches in North America, incredibly friendly people, and world-class food. There are amazing caves here, tons of snorkeling, hiking, and so much more!! I loved my visit to Bermuda and found a few ways to travel on a moderate budget. However, it was not easy. I created this guide and filled it with my tips to help make the country a slightly less expensive place to visit!
Top 5 Things to See and Do in Bermuda
1. Crystal and Fantasy Caves
These caves are small (you're not exactly on an adventure expedition) but they are beautiful and worth visiting. Other than the beaches, they are one of my favorite attractions on the island. A combo ticket for both caves will cost 30 BMD. Admission for children is 12 BMD.
2. Climb the Gibbs Hill Lighthouse
One the oldest cast iron structures in the world, you can climb to the observation deck for spectacular views of the island and the surrounding waters. There's also a tea room offering drinks and snacks (but it's overpriced). The entrance fee is only 2.50 BMD.
3. Explore the Royal Naval Dockyard
This entertainment area has the National Museum of Bermuda, mini-golf, good restaurants, hoping bars, and great people watching. You can also take the ferry over to Hamilton. Since all the cruise ships dock here, everything is pretty expensive but I found this part of the island to be the most "lively."
4. Relax on the beaches
You can't come to Bermuda without scheduling plenty of time to relax on the beach. My favorites: Church Bay, Elbow Beach, and Chaplin Bay. There's also the famous Pink Sand Beach, which is definitely worth a visit but stay away from the main entrance as it gets super crowded with the cruise ship folks.
5. Visit Spittal Pond Nature Reserve
This nature reserve is Bermuda's largest. Between November-May, it's home to at least 25 species of waterfowl. You can take a guided tour or just wander the walking Trails on your own. Admission to the reserve is free.
Other Things to See and Do
(Click the title to expand the text)
1. Walk the Bermuda Railway
This is a public walking trail that stretches from St. George Town in the east end of Bermuda, through Pembroke Parish near the City of Hamilton and on toward Somerset Village in the west end. It's a long but very easy walk across the island. There's not a lot of shade on the trail so be sure to bring lots of water and sunscreen. Don't get burnt like me!
2. Visit the Cathedral of the Most Holy Trinity
If you're looking for history, great architecture, or spectacular views, then you should stop by the Cathedral of the Most Holy Trinity. The church was built in an English style in the 19th century.
3. Explore the Fort St. Catherine
Located at the northeastern end of St. George's Island, this 17th-century fort offers many opportunities to learn about history, architecture, and take in beautiful views, but on top of that, you can see a replica set of the Crown Jewels. Along the way are some cool coves to cool off in and restaurants to eat in. Away from the "bustle" of the main Western beaches, I found it the most relaxing and quiet part of the island. Admission is 7 BMD for adults and 3 BMD for kids.
4. Play golf
As a luxury destination, Bermuda knows how to cater to high-end North American tourists with its top-rated golf courses. I don't golf but my friends have told me Bermuda offers some of the best courses in the region so golf aficionados should hit the links while in the country! I guess with so many billionaires on the island, a quality golf course is no surprise! Prices will vary but expect to pay at last 100-150 BMD per person.
5. Go diving
Bermuda is a prime diving location, with stunning water and a great variety of tropical sea life. Moreover, it's known as the shipwreck capital of the world (is that a good thing?!), which means there are plenty of wrecks to explore. Expect to pay 150 BMD for a 2-tank dive and 500 BMD for your open water PADI certification.
6. Tour the Tucker House
For an idea of what colonial life was like in Bermuda, you can tour the historic Tucker House. It dates back to the early 18th century and contains a wonderful collection of household items—silverware, porcelain, portraits, furniture, etc. Entrance is 5 BMD for adults (2 BMD for children) which includes admission to the Rainey Exhibit and Archaeology Exhibit as well.
7. Enjoy some watersports
Whether you're interested in kayaking, sailing, parasailing, yachting, or waterskiing, Bermuda has a lot of water-based activities to offer. Take advantage of them by booking a tour or renting equipment for an afternoon!