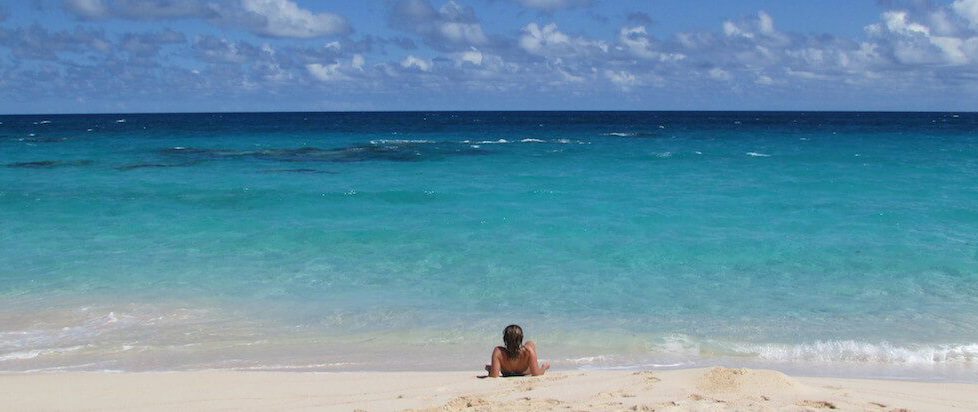 Bermuda is the oldest British colony in the world, and its turquoise waters, pink beaches, and pastel-colored mansions make it one of the most popular destinations in the Caribbean (it's technically in the North Atlantic but everyone always assumes it's a Caribbean island).
Thanks to questionable tax and banking laws, Bermuda is home to lots of rich people. Consequently, it's not one of the cheapest destinations to visit. I've tried to visit on a budget but it certainly wasn't easy. Don't expect a dirt-cheap trip.
However, while it may be pricey, the island is paradise!
There's the pink sand of Horseshoe Bay, the calm of Astwood Cove and Black Bay, and coral reefs filled with sea life and more than 300 shipwrecks (which make for some epic diving trips). I loved my time backpacking in Bermuda.
This Bermuda travel guide can help you plan your trip, save some money, and make the most of your time on this island utopia.
Top 5 Things to See and Do in Bermuda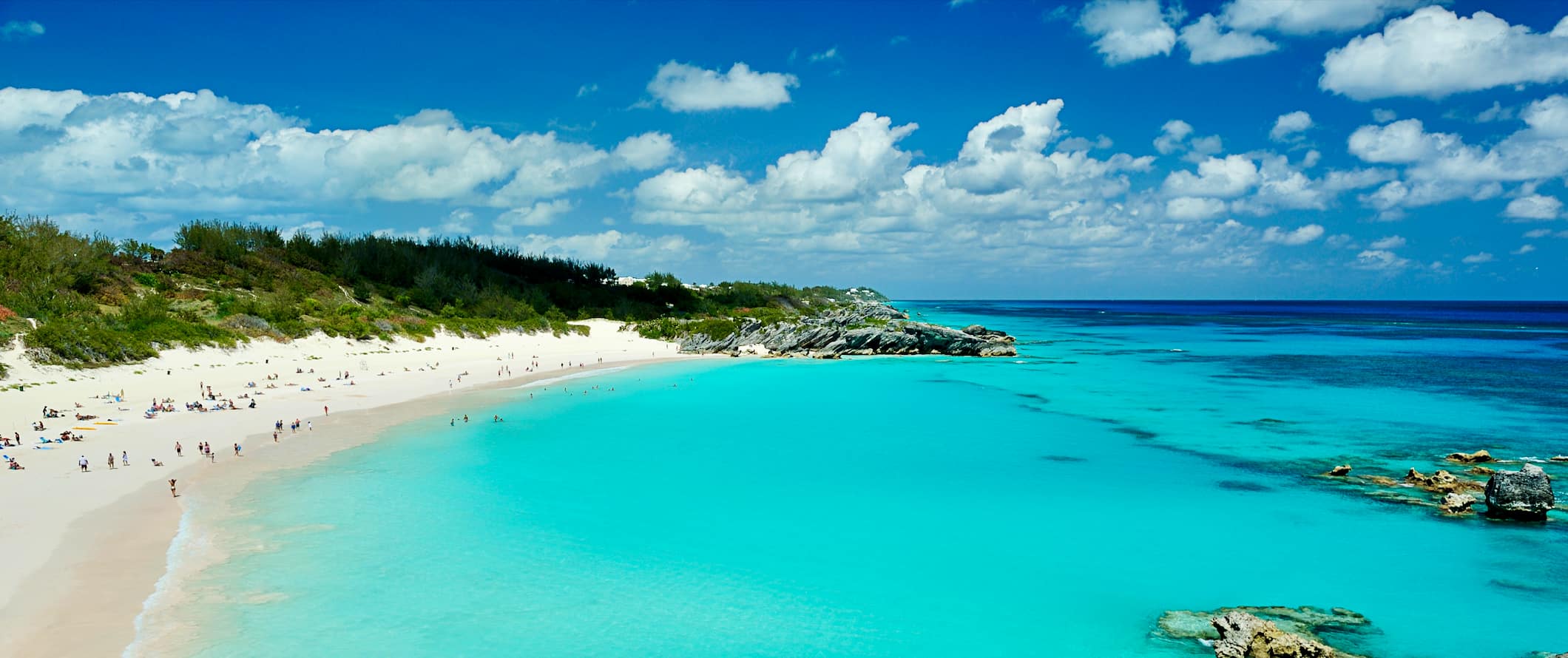 1. Visit the Crystal and Fantasy Caves
Discovered in the early 1900's by Carl Gibbon and Edgar Hollis while looking for a lost cricket ball, these caves in the eastern part of the island are home to deep azure blue pools surrounded by crystallized formations and ceilings with chandelier-like clusters. Other than the beaches, they are two of my favorite attractions on the entire island. A combo ticket for both caves costs 35 BMD and a tour of both caves takes around an hour and fifteen minutes. The caves are only open in summer.
2. Climb the Gibbs Hill Lighthouse
This is the oldest cast-iron lighthouse in the world (it was built in 1846), and you can climb the 185 steps to the observation deck to enjoy spectacular views of the island and the surrounding waters from a height of 110 meters (362 feet) above sea level. There's also a tea room offering drinks and snacks. The entrance fee is 2.50 BMD.
3. Explore the Royal Naval Dockyard
This entertainment area encompasses the National Museum of Bermuda and the Bermuda Transport Museum. It also includes mini-golf, a tiny but cozy theater, ritzy restaurants, lively bars, and great people-watching opportunities. You can also take the ferry over to Hamilton from here. Since this is where the cruise ships dock, it's also the busiest part of the island (and the most expensive).
4. Relax on the beaches
Bermuda's beaches are pristine, scenic, and perfect for swimming. My favorites are Church Bay, Elbow Beach, and Chaplin Bay. There's also the famous Horseshoe Bay Beach, which is definitely worth a visit for its unique rose-colored sand — but stay away from the main entrance as it gets super crowded with cruise ship folks. Head to the beaches on the eastern side where there's an enormous offshore reef for great snorkeling and diving.
5. Play golf
With nine golf courses on the island, Bermuda has more of them per capita than anywhere else in the world. Mid Ocean Club is a must-do for its perfectly manicured greens right along the coast, challenging sand traps, and 18 holes in total. It's a whopping 275 BMD to play, though. Port Royal Golf Course, where the PGA plays, is only a little more reasonable at 180 BMD for a round. On the other hand, you can find more relaxed 18-hole courses for as little as 60 BMD.
Other Things to See and Do in Bermuda
1. Walk the Bermuda Railway
This is a public walking and cycling trail that stretches from St. George Town in the east end of Bermuda, through Pembroke Parish near Hamilton and on toward Somerset Village in the west. It's a long but very easy walk that hugs the island's coastline for 18 miles (29 kilometers). If that's too much, the trail is split into 9 sections so you can just walk a short stretch. Some things to keep an eye out for include secluded beaches, and even an old drawbridge. There's not a lot of shade on this route so be sure to bring lots of water, a hat, and sunscreen. Don't get sunburnt like me!
2. See the Cathedral of the Most Holy Trinity
The Cathedral of the Most Holy Trinity is an Anglican church in the center of Hamilton. It was built in 1894 and officially consecrated in 1911. Its standout features include ornamental decoration, carvings, and stained-glass windows. You can climb the 157 stairs to the tower for views over Hamilton and the harbor as well. Admission to the cathedral is free, but if you want to climb the tower it's 3 BMD.
3. Explore Fort St. Catherine
Located at the northeastern end of St. George's Island, this 17th-century UNESCO Heritage Site fort towers over the cliffs between St. Catherine's Beach and Achilles Bay. Inside are exhibits showing life on the island in the 1600s, as well as tunnels, towers, and ramparts you can explore. Tours run daily but you should call ahead to book one. Only open in the summer, admission is 7 BMD.
4. Visit Spittal Pond Nature Reserve
Spanning 64 acres, this is Bermuda's largest nature reserve. Between November to May, it's home to at least 25 species of waterfowl (including egrets and herons) spread out over salt marsh and woodland. Check out the Checkerboard, a cracked limestone formation where whalers used to haul out their catch, and Portuguese Rock, where you can see an inscription thought to be the oldest evidence of humans on the island (it has now been replaced with a bronze casting). You can take a guided tour or just wander the easy walking trails on your own. Admission is free.
5. Go diving
Bermuda has strict protective laws for its coral reefs, so they remain in excellent condition. You're likely to see blue angelfish, parrotfish, and even the snaggle-toothed barracuda (they're not dangerous, don't worry). Bermuda is also the shipwreck capital of the world, and you can dive wrecks like The Hermes, a 165-foot World War II ship that remains incredibly intact. Other highlights include a B52 bomber, a Chinese migrant ship, and remnants of Spanish galleons. Expect to pay 175 BMD for a two-tank dive or 650 BMD for your open-water PADI certification.
6. Tour the Tucker House
This historic 18th-century home was the family residence of Henry Tucker, a wealthy merchant who later became the first government leader of Bermuda. The house contains a vast collection of household items including silverware, porcelain, antique furniture, and family portraits painted by Joseph Blackburn. It's also part of the African Diaspora Heritage Trail, and you can learn about Joseph Rainey, a former slave who later became the first African American member of the U.S. House of Representatives. It's not open every day so check the website for opening days and times. Admission is 5 BMD.
7. Learn about the Bermuda Triangle
The infamous Bermuda Triangle (also known as the Devil's Triangle) is a region near the island that is said to have caused the mysterious disappearance of ships, planes, and people. If you want to dig into the mystery, check out the Bermuda Triangle exhibit at the Ocean Discovery Centre (at the Bermuda Underwater Exploration Institute). There are also exhibits dedicated to artifacts like coral-crusted coins pulled from shipwrecks, one of the world's largest privately owned shell collections (with over 1,200 specimens), and an area for simulated dives (including shark cage dives). Admission is 15 BMD.
8. Hike to Fort Scaur
Built in the 19th century, Fort Scaur is another one of Bermuda's formidable fortresses, but it often goes unnoticed in favor of Fort St. Catherine. Located around 15 minutes south of the dockyard, it's not an overly steep climb. At the top, you can wander around the ramparts and take in the panoramic ocean views over the Great Sound. Admission is free.
Bermuda Travel Costs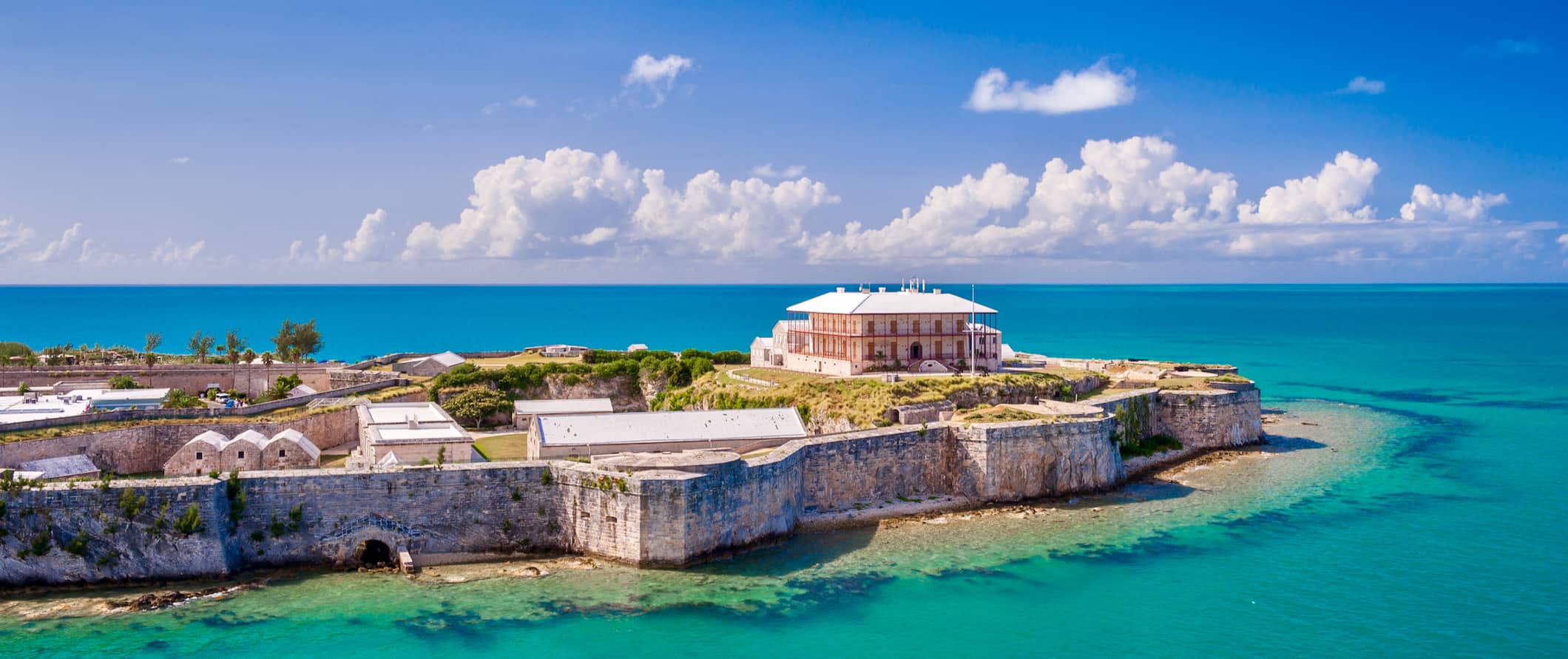 Accommodation – Since Bermuda is not a budget destination, there are currently no hostels here. Camping is only permitted for residents.
Budget hotels start around 200 BMD for a basic double room outside of Hamilton's city center and a bed and breakfast for two in Hamilton costs around the same price.
Airbnb is also an option, with prices starting around 75-100 BMD for a private room (though they average triple that price so book early). Entire apartments/homes start at 110 BMD though expect to pay double or triple that price if you don't book early.
Food – The cuisine in Bermuda is a mix of seafood with more traditional British fare (it's a British territory after all). Cod, wahoo, and rockfish are some of the most common fish caught here, often eaten with potatoes or hard-boiled eggs. Local favorites include fish chowder (the national dish), peas and rice, and papaya casserole. Fresh fruit is readily available, including strawberries, watermelon, cassava, and papaya.
Because Bermuda has to import a lot of its ingredients, eating out here is expensive. You can find affordable burgers or pizza for around 10 BMD from the food trucks near the beaches, but there are no major fast-food chains other than KFC. A two-piece chicken combo for one person from KFC costs around 15 BMD.
Grabbing take-out or ordering meals like jerk chicken, wraps, and sandwiches from a deli costs between 10-12 BMD. At the Jamaican Grill, you can get a plate of tasty jerk chicken for just 6 BMD.
If you want to splash out, a three-course meal at a mid-range restaurant costs around 75 BMD.
Beer is expensive at 9 BMD while a latte/cappuccino costs 5.50 BMD. Bottled water is around 2.40 BMD.
If you want to cook your meals, expect to spend around 75-110 BMD per week on groceries. This gets you basic staples like rice, pasta, fruits, and some meat or fish.
Backpacking Bermuda Suggested Budgets
If you're backpacking Bermuda, my suggested budget is around 140 BMD per day. This assumes you're staying in a private Airbnb room, cooking all your meals, limiting your drinking, taking the bus to get around, and doing mostly free activities like hiking and hanging out on the beach. If you plan on drinking, add 10-30 BMD to your daily budget.
On a mid-range budget of about 250 BMD per day, you can stay in a budget hotel, eat out for a few meals at fast food joints, enjoy a couple drinks, rent a scooter or take the occasional taxi to get around, and do more paid activities like visiting the forts and going diving.
For a "luxury" budget of about 450 BMD or more per day, you can stay in a three-star hotel, eat out for all your meals, drink more, rent a cart or scooter to get around, and do whatever tours and activities you want. This is just the ground floor for luxury though. The sky is the limit!
Accommodation
Food
Transportation
Attractions
Average Daily Cost
Backpacker
90
15
20
15
140
Mid-Range
130
35
50
35
250
Bermuda Travel Guide: Money-Saving Tips
I've said it before but I'll say it again: it isn't cheap to visit Bermuda. Don't plan to come here if you're on a super limited budget. It's not easy to save money here. It requires a lot of work. Here are some things you can do to stretch your money when you visit:
Book early – If you want cheap accommodation, you need to book rooms at least a couple of months in advance. Avoid hotels and resorts and instead, stay at a bed and breakfast or home rental properties. If you are staying with a group, definitely rent a large apartment as it is far less per person than a hotel room.
Stay with a local – There are only a handful of Couchsurfing hosts in Bermuda so if you want to succeed in finding one make sure you inquire really early in order to maximize your chances of success.
Travel off-season – Bermuda's off-season (winter) is from November to March, and if you come during this time you might find accommodation prices up to 25% off.
Cut down on the partying – Drinks aren't cheap in Bermuda, so skip the booze as much as possible here. Your budget will thank you!
Stay central – While Hamilton is not set on one of the famous pink beaches, it's the center for all the buses and ferries. If you rent an apartment and aren't careful, you can end up somewhere far from a bus stop (which means more taxis). Staying in or near Hamilton ensures you're near all the bus lines so you can avoid spending too much money on transportation.
Cook your own meals – If you skipped the hotel and rented an apartment, chances are you'll have a kitchen. There's an ever-growing local and organic foodie scene on the island so you can find a lot of cheap fruits, vegetables, and meats at markets and shops that help lower your costs dramatically.
Bring a water bottle – The water here is safe to drink so bring a reusable water bottle to save money and reduce your plastic use. LifeStraw is my go-to brand as their bottles have built-in filters to ensure your water is always clean and safe.
Where to Stay in Bermuda
You won't find hostels in Bermuda, but there are some affordable hotels and apartment options. Here are three suggested places to stay in Bermuda:
How to Get Around Bermuda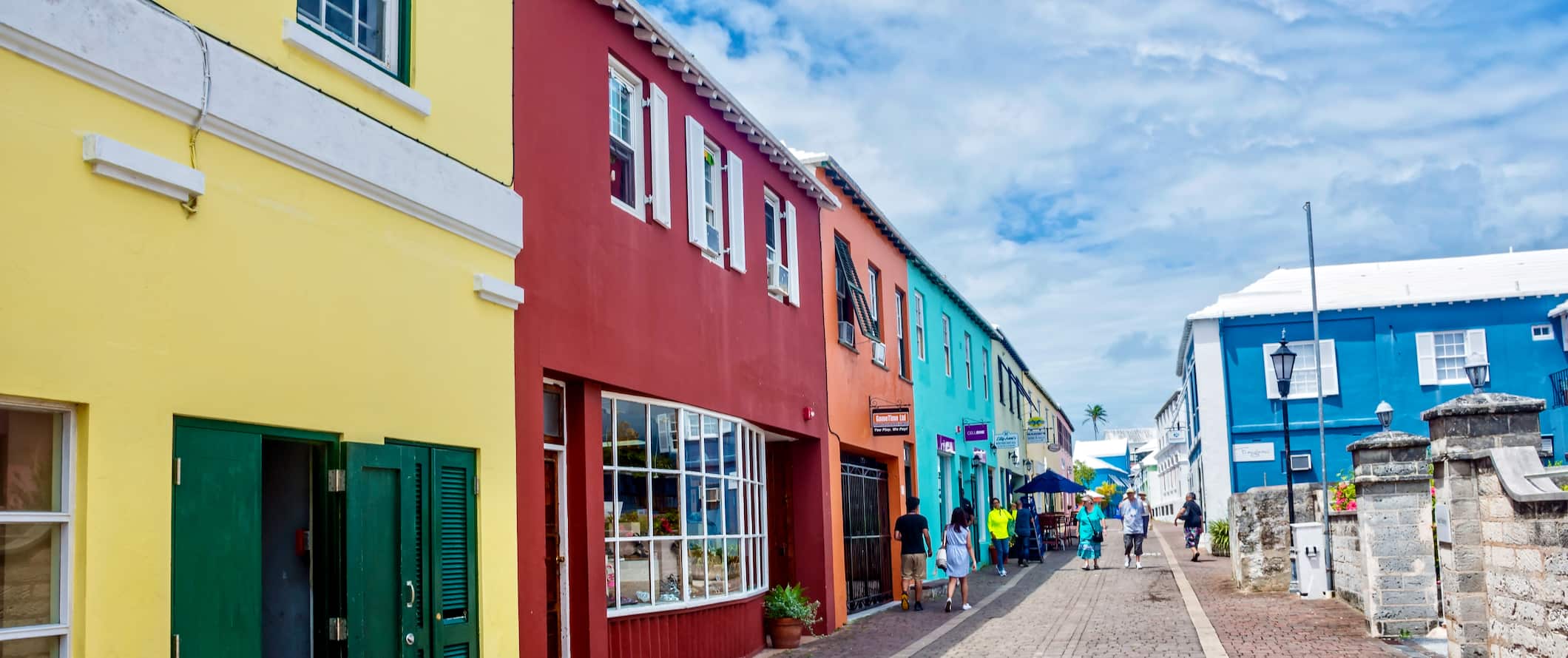 Bus – Buses run frequently and service most of the island's attractions. They're easy to spot too: they're pink with blue stripes. It costs 3.50 BMD for a one-way fare, and exact change is needed if you're paying in cash. You can also travel using tickets (sold in books of 15), tokens, and day passes (see below). Bermuda's Department of Transportation website has all the info you need for bus schedules and routes.
Ferry – Ferries are the next most popular way to get around Bermuda, and the fares are the same as for buses. In fact, you can use your bus tokens, tickets, and passes on the ferries. All ferries leave from the Ferry Terminal in Hamilton, with stops near most of the island's main attractions. You can check schedules on the SeaExpress website.
You can get transportation passes for up to seven days of unlimited travel on Bermuda's buses and ferries. These passes cost between 19-62 BMD. Passes, tokens, and tickets can be purchased at the Central Terminal, Hamilton Ferry Terminal, Visitor Information Centres, sub-post offices, and the Central Terminal.
Scooters and Electric Carts – There are scooter rental shops all over Bermuda, and one-seaters start from about 60 BMD per day. If you book multiple days, you should get a discount. Elbow Beach Cycles and Oleander Cycles are two popular rental companies.
Current Vehicles also rent out two-seater electric Twizy cars all over the island that let you travel up to 50 miles (80 kilometers) on one charge. Rentals cost 120 BMD per day.
Bicycle – Bicycle rentals typically start at 40 BMD per day. You can find rental shops all over the island. Oleander Cycles and Elbow Beach Cycles both have rentals as well.
Taxi – Taxis aren't cheap here. They're all metered at government-set rates, with a starting fare of 6 BMD and then 2.50 BMD for each kilometer after that. Skip them if you can!
Car rental – Tourists cannot rent cars in Bermuda; only locals can drive here (and they can only have one car per household to prevent overcrowding).
Hitchhiking – Hitchhiking here is virtually non-existent so I would not recommend it here.
When to Go to Bermuda
Peak season in Bermuda is from May to October when visitors flock to the island and the prices are at their highest. If your main interest in Bermuda is for water sports, however, the hot weather is definitely ideal for enjoying the ocean. Temperatures can get as high as 30°C (86°F) during these months.
The winter months from November to the beginning of March are surprisingly cool compared to the rest of the Caribbean, with temperatures hovering around 20°C (68°F) daily.
Personally, I prefer March-April for visiting, as temperatures are somewhere in between winter and summer highs, there are fewer crowds at all the attractions, and accommodation is cheaper.
How to Stay Safe in Bermuda
Bermuda is a really safe place to visit. It's a destination for the affluent and as such laws are strict and police presence is ubiquitous (seriously, you could actually get kicked out of the country just for camping illegally). The chance of something happening is slim to none.
However, petty theft is an issue at th beach so keep your valuables safe at all times. Don't leave anything unattended and always keep your valuables secure.
Scams are rare but you can read about common travel scams to avoid here.
From August through October, hurricanes are possible and, with them, all the things they bring so always keep an eye on the weather.
If you experience an emergency, dial 911.
The most important piece of advice I can offer is to purchase good travel insurance. Travel insurance protects you against illness, injury, theft, and cancellations. It's comprehensive protection in case anything goes wrong. I never go on a trip without it as I've had to use it many times in the past.
Bermuda Travel Guide: The Best Booking Resources
These are my favorite companies to use when I travel. They consistently have the best deals, offer world-class customer service and great value, and overall, are better than their competitors. They are the companies I use the most and are always the starting point in my search for travel deals.
Skyscanner – Skyscanner is my favorite flight search engine. They search small websites and budget airlines that larger search sites tend to miss. They are hands down the number one place to start.
Hostelworld – This is the best hostel accommodation site out there with the largest inventory, best search interface, and widest availability.
Booking.com – The best all around booking site that constantly provides the cheapest and lowest rates. They have the widest selection of budget accommodation. In all my tests, they've always had the cheapest rates out of all the booking websites.
Get Your Guide – Get Your Guide is a huge online marketplace for tours and excursions. They have tons of tour options available in cities all around the world, including everything from cooking classes, walking tours, street art lessons, and more!
SafetyWing – Safety Wing offers convenient and affordable plans tailored to digital nomads and long-term travelers. They have cheap monthly plans, great customer service, and an easy-to-use claims process that makes it perfect for those on the road.
LifeStraw – My go-to company for reusable water bottles with built-in filters so you can ensure your drinking water is always clean and safe.
Unbound Merino – They make lightweight, durable, easy-to-clean travel clothing.
Top Travel Credit Cards – Points are the best way to cut down travel expenses. Here's my favorite point earning credit cards so you can get free travel!
Bermuda Travel Guide: Related Articles
Want more info? Check out all the articles I've written on backpacking/traveling Bermuda and continue planning your trip: