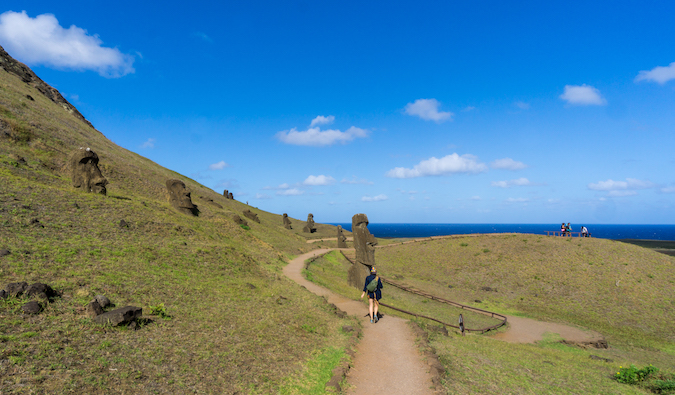 Last Updated: 7/17/20 | July 17th, 2020
Each month, Kristin Addis from Be My Travel Muse writes a guest column featuring tips and advice on solo female travel. It's an important topic I can't adequately cover, so I brought in an expert to share her advice for other solo female travelers! This article is applicable to everyone though!
In the movie 180° South, a guy from California sets sail to Patagonia, has ship trouble along the way, and gets marooned on Easter Island.
Oddly, it was that movie that inspired me to want to visit Easter Island. After watching it, I needed to visit Easter Island and see it with my own eyes.
My week there was a mix of exploring the gorgeous coastline and walking around the mysterious Moai statues, marveling at their size and wondering how in the world people who only had access to stone tools could create something so massive.
I sometimes wondered if there were as many horses as there were people, running all along the green grasses of the island and on the rugged coastline, full of volcanic rock and powerful waves. I spent most of my days motorbiking around the island, getting to know the locals and admiring the skills of the original settlers.
The first people came to Easter Island around 300-400 CE. The island is most famous for the 900 giant stone statues dotted around the island. Legend tells that the island used to be full of trees, and when climate change hit the island, locals built the Moai as a way of appeasing the gods, and eventually toppling each other's statues over and warring as conditions worsened.
However, much of this is just speculation.
But visiting this out of the way destination and seeing these statues has been a life long dream of mine.
Unfortunately, Easter Island is hideously expensive to visit because it's so remote — over 3,700 kilometers away from Santiago, Chile. Very few crops grow here, there is very little "industry", and nearly everything on the island is shipped from the mainland at great expense.
Geography means that the costs are high. Understandably, it's not the most budget-friendly island in the world. However, it's also not impossible to visit on a budget. You just need to plan ahead and keep some things in mind!

How to Get There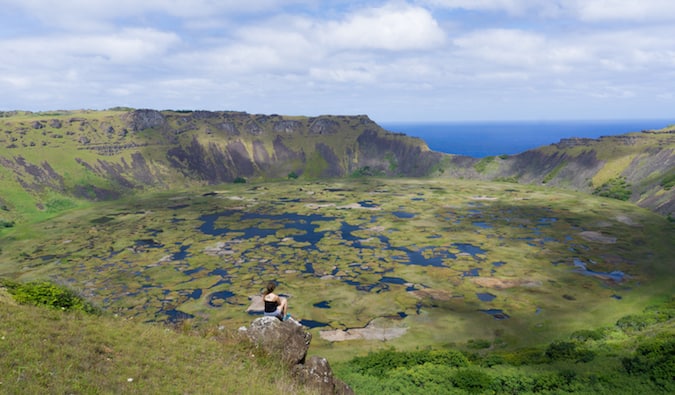 One of the biggest costs of visiting Easter Island is transport. There is just one airline that flies there from Chile (LATAM, formerly LAN). That means they can pretty much charge whatever they want. Expect to pay $575-800 USD return, though tickets can be double that if you book last minute. Here are some tips you can use to lower that though:
Book ahead and go during off and shoulder seasons – To save the most money on your flight, be flexible. You might get lucky and score something closer $500 USD if you go during a season that isn't popular and book way ahead of time.
Sign up for the LATAM newsletter – To find the best deals, sign up for LATAM's newsletter. They usually announce their sales there which will help you score the cheapest ticket.
Check the price of business class – This may sound counterintuitive if you're trying to save money, but check the price of business class tickets. I personally scored biz class tickets for two pesos cheaper than economy class for my return flight. I can't say the same will happen for you, but it's worth checking!
Use booking calendars to compare prices – Websites like Skyscanner and Google Flights offer calendars where you can compare prices over several weeks (or months). Use this function to find the best time to fly.
Travel hack – LATAM is a part of the Oneworld alliance and, though availability is rare, you can also get seats via points. If you have miles on American Airlines, British Airways, or another One World partner, you can try to score a free flight. If you don't collect points and miles yet, start travel hacking now so you can save up enough by the time you take your trip.
Book a RTW ticket – If you're on a round-the-world trip you can usually include a stop at Easter Island for little or no extra cost. If you plan on seeing lots of other detinations during your trip, consider a multi-desintation RTW ticket.
There are occasional boats that sail to Easter Island from New Zealand or elsewhere in the South Pacific that take passengers, but they are priced incredibly high. Cargo ships usually charge $100 USD per day and cruises cost into the thousands. If you're on a budget, flying is your only option.
There is no public boat option from Chile's mainland either, as Easter Island doesn't have a harbor that can accommodate large ships. Therefore, those who do sail there do so on private boats and drop anchor close to land.
If you want to sail there, some travelers successfully volunteer as crew as a cheap or free way to travel.

Where to Stay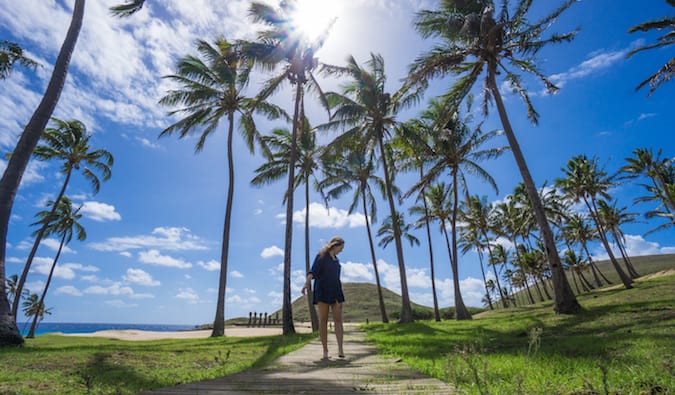 You have three affordable options if you're traveling to Easter Island: book a hostel dorm bed way ahead of time, as there are few and they fill up quickly; camp in a tent; or rent an apartment on either Airbnb or Booking.com.
If you want to stay for free there, Couchsurfing is also an option, however, there are only 40-50 active hosts on the island. You'll need to connect with them well in advance if you want to secure a spot (speaking Spanish will help with this as most hosts have their profiles posted in Spanish).
Renting an Apartment
The majority of rentals on Airbnb range from $40-130 USD per night. Many of the more expensive places ($75 USD and up) have space for 5-7 guests, which means you can save a ton of money if you split your stay with other travelers.
Apartments on Booking.com usually start around $60 USD per night. No matter where you stay, be sure to check the ammenities as many apartments will not include Wi-Fi.
Camping
There are half a dozen campgrounds on Easter Island (some of which also have hostel-style facilities). You can usually book a plot for around $10 USD. If you have camping gear, you can bring it along, so some campgrounds will include tents and sleeping mats with your rental so bringing your gear isn't necessary as it will only save you a couple bucks.
Wild camping is only allowed if you're with a local guide. If you don't have a local guide, stick to the campgrounds.
Staying in Hostels
There are a few hostel-style accommodation options for around $30 USD per night. Some of the best are:
What to Eat and Drink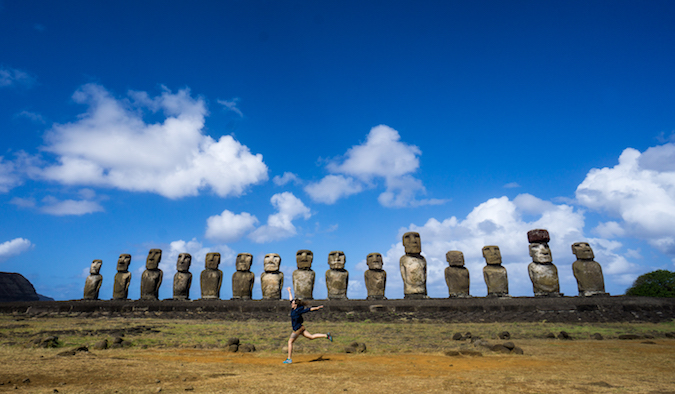 Eating out is super expensive on Easter Island because all the food has to be brought in from mainland Chile. If you're on a budget, cut out the middleman and bring your own food. If you're staying in an apartment or hostel with access to a kitchen, you'll be able to do some cooking, keeping your budget intact during your stay.
I visited Easter Island with a friend and, with some clever cooking, I was able to feed us both with just the food brought from the mainland. Here's what I brought:
1 bag of small onions
1 head of cauliflower
2 red peppers
2 handfuls of button-top mushrooms
2 tomatoes
2 potatoes
5 carrots
1 eggplant
2 beetroots
nuts and fruits for snacks
1 packet of turmeric for curry
1 garlic clove
8 packets of dried beef broth
1 loaf of rye bread
1 small packet of mayonnaise
2 packets of salami and ham (the sandwiches only lasted for two days)
1 kilo of brown rice
1/2 kilo of lentils
1 bag of oatmeal
1 kilo of milk powder
1 packet of milo (chocolate powder)
1 small bottle of sunflower oil
1 small can of coconut cream
2 bottles of wine
The total cost for all of that was about $130 USD, meaning we spent an average of $4.65 per meal per person — plus wine! I alternated the meals between a vegetarian Thai yellow curry, fried rice, lentil soup, beetroot salad, and potato salad.
I had to substitute ingredients for all of the recipes, but it all turned out delicious!
Put the food in a box or an extra backpack and check it with the rest of your luggage. Economy-class seats from Santiago on LATAM are allowed two 25kg checked bags. That means you should have plenty of room for your stuff plus some food (especially if you're traveling with someone).
When I ran out of supplies, I ate empanadas for lunch, which are only a few dollars and can be found at most small shops. I also bought fish from a local fisherman for the equivalent of $8 USD and cooked it myself (it would have cost $20 USD in a restaurant).
If you do buy food on the island, budget at least a dollar or two per fresh fruit or veggie item, at least $10-15 USD per cheap to-go foods, and at least $25 USD or more for a restaurant meal.

How to Get Around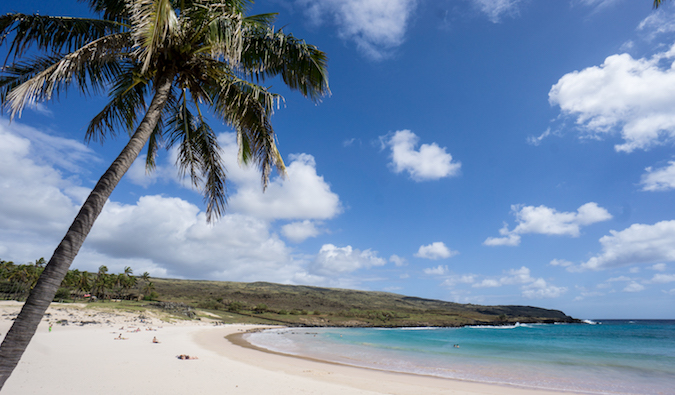 Within the town of Hanga Roa, taxis are around $5 USD. Bicycles can be rented for around $15 USD per day. They're a great choice for getting around town and its surroundings as taxi prices go up significantly (it takes about 90 minutes to make it from one side of the island to the other, which is too expensive to do with a taxi).
To visit the Moai (the large stone statues) or the beach, I suggest driving yourself. Tours are expensive and motorbike rentals are quite affordable at $35-45 USD per day. Renting a motorbike isn't just cheaper but you'll have the freedom and flexibility to explore the island on your own terms.

Activities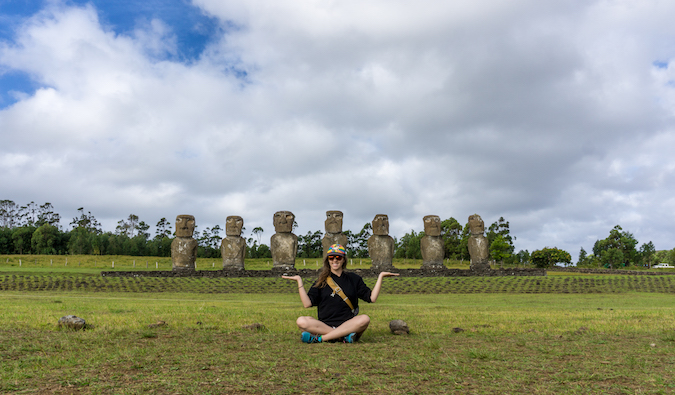 Most of the island's sights (including the Moai) are located within Rapa Nui National Park. The entrance to the park is $80 USD for foreigners. You can purchase your ticket at the airport on arrival.
While it may seem expensive, remember that this is a once in a lifetime experience.
Additionally, besides seeing the famous statues, you can go scuba diving to see the sunken Moai (spoiler alert: it's actually just an old movie prop, but still cool!), go surfing, or just drive around to just see where the day takes you.
Expect to pay around $50 USD for a single-tank dive and $60 USD per day for surf lessons.
***
Easter Island was a trippy walk through the past. Few of the descendants of the original tribes are still left and nobody is exactly sure how or why the Moai were carved. That's part of what makes Easter Island so alluring and interesting to visitors — it's still partially an enigma.
By bringing my own food, scoring a cheap business-class ticket, driving myself around the island, and booking cheap accommodation in advance I saved myself hundreds of dollars off of what most tourists usually pay when visiting.
Easter Island was one of the most unique places I've ever visited. There was no way I would visit Chile without going. Through very careful and smart planning, you can visit the island without blowing your budget.
Kristin Addis is a solo female travel expert who inspires women to travel the world in an authentic and adventurous way. A former investment banker who sold all of her belongings and left California in 2012, Kristin has solo traveled the world for over eight years, covering every continent (except for Antarctica, but it's on her list). You can find more of her musings at Be My Travel Muse or on Instagram and Facebook.
Book Your Trip to Chile: Logistical Tips and Tricks
Book Your Flight
Use Skyscanner or Momondo to find a cheap flight. They are my two favorite search engines because they search websites and airlines around the globe so you always know no stone is left unturned. Start with Skyscanner first though because they have the biggest reach!
Book Your Accommodation
You can book your hostel with Hostelworld as they have the biggest inventory and best deals. If you want to stay somewhere other than a hostel, use Booking.com as they consistently return the cheapest rates for guesthouses and cheap hotels.
Don't Forget Travel Insurance
Travel insurance will protect you against illness, injury, theft, and cancellations. It's comprehensive protection in case anything goes wrong. I never go on a trip without it as I've had to use it many times in the past. My favorite companies that offer the best service and value are:
Looking for the Best Companies to Save Money With?
Check out my resource page for the best companies to use when you travel. I list all the ones I use to save money when I'm on the road. They will save you money when you travel too.
Want More Information on Chile?
Be sure to visit our robust destination guide to Chile for even more planning tips!