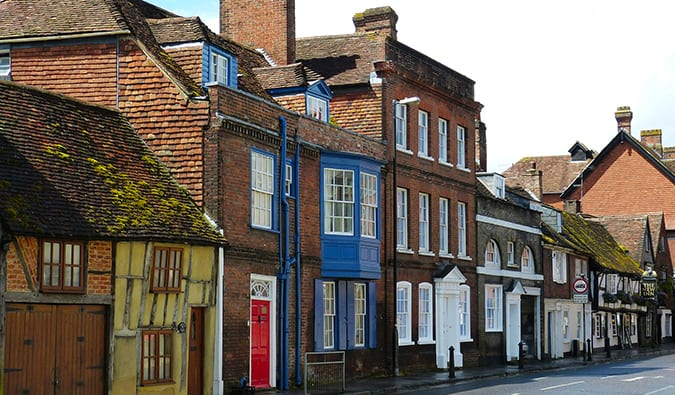 Last Updated: 5/25/23 | May 25th, 2023
A stunning hour-and-a-half train ride through the English countryside from London takes you to the town Salisbury, home of the famous Stonehenge as well as the Magna Carta. It's an easy day trip from London, but I found that the town has a lot to offer and traveling to Salisbury is worth at least a night's stay.
Salisbury has been an important site throughout human history. Over 5,000 years ago, Neolithic man dragged huge stones weighing up to 55 tons from Wales to Salisbury to build Stonehenge. It's one of the most famous historical sites in the world. The area was a huge settlement and is now surrounded by ancient burial mounds and historical artifacts.
While Stonehenge is impressive and still one of the most important historical sites in human history, Salisbury itself is even more impressive. Beautifully preserved, this picturesque English country town offers a lot to do and will leave a far more lasting impression on me than Stonehenge.
Originally, "Old Sarum" (as the old town was called) was constructed and used by the Romans and early Saxons as a fortification. With the signing of the Magna Carta in 1215, the fort and cathedral were moved to the present-day location.) The new city never had any defensive walls, as it's surrounded by rivers on three sides and located on a hill.)
The city has been immaculately preserved over the centuries. During the German Blitz, Salisbury wasn't bombed, as the Germans used its famous church as a waypoint during bombing runs and were under strict orders not to damage it.
Around Salisbury, one can see Elizabethan, Jacobin, and Victorian-style homes all squished together down tiny streets. The town market square is very well preserved, and outdoor cafes line the area.
Here is my list of the best things to do in Salisbury to ensure you make the most of your time here:

1. Salisbury Cathedral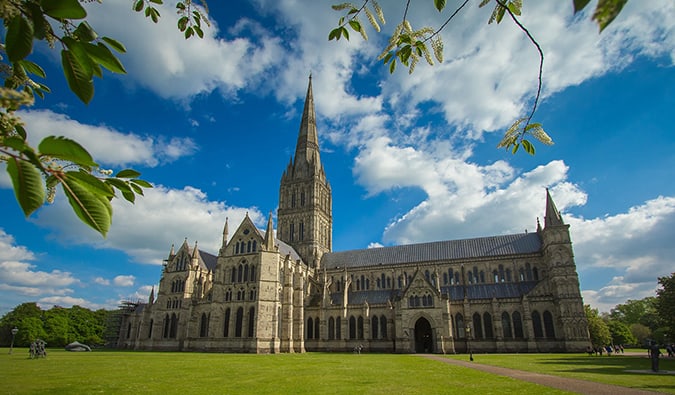 The highlight of my whole trip was Salisbury Cathedral. The cathedral was built in 1238 and still stands 750 years later. This huge Gothic cathedral is surrounded by grass and cloistered in a little community with a few smaller churches, homes, and other buildings. Of all the churches I've seen in Europe, this ranks as number one.
Inside (where no photos are allowed), the church is laid out in the traditional cross format with an entrance at one end and the prayer area at the other. Huge ceilings and large stained-glass windows adorn the sides, and the choir and seating area line the middle. But what made this church really special were the tombs inside. The walls are lined with tombs of dead bishops, kings, and queens. They are beautifully ordained in figures and symbols from the person's life.
In the Trinity, there is a tomb that dates back to 1099. Walking past the tombs of so many historical figures, including some that signed the Magna Carta, was breathtaking, especially to a history geek such as myself. The church also houses one of the four original copies of the Magna Carta.
Chapter Office, +44 1722 555120, salisburycathedral.org.uk. Open Monday-Saturday from 9:30am-5pm (last entrance is 4pm) and Sunday from 12:30pm-4pm (last entrance is 3pm.) Admission is 10 GBP.

2. Walk Around The Close
Salisbury cathedral is surrounded by 80 acres of land called the Cathedral Close. This is where you'll find most of the museums and historic houses. On one side you can see the River Avon, while the rest of the complex is protected by ancient walls. The old bishop's palace (that is now the Cathedral School and Sarum College) is located in a late 17th-century house.

3. Market Square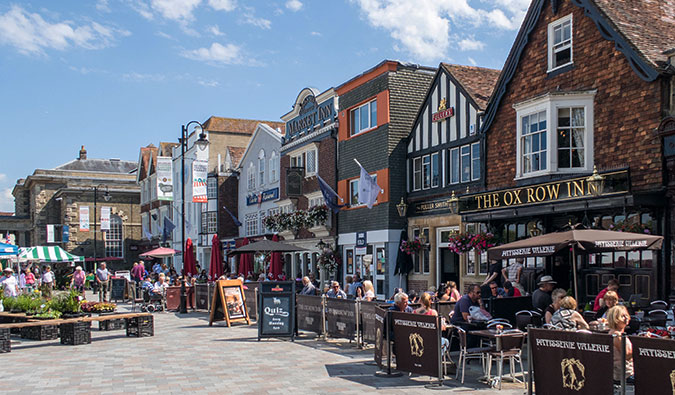 Markets were first held here in 1219 and the square is still filled with stores and sellers. You can pick up anything from fresh fish to discount watches. The narrow lanes surrounding the square are named after their medieval specialties: Oatmeal Row, Fish Row and Silver St.
Visit the market on Tuesdays from 8am-2:30pm and Saturdays from 8am-3pm.

4. Visit Stonehenge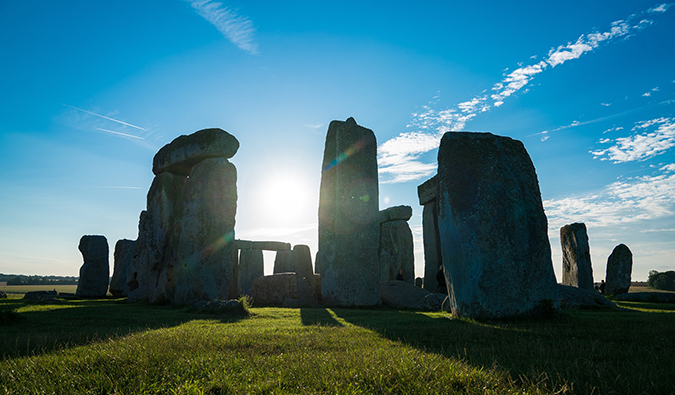 Located near Salisbury, this megalithic structure is over 3,000 years old and is the reason most people visit the town. Scholars still are not sure how the builders got the stones all the way from Wales and have tried to replicate the feat, with dismal results.
Moreover, we only have a vague idea of Stonehenge's purpose (we're basically just guessing). Stonehenge is now fenced off, and you can no longer go into the circle. But it's worth seeing up close for the mystery behind it and the excellent and detailed audio guide. Make sure you get a skip-the-line ticket as it can get busy (tickets are timed and include the audio guide).
Near Amesbury, +44 0370 333 1181, english-heritage.org.uk/visit/places/stonehenge. Open daily from 9:30am-7pm in the summer and 9:30am-5pm in the winter. Admission is 20 GBP.

5. Explore Old Sarum
Located a couple of miles from town, this is thought to be the site of the original city of Salisbury. Settlements here date all the way back to the Neolithic Age (6000-2200 BCE), with a fort being constructed on the hill in the Iron Age (800-1 BCE). It's a great place to go for a stroll and have a picnic as you sit among the ruins of history.
Castle Road, +44 0370 333 1181, english-heritage.org.uk/visit/places/old-sarum. Open daily 10am-5pm. Admission is 6.80 GBP.

6. Tour the Salisbury Museum
Not only does this museum have some noteworthy archeological finds but the building itself is also significant, dating back to the 13th century. The museum is housed inside The King's House, a building where King James I stayed on a couple of different occasions in the 1600s. There is a lot of jewelry on display you can see that dates back to the Bronze and Iron Ages.
The King's House, +44 0172 233 2151, salisburymuseum.org.uk. Open from 10am-5pm daily. Admission is 9 GBP.

7. Visit Fisherton Mill
Fisherton Mill is the largest independent art gallery in the South of England. Housed in a Victorian-style grain mill that dates to the late 1800s, this museum is full of art created by local painters, nationally recognized artists, sculptors, and craftspeople of all kinds. Along with the gallery exhibits there are studios and a small café on-site. Throughout the year, Fisherton Mill hosts a variety of events and workshops that are open to the public. If you're looking for a one-of-a-kind souvenir to take home, be sure to visit the gift shop which sells unique pieces from over 200 artists.
108 Fisherton St, +44 1722 415121, fishertonmill.co.uk. Open Monday-Friday from 10am–5pm and Saturdays from 9:30am–5:30pm. Admission is free.

8. Enjoy the Outdoors at Harnham Water Meadows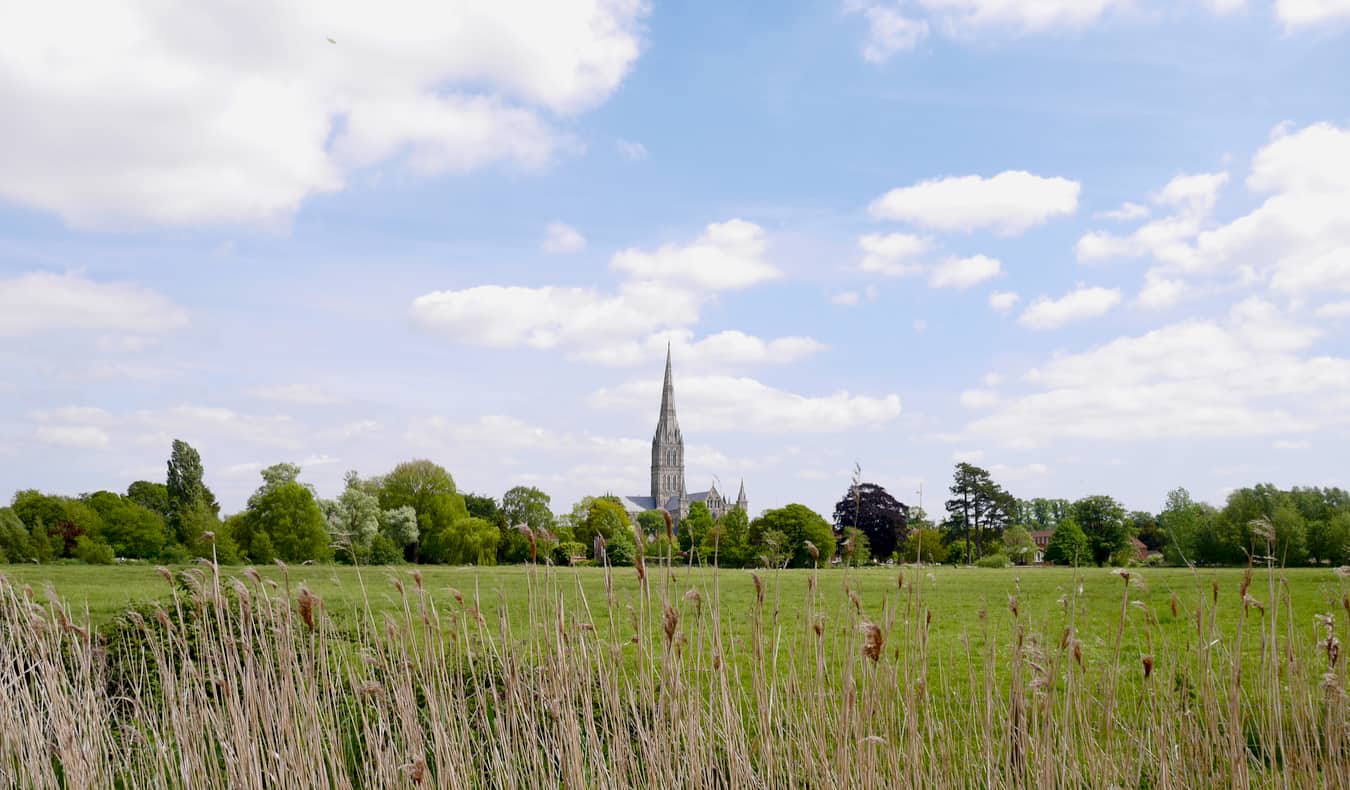 One of the most relaxing ways to spend a sunny afternoon in Salisbury is to take a stroll around Harnham Water Meadows Park. The nature preserve covers 84 gorgeous acres and you can relax on a bench with a good book or pack a picnic. The park has a trail through its 'water meadows' which are part of an irrigation system. The channels date back to the 1600s. Take in views of the nearby cathedral and watch the cattle freely graze nearby. It's a picturesque setting that inspired artists like John Constable, who painted the area in 1831.
***
Traveling to Salisbury can make for a great day trip from London, but to truly appreciate the area, it's better to spend a night or two. Walk around this historical town, visit Stonehenge, its little cousin Avebury, the cathedral, and journey into the country. There's a lot to do in Salisbury, and it's a great respite from the chaos of London so be sure to visit the town on your next trip to the UK! There's too much history here to avoid it!

How to Get to Salisbury
Salisbury is approximately a 90-minute drive away from London and around one hour from Portsmouth, Poole, and Southampton. There is direct train service from London, with tickets costing between 25-40 GBP.
Trains are also available from Bath, Cardiff, Exeter, Southampton, and Bristol with tickets costing between 15-40 GBP. Buses run from Heathrow Airport too, taking around 2.5-3 hours costing between 20-30 GBP.

Get Your In-Depth Budget Guide to Europe!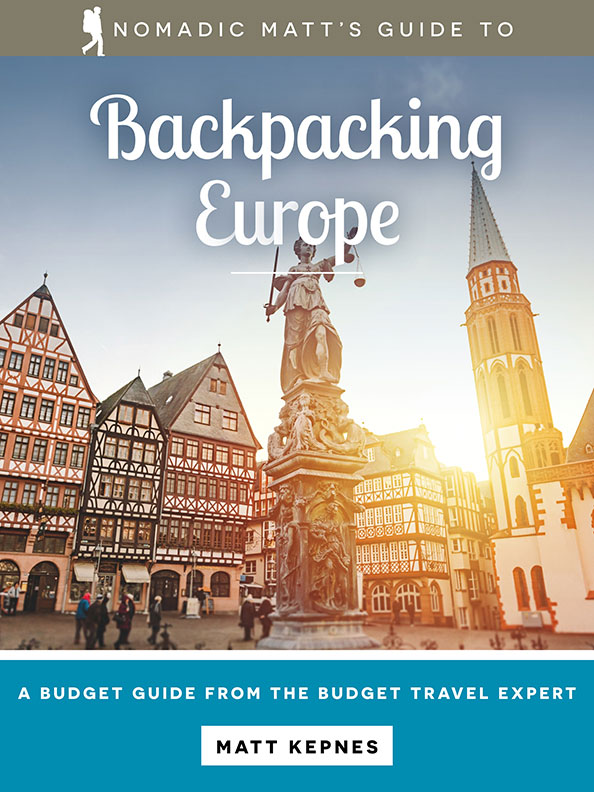 My detailed 200+ page guidebook is made for budget travelers like you! It cuts out the fluff found in other guides and gets straight to the practical information you need to travel while in Europe. It has suggested itineraries, budgets, ways to save money, on and off the beaten path things to see and do, non-touristy restaurants, markets, bars, safety tips, and much more! Click here to learn more and get your copy today.
Book Your Trip: Logistical Tips and Tricks
Book Your Flight
Use Skyscanner to find a cheap flight. They are my favorite search engine because they search websites and airlines around the globe so you always know no stone is left unturned.
Book Your Accommodation
You can book your hostel with Hostelworld as they have the biggest inventory and best deals. If you want to stay somewhere other than a hostel, use Booking.com as they consistently return the cheapest rates for guesthouses and cheap hotels.
Don't Forget Travel Insurance
Travel insurance will protect you against illness, injury, theft, and cancellations. It's comprehensive protection in case anything goes wrong. I never go on a trip without it as I've had to use it many times in the past. My favorite companies that offer the best service and value are:
Looking for the Best Companies to Save Money With?
Check out my resource page for the best companies to use when you travel. I list all the ones I use to save money when I'm on the road. They will save you money when you travel too.
Want More Information on England?
Be sure to visit our robust destination guide on England for even more planning tips!