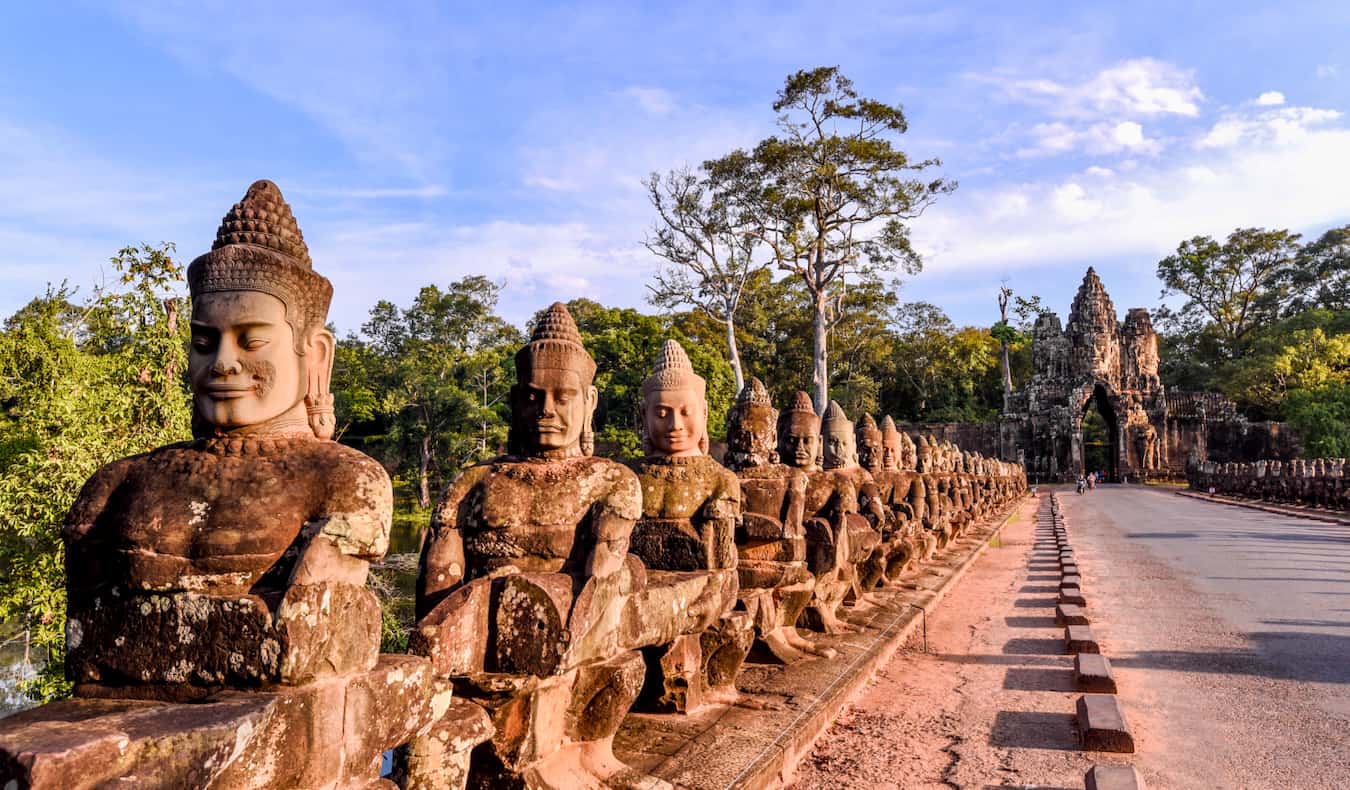 Last Updated: 3/6/23 | March 6th, 2023
The world is filled with mind-blowing man-made historical sites and wonders. Over the course of human history, we've produced some pretty amazing stuff, even if, sadly, not all of it has lasted until today.
With many breathtaking and incredible historical sites built by ancient civilizations, it's sometimes hard to narrow down the best. Think of all the lists of historical wonders out there and how different they are.
What criteria do you use to judge? What makes a good historical site? What makes the best?
Everyone has their own criteria for deciding what historical places are good or aren't good — including me. Not only am I a history buff who studied history in college but I've spent over 15 years traveling around the world and have visited countless historical sites and monuments in the world.
Below is a list of the best historical sites in the world — sites that every traveler should visit at some point. The story these ruins and monuments tell is part of humanity's shared story. They show us how we've developed as a species and as a civilization.
In short, they are great. You can click on the links below to jump ahead:
1. Machu Picchu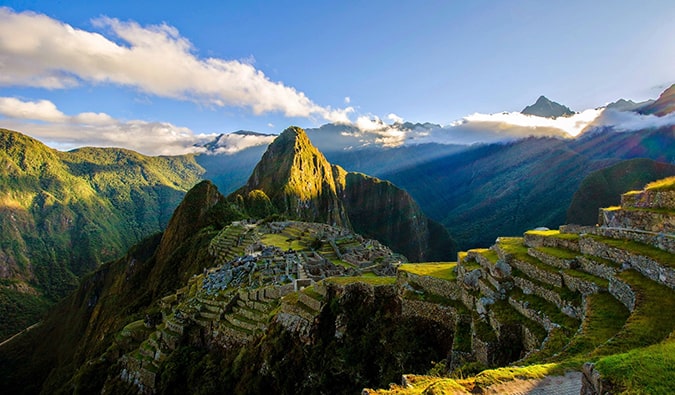 Located in southern Peru, this ruined city lies on top of a mountain that's only accessible by train or hiking the Inca Trail. Rediscovered by Hiram Bingham in 1911, it was an important cultural center for the Inca civilization but was abandoned when the Spanish invaded the region. (It is famously referred to as the "Lost City of the Incas," though that is actually Vilcabamba). The location was made a UNESCO World Heritage Site in 1983, and it was named one of the New Seven Wonders of the World in 2007.
Concerns over growing numbers of tourists have led to limitations on how many people can enter the site, though only by a fraction of what is necessary. Hopefully, they will limit it even more so this site can last for hundreds more years to come.
Where to Stay: Viajero Kokopelli – Viajero Kokopelli is a fantastic hostel with free breakfast, modern pod beds, a bar/restaurant, and a lively social crowd.
To start planning your trip, read my budget travel guide to Peru.

2. Tikal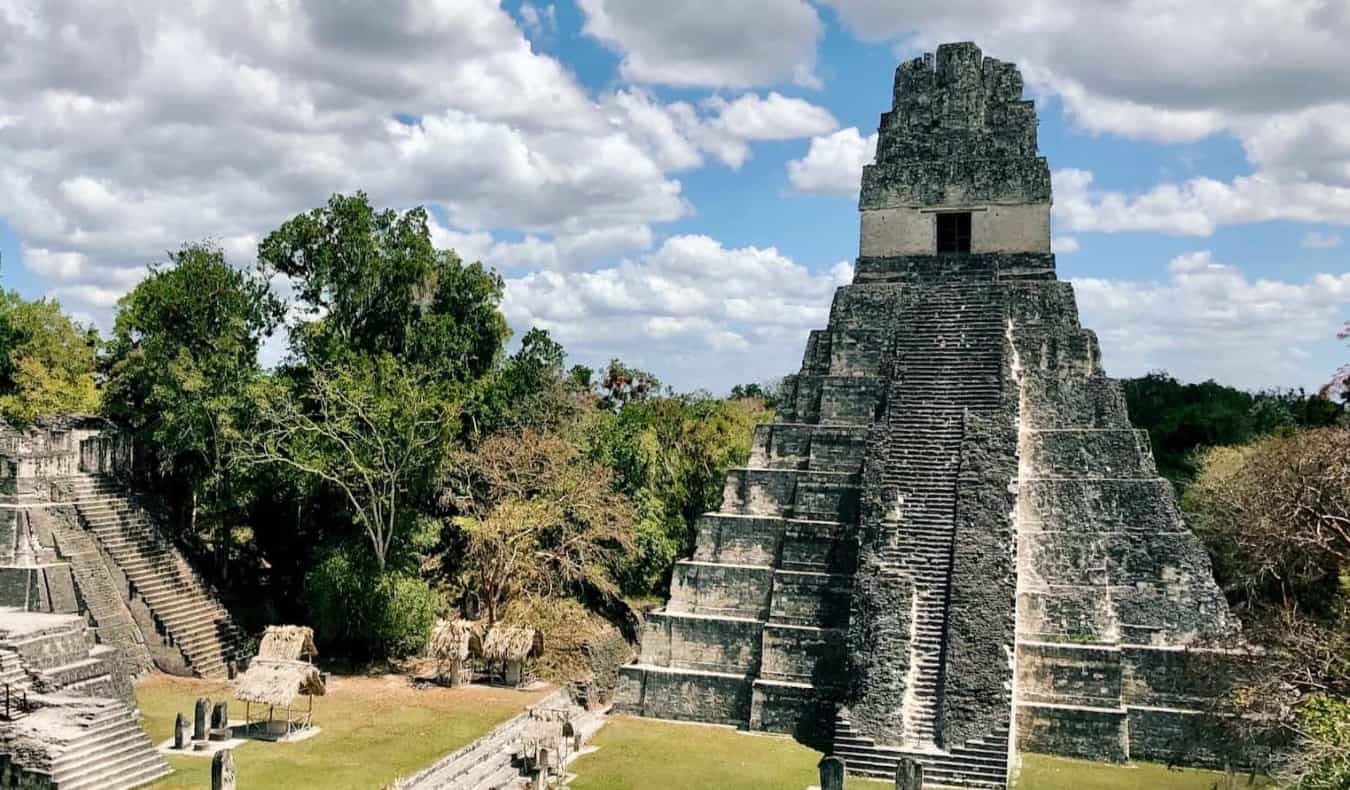 Tikal National Park is home to the largest and best-preserved ruins of the ancient Mayan civilization, and the city-state centered here was a dominant force in the Mayan world during the Classic Period (200-900 CE). Located in Guatemala, be sure to spend the night in the park, as you'll really get to see it without the crowds.
You can channel your inner Indiana Jones early in the morning or late at night when the tourists go home when it's just you and the jungle. It is very serene and doing just that made for one of the best travel memories I have. I particularly enjoyed seeing the sunrise from atop the temples. (Random trivia: The city at the end of Star Wars: A New Hope? Tikal!)
If you don't want to explore solo, you can take a more involved 8-hour guided tour of the site, which includes lunch, park admission, and the expertise of a local guide.
If you're coming from Belize, you may find a bus at the border for 100 GTQ per person. Otherwise, the best way to get there from Belize is to do a tour from San Ignacio or drive yourself (watch out for border officials overcharging you for visas!). The park's main gate opens at 6am and officially closes at 6pm. Adult tickets for foreigners are 150 GTQ (plus an additional 100 GTQ if you enter before 6am to see the sunrise).
Where to Stay: Los Amigos Hostel – An artsy, social hostel with a jungle garden for relaxing in, a bar/restaurant serving local cuisine, free Wi-Fi, and hot showers.
To start planning your trip, read my budget travel guide to Guatemala!

3. The Pyramids at Giza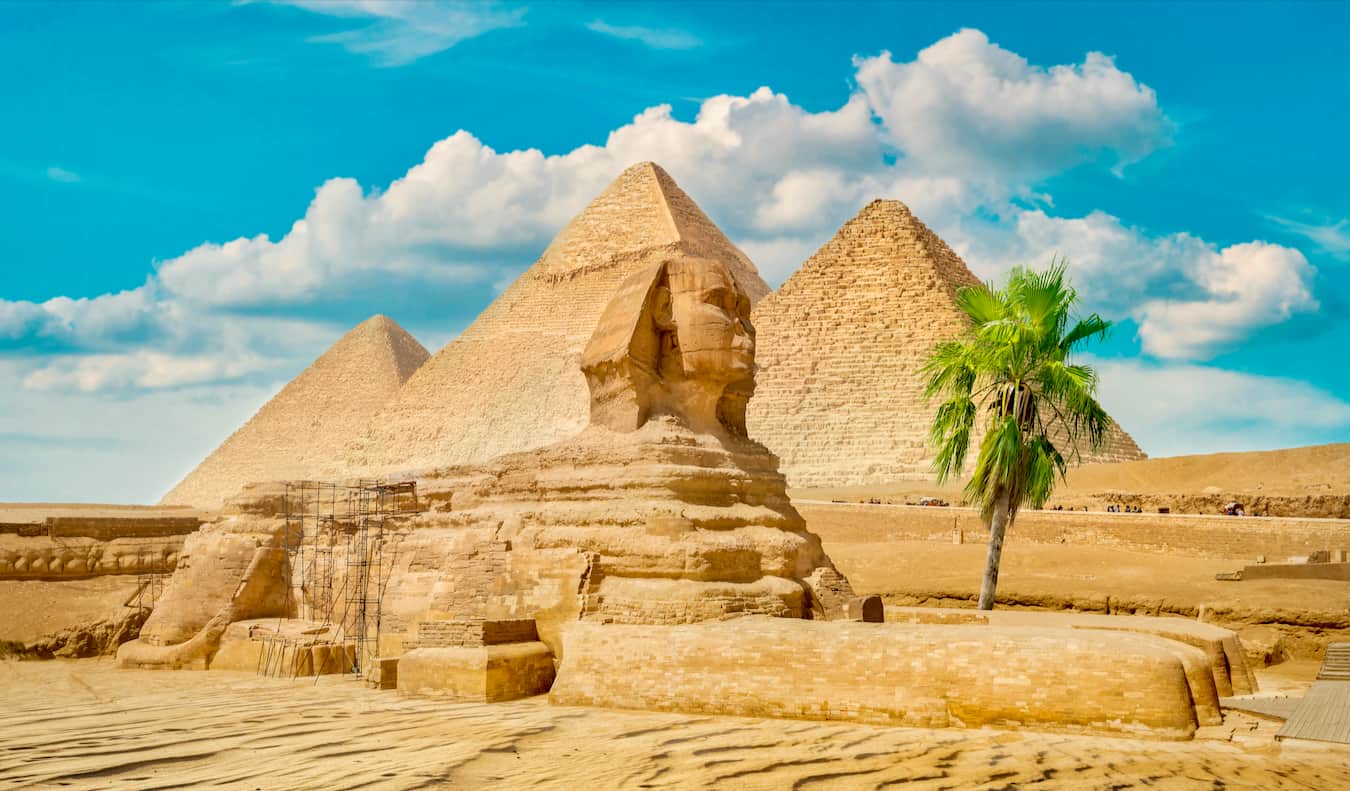 The Pyramids are truly a marvel of human engineering. They're over 3,000 years old, and we still don't have a good idea as to how they were built or how the Egyptians made them so precise. The three pyramids align with the stars and the solstices, and contain tons of chambers that still haven't been (and cannot be) opened. I mean, how did they create those little chambers where people can't even crawl through?
The largest, called the Great Pyramid, was built by the Pharaoh Khufu and has limited access.
Another popular and more convenient option for visiting the pyramids is via guided tour. There are tons of options departing from Cairo, including both full-day and half-day tours.
If you want to go on a multi-day tour through the country, here are my recommended options for tour companies in Egypt.
The pyramids are open daily from 8am-5pm (4pm from October to March). General Admission is 200 EGP, while admission to the entire complex, including entry to The Great Pyramid and the Solar Boat Museum, is 600 EGP.
Where to Stay: Horus Guest House Pyramids View – Just a short walk from the entrance to the pyramids, this guest house offers a complimentary Egyptian breakfast, free Wi-Fi, and exceptional views over the pyramids.

4. Angkor Wat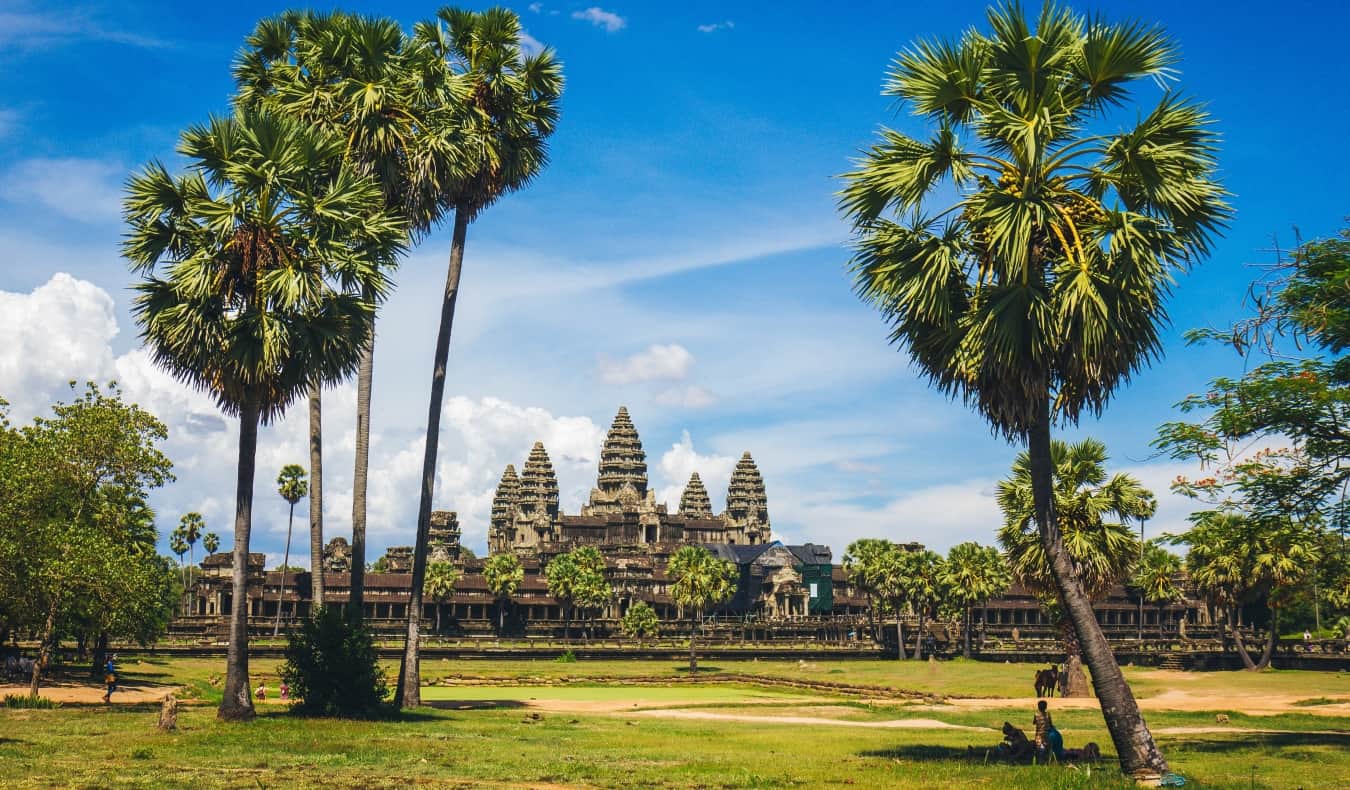 This ancient city in Cambodia was the center of the Khmer Empire that once ruled most of Southeast Asia. This empire fell into decline, but not before building amazing temples and buildings that were later reclaimed by the jungle for hundreds of years.
The most popular temples are Angkor Wat, Bayon, Ta Prohm, and Angkor Thom, and they always have crowds. In order to really experience the temples, you'll need to purchase the three- or five-day pass. The best time to visit is early in the morning before the big tour groups arrive and stay late after they have gone.
The temples are about a 20-minute drive from Siem Reap. A 1-day pass is $37 USD, 3-days is $62 USD, and 7-days is $72 USD. You can rent a tuk-tuk driver for about $20-25 USD to take you around for the day, or you can bike around yourself (the area is too big to walk).
There are also plenty of guided tours departing daily from Siem Reap, including sunrise tours so you can experience the complex before most of the crowds arrive. I personally enjoyed exploring the site by bike, and there are a number of bike tours that you can join (or you can rent your own bike and see it at your own pace).
Where to Stay: Onederz Hostel Siem Reap – This premium hostel is located right on bustling Pub Street and has multiple pools, a bar/cafe, and comfy private rooms and dorm rooms.
To start planning your trip, read my budget travel guide to Angkor Wat!

5. Petra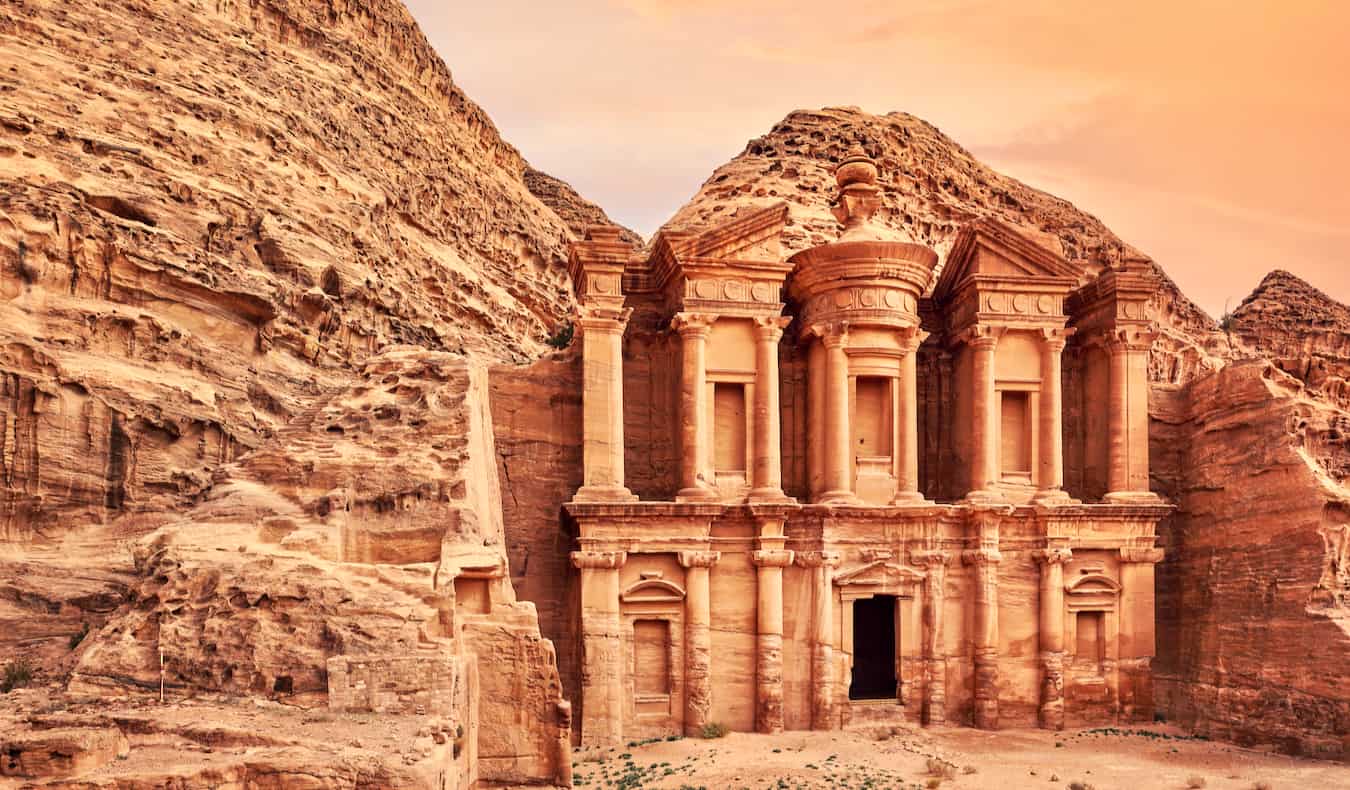 Carved into a canyon in Arabah, Jordan, Petra was made famous by the third Indiana Jones film when he went to find the Holy Grail. The site was "discovered" in 1812 by a Swiss explorer who followed some local tribesmen there; prior to that, it had been forgotten to the Western world. It appears this region had settlers as early as the 6th century BC.
Under Roman rule, the site declined rapidly and was abandoned by the late 4th century and more or less forgotten by much of the world. In 1985, Petra became a UNESCO World Heritage Site and was recently named one of the New Seven Wonders of the World.
Many tour companies run full day tours from Amman that include entrance fees and an English speaking guide. We also offer an 11-day tour of Jordan that includes several days in Petra!
Where to Stay: Ata Ali Hotel – This is a centrally-located, budget-friendly option for staying near Petra, with complimentary breakfast, a rooftop cafe, air-conditioning, and free Wi-Fi.

6. Stonehenge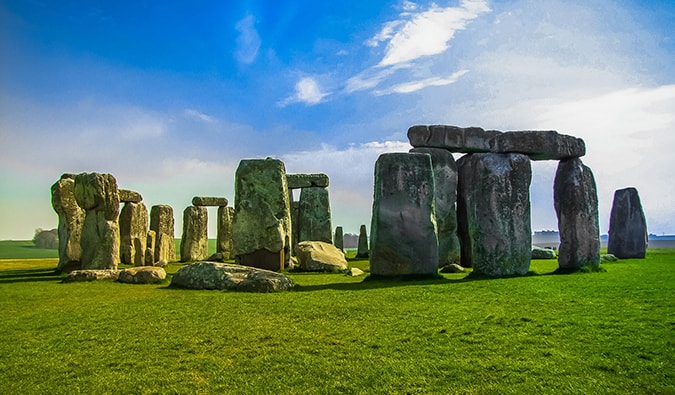 Located near Salisbury, this megalithic structure is over 3,000 years old. The massive stones, which come all the way from Wales, are each around 13 feet (4 meters) high, seven feet (2 meters) wide, and weigh around 25 tons. Scholars still are not sure how the builders got the stones there and have tried to replicate the feat, with dismal results. Moreover, we only have a vague idea of its purpose (we're basically just guessing).
Stonehenge is now fenced off, and you can no longer go into the circle of stones; visitors can only walk around the attraction. But it's worth visiting for the mystery behind it. There's an excellent and detailed audio tour, which is included in admission (booking timed tickets in advance online is required).
Group day trips from London are a popular option too (though keep in mind that it's two hours one-way).
Stonehenge is open from 9:30am-7pm (closes at 5pm from September 6th–March 15th). Prices start at 20 GBP for adults, and 12 GBP for children, though prices fluctuate a bit by season.
Where to Stay: The Wheatsheaf – A traditional-style inn located in a historic 19th-century building in Salisbury with free parking and a pub downstairs.
To start planning your trip, read my budget travel guide to England!

7. The Colosseum and Forum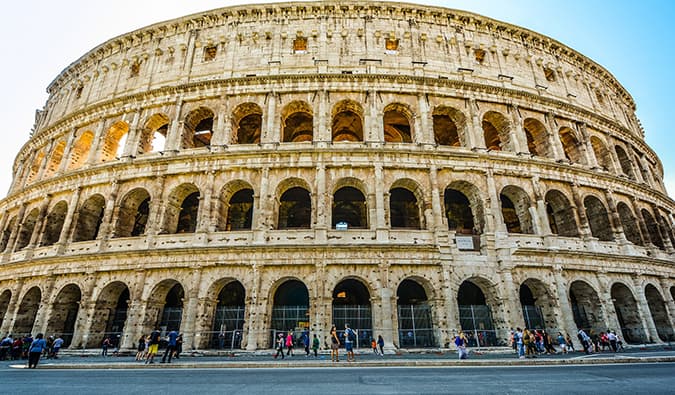 The Colosseum and the Forum are right next to each other in Rome. The Colosseum was the largest amphitheater in the entire Roman Empire (it could hold 50,000-80,000 people), while the Roman Forum was the center of Roman public life and the place from which Rome administered its empire. Remnants of a civilization that once controlled the known world, these sites are breathtaking not only for their beauty but also for their history and age, dating back around 2,000 years.
The complex has slowly crumbled throughout the ages, and much of it is restricted now, especially the floor and basement where everything was organized (though some tours, like this one, provide guided access to these restricted areas).
I definitely recommend a guided tour that includes skip-the-line access because the information presented by the authorities doesn't go into much detail.
Where to Stay: YellowSquare – A fun, social hostel with a bar downstairs, organized walking city tours, and a coworking space.
For more hostel suggestions, check out my list of the best hostels in Rome, and for more insights into the different areas of the city, here's a post that breaks down the best neighborhoods in Rome.
To start planning your trip, read my budget travel guide to Rome!

8. The Parthenon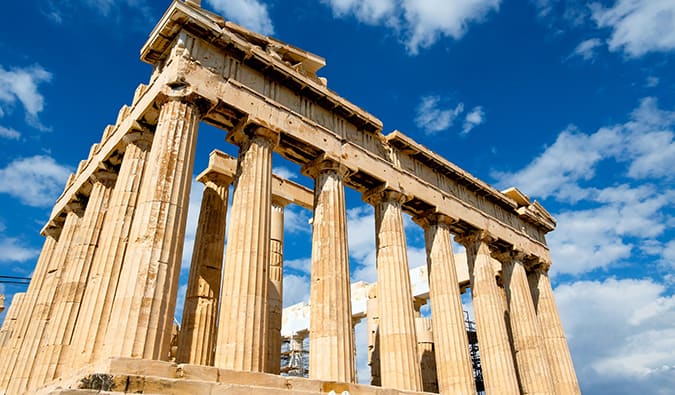 The Acropolis is a 5th-century BCE citadel overlooking Athens. The hilltop complex includes ancient buildings and ruins like Propylaea, the temple to Athena, and the famous Parthenon. This ancient temple to Athena stands as a symbol of the power of Athens and a testament to Greek civilization.
Though it's currently (and seemingly has been forever) getting a face-lift, the Parthenon is still astounding and breathtaking. Moreover, it provides a sweeping view of Athens and nearby ruins, whose temples and buildings are equally as wondrous.
Admission is 20 EUR, or for 30 EUR you can get a 5-day combined ticket that includes many other archaeological sites in Athens. For a guided tour, Athens Walking Tours runs guided tours for around 50 EUR (including admission) that skip the line.
Where to Stay: Pella Inn Hostel – Located in the fun, vibrant neighborhood of Psyrri just north of the Acropolis, Pella Inn has affordable private and dorm rooms, all with their own balconies, and a rooftop bar with panoramic views of the city.
For other suggestions, check out this post on the best neighborhoods in Athens and where to stay in each.
To start planning your trip, read my budget travel guide to Athens!

9. Easter Island

Located out in the Pacific Ocean, Easter Island is a special territory of Chile that is home to over 900 monolithic statues called Maoi. Native Polynesians created these gigantic and impressive statues between 1250-1500 CE. The largest stands at 33 feet (10 meters) high and weighs almost 81 tons.
The stones that attract visitors to this island are made out of volcanic ash; many still remain in the quarry, left behind by the inhabitants as diminishing resources on the island drove the tribes to go to war with each other.
There is much speculation about the creation, purpose, and transportation of the statues, and the mystery is part of what adds to the allure of visiting this enigmatic place. Due to its remote location, Easter Island is expensive to visit, though it's still possible to find ways to cut your costs here if you're strategic.
Where to Stay: Hostel Petero Atamu – Offers apartment rentals with kitchen access, complimentary breakfast in the mornings, and a free shuttle to/from the airport.
To start planning your trip, read my budget travel guide to Chile!

10. Taj Mahal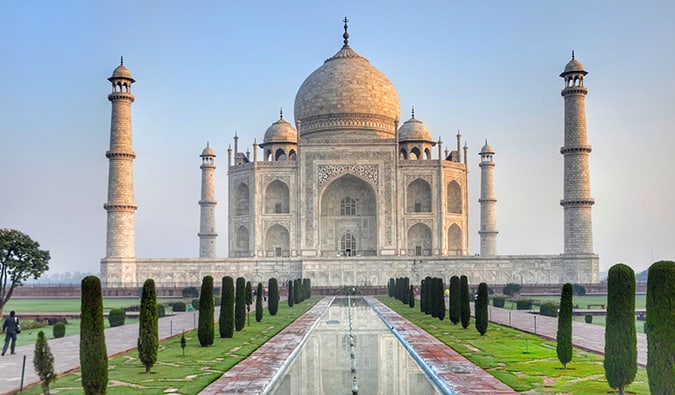 Built in the 1600s, this building in Agra, India, is a testament to undying love. This white marble tomb built for Emperor Shah Jahan's deceased wife is a must-see for everyone. In 1983, it was named a UNESCO World Heritage Site, and also has been named one of the New Seven Wonders of the World.
The Taj sees between two and four million tourists annually, so there have been recent restrictions on tourism in an effort to help protect the site. However, the greatest threat is the air pollution that is destroying the marble.
While it's a bit far (three hours one-way), guided day trips from Delhi are popular as well as convenient option, especially if you're short on time. You'll get a knowledgeable guide plus all transportation is taken care of.
The site is open from 7am-5pm from Saturday-Thursday and closed Fridays. Adults cost 1,100 INR plus an additional 200 INR to visit the main mausoleum.
Five nights a month (on the full moon, as well as 2 nights before and 2 nights after), you can visit at night in order to see the marble spectacularly lit up by the natural light of the moon. Tickets are limited (only 50 people are allowed in per 30 minute visit) and cost 750 INR.
Where to Stay: Joey's Hostel Agra – Offers affordable private and dorm rooms with air-conditioning, a shared lounge and kitchen, and a rooftop terrace with incredible views overlooking the Taj.

11. The Alhambra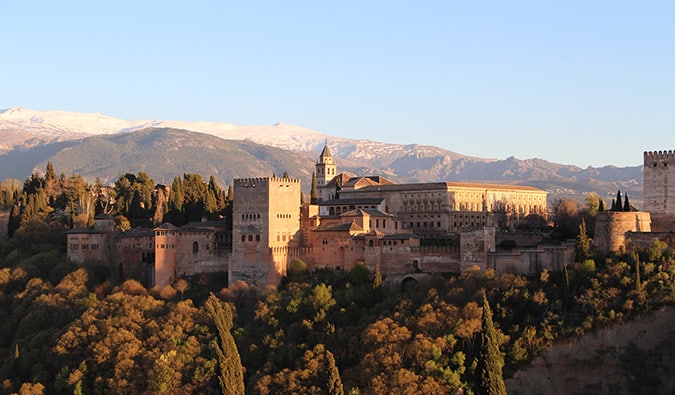 The Alhambra is Granada's — and Europe's — love letter to Moorish culture, a place where fountains trickle, leaves rustle, and ancient spirits seem to mysteriously linger. Part palace, part fortress, part lesson in medieval architecture, this UNESCO World Heritage Site has long enchanted a never-ending line of expectant visitors.
It's one of the best-preserved historic Islamic palaces in the world, with construction starting in 1238 by Muhammad I Ibn al-Ahmar, founder of the Emirate of Granada, on the ruins of a Roman fort.
During the Napoleonic occupation, the Alhambra was used as a barracks and nearly blown up. What you see today has been heavily but respectfully restored. This is a beautiful site with so many various gardens and buildings, and its view of the historic area of Granada is second to none.
Due to high demand and visitor restrictions, I highly recommend booking a ticket in advance.
If you take a guided tour, fast-track advance tickets are included, plus you'll get a more in-depth experience with a local guide. Adult tickets are 19.09 EUR. Children under 12 are free.
Where to Stay: Eco Hostel – A modern, social hostel located in a beautifully restored historic building right on one of Granada's main thoroughfares.
To start planning your trip, read my budget travel guide to Granada!

12. The Great Wall of China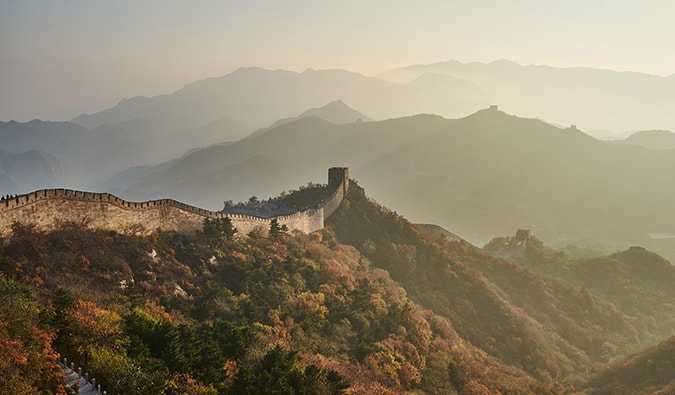 The Great Wall of China was originally conceived by Emperor Qin Shi Huang (ca. 259–210 BCE) in the third century BC as a means of keeping out the Mongol hordes invading the country. The best-known and best-preserved section of the Great Wall was built in the 14th through 17th centuries, during the Ming dynasty (1368–1644) and spans 8,850 kilometers (5,499 miles). Though the Great Wall never effectively prevented invaders from entering China, it's still a massive engineering and construction feat and one of the most incredible wonders of the world.
Many people take guided group tours from Beijing, which includes round-trip transportation, tickets, and the insights of a local guide.
Where to Stay: The Great Wall Courtyard Hostel – Located at the Badaling section of the wall, this is a simple yet nice hotel with Wi-Fi, air-conditioning, and it's just a short walk to both the train station and the entrance to the Great Wall.
To start planning your trip, read my budget travel guide to China!

13. Chichén Itzá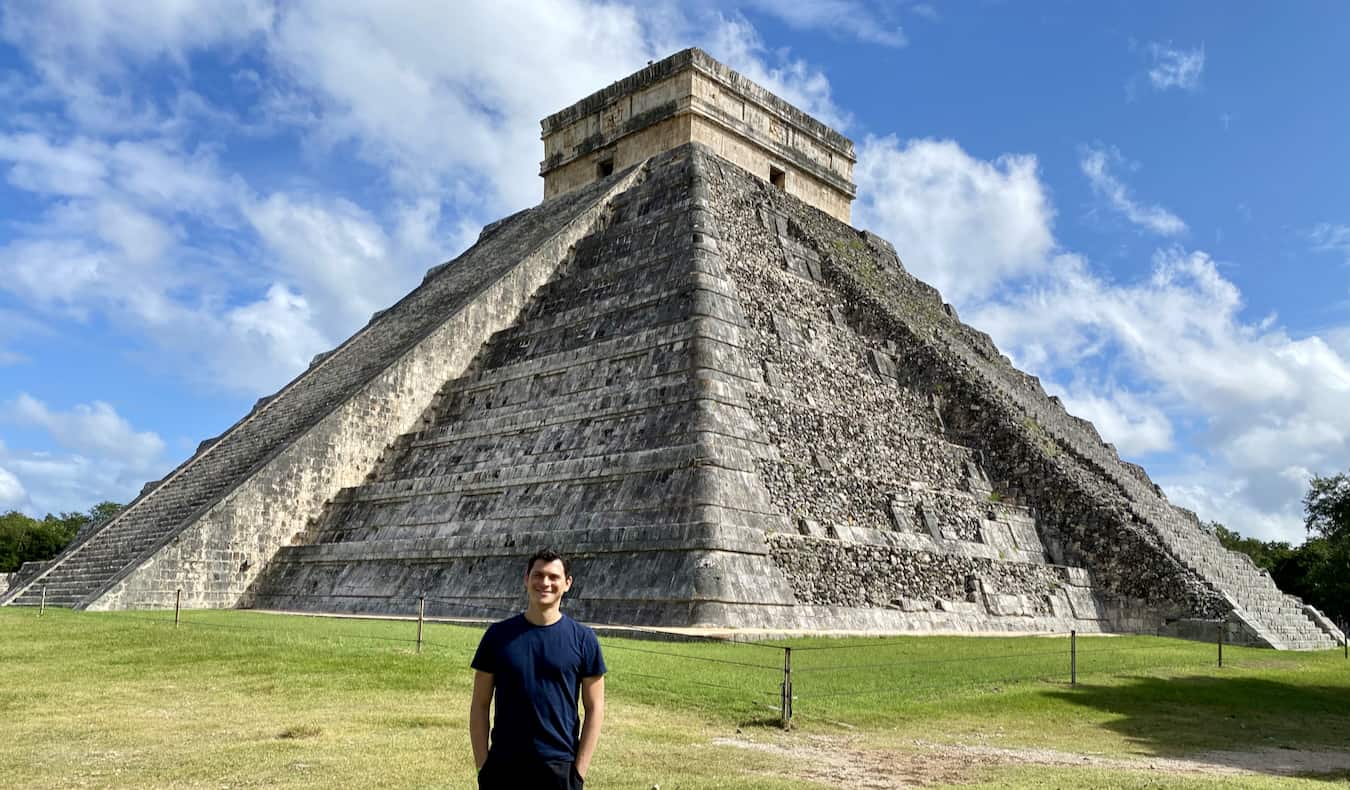 Chichén Itzá, meaning "at the mouth of the well of Itzá," is a Mayan ruin dating back to 550 CE, and the most visited archeological site in Mexico. One of the New Seven Wonders of the World, it's one of the most important — and largest — Mayan historical structures in the Americas and has been significantly restored in the last few years.
Historians believe the location was chosen due to its proximity to Xtoloc cenote, an underground freshwater source. At its height, the city was home to an estimated 35,000 people, and today the ruins include 5 square kilometers (1.9 square miles) of temples, intricately carved columns, tombs, and even ball courts.
Many tour companies also combine a visit to the site with other attractions in the area, such as this tour from Cancun that takes you to a cenote for swimming as well.
Entry to Chichén Itzá is 613 MXN and the site is open daily from 8am-5pm.
Where to Stay: Mama's Home – This hostel in Tulum is located on a centrally-located street and offers a free home-cooked Mexican breakfast every morning, social activities, and bike rentals.
To start planning your trip, read my budget travel guide to Mexico!

14. Volubilis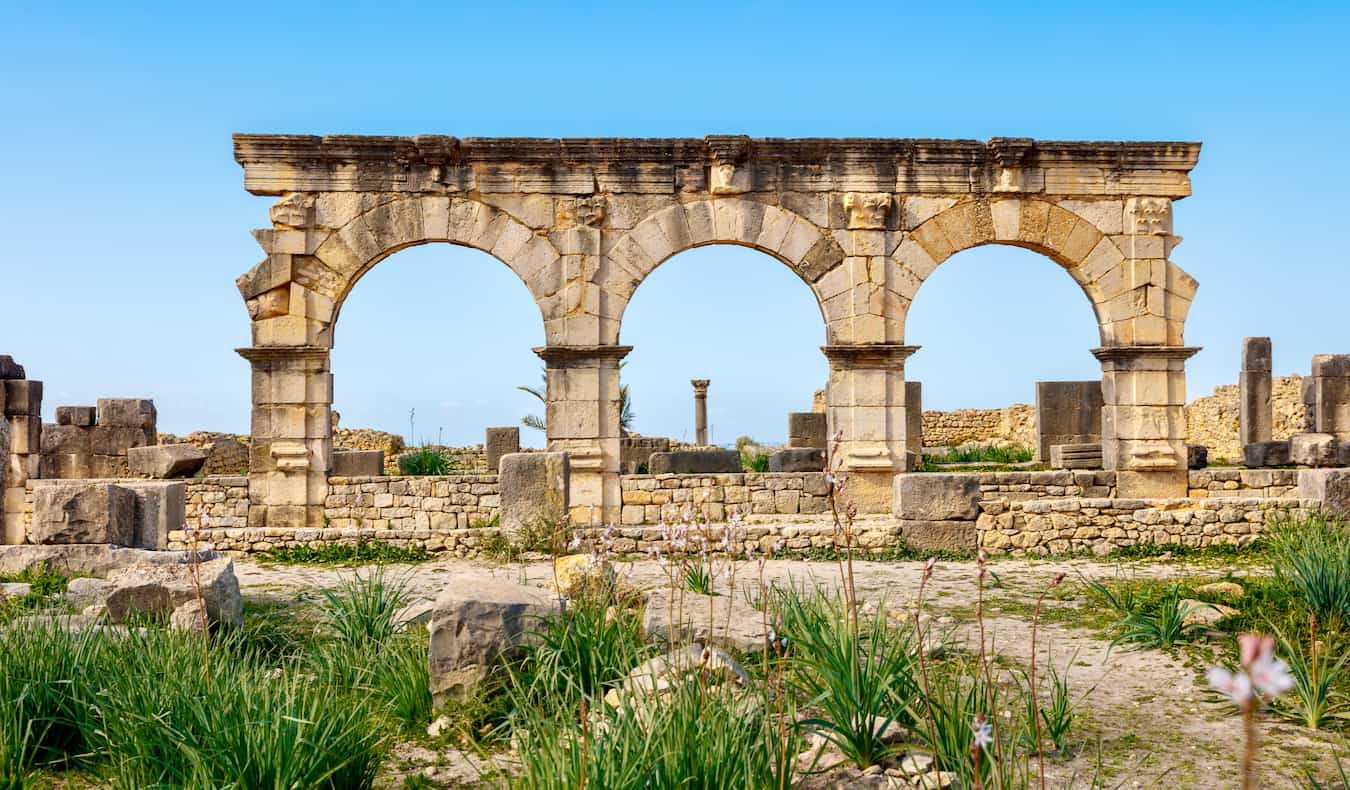 A major trading center and the southernmost settlement during Roman times, Volubilis in Morocco is one of the best preserved (and least frequented) ruins of its kind in the world. It originally dates to the 3rd century BCE and became the capital of the ancient kingdom of Mauretania, growing even more during Roman rule.
I found it empty of tourists, not built up, and open in a way that really lets you get up close and see the structures without being behind ten feet of barriers and jostled by crowds.
Most of the city is still unexcavated, so the site has a very raw feel to it. I've been to a lot of Roman ruins in my travels, but I love this one the best. It's a lovely day trip away from the crowds and noise of Fez.
There are many tour companies that offer day trips to Volubilis from Fez, or you can join a multi-day tour through Morocco. Volubilis is open daily and costs 70 MAD to enter.
Where to Stay: Riad le petit ksar – This is an excellent riad (a traditional-style Moroccan house with an inner courtyard) with a rooftop terrace, complimentary breakfast, air-conditioning, and a variety of rooms.
To start planning your trip, read my budget travel guide to Morocco!

15. Sukhothai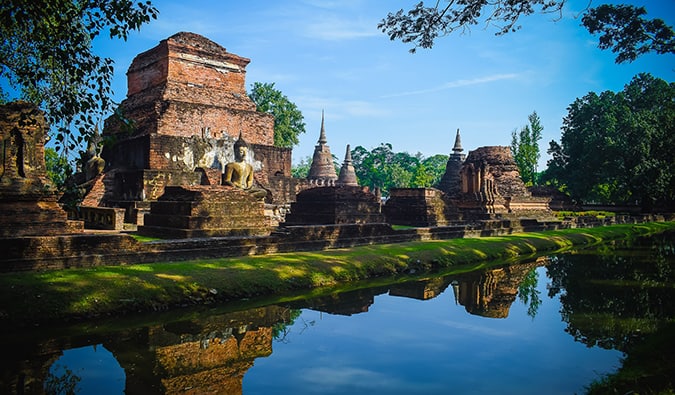 Located in north-central Thailand, Sukhothai was the capital of Thailand from 1238 to 1438 CE. This is site is often overlooked by travelers, as few stop there on the way to Chiang Mai.
The central area contains 21 temples enclosed by a moat. Its many temples showcase the unique Sukhothai style of decoration, which incorporates Khmer (Cambodian) and Sri Lankan influences. It's a huge, huge site and takes a good day or two to see. Most of it is exposed to the sun, so bring sunscreen or you'll get massively sunburned.
Since there are actually three ruined cities here, seeing them by bike is a fun way to cover a lot of distance. You can take a full-day or two-hour bike tour with Sukhothai Bicycle Tour.
Where to Stay: Old City Boutique House – This hostel is right near the entrance to the historical park and has AC, free breakfast, bike rentals, and friendly owners to help you with whatever you need!
To start planning your trip, read my budget travel guide to Thailand!

16. Pompeii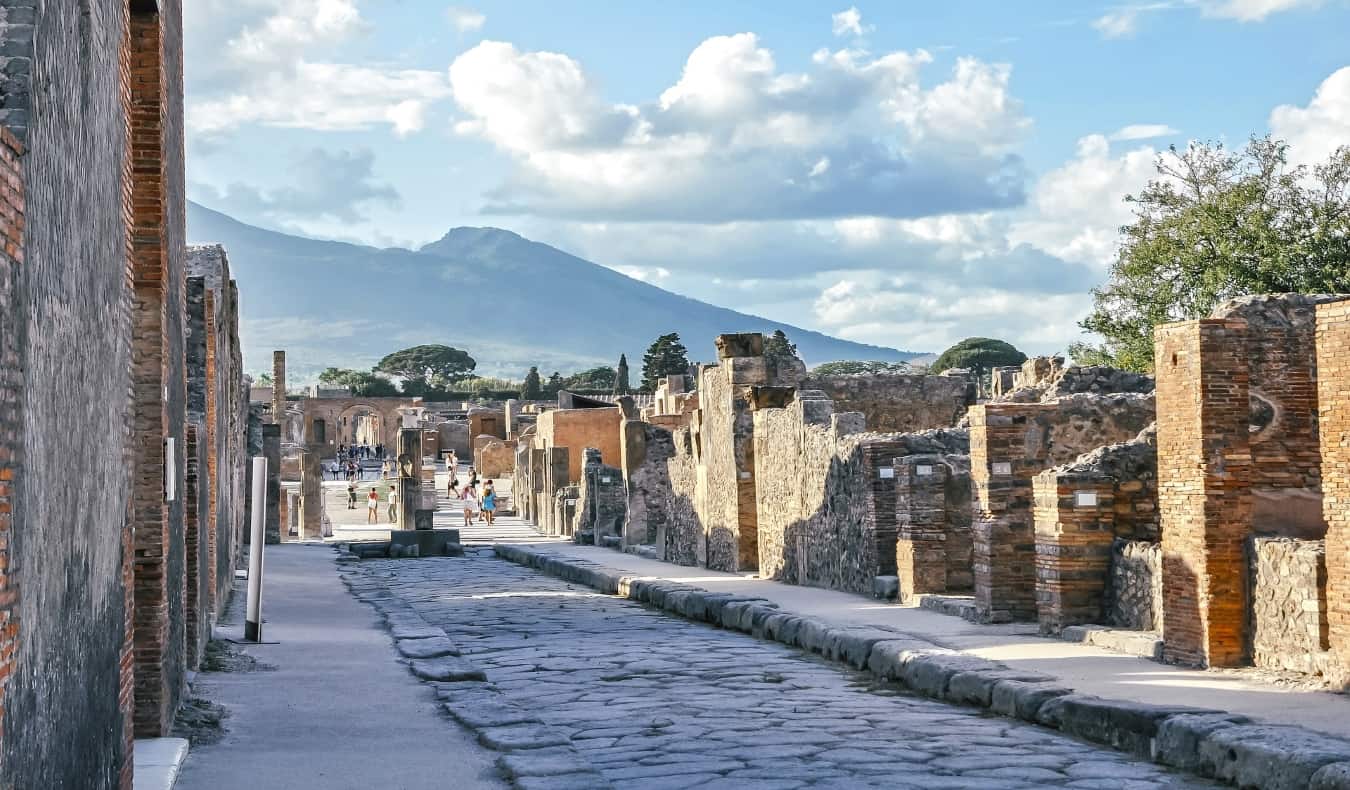 Located a short train ride from Naples, Pompeii is an ancient city that was destroyed by a volcano, preserving it in a blanket of ash. Walk around the Roman city as it stood the day that Mount Vesuvius exploded in 79 CE, moving in and out of homes, villas, baths, and businesses where pots and vases still lay. Most of the beautiful frescoes are still there too. There are even (somewhat gruesome) casts of victims of the volcano, frozen in ash at the moment of their deaths.
Admission is 16 EUR while a guided tour with a professional archeologist is 59 EUR.
Where to Stay: Hostel of the Sun – Located in Naples, this is a cozy, award-winning hostel with private and dorm rooms as well as complimentary breakfast in the mornings.
To start planning your trip, read my budget travel guide to Pompeii!
***
The world has many amazing historical sites and these ones are the best but, even if you don't make it to these, there are plenty more out there worth seeing. Just look some up where you are going! Make your own list! The more you know and understand the past, the more you can understand why people act the way they do in the present. Visiting these attractions and learning our history helps us get there!


Book Your Trip: Logistical Tips and Tricks
Book Your Flight
Find a cheap flight by using Skyscanner. It's my favorite search engine because it searches websites and airlines around the globe so you always know no stone is being left unturned.
Book Your Accommodation
You can book your hostel with Hostelworld. If you want to stay somewhere other than a hostel, use Booking.com as it consistently returns the cheapest rates for guesthouses and hotels.
Don't Forget Travel Insurance
Travel insurance will protect you against illness, injury, theft, and cancellations. It's comprehensive protection in case anything goes wrong. I never go on a trip without it as I've had to use it many times in the past. My favorite companies that offer the best service and value are:
Want to Travel for Free?
Travel credit cards allow you to earn points that can be redeemed for free flights and accommodation — all without any extra spending. Check out my guide to picking the right card and my current favorites to get started and see the latest best deals.
Ready to Book Your Trip?
Check out my resource page for the best companies to use when you travel. I list all the ones I use when I travel. They are the best in class and you can't go wrong using them on your trip.