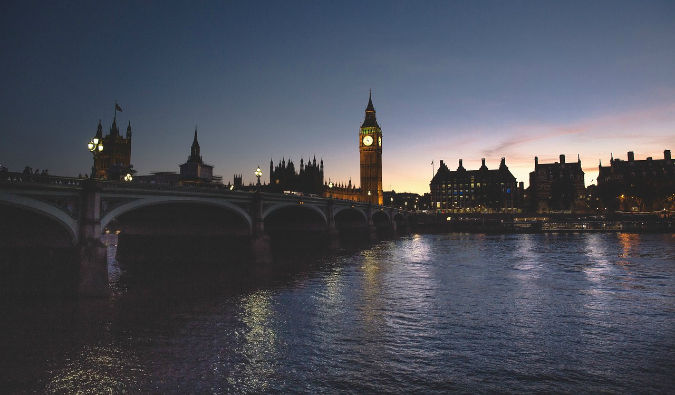 Updated: 3/25/21 | March 25th, 2021
London.
It's one of the most expensive destinations in the world.
How do you visit London on a budget?
I came to the city on a 10-day trip for a travel conference and I thought it was the perfect place to test out my travel hacking theories to see if you could visit London the cheap. Few people No make plans to travel to London thinking they are going to be able to visit cheap.
But what if you could?
After all, there are few impossible budget travel destinations the world.
A city as big and diverse as London must have plenty of ways to lower your costs?
If you can hack London and visit on a budget, you can travel hack anywhere.
So, without further ado, here's how my experiment went!
How I Saved on My Flight to London
I used my American Airlines frequent flier miles to pay for my flight. A round-trip ticket from Boston to London cost me 60,000 miles, plus a service charge of $165.10 in taxes and fees.
The miles I used were "anytime miles," but American Airlines also offers "OffPeak Miles" (off-season really), and you can actually fly to London for as little as 40,000 miles round-trip.
How do I get so many miles?
I'm a frequent flier, so I can generate a lot of miles per year. I normally fly about 40,000–50,000 miles per year, which, compared to most travel writers, is pretty low. But I've written extensively on how to get miles for free. I sign up for bonus credit cards, sign up for deals, use preferred merchants, and sign up for every contest that gives extra miles. All told, I've accumulated over 400,000 frequent flier miles with American Airlines alone through these methods.
While I've written many blog posts on how to get free miles, here's a quick summary of the best methods:
Sign up for a branded airline credit card: Whether you love Delta or fly United and the Star Alliance, all US carriers have a branded travel credit card that gives you 40,000–50,000 points when you sign up and make one purchase. That's a free economy ticket right there. The quickest and best way to gain a lot of free miles is to get one of these travel credit cards.
Watch out for special promotions: I sign up for all airline mailing lists. I always watch out for special two-for-one mile deals. Or when they have special card offers to earn extra miles. American Airlines just gave me 1,000 miles for watching a demo on their new shopping toolbar. I once got 5,000 miles for joining Netflix. Often you get miles for filling out surveys too or even by tweeting the brands! Utilizing promotions over the course of a few months can yield big results.
Sign up for a non-airline credit card: Sign up for a non-airline credit card like a Starwood American Express card, and you can get 75,000 sign-up points. Afterward, you can transfer your sign-up bonus points to the airline you use and redeem them for flights.
How Much Did I Spend in London?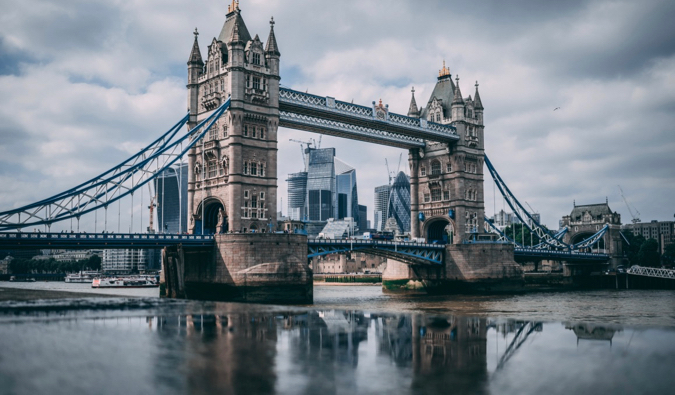 During my 10 days in London, I spent 481.21 GBP or $710 USD. That works out to be roughly $70 USD per day. And that's not just my day-to-day expenses. That includes EVERYTHING:my flight to London, my hotel, transportation, food, drinking, and attractions.
Think about that for a second.
I had a 10-day vacation in London for $700 USD that included airfare. When was the last time you went to Europe for that little money? When was the last time any big international trip cost that kind of money?

How Did I Do London on a Budget?
Before I explain how I did it, I want to take a second to explain some of the ground rules I laid out for myself. I didn't want to backpack London. My goal was to show the budget travelers of the world — the two-week holiday-makers — that you can do London on the cheap without being a backpacker. That saving money isn't all dorm rooms, Couchsurfing, and eating pasta.
So, visiting London as a budget traveler, I made three rules:
1. I wouldn't stay in hostels. I wanted to stay in nice accommodation to prove that even a hotel stay can be cheap.
2. I had to eat a few nice meals. When you go on holiday, you want to eat nice food, so I agreed that I would have at least two really nice meals in London.
3. I couldn't say "no" because it was expensive. Many backpackers skip sightseeing because of the cost, but I wanted to do all the normal sightseeing activities regular tourists do. You don't go on a short vacation to not sightsee right?
With these ground rules in place, I set off to visit London as a budget traveler:

How I Saved on My Accommodation in London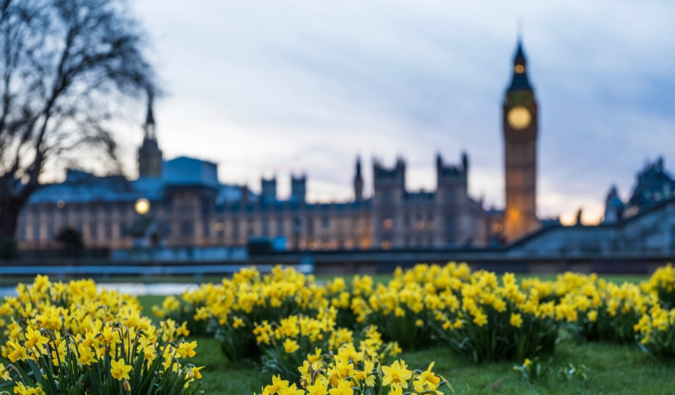 I had hoped that by the time I went to London, my Marriott points would credit to my account. Marriott is offering a new card with Chase that got me 70,000 points plus one free stay for signing up and after the first use. I jumped on this deal, but the points took too long to place into my account. (On the plus side, I now have 70,000 points and a free night at a Marriott for future use.)
Since my points didn't get credited in time, I used more American Airlines miles for this. I used 68,000 points plus $25 USD for five nights of accommodation in a four-star hotel. I stayed in a hotel near Hyde Park, a very well-to-do neighborhood in London.
Now, while you can use airline miles for vacations and hotels, you never get as good of a deal when you use them for flights. Five nights using hotel points would have cost me just 50,000 points. The point here, though, is that by signing up for a branded hotel card, you can use those points to get free hotel stays for your next vacation. Or you can use the bonuses from an airline. Either way, getting free hotel rooms isn't that hard.
For the other four nights, I was London, I used Airbnb. While I normally like hostels, I wanted some peace and quiet as well as a kitchen while in London. The room cost 150 GBP ($238 USD) for four nights.

How I Saved Money Visiting Attractions in London
London is great for sightseeing because so much is free here. It makes sightseeing on a budget really easy. The best museums — the British Library, British Museum, National Gallery, Natural History Museum, and Museum of London (just to name a few) — are all free. Hyde Park? Free. Kensington Gardens? Free. It's easy to fill a few days with sightseeing in London without ever spending a penny.
But sadly, not everything is free. For attractions that weren't free, I used the London Pass. This tourist card cost me 54 GBP ($86 USD) for two days of sightseeing. It covers over 32 destinations and offers free public transportation. You can get a pass for up to six days (87 GBP). There are hundreds upon hundreds of dollars in savings with this pass. However, I didn't have much time nor the desire to see all 32 spots. I was able to see:
Westminster Abbey
Tower of London
St. Paul's Cathedral
Ben Franklin House
Britain at War Museum
Shakespeare's Globe Museum
London Tombs
Without this pass, the same attractions would have cost me 104.55 GBP. I saved 50% by using the London Pass, and I didn't even use it for everything it offers. This is why in so many of my posts about various cities, I stress getting a city pass if you plan to do a lot of museums and tours. You can save a lot of money by doing so. It's one of the best budget travel tips out there and is all too often overlooked.
Note: As of 2021, the London Pass is 100 GBP ($140 USD) for the two-day pass. Still a bargain if you plan to see a lot!

How I Saved Money on Food in London
I didn't want to be the typical backpacker and eat kebabs and pasta for every meal. But at the same time, I know locals don't eat out 100% of the time, either, and a great way to save money is to cook, which is part of the reason I got a place with a kitchen for my last four nights. I wanted to mix eating out with cooking a few meals.
During my 10 days in London, I spent 103.80 GBP ($165 USD) on food, which broke down the following ways:
I spent 9.11 GBP on groceries, including bread, sandwich meat, vegetables, and pasta. This was enough for three dinners and three lunches. (Seriously.)
I spent 2.20 GBP on water bottles, which I refilled over the course of my trip.
My hotels and serviced apartment provided breakfast, though I did go out for McDonald's one morning. (I just love those hash browns.)
The rest was spent on dining out.
I got pizza one day, went out for good Thai food for one dinner, had great Indian one night, ate typical fish and chips the next, had a few Starbucks green teas, and ate tons of kebabs. They're everywhere in London. According to my friends, you're a true Londoner if you're dining on kebabs, especially if it's after a night out.
As I said, I didn't want to skimp on meals. I ate how and when I wanted to. I did look for deals, though, as any good budget traveler knows that good food doesn't have to be expensive. In London, I found the best way to eat out on a budget was to look for lunch specials. Most restaurants I came across had lunch specials, and many pizza places offered a "buy one, get one free" deal on takeaway.
Another great way to save money is to get the Taste Card. This diner's club card offers 50% discounts on thousands of restaurants as well as two-for-one specials. It can really pay off, especially on those nice meals you'll want to have. You can only live on fish and chips for so long.

How I Saved Money on Transportation in London
My London Pass covered public transportation for the two days it was valid. And since cabs in London are notoriously expensive even by London standards, I refrained from taking them.
For transportation to Heathrow airport, I took the Heathrow express to get into the city (18.50 GBP) and the London Underground to get out (5 GBP). Around the city, I loaded my oyster card (metro card) for unlimited use within Zones 1–3 for seven days at a cost of 32.20 GBP.
How Much Would This Trip Regularly Cost?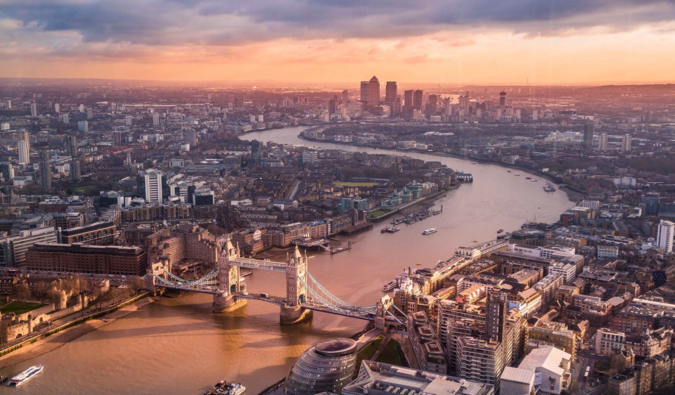 Had I fallen into the trap that most people do of booking a "normal vacation," this London trip would have cost me three times as much.
A return flight to London from Boston right now is currently running around $500 USD.
Currently, the average price of a decently-rated three-star hotel in central London is around $120 USD per night. For my nine-night trip, that adds up to around $1,080 USD.
Had I refrained from cooking, I probably would have added about another $150 USD on dining out, knowing my eating habits.
If you add that up and add a little for transportation around the city, I would have spent almost $1,800 USD on this trip.
By traveling hacking and spending wisely, I spent 10 days in London for less than half of that, saving myself over $1,000 USD!
Think about that.
I visited London on a budget for 60% off the cost of a normal vacation, and I didn't skimp on anything.
I just traveled smart, used reward systems, and employed everyday frugality to my advantage. I stayed in nice places, dined out well, and saw all the attractions I wanted. I didn't sacrifice comfort.
Cheap travel doesn't mean bad travel.
I wanted to take a vacation to London that my parents or friends — people who wouldn't be caught dead sleeping in 15-bed dorms to save money — could take. I wanted to travel cheaply without sacrificing comfort.
And I did just that.
***
Travel doesn't have to be expensive. By investing just a little extra time into planning my trip, I was able to have a wonderful trip for around the cost of the going rate for a flight to London.
You don't need to spend thousands traveling. A vacation doesn't need to cost an arm and a leg, and the next time you're inclined to think so, just remember that yes, it is possible to travel cheap, and anyone can do it.
Book Your Trip to London: Logistical Tips and Tricks
Book Your Flight
Find a cheap flight to London by using Skyscanner or Momondo. They are my two favorite search engines. Start with Momondo.
Book Your Accommodation
You can book your hostel with Hostelworld as they have the best inventory. If you want to stay somewhere other than a hostel, use Booking.com as they consistently return the cheapest rates for guesthouses and budget hotels. Some of my favorite places to stay in London are:
For more suggested places to stay, check out this longer list of hostels. And if you're wondering what part of town to stay in, here's my neighborhood breakdown of London!
Don't Forget Travel Insurance
Travel insurance will protect you against illness, injury, theft, and cancellations. I never ever go on a trip without it. I've been using World Nomads for ten years. You should too.
Need Some Gear?
Check out our resource page for the best companies to use!
Want a Guide?
London has some really interesting tours. My favorite company is Take Walks. They have expert guides and can get you behind the scenes at the city's best attractions. They're my go-to walking tour company!
If you want a bike tour, use Fat Tire Tours. They have the best and most affordable bike tours in the city.
Want More Travel Information on London?
Be sure to visit our robust London destination guide on London for even more planning tips!