Updated: 5/17/2018 | May 17th, 2018
I love Australia. It's one of my favorite countries in the world. I've been going for over a decade and have crossed the country more times than I've criss-crossed my own. I've stayed in countless hostels throught Australia and, today, want to share some of my favorites.

Base St. Kilda (Melbourne)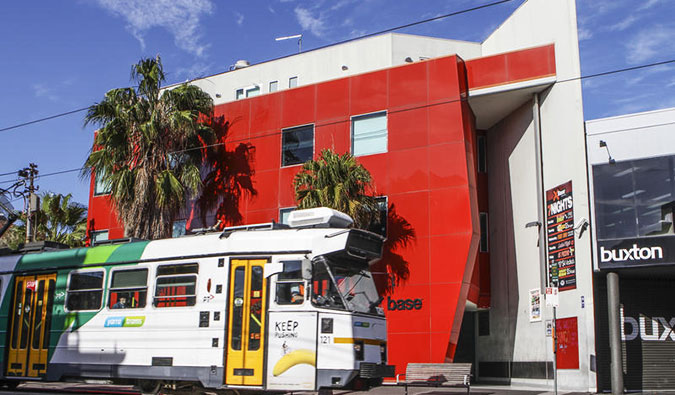 Base is like the McDonald's of hostels. You get full but you're not really satisfied. Yet McDonald's (Base) outdid themselves with their Melbourne hostel. It's my favorite hostel in Australia. The bar is lively every night, and there are BBQs and events during the week. Moreover, the rooms and bathrooms look really nice and are clean. The bar is open 7 nights a week and they offer free breakfast from 8am-10am. They also have a travel desk, recruitment and jobs desk, and free daily activities. Since people come here to party, everyone is very social and looking to interact. Within moments of my arrival, I had a group of friends to spend time with. I went there during my first trip to Australia and went back this year to see if it was still good. It did my memories justice.
—->Book your stay at Base St. Kilda!
Wake Up! (Sydney)


Wake Up! is, in many ways like a backpacker hotel. With its eight floors, hyper-trendy and clean look, and small common areas, you might think it would be hard to meet people. The large size does make it sort of hard to meet people outside the common areas or your room, but the big bar downstairs (biggest night is Monday) lets you meet all the people you see coming and going. I really liked my time there and I especially enjoyed the high water pressure in the showers and uncreaky beds.
The hostel is located just next to the Central Station so it's easy to get to and from the airport. The only downside is that it's more expensive than the cheaper options in King's Cross so you might want to "splash" out for this one because it's not cheap!
—->Book your stay at Wake Up! Sydney!

Surf N Sun Hostel (Surfer's Paradise, Gold Coast)


Located in the Gold Coast, you'll get both surf and sun at this place. A converted motel, this hostel has really friendly staff, a pool, a central location, and is right across from the beach. All good things. Plus they offer a free pick up from the bus station. The owners are these old backpackers who hang out in the hostel once in awhile and are really friendly. Another plus: at the time I was there, it was the only hostel in Surfer's Paradise that didn't have bed bugs. They often have free drinks and BBQs for guest too. I ended up staying an extra week there simply because I was having such a good time.
—->Book your stay at Surf n Sun Hostel!

Bunk Brisbane (Brisbane, Queensland)


Bunk has awesome facilities. They have a pool, hot tub, late night bar, and an awesome travel desk. They can also help you find work too. Their kitchen is spacious, their beds are comfy, and the dorm rooms are cleaned daily and have electronic key access. It's the best place in Brisbane (especially since Base took over Tinbillys!)
—->Book your stay at Bunk Brisbane!
Kimberley Travellers Lodge (Broome)


This hostel is amazing. They have an enormous pool, a huge outdoor area, a gigantic kitchen, a great location close to the beach, and a small, cozy bar that you can order great meals from. Moreover, when the heat of Broome really gets to you, there are hammocks to lie on. They offer shuttle service to famous Cable Beach for free, and the hostel is a close walk to town. What I really love is the huge kitchen. Even during peak time cooking time, you have plenty of room to move around. I hate cooking dinner in hostels because there's never space and you're always bumping into other people cooking. Not here. I wish all hostel kitchens were this big. Rates include a continental breakfast daily and they will even arrange complimentary airport transfers!
—->Book your stay at Kimberly Travelers Lodge!
Witch's Hat (Perth)


The Witch's Hat is located near the main party area in Perth, Northbridge, as well as near many good restaurants. The staff is really friendly and can really help you with any travel bookings or related questions. There's a great kitchen and common room here, plus an outdoor BBQ area, comfortable dorms, and a very social atmosphere. They also organize barbecues and events every so often.
—->Book your stay at Witch's Hat!
Aquarius Backpackers (Byron Bay)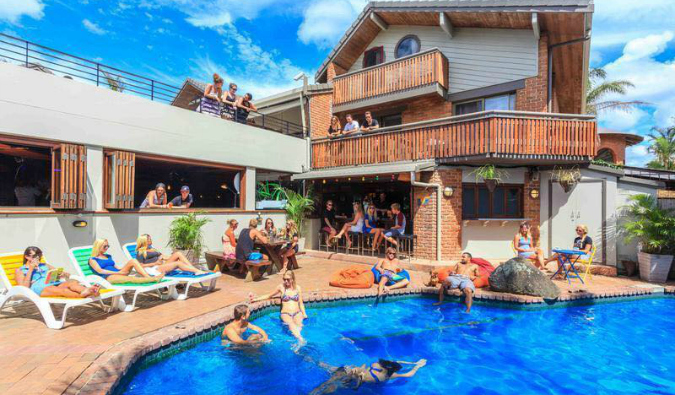 I stayed at this place over Christmas and fell in love with it. They do such a good job at getting people to talk to each and create a really friendly atmosphere. There's a free meal every night (small meal) and they organize a huge BBQ lunch on Sundays. It's close to the beach and the center of town, and there's free wifi by the pool. The dorms are cleaned often but the beds won't win any major awards.
—->Book your stay at Aquarius Backpackers!
Gilligan's Backpacker Hostel and Resort (Cairns)


This giant hotel/hostel is where you go if you want to party. The rooms are OK. They have aircon and the beds are comfy but I was less than impressed. But what I did love was the many state of the art kitchens, free airport pick up, wifi, and swimming pool with an open deck bar and massive outdoor pub screens! I had a lot of fun here. Maybe too much. Hard to remember!
—->Book your stay at Gilligan's!
Nomads Noosa (Noosa)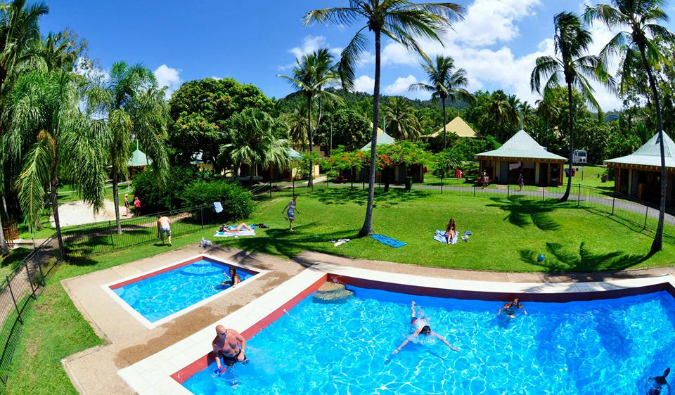 A cool little hostel that is only 900 meters from the beech. All rooms are spacious and come with their own bathroom. There's a nice tropical garden, communal kitchen, bar, swimming pool and even a volleyball court! It's one of the chillest, laidback places I stayed in and the staff was very helpful and friendly!
***
When in Australia, I highly recommend you stay at these hostels. For me, a good hostel has all about the amenities, staff, environment, and comfortable beds. These hostels meet all those requirements (which is why they are usually all full so book in advance!)