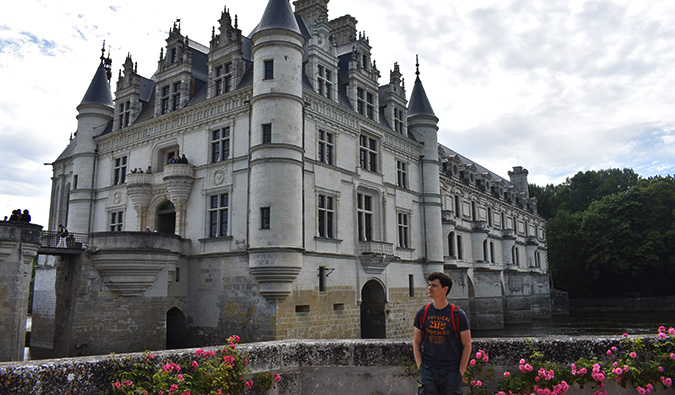 Posted: 1/16/2018 | January 16th, 2018
Last month, my mom told me she thought this blog was boring. "Where's all the fun stuff? I want to see more photos of you traveling. I don't care about these other updates."
"Mom, I live in Austin now. You know I'm not on the road that much," I replied.
"I know but still….I want to see more stuff. It's just much more interesting, honey."
"Ok, Mom," I say and move the conversation on.
But you know what? She's right (shhhhh, don't tell her I said that). This website has gotten a little boring.
There aren't many new adventures, photos of exotic destinations, and exciting stories from the road being posted, because, well, I'm pretty non-nomadic these days. I spent more time in the US last year than I did abroad.
I feel this way every few years, though. "It's OK," I think to myself, "I'll be on the road again, and there will be new content, stories, and tips for my website."
But lately, as I've come to terms with my move from nomadic to more stationary, that's no longer true. Last year, I only did two big trips, and after I return home from my current winter adventure in New Zealand, it's doubtful I'll take another trip until the summer.
Even if my mom doesn't like it, I've come to terms with this change.
Maybe one day, I'll sling on my backpack and a few weeks will again turn into a few years. The future is unwritten.
But, after vacillating so long between staying and going, I'm pretty happy being "stationary Matt." I'm currently writing a new book. I signed up for Swedish and cooking classes, and I'd like a relationship that lasts pasts my next international flight.
So, as I put down roots, I'm left at a crossroads with this website.
Travel is what I do — and I'm blessed that I get to share my stories and tips with everyone here. It's amazing meeting people on road who tell me that this website inspired their trip, saved them money, or helped them improve their life. It's truly amazing in every sense of the way.
But I'm not nomadic anymore. The kids you see on Instagram or YouTube channel filming crazy videos can take up the nomad mantel. I'm going to sit home, write, practice my Svenska, figure out how not to overcook my dinner, and read a book.
So where does that leave us? Is this my "it's not you, it's me" breakup post?
No.
While "the nomad" is now just "the traveler," I am not going anywhere.
While I'll still blog because I like to write and am never short of ideas, updates won't be as regular as they were in the past. Instead, I've decided to turn this site from primarily a blog into primarily a travel resource. There's big plans afoot to spruce up, expand, and refresh every single page on this website.
This year has another focus and that is community. I want to use this platform to connect travelers with each other. We are going to launch a major, major, major meet-up program in a few weeks so people can meet each other while learning about travel. There will be local chapters, events, speakers, and gatherings, workshops, and getaways. Plus, I'm organizing a conference for the fall.
There will be also more videos, webinars, FB lives, and Q&As. My YouTube channel is coming back. I'll be interacting more on social media, sharing people's stories, and answering your questions.
The team and I are committed to using this giant platform to bring people together, highlight community members, and find fun ways to take what we have online and bring it into the real world. We're going to be a lot more social this year!
***
When I started this website, there were always stories to share. I was always on the move. Forever the nomad I thought to myself.
But life is not static. The person I was and the wants I had at 25 are not the same at 36.
I'm not done traveling. Far from it. I love every trip I take. There will still be how-to blogs and travel stories — just not as many.
But that doesn't mean there aren't other ways to serve travelers.
So while the "blog" will be a semi-ghost town, the community and resource part of this website will be more active and larger than ever. My goal is to expand the reach of the "cheaper, better, smarter" philosophy and turn more people into travelers.
So, yes, Mom, the blog may be boring, but so much more is happening this year than just a blog about Thailand.
And that makes me (and I hope you) excited for what's to come!


Book Your Trip: Logistical Tips and Tricks
Book Your Flight
Find a cheap flight by using Skyscanner. It's my favorite search engine because it searches websites and airlines around the globe so you always know no stone is being left unturned.
Book Your Accommodation
You can book your hostel with Hostelworld. If you want to stay somewhere other than a hostel, use Booking.com as it consistently returns the cheapest rates for guesthouses and hotels.
Don't Forget Travel Insurance
Travel insurance will protect you against illness, injury, theft, and cancellations. It's comprehensive protection in case anything goes wrong. I never go on a trip without it as I've had to use it many times in the past. My favorite companies that offer the best service and value are:
Want to Travel for Free?
Travel credit cards allow you to earn points that can be redeemed for free flights and accommodation — all without any extra spending. Check out my guide to picking the right card and my current favorites to get started and see the latest best deals.
Ready to Book Your Trip?
Check out my resource page for the best companies to use when you travel. I list all the ones I use when I travel. They are the best in class and you can't go wrong using them on your trip.