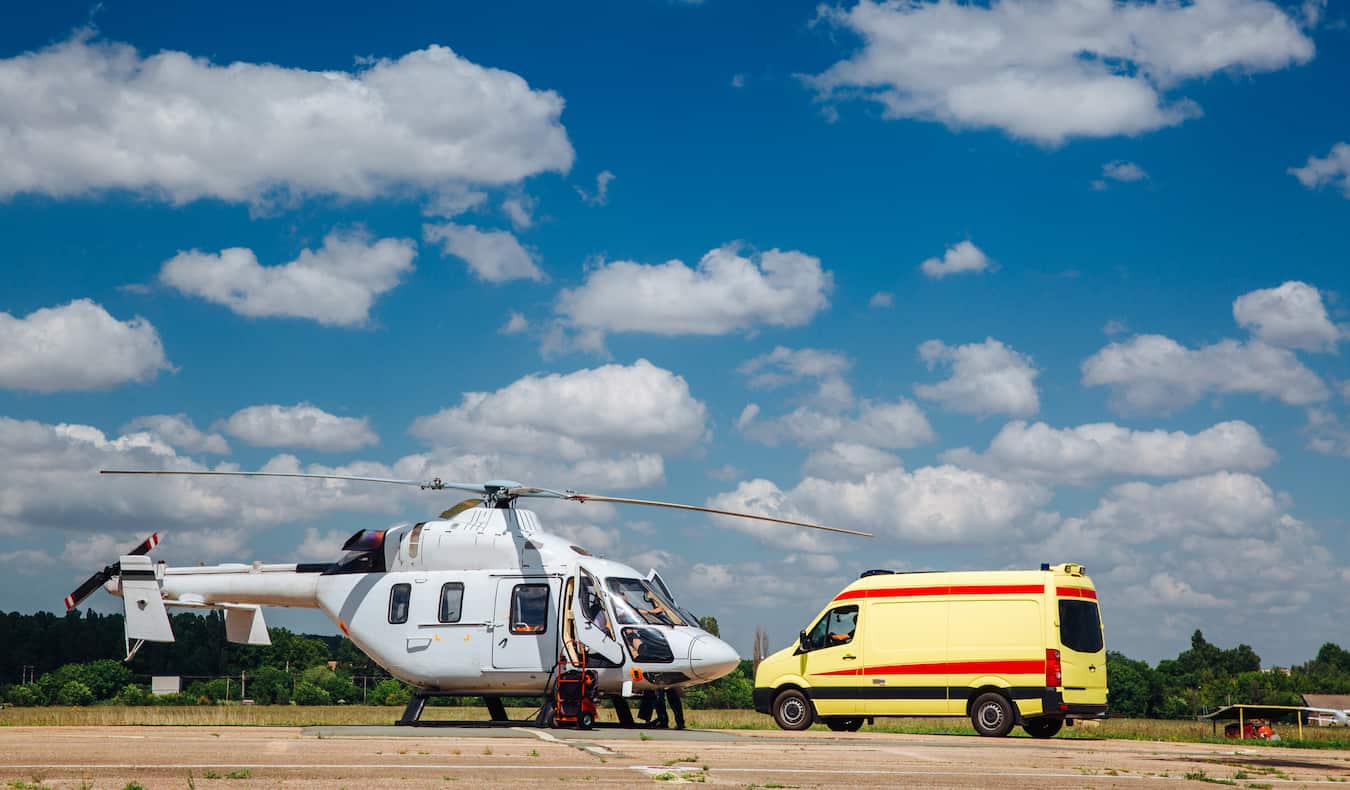 Last updated: 7/26/23 | July 26th, 2023
I love trip planning: reading books, researching routes, hunting for flights. Those are the fun parts of trip planning because they get you excited for your upcoming travels.
But there is one vital component of trip planning that is far less enjoyable: researching travel insurance.
As boring as it is, it's one of the most important (and most overlooked) steps for any traveler.
We all know it's no fun to be unprepared when life throws unexpected curveballs at you. That's especially true if you're abroad when it happens.
Over the past 17 years of backpacking the world, I've had all kinds of unexpected situations arise, from minor inconveniences like delayed and canceled flights to getting stabbed in Colombia.
While bad things don't happen often on the road, they can — and do — happen. And as unpleasant as they are to think about, it's important to be prepared for those situations.
That's where travel insurance comes in. For just a few dollars per day, you not only get coverage for emergencies but peace of mind, allowing you to travel confidently and without worry.
While I've talked about my favorite travel insurance companies before, today I'd like to delve into a slightly different kind of travel insurance: medical evacuation coverage.
This type of policy kicks in when the worst happens and you need emergency medical evacuation while traveling.
You fall and break your leg on a remote mountain. A sudden natural disaster affects the tropical island you're visiting. Political turmoil overwhelms the country you're in. These are all situations when an evacuation might be required.
Yet not all travel insurance companies handle them equally — and many companies won't actually evacuate you all the way home, but rather to the nearest "acceptable" location.
There is one company, however, that guarantees you get home every time: Medjet.
Medjet is a membership service offering medical transportation that ensures you get all the way home should disaster strike.
But what is a "membership service?" And how do you guarantee you get home should something happen?
In this review, I'll go over what exactly the company offers, the pros and cons of using it, and its COVID policy to help you decide if Medjet is for you and your trip, budget, and travel style.
Do you even need medical evacuation coverage?
First off, you're probably wondering whether you even need medical evacuation coverage. To many, it sounds like overkill. Odds are you'll be fine, right?
Sure.
Yet each and every year, over 10 million travelers are hospitalized abroad — and 2 million of them require medical transport.
Contrary to popular belief, travel insurance companies like World Nomads or SafetyWing don't offer much when it comes to emergency evacuation. This isn't through any failings on the part of these companies (they're great, and I never leave home without travel insurance). It's just that they're focused on comprehensive trip coverage, and there are limitations to what that includes.
Most travel insurance companies simply transport you to the nearest acceptable facility — which might not be very acceptable at all (though it's still better than nothing).
I learned this firsthand when I got stabbed in Colombia and went to the nearest medical facility. While I did get basic medical care, some of what I experienced there was a bit concerning. It was also challenging to navigate the situation with the little Spanish that I knew, so I quickly headed home to receive more comprehensive care.
In short, you don't think you need medical evacuation coverage until you do.
So, what is Medjet?
Medjet is the answer to getting home. The company is careful and quick to point out that it's not an insurance company but rather a membership program.
If you're hospitalized 150 miles or more from home, Medjet arranges and pays all costs for medical transfer to a hospital that you choose within your home country. Again, this is different from other travel insurance policies, under which you cannot choose where you end up (and you aren't even guaranteed to end up in your home country!).
Additionally, Medjet does not require the transport to be medically necessary. For most medical transfers, you're only moved if the facility that you're currently at cannot provide adequate care. With Medjet, even if you are in a facility that can take care of you but you want to go home or to a different facility, Medjet will transport you.
In short, Medjet is a white-glove medical transport service for travelers who want care above and beyond what is typically offered by travel insurance companies.
What does Medjet cover?
Since they focus solely on medical evacuation, Medjet's coverage is pretty straightforward.
Its base plan is called MedjetAssist, which provides comprehensive coverage and everything that most travelers will need. As long as your attending doctor determines it is safe for you to be transported, Medjet covers your transfer to the facility of your choice in your home country. It also covers transportation for one travel companion.
If you'd like expanded coverage, you can opt for the MedjetHorizon plan, which includes an emergency medical cash advance (some foreign hospitals demand cash payments upfront), and medical transfer if you're under 150 miles from home but your local hospital isn't capable of treating you. MedjetHorizon also includes security and crisis responses, such as in the case of kidnapping, evacuation due to natural disasters, and more.
Here you can see MedjetAssist as compared to MedjetHorizon: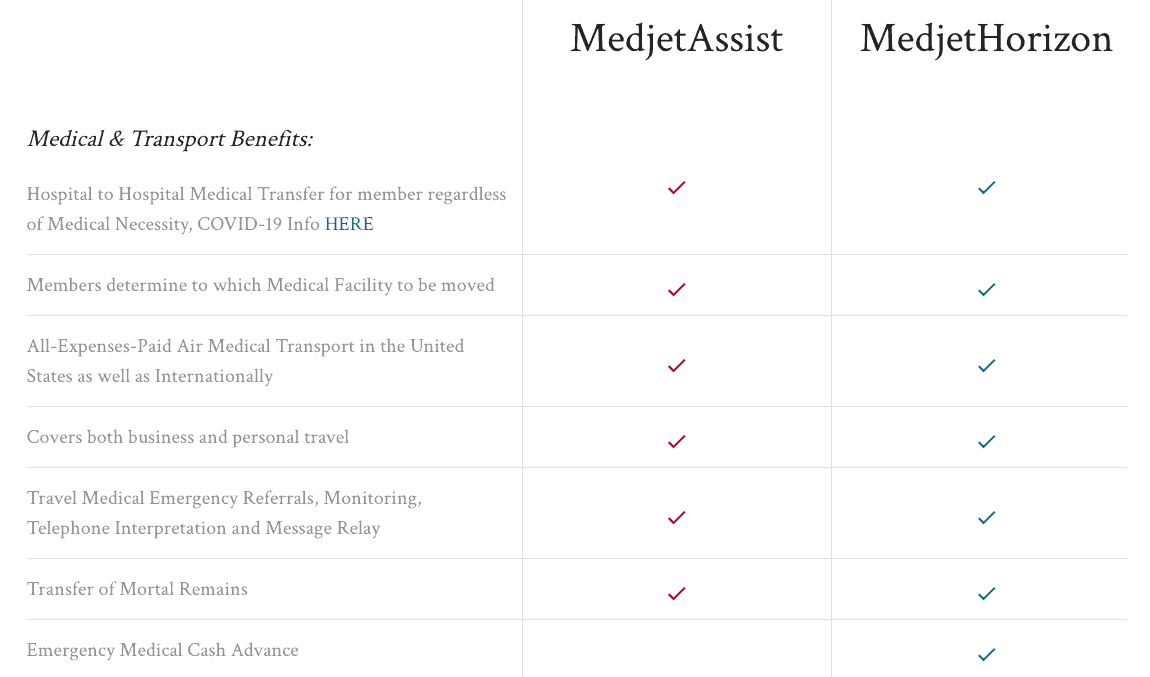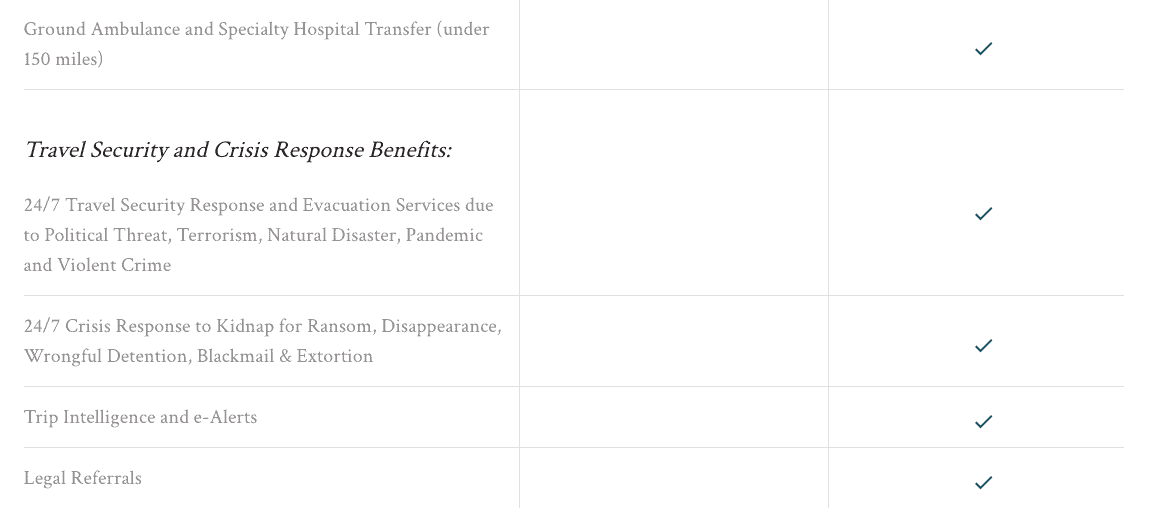 As you can see, MedjetAssist is usually enough for most travelers' needs, but if you're concerned about additional security and crisis responses, you can add MedjetHorizon to your policy for additional peace of mind.
In addition, you can choose a variety of options, such as who is covered, length of time, domestic or international coverage, the type of policy (MedjetAssist or MedjetHorizon), and other add-ons.
Here's an overview of the types of plans that you can choose from:

Once you've decided what plan suits your needs, it's very easy to sign up, with a flowchart to walk you through the process.
Here's what the sign-up process on the website looks like: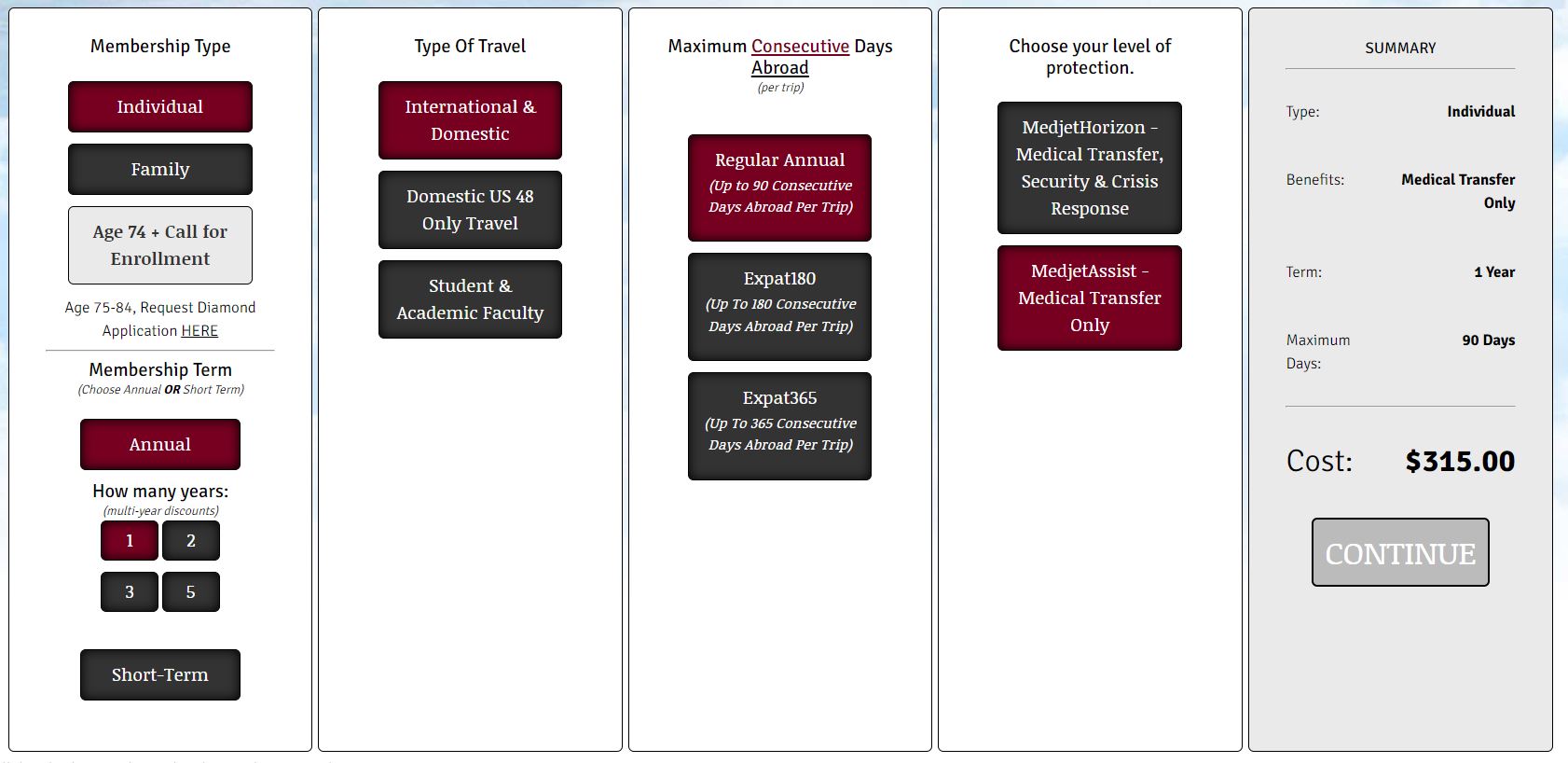 As you can see, a one-year MedjetAssist policy for an individual traveling both internationally and domestically costs just $315 USD. That's just $0.86 cents per day.
There are also significant volume discounts for longer policies, so you pay less per day on annual and multi-year plans.
Multi-member policies also are quite affordable. For example, an annual family membership costs just $425 USD and may include a primary member, a domestic partner or spouse, and up to five dependent children up to age 19 (or up to age 23 for full-time students).
What's not covered?
Medjet is primarily for medical evacuations, meaning that the plans don't cover trip cancellations or delays, lost or stolen baggage, or any other minor mishaps that might happen on the road.
This means that in addition to a Medjet membership, you'll also want to purchase standard travel insurance. You can read about my favorite travel insurance companies for more information and suggestions.
How does Medjet work?
Using Medjet is easy and straightforward — as it should be — since you'd only be using it in an absolute emergency. Once you're admitted to a hospital abroad, you (or a travel companion) contact Medjet, where staff is available 24/7/365. They then communicate with hospital personnel to determine if you're stable enough to be transported.
If you're determined eligible for transfer, Medjet will reach out to your hospital of choice to see if there will be space for you upon arrival. Assuming that's also a yes, then medical transportation is arranged, and you're on your way.
Another great thing about Medjet is that one travel companion can come with you on your flight home, at no extra cost to you.
There are no claim forms to fill out after the fact — Medjet handles everything right up front. And Medjet includes COVID-19 coverage, so if you're hospitalized abroad for COVID-19 and need to be repatriated, Medjet has you covered (with some restrictions).
You can read Medjet's full COVID policy here for more information.
Pros and cons of Medjet
Pros of Medjet:
Gets you home (not just to the nearest "acceptable" medical facility)
Does not require government-issued warnings or medical necessity to initiate evacuation
Offers global coverage for COVID-19
Offers coverage for those up to age 74 (with extended coverage for those up to age 84)
Offers short- and long-term coverage options (8–365 days)
Has no pre-existing condition exclusions
Offers language translation assistance
Has no restrictions on the number of trips (for an annual policy)
Covers one travel companion's transportation too
Cons of Medjet:
Is only available to travelers from North America (US, Canada, Mexico)
Does not cover trip cancellation, trip delay, or baggage loss
Is limited to two transports per year
One cannot start a membership while on a trip
Does not cover transportation from the site of an accident (strictly hospital-to-hospital transfer)
Who is Medjet for?

Medjet is for anyone who wants to have every base covered while traveling. While Medjet has historically appealed more to travelers aged 55 and over, with so many people stuck abroad during the height of the pandemic, younger travelers are more aware of the benefits of being able to return home if the worst happens.
So, if you don't want to navigate a foreign medical system if hospitalized abroad, then Medjet is for you, no matter your personal circumstances.
That said, Medjet especially appeals to:
Travelers who want care that goes above and beyond
Anyone going to remote regions, politically unstable countries, or places with regular natural disasters (though services may be limited in countries with a US travel advisory of level 3 or 4)
Travelers who want peace of mind (great for appeasing family members, especially those with college students studying abroad)
People with pre-existing conditions that are concerned about being hospitalized abroad
Digital nomads and expats that will be abroad for extended periods of time
Retired travelers (Medjet covers those up to age 84 with a Diamond membership)
Motorcyclists taking their own bike on an extended trip (additional coverage will send their bike home in event of an accident)
***
While standard travel insurance companies cover the basics, sometimes the basics aren't enough. If an emergency occurs and you want a guarantee that you'll be sent home — and not to the nearest "acceptable" medical facility — join Medjet.
The plans are affordable and the comprehensive, white-glove service provides extra peace of mind. By supplementing your regular travel insurance with a service like Medjet, you'll be prepared for whatever the road throws at you, allowing you to travel with confidence. To me, that's well worth the price.
Book Your Trip: Logistical Tips and Tricks
Book Your Flight
Find a cheap flight by using Skyscanner. It's my favorite search engine because it searches websites and airlines around the globe so you always know no stone is being left unturned.
Book Your Accommodation
You can book your hostel with Hostelworld. If you want to stay somewhere other than a hostel, use Booking.com as it consistently returns the cheapest rates for guesthouses and hotels.
Don't Forget Travel Insurance
Travel insurance will protect you against illness, injury, theft, and cancellations. It's comprehensive protection in case anything goes wrong. I never go on a trip without it as I've had to use it many times in the past. My favorite companies that offer the best service and value are:
Want to Travel for Free?
Travel credit cards allow you to earn points that can be redeemed for free flights and accommodation — all without any extra spending. Check out my guide to picking the right card and my current favorites to get started and see the latest best deals.
Ready to Book Your Trip?
Check out my resource page for the best companies to use when you travel. I list all the ones I use when I travel. They are the best in class and you can't go wrong using them on your trip.