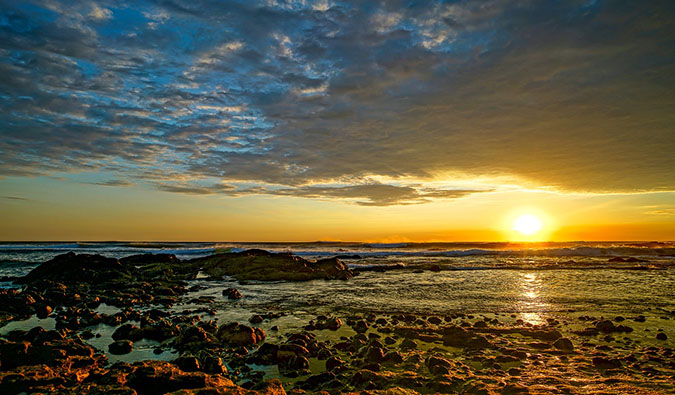 Updated: 02/05/2019 | February 5th, 2019
This is a guest post by Abby Tegnelia, a former expat living in Costa Rica. "Pura vida" is a common expression in Costa Rica, roughly translated to "the pure life" in English. Abby's time in Costa Rica was full of pura vida life experiences. She lived in a one-room little house and enjoyed a life of Spanish classes, drinking on her neighbor's stoop, and sunset walks on the beach. Here's why Costa Rica is the ultimate place for slowing down.
The most distinct part of living in or traveling through Costa Rica is what I call the "calming-down effect." Life is so simple there; the most stressful decision to make all day is often where to watch the sunset. Physical changes arrive thanks to the opportunity to live in a world surrounded by untouched nature. Monkeys play in the trees and roosters roam the streets.
I lived a year in the land of "pura vida," and I'm surprised by the many misconceptions people have about the country.
The most obvious mistake that any expat notices is how many people think it's synonymous with Mexico or mix it up with Puerto Rico. Many travelers are surprised that margaritas and tortilla chips are scarce. Ticos (the word for native Costa Ricans) actually eat a very simple diet of mostly rice and beans; my local friends often make a huge, family-sized pan of it in the morning. At breakfast, it's served with an egg; beef, chicken, or fish is added later in the day, with a fresh cabbage salad at dinner.
Nor is everything perfect. It's very expensive to import just about anything to this small country in Central America. Wine is triple the price that it is in the US, as are many other things. (So when you order it at a bar, expect it to come from a box.) I have a friend who plans weddings, and she constantly hears, "But in Mexico, they offered us this…But in Mexico, we got a deal on that…" Her answer is always: "Then go get married in Mexico."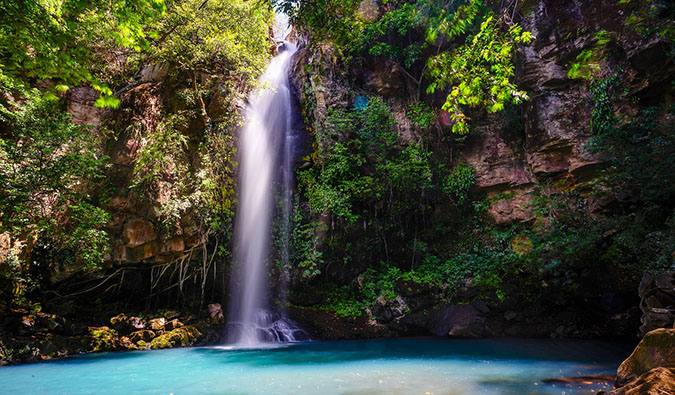 Costa Rica's famous nature (jungles, rainforests, beaches) do not disappoint — they are pristine and beautiful. But sometimes the seemingly few beach bars there do. In the country's effort to preserve said nature, there are strict laws about how close to the beach you can build a bar, house, or hotel. As one would expect in such a laidback Central American country, the municipality ignored this for many years. But the country has stepped up enforcement, and so all over Costa Rica, beloved ceviche shacks and watering holes were torn down so that beaches could return to their natural prettiness.
Some things you will never get used to: a man holding a baby with one arm as he speeds down the main road on his bike still turns my stomach. But trust that there's a solution to every problem. A pipe is leaking in your front yard, and you can't get through to AYA? Don't go ballistic. Flag down a truck and ask them yourself. Sometimes the garbage men don't come for a week. Honestly, they probably have a beef with someone in your neighborhood, and it's being done on purpose. The trash heap will eventually be taken away. In the meantime, consider it part of the charm.
I recently arrived at the Liberia airport to a mass of people in the immigration line. It was chaos. Americans were seething at the mess, men yelling and pushing. I was just as angry – at them for being so rude. You just landed in an open-air airport in Costa Rica . Did you really think someone was going to come out and start directing traffic? Smile, and wait an extra ten minutes. This isn't the United States. The slow-paced lifestyle will manifest itself in many different ways, not all of them to everyone's liking.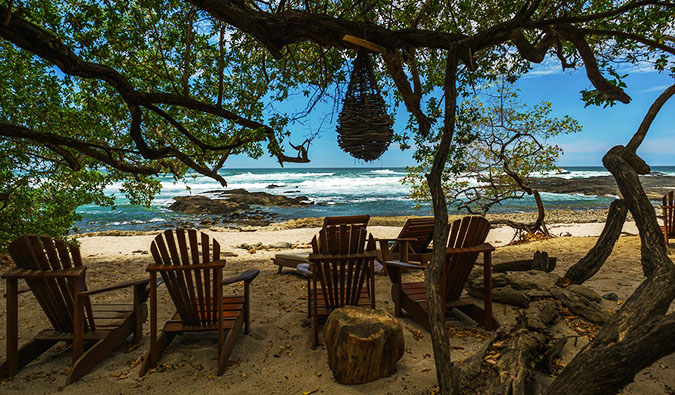 On the flip side, often, a "problem" will just sort of fix itself. Once, I needed a new wallet and couldn't find a single one for sale. (There are about three stores in my pueblo, most of them hawking only souvenirs.) But people in my town had wallets, so I knew eventually I'd figure out how to get one. One day, the answer literally came knocking. One day a woman knocked on my door with a catalog packed with French beauty products and colorful clothes. I flipped through it and sure enough, I found a wallet! A few weeks later, she returned from San José with it. This is how you shop when the closest big city is four hours away by car – and few people have enough money for a car to begin with. I replaced my torn-up Gucci with a simple brown cloth wallet covered in colored flowers. It was $10 – and perfect.
Abby Tegnelia is a life-long travel junkie journalist who works hard to find adventure in everyday life after two years of travel and expat living. Abby left Costa Rica when she was hired on as a magazine editor (her dream job) in Las Vegas, and is now exploring a new career in Silicone Valley. Nowadays she works as a customer funnel consultant, social media strategist, and content marketer.
Book Your Trip to Costa Rica: Logistical Tips and Tricks
Book Your Flight
Find a cheap flight by using Skyscanner or Momondo. They are my two favorite search engines because they search websites and airlines around the globe so you always know no stone is left unturned.
Book Your Accommodation
To find the best budget accommodation, use Booking.com as they consistently return the cheapest rates for guesthouses and cheap hotels. You can book your hostel with Hostelworld as they have the most comprehensive inventory. Some of my favorite places to stay in Costa Rica:
Arenal Backpackers Resort (Arenal) – This is a luxurious, laid-back hsotel with a pool that's great for hanging out and meeting people.
Rocking J's (Puerto Viejo) – The coolest hostel in all the country. This hostel located on the beach is the prime spot to meet other backpackers.
Hostel Vista Serena (Manuel Antonio) – With great ammenities, staff, and a pime location, it's the best place in the area.
Don't Forget Travel Insurance
Travel insurance will protect you against illness, injury, theft, and cancellations. It's comprehensive protection in case anything goes wrong. I never go on a trip without it as I've had to use it many times in the past. I've been using World Nomads for ten years. My favorite companies that offer the best service and value are:
Looking for the best companies to save money with?
Check out my resource page for the best companies to use when you travel! I list all the ones I use to save money when I travel – and I think will help you too!
Want More Information on Costa Rica?
Be sure to visit our robust destination guide on Costa Rica for even more planning tips!