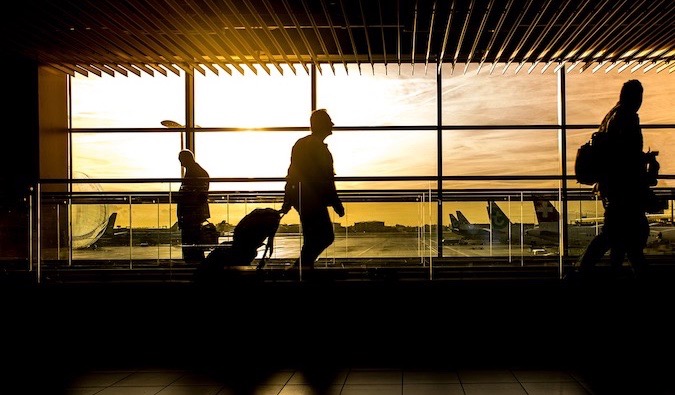 There are many ways to find cheap flights, and most people try to find the cheapest one possible when they go on vacation. There are some great search engines out there like Momondo, Skyscanner, Vayama, and Mobissimo to help you, but should you always go for the cheapest flight? Is that always the best way to go?
Last year, I decided to join the Oneworld network, which meant I had to join American's frequent flier program. Let me tell you—I'm not a big fan of American Airlines. (Though they're better than United.) Their planes are old, they never have personal viewing screens, and microwaved food is a better option than what they serve in coach. But I fly them because my frequent flier miles transfer to their partners I love to fly—Japan Airlines, Cathay, and Qantas.
But flying these big, international carriers rarely gets me a cheap fare. My flight back to America could have been $200 cheaper if I'd flown Aer Lingus. My flights around the States could have been 50% less if I'd flown Southwest, Air Tran, or JetBlue. My return flight to Europe is on Air France, because I simply couldn't justify the huge ransom American was asking.
So why do I, a budget traveler with numerous articles on flying cheaply, spend the money on such flights instead of going for the cheapest deal? Because when you're a frequent flier, cheap flights are not a cheap long-term option. If you only take a couple flights a year, going for the lowest cost is exactly what you should do. A free flight isn't worth the time it would take you to accrue the miles to get it, especially considering the higher flight costs. Go cheap, save money, and don't worry about miles. But if you fly a lot each year or take even just a few long-haul flights, joining a frequent flier program and accruing miles makes much more sense.
Because you get elite status, and elite status on airlines gets you a number of perks:
Quicker check-in
Quicker boarding
No baggage fees
Airline lounge access
Complimentary upgrades
Quicker security screening
For someone who's in the airport every other week, those things are real luxuries. They make a big difference to me. Long lines for both check-in and security are very frustrating. You know the drill but most people don't. I hate it when I'm in the security line with my shoes off and laptop out while the person ahead of me is still fumbling for the bin. Additionally, elite status gives you lounge access. Airline lounges have good, free food, drinks, and free internet, which can make long layovers and waits more bearable. Most importantly, though, elite status gives you free upgrades and the ability to get business class and first-class tickets at a coach price. Not having to be in coach on a 14-hour flight to Tokyo? Priceless.
For long-term and frequent travelers, it makes a lot of sense to join these programs. You fly a lot and should be rewarded as such. Even if you're on a one-year trip around the world, you should join a frequent flier program. During your trip around the world, you'll take at least six flights, most of which will be long haul. By the time you reach the end of your trip, you'll have accumulated enough points for a free flight, which can be used to extend your trip, or—should you have trouble dealing with being home—a quick trip somewhere. Though you'll be paying extra, the perks will pay for themselves in no time, as you'll be flying more comfortably.
Moreover, there are plenty of good ways to gain points before you leave. If you get a rewards credit card, you can get points for every dollar you spend. My American Airlines account has over 40,000 points because of flight points, a huge sign-up bonus (25,000), and spending. I'm already close enough for a free international flight, and I've done nothing special.
Last year, I paid thousands of dollars more for flights than I normally would have. But, while I often take cheap short-haul flights, paying more throughout the year to have a comfortable experience and be upgraded into business and first class is worth it.
For infrequent fliers, it makes little sense to pay for premium flights. You should always go cheap. But for frequent fliers, long-term travelers, or round-the-worlders, signing up for a rewards program and paying for flights on the big airlines will benefit you greatly over the long-term as you accumulate miles and elite status quickly. This will get you free flights to keep you traveling longer. When you travel often, it's important to travel smarter, and sometimes cheap isn't the smartest option.