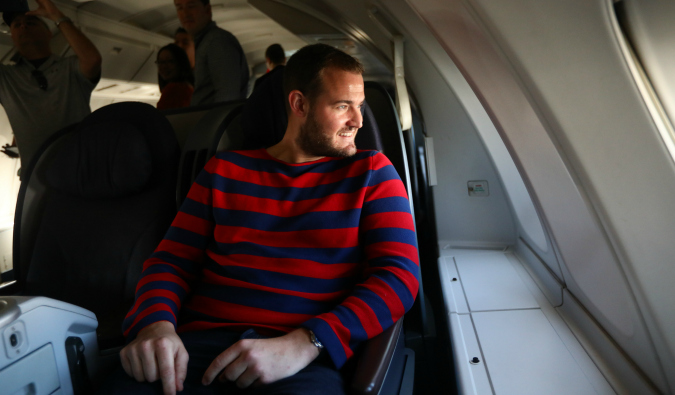 Updated: 10/10/19 | October 10th, 2019
Long-time readers know I love travel credit cards because of the huge amount of points and perks they bring. (New readers now know this.)
In fact, this month alone I signed up for an Amex Platinum and United Airlines card, with more sign-ups planned next month. Points bring lots of benefits like free flights, elite status, free checked bags, and priority boarding.
And, while I know a lot about this subject, there are people who spend their whole day figuring out how to maximize points. People like Brian Kelly.
Brian Kelly runs The Points Guy, a website dedicated to maximizing reward programs and credit card offers to get as much free travel and elite status as one possibly can. He knows the reward booking systems, points programs, and credit cards inside and out.
Today, Brian shares his secrets.
Nomadic Matt: How did you become "The Points Guy"?
Brian Kelly: I started young. I've been passionate about points since I was 13 years old when I planned a family trip to the Cayman Islands using my dad's airline miles. By the time I was a sophomore in college, I was a US Airways elite flyer.
While working for a Wall Street bank after college, I was on the road constantly, earning tons of miles and points as well as elite status with airlines and hotels, and that allowed me to fund a great travel lifestyle in my spare time. I would take trips to Europe for the weekend using miles and points (I sat behind Madonna in British Airways first class once — that was memorable!), went on a blowout luxury trip to the Seychelles with my partner for just a few hundred dollars using points, and hopped all around the country.
I started blogging about news in the points world, as well as my own areas of expertise, and people started reading it. Then a lot of people started reading it, and I decided to start blogging full time. That was just under a year ago, and it's been phenomenal! Challenging and exciting and motivating all at the same time.
Over the years, how many miles have you accumulated? How many credit cards did you have to open for that to happen?
From credit cards, I've pulled in millions of points and miles. Literally. Last year alone, just through credit card sign-up and spending bonuses, I raked in over 600,000 points. That took me about seven cards to do.
A lot of people are concerned that credit card "churning and burning" will hurt their credit score. What do you say to this?
I would never advise anyone with less-than-healthy credit to apply for multiple cards at once, as "churners" often do. For one thing, you probably won't get accepted. For another, you should first concentrate on fixing your credit so that you can then take full advantage of the lucrative credit card deals that are out there.
That said, only 10% of your credit score is based on new credit — when banks perform a credit inquiry when you apply for a new card. Otherwise, the most important factors are your payment history and the amount of money you owe, which combined amount to 65% of your credit score. So before you even think about applying for new cards, you need to make sure your credit is in order and that you have a decent score.
If your credit is good, then applying for new cards should not hurt it. Your score typically only drops a couple of points for opening a new card (out of a total of 850), so the impact is minimal.
Do you cancel a lot of your cards or just keep them going forever?
I cancel some of my cards, mostly to avoid hefty annual fees for cards I am not actively using or deriving some sort of benefit from. However, instead of closing the account completely, I usually try to ask the bank to either waive the annual fee or downgrade to a no-fee card so that the line of credit remains open and keeps my credit score healthy.
What makes for a good credit card offer?
The whole point of points is to find value, so if you find a credit card that will offer something of value to you, that makes it a good offer. The $695 annual fee on the Amex Platinum card seems onerous to some, but others love the $200 airline rebate you get from it, lounge access, and a host of other perks, including earning Membership Rewards points, whereas those looking for a lower annual fee might prefer the Amex Premier Rewards Gold Card, with just a $175 annual fee, where you get three points per dollar spent on airfare and two points per dollar spent on gas and groceries, but not those higher-level perks.
Still others might prefer the flexibility to use their points at a fixed value, like with Capital One, to buy the airfare they want, when they want, and don't care about flying in a premium cabin, while those who do want to fly business internationally or stay in a fancy hotel suite might want to rack up points in their airline and/or hotel program of choice by getting a co-branded card.
It really depends on what you want to do with those points, and once you have a strategy in mind, go after the cards that will get you there fastest.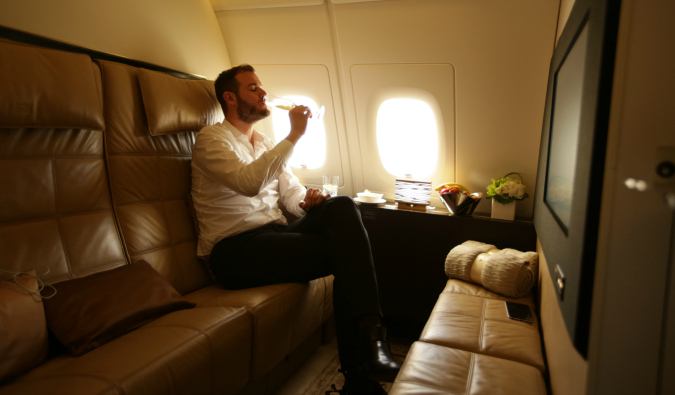 With so many offers out there from so many different companies, what would be your top three tips for maximizing those offers for free hotels or flights?
1. Strategize — Don't just sign up for every card with an OK offer. If you have a particular trip or goal in mind, concentrate your efforts on the cards that will get you the most miles for the airline that's going to get you where you need to go or the hotel where you want to stay.
2. Don't just concentrate on the sign-up bonuses — The best cards out there are the ones that allow for sustainable points earning through your spending habits. And, for that matter, make sure you are putting every expense possible on a points-earning card so that you are maximizing your earning potential.
3. Do your homework — See what bonuses the credit cards you're interested in have historically offered and make sure you get the best one possible.
Do you earn points any other way besides these sign-up bonuses?
Of course. I travel a lot so I earn miles the good old-fashioned way of sitting in an airplane and going somewhere. In terms of credit cards, the best ones aren't necessarily just the ones with the biggest bonuses. In my opinion, the best points-earning cards are the ones that allow you to sustain your lucrative points earning through category spending bonuses.
For instance, the Chase Sapphire Preferred is a great card because you get double points on travel and dining spending (basically all I do), and those categories are fairly broad, so you can earn a ton of points. You could then combine those points with the Ultimate Rewards points you earn with the Chase Freedom card's quarterly spending bonus categories, where you earn five points per dollar spent on things like groceries, office supplies, gas stations, or specific merchants like Amazon.
Suddenly you're looking at a ton of extra points. Those are the kinds of cards worth holding on to even after you've redeemed your sign-up bonus.
How many miles a year do you fly? Is it all on points?
Last year, I flew about 150,000 miles, and though some of those trips were using miles (like one from the USA to Mauritius in the Indian Ocean via Paris), and I recently traveled to Asia for three weeks using United and British Airways miles, I do pay for many of my tickets. After all, you've got to earn some of those miles and elite status flying.
Explain for a minute why you think these credit card offers are so good? Is it just the points you get, or do you get additional benefits like elite status?
It all depends on what you're looking for. If you want the flexibility of transferable points that you can use on a variety of airlines or hotels, then American Express Membership Rewards and Chase Ultimate Rewards would be programs for you to look into, whereas if you want to be able to buy any ticket any time and don't care about flying coach, maybe a fixed-value point system like Capital One Venture Rewards is the way to go.
If you are going to be flying a particular airline a lot, maybe the co-branded card is what you should look at, such as Delta's SkyMiles Amex, which gets you elite-status perks like free checked bags for up to nine people on your reservation (a huge value), discounted SkyClub passes, and 20% off in-flight food and entertainment, as well as other positives such as two miles per dollar spent on Delta; or the newly introduced United Club Card, which confers not only membership into the United Club at airports but also perks like two free checked bags for the cardholder and a companion, priority access, and elite status with both Hyatt and Avis. That's a lot of value.
What is your favorite travel credit card?
I mentioned it earlier, but I love the Chase Sapphire Preferred card. It's probably my favorite card at the moment. The Ultimate Rewards points I earn using it can be transferred to a variety of partners, including United, British Airways, Korean Air, and Southwest, hotels including Hyatt, Priority Club (Intercontinental), Marriott, and Ritz-Carlton, as well as Amtrak, so I can use them for pretty much anything.
Plus, I get two points per dollar I spend on dining and travel, which includes a lot of categories, like taxis and even parking. I recently transferred the points I got for signing up to United and used them to fly business class from Newark to Singapore on Singapore Airlines for 60,000 miles and $2.50 USD in taxes/fees. That was a great redemption.
Also, it's made of metal, so it feels good and it looks cool in my wallet!
For more great tips on how to use airline credit cards and (legally) milk the points system for free travel, make sure you read Brian's blog. You can also follow him on Twitter.
Book Your Trip: Logistical Tips and Tricks
Book Your Flight
Find a cheap flight by using Skyscanner. It's my favorite search engine because it searches websites and airlines around the globe so you always know no stone is being left unturned.
Book Your Accommodation
You can book your hostel with Hostelworld. If you want to stay somewhere other than a hostel, use Booking.com as it consistently returns the cheapest rates for guesthouses and hotels.
Don't Forget Travel Insurance
Travel insurance will protect you against illness, injury, theft, and cancellations. It's comprehensive protection in case anything goes wrong. I never go on a trip without it as I've had to use it many times in the past. My favorite companies that offer the best service and value are:
Want to Travel for Free?
Travel credit cards allow you to earn points that can be redeemed for free flights and accommodation — all without any extra spending. Check out my guide to picking the right card and my current favorites to get started and see the latest best deals.
Need Help Finding Activities for Your Trip?
Get Your Guide is a huge online marketplace where you can find cool walking tours, fun excursions, skip-the-line tickets, private guides, and more.
Ready to Book Your Trip?
Check out my resource page for the best companies to use when you travel. I list all the ones I use when I travel. They are the best in class and you can't go wrong using them on your trip.