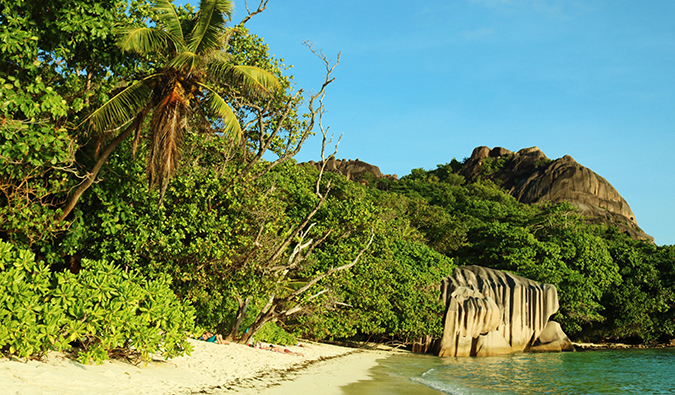 Last Updated: 2/2/2020 | February 2nd, 2020
In this guest post, Ellie Hopgood offers some handy tips on how you can visit the Seychelles on a budget! This is a destination I've always dreamed of visiting so I was excited to have her write some tips for the country! It's always viewed as one of the most expensive in the world but, as this post shows, it's possible to visit on a budget!
The Seychelles, an archipelago of 115 islands off the east coast of Africa, are known for being extremely beautiful — and extremely expensive. The pristine turquoise water and white-sand beaches come with a hefty price tag.
If you want to drop serious money on a holiday, the Seychelles definitely have plenty of places perfect for an eye-wateringly expensive trip, with high-end rooms at the Madame Zabre Spa Resort on Desroches Island going for almost $15,000 USD per night, as well as a plethora of rooms available in the $500-$1,000-per-night range. There are even whole islands commandeered by one resort, such as Cerf Island, which consists solely of the 24 villas that make up the aptly named Cerf Island Resort.
But even though fancy resorts like that were way out of my budget, I was determined to visit these islands — and do so frugally, with a backpacker's budget in mind.
After spotting an obscenely cheap and convenient flight deal — and desperate to get out there and explore these beautiful islands — I booked round-trip flights from London without much research (though I don't necessarily recommend this approach to travel planning).
I typically travel in Europe (often in Eastern Europe), so my idea of what constitutes a cheap trip might be distorted. Paying over $15 for my share of a night's accommodation pains me. So my eyes widened when I saw the average cost in the Seychelles. But the flights were booked, so I had no choice but to figure out how to see the islands on a budget. I set to work, reading blogs and forums furiously, but there was very limited information available.
After securing some affordable accommodation, I braced myself for a painfully expensive trip — but in the end, to my surprise, it was so much easier to be budget-conscious than I imagined.
Were the Seychelles the cheapest destination? No.
But, I learned, they don't have to be prohibitively expensive either.
So, how do you save money in the Seychelles?
Here's how you can take an affordable trip to paradise:
1. Find cheap flights (they do exist!)
We found round-trip flights from London with British Airways for just over $600, a deal so good that it sparked the whole trip. I always use Skyscanner, as that's where I reliably find the best flight deals. As always, you'll typically find cheaper flights if you travel in shoulder season; are flexible with exact dates, times, and layovers; and avoid school vacation periods. Some tips on how to save on your flight:
Look at deal websites – Deal websites like Holiday Pirates, Scott's Cheap Flights, and The Flight Deal often have great last minute fares and package deals to the islands.
Search the main cheap flight websites – Skyscanner and Momondo let you compare prices and see if there are any budget carriers flying the route.
Be flexible with your dates – Airline ticket prices vary depending on the day of the week, time of year, and upcoming holidays. Moreover, it's always cheaper to fly during the middle of the week than on a weekend, because most people travel on the weekends and airlines hike their prices then. If you zig when others zag, you are going to find better deals.
Travel hack – This is the best way to get cheap flights..because it gives you free flights. Airline rewards programs are a great way to get free flights, free upgrades, and free companion tickets. Points = free flights. Through credit card sign up bonuses, everyday spending, contests, online promotions, bonus points, and so much more, you can easily gain hundreds of thousands of points per year without ever spending extra money! To learn how to do this, check out this post!
For more tips on how to find a cheap flight, check out this post!
2. Stick to cheap guesthouses (that serve breakfast)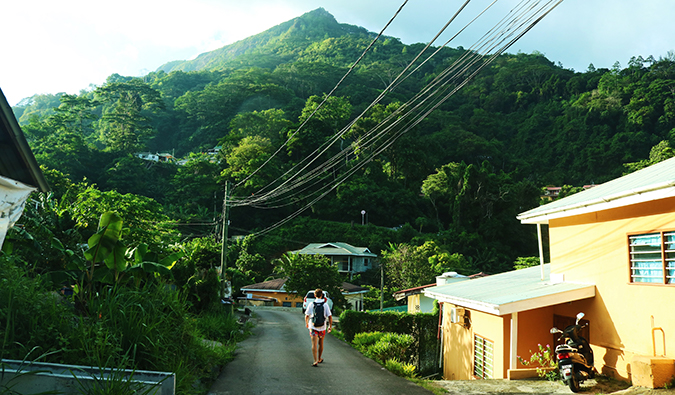 The Seychelles don't yet have a lot of budget accommodations, but I was able to find affordable rooms using Airbnb, though similar rooms are also available through Booking.com. There are also a number of small guesthouses and hotels that offer rooms for $60–100 USD per night. While some of these places have their own websites, like our La Digue guesthouse Liane de Mai, others can only be booked through platforms like Airbnb and Booking.com, like our self-catered accommodation on Mahé via CAMEC apartments.
The best thing to do is to go onto your favorite budget accommodation site and put in the island you plan to stay on. That should show you a selection of accommodations so you can choose something in your price range.
To keep costs even lower, try to stay somewhere that offers self-catering facilities or that serves breakfast. Self-catering allows you to save by preparing your own meals, while an included breakfast takes care of a third of your meals and lets you fill up on delicious fruit, toast, yogurt, and eggs that will keep you going for hours. You can also take a few snacks from breakfast, like rolls or bananas, for later in the day when you need a boost of energy. All the places we stayed made clear in their Airbnb profile whether a kitchen was available or if breakfast was included, though you could also email and ask.
There is also a small Couchsurfing community in the Seychelles, with most of the hosts based on Mahé. Nothing is cheaper than free — so if you are fond of couch surfing and happy to stay on the main island, this might be a good option.
Check out our comprehensive resource section for more tips on finding cheap accommodation!
3. Eat take-out
Eating out in restaurants in the Seychelles is painfully pricey for fairly average food. A simple bowl of tomato pasta can easily run you $20 USD, while a three-course meal with alcohol will set you back $70–80 USD per person.
However, the Seychelles is also full of places to get take-out, small establishments, and mobile food vans all over the islands, directly alongside main roads or signposted clearly, serving up local dishes for incredibly low prices. These are where many of the locals eat dinner, along with visitors who are looking for delicious and cheap eats.
For only $3–5 USD, you can buy two main courses with a generous serving of rice and salad. These meals tend to be fresh, Seychellois dishes that change every day, typically curries made with fish, chicken, beef, or vegetables, served with rice and salad. There are also often Chinese-takeout-type dishes like fried noodles and rice.
My favorite find was Mi Mum's on La Digue, which served the most delicious chicken "zye zye" curry with rice and salad for the unbeatable price of $4 USD.
4. Take the bus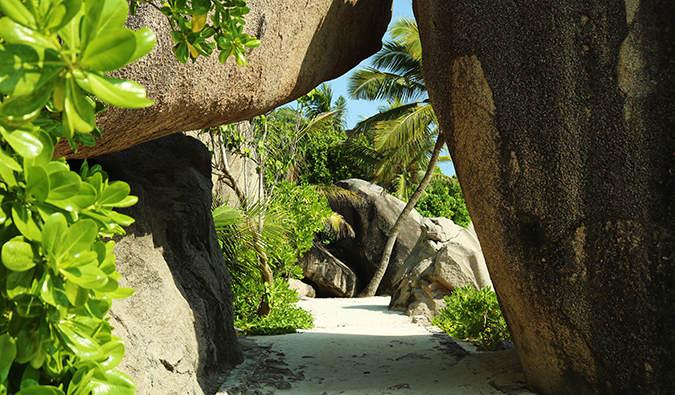 Taxis are insanely expensive — think $20 USD for a trip of only a couple of kilometers — and are not a viable option for anyone trying to travel on a budget. You can rent a car for around $40 USD per day, which may be manageable if you are traveling in a group or splitting the cost with someone, but still expensive compared to the cheapest option: the bus. (As a bonus, the bus is as much an activity as it is a convenient transport option, as the bus bounces up and down hills on a road bordering the ocean!)
On both Praslin and Mahé, you buy a flat-rate ticket as you get on and travel as far as you need to, whether that is one stop or ten. On Praslin, a bus ticket costs 7 SCR (50 US cents) while tickets are 6 SCR (45 US cents) on Mahé. The buses come infrequently, so it is worth consulting the timetable. I was given a Praslin timetable at my accommodation (though you can also find it online), and you can download Mahé's extensive schedule here.
La Digue has very few cars and no buses, so walking and biking are the best options, which is also true for all of the smaller islands.
5. Stick to beach-hopping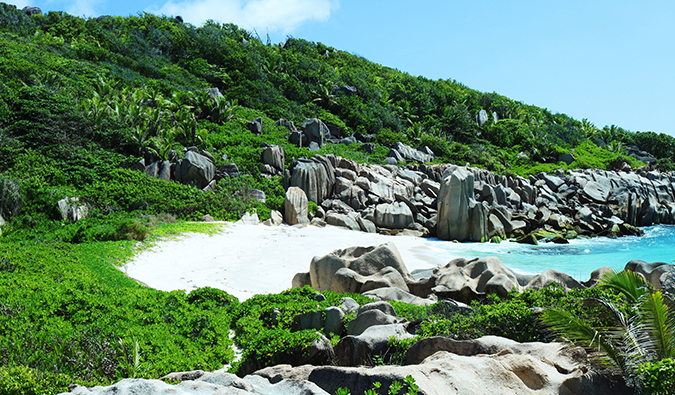 While a small minority of beaches are only accessible if you are a guest of a specific resort, for the most part, the most glorious part of visiting the Seychelles (going to the beach) is completely free.
You can enjoy the pristine white sand and blue water; watch the birds, bats, and tortoises move around the island; and explore the amazing undersea wildlife straight from the beach — and it won't cost you a dime.
My favorite free beaches are Anse Coco on La Digue, Anse Lazio on Praslin, and Beau Vallon on Mahé.
One big exception to the free beaches rule is that Anse Source d'Argent on La Digue, which is one of the world's most beautiful beaches, charges you for entry. The cost is 100 SCR ($7 USD) for a single entry, so go when you have time to spend the whole afternoon (or day!) enjoying the beach and its unusual rock formations. If you want to avoid the charge, then you can swim or walk through the ocean from just outside the entrance to the park and enter the beach that way. However, you'll have to swim back out, as park rangers often check your ticket as you leave!
6. Bring enough sunscreen!
An easy way to save a few bucks is to bring more sunscreen than you think you'll need. Sunscreen is very expensive ($15 USD for a small bottle) but also very necessary, given the blazing equatorial sun that can burn skin in minutes. I was woefully underprepared for the amount of sunscreen I would need, so much so that within two days I had to shell out a small fortune for a big enough bottle to get me through the rest of the trip. If you can avoid buying this necessary item on the islands, then do.
7. Move slowly
To get between the islands, you can fly or take a ferry. Neither way is particularly cheap. A return flight from Mahé to Praslin (which only takes about 15 minutes!) will likely cost $150–200 USD. Ferries are marginally cheaper: about $60 USD each way between Mahé and Praslin and around $20 USD each way between Praslin and La Digue.
There is only one ferry provider serving each of the main routes between the three major islands, making you a captive audience for their high prices. So unless you're Michael Phelps, you're stuck paying whatever Cat Cocos (between Mahé and Praslin) and Cat Rose (between Praslin and La Digue) charge for the tickets. The less you travel between the islands, the cheaper your total transport bill will stay.
8. Minimize cash withdrawals (and use the right ATMs)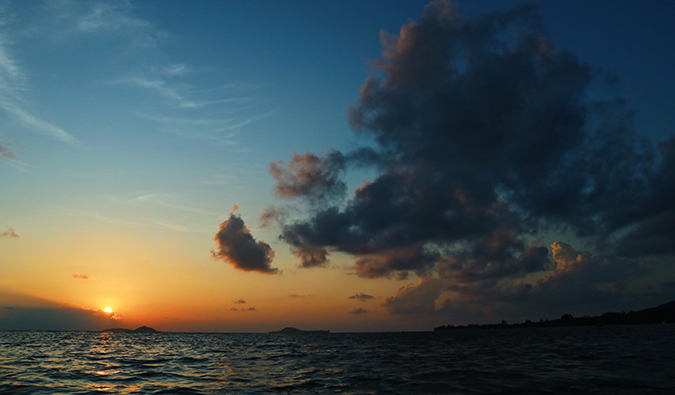 As in many other places, there are heavy charges levied on withdrawals at cash machines, to the tune of 100 SCR ($7 USD) per withdrawal. These withdrawal fees are fixed by the ATM and are different than foreign exchange fees. Charles Schwab and Fidelity offer cards that refund these ATM fees, though Fidelity does charge a 1% foreign exchange fee.
However, a simpler solution than opening a new checking account is to be vigilant about which ATM you use. Barclays ATMs levy the withdrawal charge, while MCB ATMs tend to have no fee. A full list of MCB ATMs can be found by clicking here.
ATMs will only give you rupees, though most prices are quoted in euros. You can bring euros with you or change them at the airport and banks for no charge. The Seychelles are largely cash-only, so figuring out how to get cash without incurring charges is important.
For more tips on avoiding ATM fees, check out our comprehensive article on how to avoid fees when traveling!
9. Drink the tap water (or at least bring a bottle with a filter)
While most online information says that the water in the Seychelles is not safe to drink, I quickly started drinking the tap water and was completely fine. Given the extreme heat and humidity, you will need to drink a lot of water, which adds up fast if you have to keep buying plastic bottles (not to mention the environmental impact of that much disposable plastic).
If you don't feel comfortable drinking the tap water, then I'd recommend bringing a bottle with a built-in filter or buying a SteriPEN or Lifestraw. Not constantly buying bottled water will help keep both your costs low and the environment clean.
10. Bring your own mask and snorkel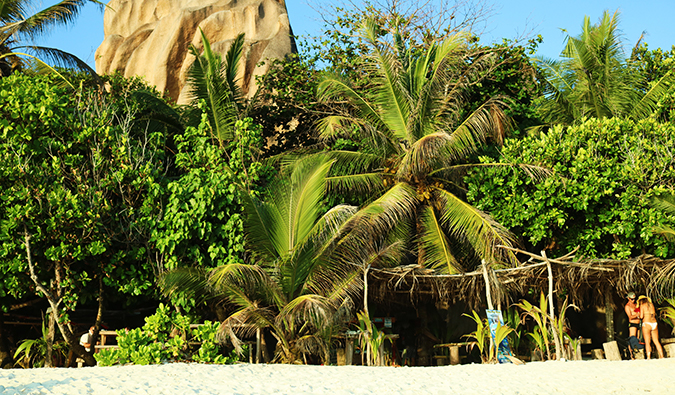 Unlike many beach paradises, you don't need to go out on a boat to get to prime snorkeling territory. You can swim straight off the beach onto a reef and see rays, sharks, eels, fish, and more. I swam out from Anse Source d'Argent and was greeted by a friendly ray who let me follow him for half an hour in perfect peace. It was magical. However, renting a snorkel and mask often can get expensive. Snorkel rentals go for $10 USD a day or more. Bring your own to save money!
***
By following the above advice, it should be possible to take a trip to the Seychelles that doesn't cost an arm and a leg (maybe just a hand). If you stay in small guesthouses that serve breakfast, eat takeout for most of your meals, spend most of your time exploring the beaches, and hunt for a good flight deal, you'll spend between $120–140 USD per day (less if you are traveling with someone and can split accommodation costs), though it's also good to leave some wiggle room for putting money in the hands of any Seychellois guides or vendors who really make a difference to your trip.
If you are willing to shell out more, then the sky's the limit, but if splurging, I would recommend a guided tour through the jungle (it's typically not safe to venture out alone) or diving, as the Seychelles are home to some world-famous dive sites. A whole day's guided hike, including lunch and entrance to world-famous beach Anse Source d'Argent, costs about $70 USD, and each dive with Octopus Dive Centre was around $60 USD (less if you have your own equipment). I did both of these activities and they were completely worth it.
I firmly believe that the Seychelles is one of the world's most beautiful places and should be on the bucket list of any avid traveler. And, hopefully, these budget tips will allow you to visit the Seychelles without breaking the bank!
Ellie Hopgood is an investment writer in London, covering topics in economics, politics and global finance. She spends a borderline unhealthy amount of time editing photos and checking the cost of flights to places she has no immediate intention to visit. You can find her on Twitter (@elliemhopgood).


P.S. – Did you know I wrote a new book? It's called "Ten Years a Nomad" and it's all about the lessons I've learned from a life of travel. It features tons of stories and misadventures I've never told on this blog as well! Click here to learn more and grab your copy today! (I'm doing a book tour too! I'll be in Austin, Houston, Denver, and San Diego next week!)
Book Your Trip to the Seychelles: Logistical Tips and Tricks
Book Your Flight
Use Skyscanner or Momondo to find a cheap flight. They are my two favorite search engines because they search websites and airlines around the globe so you always know no stone is left unturned. Start with Skyscanner first though because they have the biggest reach!
Book Your Accommodation
You can book your hostel with Hostelworld as they have the biggest inventory and best deals. If you want to stay somewhere other than a hostel, use Booking.com as they consistently return the cheapest rates for guesthouses and cheap hotels.
Don't Forget Travel Insurance
Travel insurance will protect you against illness, injury, theft, and cancellations. It's comprehensive protection in case anything goes wrong. I never go on a trip without it as I've had to use it many times in the past. My favorite companies that offer the best service and value are:
Looking for the Best Companies to Save Money With?
Check out my resource page for the best companies to use when you travel. I list all the ones I use to save money when I'm on the road. They will save you money when you travel too.
Want More Information on Seychelles?
Be sure to visit our robust destination guide to the Seychelles for even more planning tips!