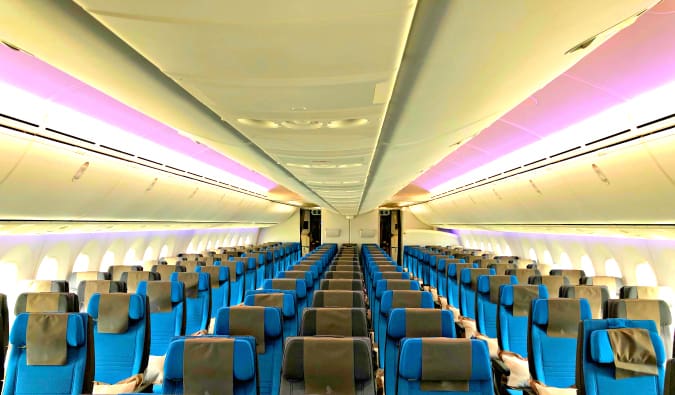 Posted: 6/7/18 | June 7th, 2018
I'm an aviation geek, which means I love all things related to planes (even if I'm terrified of flying). Planes fascinate me. They have around 8,000 parts and weigh multiple tons but still manage to stay up in the sky without falling apart!
I mean have you ever seen one of those bolts holding up a wing? It boggles my mind how such a tiny thing can hold so much weight. Thank you, aerodynamics, engineering, and the workers at Airbus and Boeing!
In March, I was invited to the Boeing plant in South Carolina for the delivery of Singapore Airlines' new 787-10, the first 10-series Dreamliner plane. As part of the invited media crew (including some other AV geeks, like Brian Kelly, Ben Mutzabaugh, Zach Honing, and Kendis Gibson), we spent a few days at the plant and then flew the delivery flight from Charleston to Singapore.
It was truly one of the coolest experiences I've ever had. For those other guys, it's par for the course. They go on these all the time. But, for me, this was a brand new experience. I mean getting invited to the factory and then to fly on the first flight? Woah! So cool.
But South Carolina to Singapore is a long flight. The total flight time is 22 hours. The total time on the plane for us? 24.5 hours since we weren't allowed to leave the airplane during our refueling stop in Osaka.
That's right. I spent a little more than an entire day inside an airplane.
And how does one spend a full day on a plane? Here's how:
Hour 1
We board the plane (Boeing has their own gateway at their plant), where we are greeted by the crew and Singapore Airlines executives. I sit down in my business-class seat, get my pre-flight champagne, and marvel at the new in-flight entertainment (IFE) system. It's the best I've seen. The screen is huge with super-sharp definition and the system saves all your information and preferences so you can get back to your movies quickly.
It also minimizes the back-and-forth between menus by keeping options open at the bottom of the screen while you scroll and loads them without having to toggle. Compared to the crappy IFEs we have in the states, it's like magic.
Hour 2
After takeoff, I start to watch Justice League. It's terrible, so I move to the galley to get drunk…I mean sample the wine selection. OK, we got drunk. There's no other way to put it. Those flight attendants pour heavy glasses.
Hour 3
Continue to drink in the galley.
Hour 4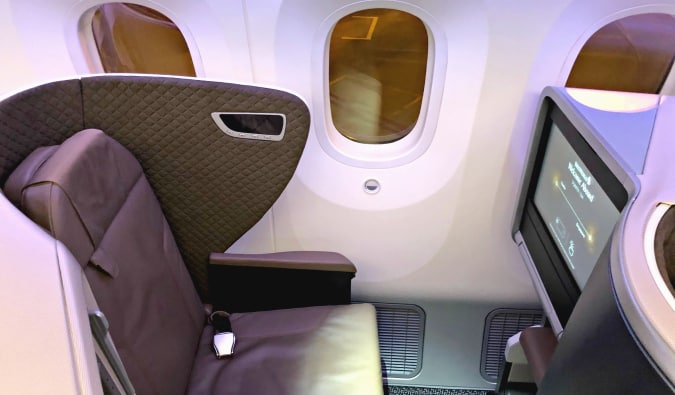 After getting sufficiently toasted, I bid everyone good night and go back to my seat. While the other AV geeks pick apart the seat for length, angles, cubby access, and everything in between, I am just happy to be able to sleep in such a wonderful seat. The seat is 26 inches wide, which is plenty long for a guy like me. The padded interior muffles noise and is set back enough so that you can create a little cocoon hidden from the rest of the cabin.
Hour 5
Keep sleeping.
Hour 6
More sleeping.
Hour 7
Counting sheep.
Hour 8
Dreaming of Batman. Wait? Am I Batman?
Hour 9
Still out like a light.
Hour 10
Eventually, I come to and pound some water to get rid of my hangover. I feel pretty good for someone who got just six hours of sleep. I wander the cabin quietly as most of the other passengers on the plane are still asleep. I eat the dinner I missed and begrudgingly finish Justice League (seriously, it's terrible).
Hour 11
I spend an hour writing blog posts and working on my upcoming memoir.
Hour 12
Now, I'm going stir crazy because I've been on this plane for 12 hours and still have another 12 more to go! I drink another glass of wine and keep on writing. It's pretty unexciting. I'm at the point where the novelty has worn off and start to fidget around.
Hour 13
Work some more while watching Geostorm (another terrible movie). I'm not sure what is with me and terrible movies but I seem to gravitate towards them on planes. I think it's because it's a good time to just get lost and not think. I just want to see cheesy plots and stuff blow up.
Hour 14
Time for another nap!
Hour 15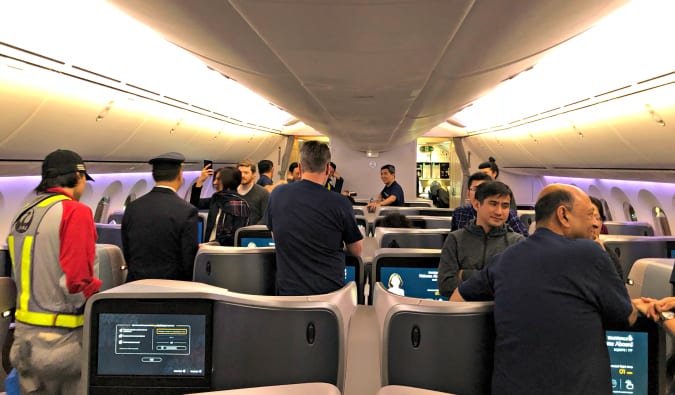 I wake up and notice everyone is also getting up so I go chat with people. It was really interesting being on a plane with journalists. Here I am under no deadline (I mean this article is for something happened two months ago) and these guys are furiously filing stories for when we land so they can all be the first to report on the plane. Here are some of the articles they wrote:
Hour 16
The cabin lights finally come on and we get ready to land. There's a light snack, I write some more, and then get to reading a book.
Hour 17
After 16 hours, we're in Japan. By now, you're probably wondering how the plane made it so far? I mean this plane is only supposed to be able to fly around 8,055 miles and Osaka is 7,255 miles away. Simple: without a fully-loaded cabin of people and luggage, a plane is extra light and can make it very far on a very full tank of gas!
Hour 18
While on the ground, they refuel the plane, switch out the crew, and bring in some new food (catered by Singapore Airlines this time and not Boeing). I watch all journalists make videos and do interviews then chat with the CEO of Singapore Airlines, who gives me some sushi recommendations in Singapore (I never got to eat at them but he recommended Kuiiya and Chobei). The most I did was take some photos.
Hour 19
Takeoff time again.
Hour 20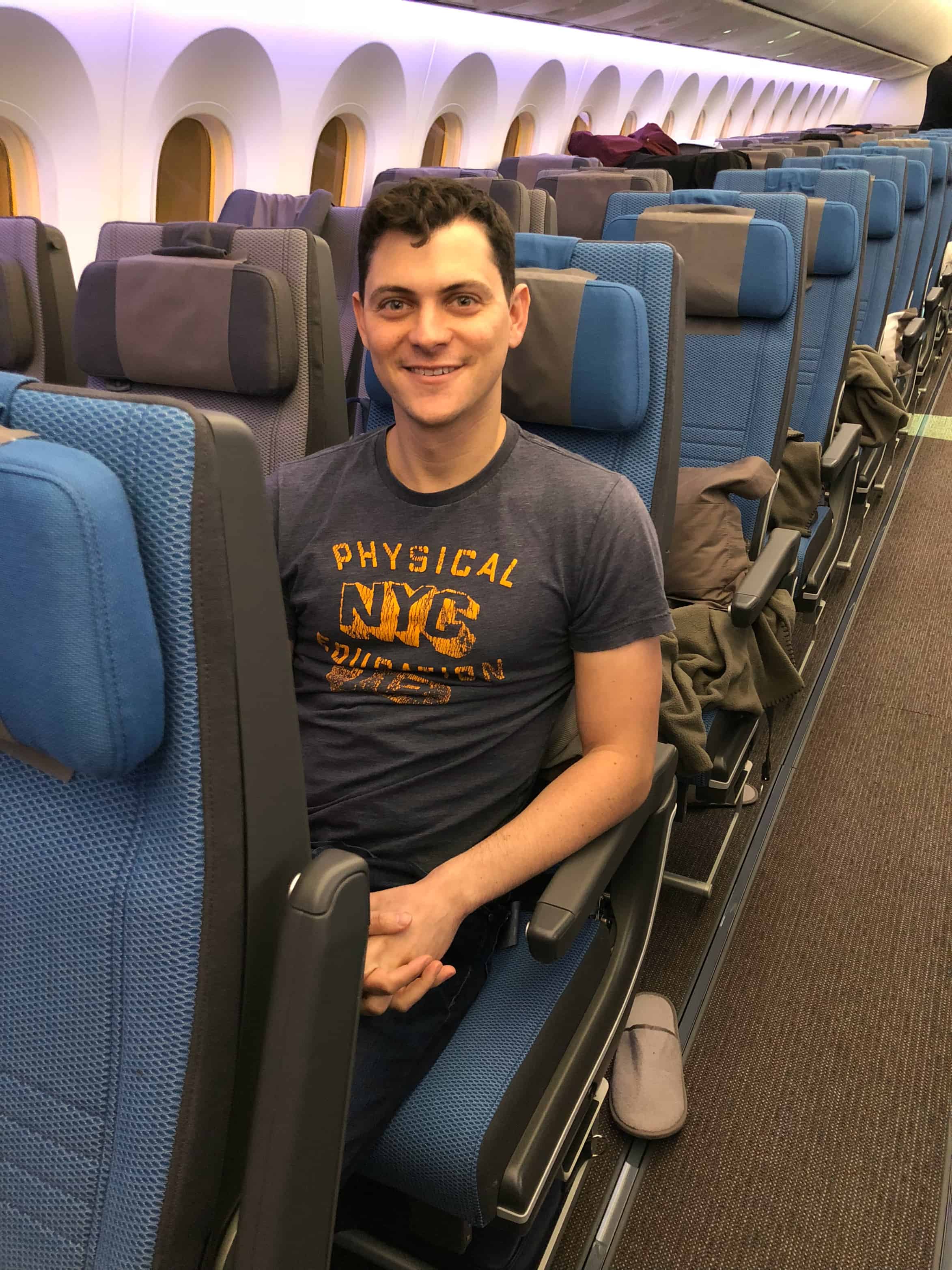 After another breakfast (delicious eggs with spinach and seaweed), I move to economy class to see what it's like while trying not to wake up the Singapore Airlines employees trying to sleep. There's a lot of legroom and the seat has a steep recline (which is good when you recline but bad when the person in front of you reclines since it cuts off a lot of your space). The seats are also really comfy and with soft padding.
After Qatar's A350 economy, they might be my favorite economy seats.
Hour 21
I take advantage of having my own row in economy and take another nap.
Hour 22
Dreamland.
Hour 23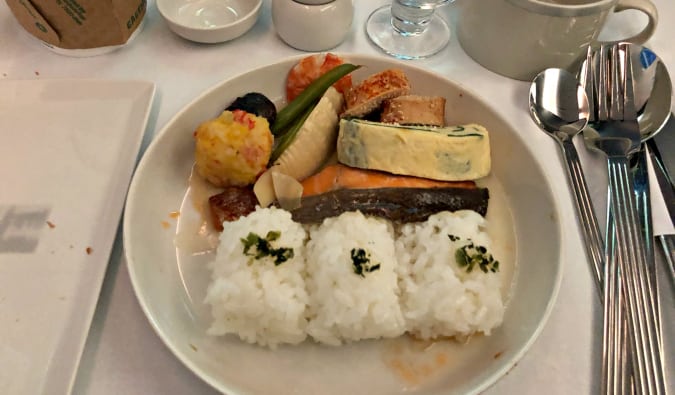 I wake up and go back to business class for breakfast. The sun is coming up and we're getting ready to land. I've given up on movies and just started writing. Before we land, I take some photos and see who wants to get dinner later in the day.
Hour 24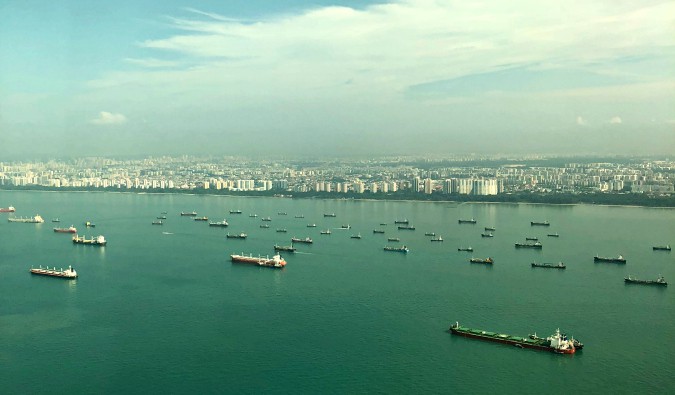 Time to land in Singapore. I'm always awed by the fleet of cargo ships off the coast of Singapore. As far as the eye can see, the denizens of global trade go to and fro as we land and pull into the gate, we are welcomed with water cannons and a celebratory event.
***
Spending 24 hours in a plane was an experience I'll (probably) never have again, but surprisingly, it wasn't as bad as I had thought it would be. The Dreamliner is pressured at only 6,000 feet compared to other planes which are pressured at altitudes around 8,000 feet. feet. So, walking off the plane, I felt pretty refreshed and less fatigued.
I never really noticed it before but after spending 24 hours in a tube, that science Boeing was talking about does really hold up to snuff.
I didn't feel as jetlagged or that normal gross feeling I have after a long international flight. (Who else loves to shower right away after a long flight? Anyone? Makes me feel refreshed!)
This new Singapore 787-10 will be a regional craft so, at most, you'll be in this plane for only about six hours. They are only going to fly it around Asia and Australia. I would say this will be one of the nicest six hours you'll have on a plane, no matter what class you are in.
I have a new favorite plane to fly around Asia, which, thanks to Singapore's partnerships with Chase, American Express, SPG, and Citi, as well their partnership with United means I can use points to do it for free (thanks to travel hacking!)
But, the next time I get on this plane, I'll be happy it won't be for another 24 hours. That's a little too long for me.


Book Your Trip: Logistical Tips and Tricks
Book Your Flight
Find a cheap flight by using Skyscanner. It's my favorite search engine because it searches websites and airlines around the globe so you always know no stone is being left unturned.
Book Your Accommodation
You can book your hostel with Hostelworld. If you want to stay somewhere other than a hostel, use Booking.com as it consistently returns the cheapest rates for guesthouses and hotels.
Don't Forget Travel Insurance
Travel insurance will protect you against illness, injury, theft, and cancellations. It's comprehensive protection in case anything goes wrong. I never go on a trip without it as I've had to use it many times in the past. My favorite companies that offer the best service and value are:
Want to Travel for Free?
Travel credit cards allow you to earn points that can be redeemed for free flights and accommodation — all without any extra spending. Check out my guide to picking the right card and my current favorites to get started and see the latest best deals.
Need Help Finding Activities for Your Trip?
Get Your Guide is a huge online marketplace where you can find cool walking tours, fun excursions, skip-the-line tickets, private guides, and more.
Ready to Book Your Trip?
Check out my resource page for the best companies to use when you travel. I list all the ones I use when I travel. They are the best in class and you can't go wrong using them on your trip.
Note: I was part of the press core for the launch of this plane. Singapore Airlines covered my hotel, flight, and any meals I had during official events. I was not compensated monetarily for this.