Books & Ebooks • Budget City Guides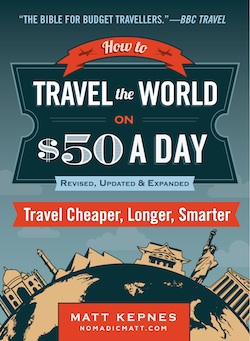 My New York Times best-selling paperback guide to world travel will teach how to master the art of travel so that, no matter how long you want to travel for, you'll save money, get off the beaten path, and have a more local, richer travel experience. This book will teach you tips and tricks not found in major travel magazines or other guidebooks – knowledge learned through years of actual experience on the road.
While this blog contains a lot of detailed information, this book goes deeper and further and features suggested companies, advice, and cost-break downs for regions not found anywhere on this site and is the step-by-step planning tool I wish I had when I was planning my trip. If you want to learn how to travel on an first class on an economy class budget and turn your dream destination into a reality, this book is for you. Whether new or experienced traveler, you're going to learn new tricks to help you travel better! There's a reason BBC Travel called this book "The bible for budget travelers"!!
Learn More | Buy on Amazon | Buy on Barnes and Noble


My Budget City Guides