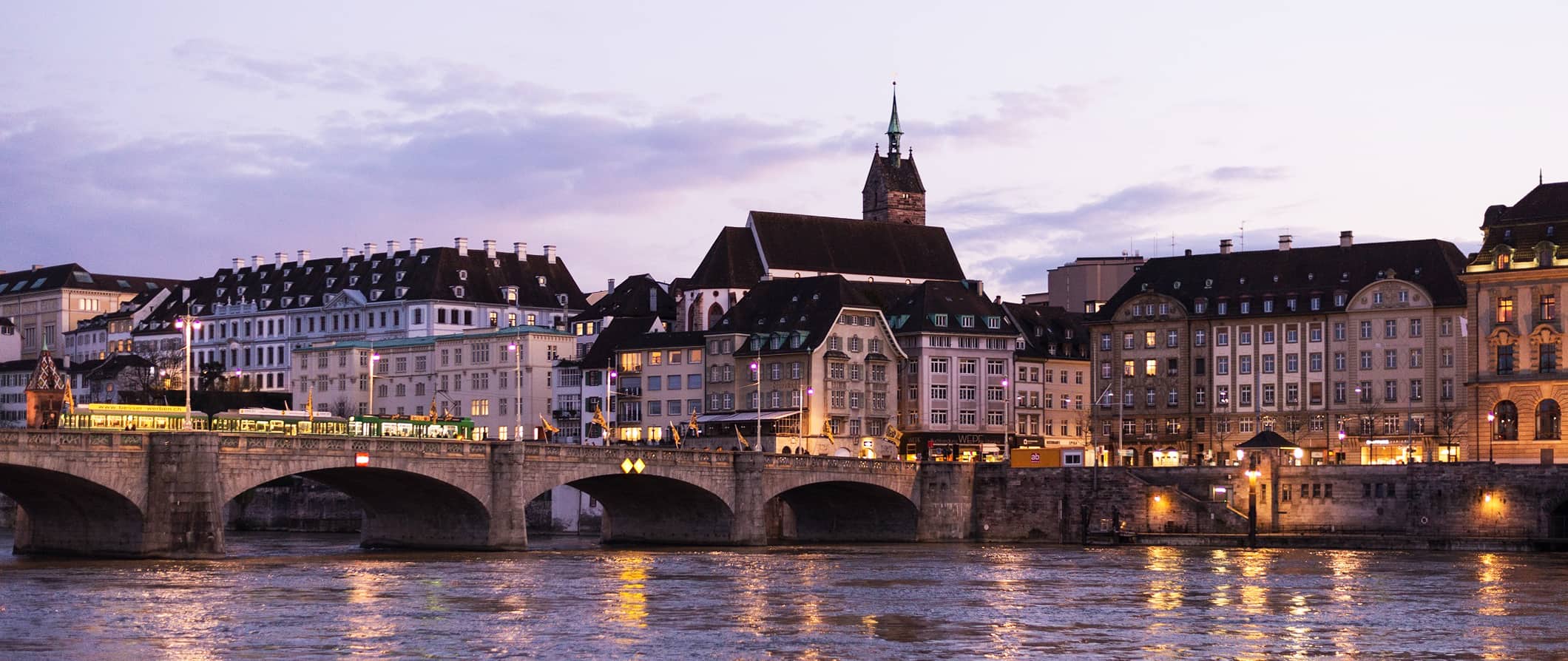 Basel is a great city for any traveler making their way through Switzerland. You can indulge in its diverse cuisine, float down the Rhine River, or spend time walking its historic city center with its riveting museums, zoo, and extravagant cathedrals. Plus, they have a ton of festivals throughout the year. It's a pretty small (but super beautiful) city so I don't think you need more than a few days here.
Top 5 Things to See and Do in Basel
1. Shop at Marktplatz
Basel's farmer's market happens every Saturday. It's worth getting up a little early to buy local fresh produce (save money on eating), flowers, and specialty items. Markets are always something to see and this one is no exception.
2. Visit the Kunstmusuem Basel
As one of Basel's most popular museums, it houses ninetieth and twentieth-century artwork, including an entire room of Picasso paintings. There are also several impressive pieces from the likes of Claude Monet, Edgar Degas, Marc Chagall, and more. Admission is 16 CHF, though some collections free during the week.
3. Visit the Cathedral
Basel's cathedral highlight is the Galluspforte (Gallus portal), considered the most important Romanesque sculptural work in Switzerland. You can climb St. Martin's tower for awesome views of the city and surround forest. The church is daily open from 10am-5pm. Access to the tower closes 30 minutes before the church does.
4. Spend time on Rhine River
Bask in the sun, swim in the river, check out one of two Jugendstil bathing houses, and, when you're hungry, stop for delicious drinks and snacks from the buvettes (refreshment stalls). Don't miss time on the Rhine! When the weather is nice, it's the place to be.
5. Check out the Basel Zoo
This is the oldest and largest (by the number of animals) zoo in Switzerland. Here you'll find lemurs, rare Indian rhinos, black-footed penguins, cheetahs, snow leopards, chimpanzees, and more. Admission is 21 CHF (it's 15 CHF if you're 24 and under!). It's open daily starting at 8am and closes anytime between 5pm and 6:30pm depending on the time of year.
Other Things to See and Do
(Click the title to expand the text)
1. Party during Baslar Fasnacht
Do not miss this festival. It's the equivalent of Carnival and lasts for three days and nights, starting on the Monday after Ash Wednesday. There's endless food, music, and parades. Just don't use any flash photography. The locals are pretty particular about that (lots of nudity) and will kick you out if you do.
2. Attend the Basel Herbstmesse
The Basel Herbstmesse (Autumn Fair) occurs in October and there are rides, booths, shooting alleys and lots of food in several locations all over the city. Locations include Messeplatz (the biggest site with the most attractions, with a rollercoaster and the like), Barfüsserplatz and Münsterplatz (where you get nice views from the Ferris Wheel).
3. See the Rathaus
The town hall is a beautiful old Renaissance building in the main square. It's still used today as a government building, but you can take a walk through the courtyard.
4. Visit the Tinguely Museum
This museum features the sculptures of Jean Tinguely, a Swiss artist. There's a lot of weird sculptures here so if you're into weird art, this is the place. The museum is open daily (except Mondays) from 11am-6pm. Admission is 18 CHF.
5. Get in the holiday spirit
If you've come to Switzerland to get your White Christmas fix, then don't forget to stop at the Basler Weihnachtsmarkt – Basel's Christmas market. Stalls are set up in Barfüsserplatz from the end of November onwards.
6. Catch a football match
FC Basel has a fantastic national record for Swiss football titles, with many under its belt. Come and catch a match at St. Jakobs Park, and join the local fans, who are very passionate about this team.
7. Eat basler läckerli
This spiced biscuit is famous in Switzerland, and it originates here. It's comparable to gingerbread but it's made from hazelnut, Kirsch, honey, and candied peel. It's a treat for anyone with a bit of a sweet tooth.
8. Walk through Tierpark Lange Erlen
If you like animals, but don't feel like forking cash over for the zoo, take a walk through the Tierpark Lange Erlen. This park contains a petting zoo, which is completely free. Even if you're not interested in seeing the animals, just come here to relax for a couple of hours.
9. See art at the Beyeler Foundation
This building is home to the art collection of Ernst and Hildy Beyeler, two famous locals who were passionate about art. Their world-famous collection includes 300 classic modern and contemporary works, now made viewable to the public. Admission is 25 CHF.
10. Stroll across Middle Bridge
This iconic bridge was opened in 1226, and is one of the oldest Rhine crossings in the world. It's a great place to pause for photography and to take in the gorgeous architecture of the city.