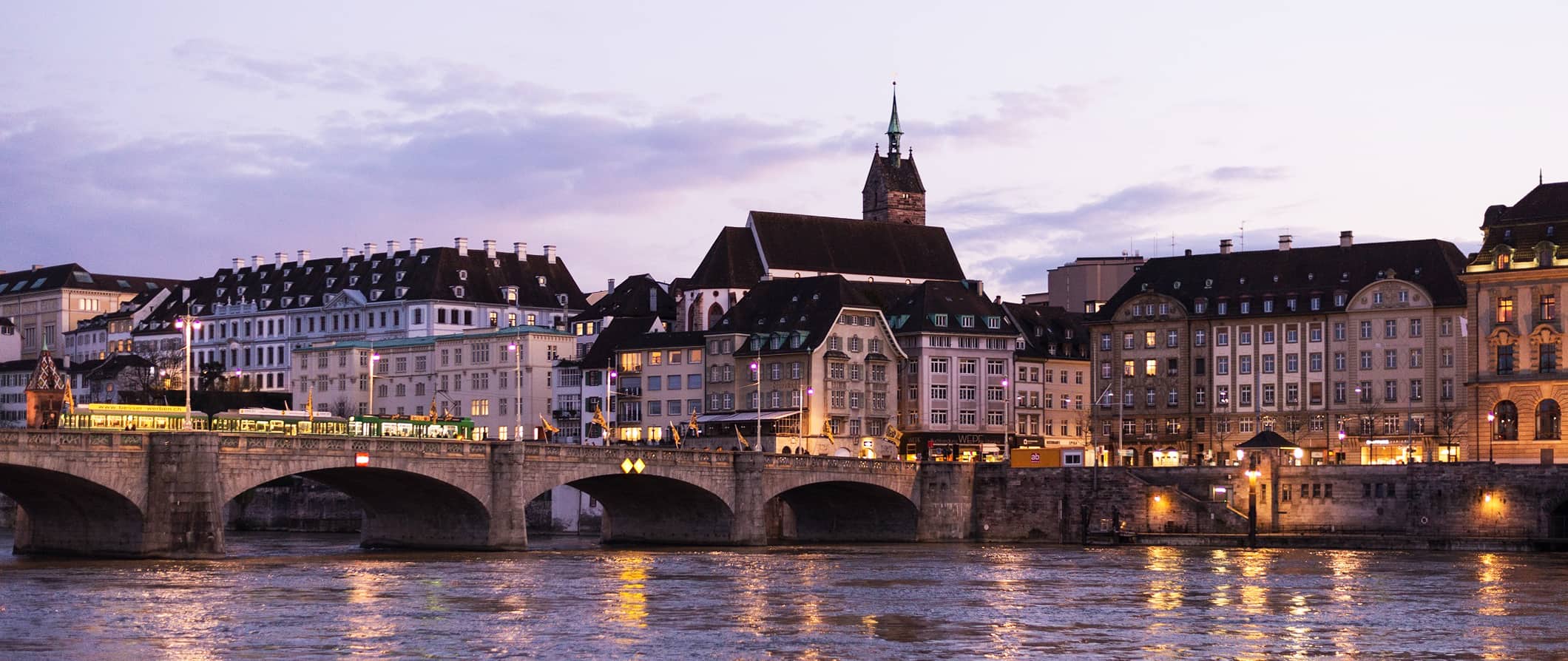 Basel is a great city for any traveler making their way through Switzerland. You can indulge in its diverse cuisine, float down the Rhine River, or spend time walking its historic city center with its riveting museums, zoo, and extravagant cathedrals. Plus, they have a ton of festivals throughout the year. It's a pretty small (but super beautiful) city so I don't think you need more than a few days here.
Top 5 Things to See and Do in Basel
1. Shop at Marktplatz
Basel's farmer's market happens every Saturday. It's worth getting up a little early to buy local fresh produce (save money on eating), flowers, and specialty items. Markets are always something to see and this one is no exception.
2. Visit the Kunstmusuem Basel
As one of Basel's most popular museums, it houses ninetieth and twentieth-century artwork, including an entire room of Picasso paintings. There are also several impressive pieces from the likes of Claude Monet, Edgar Degas, Marc Chagall, and more. Admission is 16 CHF, though some collections free during the week.
3. Visit the Cathedral
Basel's cathedral highlight is the Galluspforte (Gallus portal), considered the most important Romanesque sculptural work in Switzerland. You can climb St. Martin's tower for awesome views of the city and surround forest. The church is daily open from 10am-5pm. Access to the tower closes 30 minutes before the church does.
4. Spend time on Rhine River
Bask in the sun, swim in the river, check out one of two Jugendstil bathing houses, and, when you're hungry, stop for delicious drinks and snacks from the buvettes (refreshment stalls). Don't miss time on the Rhine! When the weather is nice, it's the place to be.
5. Check out the Basel Zoo
This is the oldest and largest (by the number of animals) zoo in Switzerland. Here you'll find lemurs, rare Indian rhinos, black-footed penguins, cheetahs, snow leopards, chimpanzees, and more. Admission is 21 CHF (it's 15 CHF if you're 24 and under!). It's open daily starting at 8am and closes anytime between 5pm and 6:30pm depending on the time of year.
Other Things to See and Do
(Click the title to expand the text)
1. Party during Baslar Fasnacht
Do not miss this festival. It's the equivalent of Carnival and lasts for three days and nights, starting on the Monday after Ash Wednesday. There's endless food, music, and parades. Just don't use any flash photography. The locals are pretty particular about that (lots of nudity) and will kick you out if you do.
2. Attend the Basel Herbstmesse
The Basel Herbstmesse (Autumn Fair) occurs in October and there are rides, booths, shooting alleys and lots of food in several locations all over the city. Locations include Messeplatz (the biggest site with the most attractions, with a rollercoaster and the like), Barfüsserplatz and Münsterplatz (where you get nice views from the Ferris Wheel).
3. See the Rathaus
The town hall is a beautiful old Renaissance building in the main square. It's still used today as a government building, but you can take a walk through the courtyard.
4. Visit the Tinguely Museum
This museum features the sculptures of Jean Tinguely, a Swiss artist. There's a lot of weird sculptures here so if you're into weird art, this is the place. The museum is open daily (except Mondays) from 11am-6pm. Admission is 18 CHF.
5. Get in the holiday spirit
If you've come to Switzerland to get your White Christmas fix, then don't forget to stop at the Basler Weihnachtsmarkt – Basel's Christmas market. Stalls are set up in Barfüsserplatz from the end of November onwards.
6. Catch a football match
FC Basel has a fantastic national record for Swiss football titles, with many under its belt. Come and catch a match at St. Jakobs Park, and join the local fans, who are very passionate about this team.
7. Eat basler läckerli
This spiced biscuit is famous in Switzerland, and it originates here. It's comparable to gingerbread but it's made from hazelnut, Kirsch, honey, and candied peel. It's a treat for anyone with a bit of a sweet tooth.
8. Walk through Tierpark Lange Erlen
If you like animals, but don't feel like forking cash over for the zoo, take a walk through the Tierpark Lange Erlen. This park contains a petting zoo, which is completely free. Even if you're not interested in seeing the animals, just come here to relax for a couple of hours.
9. See art at the Beyeler Foundation
This building is home to the art collection of Ernst and Hildy Beyeler, two famous locals who were passionate about art. Their world-famous collection includes 300 classic modern and contemporary works, now made viewable to the public. Admission is 25 CHF.
10. Stroll across Middle Bridge
This iconic bridge was opened in 1226, and is one of the oldest Rhine crossings in the world. It's a great place to pause for photography and to take in the gorgeous architecture of the city.
Typical Costs
Hostel prices
– Basel does not have much to offer in terms of hostels. The selection is pretty limited and you should expect to pay around 30-35 CHF a night for an 8 bed dorm room and around 90-100 CHF for a private room that sleeps two. The price usually includes free WiFi though breakfast is not! You can book your hostel with
Hostelworld
.
Budget hotel prices – A night in a 2-star budget hotel in a room that sleeps two starts at 80 CHF. Use Booking.com as they consistently return the cheapest rates. On Airbnb, you can find shared rooms for as low as 25 CHF and you can rent entire homes (usually studio apartments) starting around 50 CHF per night.
Average cost of food – Consider street food (hot dogs, pizza, sandwiches) for a cheap alternative to restaurant dining for around 5-10 CHF. If you're dining at a restaurant, prepare to pay between 15-30 CHF for a main entree. A beer at a mid-range restaurant will cost about 7.50 CHF and a bottle of water will cost about 4 CHF! If you cook your meals, expect to pay 100 CHF per week for groceries that will include pasta, vegetables, chicken, and other basic foodstuffs (which, though expensive, is still the cheaper option). The major supermarkets are Migros, COOP, and Spar. COOP is the most expensive. If you're dining out (but still trying to stick to a budget), you'll spend an average of 45 CHF a day on food. From there, the sky is the limit! For people who want to cook and eat the occasional meal out, expect to spend around 20 CHF per day.
Transportation costs – Basel is small enough to get everywhere just by walking around. However, if you need to use public transportation, they have trams and buses to move you quickly and comfortably around the city. Fares depend on the number of zones you travel with single ride adult fares ranging between 2.20-4.40 CHF. A one-day ticket is about 18 CHF and a multi-pass ticket that offers you 6 rides for the price of 5 ranges from 12-24 CHF.
Suggested daily budget
70-80 CHF / 68-78 USD (Note: This is a suggested budget assuming you're staying in a hostel, eating out a little, cooking most of your meals, and using local transportation. Using the budget tips below, you can always lower this number. However, if you stay in fancier accommodation or eat out more often, expect this to be higher!)
Money Saving Tips
Walk everywhere – Basel is too small to justify taking a taxi. Most people walk to get where they need to go, and you should too.
Use Couchsurfing – It's a service that lets travelers stay with locals for free. It was a lifesaver that allowed me to keep my costs down the most. Since a lot of travelers use this service, make your requests for hosts early.
Get free public transportation – As a hotel guest in the city on the Rhine, you may also profit from the Basel Mobility Ticket, which allows you to use the public transport network for the entire duration of your stay (up to 30 days).
Book your trains early – While a train ride is a cheaper way to travel than the plane, you can get even cheaper rates by booking your train ticket early. Swiss Rail also offers one-day and weekend group passes to look into.
Don't drink – Drinking is not cheap here. Most beers are around 8 CHF. Most wines are between 10-25 CHF a bottle. If you must drink, stick to hostel bars where you can enjoy 2-for-1 happy hours and cheap drinks for around 5 CHF or buy your beers at grocery stores for as little was 2 CHF.
Eat street food – Street food is the cheapest way to go and will save you the most money. Expect to spend 3-5 CHF for cheap snacks and about 10 CHF for something more filling.
Go veggie – Meat is expensive in Switzerland. Every Swiss resident or expat I talked to told me about how they limit their meat consumption because it costs so much. Stick to veggies and avoid buying meat for your meals (especially beef). While I was trolling supermarkets and butchers for grocery prices (travel writing is glamorous, huh?!), I found a pound of meat was 12-14 CHF. At that price, stick to deli meats for protein!
Use lunch specials – If you are going to eat out, do so during lunch. This is when most lunch specials at cafes and restaurants cost only 10-19 CHF. Moreover, stick to the ethnic restaurants like Chinese, Middle Eastern, Indian, or Thai for the best deals and biggest portions (and closer to that 10 CHF price). Lunch specials are a great way to get a lot of bang for your buck and to enjoy the dinner menu but at a cheaper set menu price.
Bring a refillable water bottle – At 2-4 CHF a bottle, that's a lot of money spent on water after a few days. The water in Basel is safe to drink, so refill your bottle before you go out to save money.
Take a free walking tour – To get a feel for the city when you first arrive, be sure to take a free walking tour with the company Free Walk Basel. Exploring a city on foot is the best way to understand it, and if you love architecture and history then this is a must!
Save money on rideshares – Uber is way cheaper than taxis and are the best way to get around a city if you don't want to wait for a bus or pay for a taxi. The Uber Pool option is where can you share a ride to get even better savings (though you can get your own car too). You can save $15 off your first Uber ride with this code: jlx6v.
My Must Have Guides For Traveling to Switzerland
Photo credits: 2