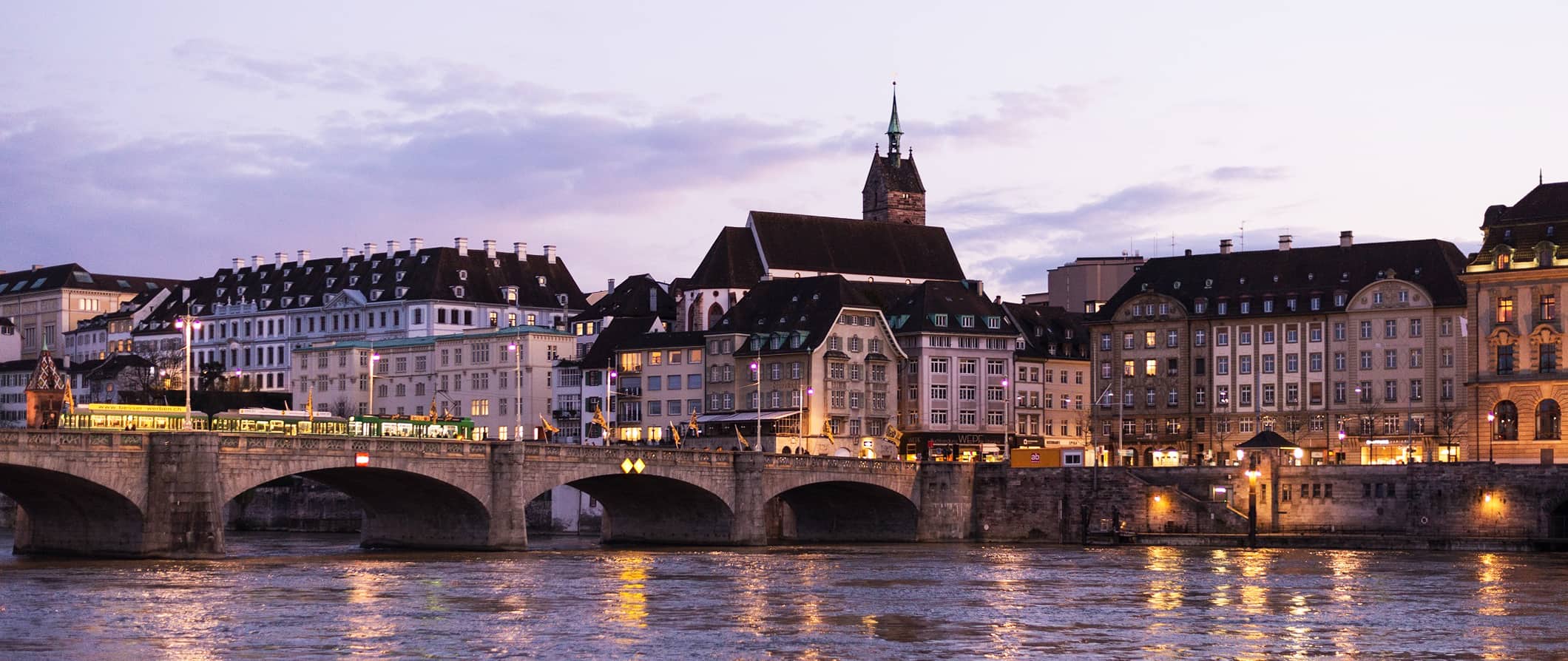 Basel is a wonderful city for any traveler making their way through Switzerland. Here, you can indulge in its diverse cuisine, float down the Rhine River, or spend time walking its historic city center with its riveting museums, zoo, and extravagant cathedrals. Plus, they have a ton of festivals throughout the year so there's always something happening.
It's a pretty small (but super beautiful) city so you only need a few days to visit Basel.
This travel guide to Basel can help you plan your trip and save you some money too (it's not a cheap place to visit).

Basel
Top 5 Things to See and Do in Basel
1. Shop at Marktplatz
Basel's farmer's market, Stadt Markt, happens daily in front of Town Hall, a gorgeous 500-year-old building with a red façade decorated with frescoes. It's worth getting up a little early to buy local fresh produce, cheese, flowers, and specialty items for a picnic, or to cook at your hostel later on.
2. Visit the Kunstmusuem Basel
As one of Basel's most popular museums, it houses the largest public art collection in Switzerland, including an entire room of Picasso paintings. The museum's collection includes pieces from the likes of Claude Monet, Edgar Degas, Marc Chagall, Edvard Munch, and more.
3. Visit the Cathedral
This 15th-century cathedral is considered the most important Romanesque sculptural work in Switzerland. Basel's cathedral highlight is the Galluspforte (Gallus portal). You can climb St. Martin's tower for awesome views of the city and the surrounding forest. The church is daily open from 10am-5pm.
4. Spend time on Rhine River
Bask in the sun, swim in the river, check out one of two Jugendstil bathing houses, and, when you're hungry, stop for delicious drinks and snacks from the buvettes (refreshment stalls). Don't miss time on the Rhine! When the weather is nice, it's the place to be.
5. Check out the Basel Zoo
This is the oldest and largest zoo in Switzerland. Here you'll find lemurs, rare Indian rhinos, black-footed penguins, and more. The zoo participates in several conservation programs. Admission is 21 CHF ($21.50 USD). It's open daily starting at 8am and closes anytime between 5pm and 6:30pm depending on the time of year.
Other Things to See and Do in Basel
1. Party during Basler Fasnacht
This festival is the equivalent of Carnival and lasts for three days and nights, starting at 4am on the Monday after Ash Wednesday. There's endless food, music, and parades. The daytime activities are fun but the biggest parties take place after 11pm. Whatever you do, don't take photos. The locals are pretty particular about that (lots of nudity) and will kick you out if you do.
2. Attend the Basel Herbstmesse
Basel Herbstmesse (Autumn Fair) is spread across 10 piazzas, and includes rides, artisan booths, shooting alleys and plenty of food. Go to Messeplatz for most of the fun attractions. Barfüsserplatz for Basel treats such as Mässmogge (hazelnut prailine filled sugar candies) and Rahmtäfeli (Swiss milk fudge), carousel and crazy carpet rides. Münsterplatz, in the Old Town, is home to one of Europe's largest ferris wheels.
3. See the Rathaus
Around 500 years old, the City Hall in Basel is a gorgeous Renaissance building. Its red façade, with beautiful frescoes, makes the building a focal point for the area and the Marktplatz piazza in front plays host to a daily market. It's still used today as a government building. Tours are offered in English every Saturday at 4:30pm. Tickets cost 5 CHF ($5.25 USD).
4. Visit the Tinguely Museum
This museum features the sculptures of Jean Tinguely, a Swiss artist known for creatingmetamechanic sculptures. There's a lot of weird sculptures such as Méta-Malevitch, a black wooden box that kind of looks like deconstructed clock. So if you're into thought-provoking art, this is the place. The museum is open daily (except Mondays) from 11am-6pm. Admission is 18 CHF ($18.50 USD).
5. Get in the holiday spirit at the Christmas Market
If you've come to Switzerland to get your White Christmas fix, then don't forget to stop at the Basler Weihnachtsmarkt. Stalls are set up in Barfüsserplatz from the end of November and go until the 24th of December . There are, however, additional markets worth checking out in Münsterplatz, and Marktplatz. During this time, the Klingental ferry also turns into a Christmas ferry and is decorated with holiday lights and a beautiful Christmas tree. Tickets cost 1.60 CHF ($1.75 USD) per ride.
6. Catch a football match
FC Basel has a fantastic national record for Swiss football titles, with many under its belt. Come and catch a match at St. Jakobs Park and join the local fans, who are very passionate about this team.
7. Eat basler läckerli
This hard spiced biscuit is famous in Switzerland and was created by local spice merchants around 700 years ago. It's comparable to gingerbread but it's made from hazelnut, Kirsch, honey, and candied peel. You can find it in grocery stores, as well as markets.
9. See art at the Beyeler Foundation
Located in nearby Riehen, this building is home to the art collection of Ernst and Hildy Beyeler, two famous local art dealers. Their world-famous collection includes 300 classic modern and contemporary works, including pieces by Claude Monet, Pablo Picasso, Andy Warhol, Roy Lichenstein, and Francis Bacon. Admission is 25 CHF ($25.50 USD.
10. Stroll across Middle Bridge
This iconic bridge was opened in 1226 and is one of the oldest Rhine crossings left. Mittlere Brücke was used for local traffic and, by the 14th-century, it was an important crossing for international trade as well. Now, the bridge provides great views of the city and the Rhine and is just a beautiful historic photoworthy bridge!
11. Go on a walking tour
Explore the Old Town on a walking tour, provided by Basel Tourism, which guides you around historic buildings, and learning about historic facts and anecdotes on Basel. Visit Town Hall, Basel Münster (cathedral), and Barfüsserkirche. You may also see the Museum de Kulturen, and Tinguely fountain. Tours are about 2 hours in length, and offered in both English and German. Tickets cost 20 CHF ($20.50 USD).
12. Walk the Rehberger-Weg
Located outside the city, this 3.1 mi (5 km) trail runs from Riehen, Switzerland to Weil am Rhein, Germany. The trail includes 24 unique markers created by German artist Tobias Rehberger. You'll walk through fields and the countryside on quiet footpaths, pausing at contemporary pieces of art while learning about local histories and stories. To get to the starting point at Fondation Beyeler in Riehen, take tram #6. It is about a 25 minute ride and will cost 2.30 CHF ($2.40 USD). To get back from the end point, Vitra Design Museum, take tram #8.
For more information on specific cities in Switzerland, check out these guides:
Basel Travel Costs
Hostel prices – You should expect to pay around 30-50 CHF ($31-51 USD) a night for an 8 bed dorm room and around 90-125 CHF ($92-127.50 USD) for a private room that sleeps two. Breakfast is not usually included.
Budget hotel prices – A night in a 2-star budget hotel in a room that sleeps two starts at 80 CHF ($81.50 USD). You can find shared rooms for around 25 CHF ($26 USD) per night. You can rent entire homes (usually studio apartments) starting around 35 CHF ($36.25 USD) per night.
On Airbnb, you can find shared rooms for about 35-60 CHF ($36.25-66 USD) per night. You can rent entire homes (usually studio apartments) starting around 70 CHF ($72.50 USD) per night, although you'll find a lot more inventory starting at 100 CHF ($102 USD) and up.
Average cost of food – Consider street food (hot dogs, pizza, sandwiches) for a cheap alternative to restaurant dining. This kind of costs around 5-10 CHF ($5.10-10.25 USD). If you're dining at a restaurant, prepare to pay between 15-30 CHF ($15.50-30.50 USD) for an entree.
If you're dining out (but still trying to stick to a budget), you'll spend an average of 45 CHF ($46 USD) a day on food. From there, the sky is the limit! For people who want to cook and eat the occasional meal out, expect to spend around 20 CHF ($20.50 USD) per day.
A beer at a mid-range restaurant will cost about 7.50 CHF ($7.75 USD) and a bottle of water will cost about 4 CHF ($4.25 USD)!
If you cook your meals, expect to pay 100 CHF ($102 USD) per week for groceries that will include pasta, vegetables, chicken, and other basic foodstuffs (which, though expensive, is still the cheaper option). The major supermarkets are Migros, COOP, and Spar. COOP is the most expensive. Supermarkets also sell pre-made meals for between 5-9 CHF ($5.30-9.50 USD).
Backpacking Basel Suggested Budgets
If you're backpacking Basel, my suggested budget is about 80 CHF ($81.50 USD) per day. This budget will cover staying in a hostel dorm, eating out on the cheap but cooking most of your meals, and taking public transit.
A mid-range budget of about 147 CHF ($150 USD) will cover a room at a two-star budget hotel or a private Airbnb room, eating out on a budget, a few glasses of wine each day, and a couple of paid attractions per day.
For a luxury budget of 309 ($315 USD) or more, you will stay in a four-star hotel, eat at restaurants for all your meals, and enjoy plenty of activities. The sky is your limit!
You can use the chart below to get some idea of how much you need to budget daily. Keep in mind these are daily averages – some days you'll spend more, some days you'll spend less (you might spend less every day). We just want to give you a general idea of how to make your budget. Prices are in USD.
Accommodation
Food
Transportation
Attractions
Average Daily Cost
Backpacker
$43
$25
$15
$19
$102
Mid-Range
$60
$50
$15
$25
$150
Luxury
$290
$100
$20
$60
$470
Basel Travel Guide: Money Saving Tips
Basel is geared more towards mid-range and luxury travelers. And, like the entire country, is very expensive. It's hard to stay here on a budget, especially if you pay for accommodation and eat out a lot. But there are a few ways to save money in Bern:
Walk everywhere – Basel is too small to justify taking a taxi. Most people walk to get where they need to go, and you should too.
Use Couchsurfing – It's a service that lets travelers stay with locals for free. It was a lifesaver that allowed me to keep my costs down the most. Since a lot of travelers use this service, make your requests for hosts early.
Get free public transportation – As a hotel guest in the city on the Rhine, you may also profit from the BaselCard, which is given to everyone upon checking into a hotel or hostel. It allows you to use the public transport network for the entire duration of your stay (up to 30 days).
Book your trains in advance – While a train ride is a cheaper way to travel than the plane, you can get even cheaper rates by booking your train ticket early. Look for supersaver tickets when booking on SBB, which can save you up to 70% on the regular fare. Swiss Rail also offers one-day and weekend group passes to look into.
Don't drink – Drinking is not cheap in Basel. Most beers are around 8 CHF ($8.25 USD). Most wines are between 10-25 CHF ($10.25-25.50 USD) a bottle. If you must drink, stick to hostel bars where you can enjoy 2-for-1 happy hours and cheap drinks for around 5 CHF ($5.10 USD) or buy your beers at grocery stores for as little was 2 CHF ($2.05 USD).
Eat street food – Street food is the cheapest way to go and will save you the most money. Expect to spend 3-5 CHF ($3.10-5.10 USD) for cheap snacks and about 10 CHF ($10.25 USD) for something more filling.
Go veggie – Meat is expensive in Switzerland. Every Swiss resident or expat I talked to told me about how they limit their meat consumption because it costs so much. Stick to veggies and avoid buying meat for your meals (especially beef). While I was trolling supermarkets and butchers for grocery prices (travel writing is glamorous, huh?!), I found a pound of meat was 12-14 CHF ($12.25-14.25 USD). At that price, stick to deli meats for protein!
Use lunch specials – If you are going to eat out, do so during lunch. This is when most lunch specials at cafes and restaurants cost only 10-19 CHF ($10.25-19.25 USD). Moreover, stick to Chinese, Middle Eastern, Indian, or Thai restaurants for the best deals and biggest portions (and closer to that 10 CHF / $10.25 USD price).
Bring a refillable water bottle – At 2-4 CHF ($2.05-4.05 USD), a bottle is expensive and bad for the environment. The water in Basel is safe to drink so refill your bottle and save money.
Take a free walking tour – To get a feel for the city when you first arrive, be sure to take a free walking tour with the company Free Walk Basel. Exploring a city on foot is the best way to understand it, and if you love architecture and history then this is a must!
Where To Stay in Basel
There are only a couple of hostels in Basel, so consider booking early if you're visiting during peak season (Jul-Aug):
How to Get Around Basel
Basel is small enough to get everywhere just by walking around. However, if you need to use public transportation, they have trams and buses to move you quickly and comfortably around the city.
Public Transportation – Fares depend on the number of zones you travel with single ride adult fares ranging between 2.20-4.40 CHF ($2.25-4.50 USD). A one-day ticket is about 18 CHF ($18.50 USD) and a multi-pass ticket that offers you 6 rides for the price of 5 ranges from 12-24 CHF ($12.75-24.50 USD). If you want to ride around for free, book at least one night's accommodation in Basel (See Money Saving Tips above).
Taxi – A taxi in Basel will cost a minimum of 6.50 CHF ($6.75 USD) and fares are 3 CHF ($3.10 USD) per km. Skip them. They are expensive and you don't really need to take them.
When to Go to Basel
The best time to visit Basel is April-September when the weather is warm enough for exploring on foot, patios are open, open-air markets are in full swing, and the Rhine river is perfect for relaxing. During this time, temperatures reaching an average of 72°F (23°C). This is the busiest time to visit Basel, so expect prices to be at least 20% higher.
In June, the Swiss Yodelling Festival takes place over a weekend towards the end of the month, and Summerblues Basel is a vibrant jazz and blues festival. In July, the Basel Tattoo is an exciting week-long festival filled with brass bands, traditional folk music, and dance troupes. August 1st is Swiss National Day, and the perfect time for watching folklore performances, alphorn blowing, yodelling, fireworks, and more!
In winter, temperatures in Basel average at 28ºF (-2ºC). While the festival and events calendar slow down a bit, there is still plenty to do. In November and December, the Christmas market is open and filled with Swiss treats, handicrafts, and mulled wines. In February, the Basel Carnival begins, its origins dating back to the peasant revolts in the 16th-century. This is easily one of the biggest parties of the year.
How to Stay Safe in Basel
Basel is quite safe. It is considered to be safer than other major Swiss cities like Zurich, and Geneva. There's very little risk of anything happening here. People are generally friendly and helpful, and you're unlikely to get into trouble. I would not be concerned about getting robbed, beaten up, or scammed here. It's super safe, even if you're traveling alone.
If you're worried about getting scammed, you can read about the 14 travel scams to avoid right here.
Always trust your gut instinct. Make copies of your personal documents, including your passport and ID.
If you don't do it at home, don't do it in Basel! Follow that rule, and you'll be fine.
The most important piece of advice I can offer is to purchase good travel insurance. Travel insurance will protect you against illness, injury, theft, and cancellations. It's comprehensive protection in case anything goes wrong. I never go on a trip without it as I've had to use it many times in the past.
Basel Travel Guide: The Best Booking Resources
These are my favorite companies to use when I travel to Basel. They are included here because they consistently find deals, offer world-class customer service and great value, and overall, are better than their competitors. They are the ones I use the most and are always the starting points in my search for travel deals.
Momondo – This is my favorite booking site. I never book a flight without checking here first.
Skyscanner – Skyscanner is another great flight search engline which searches a lot of different airlines, including many of the budget carriers that larger sites miss. While I always start with Momondo, I use this site too as a way to compare prices.
Airbnb – Airbnb is a great accommodation alternative for connecting with homeowners who rent out their homes or apartments.
Hostelworld – This is the best hostel accommodation site out there, with the largest inventory, best search interface, and widest availability.
Couchsurfing – This website allows you to stay on people's couches or spare rooms for free. It's a great way to save money while meeting locals who can tell you the ins and outs of their city. The site also lists events you can attend to meet people (even if you're not staying with someone).
Booking.com – The best all around booking site that constantly provides the cheapest and lowest rates. They have a no money down policy, great interface, and the widest selection of budget accommodation. In all my tests, they've always had the cheapest rates out of all the booking websites.
Eurail – If you are going to Europe and taking a lot of high speed or long distance trains, get a rail pass. I've used a rail pass three times and saved hundreds of dollars each time. The math just works.
Intrepid Travel – If you want to do a group tour around Europe, go with Intrepid Travel. They offer good small group tours that use local operators and leave a small environmental footprint. If you go on a tour with anyone, go with them. And, as a reader of this site, you'll get a discount when you click the link!
The Man in Seat 61 – This website is the ultimate guide to train travel anywhere in the world. They have the most comprehensive information on routes, times, prices, and train conditions. If you are planning a long train journey or some epic train trip, consult this site.
Rome 2 Rio – This website allows you to see how to get from point A to point B the best and cheapest way possible. It will give you all the bus, train, plane, or boat routes that can get you there as well as how much they cost.
World Nomads – I buy all my travel insurance from World Nomads. They have great customer service, competitive prices, and in-depth coverage. I've been using them since I started traveling in 2003. Don't leave home without it!
Basel Gear and Packing Guide
If you're heading on the road and need some gear suggestions, here are my tips for the best travel backpack and for what to pack!
The Best Backpack for Travelers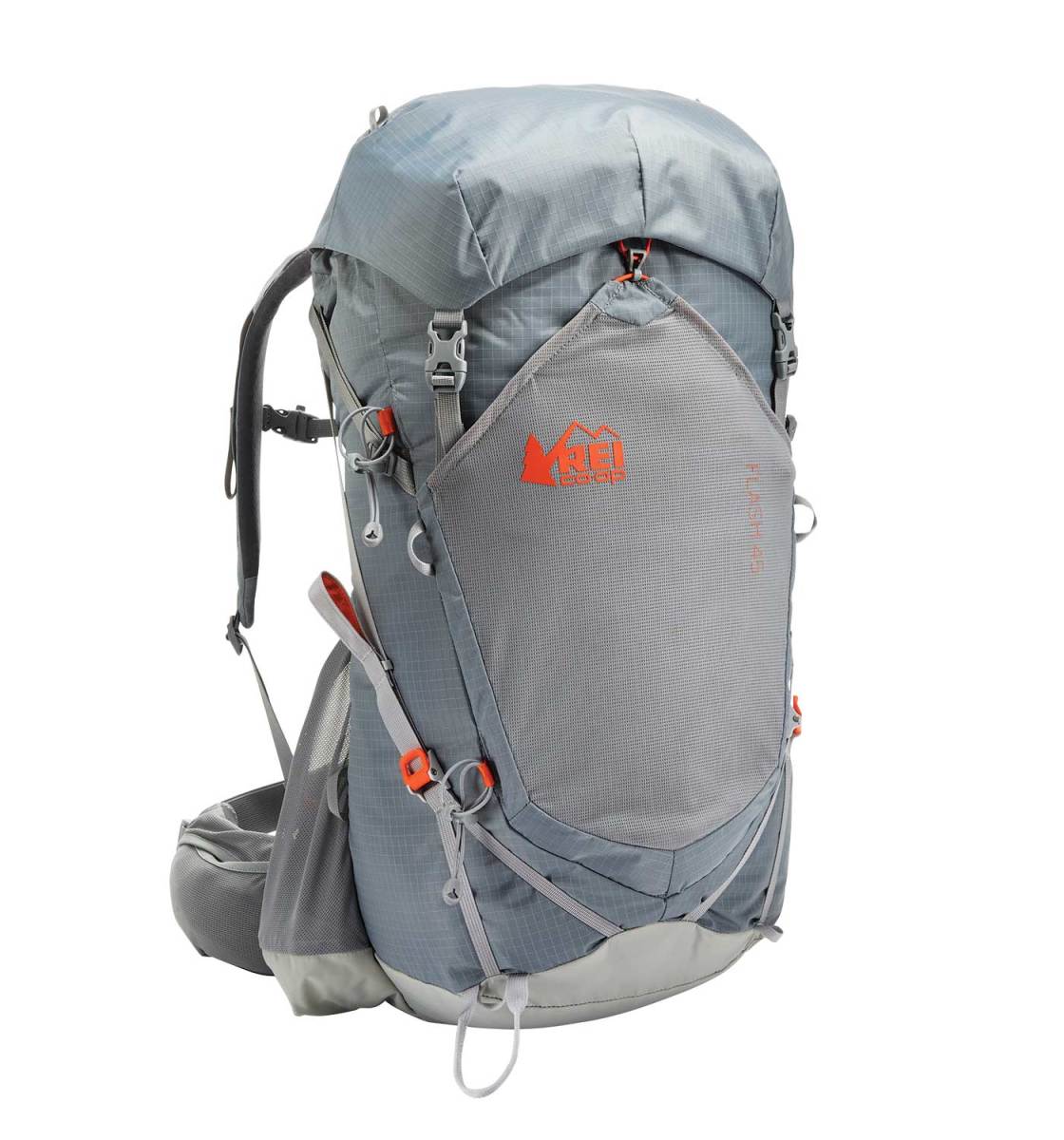 What's the best backpack for traveling long-term? I recommend the
REI Flash 45 Pack
. It's light and comfy, front loading, and fits perfectly in an airplane's overhead bin.
Size:
45-47L
Straps:
Thick and cushy with compression technology that pulls the pack's load up and inwards so it doesn't feel as heavy.
Features:
Removable top lid, large pocket at the front, hydration compatible, contoured hip belt
If you want something different, refer to my article on how to choose the best travel backpack for tips on picking a pack and other backpack suggestions.
What to Pack for Your Trip
Clothes
1 pair of jeans (heavy and not easily dried, but I like them; a good alternative is khaki pants)
1 pair of shorts
1 bathing suit
5 T-shirts (Unbound Merino is my preferred company. If you're a member of NM+, you can get 15% off your purchase)
1 long-sleeved T-shirt
1 pair of flip-flops
1 pair of sneakers
6 pairs of socks (I always end up losing half)
5 pairs of boxer shorts (I'm not a briefs guy!)
1 toothbrush
1 tube of toothpaste
1 razor
1 package of dental floss
1 small bottle of shampoo
1 small bottle of shower gel
1 towel
Deodorant
Small Medical Kit (safety is important!!!)
Miscellaneous
Female Travel Packing List
I'm not a woman, so I don't know what a woman wears, but Kristin Addis, our solo female travel guru, wrote this list as an addition to the basics above:
Clothing
1 swimsuit
1 sarong
1 pair of stretchy jeans (they wash and dry easily)
1 pair of leggings (if it's cold, they can go under your jeans, otherwise with a dress or shirt)
2-3 long-sleeve tops
2-3 T-shirts
3-4 spaghetti tops
1 light cardigan
Toiletries
1 dry shampoo spray & talc powder (keeps long hair grease-free in between washes)
1 hairbrush
Makeup you use
Hair bands & hair clips
Feminine hygiene products (you can opt to buy there too, but I prefer not to count on it, and most people have their preferred products)
For more on packing, check out these posts:
Basel Travel Guide: Related Articles
Want more info? Check out all the articles I've written on backpacking/traveling Switzerland and continue planning your trip:
Photo Credit: 2 – Davide Oliva, 3 – Jean-Pierre Dalbéra