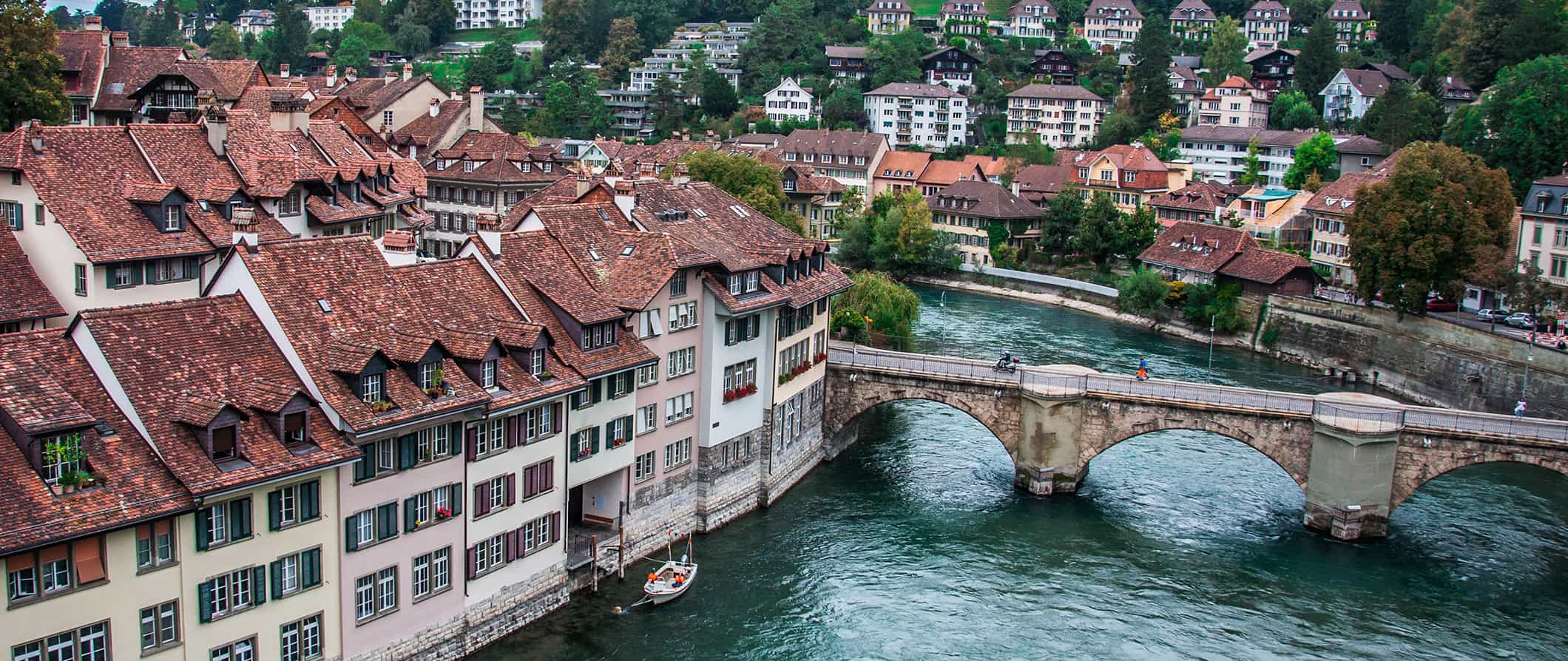 Bern is my favorite city in Switzerland. It's small, covered in cobblestones streets and medieval buildings, set along a beautiful river, and close to the mountains. I loved it. You could just wander the city for days feeling like you're back in the 1600s. Because it is so small, you only really need a few days here but, while you are here, be sure to try some of the international food, chocolate (Toblerone was started here), and all the craft beer popping up at the new bars through the city.
Top 5 Things to See and Do in Bern
1. Visit Einstein's home
This was Einstein's apartment while he came up with the Theory of Relativity. While it has a museum-type feel, you can learn about Einstein, his life, and about his time in this city. It provides an interesting look at the man who changed science.
2. Hike the Gurten
The Gurten is a lovely hill just outside the city, popular with locals, who come to play ball, barbecue or to just lie in the sun. It features a park and great views of the city on one side and the Bernese Alps on the other. Hiking paths lead in all directions.
3. Visit the Bern Historical Museum
Switzerland's second largest historic museum, combines one of the country's most important ethnographic collections together with the Bernese historical collections from prehistory to the present day. It's closed on Mondays.
4. Visit the Kunstmuseum
Bern's Museum of Fine Arts contains over 800 years of artwork, and the institution itself is the oldest art museum in the country. Here you can find paintings by masters such as Picasso, Klee, and Oppenheim. There are more than 3,000 paintings and sculptures here.
5. Visit the Old Town
Go antique shopping, dine at a variety of restaurants (and there are plenty of cheap eats as well) and bask in this unique neighborhood's bars and taverns. This was the historic area of the city and you'll be able to walk down tiny cobblestone streets and see houses hundreds of years old.
Other Things to See and Do
(Click the title to expand the text)
1. Take a walking tour of Bern
Although many activities in Bern are expensive, taking a self-guided tour won't be. In the old town, you will find some wonderful bakeries and markets where you can cheaply taste the local cuisine. Take your picnic to Gerechtigkeitsgasse and see the Bear Park for a little bit of history while you eat. If you hit the right time of year stroll through one of many free concerts, parades, and festivals.
2. Stroll through Bern Cathedral
Take the tram and admire its Gothic architecture at night along the skyline. This is one of the best Gothic cathedrals in Europe and is very detailed.
3. Tour the Swiss House of Parliament
The Swiss House of Parliament, known as the Bundeshaus, lies on the main square of Bern. When parliament is not in session, you're welcome to take a free tour of the premises.
4. See the Zytglogge
The clock tower near the center of the old town (built around the turn of the 13th century) is a great thing to see. Every hour on the hour, there is a stunning display of early animatronic technology. The clock tells time as well as the month, day, zodiac sign, and phase of the moon. There are guided tours inside the tower that will let you have a look at the clockwork.
5. See the bears
Bern's name has been historically linked to "bears." One existing legend says that the city's founder, a duke, named Bern after the first animal hunted and killed in the area. In any case, the bear became a symbol of the city, and the first "bear park" opened in the 19th century. At the moment, four brown bears live in the bear park.
6. Learn to communicate
The Bern Communications Museum traces the history and patterns of human interaction, as expressed through written and verbal communication. It also has exhibits on computers and the digital age, and Swiss stamps. This is a good place to visit with children, as it's pretty interactive.
7. Stop to smell the roses
East of the historic center lies the Rosengarten, the city's beautiful rose garden. There are over 200 varieties of roses to admire, and you can also get a good view of the city from here.
8. Swim in the river
The great thing about Switzerland is that even urban rivers are clean enough to swim in! In the summer, swimming in the River Aare is a popular activity. Check with your hostel or hotel to find out where the best and safest spots are before heading out. Pack a picnic, and make an afternoon of it!
Typical Costs
Hostel prices
– There are only a few hostel options here and their prices are very high. Dorm rooms cost around 40 CHF per night while private rooms start at 140 CHF per night for a double room (twin privates that sleep two start around 100 CHF). These prices sometimes include breakfast, sheets, and towels. Alternatively, you can camp for as little as 15 CHF per night at one of the two campgrounds on the outskirts of Bern. You can book your hostel with
Hostelworld
.
Budget hotel prices – A night in a 2- to 3-star budget hotel in a room with a private bathroom that sleeps two starts around 120 CHF. Use Booking.com as they consistently return the cheapest rates. On Airbnb, you can find shared rooms for around 25 CHF per night. You can rent entire homes (usually studio apartments) starting around 30 CHF per night.
Average cost of food – Eating in Bern is expensive. If you cook your meals, expect to pay around 100-115 CHF per week for groceries that will include pasta, vegetables, chicken, and other basic foodstuffs. Supermarkets also sell pre-made meals for between 5-9 CHF. The major supermarkets are Migros, COOP, and Spar. COOP is the most expensive. Bars and cafés are the cheapest food option, cost about 9-15 CHF for a lunch special. Restaurants with table service are around 20 CHF for lunch and 40 CHF for dinner (starter, main, and drink). If you're dining out (but still trying to stick to a budget), you'll spend an average of 45 CHF a day on food. From there, the sky is the limit! For people who want to cook and eat the occasional meal out, expect to spend around 20 CHF per day.
Transportation costs – A single journey ticket on the metro/bus is 4 CHF and lasts for 90 minutes, and a daily pass is 12.40 CHF. This ticket is valid for both the bus and the train during that time period. If you want to ride around for free, book at least one night's accommodation in Bern. Since 2014, tourists that book accommodation receive the Bern Ticket that offers free public transportation for their entire stay. In the summer, free bikes are available to use too. A taxi in Bern will cost a minimum of 6.80 CHF and fares are 3 CHF per km.
Suggested daily budget
80 CHF / 78 USD (Note: This is a suggested budget assuming you're staying in a hostel, eating out a little, cooking most of your meals, and using local transportation. Using the budget tips below, you can always lower this number. However, if you stay in fancier accommodation or eat out more often, expect this to be higher!)
Money Saving Tips
Couchsurf – It's a service that lets travelers stay with locals for free. It was a lifesaver that allowed me to keep my costs down the most. Since a lot of travelers use this service, make your requests for hosts early.
Camp out – There are two campsites on the outskirts of the city. You can park your motorhome, pitch a tent, or rent a cabin for very cheap, sometimes as little as 15 CHF. Then feel free to use their showers, kitchen, washing machine, etc. This is a great option for families, groups, nature lovers, people traveling with pets, and budget travelers.
Travel around Bern for free – Since 2014, if you book at least one night's accommodation (hotel, hostel, apartment, boarding house, etc) in Bern, you can travel on public transportation around zones 100 and 101 (basically all of Bern) for free! Be sure to have a printed booking confirmation. When you arrive in Bern, show your accommodation confirmation so you can travel from the rail station or airport to your accommodation for free. Upon check-in, you will get a Bern Ticket that's valid for your entire stay. This ticket includes a free ride up to the popular viewing point, Gurten.
Bike for free – Visiting Bern anytime from May to October? Take advantage of the free Bern Rollt bicycle rentals in Bern. You can rent bicycles, children's bicycles, e-bikes, scooters, and skateboards. All you have to do is present a valid ID and a deposit of 20 CHF at one of the bike pick-ups in the city. Rentals are free for the first four hours (two hours for e-bikes), then 1 CHF for each additional hour. This is a great way to experience Bern on a budget.
Don't drink – Drinking is not cheap here. Most beers are around 8 CHF. (Plus, who wants to hike while hung over?) Most wines are between 10-25 CHF a bottle. If you must drink, stick to hostel bars where you can enjoy 2-for-1 happy hours and cheap drinks for around 5 CHF or buy your beers at grocery stores for as little was 2 CHF.
Use lunch specials – If you are going to eat out, do so during lunch. This is where most lunch specials at cafes and restaurants only cost around 10-19 CHF per person. Moreover, stick to the ethnic restaurants like Chinese, Middle Eastern, Indian, or Thai for the best deals and biggest portions (and closer to that 10 CHF price). Lunch specials are a great way to get a lot of bang for your buck and to enjoy the dinner menu but at a cheaper set menu price.
Bring a refillable water bottle – At 2-4 CHF a bottle, that's a lot of money spent on water after a few days. The water in Switzerland is safe to drink, so refill your bottle before you go out to save money.
Take a free walking tour – To get a feel for the city and learn some of its history, be sure to take a free walking tour with Free Walking Tours Bern. Exploring a city on foot is the best way to understand it, and if you love architecture and history then this is a must!
My Must Have Guides For Traveling to Switzerland