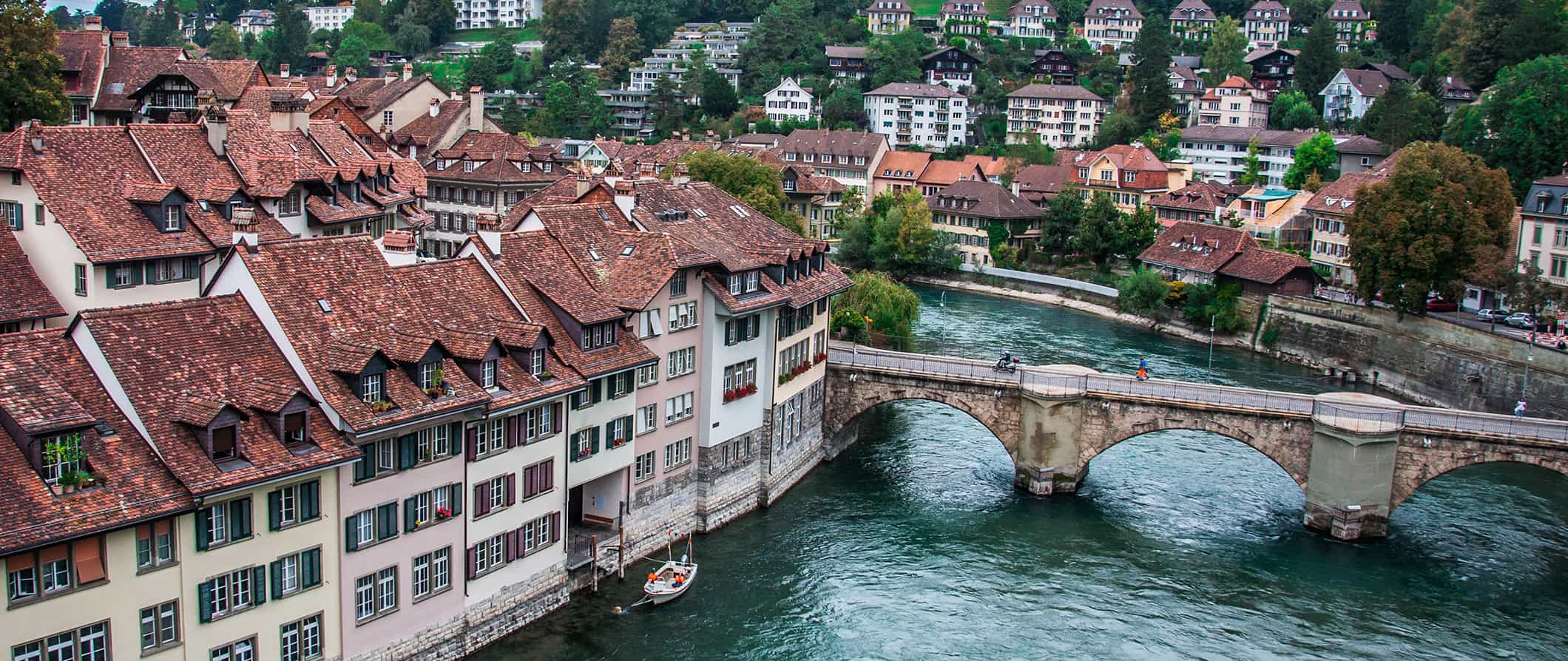 Bern is my favorite city to visit in Switzerland. It's small, covered in cobblestones streets and medieval buildings, set along a beautiful river, and close to the mountains. It's the perfect place. You could just wander the city for days feeling like you're back in the 1600s (but with more sanitary conditions.
Because it is so small, you only really need a few days to visit Bern but, while you are here, be sure to try some of the delicious international food, chocolate (Toblerone was started here), and craft breweries popping up throughout the city. It's Switzerland's hipster city.
This travel guide to Bern can help you plan your trip to the city and save money while you are there.

Bern
Top 5 Things to See and Do in Bern
1. Visit Einstein's home
In 1903, he moved into an apartment in Bern with his wife, Mileva. TLocated on the third floor, the apartment has been converted into a small museum, filled with photos and information panels on Einstein, his scientific work, and his life. It costs 6 CHF ($6.50 USD).
2. Hike the Gurten
Known as Bern's local mountain, The Gurten is popular with locals who come to play ball, barbecue or to just lie in the sun. It features a park and great views of the city on one side and the Bernese Alps on the other. Hiking paths lead in all directions. Ride the funicular for 6 CHF ($6.50 USD).
3. Visit the Bern Historical Museum
This castle-like museum is Switzerland's second largest cultural history museum. There are 10 permanent exhibits, delving into the topics of history, archeology, and ethnography dating from the stone age to the present day. It's closed on Mondays. It costs 13 CHF ($13.75 USD).
4. Visit the Kunstmuseum
Bern's Museum of Fine Arts is one of the oldest art museums in Switzerland, and contains over 800 years of artwork. Here you can find paintings by masters such as Picasso, Klee, and Oppenheim. There are more than 3,000 paintings and sculptures here. It costs 10 CHF ($10.50 USD).
5. Visit the Old Town
A UNESCO World Cultural Heritage Site, old town dates back to the end of the 12th-century. Visit the beautiful Zytglogge clock tower, Käfigturm prison town, and the Renaissance fountains. Walk the cobblestone streets, shop, or take one of the walking tours offered by City Tours Bern.
Other Things to See and Do in Bern
1. Take a walking tour of Bern
Freewalk offers a free walking tour of Bern's old city. The tour is around 2 hours in duration and includes the cathedral, clock tower, and bridge. It's a great way to learn about the city and its history while filling some of your day! While the tour is free, remember to tip the guide at the end.
2. Stroll through Bern Cathedral
This 15th-century Swiss Reformed cathedral is located in the old city. It's the tallest cathedral in Switzerland and is made of local sandstone. Take in the intricately details of the archways of the main doors and marvel at the flying buttresses that decorate the ceiling, and the tall stained-glass windows. It's a stunning piece of gothic architecture.
3. Tour the Swiss House of Parliament
Completed in 1902, the Swiss House of Parliament, known as the Bundeshaus, lies in the main square. The Domed Hall, which is in the shape of the Swiss cross, is impressive with its intricately carved columns and doorways, domed ceiling, stained-glass windows, and red accent walls. A very large sculpture of the country's forefathers taking the Rütli oath can be seen here as well as the ceremonial staircase leading to the second floor. During the summer, a farmer's markets and various events take place in the square in front of the building. Free tours are also offered when parliament is not in session. You will need to reserve your space online at least three days in advance. Bring your passport as ID when you show up.
4. See the Zytglogge
This medieval landmark is in the heart of the old city and was built around the turn of the 13th-cetury. In its prime, the Zytglogg served as a guard tower for the city's western fortifications, a women's prison (supposedly for women who committed sexual sins with the clergy), and clock tower. The tower's façade has changed several times over the centuries. It was decorated in a Burgundian Romantic style in the 15th-century. In the 18th-century, the tower was refurbished and adapted to the Baroque style. It changed again in the early 20th-century to the Rococo style. The clock tells time as well as the month, day, zodiac sign, and phase of the moon. A 60-minute guided tour will walk you through the tower's history. It costs 20 CHF ($21 USD).
5. Take a Turkish bath
Housed in an old gas-fired boiler and billiards factory, the Hammam & Spa Oktogon may not look fancy but it is one of the best in the city. The rooms are in the shape of an octagon and everyone is given linen clothing to wear, instead of walking around nude. It costs 45 CHF ($47 USD) and includes the traditional linen cloth, peeling glove, hammam wrap, and tea in the bistro. Tuesdays are ladies only.
7. Stop to smell the roses at the Rosegarten
A public park since 1913, this space served as a cemetery for lower Old Town from 1765 to 1877. Today, it is a lovely rose garden, with over 240 varieties of roses to admire. The cherry blossoms in spring are spectacular and the views of Old Town, Bern Münster (Cathedral), and the Aare river loop, are also stunning. Autumn, with its changing colors, is also a perfect time to visit as well.
8. Swim in the river
In the summer, swimming in the River Aare is a popular activity. You can also do SUP, rafting, tubing, and river surfing. The most popular section of the river is between Marzili pool and Camping Eichholz. Schönausteg pedestrian bridge is popular for jumping into the river.
9. Go to the city's tiniest bar
ZAR café bar is known for being the tiniest bar in Bern. In summer, tables and chairs are set-up outside it's red and white striped awning and the sidewalk is as packed as the bar inside. Stop for some Swiss beer and try their meat and cheese plate.
10. Go shopping for souvenirs at a flea market
Flea markets can be a fun way to shop for souvenirs, or to merely interact with locals. Try Tramdepot Areal, a flea market housed in an old tram depot, which is open the last Saturday each month, March-October. Dampfzentrale is in the Marzili district, and open the last Sunday of each month, May-September. The market in Matte district, Mühlenplatz, is home to a small flea market on the 3rd Saturday of each month, May-October. It's colorful and kitschy, and filled with local artisans. Reitschule, however, is one of the largest markets in Switzerland, and not to be missed! It is open the 1st Sunday of the month.
For more information on specific cities in Switzerland, check out these guides:
Bern Travel Costs
Hostel prices – There are only a few hostel options in the city – and they aren't cheap. Dorm rooms cost around 42 CHF ($43.50 USD) per night while private rooms start at 140 CHF ($144.50 USD) per night for a double room (twin privates that sleep two start around 100 CHF / $130 USD). These prices sometimes include breakfast, sheets, and towels.
Alternatively, you can camp for as little as 15 CHF ($15.50 USD) per night at one of the six campgrounds on the outskirts of Bern. Eichholz is one of the better options and located just off the Aare river.
Budget hotel prices – A night in a 2- to 3-star budget hotel in a room with a private bathroom that sleeps two starts around 120 CHF ($124 USD). You can find shared rooms for around 25 CHF ($26 USD) per night. You can rent entire homes (usually studio apartments) starting around 35 CHF ($36.25 USD) per night.
On Airbnb, you can find shared rooms for about 35-60 CHF ($36.25-66 USD) per night. You can rent entire homes (usually studio apartments) starting around 70 CHF ($72.50 USD) per night, although you'll find a lot more inventory starting at 100 CHF ($130 USD) and up.
Average cost of food – Eating in Bern is expensive. Bars and cafés are the cheapest food option and cost about 9-15 ($9.50-$15.50 USD) CHF for a lunch special. Restaurants with table service are around 20 CHF ($20.75 USD) for lunch and 40 CHF ($41.50 USD) for dinner (starter, main, and drink). If you're dining out (but still trying to stick to a budget), you'll spend an average of 45 CHF ($47 USD) a day on food.
For affordable meals, try Pittaria, Rice Up (Bern train station), Äss-Bar, and Restaurant Grosse Schanze. For traditional Swiss food, expect to pay 25-45 CHF ($26-46.50 USD). Try Lötschberg, Harmonie, and Della Casa.
A beer will cost at least 6 CHF ($6.50 USD) in a restaurant, however, if you buy it in a shop you can expect to pay about 2 CHF ($2.15 USD).
If you cook your meals, expect to pay around 130 CHF ($137 USD) per week for groceries that will include pasta, vegetables, chicken, and other basic foodstuffs. Supermarkets also sell pre-made meals for between 5-9 CHF ($5.30-9.50 USD). The major supermarkets are Migros, COOP, and Spar. COOP is the most expensive. Supermarkets also sell pre-made meals for between 5-9 CHF ($5.30-9.50 USD)
Backpacking Bern Suggested Budgets
If you're backpacking Bern, my suggested budget is about 99 CHF ($102 USD) per day. This budget will cover staying in a hostel dorm, cooking most of your meals, and taking public transit. You can cut that down by finding cheaper accommodation (see our budget tips section).
A mid-range budget of about 142 CHF ($150 USD) will cover a room at a two-star budget hotel or a private Airbnb room, eating out on the cheap, cooking some of your meals, and a couple of paid attractions per day.
For a luxury budget of 285 ($315 USD) or more, you will stay in a four-star hotel, eat at restaurants for all your meals, and enjoy plenty of activities. The sky is your limit!
You can use the chart below to get some idea of how much you need to budget daily. Keep in mind these are daily averages – some days you'll spend more, some days you'll spend less (you might spend less every day). We just want to give you a general idea of how to make your budget. Prices are in USD.
Accommodation
Food
Transportation
Attractions
Average Daily Cost
Backpacker
$43
$25
$15
$19
$102
Mid-Range
$60
$50
$15
$25
$150
Luxury
$290
$100
$20
$60
$470
Bern Travel Guide: Money Saving Tips
Bern is geared more towards mid-range and luxury travelers. And, like the entire country, is very expensive. It's hard to stay here on a budget, especially if you pay for accommodation. There are a few ways to lower your costs here:
Free local transportation with the Bern Ticket – When you check into your accommodation in Bern (hotel, youth hostel, or a campsite), you receive a Bern Ticket. This allows you to use public transportation with LIBERO Association in zones 100/101, for free. It also includes the Gurten and Marzilibahn funiculars, the elevator to Minter terrace, and travel to and from Bern Airport. Ticket is valid during the length of your stay.
Don't drink – Drinking is not cheap here. Most beers are around 8 CHF ($8.30 USD), and most wines are between 10-25 CHF ($10.50-26 USD) a bottle. If you must drink, stick to hostel bars where you can enjoy 2-for-1 happy hours and cheap drinks for around 5 CHF ($5.25 USD) or buy your beers at grocery stores for as little was 2 CHF ($2.10 USD).
Eat the lunch specials – If you are going to eat out, do so during lunch. This is where most lunch specials at cafes and restaurants only cost around 10-19 CHF ($10.50-20 USD) per person. Moreover, stick to the Chinese, Middle Eastern, Indian, or Thai restaurants for the best deals and biggest portions (and closer to that 10 CHF price / $10.50 USD). Lunch specials are a great way to get a lot of bang for your buck and to enjoy the dinner menu but at a cheaper set menu price.
Go veggie – Meat is expensive in Switzerland. Every Swiss resident or expat I talked to told me about how they limit their meat consumption because it costs so much. Stick to veggies and avoid buying meat for your meals (especially beef). While I was trolling supermarkets and butchers for grocery prices (travel writing is glamorous, huh?!), I found a pound of meat was 12-14 CHF ($12.25-14.25 USD). At that price, stick to deli meats for protein!
Bring a refillable water bottle – At 2-4 CHF ($2.10-4.25 USD) a bottle, that's a lot of money spent on water after a few days. The water in Switzerland is safe to drink, so refill your bottle before you go out to save money.
Take a free walking tour – To get a feel for the city and learn some of its history, be sure to take a free walking tour with Free Walking Tours Bern. Exploring a city on foot is the best way to understand it, and if you love architecture and history then this is a must!
Use Couchsurfing – It's a service that lets travelers stay with locals for free. It was a lifesaver that allowed me to keep my costs down the most. Since a lot of travelers use this service, make your requests for hosts early.
Where To Stay in Bern
There are only a couple of hostels in Bern, so consider booking early if you're visiting during peak season (Jul-Aug):
How to Get Around Bern
As mentioned above, when you check into your accommodations in Bern, you are entitled to a travel card which provides free public transportation in the city. The city is also pretty small and easy to walk around so you don't need to use public transportation a lot.
Public Transportation – A single journey ticket on the metro/bus is 4 CHF ($4.25 USD) and lasts for 90 minutes, and a daily pass is 12.40 CHF ($13 USD). This ticket is valid for both the bus and the train during that time period. If you want to ride around for free, book at least one night's accommodation in Bern (See Money Saving Tips above).
Taxi – A taxi in Bern will cost a minimum of 6.80 CHF and fares are 3 CHF per km. They are too expensive. Skip them.
Bike – Between April-October, you can use bikes from Publibike for up to 4 hours, for free. You will need to pay a 20 CHF ($21 USD) deposit.
When to Go to Bern
The best time to visit Bern is April-September when the weather is warm enough for exploring on foot, patios are open, open-air markets are in full swing, and the Aare river is fit for swimming. During this time, temperatures reaching an average of 72°F (23°C). This is the busiest time to visit Bern, so expect prices to be at least 20% higher.
In May, the Bern Grand Prix is Switzerland's largest, and most beautiful, marathon. In July, the Gurtenfestival a huge music festival with performers from around the world, including world-famous artists such as The Chemical Brothers, and Vampire Weekend. August 1st is Swiss National Day, and the perfect time for watching folklore performances, alphorn blowing, yodeling, fireworks, and more! The Bern Buckers' Street Music Festival takes place in August as well.
In winter, temperatures in Bern average at 28ºF (-2ºC). While the festival and events calendar slows down a bit, there is still plenty to do. In November and December, the Christmas market is open and filled with Swiss treats, handicrafts, and mulled wines. Zibelemärit, Bern's annual onion festival, takes place on towards the end of November, a tradition since the 1850s. In February/March, the Bern Carnival begins its origins dating back to the peasant revolts in the 16th-century.
How to Stay Safe in Bern
Bern is quite safe. It is considered to be safer than other major Swiss cities like Zurich, and Geneva. There's very little risk of anything happening here. People are generally friendly and helpful, and you're unlikely to get into trouble. I would not be concerned.
If you're worried about getting scammed, you can read about the 14 travel scams to avoid right here.
Always trust your gut instinct. Make copies of your personal documents, including your passport and ID.
If you don't do it at home, don't do it in Bern! Follow that rule, and you'll be fine.
The most important piece of advice I can offer is to purchase good travel insurance. Travel insurance will protect you against illness, injury, theft, and cancellations. It's comprehensive protection in case anything goes wrong. I never go on a trip without it as I've had to use it many times in the past.
Bern Travel Guide: The Best Booking Resources
These are my favorite companies to use when I travel to Bern. They are included here because they consistently find deals, offer world-class customer service and great value, and overall, are better than their competitors. They are the ones I use the most and are always the starting points in my search for travel deals.
Momondo – This is my favorite booking site. I never book a flight without checking here first.
Skyscanner – Skyscanner is another great flight search engline which searches a lot of different airlines, including many of the budget carriers that larger sites miss. While I always start with Momondo, I use this site too as a way to compare prices.
Airbnb – Airbnb is a great accommodation alternative for connecting with homeowners who rent out their homes or apartments.
Hostelworld – This is the best hostel accommodation site out there, with the largest inventory, best search interface, and widest availability.
Couchsurfing – This website allows you to stay on people's couches or spare rooms for free. It's a great way to save money while meeting locals who can tell you the ins and outs of their city. The site also lists events you can attend to meet people (even if you're not staying with someone).
Booking.com – The best all around booking site that constantly provides the cheapest and lowest rates. They have a no money down policy, great interface, and the widest selection of budget accommodation. In all my tests, they've always had the cheapest rates out of all the booking websites.
Eurail – If you are going to Europe and taking a lot of high speed or long distance trains, get a rail pass. I've used a rail pass three times and saved hundreds of dollars each time. The math just works.
Intrepid Travel – If you want to do a group tour around Europe, go with Intrepid Travel. They offer good small group tours that use local operators and leave a small environmental footprint. If you go on a tour with anyone, go with them. And, as a reader of this site, you'll get a discount when you click the link!
The Man in Seat 61 – This website is the ultimate guide to train travel anywhere in the world. They have the most comprehensive information on routes, times, prices, and train conditions. If you are planning a long train journey or some epic train trip, consult this site.
Rome 2 Rio – This website allows you to see how to get from point A to point B the best and cheapest way possible. It will give you all the bus, train, plane, or boat routes that can get you there as well as how much they cost.
World Nomads – I buy all my travel insurance from World Nomads. They have great customer service, competitive prices, and in-depth coverage. I've been using them since I started traveling in 2003. Don't leave home without it!
Bern Gear and Packing Guide
If you're heading on the road and need some gear suggestions, here are my tips for the best travel backpack and for what to pack!
The Best Backpack for Travelers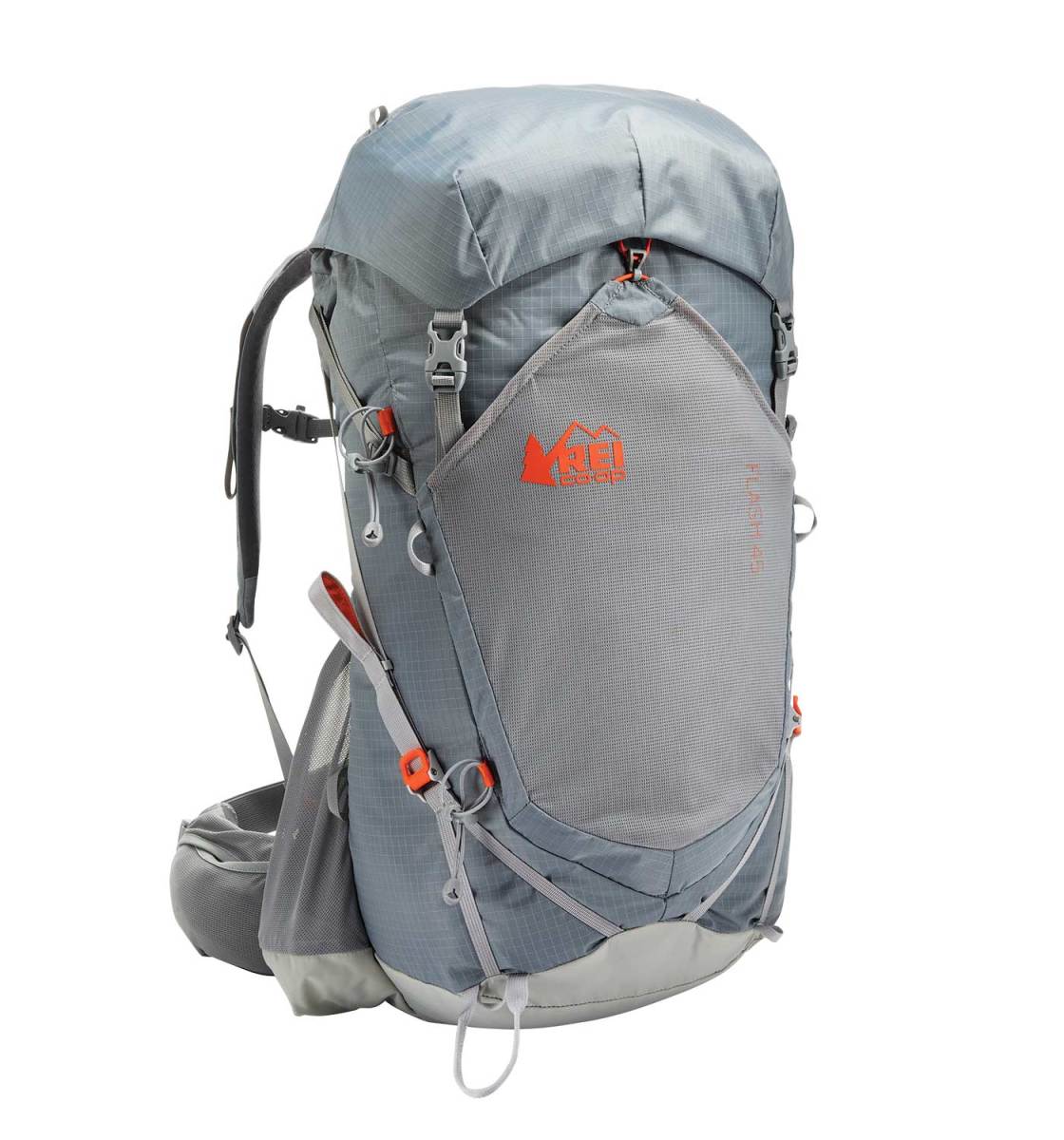 What's the best backpack for traveling long-term? I recommend the
REI Flash 45 Pack
. It's light and comfy, front loading, and fits perfectly in an airplane's overhead bin.
Size:
45-47L
Straps:
Thick and cushy with compression technology that pulls the pack's load up and inwards so it doesn't feel as heavy.
Features:
Removable top lid, large pocket at the front, hydration compatible, contoured hip belt
If you want something different, refer to my article on how to choose the best travel backpack for tips on picking a pack and other backpack suggestions.
What to Pack for Your Trip
Clothes
1 pair of jeans (heavy and not easily dried, but I like them; a good alternative is khaki pants)
1 pair of shorts
1 bathing suit
5 T-shirts (Unbound Merino is my preferred company. If you're a member of NM+, you can get 15% off your purchase)
1 long-sleeved T-shirt
1 pair of flip-flops
1 pair of sneakers
6 pairs of socks (I always end up losing half)
5 pairs of boxer shorts (I'm not a briefs guy!)
1 toothbrush
1 tube of toothpaste
1 razor
1 package of dental floss
1 small bottle of shampoo
1 small bottle of shower gel
1 towel
Deodorant
Small Medical Kit (safety is important!!!)
Miscellaneous
Female Travel Packing List
I'm not a woman, so I don't know what a woman wears, but Kristin Addis, our solo female travel guru, wrote this list as an addition to the basics above:
Clothing
1 swimsuit
1 sarong
1 pair of stretchy jeans (they wash and dry easily)
1 pair of leggings (if it's cold, they can go under your jeans, otherwise with a dress or shirt)
2-3 long-sleeve tops
2-3 T-shirts
3-4 spaghetti tops
1 light cardigan
Toiletries
1 dry shampoo spray & talc powder (keeps long hair grease-free in between washes)
1 hairbrush
Makeup you use
Hair bands & hair clips
Feminine hygiene products (you can opt to buy there too, but I prefer not to count on it, and most people have their preferred products)
For more on packing, check out these posts:
Bern Travel Guide: Related Articles
Want more info? Check out all the articles I've written on backpacking/traveling Switzerland and continue planning your trip:
Photo Credit: 2 – Andy Hay, 3 – Cha già José, 4 – Andrew Bowden, 5 – Plum leaves