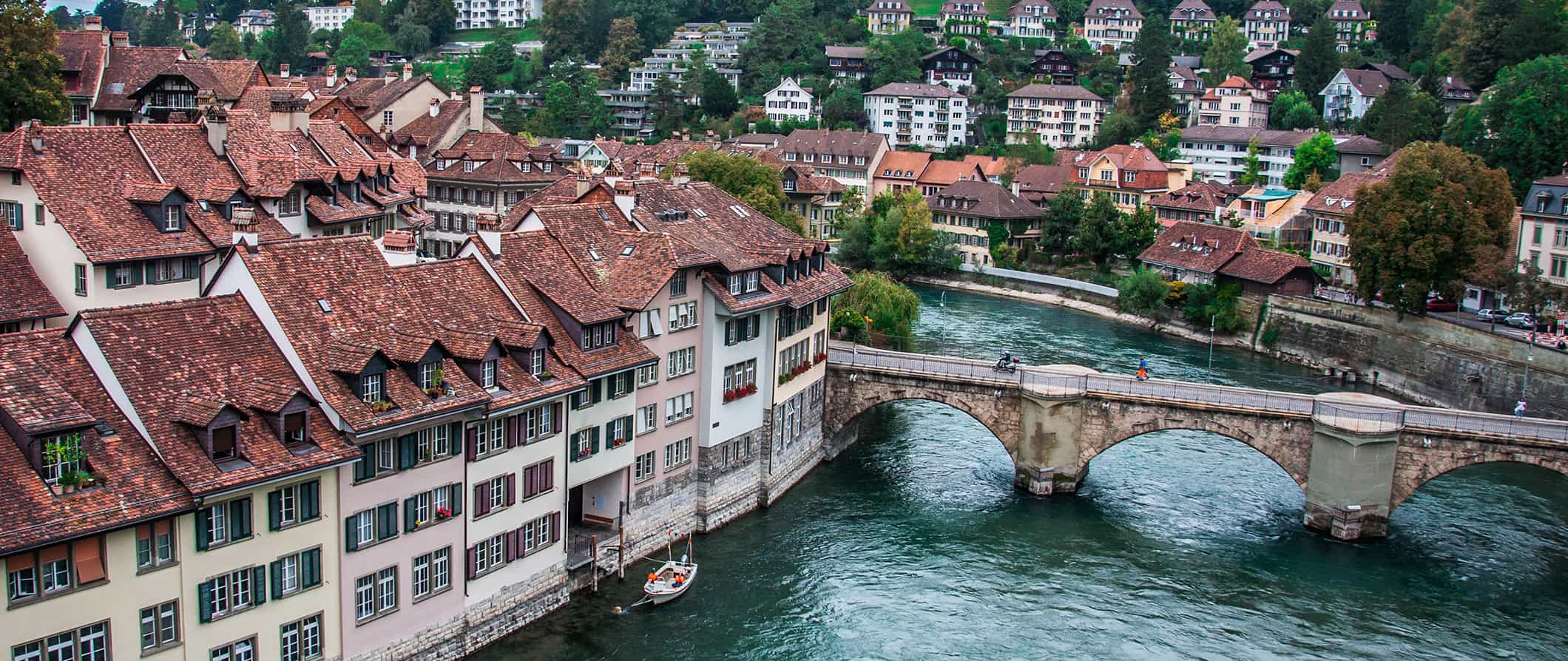 Bern is my favorite city in Switzerland. Set in the middle of the country (and of Europe), the Swiss capital is small, covered in cobblestones streets and medieval buildings, and set along a beautiful river close to the mountains. You can wander the city for days feeling like you're back in the 1600s (but with more sanitary conditions).
Bern's Old Town is a UNESCO World Heritage Site and features beautiful sandstone buildings that were part of a rebuilding effort after the city was ravaged by fire. The Old Town offers an impressive Parliament Building, several towers — the Clock Tower (Zytglogge), the Prison Tower (Käfigturm), and the Christoffel Tower (Christoffelturm) — as well as covered shopping arcades.
Because it is so small, you only really need a few days to visit Bern but, while you are here, be sure to try some of the delicious international food, tasty chocolate (Toblerone was started here), delicious local cheese (Emmental is made just outside the city), and craft breweries popping up throughout the city.
This travel guide to Bern can help you plan your trip, save money, and make the most of your time in this charming capital!
Top 5 Things to See and Do in Bern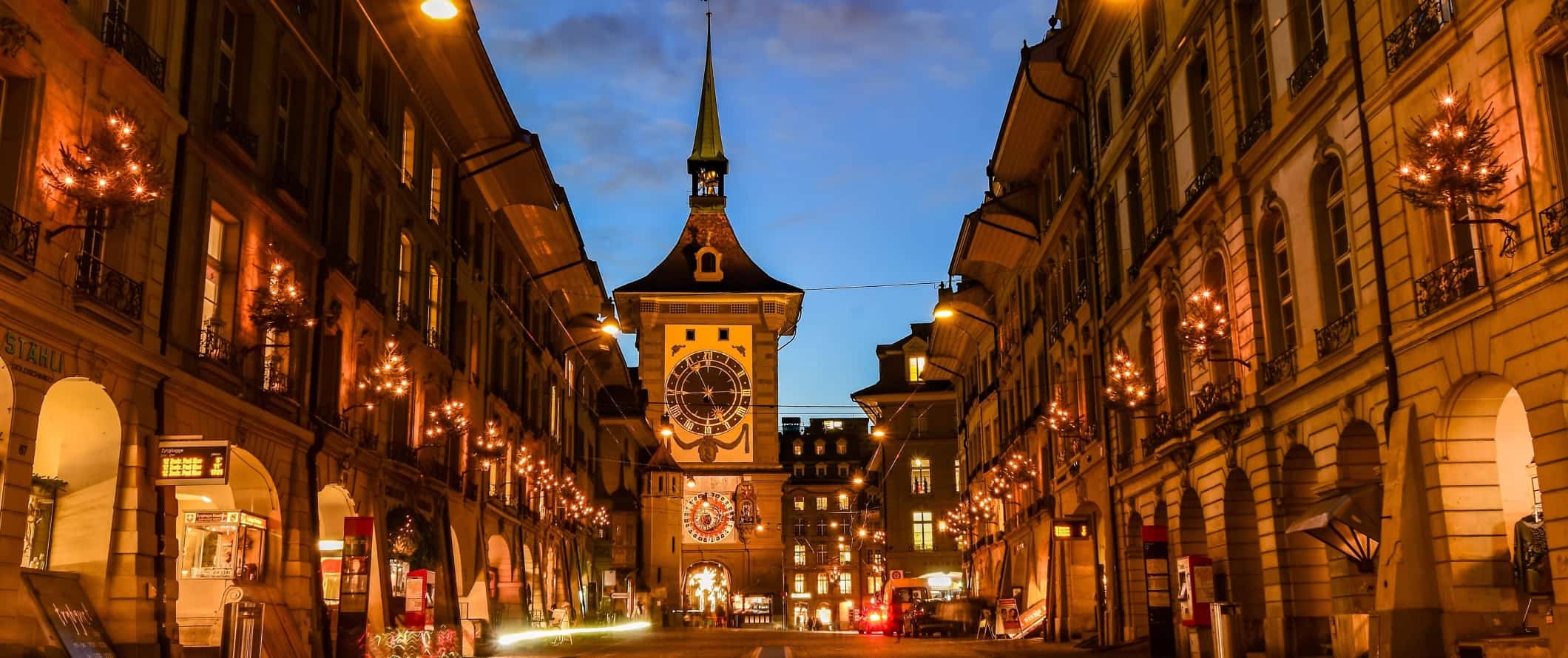 1. Stroll through Bern Cathedral
This 15th-century Swiss Reformed cathedral is the tallest cathedral in Switzerland. Admire the intricate details of the archways, marvel at the flying buttresses that decorate the ceiling, and the tall stained-glass windows. Climbing the tower costs 5 CHF. Audio guides are also 5 CHF.
2. Hike the Gurten
The Gurten is a mountain south of the city and is popular with locals who come to play sports, barbecue, hike, and relax in the sun. It features a park and great views of the city on one side and the Bernese Alps on the other. The funicular to the top for 6 CHF.
3. Visit the Bern Historical Museum
This castle-like museum is Switzerland's second-largest cultural history museum. There are 10 permanent exhibits, delving into the topics like history, archeology, and ethnography. Admission is 13 CHF.
4. Tour the Swiss House of Parliament
Completed in 1902, the Swiss House of Parliament lies in the main square. The impressive Domed Hall is in the shape of the Swiss cross and has intricately carved columns, doorways, domed ceiling, stained-glass windows, and red accent walls. Free tours are offered when parliament is not in session.
5. Wander the Old Town
A UNESCO World Heritage Site, the old town dates back to the end of the 12th-century. Visit the beautiful Zytglogge Clock Tower, Käfigturm Prison Tower, Christoffelturm (Christoffel) Tower, and the Renaissance fountains. Walk the cobblestone streets, shop, and explore the Lauben arcades.
Other Things to See and Do in Bern
1. Take a free walking tour of Bern
One of the first things I do in a new city is to take a free walking tour. It's the best way to see the lay of the land and connect with an expert local guide. Freewalk offers a free walking tour of Bern's old city. It lasts around two hours and covers all the main sights. While the tour is free, remember to tip your guide at the end!
2. Visit Einstein's home
In 1903, Einstein moved into an apartment in Bern with his wife, Mileva. Located on the second and third floors, Einsteinhaus has been converted into a visitors center. On the second floor, the apartment has been restored to look as it would have when Einstein lived there. The third floor has been converted into a small museum, filled with photos and information panels on Einstein, his scientific work, and his life. Admission is 5 CHF.
3. Tour the Kunstmuseum
Bern's Museum of Fine Arts is one of the oldest art museums in Switzerland. It contains over 800 years of artwork, including paintings by masters like Picasso, Klee, Oppenheim, and more. There are more than 3,000 paintings and sculptures here. Basic entry costs 10 CHF while entry that includes the temporary exhibitions is 24 CHF.
4. See the Zytglogge
This medieval landmark is in the heart of the old city and was built at the turn of the 13th-cetury. In its prime, the Zytglogge has served as a guard tower for the city's western fortifications, a women's prison (supposedly for women who committed sexual sins with the clergy), and clock tower. The tower's façade has changed several times over the centuries. It was decorated in a Burgundian Romantic style in the 15th-century while in the 18th-century, the tower was refurbished and adapted to the Baroque style. It changed again in the early 20th-century to the Rococo style. The clock tells time as well as the month, day, zodiac sign, and phase of the moon. A 60-minute guided tour highlights the tower's history and costs 20 CHF (note they don't run every day and the schedule depends on the season).
5. Enjoy a Turkish bath
Housed in an old gas-fired boiler and billiards factory, the Hammam & Spa Oktogon may not look fancy but it's one of the best in the city. The rooms are octagonal and everyone is given linen clothing to wear (instead of walking around nude). A day admission costs 45 CHF and includes the traditional linen cloth, peeling glove, hammam wrap, and tea in the bistro.
7. Stop to smell the roses at the Rosegarten
A public park since 1913, this space served as a cemetery for lower Old Town from 1765 to 1877. Today, it is a lovely rose garden, with over 240 varieties of roses to admire. The cherry blossoms in spring are spectacular and the views of Old Town, Bern Münster (Cathedral), and the Aare river loop, are also stunning.
8. Swim in the river
In the summer, swimming in the River Aare is a popular activity. You can also do SUP, rafting, tubing, and river surfing too. The most popular section of the river is between Marzili pool and Camping Eichholz. Schönausteg pedestrian bridge is a popular spot for jumping into the river. SUP rentals cost around 80 CHF and a tube for 8-10 people is around 210 CHF.
9. Go to the city's tiniest bar
ZAR café bar is known for being the tiniest bar in Bern. In summer, tables and chairs are set up outside its red and white striped awning and the sidewalk is as packed as the bar inside. Stop for some Swiss beer and try their meat and cheese plate.
10. Go shopping for souvenirs at a flea market
Flea markets can be a fun way to shop for souvenirs or to just people-watch and take in the local flavor of life. Tramdepot Areal, a flea market housed in an old tram depot, is open the last Saturday each month between March-October. Dampfzentrale is in the Marzili district and opens the last Sunday of each month between May-September. The market in Matte district, Mühlenplatz, is home to a small flea market on the 3rd Saturday of each month from May-October. It's colorful and kitschy and filled with local artisans. Reitschule, however, is one of the largest markets in Switzerland, and not to be missed! It is open on the 1st Sunday of the month.
For more information on other cities in Switzerland, check out these guides:
Bern Travel Costs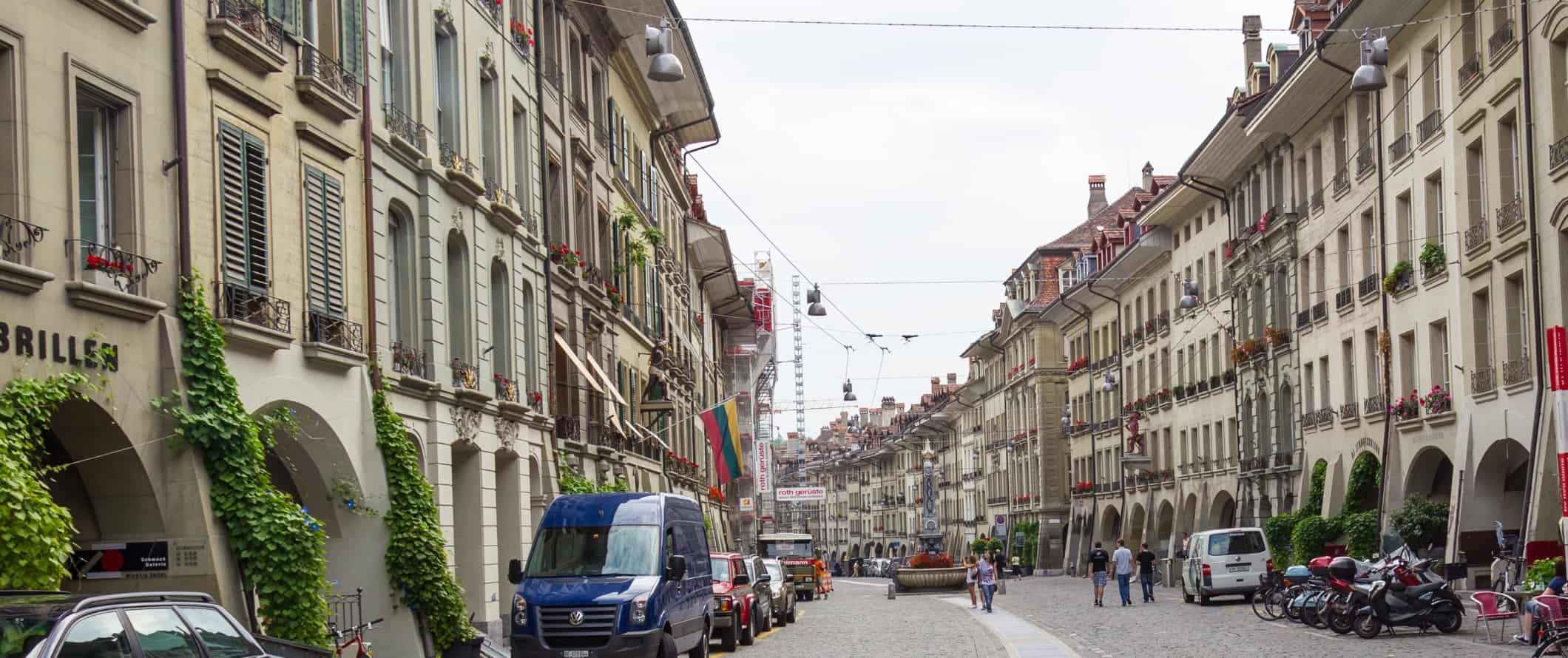 Hostel prices – There are only a few hostel options in the city — and they aren't cheap. Dorm rooms with 6-8 beds cost around 40 CHF per night while private rooms start at 115 CHF per night. Free Wi-Fi is standard and most hostels have either free breakfast or self-catering facilities.
Alternatively, if you're traveling with a tent you can camp for as little as 15 CHF per night at one of the campgrounds on the outskirts of Bern. Eichholz is one of the better options and is located just off the Aare river.
Budget hotel prices – Budget hotels start around 90 CHF per night, although most rooms average around 120 CHF. Expect basic amenities like free Wi-Fi, TV, and occasional free breakfast.
On Airbnb, you can find private rooms for 50-80 CHF per night. You can rent entire homes/apartments starting around 70 CHF per night (though double that price is more common).
Average cost of food – With strong French, German, and Italian influences, Swiss cuisine is a mix of meat and potato-based dishes along with plenty of local cheeses. Popular dishes include veal and mushrooms, fondue (with bread or potatoes), rösti (fried grated potatoes), and quiche. Naturally, Swiss cheese and chocolate should not be missed either. When it comes to breakfast, muesli is a go-to healthy choice.
Bars and cafés are the cheapest food option and cost about 9-15 CHF for a lunch special. Expect to pay around 25 CHF for a meal in an inexpensive restaurant and 50 CHF for a 3-course meal in a mid-range place.
For affordable meals, try Pittaria, Rice Up (Bern train station), Äss-Bar, and Restaurant Grosse Schanze. For traditional Swiss food, try Lötschberg, Harmonie, and Della Casa.
Fast food (think McDonald's) costs around 15 CHF for a combo meal. A large pizza is 15-21 CHF.
Beer is around 7 CHF while a latte/cappuccino is around 5.5 CHF.
If you cook your meals, expect to pay 100-110 CHF per week for groceries. This gets you basic staples like pasta, vegetables, chicken, and other basic foodstuffs. The major supermarkets are Migros, COOP, and Spar. COOP is the most expensive.
Backpacking Bern Suggested Budgets
If you're backpacking Bern, my suggested budget is 95 CHF per day. This covers staying in a hostel dorm, cooking all of your meals, limiting your drinking, taking public transportation to get around, and doing mostly free activities like swimming, hiking, and free tours.
A mid-range budget of about 200 CHF per day covers staying in a private Airbnb, eating out for a few meals, enjoying a couple of drinks, taking the occasional taxi to get around, and doing more paid activities and tours like riding the funicular and visiting some museums.
On a "luxury" budget of 400 CHF per day or more, you can stay in a hotel, eat out for all your meals, drink more, rent a car or take more taxis, and do whatever tours and activities you want. This is just the ground floor for luxury though. The sky is the limit!
Accommodation
Food
Transportation
Attractions
Average Daily Cost
Backpacker
40
25
15
15
95
Mid-Range
85
60
25
25
195
Bern Travel Guide: Money-Saving Tips
Like the rest of the country, Bern isn't a cheap place to visit. It's hard to stay on a budget, especially if you eat out or drink a lot. There are a few ways to save money here though:
Use free local transportation with the Bern Ticket – When you check into your accommodation in Bern (hotel, youth hostel, or a campsite), you receive a Bern Ticket. This allows you to use public transportation with LIBERO Association in zones 100/101, for free. It also includes the Gurten and Marzilibahn funiculars, the elevator to Minter terrace, and travel to and from Bern Airport. The ticket is valid during the length of your stay.
Don't drink – Alcohol is not cheap here. If you're on a budget, skip the booze. If you do want to drink though, find happy hours and stick to cheap hostel bars.
Eat the lunch specials – If you are going to eat out, do so during lunch. This is where most lunch specials at cafes and restaurants only cost around 10-19 CHF per person. Moreover, stick to the Chinese, Middle Eastern, Indian, or Thai restaurants for the best deals and biggest portions.
Bring a water bottle – The tap water here is safe to drink so bring a reusable water bottle to save money and reduce your plastic use. LifeStraw is my go-to brand as their bottles have built-in filters to ensure your water is always clean and safe.
Take a free walking tour – To get a feel for the city and learn some of its history, be sure to take a free walking tour. Exploring a city on foot is the best way to understand it, and if you love architecture and history then this is a must! Just remember to tip your guide at the end.
Stay with a local – Couchsurfing is a service that lets travelers stay with locals for free. It was a lifesaver that allowed me to keep my costs down the most. Since a lot of travelers use this service, make your requests for hosts early.
Where to Stay in Bern
There are only a couple of hostels in Bern, so consider booking early if you're visiting during the busy summer months. Here are my suggested places to stay:
How to Get Around Bern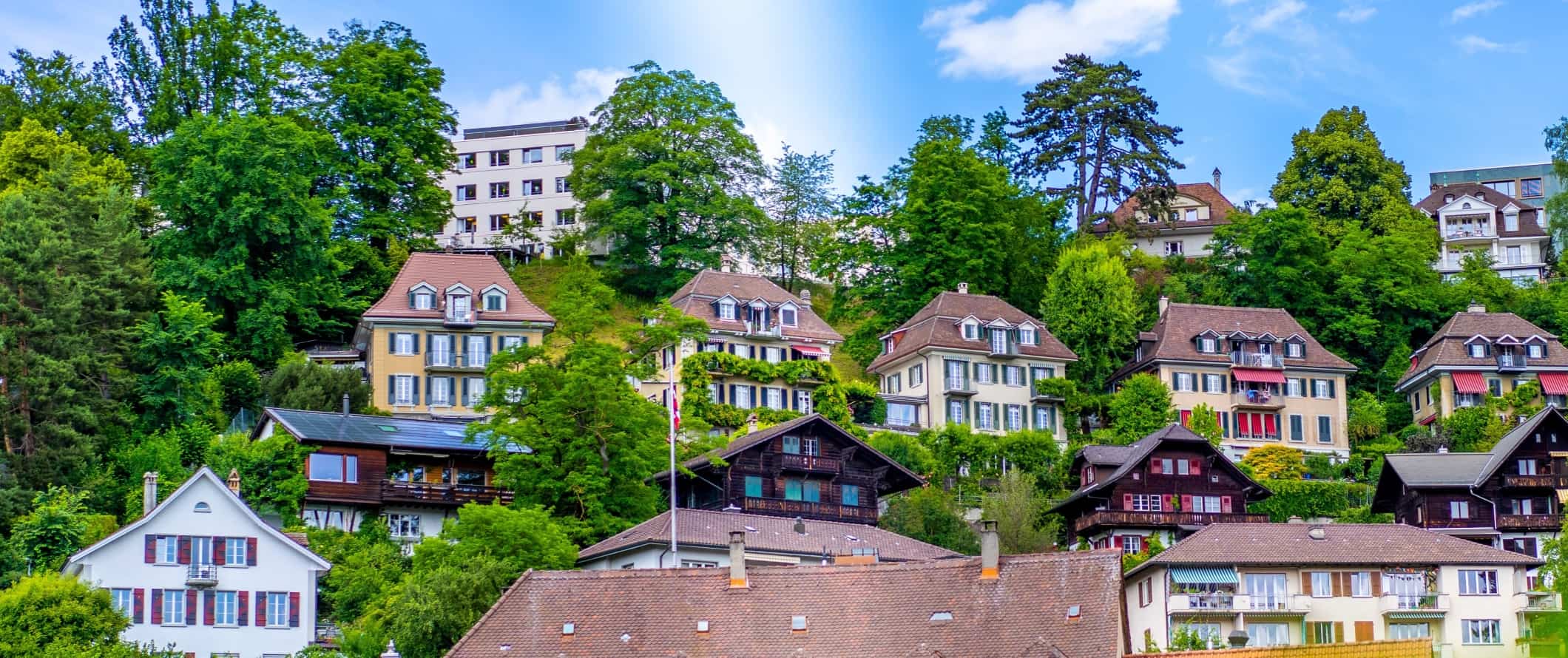 When you check into your accommodations in Bern, you are entitled to a travel card that provides free public transportation in the city. The city is also pretty small and easy to walk around so you don't need to use public transportation a lot.
Public transportation – A single journey ticket on the metro/bus is 4.60 CHF and lasts for 90 minutes. This ticket is valid for both the bus and the train during that time period.
Taxi – A taxi in Bern costs a minimum of 6.90 CHF and fares are 3.95 CHF per km. They are too expensive. Skip them.
Ridesharing – Uber is available here, and, while slightly cheaper than taxis, you really shouldn't need to use it since the public transportation is reliable and the city isn't that big.
Bike rental – Between April-October, you can use bikes from Publibike for 2.90 CHF for 30 minutes. It's 0.10 CHF per minute thereafter up to a maximum of 20 CHF (e-bikes are more expensive).
Car rental – Car rentals start around 30 CHF per day for a multi-day rental. You won't need a car to get around the city, though they can be helpful for exploring the region. Drivers need to be at least 21 years of age. An International Driving Permit (IDP) is required for non-European renters.
When to Go to Bern
The best time to visit Bern is between April-September when the weather is warm enough for exploring on foot, patios are open, open-air markets are in full swing, and the Aare river is fit for swimming. During this time, temperatures average 23°C (72°F). This is the busiest time to visit Bern, so expect prices to be a little higher.
In May, the Bern Grand Prix is Switzerland's largest marathon. In July, the Gurtenfestival is a huge music festival with performers from around the world. August 1st is Swiss National Day, and the perfect time for watching folklore performances, alphorn blowing, yodeling, fireworks, and more! The Bern Buckers' Street Music Festival takes place in August as well.
In winter, temperatures in Bern hover just below freezing. While the festival and events calendar slows down, there is still plenty to do. In November and December, the Christmas market is open and filled with Swiss treats, handicrafts, and mulled wines. Zibelemärit, Bern's annual onion festival, takes place on towards the end of November, a tradition since the 1850s. In February/March, the Bern Carnival begins its origins dating back to the peasant revolts in the 16th-century.
How to Stay Safe in Bern
Bern is quite safe. It is considered to be safer than other major Swiss cities like Zurich, and Geneva. There's very little risk of anything happening here. People are generally friendly and helpful, and you're unlikely to get into trouble. That said, always keep your valuables secure and out of reach just to be safe.
Solo female travelers should feel safe here, though the standard precautions apply (don't leave your drink unattended at the bar, don't walk home alone at night if intoxicated, etc.)
While scams here are rare, if you're worried about getting ripped off you can read about common travel scams to avoid here.
If you plan on hiking or spending some time skiing in the mountains, pay careful attention to weather reports. Heed avalanche warnings, and stay off the trails if you're told to do so.
If you experience an emergency, dial 117 for assistance.
Always trust your gut instinct. Make copies of your personal documents, including your passport and ID. Forward your itinerary along to loved ones so they'll know where you are.
The most important piece of advice I can offer is to purchase good travel insurance. Travel insurance protects you against illness, injury, theft, and cancellations. It's comprehensive protection in case anything goes wrong. I never go on a trip without it as I've had to use it many times in the past.
Bern Travel Guide: The Best Booking Resources
These are my favorite companies to use when I travel. They consistently have the best deals, offer world-class customer service and great value, and overall, are better than their competitors. They are the companies I use the most and are always the starting point in my search for travel deals.
Skyscanner – Skyscanner is my favorite flight search engine. They search small websites and budget airlines that larger search sites tend to miss. They are hands down the number one place to start.
Hostelworld – This is the best hostel accommodation site out there with the largest inventory, best search interface, and widest availability.
Booking.com – The best all around booking site that constantly provides the cheapest and lowest rates. They have the widest selection of budget accommodation. In all my tests, they've always had the cheapest rates out of all the booking websites.
Intrepid Travel – If you want to do group tours, go with Intrepid. They offer good small group tours that use local operators and leave a small environmental footprint. And, as a reader of this site, you'll get exclusive discounts with them too!
Get Your Guide – Get Your Guide is a huge online marketplace for tours and excursions. They have tons of tour options available in cities all around the world, including everything from cooking classes, walking tours, street art lessons, and more!
SafetyWing – Safety Wing offers convenient and affordable plans tailored to digital nomads and long-term travelers. They have cheap monthly plans, great customer service, and an easy-to-use claims process that makes it perfect for those on the road.
LifeStraw – My go-to company for reusable water bottles with built-in filters so you can ensure your drinking water is always clean and safe.
Unbound Merino – They make lightweight, durable, easy-to-clean travel clothing.
Bern Travel Guide: Related Articles
Want more info? Check out all the articles I've written on backpacking/traveling Europe and continue planning your trip: