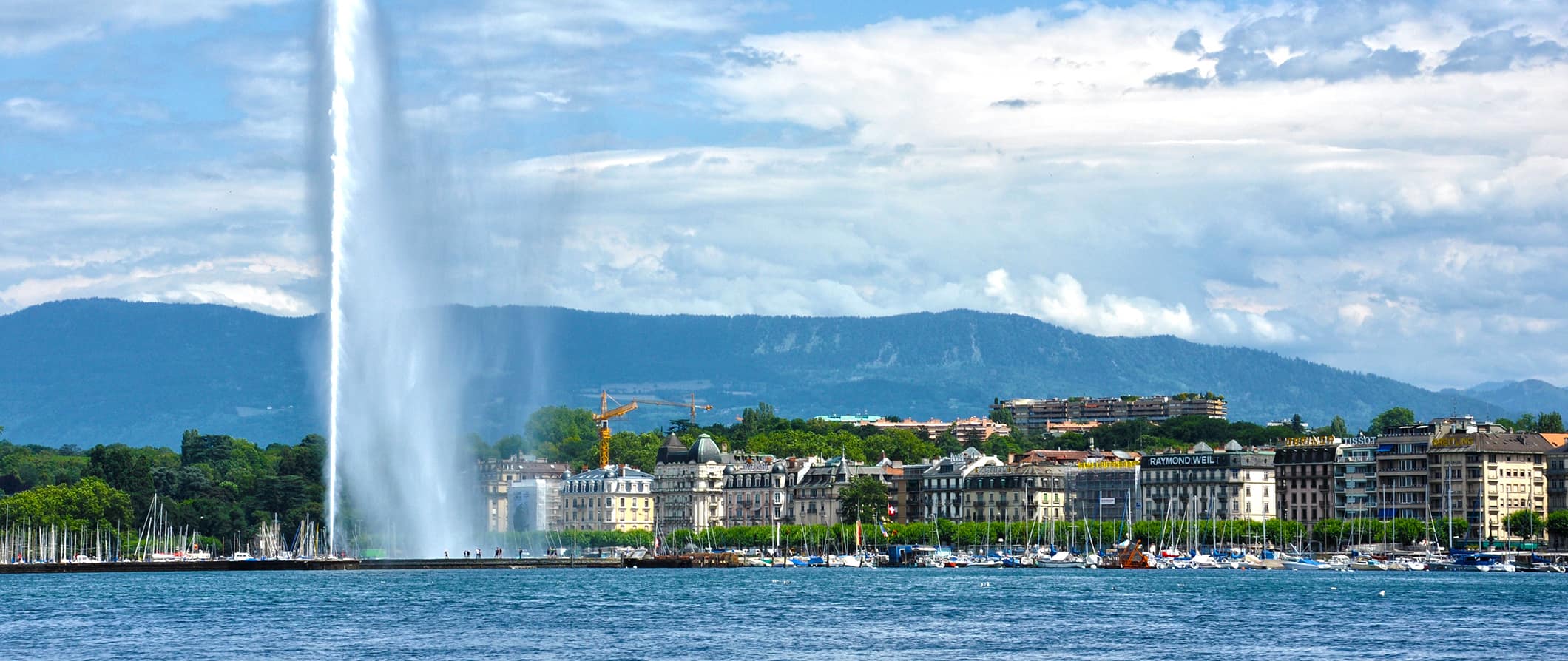 Surrounded by Alpine Lake, Geneva is an expensive but underrated city in Switzerland that boasts tons of outdoor activities, has a gorgeous lake to swim in, and is surrounded by towering scenic mountains to explore.
Most travelers to Switzerland usually just visit Geneva for a day and then move on since it's not a budget-friendly city. But I think the city is worth more time than that so stay at least one night so you can take it all in.
Geneva is super cosmopolitan thanks to the number of international organizations here and there is actually a lot to see and do. Visit all the famous international buildings (one of the four major United Nations buildings is here), admire the historic architecture and castles, tour interesting museums, and spend some time on the lake.
Sure, Geneva is one of the country's most expensive and luxurious destinations but there are ways to visit on a budget so I don't think you should rush your visit unless you are short on time.
This travel guide to Geneva can help you plan a budget-friendly stay and ensure you make the most out of your time here without going broke!
Top 5 Things to See and Do in Geneva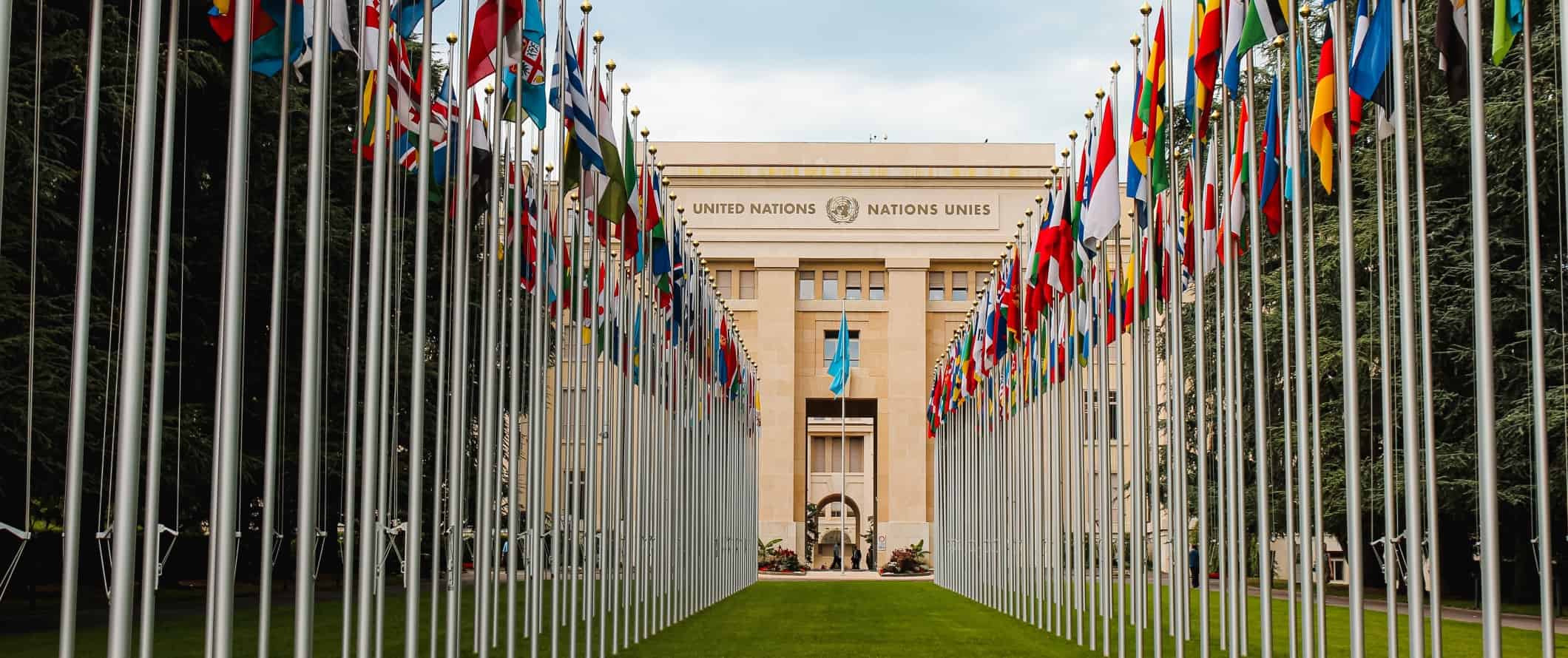 1. Visit the museums
Geneva has over 40 museums. You can find museums about natural history, IT, art, glasswork, science, the Olympics, photography, and more. If you're visiting a lot of museums, get a city pass so you can save money on admissions.
2. Explore the Cathédrale St. Pierre
If you're interested in Gothic architecture, this 12th-century cathedral is spectacular. Climb the 157 steps in the tower to get a breathtaking view of the city and surrounding countryside. Inside, its stained glass windows date back to a 19th-century restoration. Entry to the cathedral is free and it costs 7 CHF to climb the towers.
3. Walk through the Jardin Anglais
This is a small garden at the lake where people like to spend their lunch break. Here you'll find the famous Flower Clock, built to honor the watchmaking that's so famous in Switzerland. Since the Flower Clock was made in 1955, it's become one of the most visited attractions in Geneva.
4. Tour the United Nations
Originally built to house the League of Nations, the UN can be seen via tours that are given on weekdays (and Saturdays in the summer). You see the magnificent Assembly Hall, the Council Chamber, the Human Rights and Alliance of Civilizations room, and more. The tour is 1 hour and cost 15 CHF.
5. Visit the Jet d'Eau
This large fountain is the city's most famous monument. Located where Lake Geneva empties into the Rhône, it is visible throughout the whole city and even when flying overhead. It pumps 500 liters of water per second up 140 meters (460 feet) in the air and is lit up at night in March, April, September, and October.
Other Things to See and Do in Geneva
1. Attend the Caves Ouvertes
The "Day of Open Wineries" is a fun summer festival where the wineries in the region open their doors and invite everyone to visit and participate in wine tastings. Geneva is the 3rd-largest wine region in Switzerland with around 90 wineries. Satigny has several wineries and is about an hour bus ride from Geneva. There are also wineries along Lake Geneva. You can rent a bike to explore and take part but if you are planning on sampling a lot of wine you may want to take the free shuttles instead!
2. Visit Mont-Salève
Located just outside of the city, Mont-Salève is a mountain known for its wide range of outdoor activities. Spend a day rock climbing, mountain biking, hiking, or cross-country skiing in the winter. To get to the top, there is a well-marked trail that takes around two hours. From there, you can continue on to Grand Salève or just stop and admire the view. The cable car costs 8 CHF (12 CHF return). If you crave an adrenaline rush, you can do a tandem paraglide from the mountain for around 180 CHF.
3. See the Reformation Wall
Located on the grounds of the University of Geneva, this monument serves to commemorate the main leaders of the Protestant Reformation in Europe – John Calvin, Guillaume Farel, Théodore de Bèze, and John Knox. Around 22% of the country is Protestant and the university itself was actually founded by Calvin. The wall's unveiling was timed to commemorate the 400th anniversary of Calvin's birth. Inaugurated in 1909, it was built into the old fortification walls of Geneva.
4. Explore Carouge
Across the River Arve is the town of Carouge. This town is believed to have been built by King Victor Amadeus III of Sardinia and the Duke of Savoy in the 18th-century. Many of the buildings here have a strong Italian resemblance, and some locals refer to this area as "little Italy." Stop by Valmandin for a coffee and a quick break from exploring. If you have a sweet tooth, Philippe Pascoët is the place to go for decadent chocolates.
5. Enjoy the summer festivals
Summer offers a wide range of outdoor concerts and festivals in the city. In June, Fête de la Musique is a three-day music festival with free nonstop concerts, parades, activities, and stalls selling tasty snacks. The Geneva Street Food Festival is a must for foodies and happens every summer. From late August to early September, the La Batie-Festival of Geneva is a 16-day contemporary music and theatrical festival. Just book your accommodation in advance if you're visiting for a festival as places fill up fast.
6. Relax at the Bains de Paquis
This swimming pool was built in the 1930s and is still a popular place to get a massage and unwind. The pool is built beside the lake and includes a diving board. In summer, you can also enjoy the hammam (they have a hammam reserved for women only too). Baths are open daily and cost 10 CHF. In winter, the outdoor pool is closed, but you can still use the sauna, hammam, and Turkish bath for 20 CHF.
7. Visit Temple de St-Gervais
This Protestant church is built on the foundations of a 4th-century sanctuary as well as a 10th-century Romanesque church. In the 16th-century during the Reformation (a religious reform movement that separated from the Roman Catholic Church), it became a Protestant church. During the late 20th-century, excavations revealed the remains of a Gallo-Roman temple and the first proof of human habitation in Geneva. Take time to admire the architecture and the beautiful early 20th-century stained glass windows. Admission is free but dress respectfully as it is a place of worship.
8. Go on a food tour
Food tours are one of the best ways to discover a city and learn more about the local cuisine and its history. Local Flavours offers a chocolate and Old Town history tour. You learn about the origins and history of chocolate in Switzerland, see the historic town center, and sample chocolates by local artisans. The tour lasts 3 hours and tickets cost 95 CHF.
9. Take a free walking tour
I start all my visits to a new city with a free walking tour. It's the best way to get the lay of the land and see the highlights on a budget. Free Walk Geneva offers a couple of free walking tours of the city. Tours are typically 2-2.5 hours in length and are led by a local guide with a passion for the city, its history, and culture. If you're more interested in the UN, WHO, and the World Trade Organization, try the International Geneva tour. While these tours are free, always remember to tip the guide at the end.
10. Visit the Botanical Gardens and Conservatory
Geneva's botanical gardens date back to the early 20th century but its botany traditions are much older. With more than16,000 different species of plants, trees, and shrubs, they take you through various different areas including some greenhouses, a rockery, an arboretum, and a winter garden. They actually track each plant from planting to introduction to a collection. The Herbarium has around 6,000,000 specimens making it one of the world's largest collections of plants and fungi. Unfortunately, it's not often to the public often but there are a few open days each year where you can visit.

For more information on other cities in Switzerland, check out these guides:
Geneva Travel Costs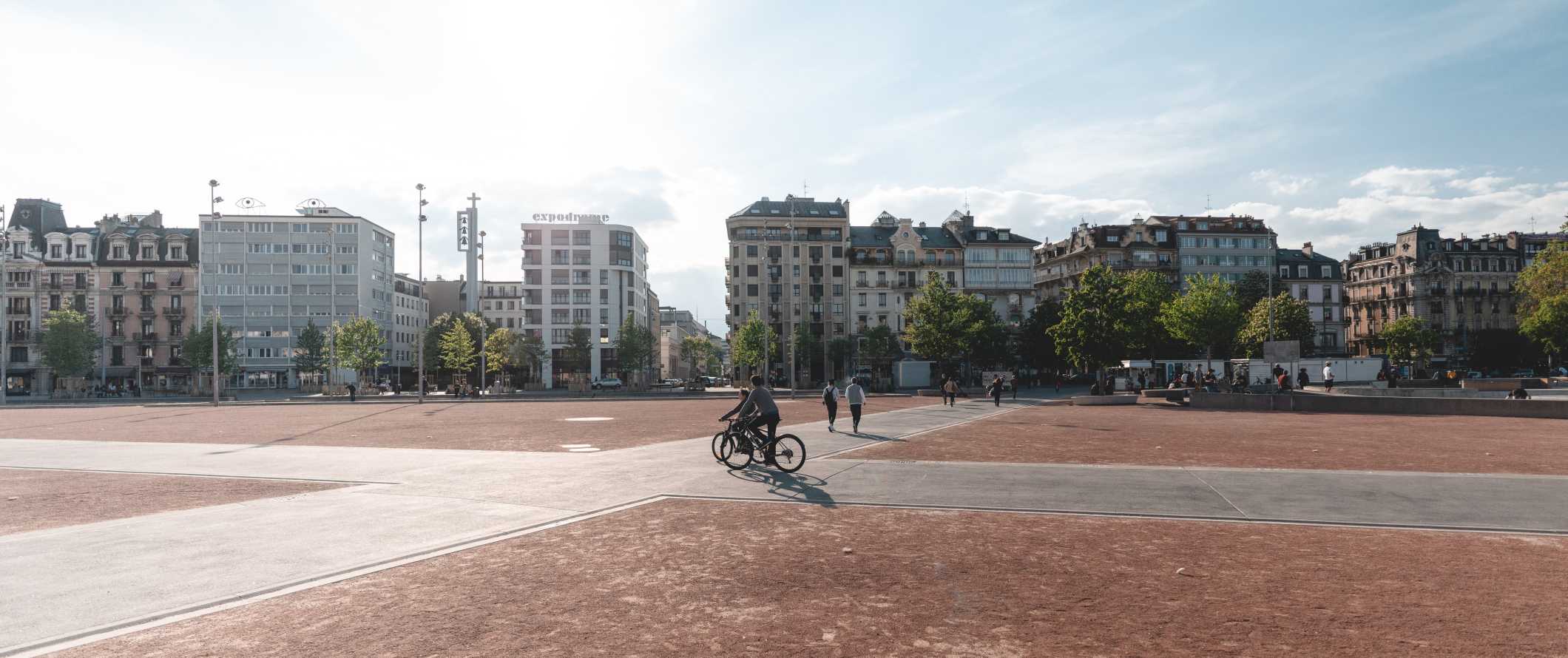 Hostel prices – Dorm rooms start around 36 CHF per night for a dorm with 6-8 beds. Private rooms start at 70 CHF per night (but expect to pay closer to 90 CHF). Free Wi-Fi is standard and breakfast is usually included as well.
For those traveling with a tent, there are a few campsites on the outskirts of Geneva. Prices start at 9 CHF for a basic plot without electricity.
Budget hotel prices – Budget hotels start around 76 CHF per night. Most hotels offer free breakfast and free Wi-Fi is standard.
On Airbnb, you can find private rooms for 65-85 CHF per night. You can rent entire homes (usually studio apartments) starting around 90 CHF per night, although there's a lot more inventory starting at 140 CHF and up.
Average cost of food – With strong French, German, and Italian influences, Swiss cuisine is a mix of meat and potato-based dishes along with plenty of local cheeses. Popular dishes include veal and mushrooms, fondue (with bread or potatoes), rösti (fried grated potatoes), and quiche. Naturally, Swiss cheese and chocolate should not be missed either. When it comes to breakfast, muesli is a go-to healthy choice.
One of the greatest things about Geneva is its diverse cuisine since it is such a hub of international activity thanks to the UN and international organizations in the city. Cheaper places can be found near the university and along Boulevard de Saint-Georges. Bars and cafés are the cheapest food option and an inexpensive restaurant should cost 25 CHF.
If you want to splash out, a mid-range restaurant costs about 60 CHF for a 3-course meal.
For traditional Swiss food such as fondue, schnitzel, älpler makkaroni, raclette, and goulasch you can expect to pay anywhere from 20-40 CHF. Auberge de Saviese, or Le Gruyérien are two good spots for traditional food.
Fast food (think McDonald's) costs around 15 CHF for a combo meal. A large pizza is 15-21 CHF.
Beer is around 7 CHF while a latte/cappuccino is around 5.5 CHF.
If you cook your meals, expect to pay 100-120 CHF per week for groceries. This gets you basic staples like pasta, vegetables, chicken, and other basic foodstuffs. The major supermarkets are Migros, COOP, and Spar. COOP is the most expensive.
Backpacking Geneva Suggested Budgets
If you're backpacking Geneva, my suggested budget is 95 CHF per day. This covers staying in a hostel dorm, cooking al of your meals, taking public transit, limiting your drinking, and doing most free activities like enjoying nature and taking walking tours.
A mid-range budget of about 205 CHF per day covers a private Airbnb, eating out for a few meals, enjoying a few drinks, taking the occasional taxi to get around, and doing more paid tours and activities like visiting museums and going skiing.
For a "luxury" budget of 410 CHF or more per day, you can stay in a hotel, eat out for all your meals, drink more, rent a car or take more taxis, and do whatever tours and activities you want. This is just the ground floor for luxury though. The sky is the limit!
Accommodation
Food
Transportation
Attractions
Average Daily Cost
Backpacker
40
25
15
15
95
Mid-Range
90
65
25
25
205
Geneva Travel Guide: Money-Saving Tips
Geneva is probably the most expensive city in the country. This is a town of international organizations and diplomats so you're going to be hard pressed to find a lot of deals. Here are a few ways to keep your budget intact in Geneva:
Get the Geneva Pass – With options for 1-3 days, this pass provides free transportation as well as free entrance into Geneva's many museums. If you buy it online, you get a 10% discount. A one-day pass is 21 CHF, a two-day pass is 30 CHF, a three-day pass is 36 CHF.
Stay with a local – Couchsurfing is a service that lets travelers stay with locals for free. It was a lifesaver that allowed me to keep my costs down the most. Since a lot of travelers use this service, make your requests for hosts early.
Use free local transportation – By booking accommodation in Geneva (hotel, youth hostel, or a campsite), you are entitled to receive a Geneva Transport Card for free. This card allows you to use any public transportation (buses, trams, trains, and yellow taxi-boats) for free during the length of your stay. Just ask for it upon arrival at reception.
Don't drink – Alcohol is not cheap here so keep the beers if you're on a budget. If you must drink, stick to hostel bars where you can enjoy 2-for-1 happy hours and cheap.
Cook your own food – It's not glamorous, but cooking your own meals will save you a fortune here!
Ride a bike – You can find bicycles for rent at most hostels. This is a very, very small town with very little traffic. If there's no snow on the ground, this is the perfect place to cruise around on your bike.
Bring a water bottle – The tap water here is safe to drink so bring a reusable water bottle to save money and reduce your plastic use. LifeStraw is my go-to brand as their bottles have built-in filters to ensure your water is always clean and safe.
Take a free walking tour – In the warmer months, Free Walk Geneva offers a budget-friendly way to see the main sights and connect with a local who can answer all your questions. Just be sure to tip!
Where To Stay in Geneva
There are only a couple of hostels in Geneva, so consider booking early if you're visiting during the peak summer months. Here are my suggested places to stay in Geneva:
How to Get Around Geneva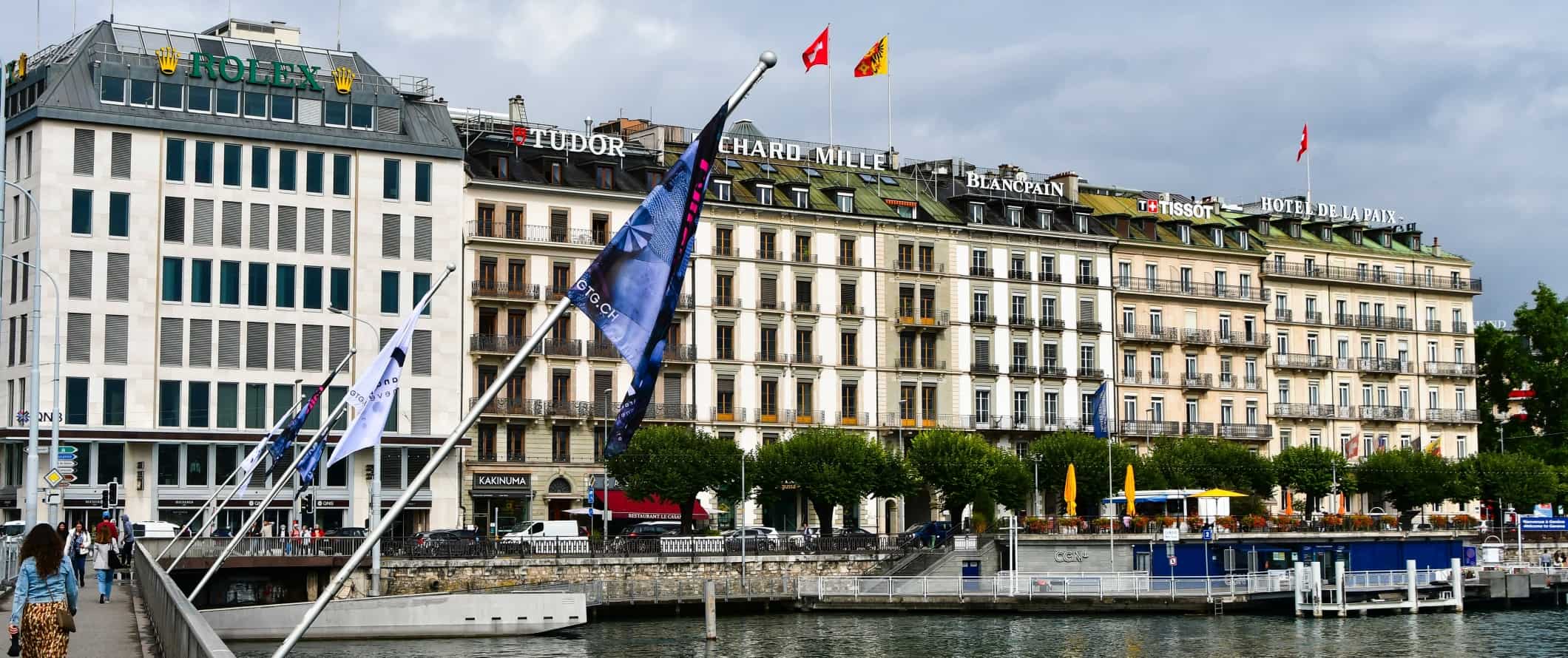 Public Transportation – Bus, train, and boat travel within Geneva are included in the travel card you receive. Otherwise, it is 2 CHF for a 3-stop journey, 3 CHF for a one-hour ticket that covers the tram, bus, boat, and rail, 8 CHF for a pass valid from 9am to midnight, and 10 CHF for a 24-hour pass. If you arrive in Geneva by plane, you can get an 80-minute bus ticket to use from the airport to the city for free.
As mentioned above, when you book into a hostel, hotel, or campsite in Geneva, you are entitled to a travel card that provides free public transportation in the city.
Taxi – Taxis here are expensive, starting at 6 CHF and going up 3 CHF per kilometer. Geneva is small so skip the taxis to save your budget.
Ridesharing – Uber is available in Geneva and, while cheaper than taxis, really isn't necessary since the city is small and public transportation goes everywhere.
Bike rental – Between April-October you can use bikes from Genève Roule for up to 4 hours for 9 CHF. It's 14 CHF for a full-day bike rental.
Car rental – Car rentals start around 35 CHF per day for a multi-day rental. You won't need a car to get around the city, though they can be helpful for exploring the region. Drivers need to be at least 21 years of age. An International Driving Permit (IDP) is required for non-European renters.
When to Go to Geneva
The best time to visit Geneva is between June-October when the weather is warm enough for exploring on foot, beaches and patios are open, and open-air markets and music festivals are in full swing. During this time, temperatures average of 23°C (72°F). This is the busiest time to visit Geneva, so expect prices to be higher.
In summer, don't miss the Geneva Street Food Festival, and the Fête de la Musique in June. In July, the Paléo Festival in nearby Nyon is a huge music festival with indie rock bands and performers from around the world. August 1st is Swiss National Day, and the perfect time for watching folklore performances, alphorn blowing, yodeling, fireworks, and more! The Geneva International Film Festival takes place at the end of October, and into November.
Be sure to book your accommodation early if you visit during a festival.
In winter, temperatures in Geneva are usually just below freezing. While the festival and events calendar slows down a bit, there is still plenty to do. In November and December, the Christmas market is open and filled with Swiss treats, handicrafts, and mulled wines. Fête de l'Escalade takes place in December and commemorates the city's escape from capture in 1602 with a torchlight parade and period clothing.
How to Stay Safe in Geneva
Geneva is quite safe, and the risk of violent crime is very low. That being said, petty theft and pick-pocketing can occur in high-traffic areas. Be vigilant in areas such as Lake Geneva's promenade, Plainpalais, Mont Blanc Bridge, Cornavin train station, and other crowded areas.
Solo female travelers should feel safe here, though the standard precautions apply (don't leave your drink unattended at the bar, don't walk home alone at night if intoxicated, etc.)
While scams here are rare, if you're worried about getting ripped off you can read about common travel scams to avoid here.
If you plan on hiking or spending some time skiing in the mountains, pay careful attention to weather reports. Heed avalanche warnings, and stay off the trails if you're told to do so.
If you experience an emergency, dial 117 for assistance.
Always trust your gut instinct. Make copies of your personal documents, including your passport and ID. Forward your itinerary along to loved ones so they'll know where you are.
The most important piece of advice I can offer is to purchase good travel insurance. Travel insurance protects you against illness, injury, theft, and cancellations. It's comprehensive protection in case anything goes wrong. I never go on a trip without it as I've had to use it many times in the past.
Geneva Travel Guide: The Best Booking Resources
These are my favorite companies to use when I travel. They consistently have the best deals, offer world-class customer service and great value, and overall, are better than their competitors. They are the companies I use the most and are always the starting point in my search for travel deals.
Skyscanner – Skyscanner is my favorite flight search engine. They search small websites and budget airlines that larger search sites tend to miss. They are hands down the number one place to start.
Hostelworld – This is the best hostel accommodation site out there with the largest inventory, best search interface, and widest availability.
Booking.com – The best all around booking site that constantly provides the cheapest and lowest rates. They have the widest selection of budget accommodation. In all my tests, they've always had the cheapest rates out of all the booking websites.
Get Your Guide – Get Your Guide is a huge online marketplace for tours and excursions. They have tons of tour options available in cities all around the world, including everything from cooking classes, walking tours, street art lessons, and more!
SafetyWing – Safety Wing offers convenient and affordable plans tailored to digital nomads and long-term travelers. They have cheap monthly plans, great customer service, and an easy-to-use claims process that makes it perfect for those on the road.
LifeStraw – My go-to company for reusable water bottles with built-in filters so you can ensure your drinking water is always clean and safe.
Unbound Merino – They make lightweight, durable, easy-to-clean travel clothing.
Top Travel Credit Cards – Points are the best way to cut down travel expenses. Here's my favorite point earning credit cards so you can get free travel!
Geneva Travel Guide: Related Articles
Want more info? Check out all the articles I've written on backpacking/traveling Europe and continue planning your trip: