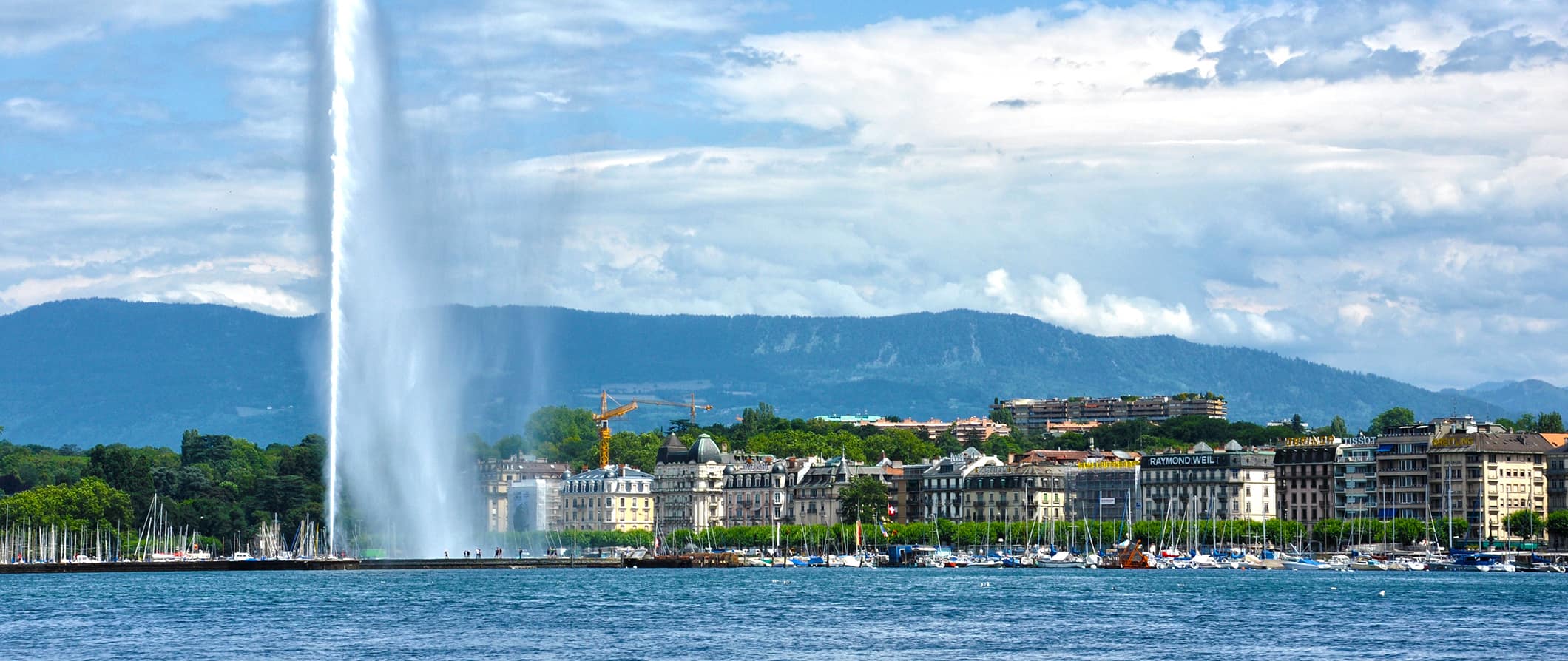 Geneva has a lot going for it. Surrounded by Alpine Lake, the city has great outdoor activities, lakes to swim in, and mountains to explore. Geneva is one of the country's most expensive and luxurious cities, so it's hard to be a budget traveler here. Most travelers simply pass through, spend a day, and then move on. If you're on a tight budget, I'd advise doing that. If you have a little bit more money, spend a couple of days here and visit all the famous international buildings (the United Nations — formerly the headquarters of the League of Nations — is here), historic buildings and castles, and spend some time on the lake.
Top 5 Things to See and Do in Geneva
1. Visit one of 40 museums
Geneva has over 40 musuems. You can find museums about natural history, IT, art, glasswork, science, the Olympics, photography, and more. Make sure to visit Geneva's Art and History Museum or the Red Cross and Red Crescent Museum. If you're visiting a lot of museums, get a city pass so you can save some money. Entrance fees really add up.
2. Explore the Cathédrale St. Pierre
If you're interested in Gothic architecture, this cathedral is spectacular. Climb the 157 steps in the tower to get a breathtaking view of the city and surrounding countryside. The towers are open until 5pm in the winter and 6pm in the summer and cost 5 CHF.
3. Walk through the Jardin Anglais
This is a small garden at the lake where people like to spend their lunch break. There is a very famous Flower Clock in the park to honor the watch-making that's so famous in Switzerland. Since the Flower Clock was made in 1955, it's become one of the most visited attractions in Geneva. It's a good place to people watch during the day.
4. Tour the United Nations
Originally built to house the League of Nations, the UN can be seen via tours that are given each weekday (and Saturdays in the summer). Tours are given in 15 languages. Passports are required for entry. You'll see the magnificent Assembly Hall, the Council Chamber, the Human Rights and Alliance of Civilizations room, and more.
5. Visit the Jet d'Eau
The large fountain is the city's most famous monument. Located where Lake Geneva empties into the Rhône, it is visible throughout the whole city and even when flying overhead. It pumps water up 140 meters in the air and is lit up at night in September.
Other Things to See and Do
(Click the title to expand the text)
1. Attend the Caves Ouvertes
The name paints a nice picture of what this day is all about as Caves Ouvertes translates into Day of Open Wineries. Not only is this one of Geneva's best annual events, but it gives you with a spectacular view of the city and a sample of their best wines. It's a very fun festival to attend that happens around the end of May. Free entry to the wineries. Upon buying a wine glass for 5 CHF, you will get free wine sampling in all participating wineries (which is nearly 90 wineries in/around Geneva!). Get around that day by bicycle or the free shuttles available.
2. Enjoy the summer concerts
Geneva is booming in the summer months, especially in June. See the city at its best with the annual Fete de la Musique. A three-day festival, it's jammed with free nonstop music and low-cost food of all tastes and flavors. There are ongoing free concerts throughout the summer.
3. Explore the city by boat
Consider indulging in a boat tour of the city. If you don't want to spend the money, you can also rent a bike which will allow you to sight-see various neighborhoods and travel at your own pace. You can find boat tours starting around 15 CHF. Bike rentals start at 8 CHF for a half-day.
4. Visit Mont-Salève
Just outside of the city lies Mont-Salève, this mountain has a wide range of outdoor activities. Spend a day rock climbing, mountain biking, hiking, or cross-country skiing, or come up with your own activity to pursue!
5. See the reformation wall
This monument lies in Parc des Bastions, and serves to commemorate the main leaders of the Protestant Reformation in Europe – Jean Calvin, Guillaume Farel, Théodore de Bèze, and John Knox. "Post Tenebras Lux" (light after darkness) is inscribed on the monument, which was the motto of the Reformation.
6. Explore Carouge
Across the across the River Arve lies Carouge, a village within Geneva. Some consider it to be the city's Greenwich Village, except this place has a Mediterranean touch; it used to be part of Sardinia. Wander around the streets, which are filled with restaurants, bars, and boutiques.
7. Relax at the Bains de Paquis
This swimming pool was built in the 1930s and is still a popular place to get a massage or unwind with a relaxing swim. The pool is built into the lake and includes a diving board. You can also get a Turkish bath here. Baths are open daily and cost 2 CHF for entry.
8. Go windsurfing
The lake comes alive in the summer months, and it's a perfect place to try your hand at wakeboarding or windsurfing. There are schools here that offer rentals and lessons. A 90-minute lesson costs about 45 CHF.
Typical Costs
Hostel prices
– Dorm rooms in Geneva start around 40 CHF per night. A single private room is about 80 CHF per night, while a twin private room that sleeps two is about 90 CHF. These prices usually include free WiFi, linens, and towels and breakfast too, but check with your specific hostel's website beforehand, just to be sure. You can book your hostel with
Hostelworld
.
Budget hotel prices – A night in a 2-star budget hotel in a room that sleeps two starts around 115 CHF. Included in this price are basic hotel amenities, like a private bathroom, free WiFi, and television. Some offer free breakfast. Use Booking.com as they consistently return the cheapest rates. On Airbnb, you can find shared rooms (i.e., a couch) for about 35-60 CHF per night. You can rent entire homes (usually studio apartments) starting around 70 CHF per night, although you'll find a lot more inventory starting at 100 CHF and up.
Average cost of food – One of the greatest things about Geneva is its diverse restaurants and cuisine. You can keep your budget in check by going to the local supermarkets and buying your own groceries. If you cook your meals, expect to pay around 130 CHF per week for groceries that will include pasta, vegetables, chicken, and other basic foodstuffs. Supermarkets also sell pre-made meals for between 5-9 CHF. Bars and cafés are the cheapest food option, cost about 9-15 CHF for a lunch special. Restaurants with table service are around 20 CHF for lunch and 40 CHF for dinner (starter, main, and drink). If you're dining out (but still trying to stick to a budget), you'll spend an average of 45 CHF a day on food. From there, the sky is the limit! For people who want to cook and eat the occasional meal out, expect to spend around 20 CHF per day.
Transportation costs – Tourists that book accommodation in a hotel or hostel receive a ticket that offers free public transportation for each day of their stay in the city. Otherwise, it is 3 CHF for one hour ticket that covers the tram, bus, boat, and rail, 8 CHF for a pass valid from 9am to midnight, and 10 CHF for a 24-hour pass. If you arrive in Geneva by plane, you can get an 80-minute bus ticket to use from the airport to the city for free.
Suggested daily budget
80 CHF / 78 USD (Note: This is a suggested budget assuming you're staying in a hostel, eating out a little, cooking most of your meals, and using local transportation. Using the budget tips below, you can always lower this number. However, if you stay in fancier accommodation or eat out more often, expect this to be higher!)
Money Saving Tips
Get the Geneva Pass – With options for 1-3 days, this pass gets you free transportation as well as free entrance into Geneva's many museums. If you buy it online, you'll get a 10% discount. A one-day pass is 26 CHF, a two-day pass is 37 CHF, a three-day pass is 45 CHF.
Use Couchsurfing – It's a service that lets travelers stay with locals for free. It was a lifesaver that allowed me to keep my costs down the most. Since a lot of travelers use this service, make your requests for hosts early.
Free local transportation – By booking accommodation in Geneva (hotel, youth hostel, or a campsite), you are entitled to receive a Geneva Transport Card for free. This card allows you to use any public transportation (buses, trams, trains, and yellow taxi-boats) for free during the length of your stay. Just ask for it upon arrival at reception.
Book your trains early – While a train ride is a cheaper way to travel than the plane, you can get even cheaper rates by booking your train ticket early. Swiss Rail also offers one-day and weekend group passes to look into.
Don't drink – Drinking is not cheap here. Most beers are around 8 CHF. (Plus, who wants to hike while hung over?) Most wines are between 10-25 CHF a bottle. If you must drink, stick to hostel bars where you can enjoy 2-for-1 happy hours and cheap drinks for around 5 CHF or buy your beers at grocery stores for as little was 2 CHF.
Cook – With sit-down restaurants costing around 40 CHF per meal per person, eating out in Switzerland can be very costly, so buy your groceries. A week's worth of food (bread, pasta, rice, eggs, vegetables, cheese, deli meats for sandwiches, and some assorted fruit) will cost you 75-100 CHF. The major supermarkets are Migros, COOP, and Spar. COOP is the most expensive.
Use lunch specials – If you are going to eat out, do so at lunchtime. Lunch specials are a great way to get a lot of bang for your buck and to enjoy the dinner menu but at a cheaper set menu price.
Bring a refillable water bottle – At 2-4 CHF a bottle, that's a lot of money spent on water after a few days. The water in Basel is safe to drink, so refill your bottle before you go out to save money.
Take a free walking tour – To get a feel for the city and learn some historical information, be sure to take a free walking tour with Free Walking Tour Geneva. Exploring a city on foot is the best way to understand it, and if you love architecture and history then this is a must!
Save money on rideshares – Uber is way cheaper than taxis and are the best way to get around a city if you don't want to wait for a bus or pay for a taxi. The Uber Pool option is where can you share a ride to get even better savings (though you can get your own car too). You can save $15 off your first Uber ride with this code: jlx6v.
My Must Have Guides For Traveling to Switzerland