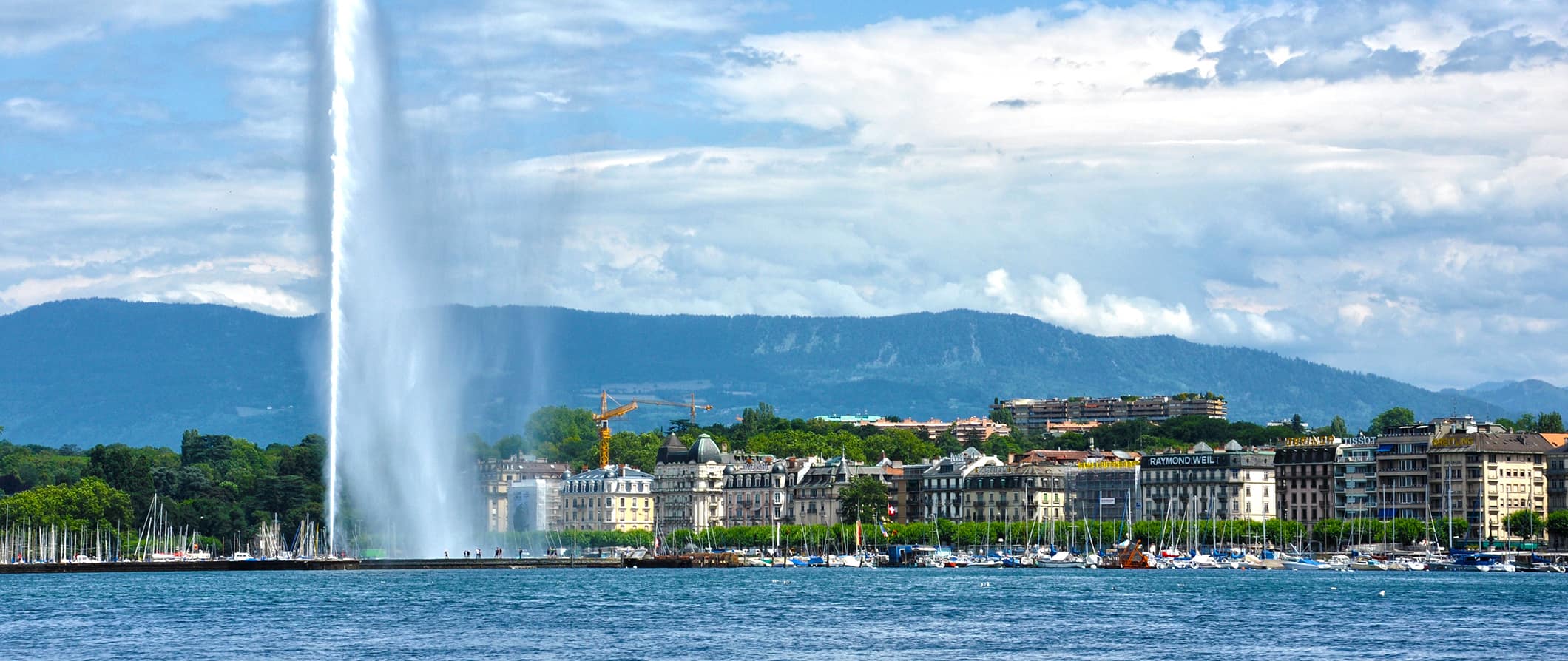 Geneva has a lot going for it. Surrounded by Alpine Lake, the city has tons of outdoor activities, lakes to swim in, and mountains to explore.
Most travelers simply visit Geneva for a day and then move on since it's pretty expensive. I think it is worth at least a night. There's a lot to do here. Visit all the famous international buildings (the United Nations is here), historic buildings and castles, and spend some time on the lake.
Sure, Geneva is one of the country's most expensive and luxurious cities but there are ways to visit on a budget and I don't think you should really rush the city unless you are short on time.
This travel guide to Geneva can help you plan a budget-friendly visit!

Geneva
Top 5 Things to See and Do in Geneva
1. Visit one of 40 museums
Geneva has over 40 museums. You can find museums about natural history, IT, art, glasswork, science, the Olympics, photography, and more. If you're visiting a lot of museums, get a city pass so you can save some money.
2. Explore the Cathédrale St. Pierre
If you're interested in Gothic architecture, this 12th-century cathedral is spectacular. Climb the 157 steps in the tower to get a breathtaking view of the city and surrounding countryside. The towers are open until 5pm in the winter and 6pm in the summer and cost 5 CHF ($5.50 USD).
3. Walk through the Jardin Anglais
This is a small garden at the lake where people like to spend their lunch break. There is a very famous Flower Clock in the park to honor the watchmaking that's so famous in Switzerland. Since the Flower Clock was made in 1955, it's become one of the most visited attractions in Geneva. It's a good place to people watch during the day.
4. Tour the United Nations
Originally built to house the League of Nations, the UN can be seen via tours that are given each weekday (and Saturdays in the summer). You'll see the magnificent Assembly Hall, the Council Chamber, the Human Rights and Alliance of Civilizations room, and more. The tour is 1hr and a ticket costs 15 CHF ($16 USD).
5. Visit the Jet d'Eau
This large fountain is the city's most famous monument. Located where Lake Geneva empties into the Rhône, it is visible throughout the whole city and even when flying overhead. It pumps water up 140 meters in the air and is lit up at night in September.
Other Things to See and Do in Geneva
1. Attend the Caves Ouvertes
This name translates to "Day of Open Wineries". It's a fun festival where the wineries in the region open their doors and invite everyone to visit and participate in wine tastings. Tastings are 5 CHF ($5.50 USD) per glass. Geneva is the 3rd largest wine region in Switzerland with around 90 wineries. Satigny has several wineries and is about an hour bus ride from Geneva. There are also wineries along Lake Geneva. You can also rent a bike but, if you are planning on sampling a lot of wine, you may want to take the free shuttles instead.
2. Enjoy the summer festivals
Summer offers a wide range of outdoor concerts and festivals in the city. In June, Fête de la Musique is a three-day music festival jammed with free nonstop concerts, parades, activities, and stalls selling cheap snacks. The Geneva Street Food Festival takes place towards the end of June as well. In August, the La Batie-Festival of Geneva is a 16-day contemporary music and theatrical festival.
3. Visit Mont-Salève
Located just outside of the city, Mont-Salève is a mountain known for its wide range of outdoor activities. Spend a day rock climbing, mountain biking, hiking, or cross-country skiing in the winter. You can ride a cable car to the top for 13.60 CHF ($14.50 USD).
4. See the Reformation Wall
Located on the grounds of the University of Geneva, this monument serves to commemorate the main leaders of the Protestant Reformation in Europe – Jean Calvin, Guillaume Farel, Théodore de Bèze, and John Knox. Inaugurated in 1909, it was built into the old fortification walls of Geneva.
5. Explore Carouge
Across the across the River Arve lies Carouge. This town believed to have been built by King Victor Amadeus III of Sardinia and the Duke of Savoy in the 18th-century. Many of the buildings here have a strong Italian resemblance, and some locals refer to this area as "little Italy". Wander around the streets, which are filled with restaurants, bars, and boutiques. Stop by Valmandin' for a coffee and quick break from exploring. Philippe Pascoët is the place to go for decadent chocolates, and Bare Forge is a good place to hang out for beers or cocktails.
6. Relax at the Bains de Paquis
This swimming pool was built in the 1930s and is still a popular place to get a massage or unwind. The pool is built beside the lake and includes a diving board. In summer, you can also enjoy the hammam (They have a hammam reserved for women only.) Baths are open daily and cost 10 CHF ($10.75 USD) for entry. In winter, the outdoor pool is closed, but you can still use the sauna, hammam, and Turkish bath for 20 CHF ($21 USD).
7. Visit Temple de St-Gervais
This is built on the foundations of a 4th-century sanctuary as well as a 10th-century Romanesque church. In the 16th-century during the Reformation, this became a Protestant church. During the late 20th-century, excavations revealed the remains of a Gallo-Roman temple. Take time to admire the architecture and the beautiful early 20th-century stained glass windows.
8. Go on a food tour
Food tours are one of the best ways to discover a city. They often incorporate local history and culture, mixed with local foods. Local Flavours offers a chocolate and old town history tour. You'll learn about the origins and history of chocolate in Switzerland, see the old town, and sample chocolates by local artisans. The tour lasts 3 hours. Tickets cost 95 CHF ($100 USD).
9. Go on a free walking tour
Free Walk Geneva offers a couple of free walking tours of the city. Tours are typically 2-2.5 hours in length and led by a local guide with a passion for the city, its history, and culture. If you're more interested in the UN, WHO, and the World Trade Organization, try the International Geneva tour. While these tours are free, always remember to tip the guide!
For more information on specific cities in Switzerland, check out these guides:
Geneva Travel Costs
Hostel prices – Dorm rooms in Geneva start around 40 CHF ($42.50 USD) per night. A single private room is about 80 CHF per night, while a twin private room that sleeps two is about 110 CHF ($116.25 USD). These prices include free wifi and breakfast.
Budget hotel prices – A night in a 2-star budget hotel in a room that sleeps two starts around 120 CHF ($126 USD). Most hotels offer free breakfast.
On Airbnb, you can find shared rooms (i.e., a couch) for about 35-60 CHF ($32-64 USD) per night. You can rent entire homes (usually studio apartments) starting around 70 CHF ($74 USD) per night, although you'll find a lot more inventory starting at 100 CHF ($106 USD) and up.
Average cost of food – One of the greatest things about Geneva is its diverse cuisine since it is such a hub of international activity thanks to the UN and international organizations in the city. Cheaper places can be found near the university, and along Boulevard de Saint-Georges. Bars and cafés are the cheapest food option, with lunch specials costing about 9-15 CHF ($9.50-16 USD). Try Presse or La Tour du Molard for cheaper food.
Restaurants with table service are around 20 CHF ($21 USD) for lunch and 40 CHF ($42 USD) for dinner (starter, main, and drink).
For affordable meals, try Chez Ma Cousine, Parfums de Beyrouth, La Pignata, and Le Radar de pOche. Weekend outdoor markets, such as Plainpalais on Sundays, are good for finding cheap eats. Expect to pay 4-9 CHF ($4.25-9.50 USD). The Carouge market on Wed, Thurs, and Sat is also quite good and one of the best farmer's markets in the city.
For traditional Swiss food such as fondue, schnitzel, älpler makkaroni, raclette, and goulasch you can expect to pay anywhere from 20-40 CHF ($21-42 USD). Auberge de Saviese, or Le Gruyérien are two good spots for traditional food.
A beer will cost at least 6 CHF ($6.50 USD) in a restaurant, however, if you buy it in a shop you can expect to pay about 2 CHF ($2.15 USD).
You can keep your budget in check by going to the local supermarkets and buying your own groceries. If you cook your meals, expect to pay around 130 CHF ($137 USD) per week for groceries that will include pasta, vegetables, chicken, and other basic foodstuffs. Supermarkets also sell pre-made meals for between 5-9 CHF ($5.30-9.50 USD). The major supermarkets are Migros, COOP, and Spar. COOP is the most expensive. Supermarkets also sell pre-made meals for between 5-9 CHF ($5.30-9.50 USD)
Backpacking Geneva Suggested Budgets
If you're backpacking Geneva, my suggested budget is about 90 CHF ($95 USD) per day. This budget will cover staying in a hostel dorm, cooking most of your meals, and taking public transit.
A mid-range budget of about 142 CHF ($150 USD) will cover a room at a two-star budget hotel or a private Airbnb room, eating out on the cheap, a few glasses of wine each day, and a couple of paid attractions per day.
For a luxury budget of 285 ($315 USD) or more, you will stay in a four-star hotel, eat at restaurants for all your meals, and enjoy plenty of activities. The sky is your limit!
You can use the chart below to get some idea of how much you need to budget daily. Keep in mind these are daily averages – some days you'll spend more, some days you'll spend less (you might spend less every day). We just want to give you a general idea of how to make your budget. Prices are in USD.
Accommodation
Food
Transportation
Attractions
Average Daily Cost
Backpacker
$36
$25
$15
$19
$95
Mid-Range
$60
$50
$15
$25
$150
Luxury
$290
$100
$20
$60
$470
Geneva Travel Guide: Money Saving Tips
Geneva is expensive. It's probably the most expensive city in the country. This is a town of international organizations and diplomats so you're going to be hard pressed to find a lot of deals. There's not a lot of ways to save money in Geneva but here are a few ways that can help:
Get the Geneva Pass – With options for 1-3 days, this pass gets you free transportation as well as free entrance into Geneva's many museums. If you buy it online, you'll get a 10% discount. A one-day pass is 26 CHF ($27.50 USD), a two-day pass is 37 CHF ($39 USD), a three-day pass is 45 CHF ($47.50).
Use Couchsurfing – It's a service that lets travelers stay with locals for free. It was a lifesaver that allowed me to keep my costs down the most. Since a lot of travelers use this service, make your requests for hosts early.
Free local transportation – By booking accommodation in Geneva (hotel, youth hostel, or a campsite), you are entitled to receive a Geneva Transport Card for free. This card allows you to use any public transportation (buses, trams, trains, and yellow taxi-boats) for free during the length of your stay. Just ask for it upon arrival at reception.
Book your trains early – While a train ride is a cheaper way to travel than the plane, you can get even cheaper rates by booking your train ticket early. Swiss Rail also offers one-day and weekend group passes to look into.
Don't drink – Drinking is not cheap here. Most beers are around 6 CHF ($6.30 USD). (Plus, who wants to hike while hung over?) Most wines are between 10-25 CHF ($10.50-26.50 USD) a bottle. If you must drink, stick to hostel bars where you can enjoy 2-for-1 happy hours and cheap drinks for around 5 CHF ($5.25 USD) or buy your beers at grocery stores for as little was 2 CHF ($2.15 USD).
Cook – With sit-down restaurants costing around 40 CHF ($42 USD) per meal per person, eating out in Switzerland can be very costly, so buy your groceries. A week's worth of food (bread, pasta, rice, eggs, vegetables, cheese, deli meats for sandwiches, and some assorted fruit) will cost you 85-135 CHF ($89-142 USD). The major supermarkets are Migros, COOP, and Spar. COOP is the most expensive.
Ride a bike – You can find bicycles for rent at most places you'll stay. This is a very, very small town with very little traffic. If there's no snow on the ground, this is the perfect place to cruise around on your bike.
Bring a refillable water bottle – At 2-4 CHF ($2.15-4.25 USD) a bottle, that's a lot of money spent on water after a few days. The water in Basel is safe to drink, so refill your bottle before you go out to save money.
Take a free walking tour – In the warmer months, Interlaken Walking Tours offers free strolls through this lovely town with a local guide. This is a budget way to find out the inner working of the town's history and hidden gem spot.
Save money on rideshares – Uber is way cheaper than taxis and are the best way to get around a city if you don't want to wait for a bus or pay for a taxi. The Uber Pool option is where can you share a ride to get even better savings (though you can get your own car too). You can save $15 off your first Uber ride with this code: jlx6v.
Where To Stay in Geneva
There are only a couple of hostels in Geneva, so consider booking early if you're visiting during peak season (Jul-Aug):
How to Get Around Geneva
As mentioned above, when you book into a hostel, hotel, or campsite in Geneva, you are entitled to a travel card which provides free public transportation in the city.
Public Transportation – Bus, Train, and Boat travel within Geneva is included in the travel card you will receive. Otherwise, it is 3 CHF ($3.25 USD) for one-hour ticket that covers the tram, bus, boat, and rail, 8 CHF ($8.50 USD) for a pass valid from 9am to midnight, and 10 CHF ($10.60 USD) for a 24-hour pass. If you arrive in Geneva by plane, you can get an 80-minute bus ticket to use from the airport to the city for free.
Bike – April-October you can use bikes from Genève Roule for up to 4 hours, for free. You will need to pay a 20 CHF ($21 USD) deposit.
Ride-Sharing – Uber is available in Geneva. You can save $15 off your first Uber ride with this code: jlx6v. For getting around the area (and the country!) you can also use the ride-sharing app BlaBlaCar. It is a great way to travel around Europe on a budget.
When to Go to Geneva
The best time to visit Geneva is June-October when the weather is warm enough for exploring on foot, beaches and patios are open, and open-air markets and music festivals are in full swing. During this time, temperatures reaching an average of 72°F (23°C). This is the busiest time to visit Geneva, so expect prices to be at least 20% higher.
In summer, check out the Geneva Street Food Festival, and the Fête de la Musique in June. In July, the Paléo Festival in nearby Nyon is a huge music festival with indie rock bands, and performers from around the world. August 1st is Swiss National Day, and the perfect time for watching folklore performances, alphorn blowing, yodelling, fireworks, and more! The Geneva International Film Festival takes places at the end of October, and into November.
In winter, temperatures in Geneva average at 28ºF (-2ºC). While the festival and events calendar slow down a bit, there is still plenty to do. In November and December, the Christmas market is open and filled with Swiss treats, handicrafts, and mulled wines. Fête de l'Escalade takes place in December and commemorates the city's escape from capture in 1602 with a torchlight parade, and period clothing.
How to Stay Safe in Geneva
Geneva is quite safe, and the risk of violent crime is very low. That being said, petty theft and pick pocketing can be an issue in high traffic areas. Be vigilant in areas such as Lake Geneva's promenade, Plainpalais, Mont Blanc Bridge, Cornavin train station, and other crowded areas.
If you see white vans with loudspeakers, avoid them, there are usually aggressive salespeople trying to get rid of crappy items to unsuspecting tourists.
If you're worried about getting scammed, you can read about the 14 travel scams to avoid right here.
People are generally friendly and helpful, and you're unlikely to get into trouble.
Always trust your gut instinct. Make copies of your personal documents, including your passport and ID.
If you don't do it at home, don't do it in Interlaken! Follow that rule, and you'll be fine.
The most important piece of advice I can offer is to purchase good travel insurance. Travel insurance will protect you against illness, injury, theft, and cancellations. It's comprehensive protection in case anything goes wrong. I never go on a trip without it as I've had to use it many times in the past.
Geneva Travel Guide: The Best Booking Resources
These are my favorite companies to use when I travel to Geneva. They are included here because they consistently find deals, offer world-class customer service and great value, and overall, are better than their competitors. They are the ones I use the most and are always the starting points in my search for travel deals.
Momondo – This is my favorite booking site. I never book a flight without checking here first.
Skyscanner – Skyscanner is another great flight search engline which searches a lot of different airlines, including many of the budget carriers that larger sites miss. While I always start with Momondo, I use this site too as a way to compare prices.
Airbnb – Airbnb is a great accommodation alternative for connecting with homeowners who rent out their homes or apartments.
Hostelworld – This is the best hostel accommodation site out there, with the largest inventory, best search interface, and widest availability.
Couchsurfing – This website allows you to stay on people's couches or spare rooms for free. It's a great way to save money while meeting locals who can tell you the ins and outs of their city. The site also lists events you can attend to meet people (even if you're not staying with someone).
Booking.com – The best all around booking site that constantly provides the cheapest and lowest rates. They have a no money down policy, great interface, and the widest selection of budget accommodation. In all my tests, they've always had the cheapest rates out of all the booking websites.
Eurail – If you are going to Europe and taking a lot of high speed or long distance trains, get a rail pass. I've used a rail pass three times and saved hundreds of dollars each time. The math just works.
Intrepid Travel – If you want to do a group tour around Europe, go with Intrepid Travel. They offer good small group tours that use local operators and leave a small environmental footprint. If you go on a tour with anyone, go with them. And, as a reader of this site, you'll get a discount when you click the link!
Grassroots Volunteering – For volunteering, Grassroots Volunteering compiles a list of good local volunteer organizations that keep the money within the community.
The Man in Seat 61 – This website is the ultimate guide to train travel anywhere in the world. They have the most comprehensive information on routes, times, prices, and train conditions. If you are planning a long train journey or some epic train trip, consult this site.
Rome 2 Rio – This website allows you to see how to get from point A to point B the best and cheapest way possible. It will give you all the bus, train, plane, or boat routes that can get you there as well as how much they cost.
World Nomads – I buy all my travel insurance from World Nomads. They have great customer service, competitive prices, and in-depth coverage. I've been using them since I started traveling in 2003. Don't leave home without it!
Geneva Gear and Packing Guide
If you're heading on the road and need some gear suggestions, here are my tips for the best travel backpack and for what to pack!
The Best Backpack for Travelers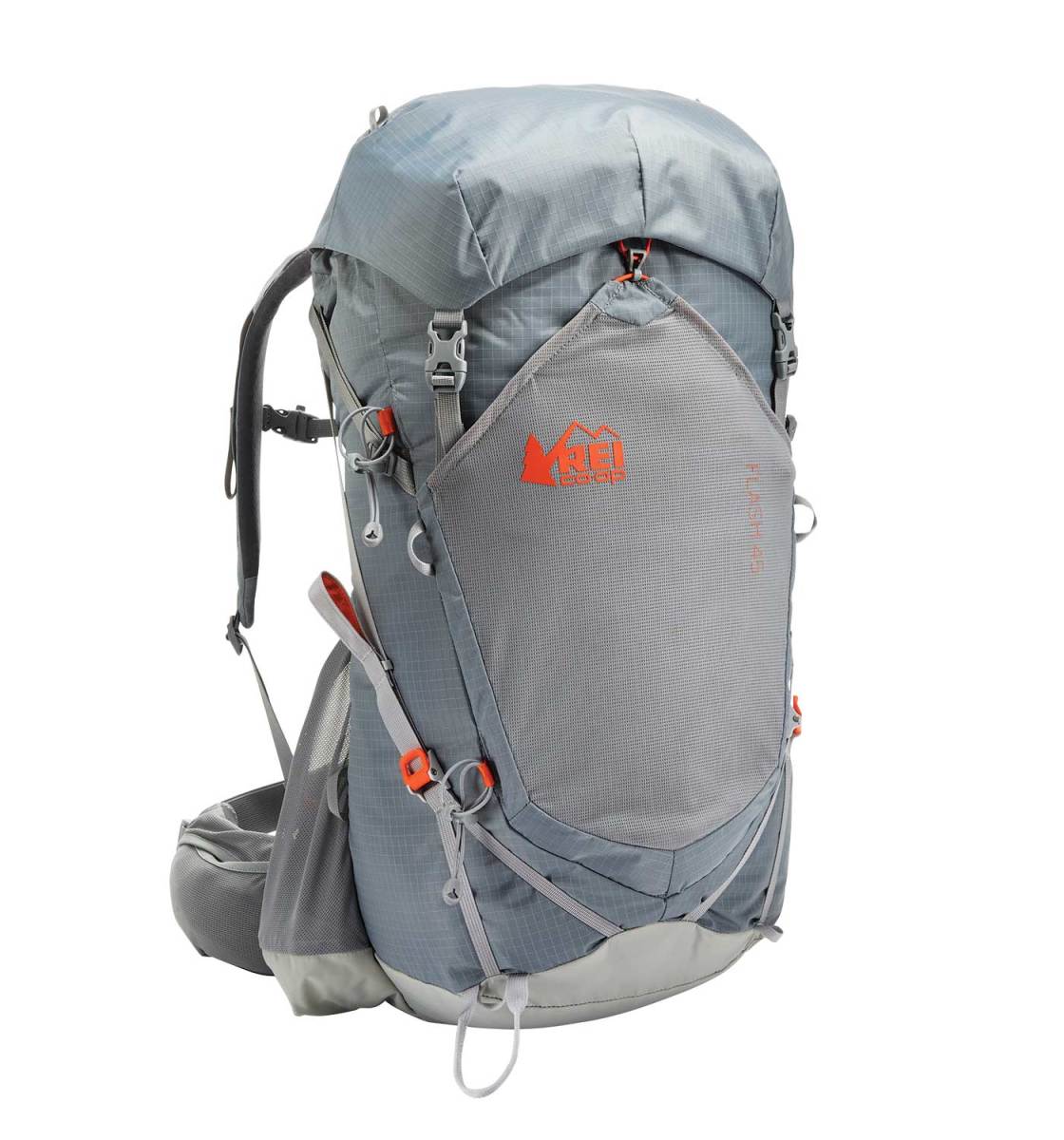 What's the best backpack for traveling long-term? I recommend the
REI Flash 45 Pack
. It's light and comfy, front loading, and fits perfectly in an airplane's overhead bin.
Size:
45-47L
Straps:
Thick and cushy with compression technology that pulls the pack's load up and inwards so it doesn't feel as heavy.
Features:
Removable top lid, large pocket at the front, hydration compatible, contoured hip belt
If you want something different, refer to my article on how to choose the best travel backpack for tips on picking a pack and other backpack suggestions.
What to Pack for Your Trip
Clothes
1 pair of jeans (heavy and not easily dried, but I like them; a good alternative is khaki pants)
1 pair of shorts
1 bathing suit
5 T-shirts (Unbound Merino is my preferred company. If you're a member of NM+, you can get 15% off your purchase)
1 long-sleeved T-shirt
1 pair of flip-flops
1 pair of sneakers
6 pairs of socks (I always end up losing half)
5 pairs of boxer shorts (I'm not a briefs guy!)
1 toothbrush
1 tube of toothpaste
1 razor
1 package of dental floss
1 small bottle of shampoo
1 small bottle of shower gel
1 towel
Deodorant
Small Medical Kit (safety is important!!!)
Miscellaneous
Female Travel Packing List
I'm not a woman, so I don't know what a woman wears, but Kristin Addis, our solo female travel guru, wrote this list as an addition to the basics above:
Clothing
1 swimsuit
1 sarong
1 pair of stretchy jeans (they wash and dry easily)
1 pair of leggings (if it's cold, they can go under your jeans, otherwise with a dress or shirt)
2-3 long-sleeve tops
2-3 T-shirts
3-4 spaghetti tops
1 light cardigan
Toiletries
1 dry shampoo spray & talc powder (keeps long hair grease-free in between washes)
1 hairbrush
Makeup you use
Hair bands & hair clips
Feminine hygiene products (you can opt to buy there too, but I prefer not to count on it, and most people have their preferred products)
For more on packing, check out these posts:
Geneva Travel Guide: Related Articles
Want more info? Check out all the articles I've written on backpacking/traveling Switzerland and continue planning your trip: