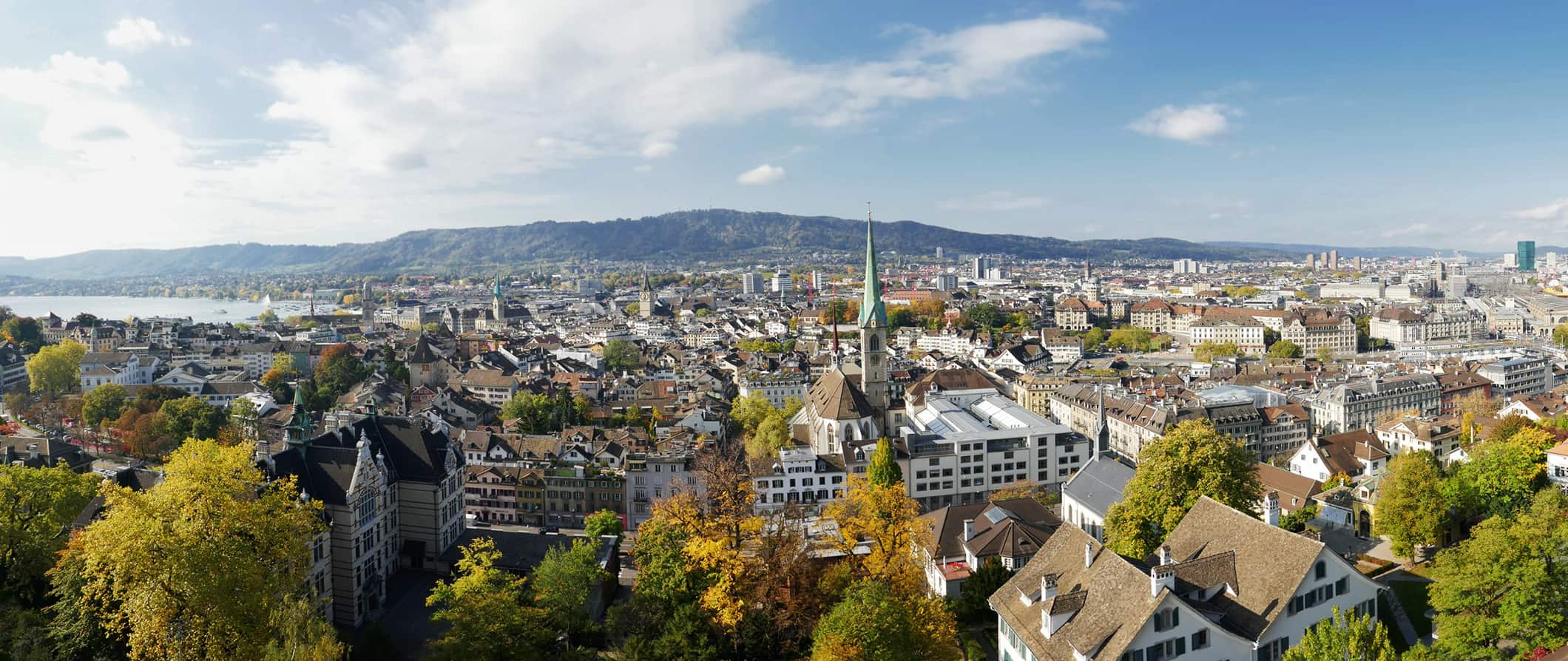 The biggest of the Swiss cities, Zürich has a hopping nightlife and is filled with endless bars and restaurants. It's a cosmopolitan city that's bustling with activity. It's also set on a beautiful lake near the mountains so you can also do a lot of nature-based activities when you visit.
While Zürich is known as a financial hub and business center, it's also one of the most cosmopolitan and dynamic Swiss cities. The city is very arty and full of street art and exhibitions. Zürich's cultural scene includes theaters and opera, several well-known orchestras, and the Cabaret Voltaire.
The city also has a good number of festivals such as the Sechseläuten in April (which includes a procession and the ceremonial burning of a snowman), the Knabenschiessen in September (a sharpshooting contest for young people), the Fasnacht (Zürich Carnival) in late winter. There's also the techno music Street Parade in August, which thousands of people come to.
In short, Zürich is a city with tons to see and do — no matter your interests.
While very expensive thanks to all the banks in the city, this travel guide to Zürich can help you visit the city on a budget and ensure you have a great time without breaking the bank!
Top 5 Things to See and Do in Zürich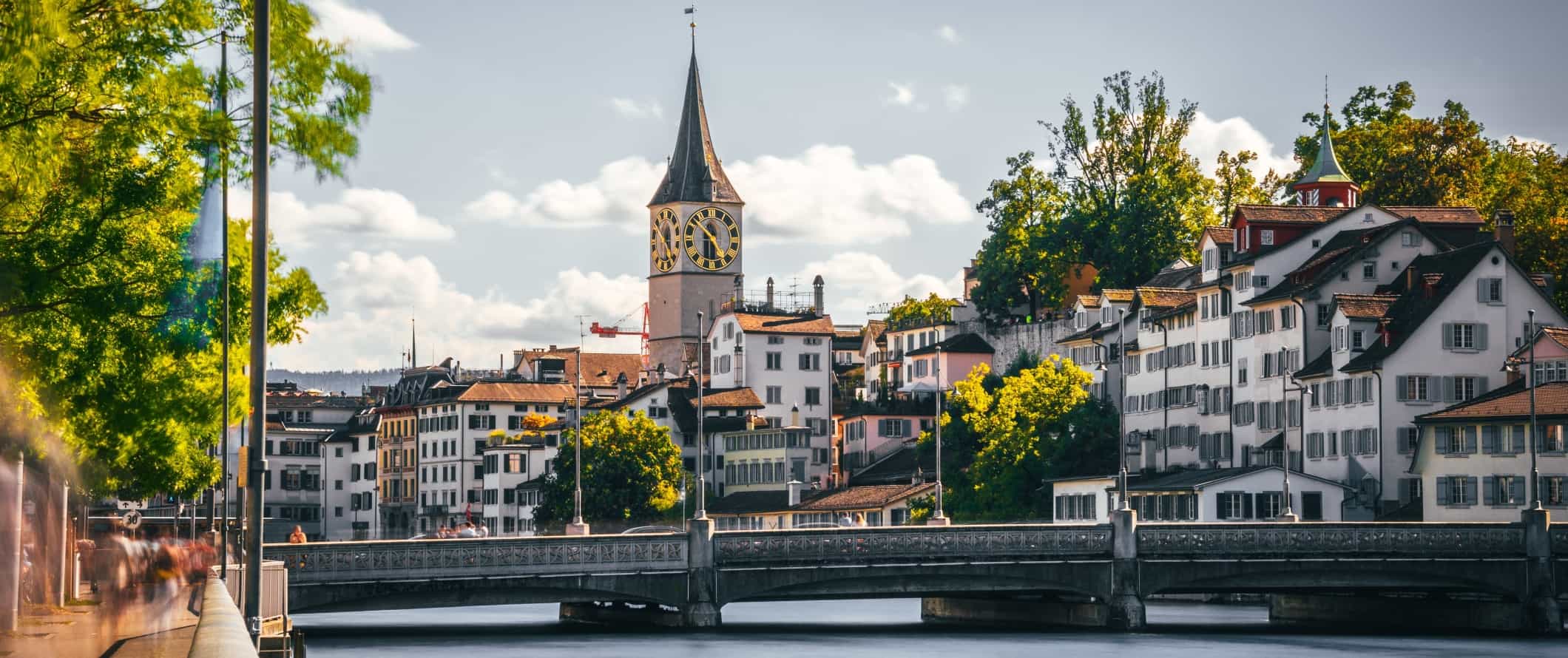 1. Go hiking
Zürich has two mountains that offer good views and even better hikes: Zürichberg to the East and Uetliberg to the West. Zürichberg is busier but Uetliberg has better mountain-biking trails. Start with the Planet Trail on Uetilberg for an easy two-hour trek. It takes 20 minutes to get there by train/tram.
2. Visit the National Museum
This museum offers a detailed look into the history of the country. The exhibits are comprehensive and it has a number of both permanent collections and temporary ones. A new archaeological section was opened in 2016 as well. Admission is 10 CHF.
3. See the City Gardens of Stadt Gaertnerei
This small botanical garden is home to some 250,000 plants that are used in public flowerbeds around Zürich. It's also home to 17 different species of tropical birds, including toucans. It has rotating exhibitions, guided tours, lectures, and every Wednesday there's an informational talk about plant life.
4. Catch the Street Parade
This is currently the biggest open-air techno rave in Europe. It happens on the second Saturday of August during which time trucks functioning as mobile sound systems start driving along the lakeside. Every year, this event attracts nearly a million visitors who dance carefree in the streets.
5. Walk around the Old Town
Located on both sides of the Limmat River, the Old Town is filled with guild houses and historic churches. Stop to eat at one of many restaurants or have a drink at a variety of pubs, or walk around tasting the city's unique cheese and chocolates. Be sure to try the truffles at Confiserie Honold too.
Other Things to See and Do in Zürich
1. Taste Swiss chocolate
Switzerland is synonymous with chocolate. To do a deep dive into this cultural staple, try a food tour. Sweet Zürich Tour organizes tours that focus on chocolate and its 200-year-old tradition in Switzerland. You'll get to taste lots of chocolates, uniquely flavored truffles, bars, ice cream, and hot chocolate all while you learn about the chocolate trends of Zürich. Their small tours (2-10 people) take around 2.5 hours and cost CHF 85.
2. Explore Zürich's vibrant nightlife
Zürich may be a relaxing city during the day, but at night it comes alive with over 500 nightlife venues including pubs, restaurants, music halls. With no open-container laws in Zürich, you can start your night with cheap drinks on the Limmat riverfront before moving to the bars and clubs. When you are ready to hit the town, head to Neiderdorf in the Old Town or Langstrasse just nearby for some of the best clubs and bars in Zürich. Cinchona Bar and Olé-Olé-Bar are two fun options.
3. Eat in the dark at Blindekuh Zürich
At the restaurant Blindekuh (which means "Blind Man's Bluff" in German) you eat in the dark. Founded in 1999, this restaurant became the first dark restaurant to employ visually impaired staff in the world. Eat with only 4 out of 5 senses here and have a culinary adventure. It's unlike any other dining experience out there. Expect to pay around 75 CHF for a three-course meal.
4. Walk the lake promenade
The Lake Zürich promenade was created around 1800 and stretches around the entire lake. From Bellevue, the boardwalk runs for about 3 kilometers (2 miles) along the lake towards Tiefenbrunnen, and is always busy with walkers, cyclists, and inline skaters. About halfway, at Bürkliplatz, there's a peaceful meadow for relaxing on a sunny day, as well as an outlook terrace. If you'd rather mingle with the locals, pause and chat with some of the jewelry sellers or street artists who dot the promenade.
5. Go skiing
Flumserberg is the nearest large ski-resort to the city. A day pass costs around 69 CHF, but there are reduced passes available (as low as 39 CHF) if you go later in the day. There are other nearby ski resorts too, like Sattel-Hochstuckli and Amden, both of which can be reached in under an hour by car. There are also lots of cross-country skiing options nearby too, including Zurgerberg, Bachtel, and Rothenthurm. You can rent cross-country skis and boots for around 110 CHF per day.
6. Visit the Beyer Zürich Clock & Watch Museum
Switzerland is famous for its watchmaking. This private museum has one of the best collections in the world and tells the history of timekeeping from 1400 BCE (when they used things like sundials and hourglasses) to today. Check out all of the timepieces housed in this well-designed museum, and be sure to pay attention to the one-of-a-kind, rare, and antique clocks. Admission is only 10 CHF.
7. Celebrate Swiss National Day
If you happen to be here on August 1st, Swiss National Day celebrates the founding of the Swiss Confederation in 1291. Festivities are carried out in the evenings and fireworks are launched at night. Watch them over the lake, or if you have experience with (safely) launching fireworks yourself, you can buy them in the days leading up to the national holiday. The display over the Rhine Falls (one hour away by S-Bahn) is also extremely popular. No matter where you are in the city, you can find houses and buildings draped in the Swiss flag and another colorful bunting, while families and friends take advantage of the holiday to gather in parks and public spaces for barbecues and picnics.
8. Take a boat tour
When the weather is nice, take a boat tour on Lake Zürich to admire the scenic views of the region. You can find mini-tours starting at 25 CHF and bookings can be made at the pier on Bahnhofstrasse or online. Tours/cruises just get more elaborate from there, with a variety of themes such as cheese fondue cruise, folklore cruise, a brunch cruise, and even a build-your-own-burger cruise. These trips cost between 45-115 CHF per person.
10. Check out the Rietberg Museum
For a day of international art, head to the Rietberg Museum. It's the third-largest museum in the city and the only art museum in the country that focuses on non-European art. The museum contains collections from around the world, including Asia, Africa, and Oceania. Admire Indian miniature paintings, Swiss masks, and ceramics from the Meiyintang collection. Other highlights include a shaman eagle mask and Persian wall hangings. Admission is 18 CHF for the collection plus special exhibitions. The park where the museum is located (Lindenhofplatz) looks over the city and is nice to pass a couple of hours in.
11. Tour Rosenhof Market
This seemingly hidden market in a square in the Niederdorf part of the Old Town is perfect for picking up little souvenirs and trinkets. Go here to browse shops selling intriguing goods like incense, jewelry, handicrafts, and bohemian clothing. When you're here, be sure to sample some international food from one of the many delicious food stalls.
12. Wander around Bahnhofstrasse
Bahnhofstrasse is renowned for being one of the priciest shopping streets in the world per square meter; the entire route is covered in high-end shop fronts featuring international luxury brands. If you're backpacking, you're probably not shopping on this pedestrian street but it's fun to people watch and see how the other side lives. If you're here in December, be sure to check out the elaborate Christmas decorations lighting up the entire area.
13. Admire the architecture
Zürich is an attractive city and has many architectural features including the beautiful and well-preserved Altstadt (Old Town). Here is the 1,400-year-old Romanesque Grossmünster which was built by Charlemagne, St. Peter's Church which was built in the 13th-century, and the Fraumünster (Minster of Our Lady) which has some beautiful stained glass windows that were designed by Marc Chagall. There are also guild houses and patrician residences (some are used as restaurants or for civic functions). More old buildings can be found along both shores of the Limmat River too.

For more information on other cities in Switzerland, check out these guides:
Zürich Travel Costs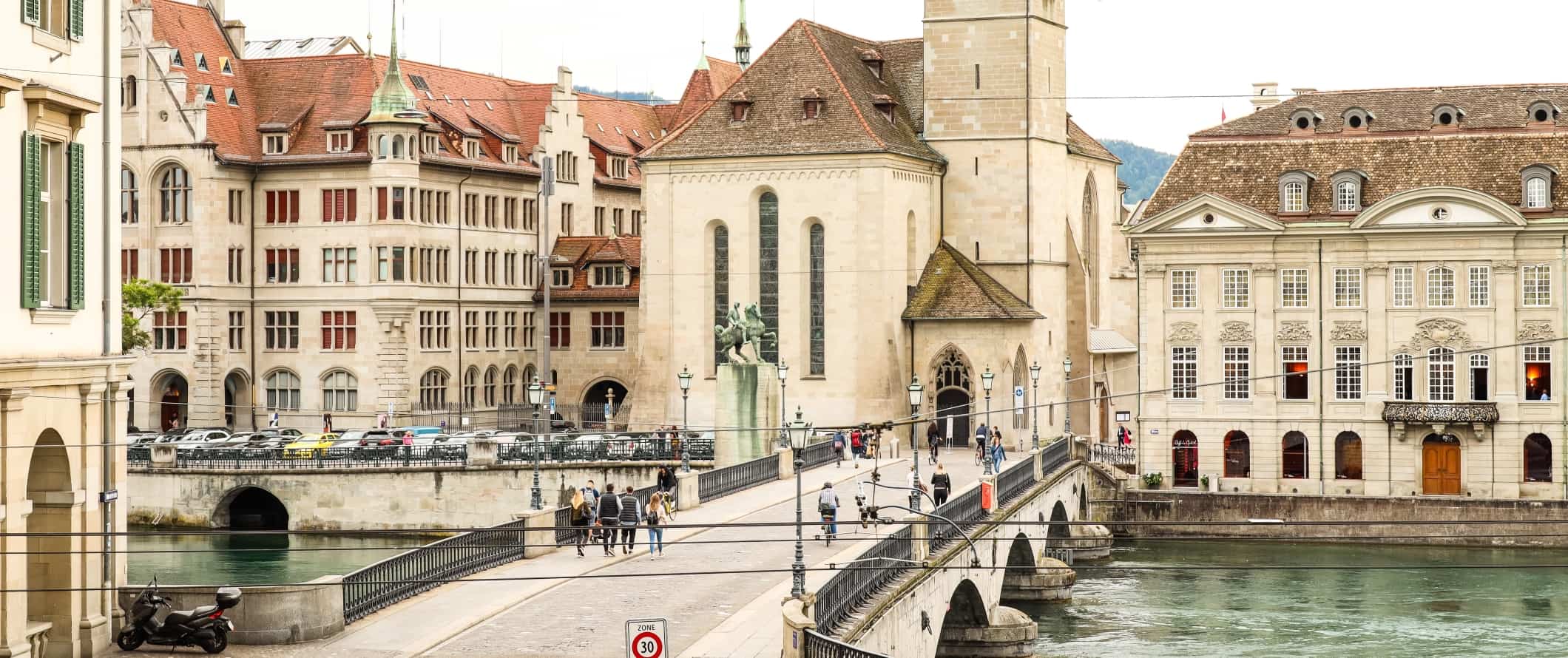 Hostel prices – There are only a couple of hostels in Zürich and they book up quickly in summer, especially during major festivals and events. Expect to spend at least 50 CHF per night for a bed in a 4-6-bed dorm (although prices can be as high as 100 CHF). Private rooms start at 100 CHF, but you're more likely to spend over 120 CHF. Hostels typically include free breakfast and free Wi-Fi.
There are a few campsites around Zürich — including some that are right on the lakes. Prices start at 8 CHF per night for a basic plot without electricity but expect to pay more if you want to be closer to the city center. Wild camping is legal in the mountains above the treeline only (and it's not permitting in official nature reserves).
Budget hotel prices – There are a handful of budget hotels in Zürich and they start at 80 CHF per night. Expect basic amenities like free Wi-Fi, TV, coffee/tea makers, and occasionally free breakfast.
Airbnb is available here with private rooms averaging around 90 CHF per night. Renting an entire home/apartment averages 200 CHF per night (though you can find cheaper options if you book early).
Food – With strong French, German, and Italian influences, Swiss cuisine is a mix of meat and potato-based dishes along with plenty of local cheeses. Popular dishes include veal and mushrooms, fondue (with bread or potatoes), rösti (fried grated potatoes), and quiche. Naturally, Swiss cheese and chocolate should not be missed either. When it comes to breakfast, muesli is a go-to healthy choice.
If you want to eat out, bars and cafés are the cheapest food option and cost about 9-15 CHF for a lunch special. An inexpensive restaurant costs about 25 CHF while a 3-course meal at a mid-range one costs about 60 CHF.
If you want to drink with your meal, a beer costs around 7 CHF and cocktails can cost 12-15 CHF.
Fast food (think McDonald's) costs around 15 CHF for a combo meal. A large pizza is 15-21 CHF.
Sternen Grill, which has been open since 1963, has a couple of takeaway locations with wurst, deli sandwiches, and other delights for 8-15 CHF. Vegetarians and vegans can enjoy the menu at Tibits. Kafischnaps is a hip café with yummy breakfast and lunch menus with dishes under 20 CHF.
You can keep your food spending in check by going to the local supermarkets and buying your own groceries. Expect to spend around 140 CHF per week for basic staples like pasta, rice, eggs, seasonal produce, and some meat. The major supermarkets are Migros, COOP, and Spar. COOP is the most expensive.
Backpacking Zürich Suggested Budgets
For those backpacking through Switzerland, budget 100 CHF per day. This is a suggested budget assuming you're staying in a hostel, cooking all of your meals, using local transportation to get around, limiting your drinking, and doing mostly free and cheap activities like walking tours and hiking.
For a mid-range budget of 195 CHF per day, you can stay in a private Airbnb, eat out for most of your meals, enjoy a few drinks, take the occasional taxi to get around, and do more paid activities like food tours, skiing, and museum visits.
On a "luxury" budget of 410 CHF or more per day, you can stay in a hotel, eat out for all your meals, drink more, take more taxis or rent a car, and do whatever tours and activities you want. This is just the ground floor for luxury though. The sky is the limit!
Accommodation
Food
Transportation
Attractions
Average Daily Cost
Backpacker
50
25
15
15
105
Mid-Range
85
60
25
25
195
Zürich Travel Guide: Money-Saving Tips
Zürich is a very expensive city. There's no hiding that fact. But there are plenty of ways to save money in the city so you don't go bankrupt while visiting. Here are some helpful ways I lowered my costs:
Buy a Zürich Pass – The Zürich Pass offers excellent value, with free airport transfers and local transportation as well as free admission to forty Zürich museums. A 24-hour Zürich Pass costs 27 CHF while a 72-hour pass costs 53 CHF.
Ride a free bike – In Zürich, city bikes, e-bikes, and children's bikes can be rented for free! You can pick your bike up year-round with a valid ID and a deposit of 20 CHF at the main station (Europaplatz). This service, known as Züri rollt, is available for every visitor.
Stay with a local – Couchsurfing is a service that lets travelers stay with locals for free. It was a lifesaver that allowed me to keep my costs down the most. Since a lot of travelers use this service here, make your requests for hosts early.
Don't drink – Drinking alcohol is not cheap here so avoid it if you want to save money. If you're going to drink, stick to hostel bars and happy hours.
Cook your own meals – While it isn't glamorous, cooking your own meals will cost you a fraction of what eating out costs. The major supermarkets are Migros, COOP, and Spar. COOP is the most expensive.
Go veggie – Meat is expensive in Switzerland. Stick to veggies and avoid buying meat for your meals (especially beef).
Use lunch specials – If you are going to eat out, do so during lunch when there are lots of affordable lunch specials. Moreover, stick to Chinese, Middle Eastern, Indian, and Thai restaurants for the best deals and biggest portions.
Take a free walking tour – To get a feel for the city and learn about its history, take a free walking tour with Free Walk Zürich. it's the best way to see the highlights on a budget. Just make sure to tip your guide at the end!
Save money on rideshares – Uber is cheaper than taxis and is the best way to get around a city if you don't want to wait for a bus or pay for a taxi.
Bring a water bottle – The tap water here is safe to drink so bring a reusable water bottle to save money and reduce your plastic use. LifeStraw is my go-to brand as their bottles have built-in filters to ensure your water is always clean and safe.
Where To Stay in Zürich
There are only a couple of hostels to choose from in Zürich. Here are your options:
How to Get Around Zürich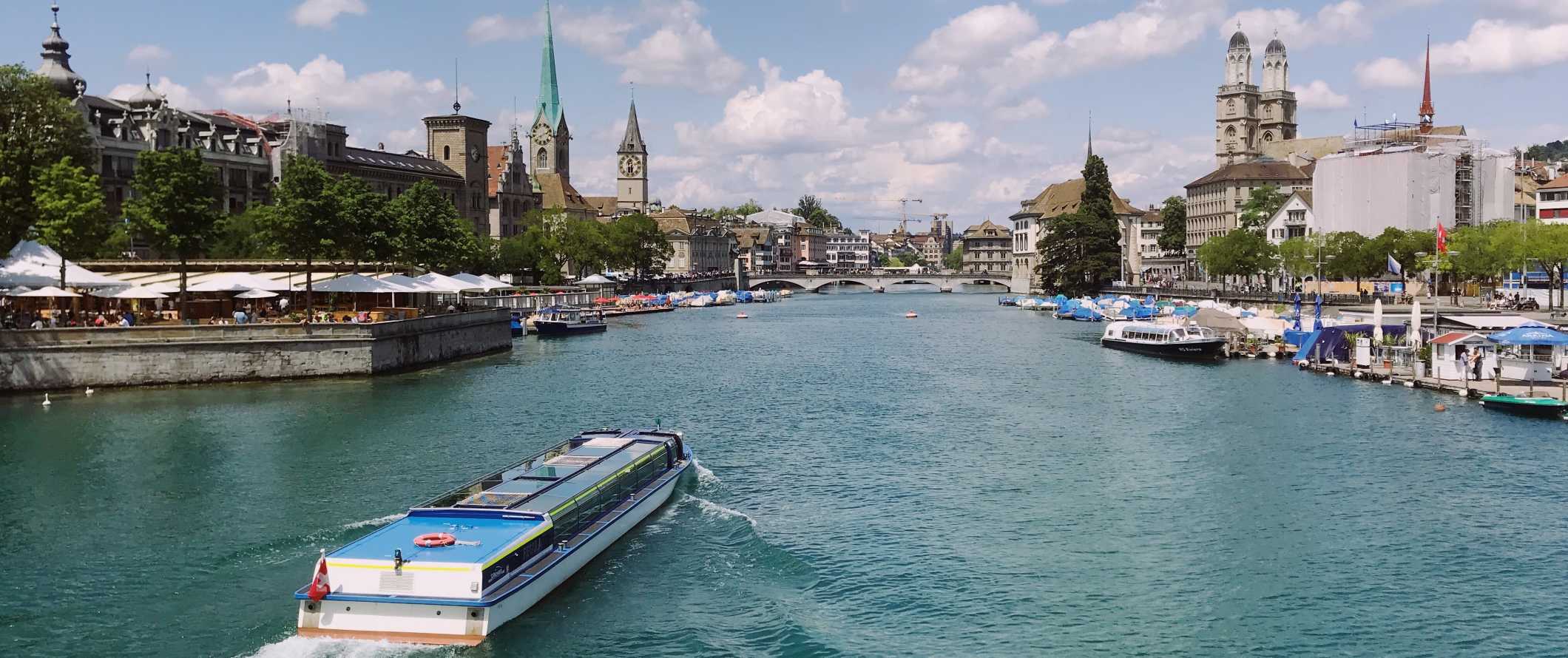 Public transportation – The bus, train, and tram system in Zürich runs on one extensive network. Zürich is divided into zones, and you need to make sure you purchase tickets or a day card which covers the appropriate zones. For example, Zürich City is zone 110, while the airport is part of zone 121.
Single tickets on public transit with Zürich Transport Network (ZVV) start at 3.10 CHF for 1 hour in 1-2 zones and increase from there. These tickets are good for the bus, tram, train, and boat.
The best value for public transit is the Zürich Card, which gives unlimited 2nd-class travel by tram, bus, rail, boat, and cable car in the city, as well as surrounding regions (zones 111, 121, 140, 150, 154, 155). The card also includes transfer between the city and the airport, an excursion trip to Uetliberg, short boat trips, and the Limmat River Cruise. The cost for 24 hours is 27 CHF and it's 53 CHF for 72 hours.
Bike – Zürich has an excellent public bike-sharing program. Bikes are available year-round at Europlatz and can be used for free, once you pay a 20 CHF deposit. PubliBike is also available and has several stations spread throughout the city. The first 30 minutes cost 2.90 CHF, and then 0.10 CHF for each additional minute, up to a maximum of 20 CHF per day. To sign up, download their app and follow the instructions.
Taxi – Taxis are incredibly expensive in Zürich. In fact, with base fares starting at 6 CHF and then going up by 3.80 CHF per kilometer, Zürich taxis are some of the most expensive in the world. Skip them!
Ridesharing – Uber is available in Zürich and is a bit cheaper than taxis. However, public transportation goes everywhere so you really shouldn't need one.
Car rental – Car rentals start around 30 CHF per day for a multi-day rental. You won't need a car to get around the city, though they can be helpful for exploring the region. Drivers need to be at least 21 years of age. An International Driving Permit (IDP) is required for non-European renters.
When to Go to Zürich
Summer is the most popular time to visit Zürich. July and August have the warmest temperatures, offering snow-free hiking trails and longer days. If you're around on August 1st, there are tons of celebrations for Swiss National Day. Peak temperatures hover between 18-28°C (65-82°F). This is when prices are the most expensive, though it never gets too crowded here compared to other cities in Western Europe.
The shoulder seasons are from around April-May and October-November, which are known in Switzerland as Zwischenzeit — the "between time" for the ski and summer seasons. The weather can be unpredictable, but if you want to visit Zürich as cheaply as possible (and take your chances on the weather), this is the time to do it.
From December to March Zürich tends to be quieter as everyone flocks to the mountains. The weather is cold, with temperatures dropping below freezing, so be sure to pack plenty of layers. Because of its proximity to the ski resorts, hotel prices can also be quite high during this time – especially around Christmas when Europeans are on holiday. Book early to find the best deals.
How to Stay Safe in Zürich
Switzerland is one of the safest countries in the world (it's ranked 7th safest currently). Both violent crime and petty theft like pickpocketing are extremely rare here.
That said, always keep your valuables secure and out of reach when in crowded areas and on public transportation.
Solo female travelers should feel safe here, though the standard precautions apply (don't leave your drink unattended at the bar, don't walk home alone at night if intoxicated, etc.)
While scams here are rare, if you're worried about getting ripped off you can read about common travel scams to avoid here.
If you plan on hiking or spending some time skiing in the mountains, pay careful attention to weather reports. Heed avalanche warnings, and stay off the trails if you're told to do so.
If you experience an emergency, dial 117.
Always trust your gut instinct. Make copies of your personal documents, including your passport and ID. Forward your itinerary along to loved ones so they'll know where you are.
The most important piece of advice I can offer is to purchase good travel insurance. Travel insurance protects you against illness, injury, theft, and cancellations. It's comprehensive protection in case anything goes wrong. I never go on a trip without it as I've had to use it many times in the past. You can use the widget below to find the policy right for you:
Zürich Travel Guide: The Best Booking Resources
These are my favorite companies to use when I travel. They consistently have the best deals, offer world-class customer service and great value, and overall, are better than their competitors. They are the companies I use the most and are always the starting point in my search for travel deals.
Skyscanner – Skyscanner is my favorite flight search engine. They search small websites and budget airlines that larger search sites tend to miss. They are hands down the number one place to start.
Hostelworld – This is the best hostel accommodation site out there with the largest inventory, best search interface, and widest availability.
Booking.com – The best all around booking site that constantly provides the cheapest and lowest rates. They have the widest selection of budget accommodation. In all my tests, they've always had the cheapest rates out of all the booking websites.
Get Your Guide – Get Your Guide is a huge online marketplace for tours and excursions. They have tons of tour options available in cities all around the world, including everything from cooking classes, walking tours, street art lessons, and more!
SafetyWing – Safety Wing offers convenient and affordable plans tailored to digital nomads and long-term travelers. They have cheap monthly plans, great customer service, and an easy-to-use claims process that makes it perfect for those on the road.
LifeStraw – My go-to company for reusable water bottles with built-in filters so you can ensure your drinking water is always clean and safe.
Unbound Merino – They make lightweight, durable, easy-to-clean travel clothing.
Top Travel Credit Cards – Points are the best way to cut down travel expenses. Here's my favorite point earning credit cards so you can get free travel!
Zürich Travel Guide: Related Articles
Want more info? Check out all the articles I've written on backpacking/traveling Europe and continue planning your trip: