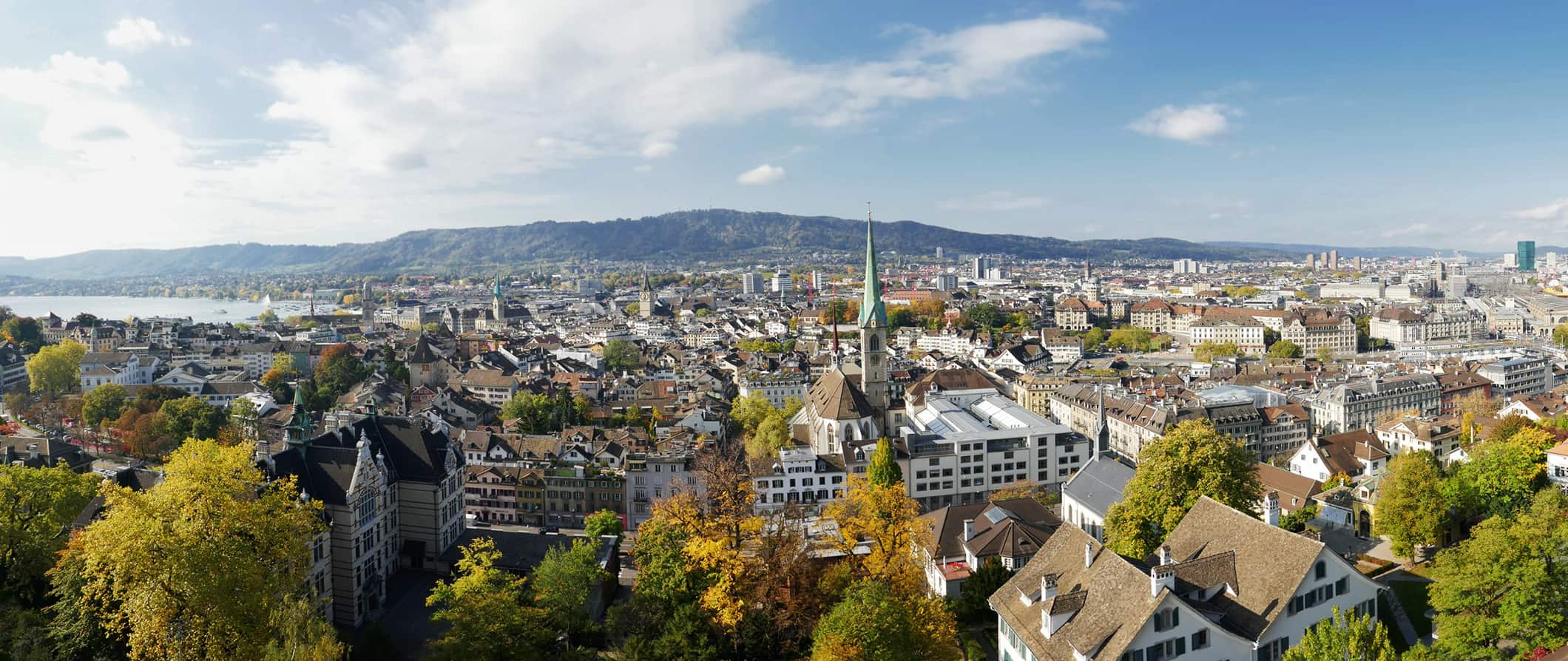 With a hopping nightlife, filled with endless bars and restaurants, this cosmopolitan city is bustling with activity. Zurich (spelled Zürich) is also set on a beautiful lake, near the mountains, and is close to a lot of other cities. It's a very international city and you'll find expats and students from all around the world living and working here. I love the historic center that opens up on the lake, sitting in the parks, and drinking a beer on the lakefront. The city is also very arty and full of street art and exhibitions. While very expensive thanks to all the banks in the city, Zurich is a city worth staying for many days. This travel guide to Zurich can help you visit the city on budget and fill your time!
Top 5 Things to See and Do in Zurich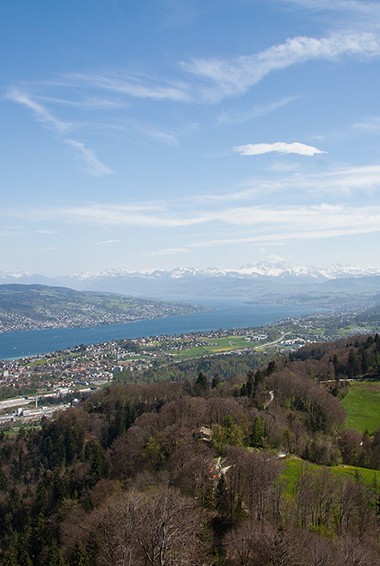 1. Go hiking
With Zurichberg to the East of town and Uetliberg to the West, the city has two mountains which offer good views and good hikes. While Zurichberg feels closer to town with its cemeteries and hotels, Uetliberg has a more natural ambiance with its hiking and mountain-biking trails.
2. Visit the National Museum
If you're a history buff, this National Museum of Switzerland offers a detailed look into the history of the country. The exhibits are very detailed. Admission to the museum is 10 CHF and it's open daily (except Mondays) from 10am-5pm with extended hours on Thursdays.
3. City Gardens of Stadtgaertnerei
This great little botanical garden grows about 250,000 plants that are used in public flowerbeds around Zurich. It's also home to 17 different species of tropical birds. It's open daily for 9am-4:30pm and every Wednesday at 1:30pm there's an informational talk about the plant life.
4. Catch the Street Parade
Currently the biggest open air techno rave in Europe. It happens on the second Saturday of August, during which time trucks which function as mobile sound systems start driving along the lakeside. Every year, this event attracts nearly a million visitors who dance in the streets to music that can be heard from anywhere in the city.
5. Walk around the Old Town
Stop to eat at one of many restaurants. You can choose from the cuisine of pretty much every corner of the earth. Then, have a drink at a variety of pubs, and taste the city's unique cheese and chocolates. This unique shopping district is like stepping back in time.
Other Things to See and Do
(Click the title to expand the text)
1. Taste Swiss chocolate
With several chocolate shops throughout the city, you should visit a Sprungli store and see for yourself what makes their chocolate so good. If you're lucky, you can catch them passing out samples and snack for free.
2. Enjoy the pastries on a Sweet Zurich Tour
Switzerland is famous for their almost 200-year-old chocolate empire. On the tour, a special treat will be waiting for you at each little-known pastry shops. You'll also taste lots of chocolates, uniquely flavored truffles, bars, ice cream, and hot chocolate all while you learn about the chocolate trends of Zurich. Small tours (2-8 people) operate Tuesday to Friday afternoons (at 2pm) for 2.5 hours and cost CHF 85 per person.
3. Explore its vibrant nightlife
Zurich may be a relaxing city during the day, but at night it comes alive with over 500 nightlife venues – pubs, restaurants, music halls. With no open-container laws in Zurich, start your night with cheap drinks on the Limmat riverfront before moving to the bars and clubs. When you are ready to hit the town, head to Neiderdorf in the Old Town or Langstrasse just nearby.
4. Eat in the dark at Blindekuh Zurich
Have you ever eaten a meal in complete darkness? At the restaurant Blindekuh (which means "Blind Man's Buff" in German) that's exactly what you'll do. Founded in 1999, this restaurant became the first dark restaurant to employ visually impaired staff in the world. Now Blindekuh is one of the largest private-sector employers for people with impaired vision. Eat with only 4 out of 5 senses here and have a culinary adventure!
5. Walk the lake promenade
Especially during summer, the lake is a beautiful place to spend the evening or the weekend. Starting from Bellevue, the boardwalk goes for about three kilometers along the lake towards Tiefenbrunnen. About halfway from Bellevue, there is a meadow that's nice to relax in during a sunny day.
6. Go skiing
Flumserberg is the nearest large ski-resort. It's popular with people from Zurich, with a good range of runs for beginners and experts. Retreat to the right side of the resort if the rest gets busy. A day pass costs 58-65 CHF, but there are reduced passes available (as low as 30 CHF) if you go after certain times or only to certain lifts.
7. Beyer Zurich Clock & Watch Museum
This is one of the world's leading private museums dedicated to the horology, or "the study of time". As you know, Switzerland is famous for its watchmaking. Take a gander at all of the timepieces housed in this well-designed museum, and be sure to pay attention to the one-of-a-kind, rare, and antique clocks. Admission is only 8 CHF.
8. Celebrate Swiss National Day
Celebrated on August 1st, festivities are carried out in the evenings and fireworks are launched at night. Watch them over the lake, or if you have experience with (safely) launching fireworks yourself, you can buy them in the days leading up to the national holiday and have fun. The display over the Rheinfall, one hour away by S-Bahn, is also extremely popular.
9. Take a boat tour
For a unique perspective of the city, take a tour on Lake Zurich. You can find tours for as little as 10 CHF, and bookings can be made at the pier on Bahnhofstrasse.
10. Visit the zoo
Zurich has a zoo that is considered to be among the best in Europe. It has more than 2000 animals! A visit here can easily take up the better part of a day. The zoo is open daily from 9am-6pm (with reduced hours in the winter). Admission is 26 CHF.
11. Check out the Rietberg Museum
For a day of international art, head to the Rietberg Museum, which contains collections from non-European lands. Some of the highlights here come from Asia, Africa, and Oceania. There are a lot of beautiful sculptures here, and the building itself is quite something. The museum is open daily (except Mondays) from 10am-5pm with extended hours on Wednesdays. Admission is 18 CHF.
12. Rosenhof Market
This is hidden in a square in the Niederdorf part of the Old Town. Go here to browse through shops selling intriguing goods like incense, jewelry, handicrafts, and bohemian style clothing. When you're here, be sure to get some international food from one of the delicious food stalls. Open March through September on Thursdays (10am-8pm) and Saturdays (10am-5pm).