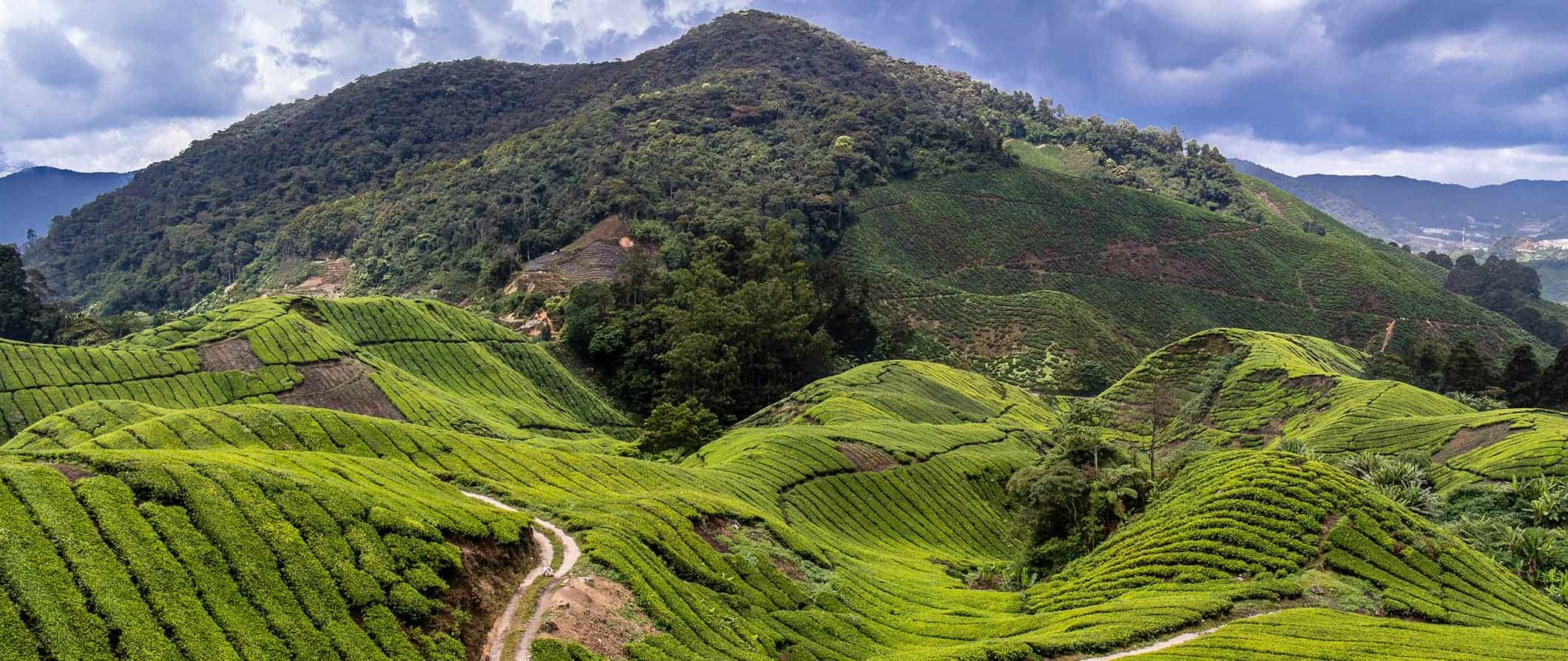 The Cameron Highlands is 200km north of Kuala Lumpur, and is the highest region in mainland Malaysia. The area is popular with locals and tourists keen to enjoy its cool temperature and lush, green surroundings. As the tea-producing capital of the country, the Highlands are the perfect place to enjoy a nice cup of tea and relax while scoping out the lush landscape. From jungle trekking to picking up a bargain at one of the night markets, the Cameron Highlands are the perfect combination of relaxation and sightseeing.
Top 5 Things to See and Do in the Cameron Highlands
1. Tour the tea plantations
The Cameron Highlands is Malaysia's tea-producing capital due to the high altitude and cool climate. By visiting one of the plantations you can watch the entire production process and then enjoy tea and scones while looking over the tea fields.
2. Do some jungle trekking
There are 14 trekking routes heading out from Tanah Rata, so you are sure to find a trail to suit your ability. Trails are a great way to take in some of the local attractions, as many of the trails pass by places of interest.
3. Tanah Rata
Tanah Rata is the largest and most developed town of the Cameron Highlands. That being said, the town center consists of only one street so it's not super big! It's a quaint town and the center of the Highland's nightlife. This is where you'll find some of the area's best restaurants too.
4. Sam Poh Temple
Built in 1972, the Sam Poh Temple is the fourth largest in Malaysia and is quite an arresting site. The temple sits in the hills overlooking Brinchang and offers a fantastic view over the town. Inside you'll find statues of Buddha, Zhenghe, and other deities.
5. Climb Gunung Brinchang
Gunung Brinchang is one of the most beautiful mountains in the country. At 2,000 meters high, the main trail to the top starts at the north side of Brinchang town, and takes about two hours total. If you're unable to hike, you can also drive to the top. Along the way you'll have views of the Boh Tea Plantations.
Other Things to See and Do
(Click the title to expand the text)
1. Visit a bee farm
There are three bee farms in the Highlands, although Tringkap Bee Farm is the best. The farms are usually free to tour, and it's pretty cool just to watch the worker bees buzzing around collecting the honey. The best part of the trip is the honey tasting at the end! Plus, you'll also have the opportunity to buy fresh honey. Admission is free.
2. Find tranquility at Robinson Waterfalls
By following jungle trail number 9 you'll find yourself at Robinson Waterfalls. These falls are very serene, quite, and a great way to fill a relaxed afternoon, especially if you are there in the wet season (November-March) when the waterfalls are the most impressive.
3. Take in beauty at the Flower Festival
The Highlands are Malaysia's leading producer of flowers and as such are a great location for an annual flower festival. The festival takes place in August/September every year. Aside from displaying the flowers and agriculture grown in the area, the festival also includes parades, competitions, and cultural shows.
4. Eat strawberries until you burst
Strawberries are delicious here! They grow everywhere and they are served a hundred different ways. Try the strawberry lassi or for something more unique, strawberry coffee.
5. Walk through Cactus Valley
This is a nice outdoor site, with beautiful flowers and plants everywhere you look. Walk along the various terraces and check out the different fruits and vegetables. There are some neat gifts for sale, as well as cacti and other potted plants.
6. Go golfing
The golf course here is beautiful and a promising challenge for beginners and advanced golfers alike. The course is 18 holes with varying greens and terrain. Expect to pay between 10-20 MYR.
7. Eat at Rosedale Bistro
This is a popular little café for locals and travelers alike. Aside from the pleasant atmosphere, the menu offers everything from local food to Chinese and European dishes. It's inexpensive and the WiFi is free.
8. Visit the Butterfly Farm and Garden
This garden features a huge variety of different bugs and butterflies. Entry is cheap and it's open all day long. Next door, there is a butterfly farm too. Adults pay 7 MYR while children enter for 4 MYR.
Typical Costs
Hostel prices
– Hostels are affordable here, with some starting at just 25 MYR per night. Most dorms will cost around 35 MYR per night while a private double room costs around 100 MYR. Free WiFi and free breakfast are both common and most hostels also have a kitchen for those looking to cook their own food. Camping is available in the area for those who have a tent. Prices can be as high as 50 MYR per night for a four-person plot, though you can find places for as little as 5 MYR per night. You can book your hostel with
Hostelworld
.
Budget hotel prices – It might be worth it to spring for a hotel since the city is so affordable — expect to spend around 80-120 MYR for a double room. Rooms around 100 MYR will generally come with free WiFi and free breakfast. Budget hotels with A/C or kitchen facilities are rare. Use Booking.com as they consistently return the cheapest rates. Airbnb is available in the area, with prices for shared accommodation starting around 50 MYR per night. For an entire home or apartment, prices begin around 175 MYR per night (though most are usually double that).
Average cost of food – You can find plenty of options for less than 6 MYR, though a decent meal at a restaurant will cost you around 8-10 MYR. For a nice meal at a mid-range restaurant, expect to pay around 20 MYR — what a deal! While alcohol is often frowned upon, you can still buy beer out at the bar, usually for around 10 MYR. A coffee will cost around 5 MYR. For a week's worth of groceries, expect to spend between 100-200 MYR. Stick to local staples, as imported items like wine or cheese will blow your budget in no time! However, with food so cheap, it's better to eat out at the local markets than try to cook for yourself.
Transportation costs – Transportation is extremely affordable. A bus from Tanah Rata to the tea plantations and most attractions cost under 5 MYR. A bus from the Highlands to Kuala Lumpur will cost under 50 MYR. Bike rentals are available for under 5 MYR per day. A taxi from Tanah Rata to Brinchang will cost around 8 MYR, while taxis to Ringlet and Boh will cost 25 MYR and 40 MYR respectively.
Suggested daily budget
110-130 MYR / $25-30 USD (Note: This is a suggested budget assuming you're staying in a hostel, eating out at the markets, hiking, doing the free activities, and using local transportation. Using the budget tips below, you can always lower this number. If you stay in fancier accommodation or eat out more often, expect this to be on the higher end!)
Money Saving Tips
Camp – Cameron Highlands are pretty safe, so if you're feeling adventurous, this is a good way to save on accommodation and have an experience. Sungai Pauh Campsite charges around 5 MYR per night.
Cycle – For a few Ringgit per day you can rent a bike from most hotels. Although local transportation is super cheap, this is an excellent way to see the area and have a truly local experience.
My Must Have Guides For Traveling to the Cameron Highlands