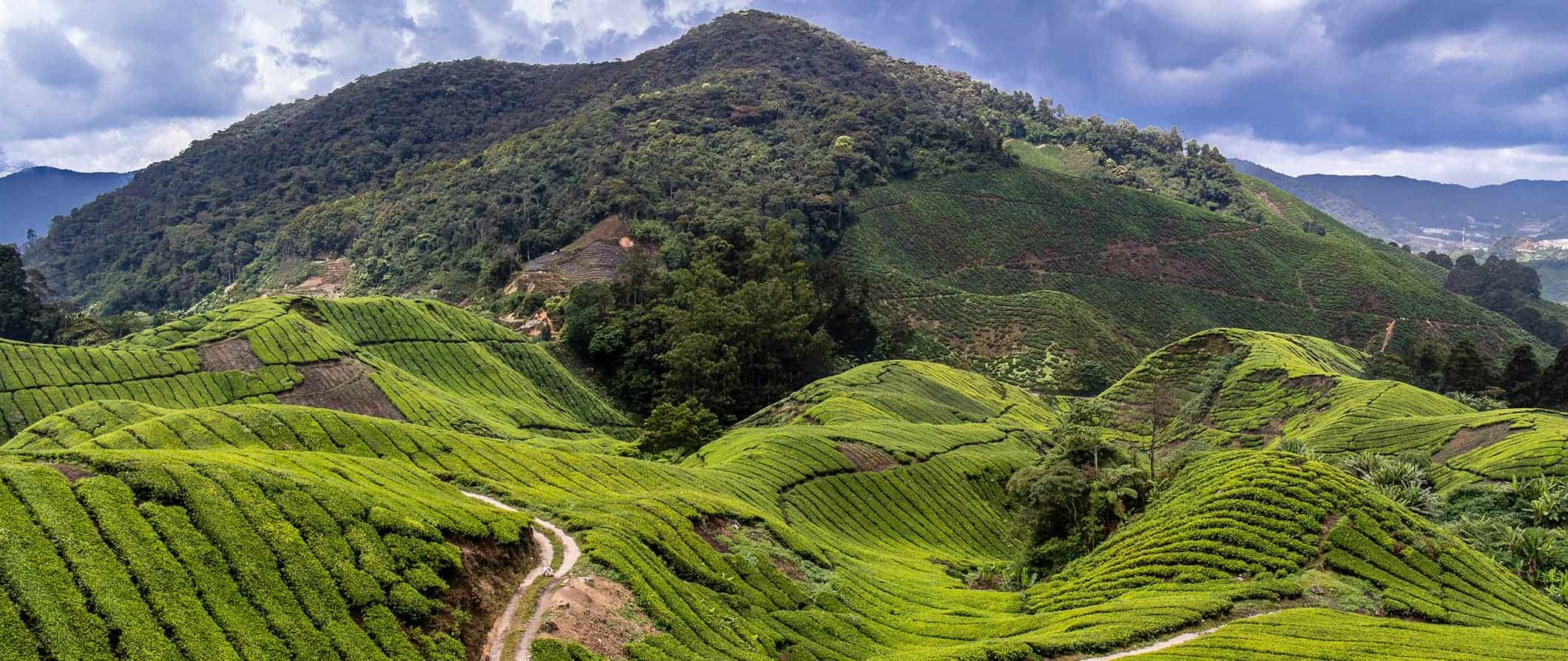 The Cameron Highlands is 200km north of Kuala Lumpur. Visiting them is usually on every traveler's bucket list as the area is popular with people keen to enjoy the cool temperature and lush, green surroundings.
The region has a lot of hiking trails, old colonial houses and, as the tea-producing capital of the country, lots and lots of free. From jungle trekking to strawberry picking, Cameron Highlands is the perfect for relaxing and sightseeing. I love it here. You can just spend days hiking, drinking tea, eating, and reading a good book.
This travel guide to the Cameron Highlands will help you plan the perfect trip here.
Click Here for City Guides

Malaysia
Top 5 Things to See and Do in the Cameron Highlands
1. Tour the tea plantations
The Cameron Highlands is Malaysia's tea-producing center due to the high altitude and cool climate. Visit one of the plantations and then enjoy tea and scones while looking over the tea fields. The two most popular plantations are the BOH Tea Plantation and Cameron Bharat Tea Estate.
2. Do some jungle trekking
There are 14 trekking routes heading out from Tanah Rata. Most of the hikes will lead to waterfalls and scenic views, and if you want a more challenging trek, you're required to hire a guide and obtain a permit. Frequent rain results in trail closures, so research the weather and trails before planning your trip.
3. Visit Tanah Rata
Tanah Rata is the largest and most developed town of the Cameron Highlands. That being said, the town center consists of only one street so it's not super big! It's also the center of the Highland's nightlife, which closes at midnight (so it's never very rowdy here).
4. Visit Sam Poh Temple
Built in 1972, the Sam Poh Temple is the fourth largest in Malaysia and is quite an arresting site against its lush jungle backdrop. The temple sits in the hills overlooking Brinchang and offers a panoramic view over the town. Inside you'll find statues of Buddha, Zhenghe, and other deities.
5. Climb Gunung Brinchang
Gunung Brinchang is one of the most beautiful mountains in the country due to its jungle trails and viewpoints over the highlands. At 2,000 meters high, the main trail to the top starts at the north side of Brinchang town, and takes about two hours total. If you're unable to hike, you can also drive to the top.
Other Things to See and Do in the Cameron Highlands
1. Visit a farm
The Cameron Highlands has tons of farms: bee apiaries, rose farms, cactus farms, strawberry farms, and lavender farms. These farms usually offer free tours with the ability to purchase products afterward. There's Cactus Valley, with some giant cacti on display that are up to 60 years old, and the Lavender Garden where you can taste lavender ice-cream. At Kok Lim Strawberry Farm, you can pick your own berries and then swing by the cafe to taste their strawberry ice-cream and juice or have a cream tea with strawberry jam. Admission varies between 0-10 MYR ($0-$2.35 USD).
2. Find tranquility at Robinson Waterfalls
By following jungle trail number 9, you'll end up at Robinson Waterfalls after a quick 10-minute walk. These falls are very serene and peaceful way to fill a relaxed afternoon, especially if you are there in the wet season (November-March) when the waterfalls are at their biggest.
3. Take in beauty at the Flower Festival
The Highlands are Malaysia's leading producer of vibrant flowers and as such make an ideal location for an annual flower festival every August and September. Aside from displaying the bright blossoms and other agriculture grown in the area, the festival also includes flower parades and flower competitions where growers get to show off their talents. If you're not in town during the festival, check out the Malaysian Agricultural Research and Development Institute (Mardi) – an agro-technology park divided into several different gardens, including a stunning Orchid Garden and a Rose Garden. Several of the Flower Festival's events actually take place here. Admission is 2 MYR ($0.50 USD).
4. Visit the Pasar Malam Night Market (Brinchang Night Market)
Located in the Golden Hills area of Tanah Rata, The Pasar Malam Night Market (also known as the Brinchang Night Market) happens every evening until about 10 PM. Shop from over 150 local vendors and take your pick of affordable souvenirs or other treats like strawberries and tea. This is a nice way to end a day of adventure as you grab some traditional Malay street food (try some satay – tasty grilled meat) and peruse the local wares! A lot of vendors sell the same sort of souvenirs, so shop around for best prices first before buying anything.
5. Experience the Pasar Pagi Morning Market
You can roll out of bed after spending the night at the Pasar Malam Night Market and head straight to the Pasar Pagi Morning Market for breakfast. It's located in KEA Farm Town and is open early every single morning. There are mostly farm goods here, including fresh fruit and veggies, but you'll also find some hawkers selling street food, clothing, and souvenirs. Flower vendors also come here to show off their goods.
6. Hike to the Mossy Forest
Hire an experienced guide to help you explore the lush and thriving Mossy Forest, where the high altitude and cool temperatures create a unique environment full of tropical ferns, plants, and trees. On the Boardwalk, keep an eye out for bright-green Rajah Brookes butterflies, brightly-plumed birds, and monkeys. Due to weather and trail conditions, it may be muddy and slippery, so pack a rain poncho and comfortable walking or hiking shoes. You can also take a taxi to the BOH Tea Plantation and walk to the trail, but a guide is definitely recommended for this experience so that you can learn all about the area's unique environment. Admission to the Boardwalk is 30 MYR ($7 USD). You can hire a guide through Mossy Forest Adventure for about 68 MYR ($16.50 USD).
7. Visit the Time Tunnel
The Time Tunnel is a (very small) museum consisting of a series of displays featuring vintage items from throughout the history of the Cameron Highlands. A visit won't take up much of your time, and you'll see things like old-fashioned signs, postcards, photography, and even a replica of an old Malaysian coffee shop. It's kitschy, but makes for a fun way to spend an hour or two. Tickets are 6 MYR ($1.40 USD).
8. Look for Rafflesia flowers
Did you know that the Cameron Highlands are home to the world's largest flower, the Rafflesia? It's technically a parasitic plant and is sometimes known as a "corpse flower" due to its…corpse-like odor. Still, their giant red blooms are impressive to see in-person. They're classified as endangered, so you'll need to arrange a tour with a company like Eco Cameron to see them in bloom in the Blue Valley. Tours are private, so prices depend on the size of your party. Since blooms are predictable (and rare), contact the tour operator to see if tours are going ahead.
9. Visit the Mah Meri Art Gallery
This museum and art gallery in Tanah Rata showcases the intricate artwork of the indigenous Mah Meri people of Malaysia's Carey Island. It includes incredibly detailed wood carvings like statues and sculptures made out of mangrove hardwood. But the masks are the most impressive due to their lifelike animistic characters. It's 37 MYR ($9 USD) to visit.
For more information on specific cities in Malaysia, check out these guides:
The Cameron Highlands Travel Costs
Hostel prices – Hostels start at around 25 MYR ($5.85 USD) per night for a 10-person or higher dorm. Most dorms will cost around 35 MYR ($8.19 USD) per night for a 4-6 bed dorm, while a private double room starts at 50 MYR ($11.70 USD). Prices are consistent year-round, but you'll have to pay about maybe 21 MYR ($5 USD) more per night on the weekends.
Free WiFi and free breakfast are both common and most hostels also have a kitchen for those looking to cook their own food.
Camping is available in the area for those who have a tent. Prices can be as high as 50 MYR ($11.70 USD) per night for a four-person plot, though you can find places for as little as 3 MYR ($0.70 USD) per person per night.
Budget hotel prices – It might be worth it to spring for a hotel since the city is so affordable — expect to spend around 50-128 MYR ($11.70-$30 USD) for a double room. Rooms around 100 ($23.41 USD) MYR will generally come with free wifi and free breakfast. Budget hotels with A/C or kitchen facilities are closer to 128 MYR ($30 USD) per night.
Airbnb is available in the area, with prices for shared accommodation starting at 185 MYR ($43.17 USD) per night during the low season and 167 MYR ($39.09 USD) per night during high season. For an entire place, prices begin at 244 MYR ($57 USD) per night on average.
Check with your accommodations beforehand to see what your transportation options are for getting to your hostel/hotel. Since everything is so spread out in the Highlands, you may have to hire a taxi to get you there.
Average cost of food – You can find plenty of street food options for less than 6 MYR ($1.40 USD), especially at any of the markets. A meal at a Malay restaurant will cost you around 8-10 MYR ($1.87- $2.33 USD).
For a meal at a mid-range restaurant, expect to pay around 20 MYR ($4.67 USD) for one course. While alcohol is often frowned upon, you can still buy beer out at the bar, usually for around 10 MYR ($2.33 USD). A coffee will cost around 5 MYR ($1.17 USD).
While here, definitely try a steamboat (hot pot). My go-to is Organic Produce Steamboat Restaurant, which uses certified organic vegetables from their garden. The traditional charcoal stoves used gives the food more depth of taste. The food is delicious and affordable with a vegetarian set for 2 people and Chinese tea costing about 55 MYR ($13 USD). The restaurant fills up quickly during dinner time so get there early.
For a week's worth of groceries, expect to spend between 100-200 MYR ($23-47 USD). Stick to local staples, as imported items like wine or cheese will blow your budget in no time! However, with food so cheap, it's better to eat out at the local markets than try to cook for yourself.
Backpacking the Cameron Highlands Suggested Budgets
If you're backpacking Cameron Highlands, my suggested budget is MYR 110-130 MYR ($25-30 USD) per day. This budget will cover staying in a hostel dorm, free activities, eating out on the cheap, walking, and taking public transit.
A mid-range budget of about 470 MYR ($110 USD) will cover a room at a two-star budget hotel or a private Airbnb room, all meals, private tours, and any paid attractions.
For a luxury budget of 1200 MYR ($280 USD) or more, the sky is your limit! There's literally nothing you can't do here on that budget.
You can use the chart below to get some idea of how much you need to budget daily. Keep in mind these are daily averages — some days you'll spend more, some days you'll spend less (you might spend less every day). We just want to give you a general idea of how to make your budget. Prices are in USD.
Accommodation
Food
Transportation
Attractions
Average Daily Cost
Backpacker
$10
$10
$5
$5
$30
Mid-Range
$30
$40
$20
$20
$110
Luxury
$60
$80
$40
$100
$280
The Cameron Highlands Travel Guide: Money-Saving Tips
A little goes a long way in Malaysia and this area is no different. It's really hard to spend money here. If you stick to the local stuff, you're are going to blow your budget unless you try to. That said, here are some ways you can save money in the Cameron Highlands if you're on a super tight budget:
Camp – Cameron Highlands are pretty safe, so if you're feeling adventurous, this is a good way to save on accommodation and have an experience. Sungai Pauh Campsite charges 3 MYR ($0.70 USD) per person per night.
Cycle – For a few Ringgit per day, you can rent a bike from most hotels. Although local transportation is super cheap, this is an excellent way to see the area and have a truly local experience.
Skip the tours – As much as I love a good tour, with a little bit of research and planning, you can do just about everything on a tour on your own. A bicycle will help.
Where To Stay in the Cameron Highlands
Here are some of my favorite places to stay in the Cameron Highlands:
How to Get Around the Cameron Highlands
Tours – The Cameron have limited options on how to get around. The easiest way to see the sights is to take a tour. There are private and group tours that usually combine a visit to a tea plantation, a hike in the moss forest, and visiting local farms. Your hostel or hotel will easily help set you up.
Bus – Public transportation is extremely affordable but often unreliable. A shuttle bus from Tanah Rata to the tea plantations and most attractions cost under 5 MYR ($1.17 USD). A bus from the Highlands to Kuala Lumpur will cost under 50 MYR ($11.67 USD).
Bicycle and Motorbike – Bike rentals are available for under 5 MYR ($1.17 USD) per day. You can also rent a motorbike for around 60 MYR ($14 USD) for a full day.
Taxi – A taxi from Tanah Rata to the BOH Tea Plantation will cost 85 MYR ($20 USD) roundtrip. Hire a taxi from Tanah Rata to the Cameron Bharat Tea Estate for approximately 128 MYR ($30 USD) roundtrip. Taxi drivers usually have a fixed rate of 75 MYR ($17.50 USD) for a three-hour tour that takes you to three attractions of your choice, which is usually the most affordable and flexible option. You can ask your hotel or hostel for recommendations.
Hitchhike – It is common for people to hitchhike in the Cameron Highlands. HitchWiki has a lot of information on hitchhiking in Malaysia.
When to Go to the Cameron Highlands
The best time to visit the area is between April and September. During those months it doesn't rain often and the temperature ranges between 77°F (25°C) during the day and 60°F (16°C) at night. Monsoon season is from November to February.
If you are visiting for the jungle treks and hiking trails, I recommend traveling during the dry season from March to June. You'll have better weather and the trails will actually be useable.
Cameron Highlands is often jam-packed on weekends, especially during the dry season. You may encounter bigger crowds as well as slight price increases on tourist attractions. When planning your trip, it's important to check for national holidays and long weekends since it can significantly change your experience if things are shut down.
How to Stay Safe in the Cameron Highlands
Cameron Highlands is an incredibly safe place to backpack and travel – even if you're traveling solo. You aren't going to get thrown in the back of car or anything. On some of the hiking trails, robberies have happened so ask your hotel for an update and hire a local guide. As usual, watch your belongings and leave your valuables in a safe place.
Frequent rain results in trail closures. So research the weather and trails before planning your trip. Most importantly, bring rain gear and hiking boots so that you're prepared for the change in weather. Most of the hikes will lead to waterfalls and scenic views. If you want a more challenging trek, you're required to hire a guide and obtain a permit.
Worried about travel scams? Read about these 14 Major Travel Scams to Avoid and be in the know! There aren't many in the region, but the few there are can be quite expensive!
Always trust your gut instinct. Make copies of your personal documents, including your passport and ID. Forward your itinerary along to loved ones so they'll know where you are.
The most important piece of advice I can offer is to purchase good travel insurance. Travel insurance will protect you against illness, injury, theft, and cancellations. It's comprehensive protection in case anything goes wrong. I never go on a trip without it as I've had to use it many times in the past. You can use the widget below to find the policy right for you:
The Cameron Highlands Travel Guide: The Best Booking Resources
These are my favorite companies to use when I travel to the Cameron Highlands. They are included here because they consistently find deals, offer world-class customer service and great value, and overall, are better than their competitors. They are the ones I use the most and are always the starting points in my search for travel deals.
Momondo – This is my favorite flight search engine because they search such a wide variety of sites and airlines. I never book a flight without checking here first.
Skyscanner – Skyscanner is another great flight search engline which searches a lot of different airlines, including many of the budget carriers that larger sites miss. While I always start with Momondo, I use this site too as a way to compare prices.
Airbnb – Airbnb is a great accommodation alternative for connecting with homeowners who rent out their homes or apartments. The big cities have tons of listings!
Hostelworld – This is the best hostel accommodation site out there, with the largest inventory, best search interface, and widest availability.
Agoda – Other than Hostelworld an Airbnb, Agoda is the best hotel accommodation site for Asia as it has the largest inventory and offers the best rates. If you want a guesthouse or hotel, book it via this website!
12Go.asia – 12Go.asia is the best website for booking transportation around Southeast Asia. You will be able to research your journey ahead of time and figure out the best schedule and prices.
Intrepid Travel – If you want to do a group tour around Malaysia, go with Intrepid Travel. They offer good small group tours that use local operators and leave a small environmental footprint. If you go on a tour with anyone, go with them. And, as a reader of this site, you'll get a discount when you click the link!
Grassroots Volunteering – For volunteering, Grassroots Volunteering compiles a list of good local volunteer organizations that keep the money within the community.
World Nomads – I buy all my travel insurance from World Nomads. They have great customer service, competitive prices, and in-depth coverage. I've been using them since I started traveling in 2003. Don't leave home without it!
The Cameron Highlands Gear and Packing Guide
If you're heading on the road and need some gear suggestions, here are my tips for the best travel backpack and for what to pack!
The Best Backpack for Travelers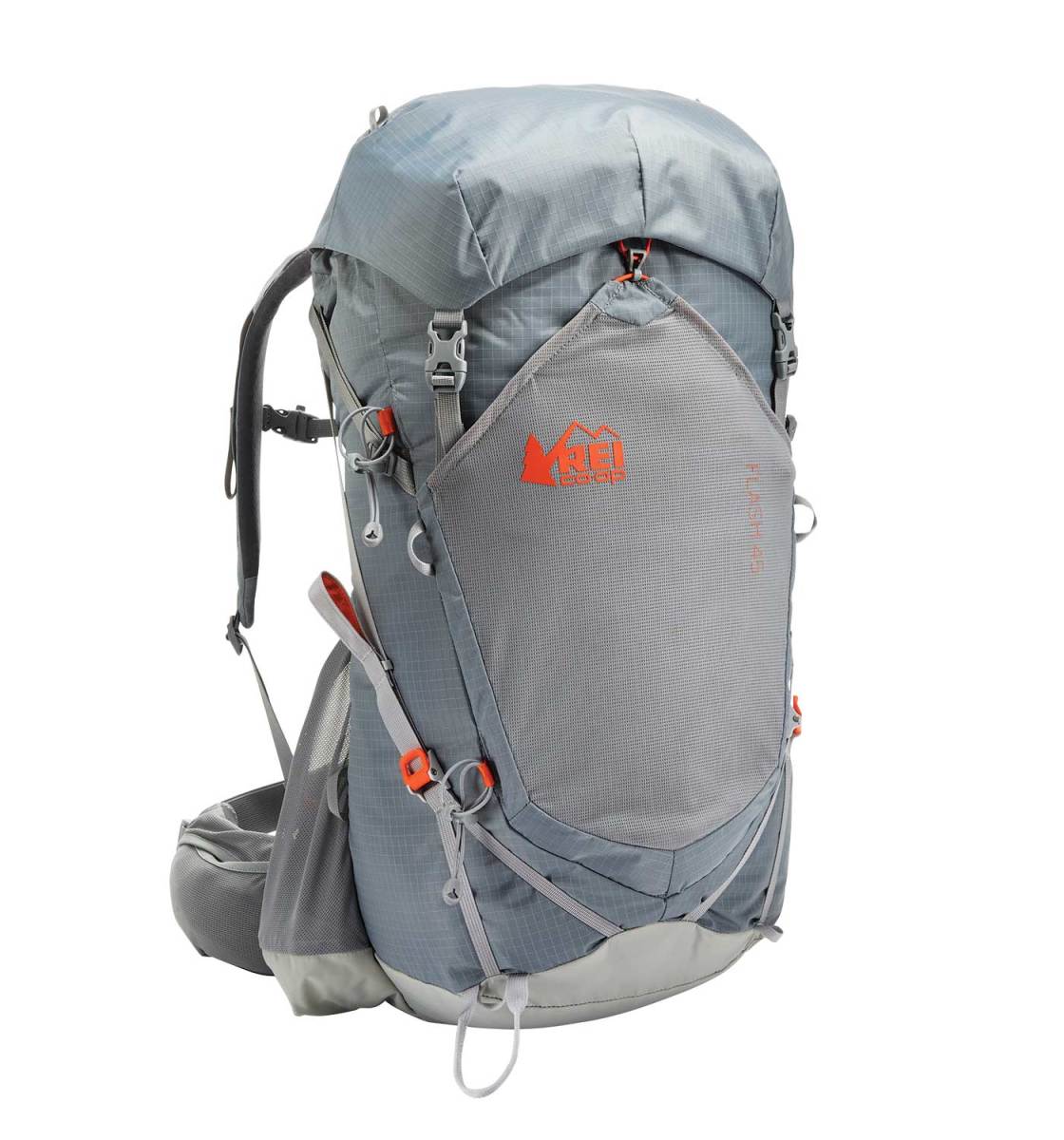 What's the best backpack for traveling long-term? I recommend the
REI Flash 45 Pack
. It's light and comfy, front loading, and fits perfectly in an airplane's overhead bin.
Size:
45-47L
Straps:
Thick and cushy with compression technology that pulls the pack's load up and inwards so it doesn't feel as heavy.
Features:
Removable top lid, large pocket at the front, hydration compatible, contoured hip belt
If you want something different, refer to my article on how to choose the best travel backpack for tips on picking a pack and other backpack suggestions.
What to Pack for Your Trip
Clothes
1 pair of jeans (heavy and not easily dried, but I like them; a good alternative is khaki pants)
1 pair of shorts
1 bathing suit
5 T-shirts (Unbound Merino is my preferred company. If you're a member of NM+, you can get 15% off your purchase)
1 long-sleeved T-shirt
1 pair of flip-flops
1 pair of sneakers
6 pairs of socks (I always end up losing half)
5 pairs of boxer shorts (I'm not a briefs guy!)
1 toothbrush
1 tube of toothpaste
1 razor
1 package of dental floss
1 small bottle of shampoo
1 small bottle of shower gel
1 towel
Deodorant
Small Medical Kit (safety is important!!!)
Miscellaneous
Female Travel Packing List
I'm not a woman, so I don't know what a woman wears, but Kristin Addis, our solo female travel guru, wrote this list as an addition to the basics above:
Clothing
1 swimsuit
1 sarong
1 pair of stretchy jeans (they wash and dry easily)
1 pair of leggings (if it's cold, they can go under your jeans, otherwise with a dress or shirt)
2-3 long-sleeve tops
2-3 T-shirts
3-4 spaghetti tops
1 light cardigan
Toiletries
1 dry shampoo spray & talc powder (keeps long hair grease-free in between washes)
1 hairbrush
Makeup you use
Hair bands & hair clips
Feminine hygiene products (you can opt to buy there too, but I prefer not to count on it, and most people have their preferred products)
For more on packing, check out these posts:
Cameron Highlands Travel Guide: Related Articles
Want more info? Check out all the articles I've written on Asia travel and continue planning your trip: