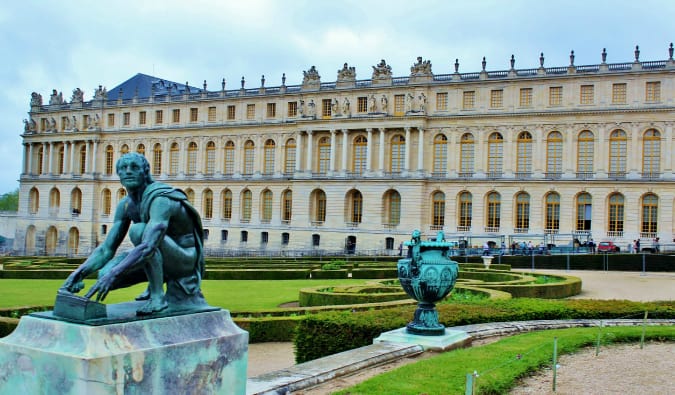 Updated: 7/13/22 | July 13th, 2022
The Palace of Versailles. A decadent symbol of royal power and influence that, to this day, still wows visitors. It's one of the most-visited attractions in Paris. The Palace offers an incredible insight into French history, illuminating the lavish and ostentatious lives the former monarchs used to live.
Over 10 million people visit this extravagant palace each year. After the Eiffel Tower, it's the most popular attraction in the country. It is the symbol of France and this detailed visitor's guide will help you avoid the crowds, learn what to see, do, and how to maximize your visit!
It's one of my favorite spots in Paris so I want to make sure you have the best time and avoid all those tour groups who clutter the palace!
History of The Palace of Versailles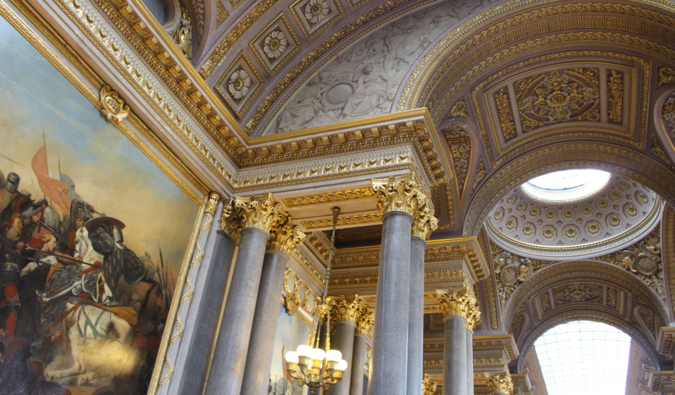 Located just 20km from Paris, The Palace of Versailles, which was once just a hunting lodge, was the primary residence of the Kings of France for over 100 years until the French Revolution.
The tiny hunting lodge was initially transformed into a proper chateau by Louis XIII, who bought up the surrounding land to extend his park and gardens. However, it was Louis XIV, aka the Sun King who turned this into lavish country estate as a way to escape Paris and diminish the influential grip of the French nobility. He moved the court to Versailles, which forced the nobility to spend more time away from their homes, thereby lessening their ability to establish regional power that could challenge him. (Plus, partying nobles are less likely to revolt against you!)
The first major construction was started in 1661 and took almost twenty years to complete. The expansive construction and intricate interior designs were expanded upon over subsequent decades (the gardens alone took over 40 years to complete!).

How to Visit the Palace of Versailles: My Experience
To help you get the most out of your visit to the Palace of Versailles, here's a video of my experience in which I walk you through the rooms of the palace!
The palace is located at Place d'Armes, Versailles. It is open Tu–Su (9am–5:30pm) with the last entry at 5pm. It's closed Monday. "The Passport" ticket gives you admission to all the palace tours (grounds, Trianon Palaces, and Marie Antoinette's estate), the Musical Fountain Show, the Musical Gardens, and the exhibitions and costs 27 EUR (one day) or 30 EUR (two days).
Lines are incredibly long, so pre-purchase tickets in advance online. Keep in mind a museum pass will NOT let you skip the security line (everyone must wait in the security, though pass holders may have access to a shorter security line).
There are several different areas of the palace and grounds you'll want to visit during your trip:
The Gardens – the gardens of the palace are gorgeous and cover a huge tract of land. There are also plenty of sculptures and fountains to admire as well.
The Main Palace – This is where you'll spend most of your time (plan for at least 2-3 hours) as there are over 2,300 rooms in the palace itself. Some of the more famous rooms are the Hall of Mirrors, Marie-Antoinette's bedrooms, and the King's Apartments and Royal Bedchamber.
Trianon Estate – These buildings are much less crowded than the main palace though equally as stunning. If you have an entire day, be sure to spend time exploring the Grand and Petit Trianon.
The Queen's Hamlet –This rustic getaway was built for Marie Antoinette in 1783 as a place where she could escape palace life and enjoy some private time with her closest friends.
Travel Tips for the Palace of Versailles
Since this is one of the most popular tourist sites in the country, you'll need some tips to help you make the most of your visit. These tips will help you save money, beat the crowds, and have a memorable visit:
Get there early – Around 10 million people visit the palace every year (an average of over 27,000 people per day). Expect lots of tour buses and queues. These buses come early so you need to get there before them right when the palace opens.
Get there late – If you can't get there early, get there at the end of the day when the crowds have died down and the tour groups have left. Just never go mid-day!
Avoid the weekends – It's so busy that the palace is too crowded to even enjoy.
Get free admission – Admission to The Gardens is free during the low season (November-March) and it's also free when there are no Musical Fountains Shows and Musical Gardens going on. On the first Sunday of every month from November to March, the entire estate is free (including the Palace).
Don't eat at the palace – There are some restaurants in the palace and they are very expensive. Eat elsewhere to save your money.
Don't follow the crowd – Most people see the Palace first then the gardens then Marie-Antoinette's Estate. Go in reverse order to avoid the biggest crowds.
Get a guide – If you really want to take a deep dive into the palace, take a guided tour. Guided tours will cover specific areas of the palace, many of which are off-limits otherwise. The Private Apartments of the King's was a 90-minute tour is an additional 10 EUR. It covers a lot of rooms not seen by the public. I highly recommend it. For a skip-the-line tour of the Palace, book a tour with Get Your Guide.
Buy a Paris Museum Pass – While it won't let you skip the security line, it will give you priority access once you're inside.
Download an audio guide – You can get a free audio guides at the palace, or download their free app. I'd suggest you get Rick Steve's audio guide instead, as it is free and has a lot more detail (and more corny jokes!).
Enter for free – Free admission is available to anyone under 18 as well as EU residents under 26. Additionally, persons with disabilities (and one person accompanying them) will also qualify for free admission — just be sure to bring proper ID if you qualify.
How to Get to the Palace from Paris
There are three ways to get to the palace but the RER option is by far the easiest:
RER Line C to Versailles Château – Rive Gauche, followed by a 10-minute walk to the Palace.
SNCF train from Gare Montparnasse to Versailles Chantiers, followed by a 15-20 minute walk to the Palace.
SNCF train from Gare Saint Lazare to Versailles Rive Droite, followed by a 15-20 minute walk to the Palace.
F.A.Q. About The Palace of Versailles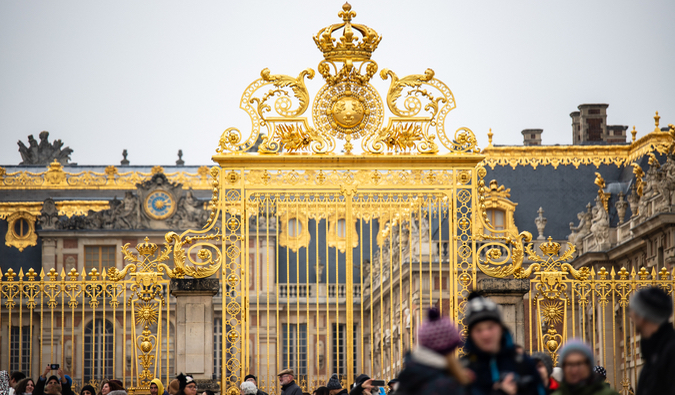 Is the Palace of Versailles open every day?
The Palace of Versaille is open every day except Monday. Summer hours of operation are 9am-6:30pm, with the last admission at 6pm. The gardens and park are open 7 days a week from 8am-8pm in the summer, while the Trianon Estate is open every day except for Mondays from 12pm-5:30pm, with the last admission at 5pm. (Hours are slightly shortened during the off-season).
How much are tickets?
Tickets are 27 EU per person. This is for "The Passport" ticket, which will give you access to the palace tours (for the grounds, Trianon Palaces, and Marie Antoinette's estate), as well as access to the Musical Fountain Show, the Musical Gardens, and any ongoing exhibitions. It's the best value ticket, especially if you want to see everything.
If you think a single day isn't long enough, you can purchase a two-day "Passport" ticket for 30 EUR per person.
Where is the Palace of Versailles located?
The Palace of Versailles is located at Place d'Armes, Versailles. It's about an hour from Paris by car or by train.
When is the best time to visit the Palace of Versailles?
The summer will offer you the best weather, though you'll also face bigger crowds. Consider visiting in the shoulder season (late spring/early fall) as you'll get decent weather with significantly fewer crowds. Weekends are also busy so try visiting during the week.
Is the Palace of Versailles worth visiting?
Definitely! While it will require some planning, it is definitely worth a visit. You'll learn a lot about French history and see one of the most incredible buildings in the world. No visit to Paris would be complete without seeing the Palace of Versailles with your own eyes!
***
The Palace of Versailles is one of my favorite things to visit in Paris. I've been about five times now. Though thanks to an increasing number of tour groups, it's a lot more crowded than it used to be, there are still ways to enjoy it and take in the opulence, history, and beauty of the palace and surrounding gardens.
This place is truly gigantic and should not be rushed. Be sure to visit the secondary palaces too as they are just as beautiful and have a lot fewer crowds! Don't miss this place!
Get Your In-Depth Budget Guide to Paris!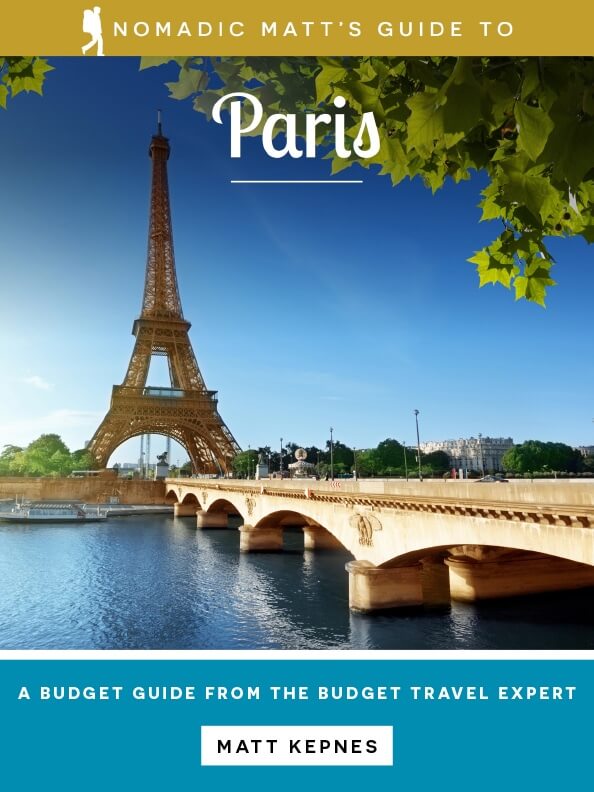 For more in-depth information, check out my guidebook to Paris written for budget travelers like you! It cuts out the fluff found in other guides and gets straight to the practical information you need to travel around Paris. You'll find suggested itineraries, budgets, ways to save money, on- and off-the-beaten-path things to see and do, non-touristy restaurants, markets, bars, transportation and safety tips, and much more! Click here to learn more and get your copy today!
Book Your Trip to Paris: Logistical Tips and Tricks
Book Your Flight
Use Skyscanner to find a cheap flight. They are my favorite search engine because they search websites and airlines around the globe so you always know no stone is left unturned!
Book Your Accommodation
You can book your hostel with Hostelworld as they have the biggest inventory and best deals. If you want to stay somewhere other than a hostel, use Booking.com as they consistently return the cheapest rates for guesthouses and cheap hotels. My favorite places to stay are:
If you're looking for more places to stay, here for my favorite hostels in Paris. If you're wondering what part of town to stay in, here's my neighborhood breakdown of the city!
Don't Forget Travel Insurance
Travel insurance will protect you against illness, injury, theft, and cancellations. It's comprehensive protection in case anything goes wrong. I never go on a trip without it as I've had to use it many times in the past. My favorite companies that offer the best service and value are:
Looking for the Best Companies to Save Money With?
Check out my resource page for the best companies to use when you travel. I list all the ones I use to save money when I'm on the road. They will save you money when you travel too.
Looking for More Information on Visiting Paris?
Be sure to visit our robust destination guide to Paris for even more planning tips!