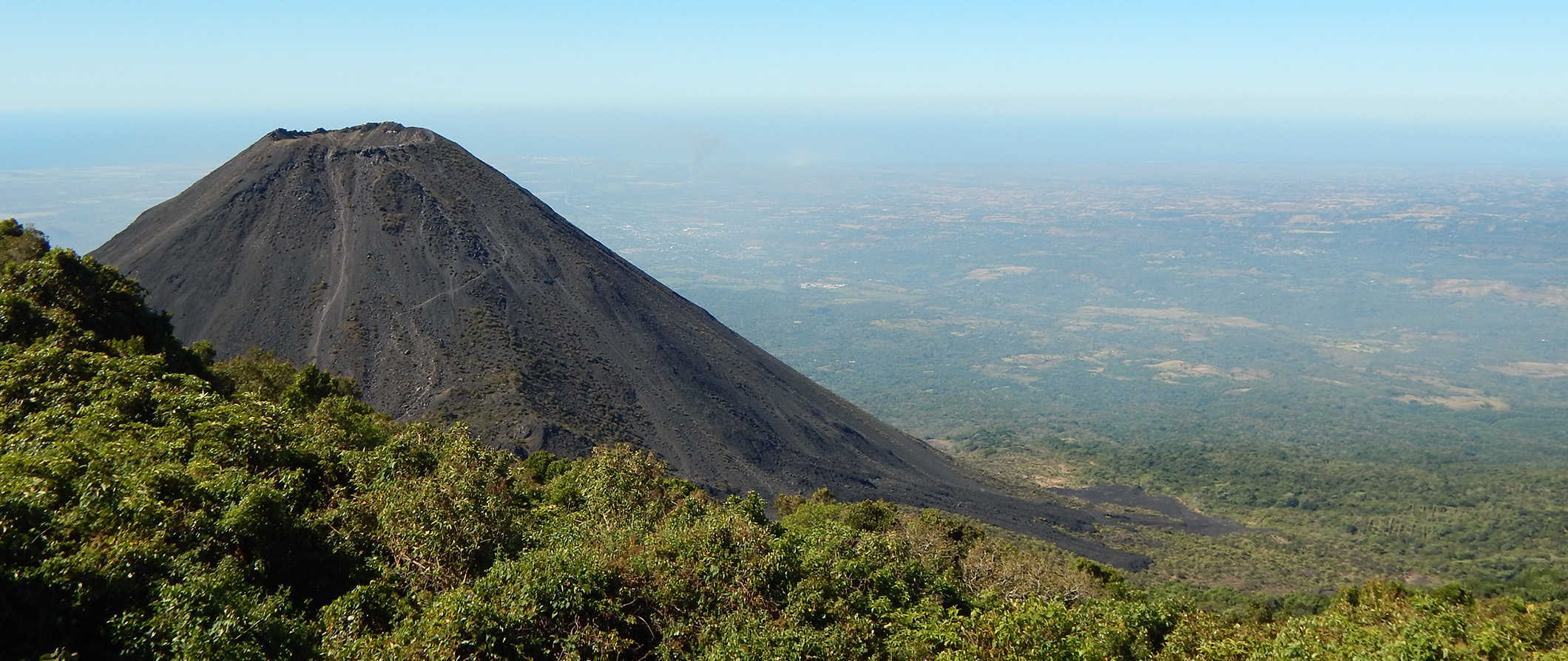 El Salvador is the smallest and most densely populated country in Central America. Somewhat bypassed on the tourist trail as it's tucked away from the main route people take through Central America, this country is filled with natural beauty, forests, beaches, and even the opportunity to view some archaeological sites.
El Salvador is the perfect place to experience the great outdoors without the crowds as you make your way around Central America. Everyone is super friendly and generally happy to have visitors.
This travel guide to El Salvador can help you plan an affordable and enjoyable trip here!
Top 5 Things to See and Do in El Salvador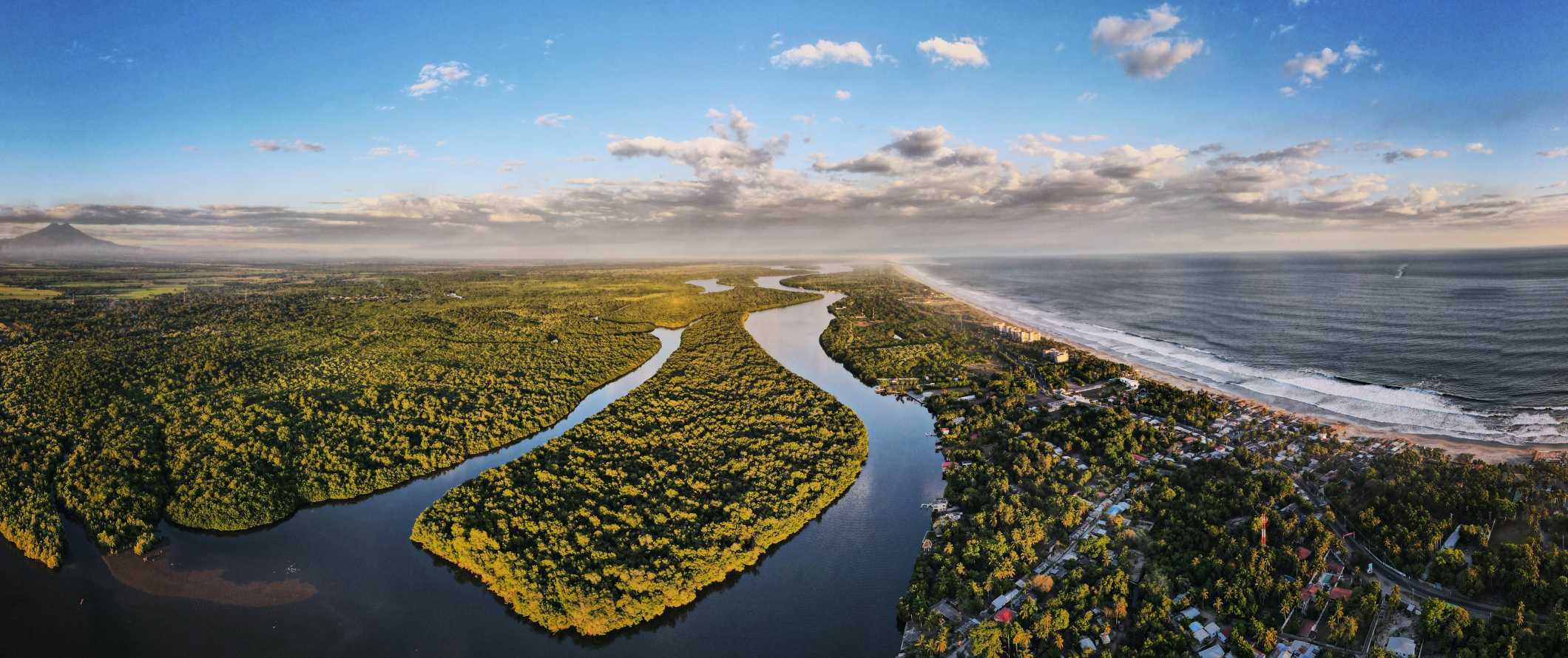 1. Visit the Montecristo Cloud Forest
The cloud forest has a diverse swath of flora and fauna including ferns, orchids, mosses, spider monkeys, and anteaters. Hike to the highest point, El Trifinio, where the borders of El Salvador, Honduras, and Guatemala converge. There's a limit to how many people can visit the park each day, so it's best to arrive bright and early.
2. Hang out in El Tunco
One hour outside of San Salvador is this backpacker's paradise. Cheap hostels, $1 USD pupusas, a great party scene with bars featuring both live music or DJs and world-class surfing await in this beachside town.
3. Go to Puerta del Diablo
Also known as the Devil's Door, El Salvadorians have since reclaimed the area as a lookout with sprawling views over San Salvador and the surrounding mountains. Take the bus from San Salvador for less than $1 USD, and then it's a quick walk to the boulders.
4. See the Cihuatán Ruins
Cihuatan was founded after the collapse of the Mayans around 900 C.E. and quickly became a regional capital. It lasted for 100 years before unknown invaders burned the city in the 10th century A.D. You can visit the ruins and the museum explaining the history of the area as a day trip from El Salvador. Admission is $3 USD.
5. Visit La Libertad
La Libertad is a popular beach town alternative to El Tunco, with Punta Roca offering huge waves for surfing. If you want a real taste of the local life, visit the busy daily fish market on the waterfront. Otherwise, this place is all about relaxing, enjoying reggae music, and soaking up the sun.
Other Things to See and Do in El Salvador
1. Hike the volcanoes
El Salvador has its share of volcanoes to explore, and the best place to see several of them is Cerro Verde National Park. This park is home to Cerro Verde, Izalco, and Ilamatepec. The trails all allow you to get up close to the volcanoes, including a walk around the Cerro Verde crater, where you'll find a cloud forest full of tropical birds and plant life. Ilamatepec is the highest point in the park, at 2,381 meters at the summit. There are lots of tours from San Salvador starting from about $70 USD, or you can show up and pay the $1.50 USD entrance fee.
2. Visit Joya de Cerén
Joya de Cerén is a UNESCO World Heritage Site that tells a story about the everyday lives of the Mayans. Once a small Mayan farming settlement, the town was buried under volcanic ash in AD 595 when the Laguna Caldera Volcano erupted. The site includes a Temezcal (sauna), and other important buildings like storehouses, a kitchen, and a religious building meant for communal events. There's also an excellent preserved shaman's home and a collection of agricultural tools. This site is the Mayan version of Pompeii. It's $3 USD to visit.
3. Get cultural in San Salvador
Although most people don't spend a lot of time in San Salvador, there are a few highlights to see. Most of the city's activity centers around the Plaza el Salvador del Mundo, where you'll see the iconic Savior of the World statue (with Jesus standing on a globe). Walk around downtown, try some pupusas (delicious El Salvadorian flatbreads stuffed with cheese, pork, squash, or refried beans), and visit the domed Metropolitan Cathedral filled with colorful stained glass. At the National Palace, peruse the old government rooms and the courtyards for $3 USD. If you want to do some souvenir shopping, head to the National Handicrafts market for some local artwork. (Note: Sometimes downtown San Salvador is a victim of gang violence. Read our safety section to learn how to keep yourself safe.)
4. Go diving
El Salvador has some of the best diving in Central America. The warm waters of Los Cóbanos (a resort beach area on the west side of El Salvador) contain reefs, underwater rock formations, and even shipwrecks. If you're a beginner, you can learn to dive in volcanic crater lakes like Coatepeque and Ilopango, where the freshwater provides mild conditions for anyone who isn't ready to tackle the open waters. There's not a lot of marine life to see in the lakes, but visibility is clear and the azure waters of the lakes are stunning. Expect to pay around $75 USD for a two-dive trip and around $350 USD for an Open Water certification course.
5. Visit El Imposible National Park
This is the largest park in El Salvador and is named for its deep gorge. It's part of the Apaneca Ilamatepec mountain range, with mangrove forests and a total of eight rivers, and plenty of waterfalls. You might see pumas, anteaters, antelopes, and even wild boars while here. Due to the delicate nature of the park, you'll need to have a guide to explore it. You're not allowed to hike alone. It's $6 USD for the park entrance fee, and then you can request a guide (it's usually about $10 USD for a group). You can also do a day trip from San Salvador with Impossible Tours for $117 USD.
6. Spend a day at Los Chorros
Los Chorros is a nature park composed of a series of natural swimming pools that cascade from overhanging volcanic cliffs, set against a backdrop of ferns, flowers, and moss. It's 20 minutes outside of San Salvador. For only $3 USD to visit, it's one of the most scenic ways to beat the heat!
7. Shop at La Gran Via
Located in the heart of San Salvador, this is an outdoor shopping center filled with restaurants, movie theaters, music, bars, live shows, and more. This is a nice place for an afternoon out, and at night it's where the locals come for drinks and clubbing.
8. Visit the Museum of Popular Art
This museum is home to some of the country's most valuable Salvadoran works from over 177 artists, including paintings, sketch drawings, and sculptures from Rosa Mena Valenzuela and Salarrué (the most well-known writer and painter in El Salvador). It also has a huge showcase of miniature pottery, wood carvings, weaving, and jewelry, hence the nickname "The Greatness of Miniature." It's a quirky, family-friendly place to visit. There are often craft-making sessions which you're invited to join. Admission is only $1.50 USD and the museum is open from Tuesday-Sunday, 10am-6pm.
9. Wander through colonial Suchitoto
Suchitoto ("Suchi") is a small colonial town located on Lake Suchitlan in the mountainous northern region. Well-known around the country for its artistic community, most weekends draw hordes of Salvadorans from San Salvador (and other neighboring towns) looking to visit the many galleries and markets. There are easy looped walking trails all around Suchi that will take you to the lake, various waterfalls, and even caves—just find a trailhead and start walking.
10. Hang out on the Coatepeque Caldera
If you're not learning how to dive here, spend at least a day on the caldera just enjoying the still, bright blue lake and its quiet village of El Congo in western El Salvador. You can hire a boat to take you around, go for a swim, or visit some of the village's small restaurants.
11. Take the Ruta de Las Flores
The "Route of the Flowers" is a popular day trip from San Salvador, where you can visit small colonial towns and villages as well as coffee plantations. Pause in colorful towns like Nahuizalco, Apaneca, Juyayua, and Ataco, where the main squares are busy with cafes and markets, and the buildings are covered in murals. Apaneca and Ataco are home to some of the best-known coffee plantations, like the El Carmen Estate, and if you're visiting between November and February you'll see the coffee beans flowering. You can do the route on your own, or take a tour from the city for around $90 USD.
El Salvador Travel Costs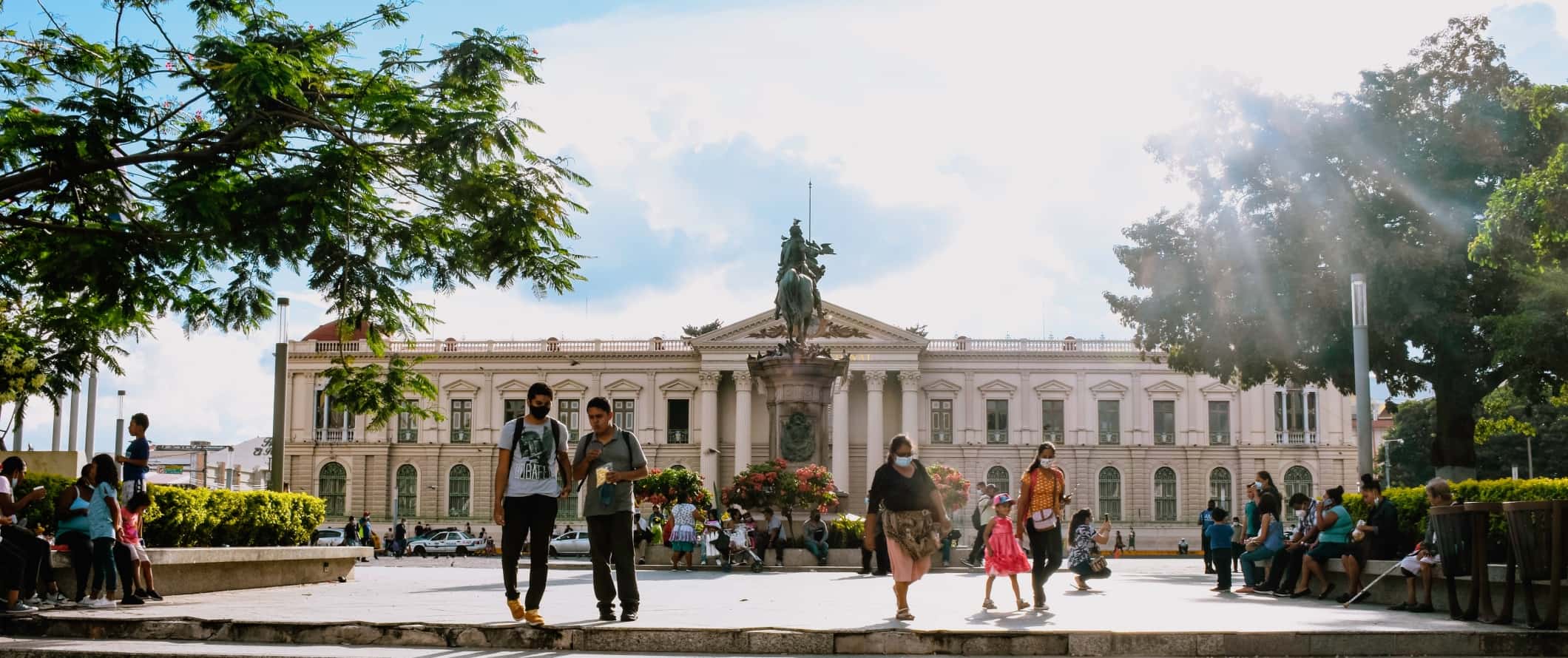 Hostel prices – During peak season, a bed in 8-10 bed dorm costs from $8-12 USD anywhere in the country. Free Wi-Fi is standard and many hostels also include free breakfast. Private rooms with an ensuite bathroom cost around $25 USD per night (there is no real difference in prices during the high or low season).
Budget hotel prices – Nightly rates for a budget two-star hotel room start at $30 USD in peak season. You'll pay about $50 USD for a place on the beach, or a place with a pool
There are lots of Airbnb options in El Salvador. A shared room (like a bed in a dorm) start at $11 USD per night, while a private room is about $30 USD per night. A full apartment averages about $100 USD per night.
Food – Food in El Salvador is very, very cheap! Like most Central American countries, you can find big plates of rice and beans for $3 USD. Breakfasts of eggs and plantains are also $3 USD. Fill up on the pupusas (the national dish of thick flatbread stuffed with cheese, chicharrón, refried beans, etc.) for less than $1 USD each.
Mid-range meals of pizza or a fried fish dinner are about $8 USD. A vegetarian meal is about $5 USD. A burger and fries is $10 USD. A beer to go with it will only cost between $1.50-3 USD.
There are some "high-end" dining spots around El Salvador, but most dining is pretty casual. You can find seafood dishes like ceviche between $15-19 USD, while a nice steak dinner ranges from $16-24 USD. Pasta dishes are between $12-15 USD.
Overall, the food is very cheap here, so take advantage of it when you can! If you do plan on cooking your own meals expect to spend around $28-35 USD per week, depending on your diet.
However, that said, given how few places have kitchen facilities, I wouldn't buy a lot of groceries if I was here. I'd just get the cheap local eats!
Backpacking El Salvador Suggested Budgets
If you're backpacking El Salvador, you'll spend as little as $30-35 USD per day. This budget will cover a hostel dorm, buses, a few groceries, and some cheap local eats. You'll need to limit your drinking; however, you will be able to visit some attractions such as museums and national parks.
A mid-range budget of about $70 USD will cover staying in a budget 2-star hotel, the occasional taxi, a few beers at the bar, and eating out for all your meals. You'll be able to visit more museums, ruins, or parks per day, or do some guided hikes.
On a "luxury" budget of $160 USD or more per day, you can do what you want! You can stay in a hotel, eat any meals you want, enjoy as many drinks as you want, take taxis to get around, and do lots of tours. This amount of money goes a long way in a country like this and you'll want for absolutely nothing if you're coming here for luxury. The country is your oyster if you're spending this or more!
Accommodation
Food
Transportation
Attractions
Average Daily Cost
Backpacker
$10
$10-15
$5
$5
$30-35
Mid-Range
$30
$20
$10
$10
$70
Luxury
$100
$80
$25
$55
$160
El Salvador Travel Guide: Money-Saving Tips
El Salvador is one of the cheapest countries in Central America, so you'll find it easy to save money here without much effort. Regardless, here are some ways to save money in El Salvador:
Snack on fruit – Fruit in Central America costs just pennies. You can pick up a bag of mangos for around $0.50 USD at any roadside stall or market vendor, and even smoothies will cost less than $3 USD. Eat healthily and save money!
Show up without reservations – It's easy to just show up in a town like La Libertad or El Tunco and just barter for a room. If there's availability, you could get your room for a fraction of what you'd be paying by booking online. A lot of accommodations don't even have online reservation systems, so showing up and bartering for a room is the only way to do it in some cases. If you arrive in the evening, you're more likely to get a cheaper rate.
Go camping – While hostels are pretty cheap, you can camp at many of them for half the cost (so as little as $6 USD per night). Bring your gear and sleep under the stars!
Couchsurf – Nothing's cheaper than free. Couchsurfing connects you with locals who will not only give you a free place to stay but also serve as a local tour guide and introduce you to the cool stuff only locals know about in town!
Bring a reusable water bottle – Visitors are encouraged to avoid the tap water here. Instead of wasting money on single-use plastic bottles, bring a reusable water bottle and a filter. LifeStraw has a built-in filter so you can ensure your water is always clean and safe to drink.
Where To Stay in El Salvador
El Salvador is cheap! And so are its accommodations. If you don't see a hostel in this list for the area where you're going, it's easy to just show up and barter for a room somewhere. Here are my recommended places to stay in El Salvador:
How to Get Around El Salvador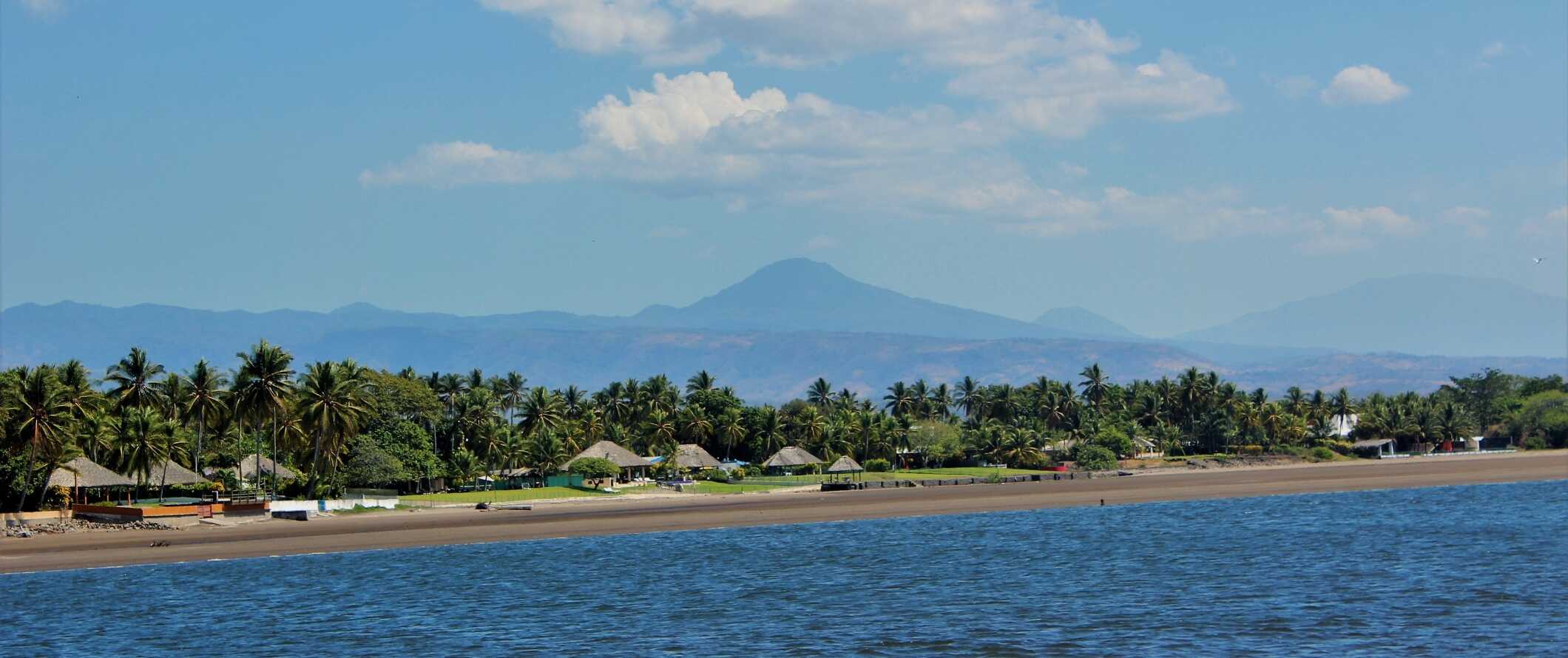 Bus – Buses are the primary way to get around El Salvador's cities as well as the country as a whole. You can get just about anywhere in one of El Salvador's brightly painted school buses. Cities and towns will often have designated bus depots that cost about $0.30-0.35 USD. You can easily move between towns for about $2 USD (it's $2 USD to travel between San Salvador and Both La Libertad and El Tunco). San Salvador to Suchitoto is $1 USD. Fares may go up by 25% on the weekends due to more traffic.
Minivans – In most touristy areas in El Salvador you'll find small tour offices that sell seats on minivans or minibuses. They'll take you just about anywhere you need to go in the country (and onward into neighboring countries). These minivans cost more than the regular buses, but you still shouldn't have to pay more than $10 USD wherever you're going. You can also barter prices in this case, and if you can round up people from your hostel/accommodations to book as a group, you'll save even more money.
Taxi – Taxis are easy to come by in El Salvador, although in smaller towns they take the form of tuk-tuks. Most are unmetered, so make sure you negotiate your price beforehand. Tuk-tuks are the cheapest option, and you can get a few blocks for less than $1 USD. A taxi from the airport to San Salvador or El Tunco is between $25-30 USD.
Care rental – You need to be 21 in order to rent a car here. Rentals start at $20 USD per day. Driving here is relatively safe compared to other Central American countries as the roads are much better maintained.
Hitchhiking – I wouldn't hitchhike here but some people do. For the most up-to-date information, use Hitchwiki.
When to Go to El Salvador
Like the rest of Central America, El Salvador's dry season is between November and April, while the rainy season is between May and October.
The dry season is peak season, with travelers escaping the cold temperatures from up north. It averages about 37°F (30°C) daily here, and it rarely ever dips below 50°F (10°C). This is definitely the best time to visit. Prices don't fluctuate much in the off-season, so you have no real reason to visit during the rainy season. On the other hand, April to October is the best time for serious surfers.
How to Stay Safe in El Salvador
Unfortunately, El Salvador has a high rate of gang violence. Although it's rarely targeted at foreigners, you should avoid certain areas. Most of that crime takes place in San Salvador, so avoid parts of Soyapango, Apopoa, and Mejicanos at all costs. Also, avoid the area around the Tica bus station in San Salvador, as there sometimes attacks there against tourists. You're not likely to spend a lot of time in these neighborhoods, however, and the more touristy places are patrolled by policemen.
La Libertad, Soyapango, and Usulutan also have some gang activity. Like San Salvador, police heavily patrols the touristy areas.
In any destination, don't be out on the street (or beach) alone after dark. Avoid traveling at night in general, as hijackings or muggings are known to happen.
You might encounter petty crime, like theft, especially on public transportation. Do not flash any of your valuables around, or keep them at all. Credit card skimming is also a problem here, so try to use only ATMs at shopping malls, hotels, or banks.
You can more about the 14 major travel scams to avoid when you travel.
Always trust your gut instinct. If a taxi driver seems shady, stop the cab and get out. If your hotel is seedier than you thought, move. Make copies of your personal documents, including your passport and ID.
If you wouldn't do it at home, don't do it when you're in El Salvador.
The most important piece of advice I can offer is to purchase good travel insurance. Travel insurance will protect you against illness, injury, theft, and cancellations. It's comprehensive protection in case anything goes wrong. I never go on a trip without it as I've had to use it many times in the past. You can use the widget below to find the policy right for you:
El Salvador Travel Guide: The Best Booking Resources
These are my favorite companies to use when I travel. They consistently have the best deals, offer world-class customer service and great value, and overall, are better than their competitors. They are the companies I use the most and are always the starting point in my search for travel deals.
Skyscanner – Skyscanner is my favorite flight search engine. They search small websites and budget airlines that larger search sites tend to miss. They are hands down the number one place to start.
Hostelworld – This is the best hostel accommodation site out there with the largest inventory, best search interface, and widest availability.
Booking.com – The best all around booking site that constantly provides the cheapest and lowest rates. They have the widest selection of budget accommodation. In all my tests, they've always had the cheapest rates out of all the booking websites.
Intrepid Travel – If you want to do group tours, go with Intrepid. They offer good small group tours that use local operators and leave a small environmental footprint. And, as a reader of this site, you'll get exclusive discounts with them too!
Get Your Guide – Get Your Guide is a huge online marketplace for tours and excursions. They have tons of tour options available in cities all around the world, including everything from cooking classes, walking tours, street art lessons, and more!
SafetyWing – Safety Wing offers convenient and affordable plans tailored to digital nomads and long-term travelers. They have cheap monthly plans, great customer service, and an easy-to-use claims process that makes it perfect for those on the road.
El Salvador Gear and Packing Guide
If you're heading on the road and need some gear suggestions, here are my tips for the best travel backpack and for what to pack!
The Best Backpack for Travelers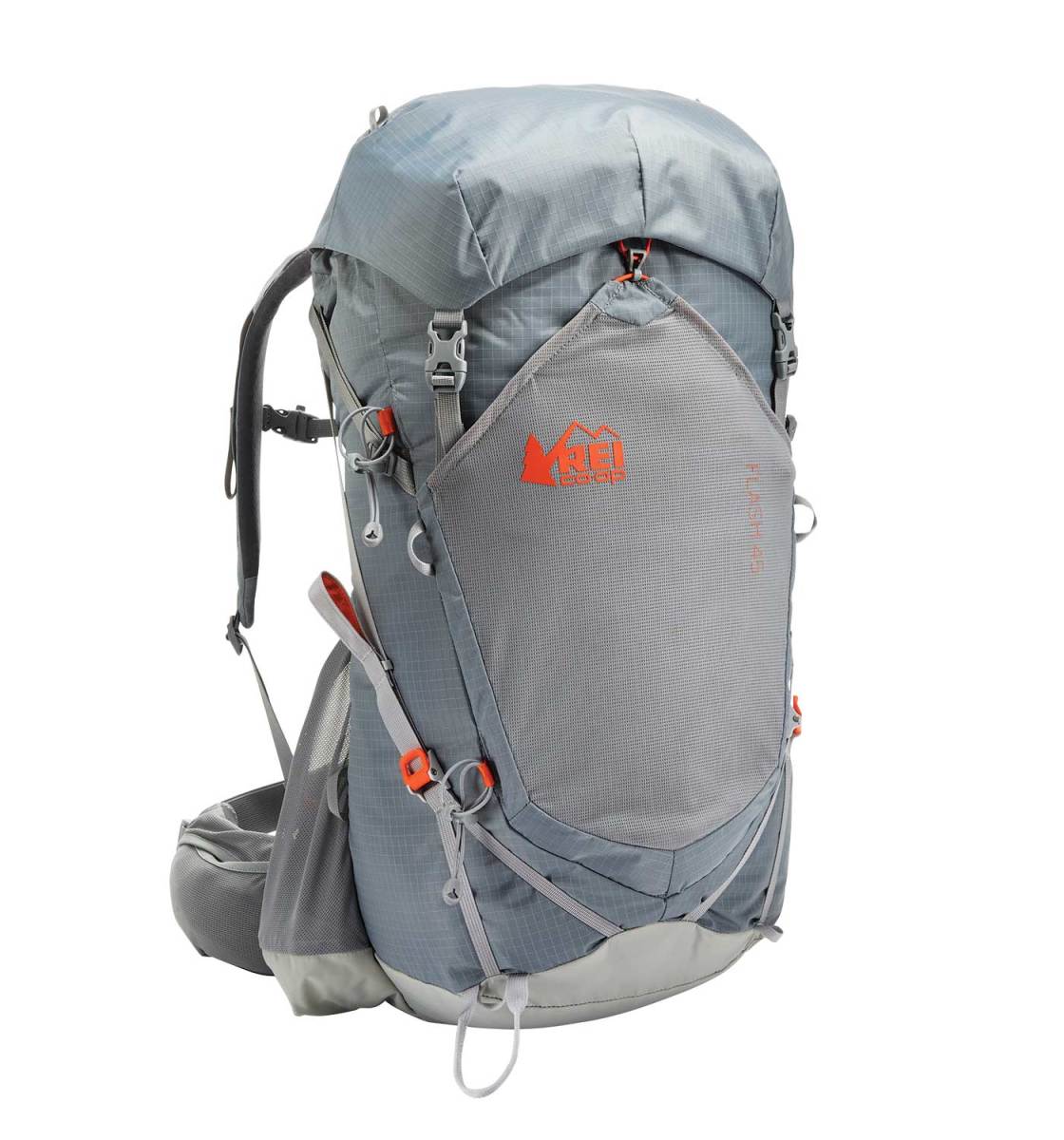 What's the best backpack for traveling long-term? I recommend the
REI Flash 45 Pack
. It's light and comfy, top loading, and fits perfectly in an airplane's overhead bin.
Size:
45-47L
Straps:
Thick and cushy with compression technology that pulls the pack's load up and inwards so it doesn't feel as heavy.
Features:
Removable top lid, pocket at the front, hydration compatible, contoured hip belt
If you want something different, refer to my article on how to choose the best travel backpack for tips on picking a pack and other backpack suggestions.
What to Pack for Your Trip
Clothes
1 pair of jeans (heavy and not easily dried, but I like them; a good alternative is khaki pants)
1 pair of shorts
1 bathing suit
5 T-shirts (Unbound Merino is my preferred company. If you're a member of TNN+, you can get 15% off your purchase)
1 long-sleeved T-shirt
1 pair of flip-flops
1 pair of sneakers
6 pairs of socks (I always end up losing half)
5 pairs of boxer shorts (I'm not a briefs guy!)
1 toothbrush
1 tube of toothpaste
1 razor
1 package of dental floss
1 small bottle of shampoo
1 small bottle of shower gel
1 towel
Deodorant
Small Medical Kit (safety is important!!!)
Miscellaneous
Female Travel Packing List
I'm not a woman, so I don't know what a woman wears, but Kristin Addis, our solo female travel guru, wrote this list as an addition to the basics above:
Clothing
1 swimsuit
1 sarong
1 pair of stretchy jeans (they wash and dry easily)
1 pair of leggings (if it's cold, they can go under your jeans, otherwise with a dress or shirt)
2-3 long-sleeve tops
2-3 T-shirts
3-4 spaghetti tops
1 light cardigan
Toiletries
1 dry shampoo spray & talc powder (keeps long hair grease-free in between washes)
1 hairbrush
Makeup you use
Hair bands & hair clips
Feminine hygiene products (you can opt to buy there too, but I prefer not to count on it, and most people have their preferred products)
For more on packing, check out these posts:
El Salvador Travel Guide: Related Articles
Want more info? Check out all the articles I've written on Central America travel and continue planning your trip: