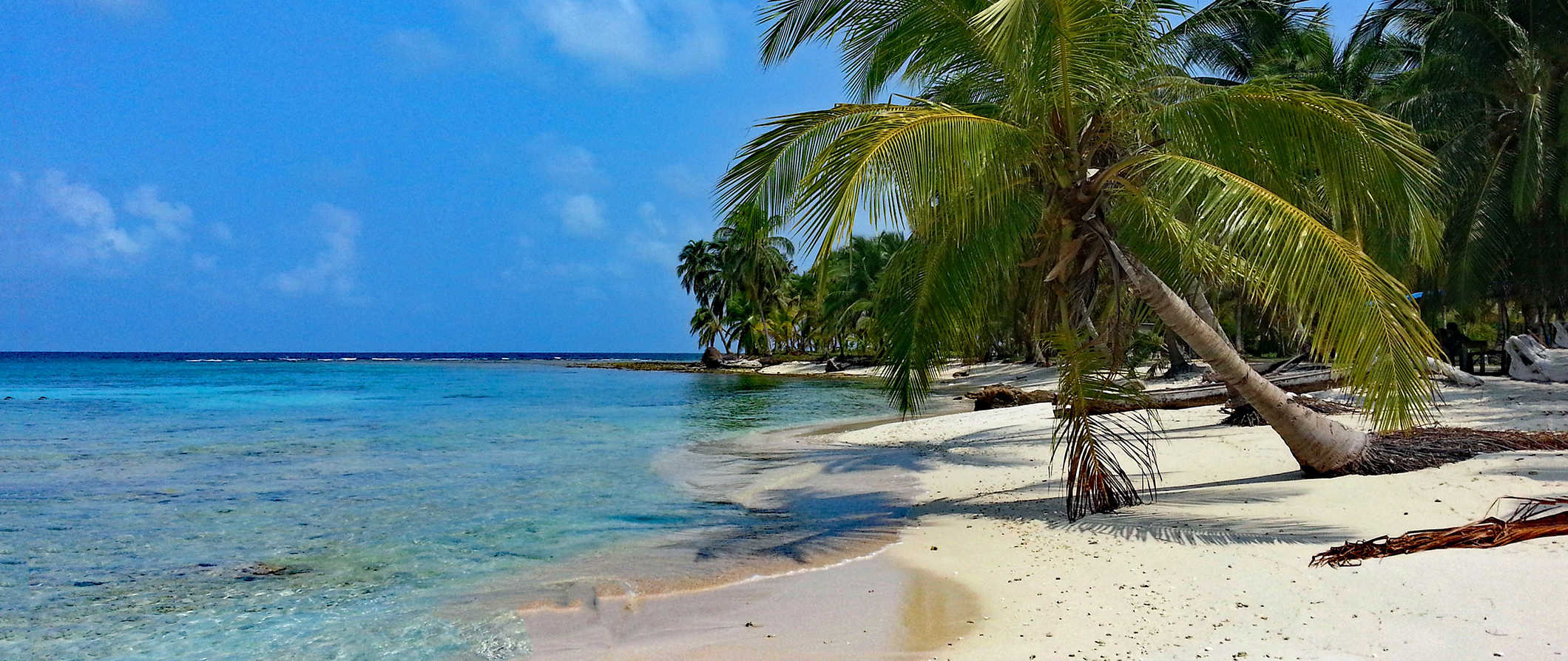 Since the creation of the world famous Panama Canal in 1914, this country has been at the heart of international shipping, serving as a connection point between the Pacific and the Caribbean. In recent years, Panama has also become a major tourist destination as flights from the US have become increasing cheap and more Americans begin to retire here (it's also a big center for international banking). Most travelers either start or stop their journey through Central America here and stick to the well-worn tourist trail of Bocas del Toro, Boquete, the San Blas islands, and Panama City but if you head to some of the lesser-known destinations you'll be rewarded with better food, vistas, and cheaper prices. Panama is a cool country with a lot of wildlife, national parks, and beaches worth exploring!
Top 5 Things to See and Do in Panama
1. See the Panama Canal
Opened in 1914, the Panama Canal is 50 miles long and raises ships up from the Pacific through Panama, before lowering them back down again to the Caribbean. The canal uses three sets of locks: Miraflores and Pedro Miguel Locks on the Pacific side and Gatun Locks on the Caribbean side. Most tourists visit the Miraflores Locks from Panama city.
2. Hang out in Bocas del Toro
Bocas is Panama's most popular tourist/backpacker destination, combining a laid-back Caribbean attitude with the beautiful natural setting of jungles, forests, and mangroves. Surfing is extremely popular here and there are always water taxis around to take you to a secluded cove or to the best snorkeling spots.
3. Relax in Boquete
Boquete
is a charming little village located in the mountainous region of the Chiriquí Highlands. There's a ton of coffee plantations, 'Mi Jardin es Su Jardin' (one of the top three private gardens in the world), great hiking opportunities, and some world class food.
4. Sail the San Blas islands
This collection of islands is a popular spot for sailing and boat tours, though there are resorts in case you want to be in one place. The islands are very rustic and a great off-the-grid place. There are many great and beautiful spots for good sailing, diving, and snorkeling. A 4-5 day cruise will cost around 425 USD per person.
5. Tour a Coffee Plantation
Panama is up with Colombia, Peru, and Costa Rica when it comes to quality coffee. Consider visiting
a plantation
in Boquete, such as Café Ruiz or Finca Lerida, both of which have good tours and give you a detailed history. Prices for tours range from 10-25 USD, and include a coffee tasting.
Other Things to See and Do
(Click the title to expand the text)
1. Check out the Ruins at Panama Viejo
Panama was the Pacific coast's most important Spanish trading town until it was destroyed by Captain Henry Morgan in 1671. The remaining ruins cover quite a large area, encompassing streets, squares, a cathedral, churches, convents, a hospital, walls and bridges, all made of stone. Admission is 4 USD for adults and .50 USD for kids.
2. Bike Along Amadour Causeway
This 6km-long causeway was made from the excavated rocks when the canal was built and links three islands. It is perfect to ride a bike along as the view is fantastic. Look across the canal on one side and the check out the cityscape on the other. There are plenty of restaurants and other touristy shops to stop at along the way, and plenty of bike rentals available right there. Expect to pay 10-20 USD for a rental.
3. Take the Panama Canal Railway
The Panama Canal Railway connects Panama City with Colón and runs from the Pacific to Atlantic Oceans. The train is an old-fashioned locomotive complete with a great observation car which offers views of the canal, Gutan Lake, and passing rainforests. While it is 50 USD for the three-hour round trip journey, you do get to see both oceans in a single trip, which is pretty neat.
4. Visit Portobelo
This sleepy little town was first given the name "Puerto Bello" (Beautiful Port) by Christopher Columbus in 1502 and over time, the name was shortened to Portobelo. The town's 18th-century fortifications were built by the Spanish to protect their gold from pirates. Along with Fort San Lorenzo, the fortifications have achieved UNESCO World Heritage Site status.
5. Hit the Beach in Pedasi
Located on the Pacific side, this town is about five hours from Panama City and is famous for its surfing. Though it has become a haven for expats in recent years, it is still a very much off the beaten path destination. Not a lot of people go here and you'll have the beach mostly to yourself. The water is bathtub warm and you can do some great tuna fishing here.
6. Hike in the Rainforest Parks
Parque Soberania, Parque Metropolitano, and Parque Chagres are three rainforest parks just outside of Panama City. If you need a break from the urban atmosphere, these parks are a great place to get in some hiking, birdwatching, and wildlife spotting. Keep an eye out for sloths, monkeys, and anteaters.
7. Spot Wildlife at Volcan Baru
Volcan Baru is the only volcano in Panama, and at 11,500 feet, it is the highest point in the country. The lower slopes are home to dozens of coffee plantations, while the higher ground is part of the Volcan Baru National Park. Bring your camera as the rainforest here is a good place to spot the Resplendent Quetzal which is one of the most beautiful birds in the world. Expect to pay around 125 USD for a guided hike.
8. Surf in Santa Catalina
This is a hot spot with the surfing community, but it's pretty bare-bones when it comes to amenities. Only 300 people live in this town on the Pacific coast, so don't come here expecting glitz and glamor. This is the place to be if you want to catch some fantastic waves and relax on some beautiful beaches. If you want to learn how to surf, lessons cost around 100 USD per day but includes accommodation, food, and lessons.
9. Canoe to Embera Indian Village
To get to the village you'll travel up the Chagres river in a dugout canoe then walk through a rainforest, giving you the chance to come face to face with local flora and fauna. When you finally meet the Embera tribe you'll notice that they live pretty much as they did hundreds of years ago. They offer guests traditional food, music, and dancing followed by the chance to buy the tribe's handicrafts or go for a swim under a waterfall. Day tours cost between 125-275 USD per person, depending on how many people are going.
10. Explore Casco Viejo
Just outside of Panama City is Casco Viejo, the oldest city in the Americas. These days, the city's red bricked streets are lined with clubs, bars, restaurants, and cafes, though the Spanish style architecture still gives the entire area an historical feeling. In 1998, the city's cultural and historical significance was recognized by UNESCO and it was declared a World Heritage Site.
Typical Costs
Note: Panama uses both PAB and USD. There's no real need to carry the local currency, the Panamanian Balboa, unless you paying for really small things on the street. For the most part, use USD (which has the same value as PAB).
Accommodation – Accommodation is extremely cheap in Panama with a night in a hostel dorm costing between 8-12 USD. Private rooms in hostels start around 40 USD per night for a double room. Most hostels in the larger cities will have free WiFi, and some will even offer free breakfast. Budget hotels start around 20 USD per night. For a private bath, A/C, and (sometimes) breakfast, expect to pay closer to 60 USD per night. Use Airbnb is available around the country, with shared accommodation costing around 15 USD per night. For an entire home or apartment, expect to pay at least 60 USD per night. Camping is available around the country at 5-10 USD per night. Couchsurfing is virtually non-existent in Panama, so don't rely on it during your trip. My suggested places are:
My suggested places are:
Food – Local food-stall meals will cost around 2-5 USD and will get you chicken, rice, and beans. Westernized restaurants will cost closer to 10 USD per meal. For a nice meal with wine, expect to pay around 40 USD. Domestic beer at the bar will usually cost around 2 USD. While you can buy your own groceries and cook your own meals, with food so cheap here there will not be significant savings. For a week's worth of groceries expect to pay 30-50 USD.
Transportation – Buses around the country cost between 10-20 USD. Overnight buses cost around 25 USD. To travel from one side of Panama City to the other is around 4 USD. Intracountry flights are really expensive so avoid them at all costs. Bike rentals are available in most cities, however, you'll only want to ride where there are bikes paths — riding on the roads is not the most safe. Expect to pay 10-20 USD for a few hours.
Activities – Coffee tours are 25 USD, a two-tank dive is around 60 USD, most guided day hikes are around 50 USD. A visit to the Panama Canal is 15 USD. The popular San Blas island cruise costs around 425 USD for a 4-5 day cruise.
Suggested daily budget
$35-45 USD (Note: This is a suggested budget assuming you're staying in a hostel, eating cheap, keeping your drinking to a minimum, and using local transportation. Using the budget tips below, you can always lower this number but if you stay in fancier accommodation, drink a lot, do lots of tours, or eat out more, expect this number to be higher!)
Money Saving Tips
Carry small change – Taxi drivers and shop assistants will not accept 20 USD bills to pay for inexpensive items. Be sure to break notes before going shopping or getting a taxi.
Eat at the local stands – Meals at local food stalls cost between 3-4 USD. You'll get rice, chicken, beans, and maybe another side plus a drink. I didn't love the food in Panama but at the price they had, it made eating very cheap.
Avoid taxis – I found taxis here to be a complete rip-off. As my friend JP says "You get Gringoed." They were also far more unwilling to negotiate than I found in places like Asia. I'd try to avoid them if at all possible.
Refill your water – In most of the country, you can drink the tap water — it won't kill you or make you sick. There's no need to always buy new water bottles so save yourself a few dollars a day and fill up from the tap.
Stick to beer – Beer is usually 0.50-1 USD during hostel happy hours. Otherwise, a local Panama or Balboa is around 2 USD. Mixed drinks will cost more, so stick to beer. You'll be able to save money without cutting into your good time.
Avoid hot water – Get rooms with cold water showers as hot water always costs a lot more. It's so hot here you'll hardly ever need warm water, anyway. Even I got used to cold water showers, and usually I get cranky without hot water!
My Must Have Guides For Traveling to Panama