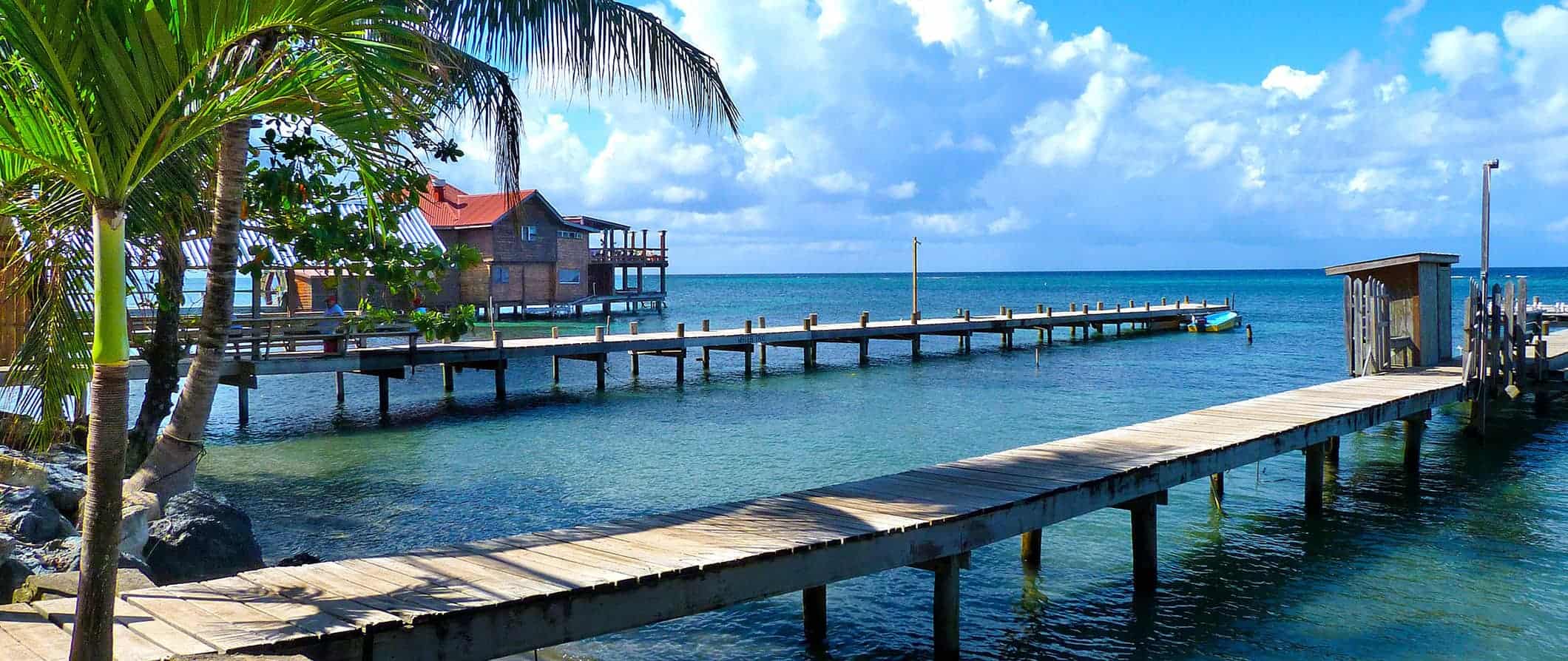 Home to biodiverse jungles, ancient Mayan Ruins, and vast national parks brimming with wildlife, Honduras has a lot to offer budget travelers. There's a plethora of stuff to do and it's one of the cheapest countries in Central America.
Unfortunately, owing to its violent past, it often gets glossed over for more polished Central American hotspots.
However, Honduras today is a much safer country and is popular with intrepid backpackers and expats looking to get off the beaten path. With world-class diving, a cheap cost of living, and incredible weather, Honduras offers some of the best value in the region.
That said, you'll still need to take precautions and keep your wits about you — especially on the mainland — as crime and gang activity are still common.
This travel guide to Honduras can help you see the country, stay safe, and make the most of your visit to this beautiful and affordable country!
Top 5 Things to See and Do in the Honduras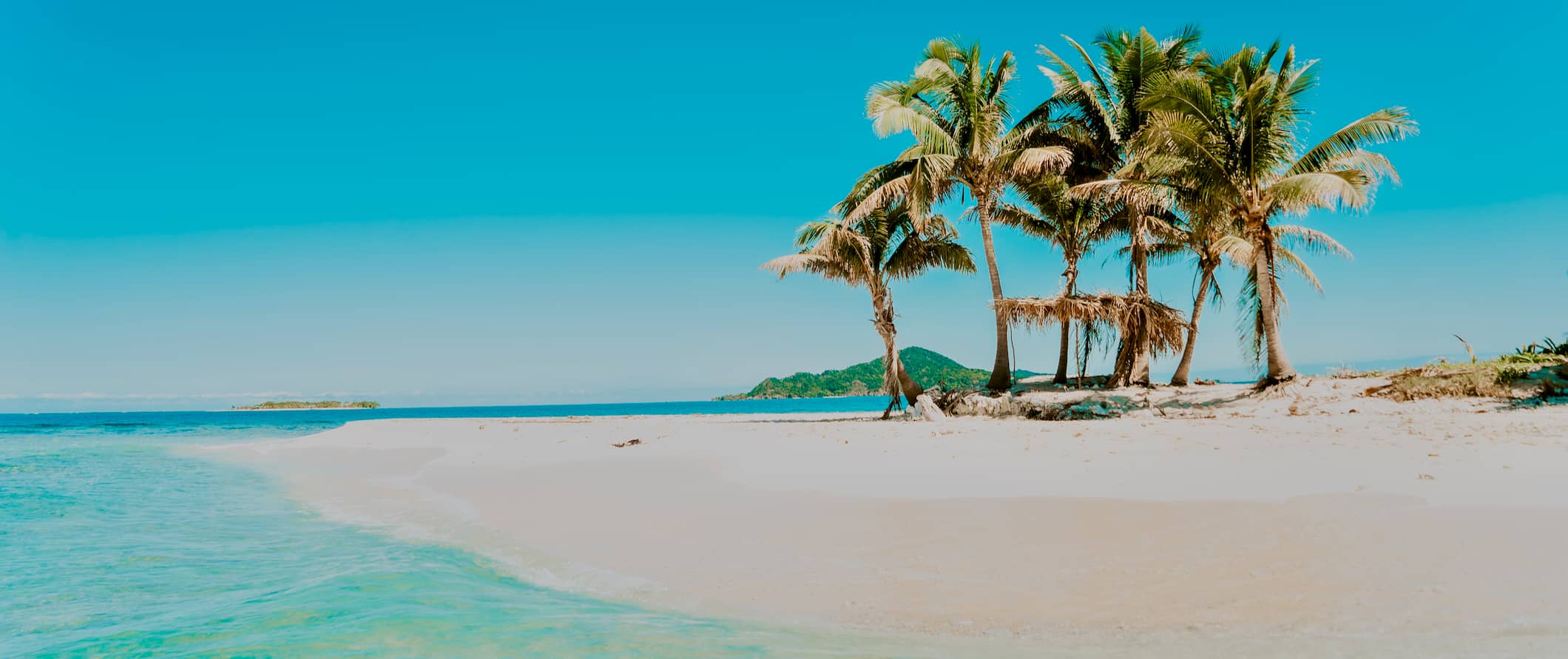 1. Explore the Copán Ruins
These incredible Mayan ruins are located near the border with Guatemala and are one of Honduras' most popular tourist attractions. Nestled in a lush jungle valley, Copán Ruinas are a UNESCO World Heritage Site dating back to the height of the 5th century when Copán was a powerful capital of the Southern Maya kingdom. But in 738 CE, the king was captured and executed by his rival and archeologists believe that the city was abandoned by 800 CE. Today, the ruins attract tourists for their intricate stelae, tunnels, a hieroglyphic stairway, as well as the geography of the area itself which is filled with diverse wildlife including monkeys, sloths, parrots, and macaws. It takes a couple of days to see the entire site so try not to squeeze your visit into a day trip. There are two main sites: Copán, the main site originally used for nobility, and Las Sepulturas. To get there, head to the town of Copan Ruinas near the border with Guatemala; the ruins are nearby. Bring lots of sunscreen and water. Admission is 370 HNL.
2. Dive the Bay Islands
The Bay Islands, known as "Islas de la Bahía," are one of the best diving spots in the Caribbean. They are located in the Gulf of Honduras and near the Belize Barrier Reef, which is part of the Mesoamerican Barrier Reef System. The Roatan, Utila, and Guanaja archipelagos all offer stunning dive sites with crystal-clear waters and incredible marine life. Roatan is the largest island while Utila is the cheapest, attracting budget divers as the island as it also offers a stunning array of wildlife, including nurse sharks, sea turtles, stingrays, and more. Get up close to colorful coral formations or deep dive 2,000 feet into the abyss for bluntnose sixgill shark sightings. Prices start at 870 HNL for one dive or a package of ten dives for 7,405 HNL.
3. Relax at Lake Yojoa
The country's largest lake is rich in biodiversity with almost 400 bird species and over 100 plant species. This incredible site is a popular fishing spot for locals, a great place to visit a coffee plantation tour, and a fun place to zipline. Or if you're looking for an adrenaline-filled experience, hike behind the stunning Pulhapanzak waterfall and explore the inside caves with the sound of water pounding around you. For something a bit more peaceful, rent a kayak and spend a few hours paddling around the lake. Or, if you don't mind small spaces, head into the Caves of Taulabé where you can either explore on your own or hire a spelunking guide if you want to go deep underground. For a nice wander through the lush jungle wetlands, check out Los Naranjos Ecological and Archaeological Park. And if you're up for a real challenge, hire a guide to climb to the top of Santa Barbara (2,744 meters/9,000 feet).
4. Adventure at Pico Bonito National Park
This sprawling bio-diverse national park is home to lush tropical jungles and moody cloud forests. It's a haven for hiking, wildlife watching, and ziplining. The Cangrejal River is a fantastic place for white water rafting, with Class I-IV rapids. Or you can go swimming in the river and even jump off the rocks into the water if you feel like it. There are many different hiking trails here too, like the La Roca loop and the El Mapache trail to Bejuco Falls. If you're a fan of the outdoors, don't miss it. You can reach the park from La Ceiba or do it as a day trip from nearby regions.
5. Escape to Cayos Cochinos
The archipelago of Cayos Cochinos, made up of Cayo Menor and Cayo Grande, are two coral-abundant islands that offer some of the most postcard-perfect sandy white shorelines in Central America. They offer plentiful diving and snorkeling and the nearby cays are home to the world's second-largest coral reef system. The only way to reach the Cochino Cays Marine Sanctuary is by boat; you can take a chartered day tour from Roatan and Utila or from La Ceiba. It's a great place to disconnect and relax.
Other Things to See and Do in the Honduras
1. Visit Mercado Guamilito
Located in San Pedro Sula, this traditional market is an excellent place to buy Lenca ceramics, high-quality (and reasonably priced) leather, cigars, and silver. There's also a no-frills food market that locals claim offers the best baleada, a national dish made with flour tortillas, cheese, cream, and fried beans. The market is open daily from 7am-4 pm.
2. Chill out on Utila
Most backpackers make a beeline for the island of Roatan, but if you're looking for something beyond diving, Utila is a better option. It has a buzzing nightlife, cheap accommodation, beautiful white sand beaches, and even the chance to spot whale sharks. The 45-minute ferry ride from La Ceiba to Utila costs 750 HNL.
3. Visit Parque Nacional Jeannette Kawas
This national park is named after Jeannette Kawas, an environmental activist who fought to protect the area from commercial development and was brutally murdered in 1995. Now, her legacy lives on with this protected area, filled with abundant wildlife including howler monkeys, boa constrictors, and toucans. You'll also find pristine beaches and untouched coral reefs here. The secluded park is also known as Punta Sal National Park and is just a 30-minute boat ride from Tela, a Caribbean coastal town. Admission is 120 HNL. Day trip prices start around 690 HNL.
4. Go zip lining
If you're craving an adrenaline rush, Honduras has a dozen zip-lining experiences to choose from all around the country (including several on Roatan). Prices vary but expect to pay at least 950-1,085 HNL for a half-day tour. Lunch is usually included.
5. Explore the Río Plátano Biosphere Reserve
This heavily-forested area is a UNESCO World Heritage Site and one of the last remaining tropical rainforests in Central America. Established in 1982, it spans over 5,250 square kilometers (2,027 square miles) and is home to Mayan ruins, ancient petroglyphs, pumas, jaguars, giant ant-eaters, sloths, and over 2,000 indigenous locals. Getting here requires some effort (it's a 6-hour bus from La Ceiba followed by a short boat ride) but you'll be rewarded by sweeping vistas and a rare look at indigenous life in the rainforest. You can hire a day guide on arrival (for around 400 HNL) or embark on a multi-day tour up the river for 3,000 HNL. Kayaking day trips start around 940 HNL and crocodile night watching starts around 1200 HNL. Admission to the reserve itself is by donation.
6. Visit Valle de Angeles
This colonial town makes for a good day trip from Tegucigalpa, the capital of Honduras. It's located 35 minutes away by car and, aside from the beautiful colonial buildings, there's a lot of affordable handicraft shopping. While you're here, spend some time relaxing in Parque Central, where you'll see the historic colonial church or head into La Tigra, the nearby cloud forests that are full of hiking trails (admission is 247 HNL). Don't forget insect repellent if you do visit the forest!
7. Attend Carnaval de La Ceiba
This is the biggest carnival in Central America. Held every May in La Ceiba, it attracts half a million revelers every year. The celebration is in honor of Saint Isidore the Laborer, the patron saint of the city. For two weeks, throngs of people flock to La Ceiba's barrios (neighborhoods), who compete to throw the best carnavalito (little carnival) in town. It's all in anticipation for the main event, the rainbow-filled parade "La Feria de San Isidro", which takes place along Avenida San Isidro on the 3rd or 4th Saturday of May.
8. Go hiking in Parque Nacional Cusuco
This ethereal cloud forest is nestled into the Merendon mountain range near the border with Guatemala, making it somewhat difficult to access (during the rainy season you'll need a 4×4). It's a 2-3-hour drive from San Pedro. There are five stunning hiking trails that cross the cloud and dwarf forests. Expect to see plenty of parrots, toucans, and quetzals here. Unless you have a 4WD vehicle, you'll need to go with a tour company. Admission is around 250 HNL.
9. See the Roatan Butterfly Garden
Located in Roatan, this indoor garden is home to over 30 species of moths and butterflies, as well as a large collection of boa constrictors, parrots, scarlet macaws, and tropical orchids. It is best to visit during the early morning when the butterflies are most active. Admission is around 358 HNL.
10. Visit the Lancetilla Botanical Garden
Located on the coast in Tela, Honduras's only botanical garden happens to also be the largest in Latin America. Spanning over 4,100 acres, it boasts thousands of varieties of national and exotic flora and fauna (including a bamboo collection and an orchid collection). There are over 1,500 trees in its arboretum and the garden also has 3,000 acres of virgin rainforest. It's open 365 days a year and admission is 198 HNL.
Honduras Travel Costs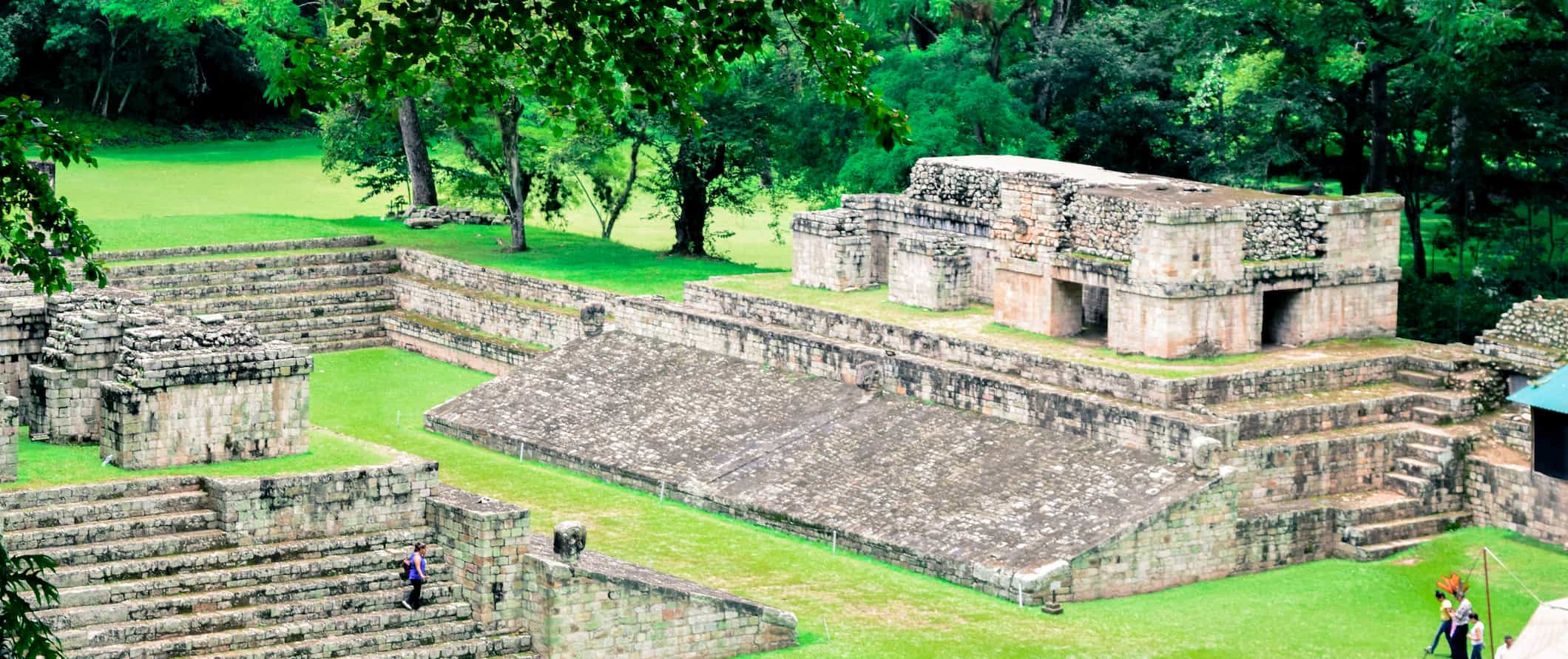 Hostels – Shared dorms with 4-8 beds cost 370 HNL per night, with private rooms costing anything from 400 to 1,400 HNL. Free Wi-Fi and free breakfast are generally included. Most hostels also have A/C and hot water.
Wild camping isn't recommended here due to petty theft, rainstorms, and the sweltering humidity. There are a few campgrounds around the country, though they aren't any cheaper than staying in a hostel.
Budget hotels – Budget hotels can be found for around 1,000 HNL for a double room. Most of the cheaper hotels include Wi-Fi, however, for a hotel with a kitchen, A/C, and a pool you'll pay at least 2,000 HNL per night.
Airbnb is available in Honduras but really only found in Tegucigalpa and the tourist spots on the coast. Prices start at 500 HNL for a shared room, 1,000 HNL for a private room, and 2,900 for a villa.
Food – Honduran cuisine leans heavily on fish, soups, beans, rice, and coconut. Popular dishes include guisado (a spicy chicken stew), carne asada (grilled sliced beef), and baleda (cheese and bean tortilla). Generally, you can expect a mix of Spanish, Lenca, and Caribbean influences.
Local meals consisting of rice, beans, and a drink costs around 120 HNL. Set lunch menus at comedores (small local eateries) offer large portions for cheap so stick to them when eating out.
Street food is popular here, with popular favorites being grilled corn, baleadas (a tortilla filled with fried beans, cream, and cheese), pastelitos (a Cuban pastry similar to empanadas), and fruit smoothies (a common breakfast here). These are usually under 50 HNL.
A three-course meal at a restaurant serving local cuisine costs 600 HNL, including a drink. These establishments usually add a 10% service charge to your bill too. Expect a blend of traditional Mayan cuisine (rice, beans, corn, seafood) with touches of Western and Caribbean flair.
A bottle of water is 17 HNL and a latte or cappuccino will set you back 43 HNL. Domestic beer is around 70 HNL.
For a week's worth of groceries, expect to spend around 600 HNL if you're getting food at the local market. However, with street food and comedores so cheap, it's cheaper to eat at the local markets than try to cook for yourself, especially since most guesthouses and hostels don't have kitchens.
Backpacking Honduras Suggested Budgets
On a backpacker budget of 875 HNL per day, you can stay in a dorm, eat street food for all your meals, take buses to get around, and do some hikes or other free activities like lounging on the beach. If you plan to drink, you'll need to add around 150 HNL more per day.
On a mid-range budget of 2,400 HNL per day, you can stay in a budget hotel, eat out at local restaurants, have a few drinks, take the occasional taxi, and do some paid activities like visiting national parks or diving.
On a "luxury" budget of 5,200 HNL, you can stay in a private villa or nicer hotel, take taxis everywhere, eat out anywhere you want, drink more, and do more tours and activities. This is just the ground floor for luxury though. The sky is the limit!
Accommodation
Food
Transportation
Attractions
Average Daily Cost
Backpacker
375
250
125
125
825
Mid-Range
1,000
600
400
400
2,400
Luxury
2,000
2,000
500
700
5,200
Honduras Travel Guide: Money-Saving Tips
Honduras is very affordable. You'd be hard-pressed to spend a lot of money here unless you are actually trying to. That said, a true budget traveler always looks for ways to save. Here are some money-saving tips to help you:
Refill your water – The tap water in Honduras is not safe to drink so make sure you have a reusable bottle with a built-in filter. To stay safe, bring a water filter like LifeStraw to ensure your water is clean and free from bacteria. You'll save money on buying bottled water and save the environment too!
Know what to pay – When you need to barter for something, talk to your hostel/hotel staff first. Find out what a fair price is so that you can avoid getting overcharged.
Avoid paying with a credit card – Honduras is a cash-driven society. In places where you can pay with a credit card, expect fees of 5-10%. Pay with cash as often as possible.
Learn some Spanish – To avoid getting overcharged, learn some Spanish. Even just a few words and phrases can help you avoid being charged tourist prices.
Travel during the shoulder season – Prices are highest during the dry months (December-April). To avoid crowds and save money, travel during the rainy season or shoulder season. You might get rained on, however, accommodation and activities will be cheaper.
Stay with a local – Honduras has a small Couchsurfing scene, but if you book early you can likely find a host who can share their insider knowledge and give you a free place to stay.
Where to Stay in Honduras
Honduras has plenty of fun, safe, and social hostels. Here are some of my suggested places to stay in Honduras:
How to Get Around Honduras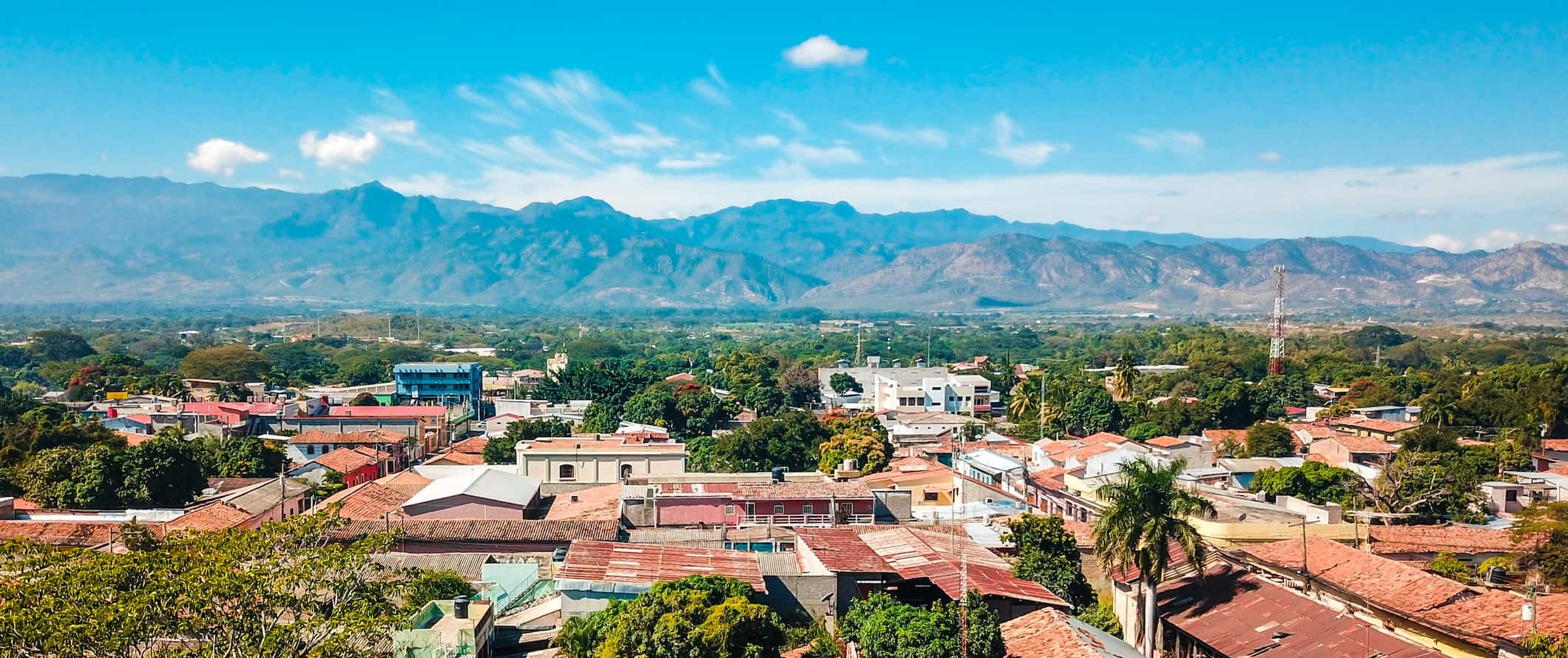 Bus – The cheapest way to get from A to B in Honduras is by bus. For local city journeys, taxis are recommended due to safety issues (petty theft is common on public transportation).
Direct buses for cross-country trips are more expensive but more comfortable and faster than the slower buses that make multiple stops. A direct bus from Tegucigalpa to La Ceiba takes around 6 hours and costs 860-950 HNL. A direct bus from Tegucigalpa to Copan Ruinas takes 9 hours and costs 1,293 HNL.
The multiple-stop buses (parando) are slower and can add a few extra hours to your trip. But, if you're not in a rush, they can save you upwards of 50%.
Taxi – Taxis are plentiful and can be found pretty much everywhere. Fares start at 74 HNL and are charged at 65 HNL per kilometer.
Shared taxis (colectivos) are common for popular routes in the bigger cities too and will slash the private rates in half. Negotiate prices prior to getting in the car. Ask your hotel/hostel staff for rates before you arrive so you aren't ripped off.
When on the islands, water taxis are your best option for getting around. They run from Roatan to West End, and from Coyolito to Isla del Tigre. Shared water taxis cost between 75-100 HNL depending on the route.
Flying – Domestic flights in Honduras are expensive. Connections between the major cities (La Ceiba, Tegucigalpa, San Pedro Sula) to Roatan, run frequently, however, one-way tickets to these key destinations usually cost between 3,000-4,250 HNL each way. If you're on a budget, avoid flying.
Car rental – Driving in Honduras is not recommended as the roads aren't that safe (landslides, flooding), there's heavy traffic, and robberies are common. Avoid renting a car and stick to buses.
Hitchhike – Hitchhiking is doable if you're an experienced traveler and aren't in a hurry. It's generally quite safe too, though you may need to wait a while for a ride. Be sure that you get into a free vehicle and not an impromptu taxi expecting a payment. For more information, check out Hitchwiki for the latest information.
When to Go to Honduras
Honduras is, for the most part, a year-round destination. Temperatures hover around the 27-32°C (82-90°F) mark all year. However, the clammy humidity can feel like it's higher than that during the rainy season (May-November).
Hurricanes are possible from April to October, however, if you're willing to change your travel plans on a whim due to the weather, you can save a lot of money by visiting during this period. Be aware that booking during las lluvias (the rainy season), means rural areas (and hiking trails) can be harder to access due to storms.
The driest months, from December to April are considered peak season and are the best (albeit most expensive time) to visit. The coastal areas are particularly packed during this period, although 'busy' for Honduras is still pretty quiet compared to other popular Latin American destinations. If you're serious about diving, you're also going to get the best visibility during this time.
How to Stay Safe in Honduras
Honduras has found it difficult to shrug off its former status as the 'murder capital of the world.' Yet the country has improved leaps and bounds in terms of safety and the majority of travelers have no trouble navigating the country safely.
Homicides decreased by over 50% from 2012-2019 and kidnappings declined by 82% from 2013-2019. The majority of crimes happen in the major cities: Tegucigalpa, San Pedro Sula, and La Ceiba so I would be extra vigilant in those places, especially at night. (I wouldn't walk around the capital at night alone.)
Outside of those areas, crime is much less common (especially in the Bay Islands). That being said, it's important to keep an eye on your belongings on public transport, in busy urban areas, and near bus stops/stations.
Take cabs at night (ideally with other travelers) instead of walking alone and avoid walking down side streets that are not well lit.
Walking around during the daytime is usually trouble-free as long as you keep your valuables out of sight and don't flash fancy jewelry, phones, or money.
Avoid taking the city bus, where pickpocketing is rife.
Since scams can occur here, read about common travel scams to avoid so you can be prepared.
Solo female travelers should generally feel safe here as long as they follow the advice above. Additionally, the standard precautions apply (never leave your drink unattended at the bar, never walk home alone intoxicated, etc.).
If you're visiting during hurricane season (April-October), be sure to check the weather regularly.
If you experience an emergency, dial 911 for assistance.
The most important piece of advice I can offer is to purchase good travel insurance. Travel insurance will protect you against illness, injury, theft, and cancellations. It's comprehensive protection in case anything goes wrong. I never go on a trip without it as I've had to use it many times in the past. You can use the widget below to find the policy right for you:
Honduras Travel Guide: The Best Booking Resources
These are my favorite companies to use when I travel. They consistently have the best deals, offer world-class customer service and great value, and overall, are better than their competitors. They are the companies I use the most and are always the starting point in my search for travel deals.
Skyscanner – Skyscanner is my favorite flight search engine. They search small websites and budget airlines that larger search sites tend to miss. They are hands down the number one place to start.
Hostelworld – This is the best hostel accommodation site out there with the largest inventory, best search interface, and widest availability.
Booking.com – The best all around booking site that constantly provides the cheapest and lowest rates. They have the widest selection of budget accommodation. In all my tests, they've always had the cheapest rates out of all the booking websites.
Get Your Guide – Get Your Guide is a huge online marketplace for tours and excursions. They have tons of tour options available in cities all around the world, including everything from cooking classes, walking tours, street art lessons, and more!
SafetyWing – Safety Wing offers convenient and affordable plans tailored to digital nomads and long-term travelers. They have cheap monthly plans, great customer service, and an easy-to-use claims process that makes it perfect for those on the road.
LifeStraw – My go-to company for reusable water bottles with built-in filters so you can ensure your drinking water is always clean and safe.
Unbound Merino – They make lightweight, durable, easy-to-clean travel clothing.
Top Travel Credit Cards – Points are the best way to cut down travel expenses. Here's my favorite point earning credit cards so you can get free travel!
Honduras Travel Guide: Related Articles
Want more info? Check out all the articles I've written on Asia travel and continue planning your trip: