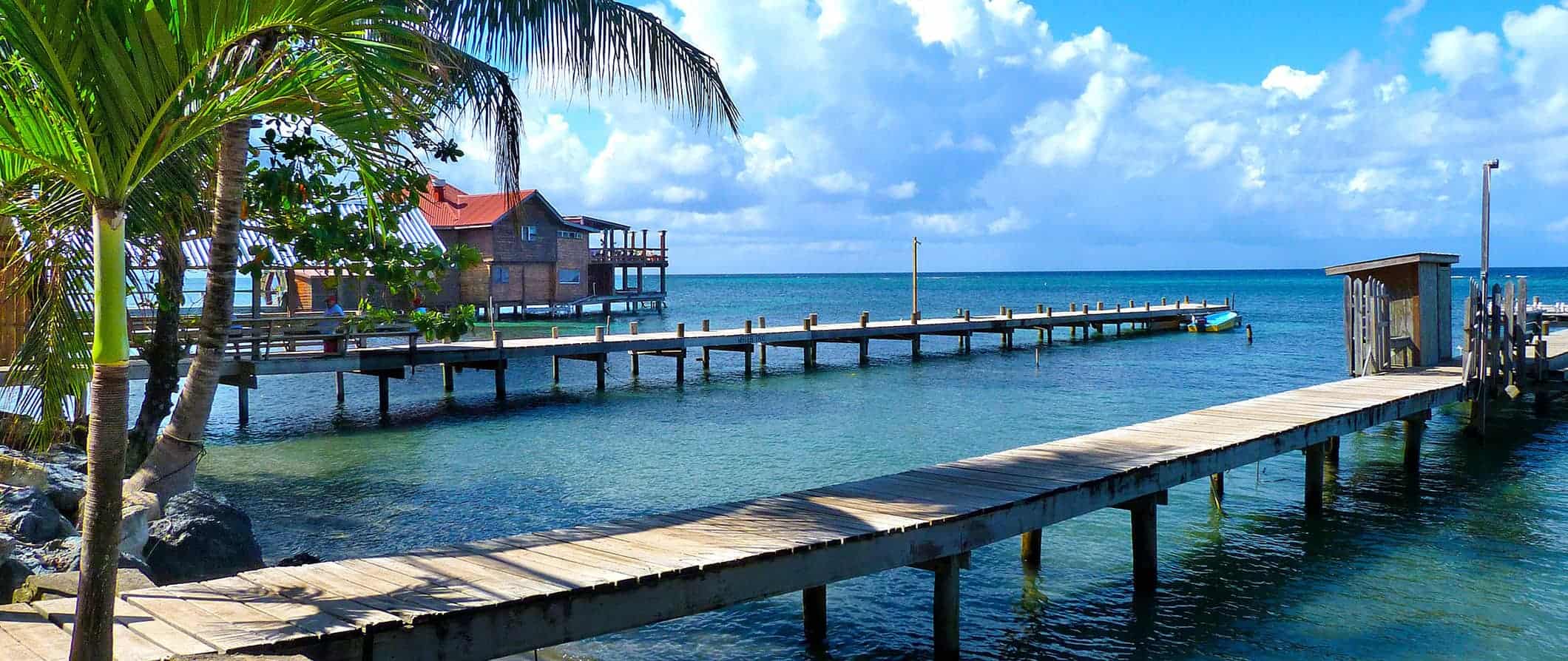 Honduras is slowly beginning to shed its negative violent reputation and is becoming a hotspot for backpackers who are looking to get off the beaten path in Central America. Tremendous wildlife, Mayan Ruins, and vast national parks attract people to Honduras. Moreover, the country has made a name for itself with its dive spots Utila and Roatan. It's one of the cheaper destinations in Central America and, though often skipped by most travelers, I think it offers the best value in the region. (Note: While there is still some violence in the country and I wouldn't advise going out in the capital alone at night, once you get out of the cities, it's a much more peaceful place, especially in the touristy / backpacker areas of the country!)
Top 5 Things to See and Do in Honduras
1. Copán Ruins
These are the ruins of a Mayan city and are one of Honduras' most popular tourist attractions. It takes a couple of days to see the entire site, so try not to squeeze your visit into a day trip. The tunnels underneath the ruins are kind of spooky and "other worldly" and well worth the 240 HNL to see them.
2. Roatan
This is one of the most popular destinations in the country. You can get multi-dive packages from various shops to ensure you see many different spots. Mary's place is a particularly good site, as the labyrinth of coral formations is beautiful and one of a kind. Expect to pay just under 800 HNL per dive.
3. Lago de Yojoa
This is the country's largest lake and is a great place for bird watchers with 375 species of birds. The restaurants on the banks of the lake offer fantastic fish and are an ideal stop-off point of you're traveling from Tegucigalpa to San Pedro Sula.
4. Pico Bonito National Park
Tour the rain forest, kayak, or go whitewater rafting down the Rio Cangrejal – Pico Bonito National Park is the best place in Honduras for outdoor pursuits. The River Zacate trail offers you the chance to catch a glimpse of a keel-billed toucan or a white-faced monkey. Entrance is around 140 HNL per person.
5. Tegucigalpa
Surrounded by mountains, the capital of Honduras is a maze of bustling streets and charming colonial architecture. The Plaza Central is at the heart of the city with the City Hall and the Cathedral of Saint Michael Archangel just off the square. Take a trip to the north of the city and get up close with the giant statue of Christ.
Other Things to See and Do
(Click the title to expand the text)
1. Mercado Guamilito
Located in San Pedro Sula, this huge traditional market is an excellent place to buy handicrafts from Honduras. The food here is amazing, and locals say it is one of the best places to eat a baleada (wheat flour tortilla with cheese, cream, and fried beans – a Honduran specialty).
2. Visit Utila
If you can't decide where to go diving in Honduras, consider going to Utila, the smallest of the Bay Islands. Prices are pretty much the same as in Roatán but accommodation is cheaper, the locals are friendlier, and the nightlife is better.
3. Parque Nacional Jeannette Kawas
White sandy beaches and fabulous snorkeling in the coral reefs meet howler monkeys in the nearby forest. There are also hundreds of species of birds and monkeys around Laguna de los Micos. Entry is 120 HNL per person.
4. Ride a zip line
There are plenty of places to ride around the country, including the highest canopy in the country which is located in Gracias. Experience zipping through the lush forests of Honduras, high above the treetops! Prices vary but expect to pay between 500-1,000 HNL per person.
5. Río Plátano Biosphere Reserve
This heavily-forested area contains Mayan ruins, over 2000 indigenous people, pumas, jaguars, giant ant-eaters, and even sloths. It's pretty badass. Admission is by donation.
6. Valle de Angeles
This colonial town is said to offer the best handicrafts in Honduras, and it's particularly known for its wood crafts. Head to the Centro de Artesanians to purchase everything from pottery and cigars to tapestries, hammocks, and rum.
7. Carnaval de La Ceiba
For two weeks in May, the streets of La Cieba are transformed into party central. Bars and clubs are filled to capacity for the entire week before the main event, "La Feria de San Isidro" (the parade), which takes place along Avenida San Isidro. This is the biggest carnival in Central America with approximately half a million visitors each year.
8. Parque Nacional Cusuco
This cloud forest is nestled into the Meredon mountain range and can be somewhat difficult to access. There is an abundance of wildlife here and an excellent visitors' center. There are five different hiking trails to choose from. April-June is the best time to see parrots, toucans, and the quetzals. Admission is 160 HNL per person.
9. Roatan Butterfly Garden
This 1,000 square foot enclosure is home to over 30 species of moths and butterflies, as well as a large collection of orchids, birds, and tropical plants. It is best to visit during the heat of the day or early morning when the butterflies are most active. Admission is 170 HNL for adults and 120 HNL for kids.
10. Hacienda El Jaral
Kind of like a cheap Disneyland, this resort is host to a hotel, a waterpark, a food court, a mini-mall, and a movie theater. It is located in the Copan Ruins and is home to one of the only Hollywood film theaters in the region.
11. Lancetilla Botanical Garden
This is the world's second largest tropical garden. It has the largest collection of exotic plants in Latin America, making this an interesting place to explore. Admission is 100 HNL per person.
12. Hide away on Cayos Cochinos
These two islands are a great spot to escape from the tourist crowds and enjoy the best that the coast has to offer. There are good opportunities for fishing, snorkeling, and diving here, and it is a lovely spot for a romantic getaway.
Typical Costs
Accommodation
– Budget dorms generally cost around 170-220 HNL per night, with private rooms costing between 450-700 HNL. Free WiFi and free breakfast are generally quite common, while hostels with kitchens are a bit harder to find. You can book your hostel with
Hostelworld
. Budget hotels can be found for around 300 HNL for a double room. Most of the cheaper hotels will include WiFi, however, for a hotel with a kitchen, A/C, or a pool you'll have to pay closer to 350 HNL per night. Use
Booking.com
as they consistently return the cheapest rates.
Airbnb
is available in Honduras but it's not that common. You'll pay around 450 HNL per night for shared accommodation and at least 1,000 HNL per night for an entire apartment. As a general rule, accommodation is usually more expensive in Ultila and Roatan.
Food – A meal will be around 65 HNL at cheap local place. Restaurants cost slightly more at 130 HNL. For a nicer meal at a mid-range restaurant, expect to pay closer to 300 HNL. Fast food will be around 140 HNL, while beer at the bar can be as low as 40 HNL. If you plan on buying your own food and cooking your own meals, expect to pay between 500-800 HNL.
Transportation – There are plenty of taxis in Honduras, but they don't use meters, so agree on a price before you get in. Expect to pay around 60 HNL for a short ride in a taxi with A/C, and perhaps a little less if the taxi does not have air conditioning. A cross-city taxi ride can cost upwards of 200 HNL. The national bus system is inexpensive. Generally, for every hour you travel, it's 50 HNL. There are also colectivos (taxis with a specific route) available, which generally charge between 15-25 HNL, depending on the length of your ride.
Activities – Diving is likely to be your biggest expense in Honduras with most operators charging 765 HNL per dive. Entrance fees into the national parks are relatively low at 65 HNL. The Copán Ruins can get expensive if you factor in entrance fee (220 HNL), entrance to the tunnels (240 HNL) and a guided tour (525 HNL). Canopy tours (zip lining) usually costs between 500-1,000 HNL per person.
Suggested daily budget
600-800 HNL / $20-35 USD (Note: This is a suggested budget assuming you're staying in a hostel, eating out a little, cooking most of your meals, and using local transportation. Using the budget tips below, you can always lower this number. However, if you stay in fancier accommodation, eat out more often, or spend more time in the expensive coastal cites, expect this to be higher! Additionally, like elsewhere in the region, the US dollar widely accepted and ATMs often give them out too.)
Money Saving Tips
Read your bill – Many restaurants will add an obligatory tip to your bill. Make sure you read the bill to avoid tipping twice (if your bill says "servicio" then you have been charged a tip).
Get dive certified – Utila is one of the cheapest places in the world to get your PADI certification. If you aren't certified, this is the place to do it!
Pay cash – Credit card processing fees will often be passed along to the customer. This could mean you will pay an extra 2-4% on your purchase. Avoid this extra fee by paying with cash when you can.
Eat in Comayaguela when in Tegucigalpa – Cheap restaurants, markets, and lodgings can be found in this district of the capital city, Tegucigalpa.
My Must Have Guides For Traveling to Honduras