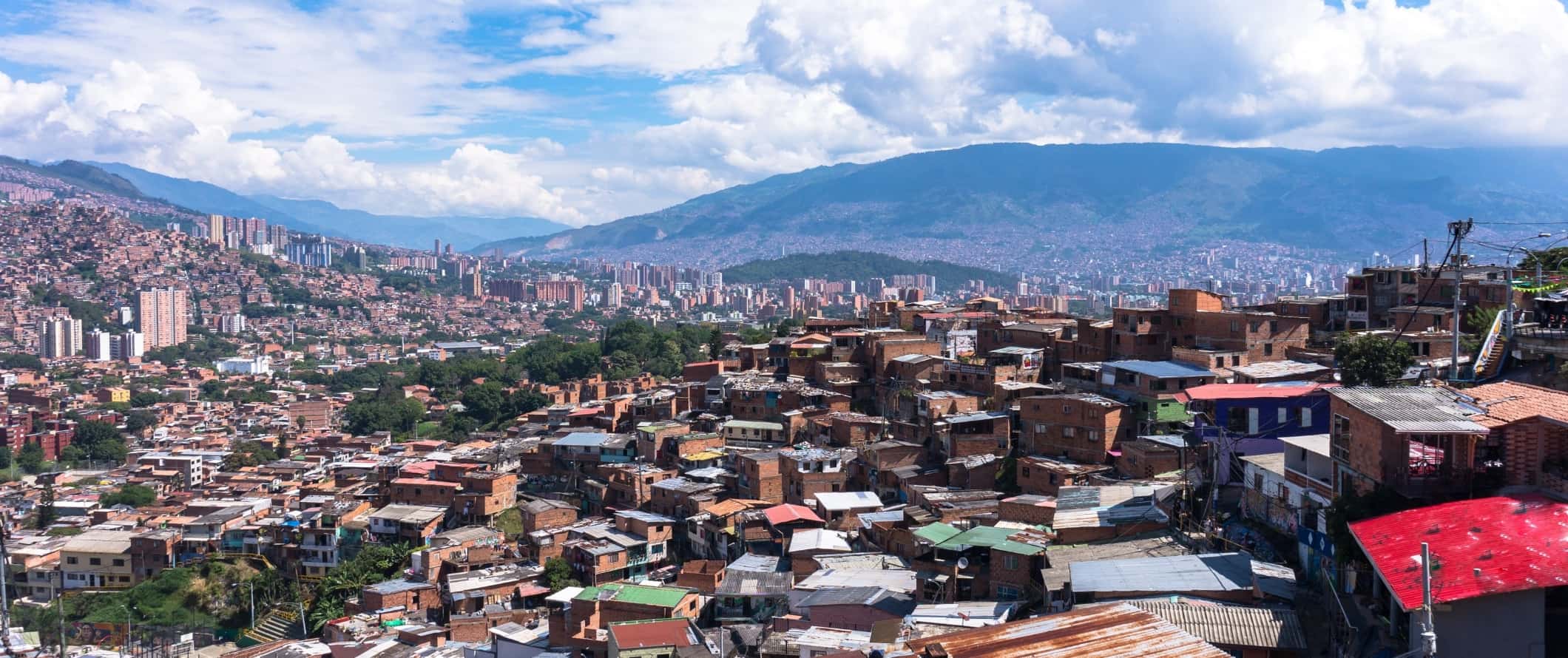 Medellín is the most popular city in Colombia (maybe even South America). It's a hot spot for digital nomads and remote workers, expats, and travelers who come to backpack Medellín as they travel through Colombia.
Set in the Aburrá Valley, Medellín has a temperate year-round climate that makes it one of the fastest-growing cities in Colombia. It's full of skyscrapers and high-rise apartments against a backdrop of stunning mountain peaks.
It also has enough activities to fill weeks on end: microbreweries, museums, walking tours, parks, street art, food tours and markets, and incredible nightlife. It has a festival of flowers, hosts the annual giant fashion conference Colombiamoda, and hosts multiple arts festivals throughout the year — from salsa and flamenco to poetry, photography, and more!
After two decades, the city is finally shedding its shady cartel past that made it the most dangerous in the world. Today, the public transportation system is comprehensive, the city is tech-forward, and everyone is optimistic about the future. It's no surprise so many expats move it!
This travel guide to Medellín will help you plan your trip, save money, and ensure you stay safe as you explore this amazing destination!
Top 5 Things to See and Do in Medellín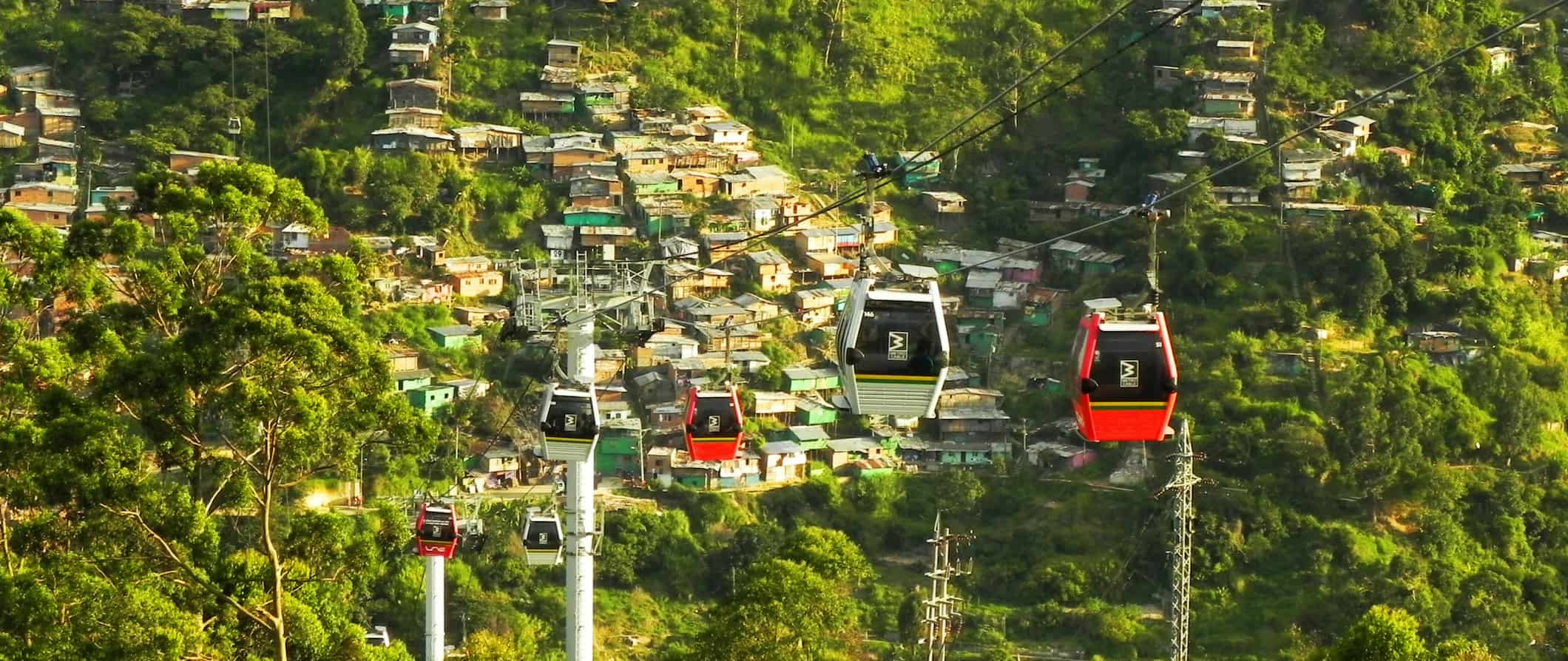 1. Visit the Botero sculptures
Fernando Botero is probably the most famous Colombian artist. The largest collection of sculptures is in his birthplace of Medellín, 23 of which are scattered around Plaza Botero. Some of his most admired pieces include "The Hand," "Roman Soldier," and "Man on Horseback."
2. Learn to salsa
I know when it comes to salsa in Colombia, Cali is king, but Medellín is close behind it. You can't come to Medellín and not take at least one salsa class, especially since most bars in the El Poblado area have free salsa and bachata classes. Whatever night of the week you want to go out, there's a free class somewhere!
3. Ride the cable car to Parque Arvi
Parque Arvi is a nearby park outside the city connected by a gondola. It's a scenic ride with stunning views of the city, and it costs around 16,000 COP round-trip. There's a food market at the top, and the park itself has hiking trails through a eucalyptus forest and along lakes and lookout points.
4. Day trip to Guatapé
A trip to the colorful town of Guatapé is a must. It's just a few hours away via bus so it can easily be done in a day, either on the public bus or as part of a tour. At El Peñól, climb the 740 steps to admire the view of the region. If you can, stay a night.
5. Tour La Sierra
The La Sierra barrio walking tour takes you completely off the beaten path, up into the hills of Medellín on a tour of the barrios (neighborhoods). A tour with La Sierra Tours costs 150,000 COP, and proceeds go towards a soup kitchen that feeds local school children.
Other Things to See and Do in Medellín
1. Tour of Comuna 13
This is the most popular tour in Medellín. Comuna 13 is one of the most vibrant and colorful of all of the comunas in Medellín, thanks to the street art you see everywhere. Previously, this was one of the most dangerous areas in the city but became a popular hotspot thanks to its outdoor escalators and public cable cars. A tour around Comuna 13 costs anything from 30,000-90,000 COP. There are some free tours too, or you can wander here on your own. It's safe during the day but don't wander around on your own at night.
2. Visit the Memory House Museum
Skip the controversial Pablo Escobar tour and visit the Museo Casa Memoria instead. This museum beautifully and sensitively captures the stories and memories from the armed conflict. Here they share stories of real people, and it gives you insight into what life was really like living in the most dangerous city in the world. You may notice that in general Colombians don't want to talk about the "troubles" — they prefer to look forward instead, so it can be hard to understand what the average Colombian has lived through. This museum brings that difficult past to life so you can better understand the city and its people. Admission is free and they run tours in English on Tuesdays and Fridays.
3. Wander Parque Lleras
Located right in the center of the gringo hotspot of Poblado, this park is full of people all day and night. There are street vendors, food sellers, musicians, and people drinking well into the early hours of the morning. It's a good spot to people watch and hang out.
4. Visit Pueblito Paisa
It's a little bit cheesy, but admission is free so if you find yourself with some spare time visit Nutibarra Hill (Cerro Nutibarra). Here you'll find a replica of a typical turn-of-the-century Antioquia town. It's a fun way to peek into Colombia's past. Because it is located upon one of the hills in the middle of the Aburrá Valley, it offers sweeping views of Medellín and the surrounding area too.
5. Dance the night away on a Chiva
A Chiva is a party bus. It's a very Colombian thing to do, and if you get the chance, you should embrace the chaos and party Colombian style. The main Chiva season is December when many workplaces hire a Chiva for their "office party." It is also very common for hostels to organize Chivas for backpackers. Most Chivas have only a few seats on one side, lots of flashing lights, and maybe a pole or two. They take you on a very slow tour of Medellín while you dance and drink on the bus. The bus normally makes a few stops so you can use the bathroom, buy more booze, or continue dancing in a nearby bar.
6. Visit the Museo de Arte Moderno
The Museum of Modern Art, located in a refurbished industrial building, is an awesome work of art in itself. It's an enormous building of concrete and metal meant to resemble the city's barrios that keep building up into the hillsides. Many people have a love-hate relationship with modern art (it's not my personal favorite) but even I enjoyed my visit here. The collection is small, but there's also a beautiful photography section on the bottom floor.
7. Go paragliding
For those seeking adventure, Medellín is the perfect location for paragliding, with several tour companies operating in the mountains just outside Medellín. A basic tandem flight costs 250,000 COP and lasts 15 minutes (you can pay extra for a longer flight though). If you add in door-to-door transportation, it's 375,000 COP per person (with discounts available if you're a group).
8. Take a tour to a coffee farm
If you aren't planning a trip to the Coffee Region of Colombia (the area between the three cities of Manizales, Pereira, and Armenia), then Medellín has a lot of coffee farms within an hour's drive from the city that you can visit. Most of the farms that run tours are small family-run coffee producers who subsidize their income by providing tours. Tours start from 189,000 COP. Go with either Expedition Colombia or head to La Casa Grande Hacienda for a tour.
9. Enjoy the café culture
Over the past few years, a multitude of hip cafés have opened up across Medellín, mostly in the areas favored by digital nomads and expats (Laureles, El Poblado, and Envigado). Although Colombia is well known worldwide for its coffee, most of the best coffee has traditionally always been exported. This meant that until a few years ago most Colombians didn't actually drink their own homegrown coffee. This is rapidly changing though, and you can get some fantastic specialty coffee in Medellín.
10. Tour a cacao farm
Taking a tour of a cacao farm is similar to visiting a coffee farm: you learn about the process of how chocolate is made, from seed to chocolate bar. You also learn from the farmers about how they came to farm cacao. Many of them were farming illegal drugs, and as part of a government initiative, they took a grant to start farming cacao instead (this is one of the many government programs working to clean up the country). Tours start at 75,000 COP per person.
11. Visit Minorista Market
Opened in 1984, the Minorista Market is a daily market where you'll find the widest selection of fruit I've ever seen. It can be a little tricky to get to if you aren't used to the colectivos (crowded public buses), but if you can find a few friends to share a taxi or Uber, it's just a few COP each. You'll also find fresh meat, seafood, and clothing here, as well as bars and restaurants if you want to sit back and take in the scene.
12. Eat your way around Mercado Del Río
Mercado Del Río is a trendy gastronomic market where you can eat some of the best food in the city. The market has an informal atmosphere, good wine, beer from around the world, and lots of restaurants serving small dishes made for sharing. It is more expensive than eating on the street, but it's not expensive considering the quality of the food and drink. Bring an appetite!
13. Explore Jardín Botánico
The botanical gardens offer a quiet retreat from the noise and chaos of the city. They also host numerous events, concerts, and festivals throughout the year. Spanning over 34 acres, the garden is home to around 4,500 flowers and more than 139 different bird species. There's also a nice (if not overpriced) restaurant in the center if you feel like spending more time here relaxing and taking in the scene.
14. See a soccer game
Soccer (fútbol) is religion here and, if there are games when you're here, you should really try to see one. Medellín has two local teams: Atlético Nacional and Independiente Medellín. Supporters of each team occupy bleachers at opposing ends of the stadium since things tend to get rowdy and violent when they are near each other. Tickets are under 40,000 COP.
15. Wander the Cementerio Museo de San Pedro
Built in 1842, this cemetery is also a museum where you can see the monuments and graves of many famous Colombians, including novelist Jorge Isaacs and former Colombian Presidents Carlos Eugenio Restrepo and Mariano Ospina Rodríguez. There are a lot of large marble mausoleums and statues here. Keep an eye out for special events such as midnight tours and movie nights. The cemetery is small, but it's also close to the botanical gardens so you can do both one after the other. It's free to visit.
16. Visit a microbrewery
There is a big craft beer scene in Colombia, and Medellín has over 30 breweries and microbreweries. Some of my favorites include 3 Cordilleras, Cerveza Premium Apóstol, Medellín Beer Factory, and 20 Mission Cerveza. I highly recommend visiting a couple while you're in the city.

For more information on other cities in Colombia, check out these guides:
Medellín Travel Costs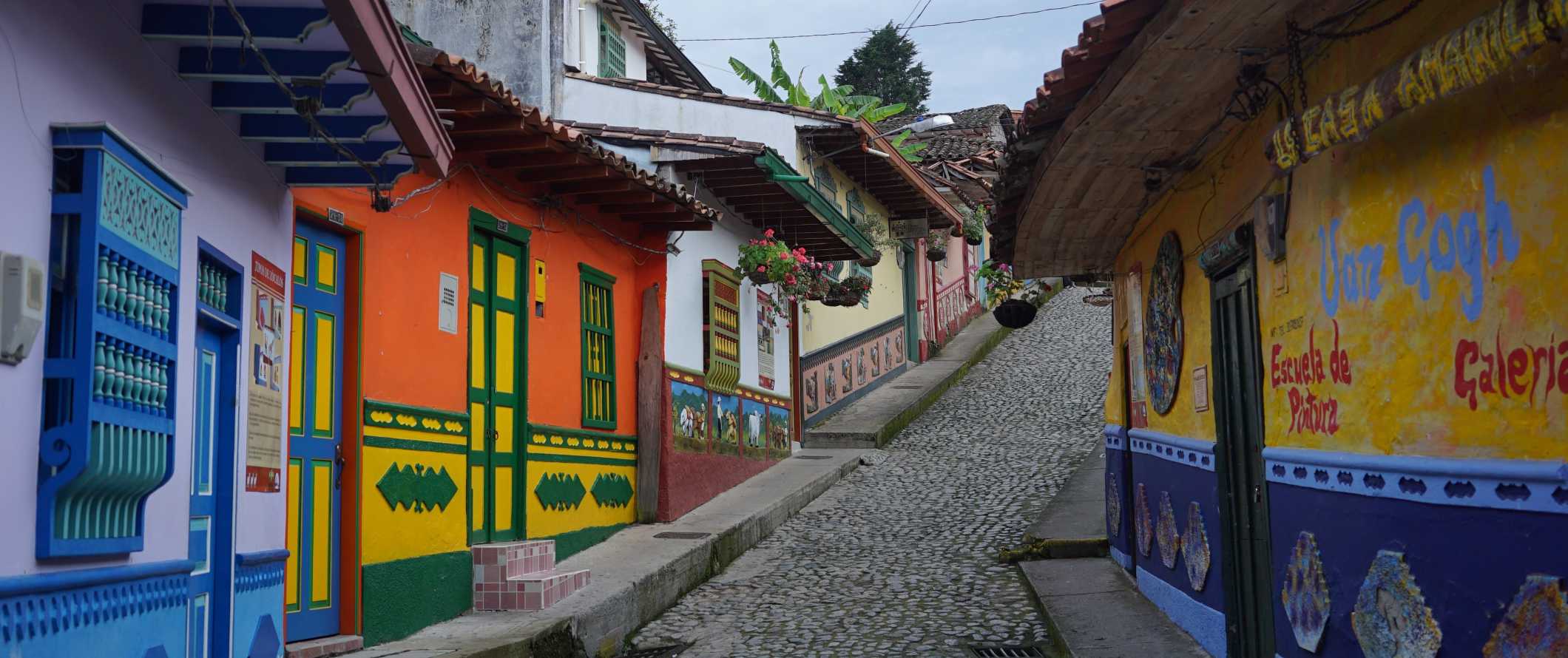 Hostel prices – Dorm rooms with 4-6 beds cost around 35,000 COP per night, while dorms with 8 beds or more cost closer to 20,000 COP. Medellín has a lot of higher-end hostels as well, with some dorms costing as much as 72,000 COP per night. A private room costs from about 60,000 COP per night for two people, although most are between 85,000-150,000 COP. Free Wi-Fi and self-catering facilities are standard and some hostels also include free breakfast.
Budget hotel prices – Two-star hotels start at 60,000 COP per night but average closer to 90,000 COP per night. Most budget hotels include free Wi-Fi and free breakfast.
Airbnb is another affordable option here, with private rooms starting at 50,000 COP per night (though they average around 80,000 COP). An entire home/apartment costs around 280,000 COP per night.
Food – Colombian food is a blend of indigenous, Caribbean, and European traditions. While ingredients and popular dishes vary by region, common staples include maize, potato, cassava, rice, and all kinds of tropical fruit (dragon fruit, papaya, guava, passionfruit). Fried plantains, chicken soup, tamales, empanadas, meat pies, and roasted piglet are just some of the delicious popular dishes you'll encounter.
If you're on a budget, stick to cheap eats like arepa, empanada, and bandeja paisa (a hearty meal of pork, rice, beef, fried egg, plantain, and more). Also try the mondongo, a traditional tripe soup. It comes with a ton of side dishes (including giant avocados). You can usually find these for just a few thousand pesos.
In fact, traditional food in Medellín is so affordable that it's often more expensive to eat at a fast-food spot like McDonald's, which costs around 20,000 COP for a combo meal (compared to just 16,000 COP for a meal at a local restaurant serving traditional cuisine).
If you want to splash out, a three-course meal at a mid-range restaurant costs around 40,000 COP.
A beer at the bar costs around 8,000 COP while buying it at a store is half that price. A latte/cappuccino is around 4,900 COP.
Some of my favorite places to eat in Medellín include Mondongo, Carmen, Mercado del Rio, 20 Mission, Pergamino Café, Hatoviejo, and 37 Park.
OXXO stores are a great place to stock up on snacks and alcohol — most are open 24 hours. For a week's worth of groceries, expect to pay around 90,000 COP for basic staples like rice, eggs, fresh fruits and vegetables, and some meat and cheese.
Backpacking Medellín Suggested Budgets
If you are backpacking Medellín, my suggested budget is 115,000 COP. This assumes you're staying in a hostel dorm, cooking some meals and eating cheap street food, taking the bus to get around, limiting your drinking, and sticking to mostly free or cheap activities like free walking tours.
On a mid-range budget of about 235,000 COP, you can stay in a budget hotel or private Airbnb, eat out for all your meals, enjoy a few drinks, take some guided tours, and do more paid activities like visiting museums or doing a food tour.
On a "luxury" budget of 500,000 COP per day, you can stay in a hotel, eat out anywhere you want, drink more, take more taxis, and do whatever tours and activities you want. This is just the ground floor for luxury though. The sky is the limit!
You can use the chart below to get some idea of how much you need to budget daily, depending on your travel style. Keep in mind these are daily averages – some days you spend more, some days you spend less (you might spend less every day). We just want to give you a general idea of how to make your budget. Prices are in COP.
Accommodation
Food
Transportation
Attractions
Average Daily Cost
Backpacker
35,000
30,000
20,000
30,000
115,000
Mid-Range
80,000
75,000
40,000
40,000
235,000
Luxury
150,000
150,000
120,000
80,000
500,000
Medellín Travel Guide: Money-Saving Tips
Medellín is super affordable if you stick to eating local street food, stay in dorm rooms, and use public transportation. However, it's also easy to splash out here on the delicious food and the lively nightlife. Here are some ways to help you save money during your visit:
Take a free walking tour – There are plenty of free walking tours available, which make for a great introduction to the city. This is the best (and cheapest) way to explore while getting a detailed overview of the city and its culture and history. Just be sure to tip your guide at the end!
Stay with a local – While accommodation is cheap here, staying with a local via Couchsurfing makes it free. Not only do you save some money, but you get firsthand knowledge from a local who can share their insider tips and advice with you!
Cook your own meals – While eating out isn't too expensive here, if you're on a budget it is cheaper if you cook your own meals. Head to a local grocery store and save your budget!
Don't stay in Poblado – Poblado is where all the Westerners/expats live. That means food and accommodation in this area is going to cost more, so avoid staying here if you're on a budget.
Pack a water bottle – The tap water here is safe so bring a water bottle with you to avoid buying single-use plastic. My preferred bottle is LifeStraw, which has built-in filters to ensure your water is always clean and safe.
Where to Stay in Medellín
There are a few areas in Medellín that are popular with backpackers, tourists, and expats alike. Laureles and the Estadium areas are very safe, have good nightlife, have more greenery, and feel a bit less "touristy." El Poblado and Envigado are the most popular areas to stay in for tourists and backpackers (but also a bit pricier).
Here are some of my recommended places to stay in Medellín:
How to Get Around Medellín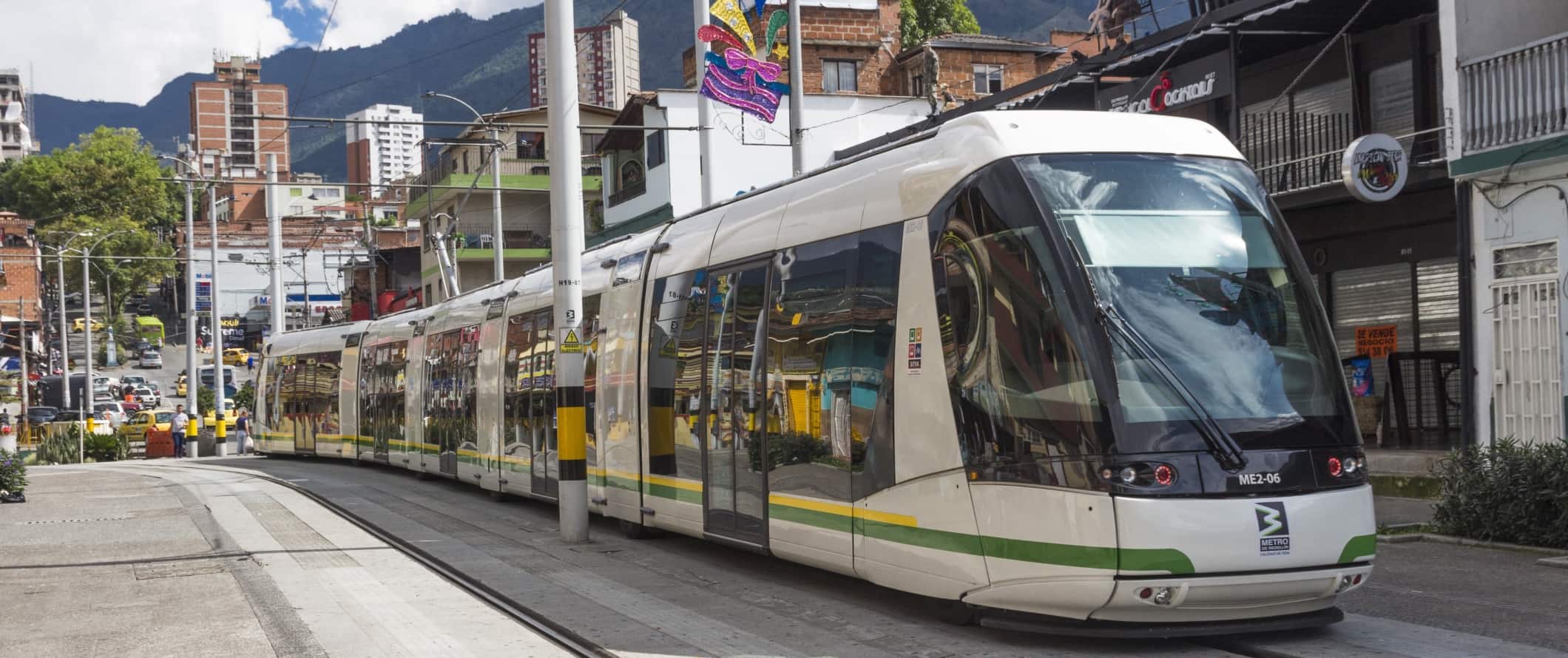 Public transportation – The main method of public transportation is the Metro. It's reliable, cheap, quick, and easy to use. You can pay per ride, which costs 2,500 COP. The Metro consists of two rail lines, five cable car lines, a tramcar line, and some buses that connect to Metro stations.
If you are planning on staying in Medellín for a while, it's worth getting a Cívica card (metro card). If you are only in town for a few days it's probably not worth it, as there are a lot of forms to fill out and the queue can take over two hours sometimes.
Local buses are referred to as colectivos. While the Metro is easy and efficient to use, the colectivos are the complete opposite. If you need to colectivo somewhere, it is best to ask a local to help you as there are no maps or timetables. The colectivos have a fixed price which you can see on the front of the bus.
Bike – Medellín has public city bikes (EnCicla) available to use for free for one hour at a time. After that, you get charged for the time used. The catch is that the registration process is a bit annoying. You need to get a Metro/Cívica card (lots of form filling and waiting in line), then once you have your Metro card, you need to go online and complete more forms. It takes three working days to be processed. Then you need to go to an office to finish off the process. It is quite a bit of work, and the pass is only valid for one week.
Taxi – Taxis are cheap and relatively safe in Medellín. Although it is ok to flag down a taxi in the street, it is advisable, especially at night, to use an app like Tapsi or Easy Taxi. They work just like Uber although they won't charge your card, so you need to pay cash. It is by far the safest way to take a taxi if you need one, and the taxi is metered. A base charge is about 4,650 COP and then 3,925 COP per kilometer.
Although Uber is not legal in Colombia it is widely used and considered as safe as using Tapsi or Taxi Fast. If you need to make any longer journeys, Uber is generally a bit cheaper, but more expensive for longer journeys. So it is worth checking all three apps for pricing differences.
Car rental – Cars can be rented for as little as 95,000 COP per day, though you don't need one to get around the city. Additionally, since break-ins are common I'd avoid renting a car unless you're leaving for a day trip outside the city. Drivers need to be at least 21 and have an International Driving Permit.
When to Go to Medellín
Medellín doesn't really have seasons so there is no bad time to visit. It is known as the city of eternal spring because the climate feels like spring all year round. It rains often, but mostly through the night, and rarely for more than an hour or so. Expect cool mornings, hot days, and mild evenings. The temperature averages somewhere between 16-25°C (62-78°F) most of the time.
Christmas in Medellín is magical, as lights completely cover the city in the most festive display you have ever seen. There are festivals, lanterns, concerts, parties, and Christmas markets galore.
The other great time to visit is in August during the Feria de Las Flores (Festival of Flowers). This is a weeklong festival with the highlight being the world-famous parade of silleteros, a huge parade of flowers that comes through Medellín carried by flower vendors. People from all over Colombia travel to Medellín during this time and the city fills up so be sure to book your accommodation in advance if you want to attend.
How to Stay Safe in Medellín
Safety is often one of the biggest concerns for people when planning a trip to Medellín. Once the world's most dangerous city, it still has somewhat of a bad reputation for those who are only familiar with the city's past.
Fortunately, things have improved dramatically here over the years. However, theft is still very common. They have a common saying in Colombia, "No dar papaya." This translates to "don't give papaya." What it really means is don't give anyone the chance to steal your stuff — because someone probably will!
That means no walking around with your phone out, never keeping anything in your pockets (especially when on public transport), and always keeping hold of your bag.
If you are eating out, keep your backpack on your lap or place your foot or a chair leg through your strap. It is very common for someone to do a bag swap (meaning they swap their empty bag for yours) so keep your bag secure at all times.
You should also use caution when withdrawing money from an ATM. Avoid the ATMs on the street if possible and go into the bank to use the ATM. That way you can put your money away discreetly without being watched.
If you're worried about getting ripped off you can read about common travel scams to avoid here. There's a lot so keep an eye out!
Look for hotels or hostels with 24-hour security. You always want someone around in case you need assistance.
Avoid drug tourism. The drugs cartels have crippled this country so it's really disrespectful. Also, doing drugs here is illegal and you don't want to end up in a Colombian prison!
There are a few no-go areas in the city, but as a tourist, you shouldn't ever find yourself accidentally wandering into one of these areas. As a general rule, don't walk around the downtown area at night. Stick to Laureles and El Poblado for nights out, and if you are on your own, it is always safer to be in a taxi than walk. Use one of the taxi apps so you know who your driver is.
If you experience an emergency and need assistance, dial 123.
Always trust your gut instinct. Make copies of your personal documents, including your passport and ID. Forward your itinerary along to loved ones so they'll know where you are.
For more in-depth coverage of how to stay safe in Colombia, check out this post that answers some frequently asked questions and concerns.
The most important piece of advice I can offer is to purchase good travel insurance. Travel insurance protects you against illness, injury, theft, and cancellations. It's comprehensive protection in case anything goes wrong. I never go on a trip without it as I've had to use it many times in the past. You can use the widget below to find the policy right for you:
Medellín Travel Guide: The Best Booking Resources
These are my favorite companies to use when I travel. They consistently have the best deals, offer world-class customer service and great value, and overall, are better than their competitors. They are the companies I use the most and are always the starting point in my search for travel deals.
Skyscanner – Skyscanner is my favorite flight search engine. They search small websites and budget airlines that larger search sites tend to miss. They are hands down the number one place to start.
Hostelworld – This is the best hostel accommodation site out there with the largest inventory, best search interface, and widest availability.
Booking.com – The best all around booking site that constantly provides the cheapest and lowest rates. They have the widest selection of budget accommodation. In all my tests, they've always had the cheapest rates out of all the booking websites.
Get Your Guide – Get Your Guide is a huge online marketplace for tours and excursions. They have tons of tour options available in cities all around the world, including everything from cooking classes, walking tours, street art lessons, and more!
SafetyWing – Safety Wing offers convenient and affordable plans tailored to digital nomads and long-term travelers. They have cheap monthly plans, great customer service, and an easy-to-use claims process that makes it perfect for those on the road.
LifeStraw – My go-to company for reusable water bottles with built-in filters so you can ensure your drinking water is always clean and safe.
Unbound Merino – They make lightweight, durable, easy-to-clean travel clothing.
Top Travel Credit Cards – Points are the best way to cut down travel expenses. Here's my favorite point earning credit cards so you can get free travel!
Medellín Travel Guide: Related Articles
Want more info? Check out all the articles I've written on backpacking/traveling Colombia and continue planning your trip: