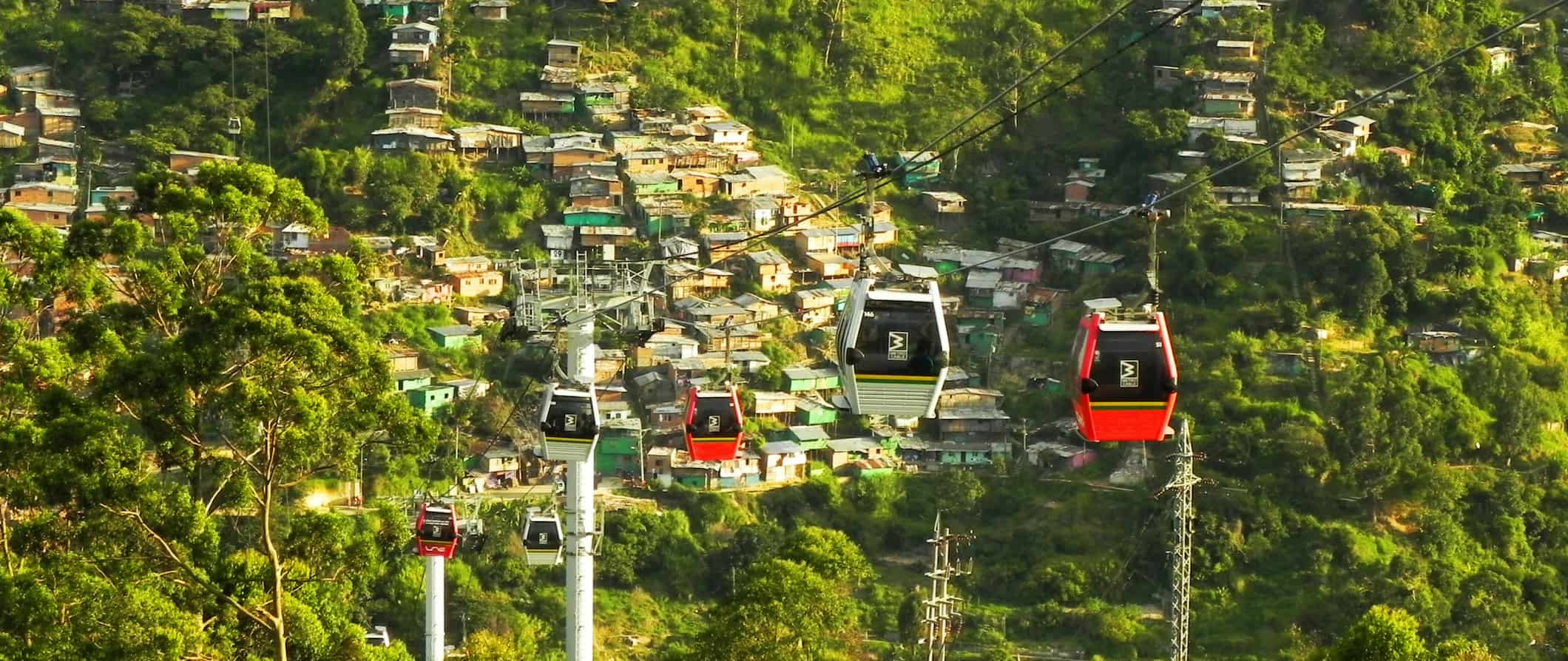 Medellín is the it city in Colombia (and maybe even South America) right now. The city is a hot spot for digital nomads, expats, and travelers who come to backpack Medellín as they travel through Colombia.
Set in the Aburrá Valley, Medellín has a temperate year-round climate that makes it one of the fastest-growing cities in Colombia. It's full of skyscrapers and high-rise apartments against a backdrop of mountain peaks.
And it has enough activities to fill weeks on end: microbreweries, museums, walking tours, parks, street art, food tours and markets, and incredible nightlife.
After close to two decades, the city is finally shedding the Narco days and the infamous Medellín Cartel that made the city the most dangerous in the world.
The city is a lot safer than it used to be, the public transportation system would rival even the best in Europe, it's tech-forward, and everyone is optimistic about the future.
This travel guide to Medellín will help you plan the best trip to one of my favorite cities in Colombia.

Medellín
Top 5 Things to See and Do in Medellín
1. Visit the Botero sculptures
Fernando Botero is the most famous Colombian artist and you'll see his work everywhere. The largest collection of sculptures is in his birthplace of Medellín, 23 of which are scattered around Plaza Botero in the city center. Some of his most admired pieces include "The Hand," "Roman Soldier," and "Man on Horseback."
2. Learn to salsa
I know when it comes to salsa in Colombia, Cali is king, but Medellín is close behind it. You can't come to Medellín and not take at least one salsa class, especially since most bars in the El Poblado area have free salsa and bachata classes. Whatever night of the week you want to go out, there will be a free class somewhere!
3. Ride the cable car to Parque Arvi
Parque Arvi is a nearby park outside the city connected by a gondola. It's a scenic ride with stunning views of the city, and it costs 4,850 COP ($1.40 USD) round-trip. There's a food market at the top, and the park itself has hiking trails through eucalyptus forest and along lakes and lookout points.
4. Take a trip to Guatape
A trip to the colorful town of Guatape is a must. It's just a few hours on a bus so it can easily be done in a day, either on the public bus or as part of a tour. At El Peñol, climb the 740 steps to admire the view of the region. If you can, stay a night.
5. Tour La Sierra
The La Sierra barrio walking tour takes you completely off the beaten path, up into the hills of Medellín on a tour of the barrios. You'll meet locals and learn all about the history of the area. A tour with La Sierra Tours costs 70,000 COP ($23 USD), and proceeds go towards a soup kitchen.
Other Things to See and Do in Medellín
1. Do a tour of Communa 13
This is the most popular tour in Medellín. Comuna 13 is one of the most vibrant and colorful of all of the communas in Medellín, thanks to the street art you will find everywhere. It was one of the most dangerous in the city but became a hotspot because of their inspired outdoor escalators and public cable cars. The area is a testament to urban renovation. A tour will cost around 80,000 COP ($20 USD), although you can wander here on your own too. It's safe during the day but don't wander around on your own at night.
2. Visit the Memory House Museum
Skip the controversial Pablo Escobar tour and visit the Museo Casa Memoria instead. This museum beautifully and sensitively captures the stories and memories from the armed conflict. You may notice that in general Colombians don't want to talk about the "troubles" — they prefer to look forward instead, so it can be hard to understand what the average Colombian lived through. Here they share stories of real people, and it will give you insight into what life was really like living in the most dangerous city in the world.
3. Visit Parque Lleras
Located right in the center of the gringo hotspot of Poblado, this park is full of people all day and night. There are street vendors, food sellers, musicians, and people drinking well into the early hours of the morning. It's a wonderful place to people watch and to experience the nightlife!
4. Visit Pueblito Paisa
It's a little bit cheesy, but admission is free so if you find yourself with some spare time pay a visit to Pueblito Paisa (Little Town) at the top of Nutibarra Hill (Cerro Nutibarra). It is a replica of a typical turn-of-the-century Antioquia town and a great way to take a peek into Colombia's past. Because it is located upon one of the hills in the middle of the Aburrá Valley, it offers sweeping views of Medellín and the surrounding area.
5. Dance the night away on a Chiva
A Chiva is a party bus. It's a very Colombian thing to do, and if you get the chance, you should embrace the chaos and party Colombian style. The main Chiva season is December when many workplaces hire a Chiva for their "office party." It is also very common for hostels to organize Chivas for backpackers. Most Chivas have only a few seats on one side, lots of flashing lights, and maybe a pole or two. They will take you on a very slow tour of Medellín while you dance and drink on the bus. The bus normally makes a few stops so you can use the bathroom, buy more booze, or continue dancing in a nearby bar.
6. Visit the Museo de Arte Moderno
The Museum of Modern Art, located in a refurbished industrial building, is an awesome work of art in itself. It's an enormous building of concrete and metal, meant to resemble the city's barrios that keep building up into the hillsides. Many people have a love-hate relationship with modern art (it's not my personal favorite) but even I enjoyed my visit here. The collection is small, but there's also a beautiful photography section on the bottom floor.
7. Go paragliding
For those seeking adventure, Medellín is the perfect location for paragliding, with several tour companies operating in the mountains just outside Medellín. They will all advise you how to get to them, or they can arrange for your transportation if needed. A flight will cost about 160,000 ($52 USD). If you want them to pick you up from your hostel/hotel, expect to pay around 320,000 COP ($103 USD). Paragliding Medellín is one of the best companies to go with.
8. Take a tour to a coffee farm
If you aren't planning a trip to the coffee region of Colombia, then Medellín has a lot of coffee farms within an hour that you can visit. Most of the farms who run tours are small family-run coffee producers who subsidize their income by providing tours. Tours start from 206,376 COP ($60 USD). Go with either Medellín Coffee Tour or Toucan Cafe's Medellín Coffee Farm Tour.
9. Enjoy the cafe culture
Over the past few years, a multitude of hip cafes have opened up across Medellín, mostly in the areas favored by digital nomads and expats: Laureles, El Poblado, and Envigado. Although Colombia is well known worldwide for its coffee, most of the good stuff was always exported. This meant that until a few years ago most Colombians didn't actually drink their own homegrown specialty coffee. This is rapidly changing though, and you can get some fantastic local specialty coffee in Medellín.
10. Tour a cacao farm
Taking a tour of a cacao farm is similar to visiting a coffee farm: you will learn about the process of how chocolate is made, from seed to chocolate bar. You'll also learn from the farmers about how they came to farm cacao. Many of them were farming illegal drugs, and as part of a government initiative, they took a grant to start farming cacao. Taking a tour gives you a great insight into how the government is working hard to "clean up" and incentivize people to go legal. Tours start around 92,558 COP ($27 USD). Toucan Cafe and Tours does a great one.
11. Visit Minorista Market
Colombian food might not be great, but their fruit is on another level! They have so many fruits I've never even heard of before, never mind tasted. The Minorista Market is a daily market where you can find the widest selection of fruit I've ever seen. It can be a little tricky to get to if you aren't used to the colectivos, but if you can find a few friends to share a taxi or Uber, it will be just a few COP each.
12. Eat your way around Mercado Del Río
Mercado Del Río is a gastronomic market where you eat some of the best food in the city. The market has an informal atmosphere, good wine, beer from around the world, and lots of restaurants serving small dishes made for sharing. It is more expensive than eating on the street, but it's not expensive considering the quality of the food and drink.
13. Explore Jardín Botánico
The botanical gardens, a quiet retreat from the noise and chaos of the city, host numerous events, concerts, and festivals throughout the year. They cover over 14 hectares and are home to around 4,500 flowers and more than 139 different bird species. There's also a nice (if not overpriced) restaurant in the center if you feel like spending more time here relaxing and taking in the scene.
14. See a soccer game
Soccer (futbol) here is religion and, if there are games when you're here, you should really try to see one. Medellín has two local teams: Atlético Nacional and Independiente Medellín. Supporters of each team occupy bleachers at opposing ends of the stadium since things tend to get rowdy and violent when they are near each other. Ticket prices are well under 40,000 COP (under $12.50 USD).
15. Wander the Cementerio Museo de San Pedro
Built in 1842, this cemetery is also a museum where you can see the monuments and graves of many famous Colombians. There's a lot of large marble mausoleums and statues here. Keep an eye out for special events such as midnight tours and movie nights. The cemetery is small, but it's also close to the botanical gardens so you can do both one after the other. It's free to visit.
16. Visit a microbrewery
There is a big craft beer scene in Colombia, and Medellín has over 30 breweries and microbreweries. Some of my favorites include 3 Cordilleras, Cerveza Premium Apóstol, Medellín Beer Factory, and 20 Mission Cerveza. I highly recommend visiting a couple while you're in the city.
Medellín Travel Costs
Hostel prices – Dorm rooms with four to six beds average about 34,706 COP ($10 USD) per night, while eight beds or more typically cost 27,765 COP ($8 USD) or less. Medellín has a lot of higher-end hostels as well, with some dorms costing as much as 69,413 COP ($20 USD) per night.
A private room will cost from about 121,472 COP ($35 USD) per night for two people, although most average between 173,532-208,239 COP ($50-60 USD). Free WiFi is standard, and some hostels also offer free breakfast.
Budget hotel prices – Prices for a double room in a two-star hotel start at about 86,766 COP ($25 USD) per night and average about 138,826 COP ($40 USD) per night. Most places come with free breakfast.
Airbnb is another affordable option, with shared spaces (like a dorm) averaging about 45,118 COP ($13 USD) per night. A private room will cost you about 93,707 COP ($27 USD) per night, while a full apartment is about 295,005 COP ($85 USD) per night.
Food – If you're on a budget, you can easily eat for under 3,000 COP ($11 USD) a day, whether it's an arepa for less than 2,000 COP ($.70 USD), an empanada for 1,500 COP ($0.50 USD) or Bandeja Paisa (a hearty meal of pork, rice, beef, fried egg, plantain, and more) for lunch for as little as 9,000 COP ($3.50 USD). Also try the mondongo, a traditional tripe soup. It comes with a ton of side dishes (including giant avocados) and starts from about 22,000 COP ($6.40 USD).
The local food in Medellín is so affordable that it's often more expensive to eat at a fast-food spot like McDonald's. It can cost around 17,000 COP ($5.50 USD) for a burger, fries, and soft drink. On the other hand, a meal at a mid-range restaurant can cost just 17,353 COP ($5 USD). A beer at the bar will cost around 5,000 COP ($1.75 USD) while buying it at a store will be half that price.
Some of my favorite places to eat in Medellín include Mondongo, Carmen (high end), Mercado del Rio, 20 Mission, Pergamino Café, Hatoviejo, and 37 Park.
OXXO stores are a great place to stock up on snacks and alcohol — most are open 24 hours. For a week's worth of groceries, shop at an Exito. Expect to pay around 63,000-94,000 COP ($20-30 USD).
Backpacking Medellín Suggested Budgets
If you are backpacking Medellín, my suggested budget is $78,000 COP ($25 USD). This is assuming you're staying in a hostel dorm, eating cheap meals, cooking some of your food, visiting a few of the paid attractions, taking the free talking tours, and using local transportation.
On a mid-range budget of about 190,000 COP ($60 USD), you can stay in a nicer hostel or budget hotel, eat out at nicer restaurants, have some cocktails, take some guided tours, and visit more paid attractions.
If you're going to "live a Western lifestyle" on your visit (private rooms at hostels, nice restaurants, cocktails, guided tours), you should expect to pay 275,292- 344,115 COP ($80-100 USD) per day. If you're going to stay at Western hotel chains and go all out on the dining and drink scene here, I'd budget at least 688,231 COP ($200 USD) a day.
You can use the chart below to get some idea of how much you need to budget daily, depending on your travel style.
Accommodation
Food
Transportation
Attractions
Average Daily Cost
Backpacker
$7
$8
$3
$7
$25
Mid-Range
$20
$15
$5
$20
$60
Luxury
$70
$40
$20
$70
$200
Medellín Travel Guide: Money Saving Tips
Medellín is pretty cheap. If you stick to eating local street food, dorm rooms, and public transportation, it's tough to break the bank. Especially as so many attractions are free.
My one piece of advice is to limit your drinking. This is where travelers go wrong. Sure the beer is cheap, but twenty of them add up! Watch your drinking, stay in dorms or with Couchsurfing hosts, stick to the markets, and the daily free walking tours, and you'll be hard-pressed to spend a lot here! Here are some ways to save money on your visit:
Take a free walking tour – There are plenty of free walking tours available, making for a great introduction to the city. This is the best (and cheapest!) way to explore while getting a detailed overview of the city and its culture and history. Real City Tours is the best company to go with. Just be sure to tip!
Stay with a local – While accommodation is cheap here, staying with a local will make it free. Not only will you save some money, but you'll get firsthand knowledge from a local!
Cook your own meals – While eating out isn't too expensive here, if you're on a budget it will be cheaper if you cook your own meals. Head to a local grocery store and save your budget!
Have an ISIC Card – To save 20-50% on the cost of admission to museums and other tourist attractions, be sure to present a valid student card. The ISIC is typically accepted in places where a foreign student ID is not.
Where To Stay in Medellín
There are a few areas in Medellín that are popular with backpackers, tourists, and expats alike. Laureles and the Estadium areas are very safe, have good nightlife, have more greenery, and feel a bit less "touristy." They are the areas more popular with Digital Nomads and Expats. El Poblado and Envigado are the most popular areas to stay in for tourists and backpackers. The nightlife is great, and it is where most of the Spanish schools are located. There are other areas considered safe but these are the four main ones.
Here are some of my favorite places to stay in Medellín:
How to Get Around Medellín
Metro – The main method of public transportation is the Metro. The Metro is very organized, cheap, and easy to use. You can pay per ride, which costs 2,550 COP ($0.79 USD). The Metro consists of two rail lines, five cable car lines, a tramcar line, and some buses that connect to Metro stations.
If you are planning on staying in Medellín for a while, it's worth getting a Civica card (metro card). If you are only in town for a few days it's probably not worth it, as there are a lot of forms to fill out and the que can take over two hours sometimes.
Bus – Local buses are referred to as colectivos. While the Metro is easy and efficient to use, the colectivos are the complete opposite. If you need to colectivo somewhere, it is best to ask a local to help you as there are no maps or timetables. The colectivos have a fixed price which you will see on the front of the bus.
Bike – Medellin has public city bikes (EnCicla) available to use for free for one hour at a time. After that, you'll get charged for the time used. The catch is that the registration process is a bit annoying. You will need to get a Metro card (lots of form filling and waiting in line), then once you have your Metro card, you need to go online and complete more forms. It will take three working days to be processed. Then you will need to go to an office to finish off the process. It is quite a bit of work, and the pass is only valid for one week.
Taxis – Taxis are cheap and relatively safe in Medellín. Although it is ok to flag down a taxi in the street it is advisable, especially at night, to use an app like Tapsi or Easy Taxi. They work just like Uber although they won't charge your card, so you will need to pay cash. It is by far the safest way to take a taxi if you need one, and the taxi will be metered. A base charge is about 4,130 COP ($1.19 USD) and then 1,284 COP ($0.37 USD) per kilometer. A five-kilometer (three-mile) journey should only cost about 10,655 COP ($3.07 USD).
Although Uber is not legal in Colombia it is widely used and considered as safe as using Tapsi or Taxi Fast. If you need to make any longer journeys Uber is generally a bit cheaper, but more expensive for longer journeys. So it is worth checking all three apps for pricing differences.
When to Go to Medellín
Medellín doesn't really have seasons so there is no bad time to visit, weather wise. It is known as the city of eternal spring because the climate is like spring all year round. It rains often, but mostly through the night, and rarely for more than an hour or so. Expect cool mornings, hot days, and mild evenings. The temperature averages somewhere between 62-78°F (16-25°C) most of the time.
There are certain times of the year when Medellín is a very special place to be. Christmas in Medellín is magical, as lights completely cover the city in the most festival display you have ever seen. There are festivals, lanterns, concerts, parties, and Christmas markets galore.
The other great time to visit is in August during the Feria de Las Flores (Festival of Flowers). This is a weeklong festival with the highlight being the world-famous parade of silleteros, a huge parade of flowers that comes through Medellín carried by flower vendors. People from all over Colombia travel to Medellín during this time, so it can get very busy.
How to Stay Safe in Medellín
Safety is often one of the biggest concerns for people when planning a trip to Medellín. They have a common saying in Colombia "no dar papaya" this translates as "don't give papaya." What it really means is don't give anyone the chance to steal your stuff!
That means no walking around with your phone out, never keep anything in your pockets (especially when on public transport), and always keep hold of your bag! If you are eating out, keep your backpack on your lap or place your foot or a chair leg through your strap. It is very common for someone to do a bag swap (meaning they swap their empty bag for yours).
You should issue caution when withdrawing money from an ATM. Try to avoid the ATMs on the street if possible and go into the bank to use the ATM, that way you can put your money away discreetly without being watched.
Always trust your gut instinct. If a taxi driver seems shady, stop the cab and get out. If your hotel is seedier than you thought, get out of there. Make copies of your personal documents, including your passport and ID.
Look for hotels or hostels with 24-hour security. You always want someone around in case you need assistance. If you don't feel safe somewhere, don't hesitate to move on.
Avoid drug tourism. The drugs cartels have crippled this country. Locals don't like it because drugs have so devastated the country and doing it just further cripples the country. It's really disrespectful. Also, doing drugs here is illegal, and you don't want to end up in a Colombian prison.
There are a few no go areas in the city, but as a tourist you shouldn't ever find yourself accidentally wandering into one of these areas. As a general rule, don't walk around the downtown area at night. Stick to Laureles and El Poblado for nights out, and if you are on your own, it is always safer to be in a taxi than walking. Use one of the taxi apps so you know who your driver is.
You can read about the 14 travel scams to avoid right here.
Always trust your gut instinct. If a taxi driver seems shady, stop the cab and get out. If your hotel is seedier than you thought, get out of there. You have every right to remove yourself from the situation. Make copies of your personal documents, including your passport and ID. Forward your itinerary along to loved ones so they'll know where you are.
If you don't do it at home, don't do it in Medellín!
For more in-depth coverage of how to stay safe in Colombia, check out this post we wrote that answers some frequently asked questions and concerns.
The most important piece of advice I can offer is to purchase good travel insurance. Travel insurance will protect you against illness, injury, theft, and cancellations. It's comprehensive protection in case anything goes wrong. I never go on a trip without it as I've had to use it many times in the past. You can use the widget below to find the policy right for you:
Medellín Travel Guide: The Best Booking Resources
These are my favorite companies to use when I travel to South America. They are included here because they consistently find deals, offer world-class customer service and great value, and overall, are better than their competitors. They are the ones I use the most and are always the starting points in my search for travel deals.
Momondo – This is my favorite booking site. I never book a flight without checking here first.
Skyscanner – Skyscanner is another great flight search engline which searches a lot of different airlines, including many of the budget carriers that larger sites miss. While I always start with Momondo, I use this site too as a way to compare prices.
Airbnb – Airbnb is a great accommodation alternative for connecting with homeowners who rent out their homes or apartments. (If you're new to Airbnb, get $35 off your first stay!)
Hostelworld – This is the best hostel accommodation site out there, with the largest inventory, best search interface, and widest availability.
Couchsurfing – This website allows you to stay on people's couches or spare rooms for free. It's a great way to save money while meeting locals who can tell you the ins and outs of their city. The site also lists events you can attend to meet people (even if you're not staying with someone).
Booking.com – The best all around booking site that constantly provides the cheapest and lowest rates. They have a no money down policy, great interface, and the widest selection of budget accommodation. In all my tests, they've always had the cheapest rates out of all the booking websites.
Intrepid Travel – If you want to do a group tour around South America, go with Intrepid Travel. They offer good small group tours that use local operators and leave a small environmental footprint. If you go on a tour with anyone, go with them. And, as a reader of this site, you'll get a discount when you click the link!
Rome 2 Rio – This website allows you to see how to get from point A to point B the best and cheapest way possible. It will give you all the bus, train, plane, or boat routes that can get you there as well as how much they cost.
Busbud – Busbud is the only website that allows you to book bus travel across South America. You can search for the best rates and pay for your tickets online .
World Nomads – I buy all my travel insurance from World Nomads. They have great customer service, competitive prices, and in-depth coverage. I've been using them since I started traveling in 2003. Don't leave home without it!
EatWith – This website allows you to eat home cooked meal with locals. Locals post listings for dinner parties and specialty meals that you can sign up for. There is a fee (everyone sets their own price) but this is a great way to do something different, pick a local's brain, and make a new friend.
Medellín Gear and Packing Guide
If you're heading on the road and need some gear suggestions, here are my tips for the best travel backpack and for what to pack!
The Best Backpack for Travelers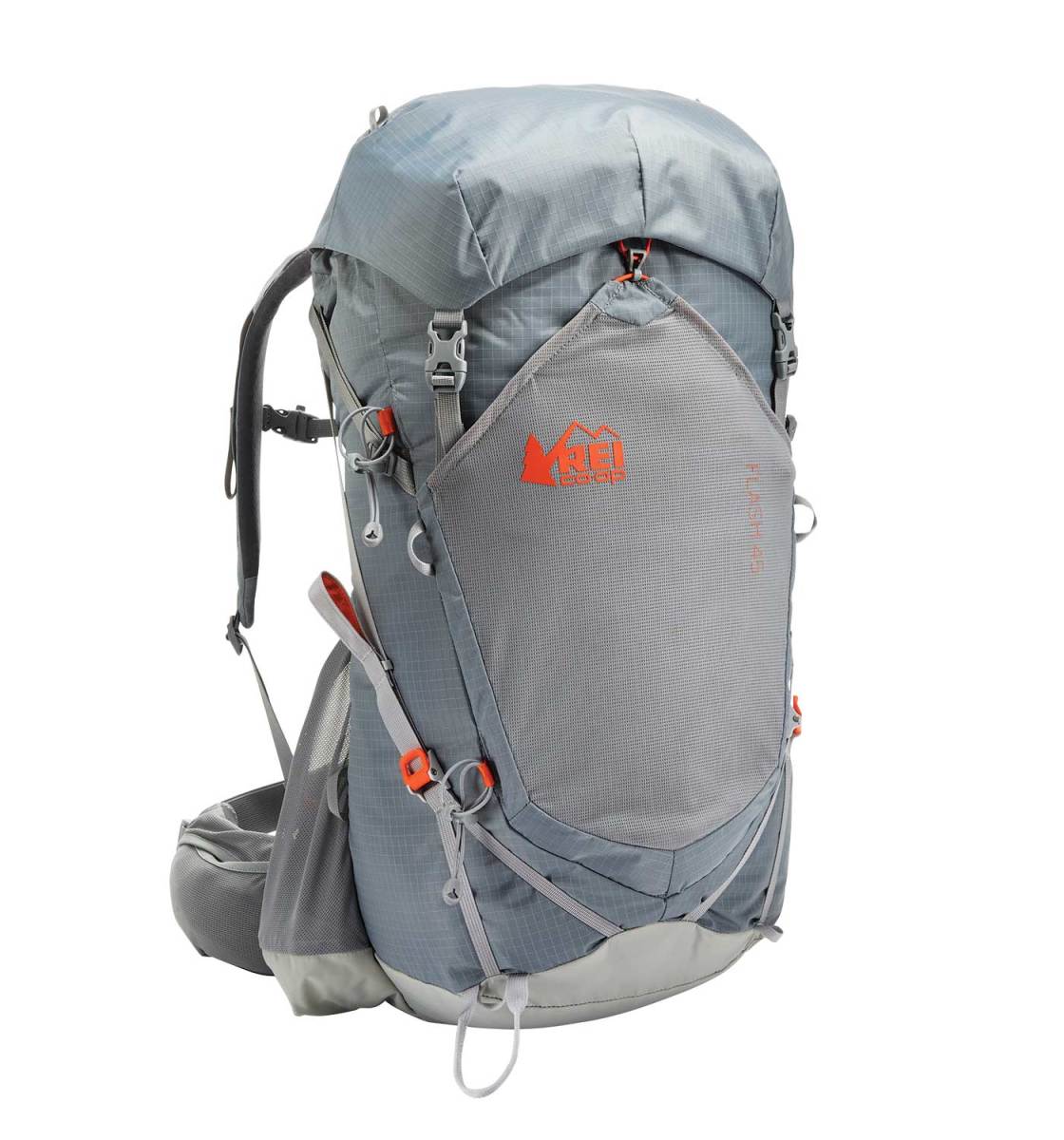 What's the best backpack for traveling long-term? I recommend the
REI Flash 45 Pack
. It's light and comfy, front loading, and fits perfectly in an airplane's overhead bin.
Size:
45-47L
Straps:
Thick and cushy with compression technology that pulls the pack's load up and inwards so it doesn't feel as heavy.
Features:
Removable top lid, large pocket at the front, hydration compatible, contoured hip belt
If you want something different, refer to my article on how to choose the best travel backpack for tips on picking a pack and other backpack suggestions.
What to Pack for Your Trip
Clothes
1 pair of jeans (heavy and not easily dried, but I like them; a good alternative is khaki pants)
1 pair of shorts
1 bathing suit
5 T-shirts (Unbound Merino is my preferred company. If you're a member of NM+, you can get 15% off your purchase)
1 long-sleeved T-shirt
1 pair of flip-flops
1 pair of sneakers
6 pairs of socks (I always end up losing half)
5 pairs of boxer shorts (I'm not a briefs guy!)
1 toothbrush
1 tube of toothpaste
1 razor
1 package of dental floss
1 small bottle of shampoo
1 small bottle of shower gel
1 towel
Deodorant
Small Medical Kit (safety is important!!!)
Miscellaneous
Female Travel Packing List
I'm not a woman, so I don't know what a woman wears, but Kristin Addis, our solo female travel guru, wrote this list as an addition to the basics above:
Clothing
1 swimsuit
1 sarong
1 pair of stretchy jeans (they wash and dry easily)
1 pair of leggings (if it's cold, they can go under your jeans, otherwise with a dress or shirt)
2-3 long-sleeve tops
2-3 T-shirts
3-4 spaghetti tops
1 light cardigan
Toiletries
1 dry shampoo spray & talc powder (keeps long hair grease-free in between washes)
1 hairbrush
Makeup you use
Hair bands & hair clips
Feminine hygiene products (you can opt to buy there too, but I prefer not to count on it, and most people have their preferred products)
For more on packing, check out these posts:
Medellín Travel Guide: Suggested Reading
One Hundred Years of Solitude, by Gabriel Garcia Marquez
Even if you don't plan on visiting Colombia anytime soon, One Hundred Years of Solitude should be on your reading list. It's one of the 20th century's most acclaimed books, and it tells the story of the rise and fall of the fictional Colombian town named Macondo through the Buendia family's history. The book borders on fantasy, but it's a work of art and the setting is perfect.





The Sound of Things Falling, by Juan Gabriel Vásquez
Juan Gabriel Vásquez is considered one of South America's best writers. In this New York Times-bestselling book, Vásquez tackles the complicated history of his home country. In Bogotá, Antonio Yammara learns about a hippo that has escaped a zoo once owned by the notorious Pablo Escobar. This causes him to reflect on a time when Escobar's cartel in Medellín clashed with government forces in the streets and the skies; a time when Antonio witnessed his friend's murder and his entire family was affected by narco-violence. This isn't light reading, but it's worthwhile.




Short Walks from Bogotá, by Tom Feiling
It's been hard for Colombia to shake its reputation of violence and narco-trafficking, but what is the real Colombia like? In this travelogue, writer and journalist Tom Feiling tries to uncover how a country is rebuilding itself after decades of violence. He travels down roads that were previously too dangerous to travel, all the while talking to former guerrilla fighters, nomadic tribesmen, and shady millionaires. Some of the accounts are shocking, but they're all true and fascinating. It's a great piece of reporting.




The Robber of Memories: A River Journey Through Colombia, by Michael Jacobs
On the River Magdalena, Michael Jacobs attempts to travel without technology – but he quickly makes an exception for a cell phone to keep in touch with his mother suffering from Alzheimer's. The irony isn't lost on Jacobs, as Colombia has the world's highest numbers for early-onset Alzheimer's – and then he encounters Gabriel Garcia Márquez, whose own failing memory brings him to the river. When Jacobs is apprehended by quirky guerrilla fighters, his life begins to take on a surreal likeness to Márquez's best works. I won't spoil the ending here, but it's safe to say this travel memoir is beyond belief.



Beyond Bogotá: Diary of a Drug War Journalist in Colombia, by Garry Leech
A hybrid of journalism and memoir that reads almost like a novel, independent journalist Garry Leech brings together a detailed and shocking account of the 8 years he spent working in the most remote and dangerous regions of Colombia. Through this book he uncovering the unofficial stories of the people he met living in conflict zones. The book is framed around the eleven hours that Leech was held captive by Colombia's largest leftist guerrilla group, the FARC in 2006. Leech brings the readers a much needed humanizing account of the war on drugs, offering fresh insights into U.S. foreign policy, the role of the media, and how if effected normal Colombians caught in the middle of the brutal war.
Medellín Travel Guide: Related Articles
Want more info? Check out all the articles I've written on backpacking/traveling Colombia and continue planning your trip: