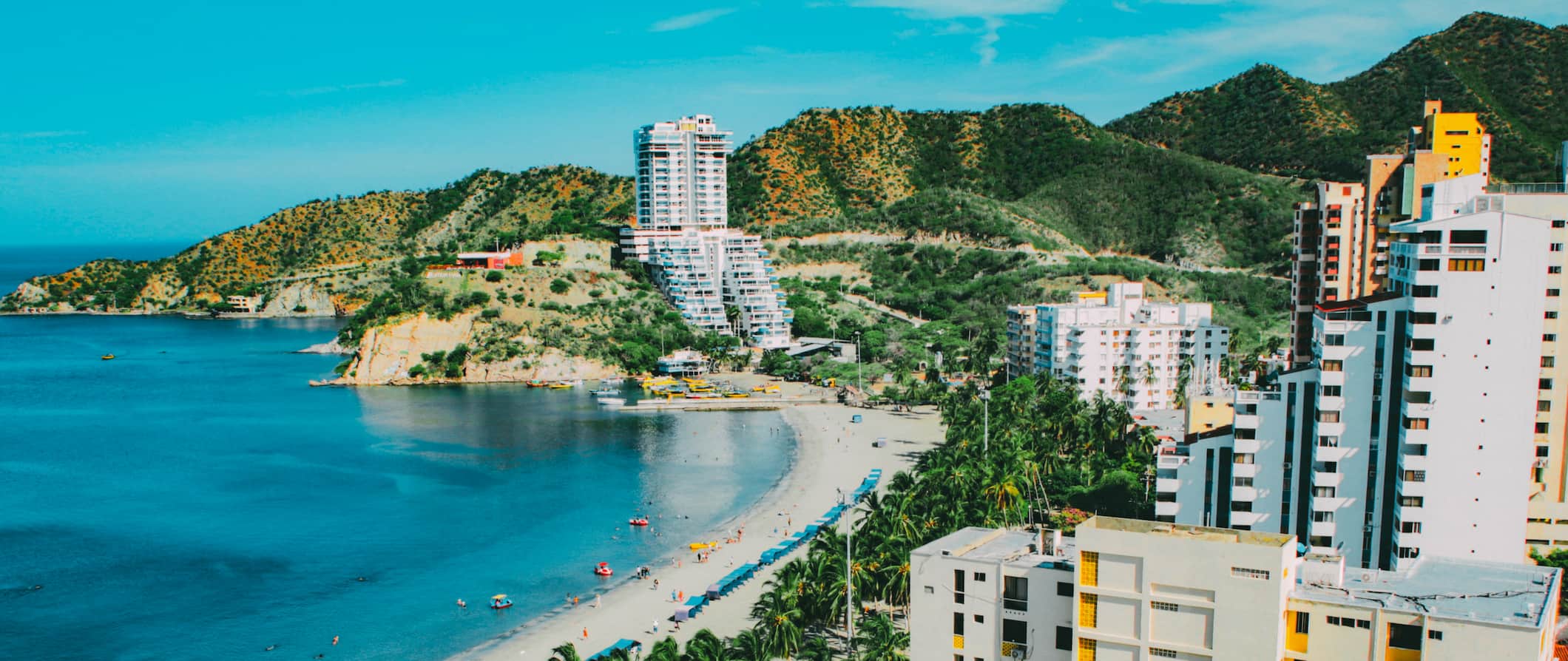 Founded in 1525, Santa Marta was the first place the Spanish settled in Colombia. Today, it remains a busy port and one of the top places for Colombians to vacation. It's also the gateway to some amazing destinations along the Caribbean coast.
Most people who backpack through the city do so on their way to the coastal beach towns, Tayrona National Park, or the famous Lost City. But the city has a cool historic downtown, lots of incredible food and nightlife options, beaches, boat trips, scuba diving opportunities, and hiking nearby. It's worth visiting in its own right.
There's a lot to do in the area and I hope you give the city more than just the quick pass most travelers give it. Because you won't be disappointed.
This travel guide to Santa Marta has everything you need to know about visiting the city and surrounding region so you can make the most of your time here!
Top 5 Things to See and Do in Santa Marta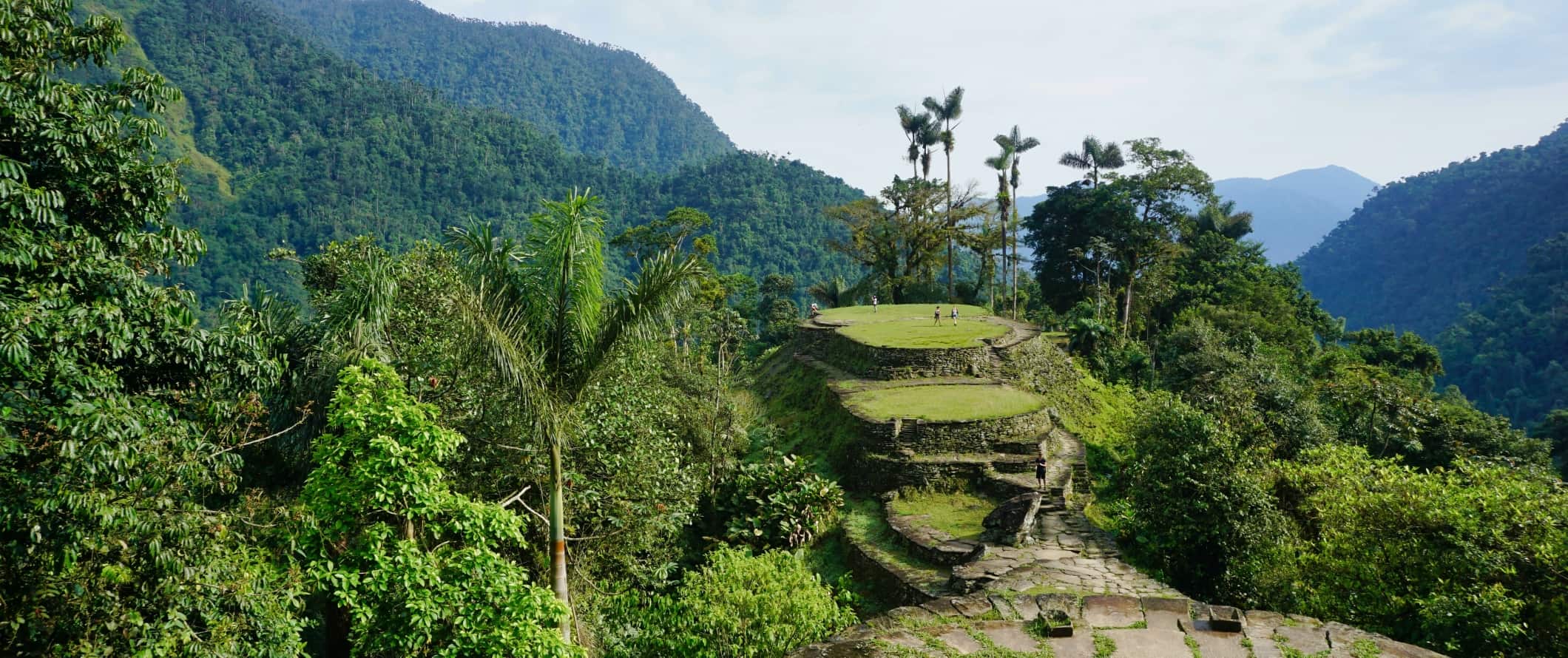 1. Trek to the Lost City
Most people visit Santa Marta to trek Ciudad Perdida (The Lost City). Older than Machu Picchu and located high in the Sierra Nevada mountains, this rugged trek involves at least four days of hiking through the jungle before arriving at the ancient Inca ruins. See below for more details!
2. Stay in Riohacha
This bustling little city is the gateway to the desert area of La Guajira. People usually hang out here on their way to other parts of Colombia, but there are a few great highlights here, including the beach, the historic pier, and the Catedral Nuestra Señora de los Remedios (Cathedral of Our Lady of Remains).
3. Go hiking in Parque Tayrona
Parque Tayrona is a sprawling national park crisscrossed with plenty of hiking trails. Here you can snorkel around coral reefs and camp out in the jungle. If you don't want to stay the night, it still has a lot of good day trails. I highly recommend visiting.
4. Road trip to La Guajira
This is where the desert meets the sea and is a beautiful multi-day drive tour through tiny villages and empty wasteland. It's a stark, surreal landscape. Tours start at 350,000 COP. (It's cheaper if you depart from Riohacha.)
5. Wander the old city
Santa Marta's old city is pretty small so it won't take you very long. Start at Parque Bolivia then walk along the malecón. Turn in toward the city passing through Parque de Los Novios and finish at the Cathedral. It should take you around 30-40 minutes to see it all.
Other Things to See and Do in Santa Marta
1. Visit Minca
Minca is a small village in the Sierra Nevada located about 45 minutes outside Santa Marta. It's a trendy spot with backpackers thanks to its cheap accommodation, coffee and cacao farms, scenic hiking trails, and several tall waterfalls. The cost of a shared jeep to Minca is around 8,000 COP, and the jeep leaves from the main market when it's full. Just listen for a guy shouting "Minca!" close to where you take the bus to Tayrona. It gets busy on weekends and public holidays.
2. Skip the beach
Rodadero is the most popular beach in Santa Marta and it gets unbelievably busy. Playa Blanca and Taganga are also super busy and full of hawkers so you'll likely want to skip the beaches here unless you're desperate for a quick dip.
3. Take a stroll along Rodadero
The Rodadero area is outside of the main town. Like any beachfront area, here you can find a lot of restaurants, bars, resorts, and hotels. It's where most vacationing Colombians choose to stay. Take a stroll along the boardwalk, eat some fresh fish, and soak in the bustling atmosphere.
4. Wander around Quinta de San Pedro Alejandrino
Built in the 1700s, this is the hacienda in which Simón Bolívar spent his final days (he was a Venezuelan military and political leader who led much of South America to independence from the Spanish). It's the most important building in Santa Marta. It was owned by a supporter of Colombia's independence who invited Bolívar to stay with him before his exile in Europe, but Bolívar died before he could make it. It's well preserved and there are 54 acres of botanical gardens (which are full of iguanas). A visit costs 23,000 COP and includes a guide.
5. Tour the Santa Marta Public Market
The Santa Marta Public Market has more than 500 different vendors selling everything from meat to fruit to handmade gifts, making up one vibrant, raucous market experience. It's worth arriving early to buy some of the weird and wonderful tropical fruits you won't find anywhere else in the world (like borojó, Colombia's natural "Viagra").
6. Walk the malecón at sunset
Paseo El Camellón is the main promenade (malecón) in downtown Santa Marta. There isn't much of a beach to enjoy, but it's the perfect setting to watch the sunset. There are several plazas where you can stop to enjoy the view (including the Plaza Parque Simón Bolívar), as well as some sculptures of indigenous people from the region to admire.
7. Visit the Museo del Oro
There are a lot of gold museums across Colombia but the Santa Marta Gold Museum holds items found only in the local area, including ceramics and elaborate jewelry dating to the pre-Columbian age (many of these items were uncovered in the Lost City). It's free to visit too!
8. Take a walking tour
Santa Marta is pretty small so you can do this on your own but guided walking tours offer you a chance to meet a local guide and get some insight into the area's history and traditions. Baquianos offers a free walking tour that covers all the highlights and provides a solid introduction to the city. Just be sure to tip your guide at the end!
Visiting the Northern Part of Colombia
If you're visiting Santa Marta, you're probably going to continue north to see some of the sites up there. Here are some of the must-see places to stop at:
1. Visit Punta Gallinas
Punta Gallinas is the northernmost point in all of South America. From here you can walk down a sand dune into the Caribbean Sea. Most people come here via a tour from Santa Marta, Riohacha, or Cabo De Vela, with Cabo De Vela being the better option if you want to take your time and relax (it's closer). From Cabo de Vela, you drive through La Guajira Desert and then onward to Punta Gallinas lighthouse, which is officially the northernmost tip of the continent. The sand dune beach is one of the nicest places to hang out, and the water is warm and perfect for swimming. A tour to Cabo de la Vela and Punta Gallinas is likely to cost you from 500,000 COP for two nights and 700,000 COP for the three days with meals and accommodation included.
2. Relax at Costeño Beach
This beach paradise is near Tayrona National Park. It's an ideal place to chill out by the beach, take some surfing lessons, and have drinks with other travelers in the evening. There's really not much else to do here, but, then again, that's the point. I can't recommend stopping here enough. You might end up staying a few extra days. You can get a surf lesson here for as low as 70,000 COP.
3. Wander Palomino
Palomino is a small surf town that's popular with backpackers. Other than hanging out on the beach, people come here to ride tubes down the Palomino River. You can spend an afternoon drifting down the river from the jungle-covered hills of the Sierra Nevada mountains to the Caribbean. It costs around 25,000 COP to rent a tube. Other than that, enjoy the chill nightlife at the hostels, the great food, and the sleepy beach town atmosphere.
4. See thousands of flamingos
Los Flamencos Fauna and Flora Sanctuary has been a wildlife sanctuary since 1977. It's near Riohacha and is a massive sanctuary where thousands of bright pink flamingos feed along of the estuary of the Camarones River (there are lots of other birds here too, such as egrets and gulls). To get there, you need to take a canoe trip! It costs around 35,000 COP for a small tour.
How to See the Lost City
Ciudad Perdida is the main reason why many people visit Santa Marta, as it's the closest main town and most companies leave from here to start the trek. The Lost City (Ciudad Perdida) was built around 800 CE (it's older than Machu Picchu) and contains 169 terraces carved into the mountains, as well as a network of tiled roads and small plazas. It's one of the most beautiful treks in the country.
Getting to The Lost City requires a four-five day trek through the jungle. It's not an easy one either — it's high in the Sierra Nevada and the terrain can be challenging. You have to cross rivers, endure the heat, and take on some high altitudes but it's completely worth it. You only hike a few hours a day before stopping at each camp and relaxing and exploring the surrounding jungle.
The entry point to the ruins is a steep stone staircase with 1,350 steps. As you climb, you'll be retracing the steps of the Tairona people until the stairs give way to the Lost City. The terraces are hand-carved and covered in moss, but at one point they would have held houses, sacrificial sites, and other important structures. Your guide will give you a detailed run-down of the place, including some history of the day-to-day life of the nearly 2,000 people who lived here.
For now, it's impossible to do this trek on your own as the hike is very regulated and you must hire a local company to take you there. Hikes last from 4-6 days. All hikes go on the same route. The only difference is in the speed at which they go. The cost for the 4-day trek is around 1,150,000 COP and includes food and accommodations.

For more information on other destinations in Colombia, check out these guides:
Santa Marta Travel Costs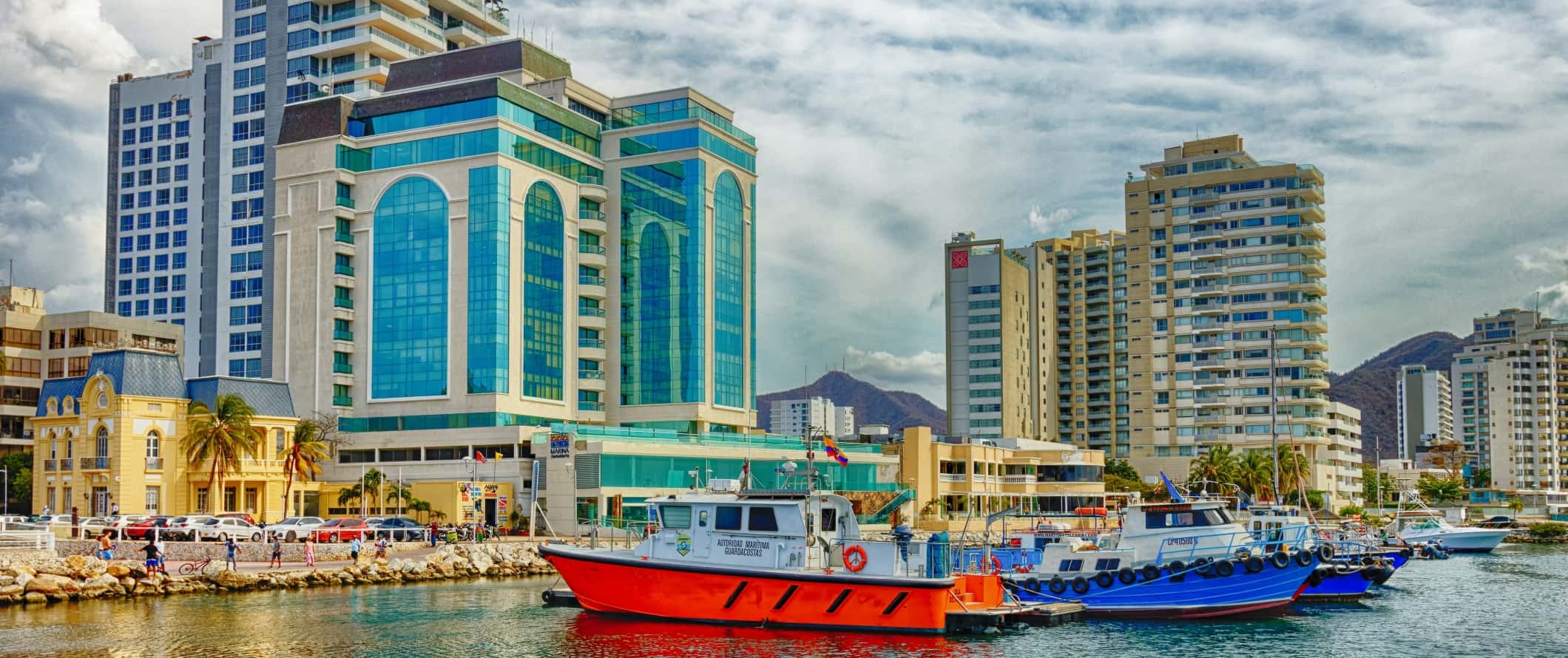 Hostel prices – Large dorm rooms with eight or more beds average 30,000 COP per night. A dorm room with 4-6-beds is usually around 40,000 COP per night. A private double room starts from about 70,000 COP per night, although most of them are more like 150,000 COP per night for two people. You can find single private rooms for as little as 50,000 COP. Free Wi-Fi is standard and most hostels have self-catering facilities and include breakfast.
Budget hotel prices – Two-star hotels in Santa Marta cost as little as 60,000 COP per night, although most rooms are about 90,000 COP. Expect basic amenities like Wi-Fi, TV, AC, and sometimes free breakfast.
Airbnb is available in the city, with private rooms averaging 80,000 COP per night. Expect to pay about 240,000 COP per night for an entire home or apartment.
Food – Colombian food is a blend of indigenous, Caribbean, and European traditions. While ingredients and popular dishes vary by region, common staples include maize, potato, cassava, rice, and all kinds of tropical fruit (dragon fruit, papaya, guava, passionfruit). Fried plantains, chicken soup, tamales, empanadas, meat pies, and roasted piglet are just some of the delicious popular dishes you'll encounter.
If you're on a budget, stick to cheap local eats like arepa and empanada, which just cost a couple of thousand pesos. If you want to splash out, a mid-range restaurant with table service costs around 20,000 COP for a full meal.
Expect to pay at least 50,000 for a three-course meal at a higher-end restaurant while fast food (think McDonald's) costs around 18,000 COP for a combo meal.
A beer at the bar costs around 6,000 COP while buying it at a store is around half that price. A latte/cappuccino costs around 5,400 COP.
OXXO stores are a great place to stock up on snacks and alcohol — and most are open 24 hours. For a week's worth of groceries, expect to pay around 90,000 COP for basic staples like rice, beans, produce, and some meat or fish.
Some delicious places to eat in the city include Donde Chucho, Radio Burger, Arte Gourmet, and Donde Tica (a little place across from Sao supermarket on Carerra 8).
Backpacking Santa Marta Suggested Budgets
If you are backpacking Santa Marta, expect to spend about 115,000 COP per day. This covers staying in a hostel dorm, eating street food and cooking some meals, limiting your drinking, using the local bus to get around, and doing mostly free activities like walking tours and relaxing at the beach. You'll need to more than double this if you plan on visiting the Lost City.
A mid-range budget of about 235,000 COP per day covers a private Airbnb or private hostel, eating out for all your meals, drinking more, taking the occasional taxi to get around, and doing more paid activities like visiting museums.
On a "luxury" budget of about 510,000 COP per day or more, you can stay in a hotel, eat out anywhere you want, drink as much as you want, visit the Lost City, and take taxis whenever you need to. This is just the ground floor for luxury though. The sky is the limit!
Accommodation
Food
Transportation
Attractions
Average Daily Cost
Backpacker
30,000
30,000
20,000
35,000
115,000
Mid-Range
80,000
75,000
40,000
40,000
235,000
Luxury
150,000
150,000
100,000
110,000
510,000
Santa Marta Travel Guide: Money-Saving Tips
Santa Marta is pretty cheap if you stick to eating local street food, dorm rooms, and public transportation. Like everywhere else in Colombia, it's tough to break the bank unless you want to splash out. Here are some ways to save money in Santa Marta:
Stay with a local – Couchsurfing connects you with locals who can give you a free place to stay and share their insider tips and advice. Just be sure to send your requests early.
Cook your own meals – While eating out isn't too expensive here, if you're on a budget it is cheaper if you cook your own meals. Head to a local grocery store and save your budget!
Walk everywhere – If you don't mind walking, this is the easiest and cheapest way to explore the city. Most of the main sights are in Santa Marta's historic center, which is very easy to walk around.
Take a free walking tour – A free walking tour makes for a great introduction to the city. This is the best (and cheapest!) way to explore while getting a detailed overview of the city and its culture and history. Just be sure to tip!
Pack a water bottle – The tap water here isn't safe to drink so bring a water bottle with you to avoid buying single-use plastic. My preferred bottle is LifeStraw, which has built-in filters to ensure your water is always clean and safe.
Where to Stay in Santa Marta
Hostels in Santa Marta are affordable and plentiful. Here are some of my suggested places to stay in Santa Marta:
How to Get Around Santa Marta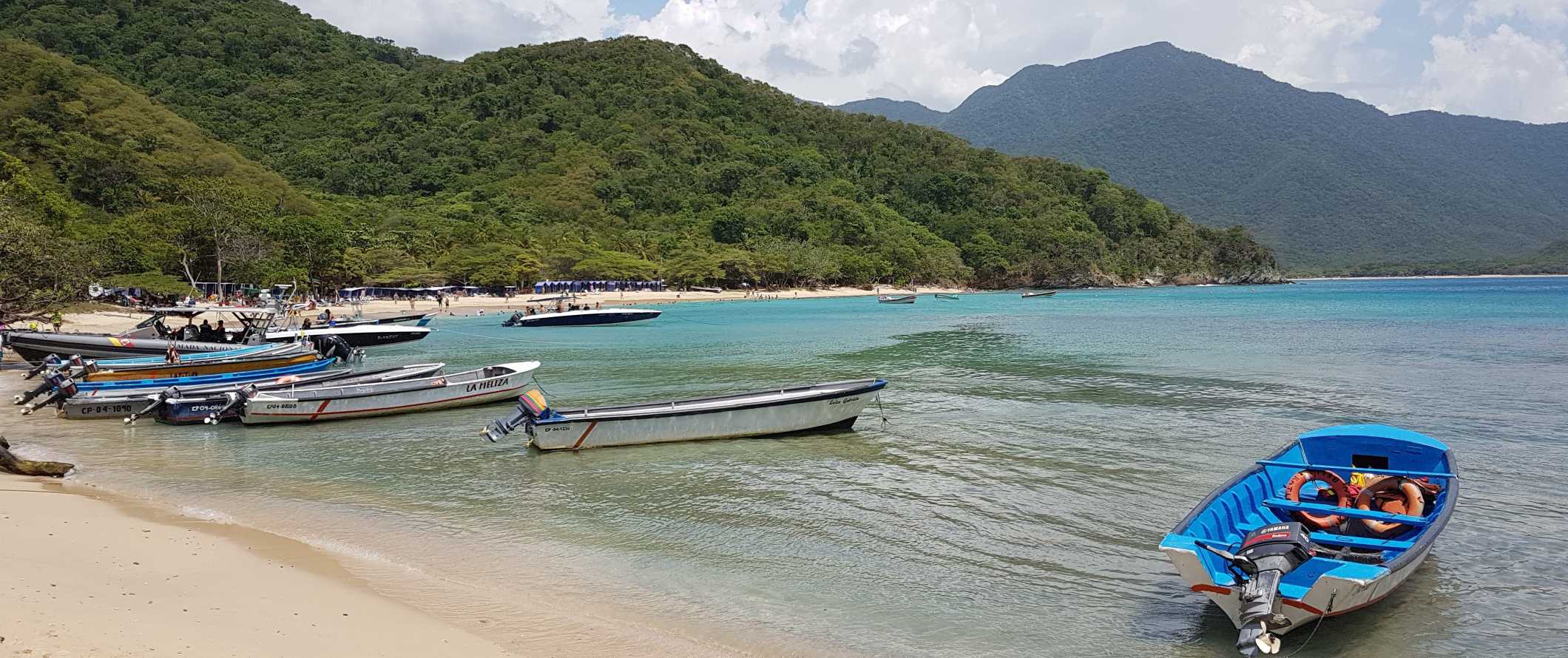 The historic center of Santa Marta is pretty small, and all of the main attractions and sights are quite walkable, which saves you money on transportation.
Public Transportation – The primary method of public transportation in Santa Marta are the blue public busses. If you want to visit one of the malls, beaches, or Taganga, the blue busses all have set fees. The busses all run along fixed routes as well. Just stand on the side of the road and flag one down then hand over your money. If you are unsure of where to get off, let the driver know and he can tell you when it's time.
You can take the public bus from the airport as well. It drops you off right in the center and only costs around 1,800 COP.
If you want to go a bit further along the coast, make your way to the market and look for the Parque Tayrona bus. This takes you as far as Palomino (stopping at every town and village along the way). For Minca, you also need to go to the market to find the shared Jeep.
Taxis – Taxis in Santa Marta are safe to use and relatively cheap. If you are traveling in a couple or a small group, it's often cheaper and easier to take a taxi. The average fare within Santa Marta is 5,000 COP, but make sure you have change. If the taxi has no meter, make sure you negotiate a price before getting in. Ask your hostel/hotel staff for a price estimate so you can avoid getting ripped off.
Bike rental – If you want to explore Santa Marta by bicycle, guided bike tours that last a couple of hours cost around 40,000 COP per person. If you want to rent your own bike, rentals cost as little as 10,000 COP per hour or 50,000 COP per day.
Car rental – Cars can be rented for as little as 100,000 COP per day, though you don't need one to get around the city. Additionally, since break-ins are common I'd avoid renting a car unless you're leaving for a day trip. Drivers need to be at least 21 and have an International Driving Permit.
When to Go to Santa Marta
Santa Marta's weather does not fluctuate much. It is hot and humid all year round with very little rain. On average, you can expect daily highs around 34°C (94°F), with temperatures rarely dropping below 25°C (78°F) at night.
The busiest time of year in Santa Marta is from December to January, and prices often rise at this time of year. It's best to avoid visiting in December and January if you are on a tight budget.
If your main goal is to trek to The Lost City, tours are available year-round. But if you want to avoid rainfall (resulting in slippery trails and uncomfortable hiking), the best time to visit is between December to early March. This is the dry season, and humidity is lower. Just be sure to book early since this is the most popular time to go.
How to Stay Safe in Santa Marta
Santa Marta is a generally safe place to visit. You're not going to get kidnapped or anything, but, like the rest of the country, petty crime is very common. Do not walk around with your phone out, never keep anything in your pockets (especially when on public transport), and always keep hold of your bag to avoid it getting snatched.
If you are eating out, keep your backpack on your lap or place your foot or a chair leg through your strap. Bag snatching is very common so you'll want to secure your bag at all times when eating out.
When booking accommodation, look for hotels or hostels with 24-hour security. You always want someone around in case you need assistance. If you don't feel safe somewhere, don't hesitate to move on.
Avoid drug tourism. The drugs cartels have crippled this country and it's really disrespectful to the locals to support the cartels by buying their drugs. Also, doing drugs here is illegal, and you don't want to end up in a Colombian prison!
Avoid the ATMs on the street when you need money and go into the bank to use the ATM instead. That way you can put your money away discreetly without being watched.
There aren't many common street scams in Santa Marta so as long as you keep your possessions close you shouldn't have any issues. But if you're concerned, you can read about common travel scams to avoid here.
If you experience an emergency and need assistance, dial 123.
Always trust your gut instinct. Make copies of your personal documents, including your passport and ID. Forward your itinerary along to loved ones so they'll know where you are.
For more in-depth coverage of how to stay safe in Colombia, check out this post we wrote that answers some frequently asked questions and concerns.
The most important piece of advice I can offer is to purchase good travel insurance. Travel insurance protects you against illness, injury, theft, and cancellations. It's comprehensive protection in case anything goes wrong. I never go on a trip without it as I've had to use it many times in the past. You can use the widget below to find the policy right for you:
Santa Marta Travel Guide: The Best Booking Resources
These are my favorite companies to use when I travel. They consistently have the best deals, offer world-class customer service and great value, and overall, are better than their competitors. They are the companies I use the most and are always the starting point in my search for travel deals.
Skyscanner – Skyscanner is my favorite flight search engine. They search small websites and budget airlines that larger search sites tend to miss. They are hands down the number one place to start.
Hostelworld – This is the best hostel accommodation site out there with the largest inventory, best search interface, and widest availability.
Booking.com – The best all around booking site that constantly provides the cheapest and lowest rates. They have the widest selection of budget accommodation. In all my tests, they've always had the cheapest rates out of all the booking websites.
Get Your Guide – Get Your Guide is a huge online marketplace for tours and excursions. They have tons of tour options available in cities all around the world, including everything from cooking classes, walking tours, street art lessons, and more!
SafetyWing – Safety Wing offers convenient and affordable plans tailored to digital nomads and long-term travelers. They have cheap monthly plans, great customer service, and an easy-to-use claims process that makes it perfect for those on the road.
LifeStraw – My go-to company for reusable water bottles with built-in filters so you can ensure your drinking water is always clean and safe.
Unbound Merino – They make lightweight, durable, easy-to-clean travel clothing.
Top Travel Credit Cards – Points are the best way to cut down travel expenses. Here's my favorite point earning credit cards so you can get free travel!
Santa Marta Travel Guide: Related Articles
Want more info? Check out all the articles I've written on backpacking/traveling Colombia and continue planning your trip: