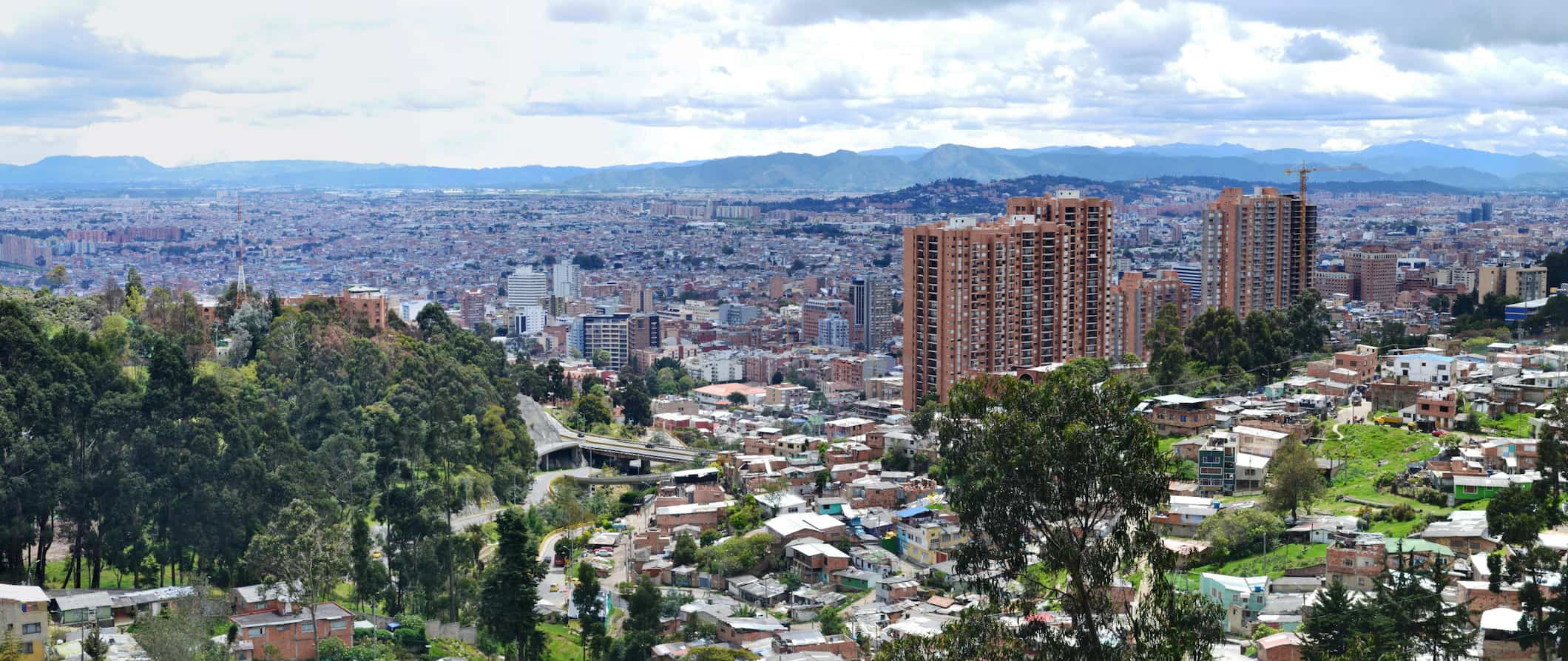 The capital of Colombia, Bogotá, is a city most people tend to pass through on their way to explore other areas of Colombia. They make an obligatory visit since they are in the country and go off to spend time somewhere "better."
Most travelers say Bogotá is only worth a few days.
Those travelers are wrong.
I loved traveling around Bogotá. Devoid of a lot of the Gringofication you find in other parts of the country, it felt like the most Colombian of cities to me.
There is a lot to do here too. There are tons of museums, parks, activities, walking tours, food tours, nightlife options, and an incredible foodie scene. It has some dramatic scenery (it's at the bottom of two mountains with a church on top of each) and has some amazing street art.
I think it is a really underappreciated city because too many travelers compare it to Medellín.
But, if you just take Bogotá for what it is, it's an amazing destination. I ended up staying a lot longer than I originally planned and can't wait to go back. Give the city a chance and spend a few extra days exploring it.
This travel guide to Bogota can help you plan a great trip there (and hopefully make you love it as much as I do).
Top 5 Things to See and Do in Bogotá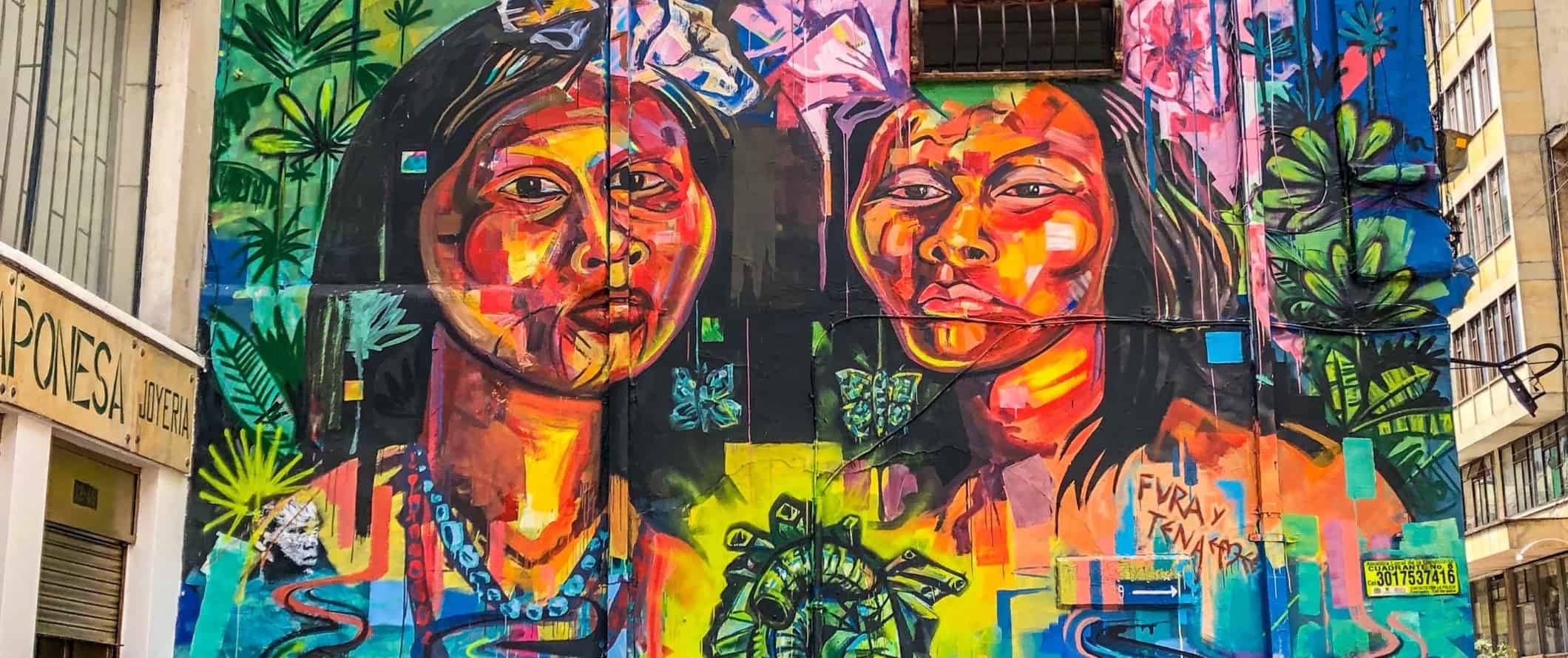 1. Check out the view from Monserrate
You can walk 1,500 steps up to Bogotá's famous Monserrate Church, which offers sweeping views from the mountaintop. It's a steep climb so start early in the morning to beat both the sun and the crowds. There's also a funicular if you don't want to walk which costs 13,000 COP (7,500 COP on Sundays).
2. Admire the Street Art
Bogotá is all about its street art. Walk around areas like La Candelaria or Las Aguas area (by the TransMilenio station) and there are tons of beautiful murals. Take the Free Graffiti Tour Bogotá to get the best experience and context.
3. Visit the Botero Museum
Fernando Botero is the most famous Colombian artist and you can see his work all over the country. Bogotá Botero Museum hosts the largest collection of his work, with 123 pieces that were donated by the artist with the condition that the public could access them for free entry.
4. Take a Bike Tour
Bogotá is a huge city. One of the best ways to see a bit more of the city is by doing a bike tour. You not only get to see some of the more local areas, but most of the bike tours include a fruit and coffee tasting. Bogotá Bike Tours has tours starting at 45,000 COP and also offers standalone bike rental (30,000 COP for four hours).
5. See the Museo de Oro (Gold Museum)
The Museo del Oro has an impressive collection of gold artifacts that tell you the story of Colombia's rich history. It's not a huge museum but it's one of the best in the country. The entrance fee is 4,000 COP but it's free on Sunday.
Other Things to See and Do in Bogotá
1. Tour Casa de Nariño
Casa de Nariño is the president's house. Beyond its attractive Neoclassical façade, its interior is filled with furniture, paintings, and sculptures from the Roman to the Renaissance era. They offer free tours Monday to Friday (you need to book online at least five days in advance), and they last around 45 minutes. If you don't speak Spanish, be sure to request the tour in English. You can also watch the changing of the presidential guard on Wednesdays, Fridays, and Sundays at 3:30pm.
2. Take a food tour
There are several food tours in Bogotá, including the Free Food Tour Bogotá which meets outside the Museo del Oro daily. The three-hour tour takes you around a few of the markets and gives you an overview of local fruits and traditional cuisine. Although the tour itself is free, you have to pay for your own food. You can register online or just turn up. There's also La Macarena Gourmet Tour (305,000 COP per person), which takes you around Bogotá's bohemian and artistic neighborhood. Their tour also lasts three hours and takes you to three different restaurants where you can sample a local dish and drink. Tours also include pickup and drop-off at your accommodation.
3. Taste Chicha in La Candelaria
La Candelaria is Bogotá's oldest neighborhood and chicha is Colombia's oldest alcoholic beverage so it makes sense to combine two historical experiences. Made from fermented corn, chicha has seen a resurgence in popularity in recent years as people reconnect with their native heritage. There are many bars in La Candelaria serving it, especially on the street near Plazoleta Chorro de Quevedo.
4. See the Iglesia de San Fransisco
Originally dedicated to St Francis of Assisi, San Francisco Church is one of the oldest churches in Bogotá (it was built between 1557 and 1621), with an eerily dark interior and a gorgeous gilded 17th-century altar. It was one of the few buildings that remained standing in the city center after the assassination of presidential candidate Jorge Eliécer Gaitán in 1948 (his assassination triggered a huge riot that killed 5,000 people as well as a ten-year civil war called La Violencia). Admission is free.
5. Venture to La Chorrera Waterfall
Just an hour outside of Bogotá is the tallest waterfall in Colombia. Here you'll also find some caves and a lookout point as well a restaurant and campsite. Admission starts at 35,000 COP (more expensive options include lunch or camping), and a guide is 40,000 COP. The alternative is to take a tour from Bogotá but those cost between 250,000-500,000 COP. The cheapest way to get there is to take the bus to Tercer Milenio, which costs as little as 7,500 COP each way. Be sure to check the times of the return busses at the tienda with the green roof when you get off the bus. From here, you can walk down to the trailhead.
6. Take a free walking tour
I always start my visits to a new city with a free walking tour. It's the best way to see the main highlights on a budget. BeyondColombia has a great free walking tour that gives you a solid introduction to the city as it takes you through the city center. For a more specialized tour, check out the Bogotá Graffiti Tour. This one operates by donation, using the money raised to reinvest in future community art projects. Strawberry Tours and GuruWalk also offer free tours. Just remember to tip your guides!
7. Wander around La Candelaria
Bogotá's historic and cultural neighborhood has narrow streets overflowing with artists selling their work, street art, hip cafes, and museums. It's located between two of the city's universities, so it's often buzzing with students and young folks. Be sure to hang out on Plaza Del Chorro Del Quevedo as this small square often has a lot of street performers as well as an artist market.
8. Enjoy the nightlife in Zona Rosa
Most backpackers don't venture out of La Candelaria and stick to the bars in that area. The Zona Rosa area is where most of the city's expats live, and "Gringo Tuesdays" are always a lot of fun in La Villa nightclub if you want to party with the international crowd. Other popular places are Mint, the Colombian Pub, Zona T, and Morena Rooftop Bar.
9. Visit one of the many Sunday markets
Sunday is a great day for browsing the local markets. There is one close to Las Aguas station and one all the way up Carrera 7 before the pedestrian section ends on the right. If you want to eat some delicious street food you want the one on Carrera 7. The most popular stand is always the Lechona Tolimense, which sells roasted pig stuffed with rice.
10. Get on your Bike for Ciclovia
Every Sunday morning across Colombia the main roads in many of the big cities close for Ciclovia. Ciclovia is a government scheme to get people outdoors and exercise. People take to the streets on bikes, rollerskates, or they walk or run. Rent a bike and enjoy being part of this Sunday Colombian tradition! The cost of a bike rental for two hours is around 9,000 COP.
11. Visit the Cetedral de Sal
The Cathedral of Salt is just outside of Bogotá in a town called Zipaquirá. The Catholic Cathedral was built by the miners inside the tunnels of an old salt mine and is 200 meters below ground. Every Sunday, up to 3,000 people attend church services here. Just take the TransMilenio to Portal Norte and then take a small local bus to Zipa. Let the driver know where you are going so he can tell you when to get off. The entrance fee for non-residents is 60,500 COP and includes an audio guide.
12. Stroll in the Botanical Gardens
Opened in 1955, the Botanical Garden of Bogotá is home to almost 20,000 plants. There is a focus on regional plants, especially those that are endemic to the Andes and other high alpine regions of the continent. It's a quiet, peaceful place to walk around, and there are some food stalls nearby, so you can grab a quick bite as you explore the gardens. Admission is 5,000 COP.
13. See the Santuario Nuestra Señora del Carmen
The National Shrine of Our Lady of Carmen is a Gothic church located in La Candelaria. This church, built in Florentine Gothic style, has a red-and-white striped pattern inside and out that makes it look like a giant candy cane. It was designed by architect Giovanni Buscaglione who was also a Salesian priest in the Roman Catholic Church. Completed in 1938, the church stands almost 60 meters tall (196 feet) and has some incredible Byzantine and Moorish art inside it.
14. Visit Simon Bolívar Metropolitan Park
Created in 1979, this is one of the most popular parks in Bogotá and spans almost 1,000 acres (making it bigger than Central Park in New York!). You can find people exercising, relaxing, or attending concerts here every day of the week. It's a relaxing place to chill out on the lakes, stroll the walkways, or even pop into the public library. There's also a children's museum, a recreation and amusement park, and several sports venues. The park is named after the famous Simón Bolívar, who led the liberation of the region from its Spanish overlords.
15. Explore Parque 93
This is the area of town with some of the best restaurants, nightclubs, and bars in the entire city. The park itself is home to an ongoing rotation of temporary art exhibitions. Located in one of the nicer areas of town, there are a lot of good restaurants and cafés lining the park.
16. Tour the National Museum of Colombia
Situated in the heart of Bogotá, this is the oldest and biggest museum in the entire country (and one of the oldest on the continent). Built in 1823, it's home to over 20,000 pieces of art and historical artifacts, some dating as far back as 10,000 BCE. The building was used as a prison initially until it transitioned into a museum in 1946. If you're a history buff or just want to learn more about the country, this museum is a must. Admission is 4,000 COP. It's free on Wednesdays from 3pm-5pm and on Sundays.
17. Visit the Cathedral Metropolitan Basilica of Bogotá
This Roman Catholic cathedral spans 5,300 square meters, making it the biggest cathedral in Colombia and one of the biggest in South America. It's been built four times on the same site, the most recent being between 1807-1823. The remains of Gonzalo Jiménez de Quesada, the founder of Bogotá can be found here.
18. Wander Plaza Bolivar
The main square of Bogotá is home to Colombia's Palace of Justice, the Cathedral of Bogotá, the mayor's office, and the Capitol Building. These buildings date back to as early as the 16th century, making Plaza Bolivar the historical heart of the city. Under the Spanish, the plaza was home to bullfights, circus acts, and public markets. Now it's the perfect place for people-watching and admiring the architecture.
19. Head to the Laguna de Guatavita (Lake Guatavita)
Around 60 kilometers (37 miles) north of Bogotá, Lake Guatavita is a great place to escape from the city and breathe in some fresh air. This nature reserve is a sacred site to the region's indigenous people and is apparently where the rumors of El Dorado originated. You can hike up the 150 steps to the top of the crater to admire the views and look down on the lake below (which is said to be hiding the gold of El Dorado). The Spanish actually tried to drain the lake to access the alleged gold hidden below but failed in their attempts. For extra relaxation, head to the hot springs in the nearby town of Sesquilé.
20. Explore the Museo Santa Clara
This museum is housed in a 17th-century church that is actually one of the oldest churches in the entire country. The government deconsecrated it in the 1960s and converted it into a museum. It has more than 148 baroque paintings that almost entirely cover its walls. I think it's one of the most beautifully decorated churches in Colombia. Admission is 4,000 COP.
21. Get a snack from La Puerta Falsa
La Puerta Falsa (The False Door) is a tiny, yet hugely popular, restaurant with room for fewer than 20 people. The tamales and ajiaco soup have been community staples for generations – over 200 years in fact! This is one of the best places to try traditional Colombian food.

For more information on specific destinations in Colombia, check out these guides:
Bogotá Travel Costs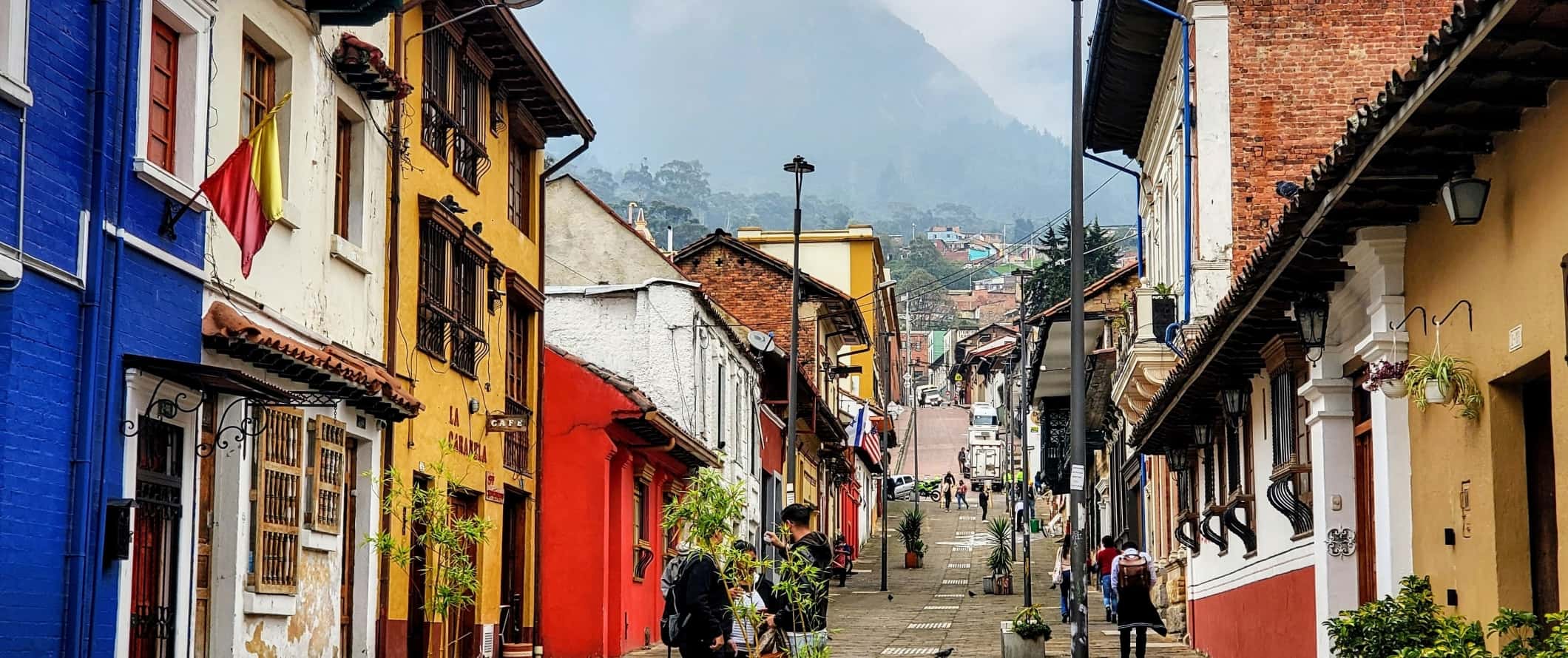 Hostels – A bed in a hostel dorm with 4-6 beds costs 20,000-35,000 COP per night, while a bed in an 8-10 -ed dorm costs between 15,000-25,000 COP. A private double room costs around 60,000-70,000 COP per night, though they can be found for as little as 30,000 COP. Free Wi-Fi is standard and most hostels have self-catering facilities. Many include free breakfast as well.
If you just want to see the main tourist sites, I recommend staying in La Candelaria so you're within walking distance of everything. If you are staying in the city for more than a few nights and are more interested in enjoying Bogotá's vibrant nightlife, then I recommend staying in the slightly pricier Zona Rosa or Chapinero.
Budget hotels – Budget hotels are plentiful in Bogotá and a room in a two-star hotel costs 110,000-150,000 per night. Expect amenities like free Wi-Fi, AC, and sometimes free breakfast.
Airbnb is also available in the city, with private rooms starting at 60,000 COP per night. For an entire home or apartment, prices average about 235,000 COP per night.
Food – Colombian food is a blend of indigenous, Caribbean, and European traditions. While ingredients and popular dishes vary by region, common staples include maize, potato, cassava, rice, and all kinds of tropical fruit (dragon fruit, papaya, guava, passionfruit). Fried plantains, chicken soup, tamales, empanadas, meat pies, and roasted piglet are just some of the delicious popular dishes you'll encounter.
Overall, the food in Bogotá is cheap. If you're on a budget, you can easily eat for under 45,000 COP a day here. Whether it's an arepa (a maize dough bun filled with meat or cheese) for less than 4,000 COP, an empanada for 2,500 COP or ajiaco (a hearty dish of chicken breast, potatoes, fresh corn, and more) for lunch for as little as 15,000 COP, there are plenty of cheap options for eating out in Bogotá when it comes to fast food.
For a mid-range restaurant with table service, expect to pay around 40,000 for a three-course meal. A meal at a higher-end restaurant costs at least 70,000 per course. If you want to have a drink, add around 10,000-15,000 COP.
Fast food (thick McDonald's) costs about 18,000 COP for a combo meal. A beer at a bar costs about 9,000 while buying it at a store is a little over half that price. A latte or cappuccino costs around 4,800 COP.
My favorite places to eat in Bogotá are Mesa Franca, Salvo Patria, El Chato, and Prudencia.
OXXO stores are a great place to stock up on snacks and alcohol — most are open 24 hours. For a week's worth of groceries, expect to pay around 80,000-90,000 COP.
Backpacking Bogotá Suggested Budgets
If you are backpacking Bogotá, my suggested budget is 125,000 COP per day. This is assuming you're staying in a hostel dorm, cooking some meals and getting a free hostel breakfast, taking the free walking tours, using local transportation or walking everywhere, and limiting your drinking.
A mid-range budget of 230,000 COP per day covers staying in a private Airbnb or private hostel room, eating cheap street food for most meals, enjoying a few drinks, taking the occasional taxi to get around, and doing more paid activities like visiting museums and doing a food tour.
On a "luxury" budget of 500,000 COP per day, you can stay in a hotel, eat out anywhere you want, drink more, take more taxis, and do whatever tours and activities you want. This is just the ground floor for luxury though. The sky is the limit!
Accommodation
Food
Transportation
Attractions
Average Daily Cost
Backpacker
35,000
30,000
20,000
40,000
125,000
Mid-Range
80,000
70,000
40,000
40,000
230,000
Luxury
150,000
150,000
120,000
80,000
500,000
Bogotá Travel Guide: Money-Saving Tips
Bogotá is fairly inexpensive to visit as it's not as "gringofied" and touristy as other destinations in the country. I didn't find myself spending that much money while I was in the city despite not trying to save. But, if you're looking to save some extra money when you visit, here are my suggested ways to spend less in the city:
Take a free walking tour – There are a few free walking tours available, making for a great introduction to the city. This is the best (and cheapest!) way to explore while getting a detailed overview of the city and its culture and history. Just be sure to tip your guide at the end! I recommend BeyondColombia or the Bogotá Graffiti Tour.
Eat like locals – It's easy to eat on a budget here if you stick to Colombian food. Avoid sit-down restaurants and Western food and you can eat for cheap without breaking the bank.
Stay with a local – Accommodation is cheap here, but staying with a local makes it free! Not only will you save some money, but you get firsthand knowledge from a local who can share their insider tips and advice.
Cook your own meals – While eating out isn't too expensive here, if you're on a budget it is cheaper if you cook your own meals. Head to a local grocery store and save your budget!
Skip the cocktails – Colombia has a lot of awesome cocktail bars now, but these drinks are expensive. If you're on a budget, skip the cocktails and stick to beer.
Pack a water bottle – The tap water here is safe so bring a water bottle with you to avoid buying single-use plastic. My preferred bottle is LifeStraw, which has built-in filters to ensure your water is always clean and safe.
Walk everywhere – If you don't mind walking, this is the easiest and cheapest way to explore the city. Most of the main sights are well within walking distance if you are staying in the La Candelaria area.
Where to Stay in Bogotá
Bogotá is a huge city, and it's divided into different Estratos, or zones. When booking accommodation, be sure to check the area as many areas in the city are unsafe. La Candelaria is the most popular with backpackers, although it is reasonably safe during the day you should use caution at night.
Two areas of the city considered safer are Zona Rosa and Chapinero; they are both more expensive areas, and they are too far away from downtown to walk to all of the main tourist attractions.
With that in mind, here are some of my suggested places to stay in Bogotá:
How to Get Around Bogotá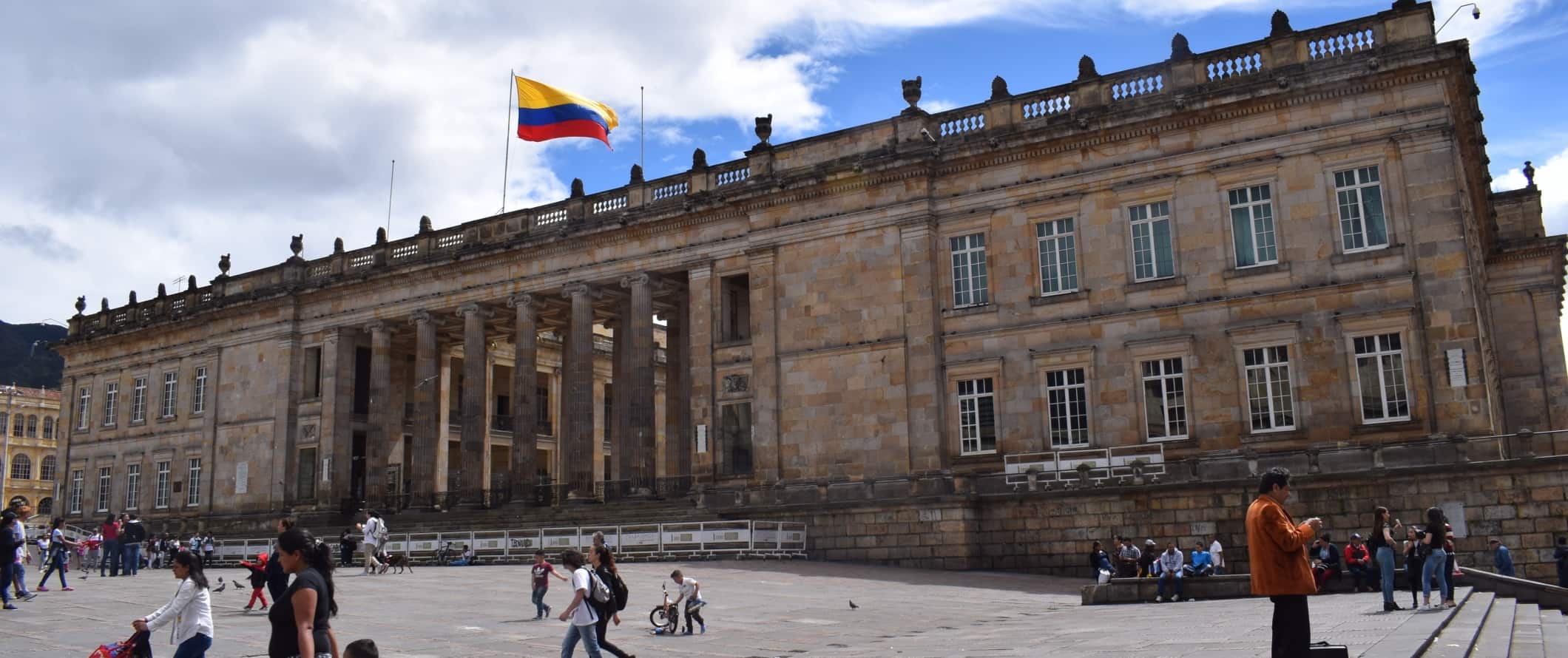 If you like to walk, stay in La Candelaria. All of the main attractions and sights are quite walkable from here, which saves you money on transportation.
If you are staying in another area of Bogotá, or want to travel by public transport to one of the malls or places of interest outside Bogotá, you are going to need to use the TransMilenio, also known as the BRT (bus rapid transit system).
Public transportation – The main method of public transportation is on the TransMilenio. This is effectively a bus service that has its own bus lane in the center of the main roads in Bogotá. If you want to get anywhere fast, it is often far better to travel by TransMilenio than by car, as the traffic in Bogotá can be dreadful.
To travel on the TransMilenio, you need to buy a TuLlave Card for 5,000 COP and then top it up. This needs to be paid for in cash as credit cards are not accepted. Once you have your card, you just tap the card to enter the station where you are charged 2,300 COP. From there, you can make two changes within 1 hour and 50 minutes.
Using the TransMilenio during the day and in the early evening is safe, but I would avoid using public transport after 9pm, especially if you are alone.
To efficiently plan your route on public transport in Bogotá, download an app called Moovit. Google maps can be unreliable, and the TransMilenio App is ok, but they only have a Spanish version.
Taking the TransMilenio from the airport to La Candelaria is the cheapest and quickest way into the city center. It costs 2,300 COP. When you arrive at the airport, follow the signs to the TransMilenio then take a bus to Universidades. You need to get off at Las Aguas and then walk through the park towards the OXXO. This is the start of La Candelaria. If you are staying anywhere else, you can change buses, or take an Uber or Tapsi Taxi.
Taxis – If you want to get a taxi, then download an app called Tapsi or Easy Taxi. They work just like Uber although they won't charge your card, so you need to pay cash. It is by far the safest way to take a taxi if you need one.
I would strongly advise against taking a taxi off the street in Bogotá. As a general rule, cabs are not safe for tourists, even during the daytime (more about this in the safety section). If you need a ride, ask your hotel/hostel staff to arrange one for you.
The one exception is the airport taxis as they are safe. A taxi from the airport to La Candelaria should cost you no more than 50,000 COP (and probably less). If you are staying in the North of the city it should cost no more than 65,000 COP.
Although Uber is not legal in Colombia, it is widely used and considered as safe as using Tapsi or Taxi Fast.
Bike rental – If you want to rent a bike to get around, bikes cost around 9,000 COP for a two-hour rental. Just stick to main roads to be safe as even bikers can be mugged.
Car rental – Cars can be rented for as little as 95,000 COP per day, though you don't need one to get around the city. Additionally, since break-ins are common I'd avoid renting a car unless you're leaving for a day trip outside the city. Drivers need to be at least 21 and have an International Driving Permit.
When to Go to Bogotá
Bogotá doesn't really have seasons, so there is no bad time to visit. Because of the altitude, it is often cold, and it does rain a lot. The drier months are from December to March, so if you prefer to avoid the rain, this would be the best time to go. Expect temperatures around 14°C (57°F).
If you prefer the heat, the warmest months are from May to June where temperatures average around 20°C (68°F).
The busiest time of year to visit Bogotá is during July and August, during Bogotá Carnival. Prices increase a lot during this time and you need to book accommodations well in advance, however, the city is super lively and it's a fun time to visit if you want to party.
How to Stay Safe in Bogotá
Safety is one of the biggest concerns for people when planning a trip to Bogotá. They have a common saying in Colombia, "No dar papaya" which translates as "don't give papaya." What it really means is though don't give anyone the chance to steal your stuff by walking around and being flashy or reckless. You need to be very cautious here.
That means no walking around with your phone out, never keeping anything in your pockets (especially when on public transport), and always keeping hold of your bag. If you are eating out, either keep your backpack on your lap or place your foot or a chair leg through your strap. It is very common for someone to try to do a bag swap (meaning they swap their empty bag for yours).
You should also use caution when withdrawing money from ATMs. Avoid the ATMs on the street and go into the bank to use the ATM, that way you can put your money away discreetly without being watched.
There aren't many common street "scams" in Bogotá. Anything serious is going to revolve around straight-up armed robbery.
Trust me on this. My friend was robbed here. And so was I. I learned what happens when you let your guard down here.
If you do run into any problems, there are tourist police all over the downtown area. Often just shouting loudly can stop a thief in their tracks as the tourist police don't take kindly to crime against tourists.
Additionally, beware of getting into random taxis as the really serious crime against foreigners here is what is commonly referred to as "paseo millonarios" ("millionaire rides"). The taxi driver picks up a tourist (quite often a solo traveler or a couple) and then makes a stop to pick up some '"friends." They then take the passenger(s) to an ATM and make them withdraw as many pesos as they can get. They continue to drive the tourist around, usually by gunpoint to different ATMs until they have withdrawn all of the money possible. Then they will leave the tourist somewhere to make their own way back. To avoid this, never get in a taxi off the street.
There are a few "no-go" areas in the city, but as a tourist, you shouldn't ever find yourself accidentally wandering into one of these areas. As a general rule, don't go south of La Candelaria, and stay over on the eastern side of the city (the mountainside).
I don't want to be all doom and gloom but, as much as I LOVE Bogotá, there is crime here and you have to really be careful. Do not let your guard down. That doesn't mean crime is happening everywhere. It's not. If you use common sense and follow what the locals do, nothing is going to happen to you. I spent so long in Colombia that I let my guard down and that was a mistake.
If you experience an emergency and need assistance, dial 123.
Always trust your gut instinct. Make copies of your personal documents, including your passport and ID. Forward your itinerary along to loved ones so they'll know where you are.
For more in-depth coverage of how to stay safe in Colombia, check out this post we wrote that answers some frequently asked questions and concerns.
The most important piece of advice I can offer is to purchase good travel insurance. Travel insurance protects you against illness, injury, theft, and cancellations. It's comprehensive protection in case anything goes wrong. I never go on a trip without it as I've had to use it many times in the past. You can use the widget below to find the policy right for you:
Bogotá Travel Guide: The Best Booking Resources
These are my favorite companies to use when I travel. They consistently have the best deals, offer world-class customer service and great value, and overall, are better than their competitors. They are the companies I use the most and are always the starting point in my search for travel deals.
Skyscanner – Skyscanner is my favorite flight search engine. They search small websites and budget airlines that larger search sites tend to miss. They are hands down the number one place to start.
Hostelworld – This is the best hostel accommodation site out there with the largest inventory, best search interface, and widest availability.
Booking.com – The best all around booking site that constantly provides the cheapest and lowest rates. They have the widest selection of budget accommodation. In all my tests, they've always had the cheapest rates out of all the booking websites.
Get Your Guide – Get Your Guide is a huge online marketplace for tours and excursions. They have tons of tour options available in cities all around the world, including everything from cooking classes, walking tours, street art lessons, and more!
SafetyWing – Safety Wing offers convenient and affordable plans tailored to digital nomads and long-term travelers. They have cheap monthly plans, great customer service, and an easy-to-use claims process that makes it perfect for those on the road.
LifeStraw – My go-to company for reusable water bottles with built-in filters so you can ensure your drinking water is always clean and safe.
Unbound Merino – They make lightweight, durable, easy-to-clean travel clothing.
Top Travel Credit Cards – Points are the best way to cut down travel expenses. Here's my favorite point earning credit cards so you can get free travel!
Bogotá Travel Guide: Related Articles
Want more info? Check out all the articles I've written on backpacking/traveling Colombia and continue planning your trip: