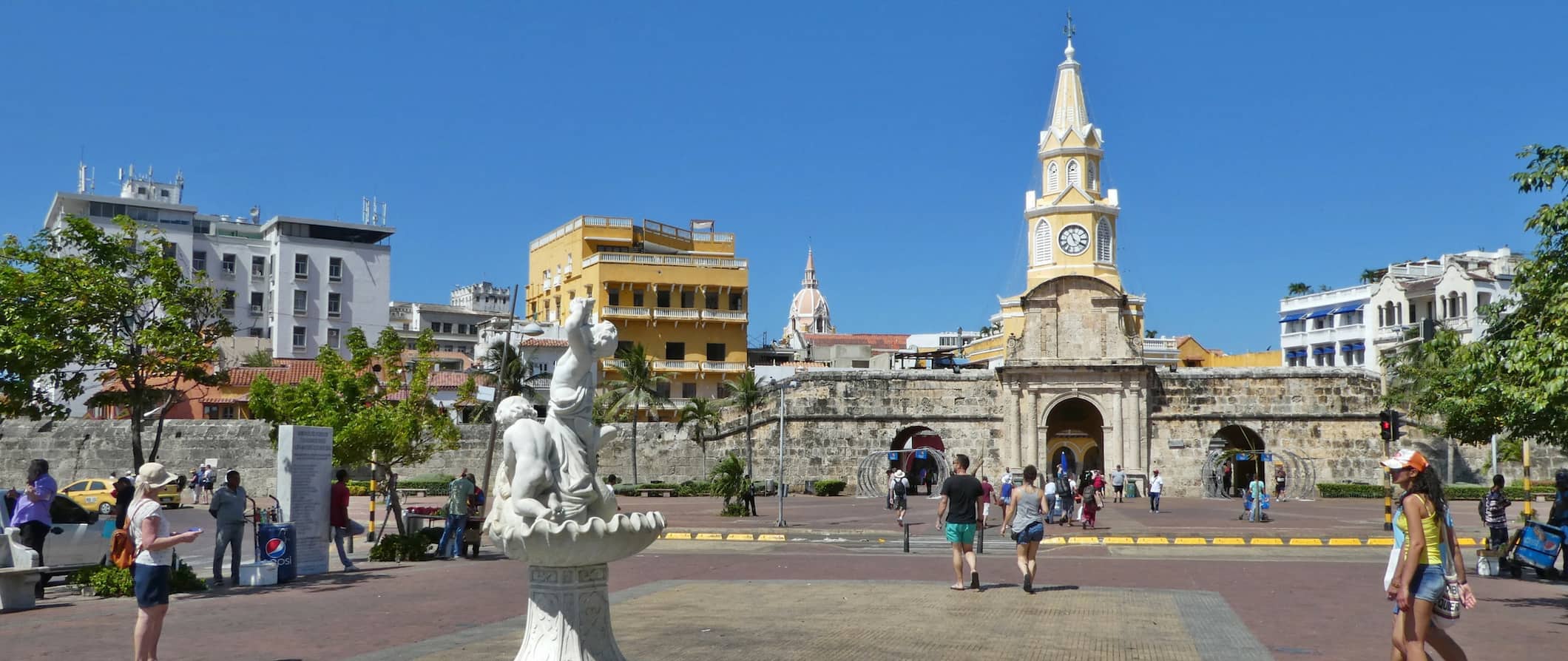 Cartagena is a perfectly preserved colonial town on Colombia's Caribbean coast. During the narco heydays, Cartagena was considered the only "safe" spot in Colombia for tourists. It was where foreigners vacationed, cruise ships docked, and wealthy Colombians built their vacation homes.
Today, this colorful colonial city remains one of the most popular destinations for tourists and Colombians alike. Rich Colombians — and now foreigners — still build vacation homes here, cruise ships still dock, and the influx of tourists has grown with an increasing number of direct flights from North America and Europe.
In the midst of all the touts and tourists, Colombia is an architecturally beautiful and vibrant city. It's brimming with lovely little cafés, cutting-edge restaurants, lively music, town squares full of life, funky bars, and more.
Cartagena is not about seeing the sights. After a couple of museums, a walking tour, and a visit to a beach or two, you've pretty much seen the city. It's about the vibe and ambiance.
Which you'll need to experience for yourself.
This travel guide to Cartagena will give you everything you need to know to see the local side of the city, find hidden beaches, eat the best food in Colombia, and make the most of your trip!
Top 5 Things to See and Do in Cartagena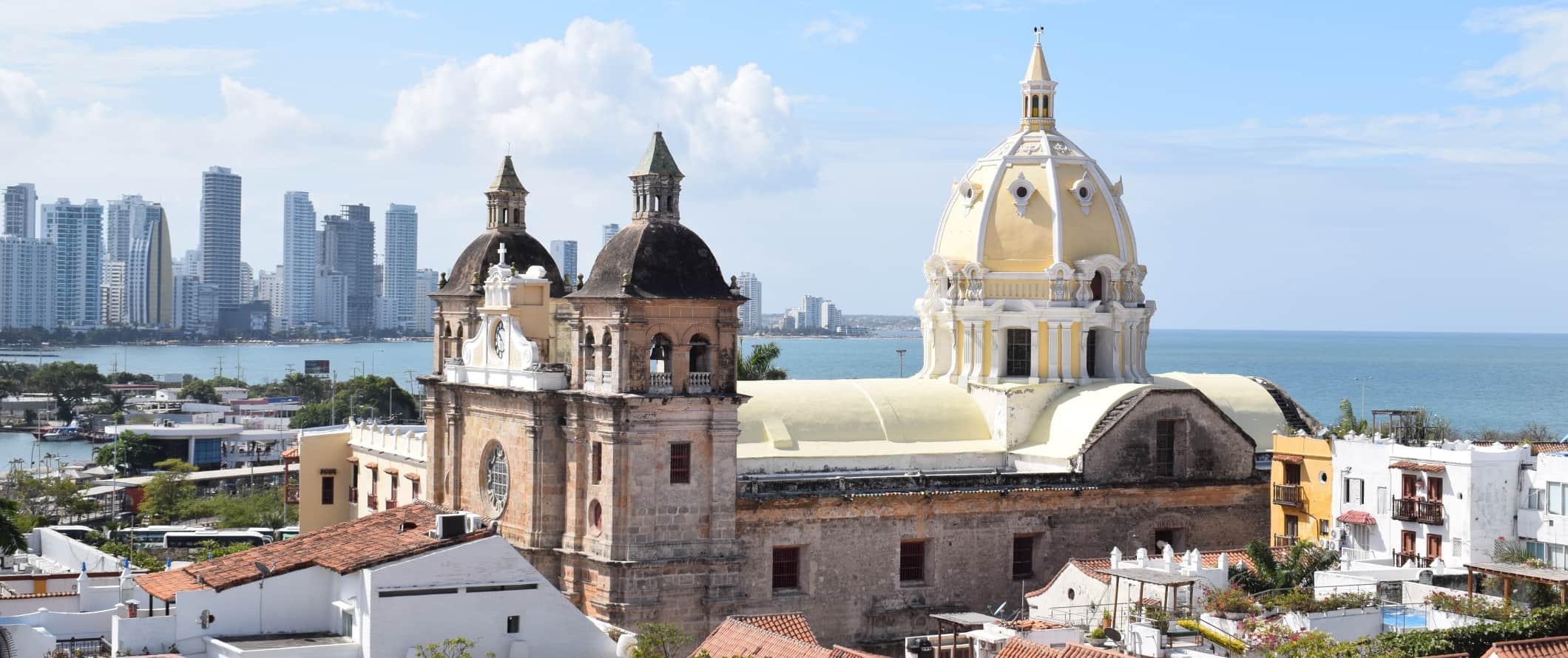 1. Walk the Old Walled City
Cartagena has become such a popular tourist destination thanks to the colorful colonial architecture of its Old Walled City. It's one of the best-preserved) examples of colonial architecture in the whole of Latin America. Be sure to wander around and take it in for yourself.
2. See Castillo San Felipe de Barajas
Climb to the top of San Felipe Castle to admire the view over Cartagena. This fortress was built by the Spanish in the 1600s and its main highlight is the complex system of tunnels running underneath it. Admission is 25,000 COP.
3. Visit Playa Blanca
The pristine sandy beach and turquoise waters of Playa Blanca make it one of the most scenic beaches in Colombia. Located one hour from the city, it gets very busy during the day, so if you spend the night you'll have the beach to yourself once the day-trippers leave. A tour costs around 60,000 COP.
4. Explore Getsemani
The Getsemani area was once a no-go zone but, in recent years, the area has transformed into a cultural melting pot full of street art, artisan shops, cafes, restaurants, and bars. It's now a great neighborhood to wander around for food, drinks, colorful buildings, and friendly locals.
5. Visit Plaza de Trinidad
Plaza de Trinidad is a small square just a 10-minute walk outside of the old town where you can hang out with backpackers and locals alike, normally while enjoying lots of live music. There are always street food carts and vendors selling cold beers. It's an awesome place to relax and people-watch!
Other Things to See and Do in Cartagena
1. Go island hopping
Cartagena doesn't have a lot of nice beaches, which is why island-hopping around the Islas del Rosario is so popular. The Islas del Rosario are a collection of 27 islands just off the coast. If you want to visit the larger Islands, you can either go by road (there's a bridge) or on a public boat. If you want to snorkel the reefs and see some of the smaller islands, you need to take a private boat. You can book tours online, or if you can get a small group together, it's worth walking down to the port early and negotiating a private tour with a local. Expect to pay from 300,000 COP and up for the boat trip.
2. Watch the sunset from the wall
As the sun starts to go down you will see a constant stream of people heading towards the wall next to the seafront to secure their spot. Most people take a few beers and enjoy sundown with friends. The most popular bar in town around this time is Cafe del Mar, famed for its perfect sunset views and live DJ sets. Arrive early as it gets super busy.
3. Visit La Boquilla
La Boquilla is a small fishing village just outside Cartagena that's best known for its busy beachfront. While the town lacks the polished finish of Cartagena, it more than makes up for it in cheap eats and cold beer best enjoyed on the beach. You can also hop on a mangroves boat tour to see the area's natural mangrove tunnels, including the scenic "Tunnel of Love" (a natural tunnel made by the mangroves). Day tours start from 150,000 COP.
4. Do a free walking tour
Free Tour Cartagena organizes a free walking tour that covers all the main highlights in the city, including the Clock Tower, Inquisition Palace, Aduana Square, and Heredia Theater. They'll also take you through neighborhoods like Getsemani, and they offer a free food tour (though you'll pay for the food) too. Remember to tip your guide at the end!
5. Visit the Palacio de la Inquisición
The Palace of Inquisition, housed in a Baroque-style building with wooden balconies covered in bright flowers, is home to a museum displaying the instruments of torture used by the Spanish to stamp out heresy amongst the native Colombians during the Spanish Inquisition. The main source of torture was known as the strappado. This is when the victim was suspended in the air with their hands tied behind their back and weights were added to a rope to pull them down, dislocating their shoulders in the process. There's also the rack, where victims were painfully stretched until they confessed. It's 22,000 COP to visit.
6. Mix with locals at Mercado de Bazurto
If you want to taste a different side of Cartagena, get away from the old city and take a trip to Mercado de Bazurto. It's easy to get disoriented here as the market is a virtual labyrinth. It's dirty, loud, and fascinating. The market itself sells an incredible variety of freshly made food at rock bottom prices, so be sure to go with an empty stomach.
7. Take a street food tour
Colombia's Caribbean coast is one of the best places in the country for foodies. Even the arepa con queso is a game-changer compared to the dry, tasteless arepa that you might find elsewhere. It can be tricky to find the best street food places, however, so a street food tour is the best way to go about finding the best eats. Duran Duran Tours offers a great tour through open-air markets where you'll sample some local delicacies before finishing up with a cooking class and meal at a local family's home. Cartagena Connections and Free Tour Cartagena also offer in-depth street food tours.
8. Visit the Museum of Modern Art
Located inside the converted part of a former 17th-century Royal Customs House, the Museum of Modern Art is small and its collection includes artwork from mostly local and national artists. Alejandro Obregón, one of Cartagena's most famous painters, has several pieces here. There's a cool photography exhibition detailing the city's transformation throughout history too. Overall, you don't need more than 45 minutes here but it's worth a quick visit to admire the collection. Admission is 10,000 COP.
9. Go to Tierra Bomba Island
Tierra Bomba Island is just a 15-minute boat trip from Cartagena. There are four small towns here, each with different beaches. Punta Arena is the best town to get dropped off at, as some of the island's cleanest, most pristine beaches are around here. Relax, book a cabana on the sand, and enjoy a seafood lunch. To get there, take a small boat from the pier next to the Castillogrande. A round-trip ticket is 15,000-20,000 COP.
10. Take a mud bath in a volcano
A popular but cheesy day trip is to the 15-meter (49-foot) high Totumo Mud Volcano (also known as the "Volcano of Youth") where you can climb down into a pit and soak up the minerals from the naturally heated volcanic mud. Only 10-15 people can fit inside at a time. According to local legend, the volcano used to be full of lava but was turned into a mud volcano by a local priest when he sprinkled holy water into it. A round-trip tour starts at 110,000 COP. You can pay extra for a massage while you soak in the mud as well.
11. Visit the San Felipe de Barajas Castle
This castle was built and rebuilt between the mid-15th century and mid-17th century. It has been used to defend Cartagena against everything from pirate attacks to European invasions. It is in excellent condition so it's easy to see where the vantage points for artillery were and to explore the underground galleries, gunpowder warehouses, and tunnels. This incredible example of Spanish military engineering is now recognized as a UNESCO World Heritage Site. Admission is 25,000 COP.
12. Go to the Pink Sea
Known locally as El Salar de Galerazamba and Salinas de Galerazamba, these salt flats are an hour north of Cartagena. It is thought that the pink comes from the only microbes that can survive in such high salinity conditions. Add enough light and heat and they produce carotenoids which turn these algae pink. Many tours to Totumo Mud Volcano combine a stop here or you can take the bus from Cartagena which costs around 25,000 COP.

For more information on other cities in Colombia, check out these guides:
Cartagena Travel Costs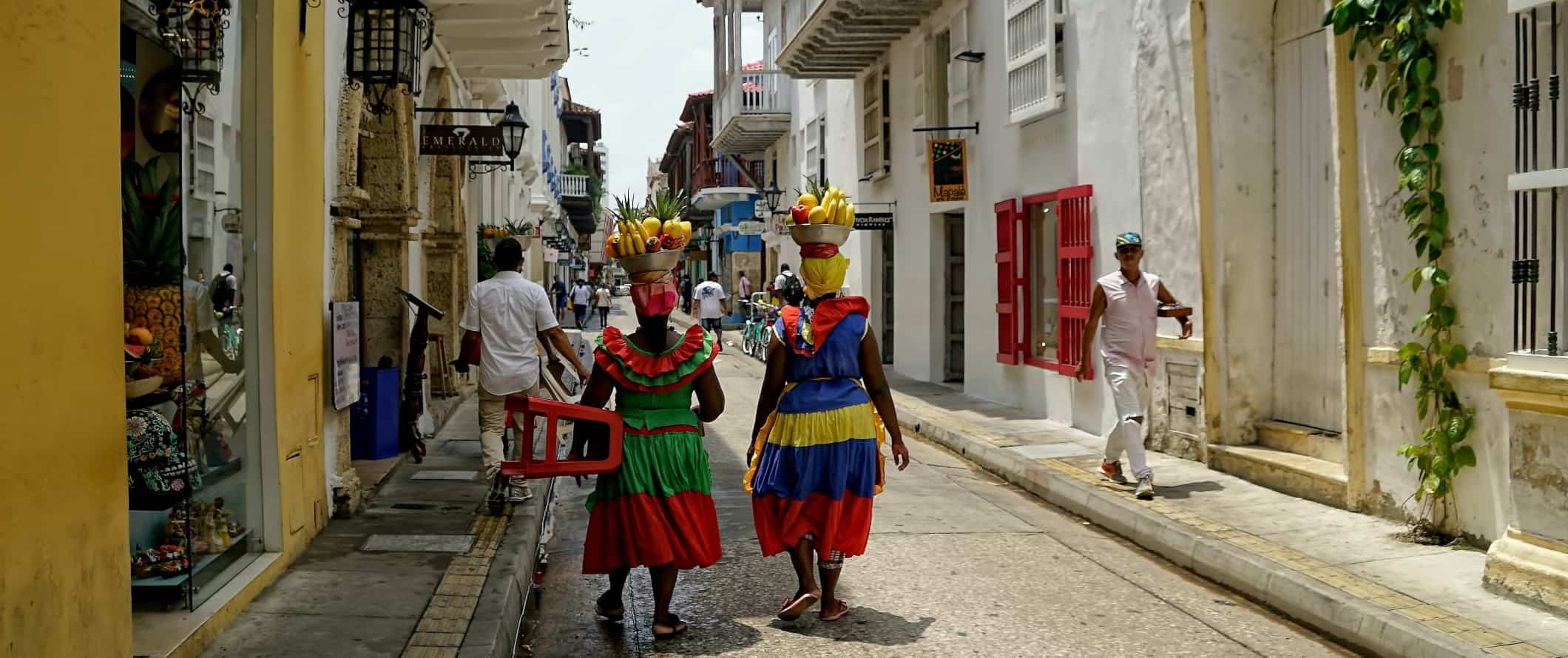 Hostel prices – Cartagena has some great accommodation options, although you will notice a big increase in price in comparison to the rest of Colombia. Most dorms with 6-8 beds are 30,000 COP per night while 4-bed dorms cost 45,000-70,000 COP per night. A private room will cost about 130,000 COP per night, and that's about as low as it gets. Expect free Wi-Fi and self-catering facilities. Free breakfast is sometimes included as well.
Budget hotel prices – Budget hotels are plentiful in Cartagena and often cheaper than private hostel rooms. A room in a two-star hotel can cost as little as 60,000 COP, but expect to pay closer to 100,000 COP per night.
Airbnb is also available in the city. The average price for a private room is 140,000 COP per night while an entire home/apartment starts from 350,000 COP per night.
Food – Colombian food is a blend of indigenous, Caribbean, and European traditions. While ingredients and popular dishes vary by region, common staples include maize, potato, cassava, rice, and all kinds of tropical fruit (dragon fruit, papaya, guava, passionfruit). Fried plantains, chicken soup, tamales, empanadas, meat pies, and roasted piglet are just some of the delicious popular dishes you'll encounter.
If you're on a budget, you can eat for under 50,000 COP a day. Whether it's an arepa (a maize dough bun filled with meat or cheese) for around 4,000 COP, an empanada for 2,000 COP, or fish with beans and rice for lunch for as little as 11,000 COP, there are plenty of cheap options for eating out if you look for them.
Cartagena is known for its food and you can find some world-class fish, pizza, high-end Colombian food, and gastronomic food here. Mains cost about 30,000-50,000 COP, while starters are about 20,000-30,000 COP. For a three-course meal at a mid-range restaurant with table service, expect to pay around 42,000 COP.
Fast food (think McDonald's) costs around 15,000 COP. A beer at a bar costs about 10,000 while buying it at a store is half that price. A latte or cappuccino costs around 5,000 COP.
Some of my favorite places to eat in Cartagena include Demente, Caffé Lunático, La Mulata, Carmen, and La Cervichería.
OXXO stores are a great place to stock up on snacks and alcohol — and most are open 24 hours. For a week's worth of groceries, expect to pay around 100,000 COP for basic staples like rice, eggs, meat, and some fruits and vegetables.
Backpacking Cartagena Suggested Budgets
If you are backpacking Cartagena, my suggested budget is 125,000 COP per day. This assumes you're staying in a hostel dorm, eating street food and cooking some meals, limiting your drinking, using local transportation or walking everywhere, and sticking to mostly free or cheap activities like walking tours and the beach.
A mid-range budget of about 275,000 COP per day covers staying in a private Airbnb or private hostel room, eating out for all your meals, enjoying a few drinks, taking the occasional taxi to get around, and doing more paid activities like cooking classes and museum visits.
On a "luxury budget of about 600,000 COP per day or more, you can stay in a hotel, eat out anywhere you want, drink more, take more taxis or rent a car to get around and do whatever tours and activities you want. This is just the ground floor for luxury though. The sky is the limit!
Accommodation
Food
Transportation
Attractions
Average Daily Cost
Backpacker
35,000
30,000
20,000
40,000
125,000
Mid-Range
95,000
80,000
50,000
50,000
275,000
Luxury
200,000
175,000
135,000
90,000
600,000
Cartagena Travel Guide: Money-Saving Tips
Cartagena is one of the more expensive cities in Colombia. It's popular with the cruise ship crowd, older Americans, and couples so prices are a little higher. Here are some ways to cut your costs while you're here:
Take a free walking tour – If you want to get a great overview of Cartagena, take a free walking tour. It covers all the highlights and is a great intro to the city. Just don't forget to tip your guide!
Eat like a local – It's easy to eat on a budget here if you stick to local Colombian food. Avoid Western food and fancy restaurants if you want to save money.
Stay with a local – Accommodation isn't cheap here, but staying with a local will make it free! Not only will you save some money, but you'll get firsthand knowledge from a local who can share their insider tips and advice.
Cook your own meals – While eating out isn't too expensive here, if you're on a budget it will be cheaper if you cook your own meals. It's not glamorous, but it's affordable!
Walk everywhere – If you don't mind walking, this is the easiest and cheapest way to explore the city. Most of the main sights are well within walking distance.
Pack a water bottle – The tap water here is safe so bring a water bottle with you to avoid buying single-use plastic. My preferred bottle is LifeStraw, which has built-in filters to ensure your water is always clean and safe.
Where to Stay in Cartagena
Accommodations in Cartagena are a lot more expensive compared to other places in Colombia, especially in the Old Town. Your best area for budget accommodation is outside the old city. Here are some of my favorite places to stay in Cartagena:
How to Get Around Cartagena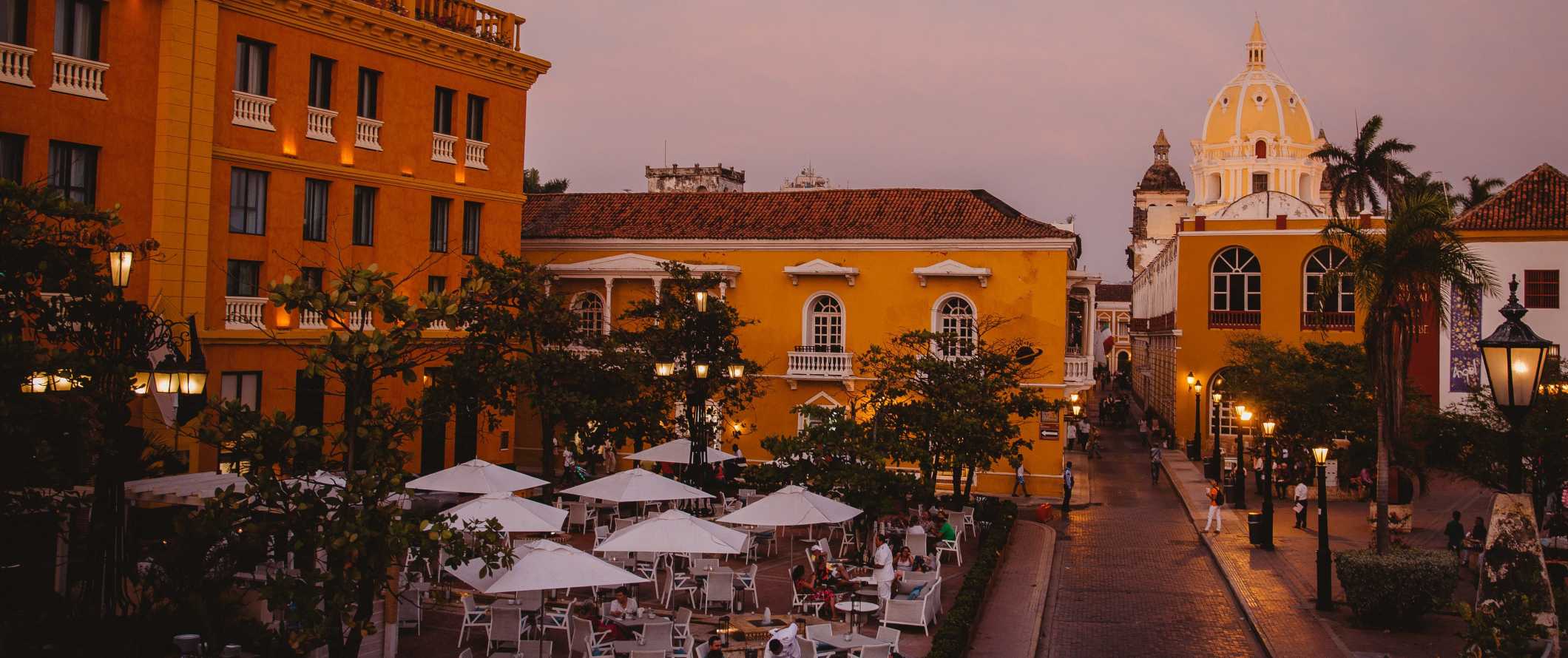 Public transportation – The main method of public transportation in Cartagena is the Metrocar bus. A one-way trip costs 2,600 COP. However, most everything you'll want to see and do in Cartagena is within walking distance. Many locals will tell you to avoid the bus altogether as it passes through some shady parts of town.
Taxis – Taxis in Cartagena the best way to get around if you want flexibility. Ask your accommodation for approximate prices so you don't get ripped off. The city has set rates but taxis don't use meters and usually won't show you the rates. Know what to expect in advance so you don't get ripped off.
Bike rental – Bikes can be rented for around 6,000 COP per hour, while guided bike tours cost around 100,000 COP for a two-hour tour. Electric motorcycles cost around 30,000 COP per hour for a rental.
Car rental – Cars can be rented for as little as 90,000 COP per day, though you don't need one to get around the city. Additionally, since break-ins are common I'd avoid renting a car unless you're leaving for a day trip outside the city. Drivers need to be at least 21 and have an International Driving Permit.
When to Go to Cartagena
Cartagena is hot all year round, with temperatures usually in the high 20s°C (mid-80s °F). The busiest time of year is from December to April (the dry season) when temperatures are the most pleasant and there's very little rainfall. This period is also when the city receives the most tourists, however, so you can expect inflated prices and big crowds.
June to August usually bring lots of rain and overwhelming humidity, so you might want to brave the crowds and visit during the peak season instead of visiting during this time. Expect daily highs around 32°C (90°F).
The cheapest time to visit is August-November, as this is when the city is the least busy. It will be rainy, but there is still a lot to do and prices for accommodation will be lower.
How to Stay Safe in Cartagena
Safety is often one of the biggest concerns for people when planning a trip to Cartagena, as Colombia used to be one of the most dangerous places in the world. They have a common saying in Colombia: "No dar papaya," which translates to "don't give papaya." What it really means is though don't give anyone the chance to steal your stuff — because someone probably will.
That means no walking around with your phone out, never keeping anything in your pockets (especially when on public transport), and always keeping hold of your bag.
If you are eating out, keep your backpack on your lap or place your foot or a chair leg through your strap. It is very common for someone to do a bag swap (meaning they swap their empty bag for yours) while you're busy eating so always stay vigilant.
Avoid ATMs on the street whenever possible and go into the bank to use the ATM there instead. That way you can put your money away discreetly without being watched.
There aren't many street scams in Cartagena; it's mostly opportunistic petty theft. But if you're worried about getting ripped off you can read about common travel scams to avoid here.
Look for hotels or hostels with 24-hour security. You always want someone around in case you need assistance. If you don't feel safe somewhere, don't hesitate to move on.
Also, avoid drug tourism. The drugs cartels have crippled this country so it's really disrespectful to support the drug industry here. Doing drugs here is also illegal and you don't want to end up in a Colombian prison!
If you experience an emergency and need assistance, dial 123.
Always trust your gut instinct. Make copies of your personal documents, including your passport and ID. Forward your itinerary along to loved ones so they'll know where you are.
For more in-depth coverage of how to stay safe in Colombia, check out this post we wrote that answers some frequently asked questions and concerns.
The most important piece of advice I can offer is to purchase good travel insurance. Travel insurance will protect you against illness, injury, theft, and cancellations. It's comprehensive protection in case anything goes wrong. I never go on a trip without it as I've had to use it many times in the past. You can use the widget below to find the policy right for you:
Cartagena Travel Guide: The Best Booking Resources
These are my favorite companies to use when I travel. They consistently have the best deals, offer world-class customer service and great value, and overall, are better than their competitors. They are the companies I use the most and are always the starting point in my search for travel deals.
Skyscanner – Skyscanner is my favorite flight search engine. They search small websites and budget airlines that larger search sites tend to miss. They are hands down the number one place to start.
Hostelworld – This is the best hostel accommodation site out there with the largest inventory, best search interface, and widest availability.
Booking.com – The best all around booking site that constantly provides the cheapest and lowest rates. They have the widest selection of budget accommodation. In all my tests, they've always had the cheapest rates out of all the booking websites.
Get Your Guide – Get Your Guide is a huge online marketplace for tours and excursions. They have tons of tour options available in cities all around the world, including everything from cooking classes, walking tours, street art lessons, and more!
SafetyWing – Safety Wing offers convenient and affordable plans tailored to digital nomads and long-term travelers. They have cheap monthly plans, great customer service, and an easy-to-use claims process that makes it perfect for those on the road.
LifeStraw – My go-to company for reusable water bottles with built-in filters so you can ensure your drinking water is always clean and safe.
Unbound Merino – They make lightweight, durable, easy-to-clean travel clothing.
Top Travel Credit Cards – Points are the best way to cut down travel expenses. Here's my favorite point earning credit cards so you can get free travel!
Cartagena Travel Guide: Related Articles
Want more info? Check out all the articles I've written on backpacking/traveling Colombia and continue planning your trip: