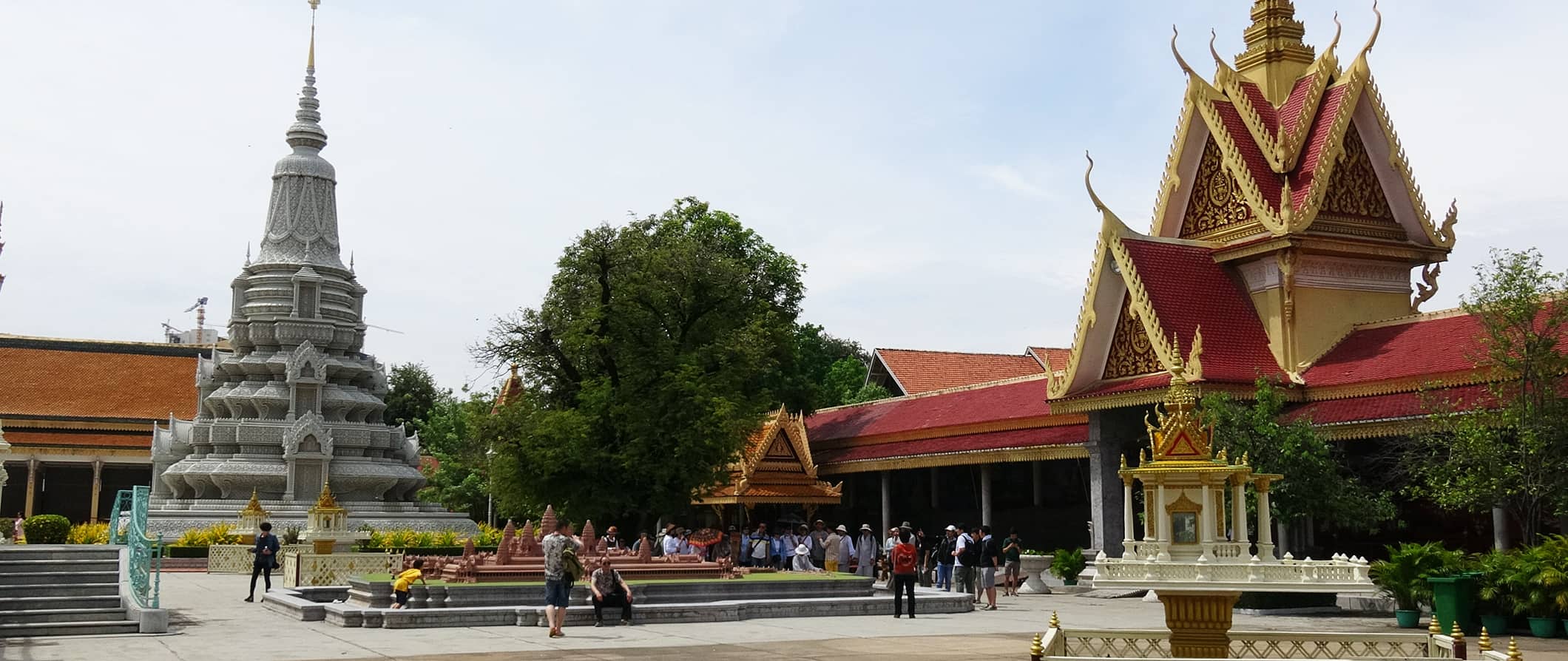 Phnom Penh, Cambodia is raw, wild, and untamed. Like the rest of Cambodia, there is a very "frontier" attitude in the city. It seems like anything goes here because it usually does. It's a city of controlled chaos and that excitement is what sucks you in. I ended up here for two weeks on my first visit and found it's a "love it or hate it" place but never a boring one. Each visit back only reminds me how much Cambodia is changing, how international the city has become, and how it has never lost its edginess. This travel guide will help you navigate my favorite city in the country.
Top 5 Things to See and Do in Phnom Penh
1. Royal Palace
The Royal family doesn't live here anymore, but there are some good temples and architecture around. You'll find information about the history of the royal family, interesting temples, and an amazing courtyard. It's not as luxurious as the palace in Bangkok but worth the $6 USD admission fee.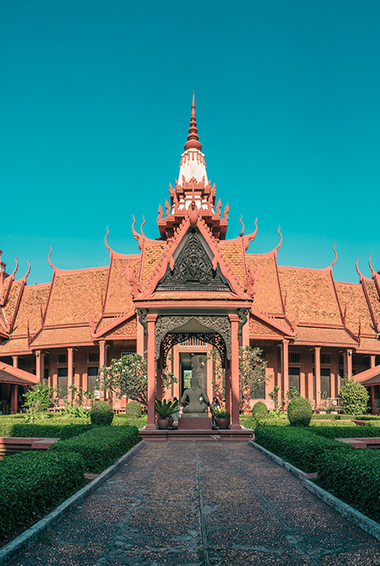 2. The National Museum
The magnificent National Museum houses thousands of artifacts and works of art. There are more than 5,000 pieces on display with the vast majority from the Angkor period. The building itself, with its chambers linked by a central courtyard, is also an architectural masterpiece. Admission is $5 USD. One-hour guided tours cost $3 USD.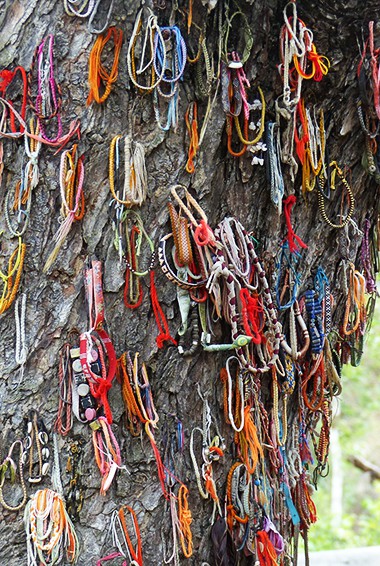 3. Choeung Ek and Toul Sleng
These are the killing fields of the Khmer Rouge. Choeung Ek is a series of exhumed mass graves while Toul Sleng is the former high school the Khmer Rouge converted into a torture center. Admission is $10 USD, however, you'll need to hire a driver to take you to each place. Expect to pay around $15 USD for that.
4. Phnom Tamao Wildlife Rescue
This is the biggest rescue center in the country, and you can take tours to get a behind-the-scenes sense of the operation. At $40 USD per person, it's not cheap (and it's a bit depressing to hear the stories about how these animals were discovered) but the money goes to a good cause.
5. The Silver Pagoda
The Silver Pagoda has murals running around its outer wall which tell the story of the Ramayana. Within the grounds are five stupas, with the two largest to the east containing the ashes of King Norodom and King Udung (the two most famous kings of modern Cambodia), with a statue of King Norodom on horseback. Admission is $3 USD.
Other Things to See and Do
(Click the title to expand the text)
1. Independence Monument
Every Cambodian capital has one, but the monument in Phnom Penh is the finest. Designed by famed architect Vann Molyvann, it was inaugurated in 1958 to mark Cambodia's independence from French rule and now also serves as a defacto war memorial. Located at the intersection of Norodom and Sihanouk boulevards, it is a major city landmark and is lit up at night.
2. The Central Market
Built in 1937, this art-deco ziggurat seems very out of place in Phnom Penh. A huge dome with four wings (it's ugly), it's a wonderful place to seek refuge from the midday sun and a fascinating market to wander through. Save your shopping for elsewhere because even when you bargain them down, you're still paying a hugely inflated price but wander, stop for a drink, and watch out for pickpockets!
3. The Russian Market
Popular with expats and tourists for buying pirated DVDs and CDs, fake designer clothing, handicrafts, and anything else you could ever think of, this place got its name from the Russians who shopped here in the 1980s.
4. The Cambodian Performing Arts Center
This is a small traditional dance school where visitors are welcome to watch students in training or, if set up in advance, a fully costumed performance can be seen.
5. Phnom Chisor Temple
It may be a 42-km drive out of the city, but this temple located atop a large hill is worth a visit both for the ruins and the view. The temple was originally named for the sun, which serves as a reminder to tourists—the climb up the base of the hill is steep, so plan your visit outside the hottest hours of the afternoon. Expect to pay at least $30 USD for a tuk-tuk for the journey.
6. Wat Ounalom
If you aren't sick of temples yet, check out this one which is located on the Sisowath Quay. It is considered Phnom Penh's most important wat. It took a hit during the Khmer Rouge regime, but remains the center of Cambodian Buddhist religion. Entry is free.
Typical Costs
Note: Cambodia uses USD. There's no real need to carry the local currency, Cambodian Riels (KHR), unless you paying for really small things on the street, but for the most part, use USD.
Hostel prices – Most guesthouses have dorm beds available for about $3 USD per night. Private rooms start from $10 USD per night and go all the way up to $25 USD. Free WiFi is standard in almost every hostel in the city and many hostels also include free breakfast. You can book your hostel with Hostelworld.
Budget hotel prices – Better, cleaner, and nicer establishments cost around $12.50 USD per night and include air-con and a private bathroom. That being said, you can find very basic hotels for as little as $7.50 USD per night — just don't expect much! When it comes to location, the popular riverside area is more expensive. Use Booking.com as they consistently return the cheapest rates. Airbnb is available in the city, though shared accommodation options are limited (and expensive). You can expect to pay at least $11 USD per night or around $20-25 per night for an entire apartment.
Average cost of food – TFood is very cheap throughout the city. Street food will cost you about $2 USD per meal, and restaurant food will cost between $2-5.50 USD per meal, depending on how fancy you get. Western meals at nice restaurants will cost quite a bit, starting around $4.50 USD. You can get some really world class food in the city these days, so if you're a foodie then go nuts when you are here! It's an up and coming foodie destination! If you plan on cooking your own food, expect to pay at least $12.50 USD per week on food, but most of the meals are so cheap and kitchens rare that I would say just eat out!
Transportation costs – Tuk-tuk (cheap cabs) trips should cost between $2-5.50 USD within the city. A tuk-tuk to the Killing Fields and back should cost around $15 USD and for a few dollars more can include more city sightseeing. If you share your tuk-tuk with a few people you can lower your share of the price significantly. You can rent a car and driver for around $32 USD per day. If you're heading out of the city, expect a bus to Siem Reap to cost at least $13.50 USD. A bus from here to Sihanoukville will cost around $6 USD.
Suggested daily budget
$30-50 USD (Note: $20-25 USD (Note: This is a suggested budget assuming you're staying in a hostel, cooking most of your meals or eating cheap street food, and using local transportation. Using the budget tips below, you can always lower this number. If you stay in fancier accommodation or eat out more, expect this to be higher!)
Money Saving Tips
Negotiate with tuk-tuk drivers – Make sure you negotiate the price ahead of time. Moreover, don't take the first number they give you — it's inflated. If you're not sure what price you should be aiming for, ask your hostel/hotel staff in advance. They can usually help you book a trusted driver, as well.
Stay away from the river – The most expensive accommodation is by the river. If you want cheaper accommodation, head towards the southern and central parts of the city.
Minimize your drinks – Every drink is a dollar and before you know it, you've spent more money on beer than on food and accommodation.
Work for your room – It's pretty common to get a job in a hostel in order to stay longer in Cambodia so if you stay at a hostel and like the vibe, ask if they'll let you work there.
Book tours and day tours as a group – You have more negotiation power when you're with a group of people buying multiple things. Traveling alone? Meet a friend at a hostel and see if they want to join the same tour as you.
My Must Have Guides For Traveling to Cambodia