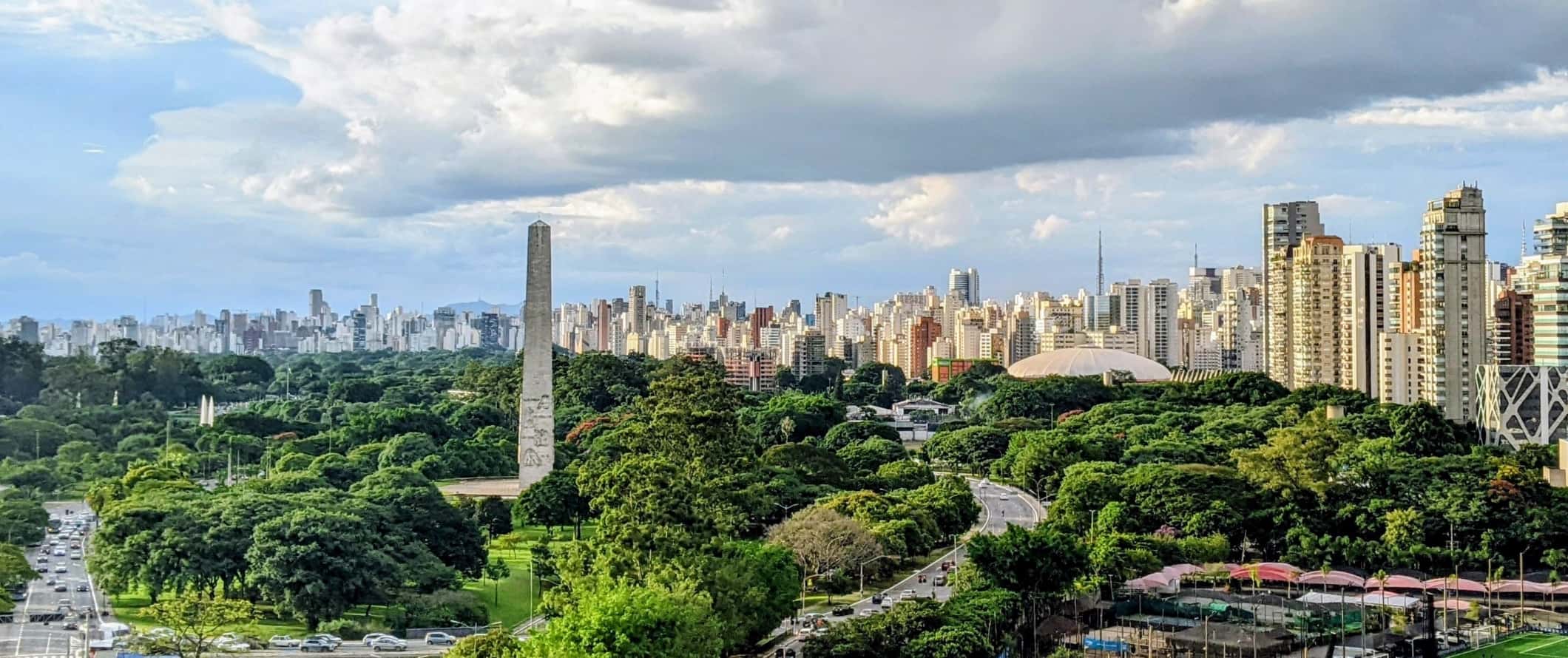 A lot of travelers skip São Paulo when visiting Brazil, choosing to go to Rio de Janeiro and other parts of the country instead.
This sprawling metropolis shouldn't be skilled.
Originally inhabited by the indigenous Tupi people, Portuguese Jesuit priests colonized the area in 1554. The settlement remained small until the 18th-century gold rush in the northern region of Minas Gerais, during which explorers passed through São Paulo on their way to seek their fortunes. After the gold ran out, sugar and coffee, grown on plantations fueled by the forced labor of enslaved Africans, became central to São Paulo's development as an economic center.
Today, São Paulo is a major cosmopolitan city and cultural hub that is home to over 22 million people, including the largest Italian, Japanese, and Portuguese diasporas in the world. Each neighborhood is like its own micro-city, from Liberdade (São Paulo's Japantown) to bohemian Vila Madalena.
This travel guide to São Paulo can help you save money and stay safe, as well as ensure that you have a wonderful visit to this Latin American megalopolis.
Top 5 Things to Do in São Paulo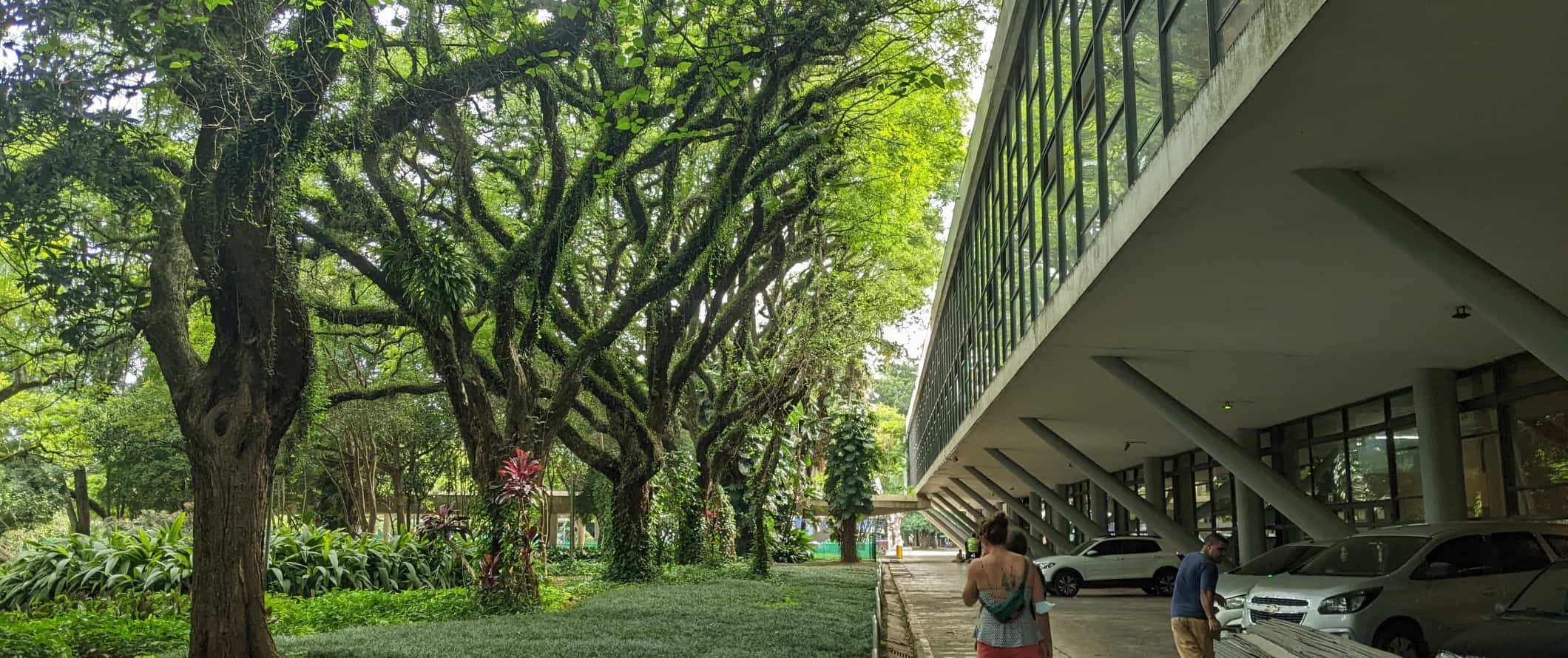 1. Take a free walking tour
Free walking tours help you get the lay of the land on your first few days in a destination. Since São Paulo is so big, taking a tour with a local guide can help orient you. São Paulo Free Walking Tour is an excellent option, with tours that explore four different areas: Old Downtown, Vila Madalena, Ibirapuera Park, and Paulista Ave. Check the website before turning up as sometimes certain routes are closed due to the many festivals that occur in the city. (And remember to always tip your guide at the end!)
2. Stroll through Ibirapuera Park
At 158 hectares (390 acres), Ibirapuera is the largest urban park in South America. It's the perfect place for a stroll or bike ride, lounging around, or watching the locals playing footvolley (a uniquely Brazilian sport that's a mix of soccer and volleyball). Stop in at the Museu Afro Brasil (Afro Brazilian Museum, located within the park) or the MAC (Museum of Contemporary Art, just outside the park).
3. Watch, listen, and dance to samba
Samba is an institution in Brazil. Each city and region has its own variation on this Afro-Brazilian style of dance and music, and São Paulo is no different. To see some local samba, head to Bar do Baixo, Bar Samba, Vila do Samba, or Casa Barbosa. And if you're in town in January and February leading up to Carnival, you can watch samba schools practice their performances. During Carnival, these schools all compete at the Sambódromo to try to win the award for best samba school of the year.
4. Eat, Eat, Eat
São Paulo is a city in which to eat and eat well. There's fantastic street food, restaurants dedicated to all regions of Brazil (including many Amazonian eateries, in case you won't be making it there on your trip); delicious Japanese, Italian, and Lebanese food (owing to the large diasporas here); and a surprisingly vast vegan food scene for the plant-based and plant-curious. And if you're into something more upscale, there's no shortage of fine-dining establishments, including the number one restaurant in South America, Casa do Porco. If you're a foodie, São Paulo is a must!
5. Admire the street art
Allegedly named after some Batman graffiti that was painted here in the 1980s, Batman Alley is one of São Paulo's street art hot spots. Head here to meander through the winding, cobblestone-lined alley and take in the colorful murals. Artists consult with each other before painting a new mural over an old one, so there is a constantly changing gallery here, as well as street vendors selling clothing, jewelry, and other souvenirs that are all just as vibrant as the murals lining the street.
Batman Alley is far from the only place to see street art in São Paulo. Take one of several street art tours (including this street art bike tour, where you can cover more ground on two wheels) to get a sense of the street art culture in the city.
Other Things to Do in Sao Paulo
1. Visit the Ipiranga Museum
Originally created as a monument to the country's independence, São Paulo's Brazilian history museum was inaugurated in 1895. Recently reopened after almost 10 years of renovations, come here for a collection of artwork, photographs, objects, furniture, and maps especially focused on the imperial period and Brazilian independence. The building and gardens themselves are impressive as well, designed to emulate the Palace of Versailles in France. Admission is free.
2. Walk the open streets
São Paulo is a fast-paced place, and the traffic here can get overwhelming, so much so that the city has started several car-free, open-street initiatives to give residents a bit of a respite. Vendors of all types often set up along these thoroughfares, and taking a relaxed stroll on what are normally some of the city's busiest streets is a low-key way to spend a morning or afternoon.
Paulista Avenue, often considered São Paulo's version of New York's Fifth Avenue, is a must-visit in general, but especially when it's closed to traffic every Sunday. Another popular open street is the Minhocão, an elevated highway that's closed to traffic for the entire weekend. Since it's elevated, you can get unobstructed views of the many murals that decorate the buildings lining the road.
3. Enjoy Brazilian art
São Paulo is a museum city. The MASP (Museum of Art of São Paulo) is the most popular. The permanent collection resides all in one expansive open room, with the artwork displayed on large glass pillars, with descriptions on the back so that you see the piece first, before learning its background (or vice versa). It's organized from contemporary art backward, though the idea of the layout is to encourage visitors to meander through the pieces at their own pace and route, choosing whatever interests them. (After you're done at the MASP, pop into Parque Trianon across the street. It's one of the last remaining pieces of the Atlantic Forest that used to cover the city.)
Other major art museums include the Pinacoteca (the oldest art museum in São Paulo, with a huge collection of Brazilian works) and the MAC (Museu de Arte Contemporaria, focused on 20th-century Western art). For more off-the-beaten-path artistic expression, check out the many experimental theaters and art-house cinemas (including CineSala, an independent street theater founded in 1959).
4. Learn at the Museu Afro Brasil
Located in Ibirapuera Park, this expansive museum is dedicated to celebrating and teaching Afro-Brazilian history (with several rooms on the slave trade, one housing the remains of a slave ship), religion, art, and culture. The 6,000-piece collection is massive, including sculptures, documents, engravings, ceramics, paintings, contemporary artwork, jewelry, objects, reliefs, photographs, and textiles. The building itself was designed by renowned Brazilian architect Oscar Niemeyer, so spend some time appreciating it from the outside too. Unfortunately, most of the descriptions aren't in English (there is free Wi-Fi, so you can use Google Translate to translate the text). Admission is 15 BRL.
5. Peruse the neighborhood markets
Opened in 1933, the Municipal Market of São Paulo is the main one, with all kinds of stalls selling tropical fruits, veggies, and artisanal products (just be careful of the sellers trying to get you to try the different fruits — they're notorious for giving out "free samples" and then charging high prices). There is also a food court within the market where you can get lunch, a snack, or a drink. While you're here, make sure to look up to take note of the 72 colorful stained-glass windows that depict food and food production in the region. It's open Monday to Saturday, 6am-6pm, and Sunday from 6am-4pm.
6. Go on a food tour
While eating your way around town is fun on your own, you can get more cultural and historical context by taking a food tour. Concrete Jungles Walking Tours offers a few, including a breakfast tour, a gourmet tour of the hip Pinheiros neighborhood, and a street food tour in Liberdade. The cost ranges from 160 to 315 BRL, which includes all the food.
7. Visit Liberdade (Japantown)
São Paulo is home to the largest Japanese community outside of Japan, dating back to the end of feudalism in Japan which kick-started emigration to Brazil (where there was a labor shortage at the time). Liberdade is the São Paulo's Japantown. Come here to have some tasty ramen, curry, and sushi, and to shop at the many Japanese stores and street vendors. If you can, come during the week, as the weekends get incredibly crowded here. And to learn more about the Japanese community in Brazil, the History Museum of Japanese Immigration in Brazil is located here as well (16 BRL, free on Wednesdays).
8. Take in views of the megalopolis
To truly get a feel for just how expansive this city is, head to one of the many rooftop terraces to take in panoramic skyline views. Some of the most popular are the rooftops at MAC USP, Farol Santander, and Hotel Unique, all of which have rooftop bars for grabbing a drink while overlooking the cityscape. Hotel Unique is especially famous for its red rooftop pool and overall building design, which resembles a ship.
9. Watch a soccer match
Like in most of Latin America, soccer (called futebol here) is huge in Brazil. Even if you're not a big sports fan, it can be fun to attend a game and get caught up in the excitement. Palmeiras and Corinthianos are the two main football teams in São Paulo, and you can watch home games at their respective arenas, Allianz Parque and Arena Corinthians. If there's no game going on while you're in town, or if you're an especially big soccer fan, you can also visit the Museu do Futebol, an interactive museum that documents Brazil's soccer history and culture (though be aware that all the displays are in Portuguese). Admission is 20 BRL.
10. Enjoy the nightlife
If there's one stereotype that's true, it's that Brazilians know how to party. Whether you're into clubbing, samba, or just having a few drinks at a neighborhood watering hole, there's something for everyone here. For a fun night out, head to Vila Madalena and Pinheiros, the hipster neighborhoods with tons of bars and restaurants lining the streets.
11. Celebrate Carnival
While Rio's Carnival gets all the attention, each city and region of the country has its own Carnival traditions and flair, so if you're here in February, you'll get to celebrate the world's biggest party — and at a much lower cost than in Rio. Tickets to the famous samba parades at São Paulo's Sambódromo (a samba stadium) cost 45-190 BRL for bleacher general admission, compared to 725-1,085 BRL for the same in Rio (plus, tickets sell out much further in advance in Rio). It's also impossible to miss the blocos (street parties) that take over the streets during the week of Carnival. These free events are the people's way to celebrate Carnival, so throw on some glitter and join in to make new friends!

For more information on other cities in Brazil, check out these guides:
São Paulo Travel Costs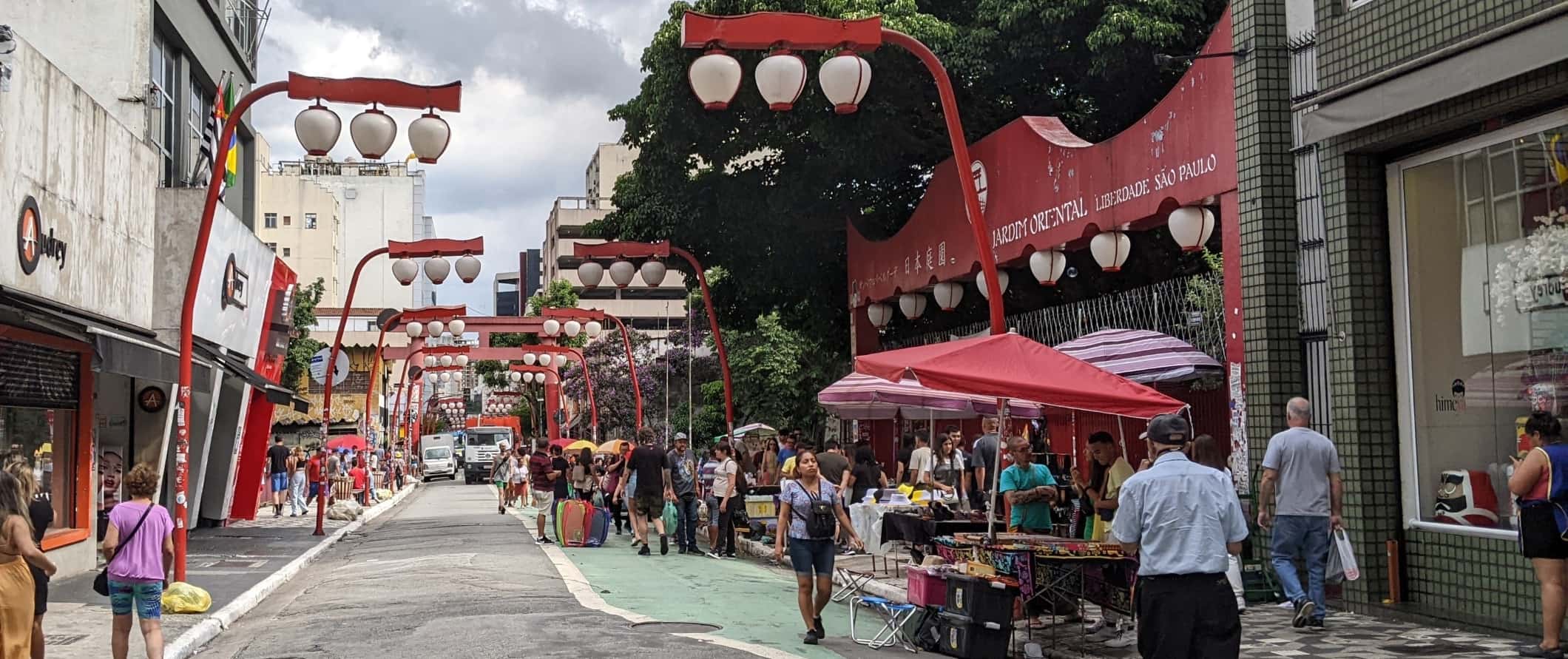 Hostel prices – A bed in a 4–6-person dorm costs 65-90 BRL per night, while a bed in an 8-12-person dorm typically costs 50-65 BRL. A private double room costs about 225-300 BRL, but sometimes you can find rooms for as low as 150 BRL per night.
Typical hostel amenities include free Wi-Fi, a shared kitchen, air-conditioning, indoor/outdoor common areas, and a bar/restaurant on the premises. A few hostels offer breakfast for free, but most charge an extra fee (if they offer it at all). Unlike other more popular tourist destinations in Brazil (such as Rio or Florianópolis), prices in São Paulo remain consistent throughout the year.
Budget hotel prices – A budget two-star hotel room in the center of town costs 150-200 BRL per night. Typical amenities include air-conditioning, TV, and a complimentary buffet breakfast of bread, cakes, fruits, juice, and tea/coffee.
Airbnb is available in São Paulo, with private rooms starting around 67 BRL per night; entire homes/apartments cost 115 BRL per night. Be sure to book early, otherwise, prices can double.
Food – Brazilian cuisine — like the country itself — is a mix of many cultures, with European, Amerindian, African, and Japanese influences. As it's such a large country, food varies by region in Brazil, but you can find all of it — and then some — in São Paulo.
In typical Brazilian cuisine, common vegetables include tubers like cassava and yams, tomatoes, red peppers, okra, and more. As Brazil is a subtropical country, there's also a huge variety of fruits, with the most famous being the superfood açaí, though cupuaçu (related to cacao), mango, papaya, guava, orange, passion fruit, and pineapple are all common as well.
Feijoada, Brazil's national dish, is a meaty bean stew that is traditionally eaten for Wednesday or Saturday lunch. Other popular dishes include moqueca (fish stew), polenta, and vatapá (a stew of bread, shrimp, coconut milk, and peanuts).
Some popular street food snacks include pão de queijo (cheese bread rolls), acarajé (black-eyed pea and shrimp fritters), coxinha (croquettes), pastéis (savory deep-fried pastries with assorted fillings), and açaí (which you can have pureed, plain, or with toppings).
Street food like pastéis costs around 7-10 BRL, while a coxinha is around 5-7 BRL. A sandwich and drink at a juice bar should be no more than 35-40 BRL, while a combo meal at a fast-food restaurant (think McDonald's) is around 35 BRL. A meal at a Chinese takeout restaurant costs about the same (35 BRL) as a dish like fried rice.
Buffets are very common throughout Brazil. Expect to pay around 40-65 BRL for a filling meal at one of these (depending on how much you eat, of course).
A meal at an inexpensive restaurant serving typical Brazilian cuisine (known as a boteco) costs about 25-35 BRL. If you want to splurge, a three-course meal (appetizer, main, dessert, and a drink) at a nicer restaurant costs about 150-200 BRL.
A domestic beer costs 8-11 BRL (draft craft beer starts at 15 BRL), and a cocktail starts at 20-25 BRL for a caipirinha (Brazil's classic cocktail), though at higher-end places, they can be upwards of 40 BRL. A soda is 10 BRL, and a cappuccino is 10-15 BRL.
Note that most restaurants add a 10% "service fee" (tip) to the final bill so you don't need to add anything extra.
Some specific restaurant recommendations: Casa Tucupi for Amazonian food, Padaria Bella Paulista (a 24-hour diner/bakery/café), and Tabuleiro do Acarajé, which specializes in acaraje, a typical street snack from the region of Bahia.
For fantastic cocktails, head to Santana Bar or Bar dos Arcos, an ultra-cool underground cocktail bar under the gorgeous Municipal Theatre.
Grocery shopping costs about 200-250 BRL per week for basic staples like fresh veggies, pasta, rice, and some meat or fish.
Backpacking São Paulo Suggested Budgets
If you are backpacking São Paulo, expect to spend about 155 BRL per day. This covers staying in a hostel dorm, eating street food, cooking some of your meals, limiting your drinking, using public transportation to get around, and doing mostly free activities like walking tours.
On a midrange budget of about 375 BRL per day, you can stay in a private hostel or Airbnb room, eat out for all your meals at cheap restaurants, take the occasional taxi to get around, take buses between destinations, enjoy a few drinks, and do more paid activities, such as a bike tour and museum visits.
On an upscale budget of about 675 BRL per day or more, you can stay in a hotel, eat out for all your meals, enjoy more drinks, take taxis everywhere, and enjoy all the tours and activities you want. This is just the ground floor for luxury though. The sky is the limit!
Accommodation
Food
Transportation
Attractions
Average Daily Cost
Backpacker
65
50
20
20
155
Mid-Range
150
100
50
75
375
Upscale
275
200
75
125
675
São Paulo Travel Guide: Money-Saving Tips
São Paulo is one of the more expensive cities in Brazil, but prices depend on where you are and what kind of activities you're doing. It's still cheaper than Rio, and there are a lot more free and cheap activities here. Here are some other money-saving tips to help you get started:
Stay with a local – Couchsurfing connects you with locals who can give you a free place to stay and share their insider tips and advice. It's the best way to meet locals and save money if you're on a tight budget.
Visit off-season – December to March is a popular time to visit as people from the Northern Hemisphere escape the winter. Try to avoid these months if you want to keep your expenses low.
Skip Carnival – Carnival might be fun, but it can also get expensive. If you're on a budget, avoid visiting during Carnival.
Pack a water bottle – The tap water here isn't safe to drink so bring a water bottle with a filter to save money and reduce your single-use plastic usage. My preferred bottle is LifeStraw as it has a built-in filter to ensure your water is always clean and safe.
Snack on street food – There's a thriving street food culture in Brazil, meaning lots of cheap and delicious food to fill up on.
Eat at the buffets – Buffet-style restaurants are extremely common and popular here. You take a plate, fill it up with anything your heart desires from the hot and cold buffets, and then pay by weight. It's an inexpensive way to eat as the locals do.
Go to free museum days – Many of the museums here are free, and the ones that aren't usually have a free day each week. Check their websites for details.
Visit the market – If you're staying at a hostel with kitchen facilities, stock up on food at the market and eat like the locals. It won't be fancy, but it will be affordable.
Get an Airpass – Brazil is a huge country, and if you want to see multiple destinations yet don't have tons of time, you'll need to fly. While there are budget airlines in Brazil, if you plan to visit faraway places (like the Amazon), flights can get expensive. If you book your domestic flights in advance, an Airpass can save you money on flights. It's the cheapest way to fly around the country.
Take a free walking tour – São Paulo Free Walking Tour offers many different tours, and they're the best way to see the main sights on a budget. Just be sure to tip your guide at the end!
Where to Stay in São Paulo
São Paulo is sprawling. When you're researching your hostel, make sure you find a neighborhood that fits your needs. Otherwise, you'll be spending a lot of money on taxis or Ubers and sitting in terrible traffic. There are plenty of hostels and budget-friendly hotels here. Here are some suggested places to stay:
How to Get Around São Paulo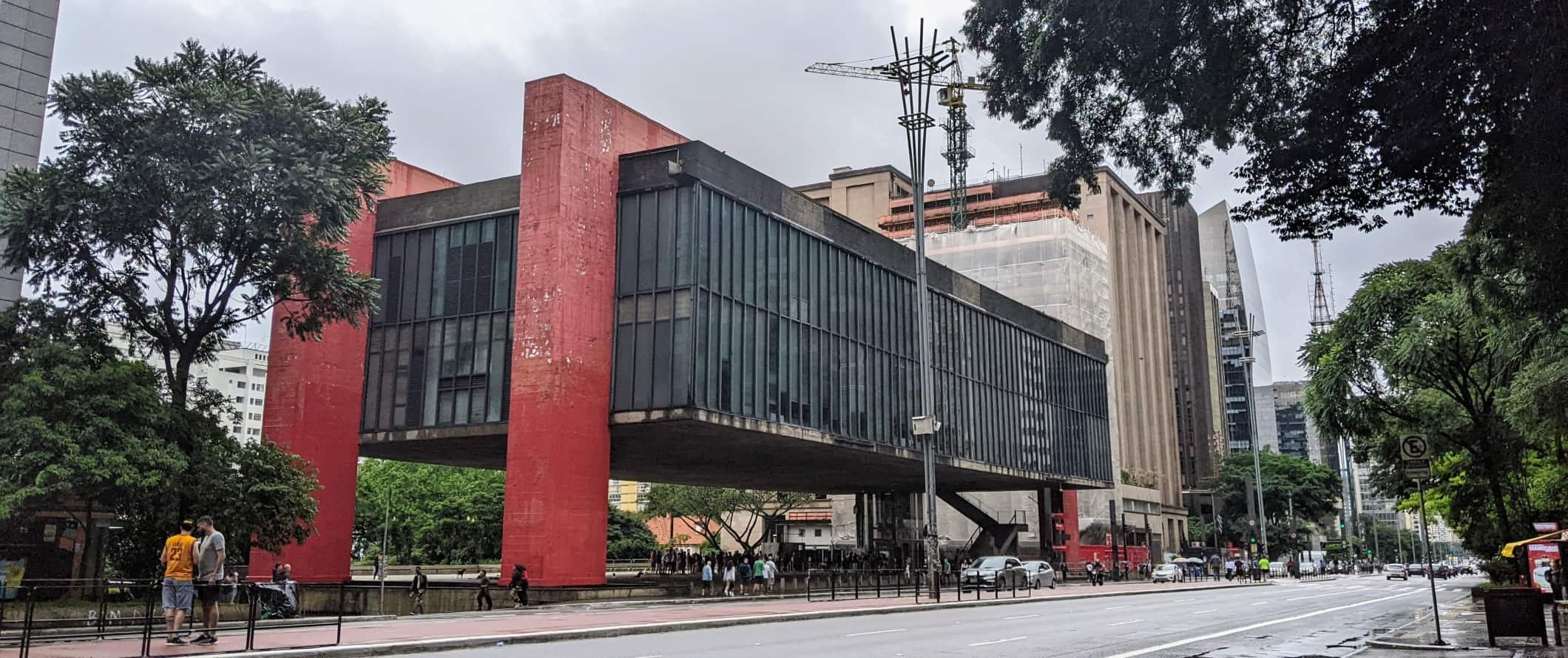 Walking – São Paulo is walkable within neighborhoods, but since the city is so large, it would take forever to get from one neighborhood to another.
Public transportation – São Paulo's metro system is the largest in South America. It's known for being fast, reliable, clean, and efficient. It costs 4.40 BRL for one ride, which must be paid for in cash. There's no transit pass for foreigners (Brazilian citizens and residents can get one with a valid ID). Lines operate from 4:40am-12am Sunday-Friday and holidays. On Saturdays, lines run from 4:40am to 1am.
The BRT (bus rapid transit) system is also a very popular, and often a faster, more direct way to get somewhere as compared to the metro, thanks to dedicated bus lanes. You pay your fare (also 4.40 BRL, in cash) as soon as you board to the ticket collector (a worker that sits in a chair to collect money; they're separate from the bus driver).
Taxis – Taxi fares start at 5.50 BRL, plus an additional 4 BRL per kilometer. There are two fare sets: "1" is for the daytime, and "2" is for evenings/overnights (8pm-6am) and Sundays. The second fare set is up to 30% more than the base rate. You can see which fare set is being used on the meter, which always must be turned on (if it's not, get out and hail another cab).
You can also use the 99 app (formerly known as 99Taxis) to get a safe, metered taxi. Avoid taking taxis at peak hours, as the traffic here is notoriously bad. During rush hour, taking the metro or buses (which have special dedicated lanes) is usually much faster.
Bicycle – São Paulo is a very hilly city, so keep that in mind if you plan to bike here! You can find the bike-share system here, called bike Itaú, all over the city (the bikes and docks are a recognizable orange). For one ride, it's 4.39 BRL for 15 minutes, and then 0.40 BRL each minute after that. Electric bikes are 0.40 BRL per minute right from the start. You can also rent bikes in parks, such as Ibirapuera Park, for 7 BRL per hour.
Ridesharing – Uber is available and very common in São Paulo. It usually costs less than a taxi ride too. A typical ride costs around 20-35 BRL.
Car rental – Renting a car generally costs 80-120 BRL per day, though you really don't need to do so here. It's unnecessary, the traffic is terrible, drivers are aggressive, and overall, it's just a hassle.
If you do need a car, use Discover Cars to find the best deals.
When to Go to São Paulo
São Paulo is a rainy city. That being said, it usually doesn't rain the whole day, even in the summer wet season, which is from December to March (with January being the rainiest month). During this time, temperatures are in the low 20s Celsius (mid-70s Fahrenheit).
In winter (June–August), you'll have much less rain, though temperatures are lower, ranging between 12 and 22°C (54–72°F).
There's really no bad time to visit, though, as the weather is quite mild year-round. However, the shoulder seasons (March–May or September–November), when it's warmer but less rainy, are ideal.
Accommodation does book up and is more expensive during Carnival (in February), though it's not nearly as pronounced as in Rio, which is where most foreigners go for Carnival.
How to Stay Safe in São Paulo
Though it's safer than Rio (the favelas, or shantytowns, are not close to the city center as in Rio), travelers should be careful and on their guard in São Paulo. Pickpocketing and other petty crimes are common here. Don't flash expensive belongings, and always keep your phone and wallet secure and out of reach. Don't carry your passport with you when you're out for the day. If you have multiple credit cards, don't carry them all with you at once.
Avoid going out alone in the evenings after dark, especially in downtown, where there are large encampments of unhoused persons and more likelihood of petty theft. If you do need to go out at night, have your hostel/hotel call a taxi for you, or use Uber (which is incredibly common).
Solo female travelers should exercise caution here. Avoid walking around alone when possible, particularly at night. Always keep an eye on your drink (even when it's being poured), and never accept drinks from strangers. Always trust your gut instinct.
Use ATMs inside a bank or have a friend with you to keep an eye out while you withdraw cash.
To learn which scams to be on the lookout for, read this post about common travel scams.
Make copies of your personal documents, including your passport and ID. Forward your itinerary along to loved ones so they'll know where you are.
If you experience an emergency, dial 190 for assistance.
For more in-depth coverage of how to stay safe in Brazil, check out this post that answers some frequently asked questions and concerns. Overall though, Brazilians are very friendly and helpful. Don't let fearful perceptions of the city and country put you off from visiting this vibrant place.
And always buy travel insurance. It will protect you against illness, injury, theft, and cancelations. It's comprehensive protection in case anything goes wrong.
São Paulo Travel Guide: The Best Booking Resources
These are my favorite companies to use when I travel. They consistently have the best deals, offer world-class customer service and great value, and overall, are better than their competitors. They are the companies I use the most and are always the starting point in my search for travel deals.
Skyscanner – Skyscanner is my favorite flight search engine. They search small websites and budget airlines that larger search sites tend to miss. They are hands down the number one place to start.
Hostelworld – This is the best hostel accommodation site out there with the largest inventory, best search interface, and widest availability.
Booking.com – The best all around booking site that constantly provides the cheapest and lowest rates. They have the widest selection of budget accommodation. In all my tests, they've always had the cheapest rates out of all the booking websites.
Get Your Guide – Get Your Guide is a huge online marketplace for tours and excursions. They have tons of tour options available in cities all around the world, including everything from cooking classes, walking tours, street art lessons, and more!
SafetyWing – Safety Wing offers convenient and affordable plans tailored to digital nomads and long-term travelers. They have cheap monthly plans, great customer service, and an easy-to-use claims process that makes it perfect for those on the road.
LifeStraw – My go-to company for reusable water bottles with built-in filters so you can ensure your drinking water is always clean and safe.
Unbound Merino – They make lightweight, durable, easy-to-clean travel clothing.
Top Travel Credit Cards – Points are the best way to cut down travel expenses. Here's my favorite point earning credit cards so you can get free travel!
São Paulo Travel Guide: Related Articles
Want more info? Check out other articles on backpacking/traveling Brazil to continue planning your trip: