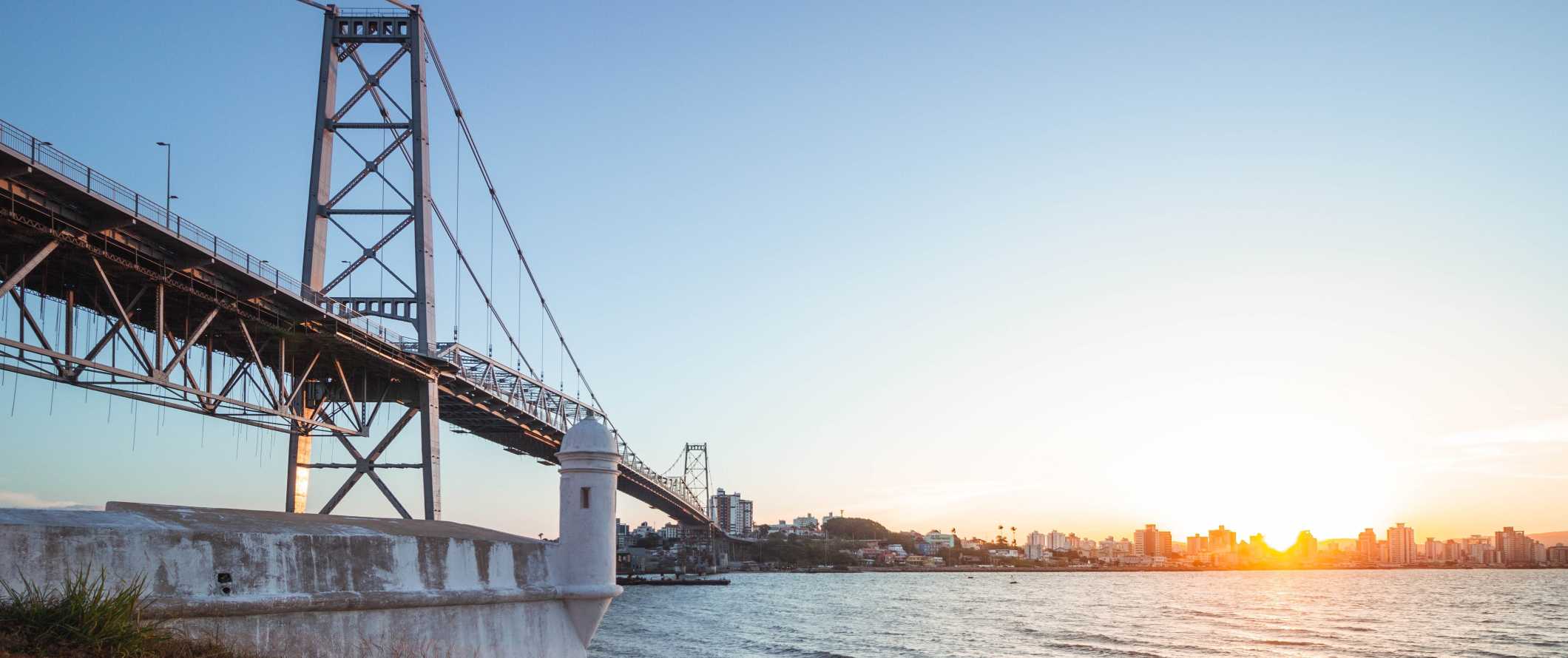 Florianópolis has many names. Officially, it's known as Ilha de Santa Catarina — but most people call it Florianópolis or "Floripa" for short. Others call it "Magic Island," which is self-evident the moment you sink your toes into the powdery white sands of one of its beaches.
Located in southern Brazil, sun worshippers have flocked here for decades, enjoying an endless array of beaches, tasty fresh seafood, quaint Azorean fishing villages, and the wild nightlife. It's an especially popular stop for young backpackers looking to have some late-night fun.
Centered around Santa Catarina Island, Florianópolis is home to some 60 beaches. The northern beaches have the warmest waters and most plentiful visitors, while the Atlantic and southern beaches draw laidback adventurer lovers, surfers, and sailors.
In short, no matter what kind of beachy vibe you're after, you'll find it here.
This budget travel guide to Florianópolis will help you plan your trip, save money, and make the most of your time in this tropical paradise!
Top 5 Things to See and Do in Florianópolis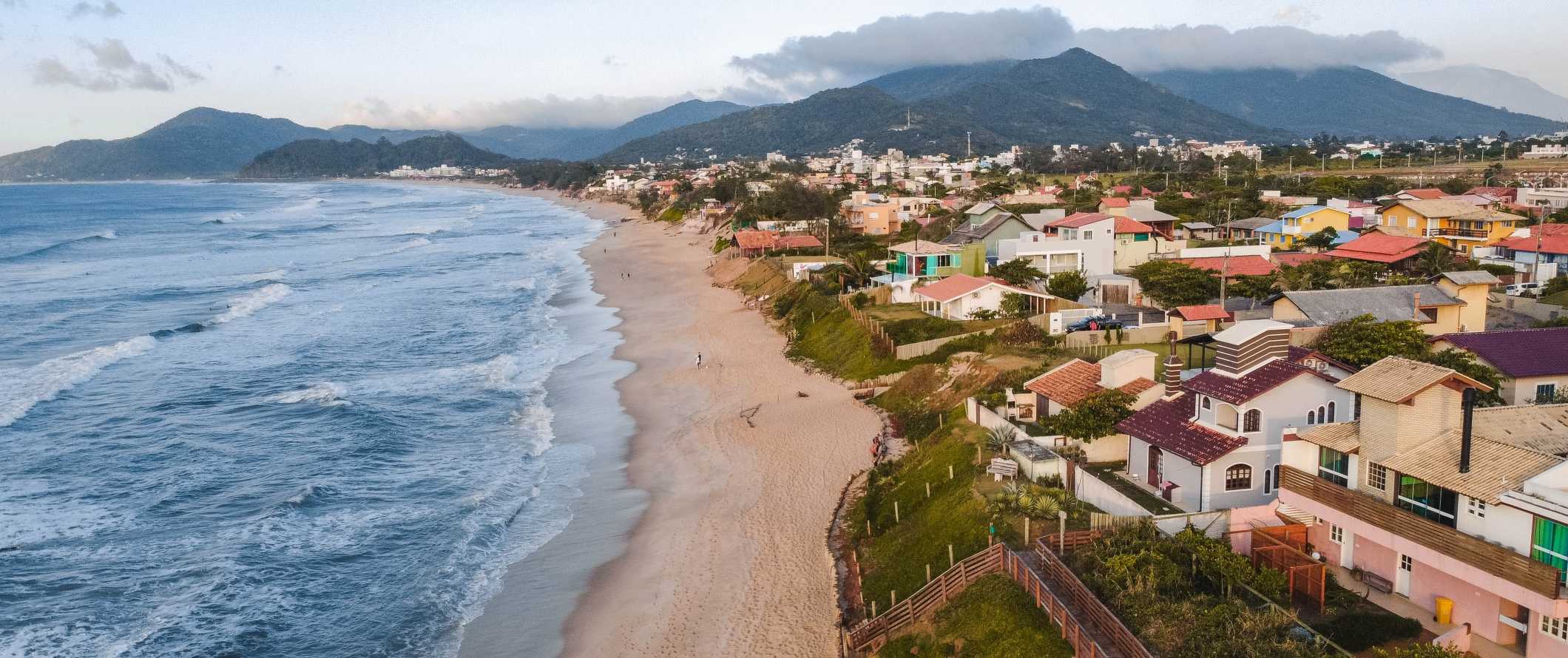 1. Visit Lagoa de Conceição
This is the centerpiece of Santa Catarina Island. Shallow waters and year-round high winds make this lagoon a prime windsurfing location, while the scenic fishing village of Costa da Lagoa draws travelers looking to relax and enjoy a quieter setting. You can take a boat there (both the public ferry, as well as private boats for hire, are readily available) or hike the incredibly picturesque Caminho do Costa da Lagoa path that winds through the forest and between lakeside bungalows, offering beautiful views at every turn. When you arrive in Costa da Lagoa, rinse off in the waterfall and natural swimming hole in the forest at the end of town before settling in for a well-earned meal along the waterfront. Then, either turn around and hike back or catch the ferry.
2. Feast on seafood
As you might expect from a coastal destination, seafood in Florianópolis is fresh and delicious. The area is famous for its oysters, but also look out for seqüência de camarão – literally, "shrimp sequence." It's a huge meal consisting of seafood appetizers and entrées of shrimp, crab, fish, and octopus.
3. Enjoy the beaches
There are dozens of pristine beaches all around Floripa, many of which have secluded coves and warm swimming or surfing spots. The beaches in the south of the main island are less crowded than in the north. Lagoinha do Leste and Pântano do Sul are two of my favorites that are less crowded but still scenic. On the more popular beaches, you can rent beach umbrellas and chairs (50-100 BRL depending on the beach and day) as well as buy drinks and food from both stalls on the beach as well as roaming vendors.
4. Go surfing
Surfing is popular here, with beaches suitable for all skill levels. Barra de Lagoa is just five minutes outside the city and is the best beach for beginners due to its gentler swells and several surf schools. A one-hour surf lesson costs around 140 BRL (you can also buy packs of multiple classes, thereby making each individual class cheaper).
5. Take a hike
The island's southern tip is crisscrossed with hiking trails. One of Floripa's most stunning and secluded beaches, Lagoinha do Leste, is only reachable by a challenging hike (bring insect repellant, sunscreen, and your wallet, as, despite its seclusion, there's still a bar on the beach). Several trails also circumnavigate the island's other lagoon, Peri Lake. These trails are very easy, taking you through the subtropical Atlantic rainforest with views over the lake and hills.
Other Things to See and Do in Florianópolis
1. Experience the nightlife
In the summer, most of the nightlife in Florianópolis is concentrated around the beaches, while in the winter, the fun moves to Lagoa da Conceição. P12, Cafe de la Musique, and Milk all throw wild parties. Entrance ranges from free to 200 BRL, depending on the night, who is DJing, and the time that you enter the club.
2. Try sandboarding
Floripa is covered in white sand dunes, and sandboarding is an exciting way to spend an afternoon. Basically, you'll lie on a piece of wood and hurtle down the dunes at a breakneck speed while taking in the panoramic views over Lagoa da Conceição. You can rent a sandboard at Lagoa Sandboard for about 30 BRL per hour.
3. Visit Ribeirão da Ilha
Riberão da Ilha is an Azorean fishing village with delectable oyster dishes, secluded beaches, cobbled streets, and jellybean-colored houses. Head to the pretty town plaza for some colorful photography, wander the colonial streets, and visit the Acoriano Casario Church. There's also a small museum, Ecomuseu do Ribeirão da Ilha, for more on the natural and Azorean cultural history of the area. Admission is 5 BRL.
4. Visit the old forts
The forts around Florianópolis were originally built in the 18th century to help combat the threat of invasion by the Spanish, but nowadays they're manned by a roving band of camera-wielding tourists. The four major forts around Floripa are Fortaleza de Nossa Senhora da Conceição, Fortaleza de Santo Antonio, Fortaleza Santana, and Fortaleza São José da Ponta Grossa. Some are only accessible by boat so you'll have to arrange transportation from shore but all are worth seeing.
5. Celebrate Carnival
Brazil is famous for Carnival, a huge celebration celebrated on the Friday before Ash Wednesday that lasts a few days. While Rio gets all the attention, celebrating in Floripa is guaranteed to be a good time. Throughout the month of February, the streets fill with revelers dancing, having parades, and enjoying street food and copious drinks. If you plan to come during this time, book your accommodations as early as possible and expect increased prices (they can be as high as double or triple the normal price).
6. Visit the market
The Floripa Public Market has been around since the late 19th century when tents were rented out to vendors to sell fish, veggies, rice, and beans. Nowadays the area has expanded to also sell crafts and other foods, and there are about a dozen restaurants onsite as well. On the weekend, local musicians gather to play as samba takes over the market. It's a fun place to browse, buy souvenirs, and people-watch.
7. Wander the historic center
While the beaches and natural areas of the island get all the attention, the historic center is still worth spending some time exploring. Wander the pedestrianized streets lined with brightly colored buildings, stop in at the market, and visit one of the many museums. The bright pink 18th-century palace Palacio Cruz e Sousa is now a history museum with period rooms and artwork from the building's heyday. Admission is currently free as the second floor of the museum is closed for renovations. For art lovers, the Museu de Arte de Santa Catarina (MASC) is the official fine arts museum of the area and offers free admission.
8. Go paragliding
For those who crave an adrenaline rush, paragliding is a popular activity here, offering incredible views over the ocean and island for those brave enough to take flight. There are a few paragliding schools that offer tandem flights as well as classes if you want to learn how to take a solo flight. A partner flight with an experienced instructor is around 350-450 BRL.
9. Walk over the Hercílio Luz Bridge
Inaugurated in 1926, this was the first bridge to connect the island of Santa Catarina to the mainland. While it was closed for restorations for almost 20 years (between 1991-2019), the bridge is now open again for all traffic, with a separated walkway for pedestrians and cyclists. Though the longest suspension bridge in Brazil, it's only 0.8 kilometers (.5 miles) long, making for a nice jaunt with views over the water. Even if you don't cross the bridge, it's worth seeing one of Brazil's iconic sights from the waterfront.

For more information on other cities in Brazil, check out these guides:
Florianópolis Travel Costs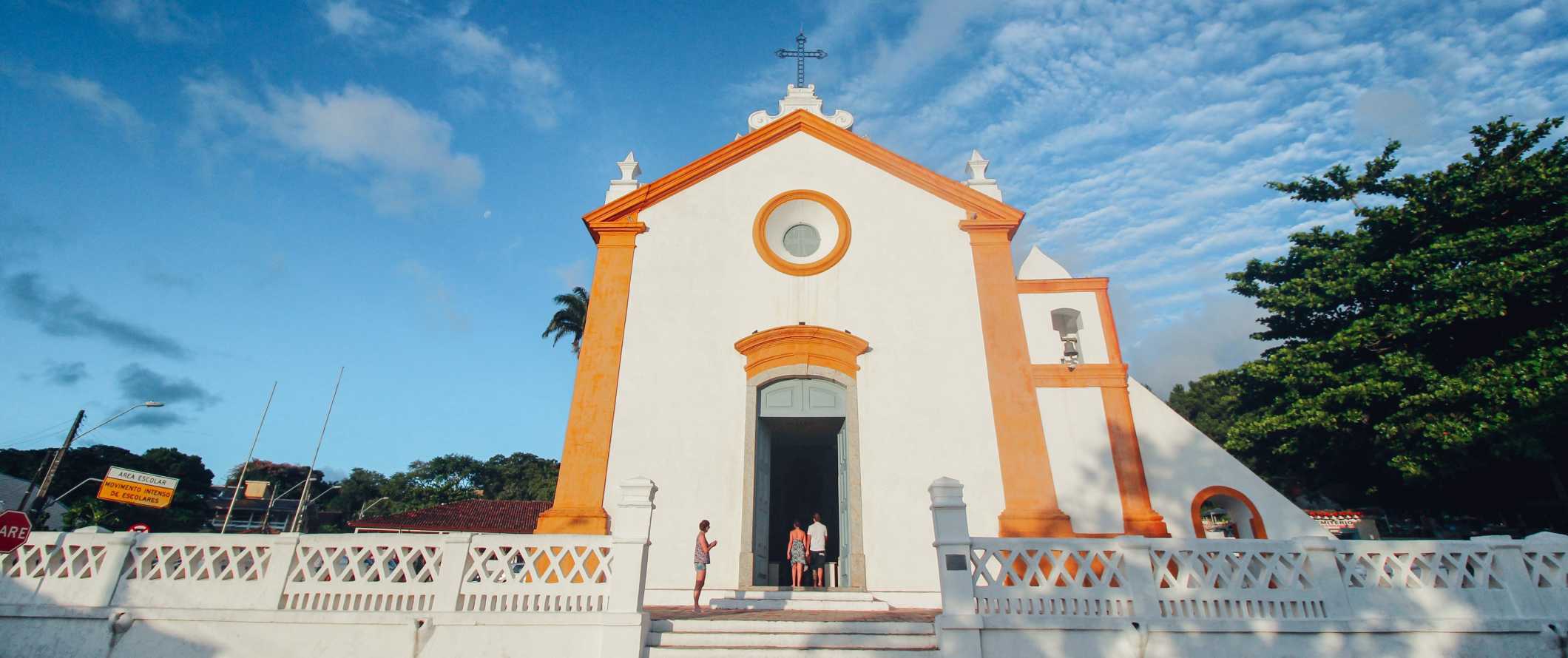 Hostel prices – Dorm rooms cost around 65-95 BRL per night regardless of size. Standard twin or double private rooms start at 150 BRL, but many are priced at about 250 BRL per night for two people. Free Wi-Fi and air-conditioning are standard and most have fully equipped kitchens as well. Many hotels in Florianópolis have pools, free breakfast, and a bar/café.
Note that most hostels require a minimum booking of 4-6 days, as well as upfront (non-refundable) payment during Carnival.
For those traveling with a tent, there are many campgrounds here, especially along the beaches. Expect to pay around 50-70 BRL per night for a basic plot. Amenities generally include free Wi-Fi, hot showers and bathroom facilities, and charging stations.
Budget hotel prices – Prices for a double room in a two-star hotel are around 170 BRL, although it will be closer to 300 BRL along the coast. Amenities generally include Wi-Fi, a private bathroom and balcony, a pool, and often free breakfast.
Airbnb is another affordable option here, with private rooms costing 80-120 BRL per night, while a full home or apartment starts at 250-500 BRL per night and goes up from there for more luxurious, beachside properties.
Average cost of food – Brazilian cuisine — like the country itself — is a mix of many cultures, with European, Amerindian, African, and (more recently) Japanese influences. As such a large country, food varies per region, with seafood plentiful on the coastlines and Brazilian barbecue dominating plates in the south. Rice and beans are a staple throughout the country.
Common vegetables include cassava, yams, tomatoes, red peppers, okra, to name a few. Being a subtropical country, there's a huge variety of fruits, with the most famous being the superfood açaí. Cupuaçu, mango, papaya, guava, orange, passion fruit, pineapple, are all commonly found as well. Feijoada, Brazil's national dish, is a meaty bean stew that's traditionally eaten for Wednesday or Saturday lunch. Other popular dishes include moqueca (fish stew), polenta, and vatapá (a stew of bread, shrimp, coconut milk, and peanuts), among countless others.
Street food snacks include pão de queijo (cheese bread rolls), acarajé (black-eyed pea and shrimp fritters), coxinha (chicken croquettes), and pastéis (savory fried pies with assorted fillings).
Florianópolis has lots of affordable food options, including street food like pastels and coxinha for less than 10 BRL each. A meal at a casual restaurant costs 27-35 BRL for a typical Brazilian dish like fish stew. Buffets are very common here; you usually pay 35 BRL per kilo. A meal at a Chinese takeout restaurant costs about the same, at 35 BRL for a dish like fried rice.
Non-Brazilian cuisine is around the same price, though sometimes a bit more expensive, with burgers costing 25-30 BRL and a pasta dish costing 45 BRL. You can find full pizzas for around 50-60 BRL, while a fast-food combo meal is around 35 BRL.
A beer is 11-15 BRL, a cocktail is 15-25 BRL, and a glass of wine is 15-20 BRL. A soda or juice is 5-8 BRL, and a cappuccino is 9 BRL.
If you want to splurge, there are many higher-end seafood restaurants here, with dishes costing 150-225 BRL and up. At many restaurants though, seafood dishes and platters are meant for two (often served with an entire fish) – it's a huge portion of food that could easily be split between three people.
Grocery shopping is very cheap, costing about 90-130 BRL per week for basic staples like rice, pasta, seasonal produce, and some meat or fish. If you're on a budget, this is the best way to keep your costs low.
Backpacking Florianópolis Suggested Budgets
If you are backpacking Florianópolis, my suggested budget is about 190 BRL per day. This budget covers staying in a hostel dorm, cooking your meals, limiting your drinking, using public transportation to get around, and sticking to mostly free and cheap activities like enjoying the beaches and hiking.
A mid-range budget of about 360 BRL covers staying in a private hostel or Airbnb room, eating out for most meals, enjoying a few drinks, taking the occasional taxi to get around, and doing more paid activities like paragliding and surfing.
On a "luxury" budget of about 680 BRL per day, you can stay in a budget hotel along the beach, eat out for all your meals, enjoy lots of drinks, rent a car or take taxis everywhere, and enjoy all the tours and activities you want. This is just the ground floor for luxury though. The sky is the limit!
Accommodation
Food
Transportation
Attractions
Average Daily Cost
Backpacker
80
65
25
20
190
Mid-Range
150
95
45
30
320
Luxury
300
175
65
140
680
Florianópolis Travel Guide: Money-Saving Tips
Florianópolis has lots of free activities and attractions to enjoy, including numerous beaches and hiking trails. But if you're staying in nicer hotels and eating out a lot, your money will disappear quickly! Here are some ways to save money in Florianópolis:
Eat por kilo – As with elsewhere in Brazil, restaurants offering meals by the kilo offer good deals. Look out for these cheap options.
Visit the market – If you're staying at a hostel with kitchen facilities, it's a good idea to stock up on food at the market and eat like the locals.
Stay with a local – Couchsurfing connects you with locals who can give you a free place to stay and share their insider tips and advice. It's the best way to meet locals and save money.
Stay in Lagoa da Conceição – This part of Florianópolis is backpacker central, and it has all the facilities you need (including hostels and supermarkets). You'll have to use a bus to get to the beach, but staying here is much cheaper than in the coastal areas.
Pack a water bottle – The tap water here isn't safe to drink so bring a water bottle with a filter to save money and reduce your single-use plastic usage. My preferred bottle is LifeStraw as it has a built-in filter to ensure your water is always clean and safe.
Where to Stay in Florianópolis
Need a budget-friendly place to stay while you travel to Florianópolis? Here are my suggested places to stay:
How to Get Around Florianópolis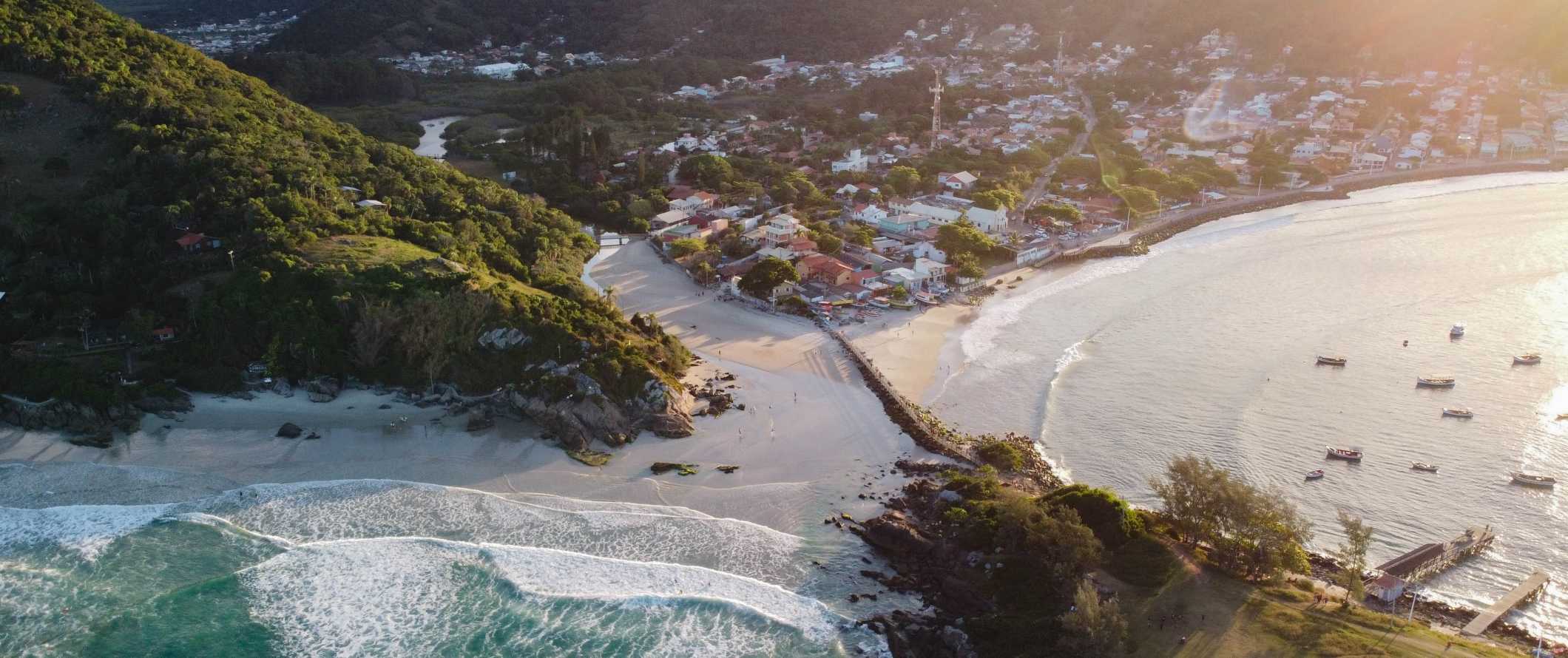 Public Transportation – Local buses are the only public transportation around Florianópolis, but they're slow and unreliable. They run on an integrated system called SIM (Sistema Integrado de Mobilidade), with buses leaving from the TICEN terminal. You can reach the beaches via three stations: TIRIO, TILAG, and TICAN.
Tickets cost 3-5 BRL depending on the distance. Use floripanoponto.com.br (and download the app) to plan your journey. If you'll be using the bus, get the passe rápido for 3 BRL. This rechargeable card can be loaded with money, so you can just tap the reader when you step on the bus instead of having to fumble with change every time.
Taxis – Taxis start at about 8 BRL and cost an additional 3.25 BRL per kilometer. A three-kilometer trip is about 18 BRL, while a longer journey (like 15 kilometers) is about 55 BRL. Use the 99 app (formerly 99Taxis) to get a safe, metered taxi.
Uber – Uber is available in Florianópolis and usually costs less than a taxi.
Car rental – Car rentals can be found for as little as 65 BRL per day for a multi-day rental (though it can be double that price in high season), however, since the driving conditions in Brazil are hectic and break-ins can occur, I'd probably skip the rental.
Hitchhiking – Hitchhiking isn't super common here, however, if you want to give it a try be sure to check out Hitchwiki for the best tips and up-to-date suggestions.
When to Go to Florianópolis
If you want to escape North America's chilly winter temperatures, October to December is the best time to visit Florianópolis. There isn't much rain during these months, and temperatures are consistently 25-30°C (77-86°F) each day.
January to March is the rainy season. Despite that, most people visit around Christmas, and tourism traffic remains busy leading into Carnival in February. Prices increase a lot during this time, and beaches get crowded too. Things slow down after Carnival but pick back up again at the end of March for Semana Santa.
If you're looking for fewer crowds and better prices, October to December is the best time to come.
How to Stay Safe in Florianópolis
Florianópolis is safe to visit — even if you're traveling solo and even as a solo female traveler. Violent crime here is rare. Your biggest concern here is petty crime, and even that is rare (compared to the rest of Brazil, at least).
You may encounter petty crime (like theft) around popular tourist landmarks so always keep an eye on your belongings, especially while taking crowded public transportation. Make sure your valuables are out of reach and secure at all times and never flash expensive items or cash.
Solo female travelers should avoid walking around alone at night and keep an eye on their drink at the bar too. Make sure you watch it get poured as well, just to be safe.
While scams aren't a major problem here, if you're worried about getting ripped off you can read about common travel scams to avoid right here.
If you experience an emergency, dial 190 for assistance.
Always trust your gut instinct. Avoid isolated areas at night and always be aware of your surroundings. Make copies of your personal documents, including your passport and ID. Forward your itinerary along to loved ones so they'll know where you are.
For more in-depth coverage of how to stay safe in Brazil, check out this post that answers some frequently asked questions and concerns.
The most important piece of advice I can offer is to purchase good travel insurance. Travel insurance will protect you against illness, injury, theft, and cancellations. It's comprehensive protection in case anything goes wrong. I never go on a trip without it as I've had to use it many times in the past.
Florianópolis Travel Guide: The Best Booking Resources
These are my favorite companies to use when I travel. They consistently have the best deals, offer world-class customer service and great value, and overall, are better than their competitors. They are the companies I use the most and are always the starting point in my search for travel deals.
Skyscanner – Skyscanner is my favorite flight search engine. They search small websites and budget airlines that larger search sites tend to miss. They are hands down the number one place to start.
Hostelworld – This is the best hostel accommodation site out there with the largest inventory, best search interface, and widest availability.
Booking.com – The best all around booking site that constantly provides the cheapest and lowest rates. They have the widest selection of budget accommodation. In all my tests, they've always had the cheapest rates out of all the booking websites.
Get Your Guide – Get Your Guide is a huge online marketplace for tours and excursions. They have tons of tour options available in cities all around the world, including everything from cooking classes, walking tours, street art lessons, and more!
SafetyWing – Safety Wing offers convenient and affordable plans tailored to digital nomads and long-term travelers. They have cheap monthly plans, great customer service, and an easy-to-use claims process that makes it perfect for those on the road.
LifeStraw – My go-to company for reusable water bottles with built-in filters so you can ensure your drinking water is always clean and safe.
Unbound Merino – They make lightweight, durable, easy-to-clean travel clothing.
Top Travel Credit Cards – Points are the best way to cut down travel expenses. Here's my favorite point earning credit cards so you can get free travel!
Florianópolis Travel Guide: Related Articles
Want more info? Check out all the articles I've written on backpacking/traveling Brazil and continue planning your trip: