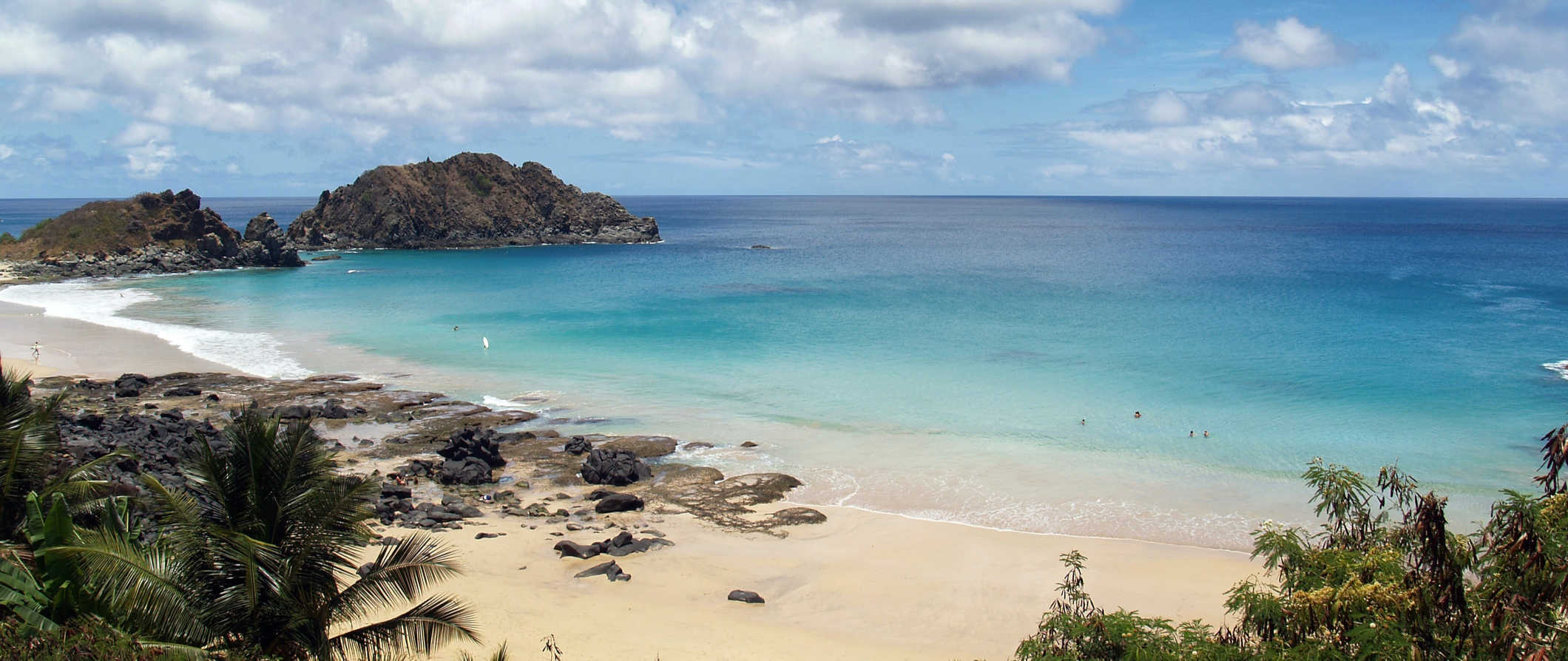 Fernando de Noronha is an isolated archipelago of volcanic islands 220 miles (354 kilometers) off the Brazilian coast from Natal. Its main island — commonly referred to as simply "Noronha" — is unspoiled and boasts some of the most beautiful tropical landscapes in South America.
If you don't believe me, consider this: Brazil's Guia Quatro Rodas Praias ("beaches bible") gives five stars to only five beaches in the entire country, and three of them are on Fernando de Noronha.
It's also the site of Brazil's first Marine Park (70% of the island is protected), and so only 420 people are permitted on the island at a time. It's like having the whole place to yourself!
Other than hanging out on the beaches, you can go diving, surfing, hiking, or snorkeling with turtles. At the end of an active day, watch the sun dip into the sea from Boldro Beach.
This place has recently become a haven for Brazilian celebrities, and as a result, prices have increased. But if you're looking for a deserted island experience with a bit of luxury, then Noronha is the place for you.
To me, it's one of the most gorgeous places in South America. This travel guide will help get you to this paradise.
This Fernando de Noronha travel guide will give you the best places to visit, tell you how to save money, get around, give you costs, and help you plan the best travel experience in Fernando de Noronha!

Fernando de Noronha
Top 5 Things to See and Do in Fernando de Noronha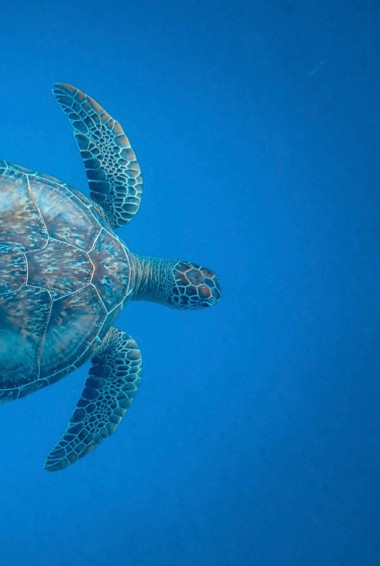 1. Visit Projeto Tamar
Projeto Tamar is a Brazilian environmental organization focused on turtle conservation. The center is worth a visit to learn more about how the turtles are endangered and what is being done to protect them. During hatching season (December to June), you can watch newly hatched turtles scramble towards the sea. Admission is 8 BRL ($2.15 USD).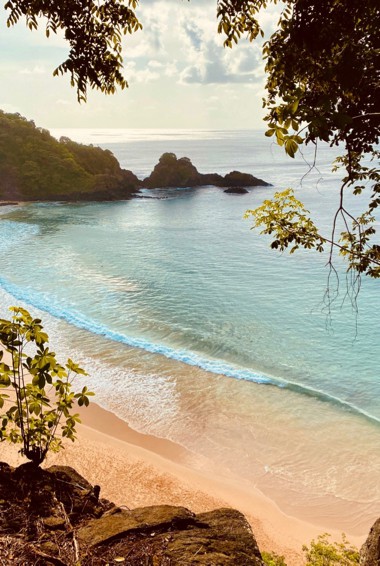 2. Enjoy the beaches
It'd be pretty hard to miss the beaches on Noronha. Praia do Sancho is a favorite among the locals for its white sand, turquoise waters, and dramatic rock formations, while Baia dos Porcos is better known for its craggy peaks and clear waters. For long stretches of golden sand, head to Boldro, where the sunset paints the sky in vivid pinks, oranges, and reds every evening.
3. See the historical sites
Despite being an ecotourism hotspot today, Noronha was once set up as a military base. A walking trail on Vila dos Remedios will take you some of the remaining historical sights, including the Palacio of São Miguel, the Church and Fort of Nossa Senhora dos Remédios, the Noronha Memorial (a historical museum), and some remnants of forts.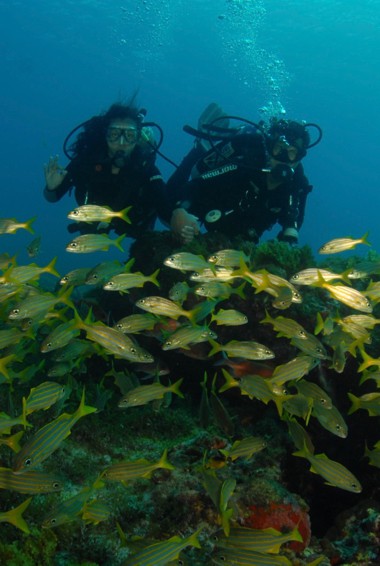 4. Go diving
With year round warm water and excellent visibility, Fernando de Noronha is considered to be one of the best diving areas in South America. You can dive in an underwater cave at Buraco do Inferno, see the rocky wall of sponges at Caverna da Sapata, or learn how to dive at Morro de Fora. Prices start from 470 BRL ($125 USD).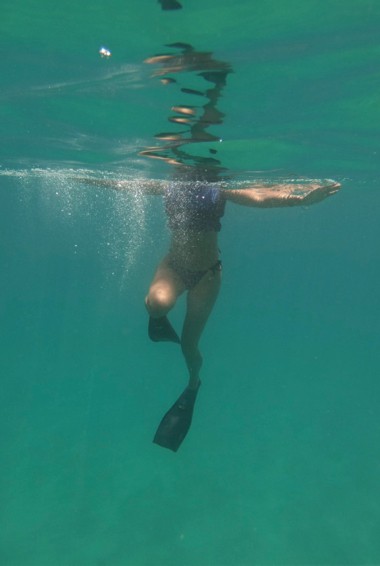 5. See Atalaia Beach
When the tide goes out at Atalaia Beach, little water pools are left between the reefs, forming natural aquariums. Fish tend to get stuck in these pools until the tide comes back in so this is a great opportunity to get up close with marine life like fish and starfish. (Look, but don't touch!)
Other Things to See and Do in Fernando de Noronha
1. Go horseback riding
On horseback, you can traverse the island's beaches, trails, and back roads, as well as some of the shorter beaches. Your best bet for finding a tour is to ask your accommodations to hook you up, as there are only a handful of guides on the island (and none have official websites). Horseback riding will cost about 60 BRL ($16 USD) per hour.
2. See dolphins
For the best dolphin watching, head to the aptly named Bay of Dolphins. This area is part of the National Marine Park, so the only way you'll be able to get here is by walking a path along the cliff's edge to the lookout. Arrive in the morning around 6am for the best chances of seeing dolphins in the bay — sometimes there are a thousand or more!
3. Drive dune buggies
Renting a dune buggy is the most common way to get around Fernando de Noronha, and you can explore the more secluded parts of the island that lie off the main road (including much of the muddy road that follows the coast). I recommend LocBuggy for buggy rentals as they have the most options, with rentals costing about 250 BRL ($67 USD) a day.
4. Go hiking
There are plenty of trails leading to deserted beaches between the cliffs, caves, and hills that are completely inaccessible unless you've got your hiking boots on. My favorite hike is the route along or above Praia do Leão because it offers unobstructed scenic views of the beach and the Atlantic Ocean. You can go all the way to the lighthouse on Ponta de Sapat if you don't mind jumping from rock to rock in some places. The route is only a few miles long.
5. Go kayaking
Take to the waters on a three-hour paddle from Porto Santo Antonio along the island's sheltered coast, with a stop at beaches along the way (including Praia de Conceição). Most tours come with snacks and water. Your accommodations can help set you up on a tour, which will cost about 125 BRL ($33 USD).
6. Cruise the island
If you want a unique view of Fernando de Noronha, hop on a boat tour. You'll get a different perspective of the long white beaches, jungle-like vegetation, and towering cliffs. Plus most tours usually include a visit to some hidden caves or islands, as well as Ponta de Sapat. You can also tie in some snorkeling time. Your accommodations will help you arrange a trip but expect to pay about 140 BRL ($37 USD).
7. Visit the Shark Museum
This free museum on the northern peninsula is small, but if you're interested in learning more about the island's marine life, visiting here is a must-do. Displays include information (and skeletal remains) about reef sharks, hammerheads, and even whale sharks. You'll get a good idea of how large these guys are — and how sharp their teeth are!
For more information on specific cities in Brazil, check out these guides:
Fernando de Noronha Travel Costs
Hostel prices – There are only two hostels on the Fernando de Noronha — both in Vila dos Remédios, at the center of the island. You'll pay a minimum of 113 BRL ($30 USD) per night in a four-six person dorm, or as high as 188 BRL ($50 USD).
Private hostel rooms are about 300 BZD ($80 USD) per night.
Budget hotel prices – A two-star hotel with free breakfast costs 450 BRL ($120 USD) per night for a double room. That's about as budget-friendly as it gets here.
You also have lots of Airbnb options in Fernando de Noronha to choose from. Shared rooms (like dorms) are from 113 BRL ($30 USD) per night. A private room averages about 507 BRL ($135 USD) per night, while a full apartment or home is about 1,037 BRL ($276 USD).
Average cost of food – A sandwich and a drink at a juice bar will cost you between 18-25 BRL ($5-7 USD). Some buffets offer a "pay by weight" style, which generally cost between 25-35 BRL ($7-9 USD) for a meal. A bottle of water will cost as much as 8 BRL ($2 USD), while beer is about 10 BRL ($3 USD).
Seafood is popular here, and a meal at a mid-range restaurant will cost about 80 BRL ($20 USD). Higher-end options, like the all-you-can-eat seafood buffet at Restaurante Zé Maria, will cost as much as 230 BRL ($61 USD).
You can also save money by shopping at the local grocery stores. The cost will still be significantly higher (think 30%) than on the mainland, but it's still cheaper than eating out. A week's worth of groceries will cost about 338 BRL ($90 USD). Depending on how long you're staying, consider bringing some food with you to the islands.
Backpacking Fernando de Noronha Suggested Budgets
If you're backpacking Fernando de Noronha, budget about 282 BRL ($75 USD) per day. That will cover staying in a hostel dorm, eating take-out food or cooking your own meals, public transportation, an occasional taxi, and a few paid activities.
On a mid-range budget of about 770 BZD ($205 USD) per day, you'll get a private room in a hostel or a budget hotel, any kind of budget restaurant meal you want, a few taxis, and more paid tours (like a boat tour).
If you want to go luxury, you'll spend about 1,822 BRL ($485 USD) per day for a comfortable three-star hotel, lots of meals, guided activities (including snorkeling), and daily buggy rental.
Note: All visitors to the island need to pay an environmental tax, which starts at 45.60 BRL ($12 USD) per day. There's also a national park fee of 130 BRL ($35 USD) which will cover 10 days on the island. You can check for updated fees here. So if you're staying on Fernando de Noronha for three days (as an example), you have to add about 263 BRL ($71 USD) to your budget.
Use the chart below to get some idea of how much you need to budget daily, depending on your travel style. Keep in mind these are daily averages – some days you'll spend more, some days you'll spend less (you might pay less every day). We want to give you a general idea of how to make your budget. Prices are in USD.
Accommodation
Food
Transportation
Attractions
Average Daily Cost
Backpacker
$30
$20
$10
$15
$75
Mid-Range
$120
$30
$15
$40
$205
Luxury
$200
$80
$80
$125
$485
Fernando de Noronha Travel Guide: Money Saving Tips
Fernando de Noronha will always be more expensive than the rest of Brazil due to its remote location and limited tourism infrastructure. But if you want to try, here are some ways to save when you visit:
Bring cash – ATMs and money changers are virtually non-existent here so you'll want to bring plenty of Real with you.
Visit during low season – Noronha is always more expensive than the rest of Brazil, but traveling in the low season between April and November offers cheaper accommodation.
Shop around – Booking tours or excursions is a really casual experience here, often done on behalf of your accommodation. Shop around for various prices before committing.
Take advantage of comida por peso – At lunch time there are plenty of restaurants which offer the "food by weight" deal which allows you to pile your plate high for very little money.
Couchsurf – Nothing's cheaper than sleeping for free. Couchsurfing connects you with locals who will give you not only a free place to stay, but also a local tour guide who can introduce you to all the great places to see.
Pack a water bottle – A water bottle with a purifier will come particularly in handy here. Save money and thousands of plastic bottles and get a bottle that can purify the tap water for you. My preferred bottle is LifeStraw ($49.99).
Where To Stay in Fernando de Noronha
There are just two hostels on all of Fernando de Noronha, but they're both clean and sociable:
How to Get Around Fernando de Noronha
Bus – A bus runs from one end of the island to the other (between Vila dos Remédios and the airport) for about 5 BRL ($1.35 USD). These buses depart every 30-40 minutes between 7am-11pm, and you'll see stop signs all along the road.
Taxi – Taxis here work on a fixed rate between 20-45 BRL ($5.30-12 USD), depending on how far you're going. It's 30 BRL ($8 USD) between the airport and Vila dos Remédios, and 25 BRL ($6.70 USD) between the airport and the port.
Buggy – Renting a buggy is the most fun and convenient way to get around the island! LocBuggy is the best option for buggy rentals, with rentals costing from 250 BRL ($67 USD) a day, not including the cost of fuel. You'll need a class b drivers license.
Hitchhike – It is common for people to hitchhike on Fernando de Noronha, and the locals will be eager to get to know you. HitchWiki has a lot of information on hitchhiking here.
When to Go to Fernando de Noronha
Temperatures don't vary much on San Fernando de Noronha. According to the Guinness Book of World Records, the island has the most consistent temperatures in the world: it never gets colder than 64°F (18°C) or hotter than 90°F (30°C). The rainy season goes from May to August, but rainfall is sporadic and never lasts long. The rainy season is also low season, so you'll find better accommodation and tour deals.
April is the best month for diving since the ocean is usually calmest during this time. Since the island only allows less than 500 people on it at a time, it's never too crowded even in the peak season (North American winter)!
How to Stay Safe in Fernando de Noronha
Fernando de Noronha has no particular safety concerns, and since it isn't a tourist hotspot, you don't have to worry too much about petty theft. It's one of the few places in Brazil where it's safe to bring your valuables to the beach (although this isn't guaranteed, so I still recommend leaving them at your accommodation!).
Always trust your gut instinct. If a taxi driver seems shady, stop the cab and get out. If your hotel is seedier than you thought, move. Make copies of your personal documents, including your passport and ID.
If you don't do it at home, don't do it here! Follow that rule, and you'll be fine.
The most important piece of advice I can offer is to purchase good travel insurance. This is especially true on this island as there is limited healthcare, so if you get seriously injured, you may require emergency evacuation. Travel insurance will protect you against illness, injury, theft, and cancellations. It's comprehensive protection in case anything goes wrong. I never go on a trip without it as I've had to use it many times in the past.
Fernando de Noronha Travel Guide: The Best Booking Resources
These are my favorite companies to use when I travel to Fernando de Noronha. They are included here because they consistently find deals, offer world-class customer service and great value, and overall, are better than their competitors. They are the ones I use the most and are always the starting points in my search for travel deals.
Momondo – This is my favorite booking site. I never book a flight without checking here first.
Skyscanner – Skyscanner is another great flight search engine which searches a lot of different airlines, including many of the budget carriers that larger sites miss. While I always start with Momondo, I use this site too as a way to compare prices.
Airbnb – Airbnb is a great accommodation alternative for connecting with homeowners who rent out their homes or apartments.
Hostelworld – This is the best hostel accommodation site out there, with the largest inventory, best search interface, and widest availability.
Couchsurfing – This website allows you to stay on people's couches or spare rooms for free. It's a great way to save money while meeting locals who can tell you the ins and outs of their city. The site also lists events you can attend to meet people (even if you're not staying with someone).
Booking.com – The best all around booking site that constantly provides the cheapest and lowest rates. They have a no money down policy, great interface, and the widest selection of budget accommodation. In all my tests, they've always had the cheapest rates out of all the booking websites.
Intrepid Travel – If you want to do a group tour around Brazil, go with Intrepid Travel. They offer good small group tours that use local operators and leave a small environmental footprint. If you go on a tour with anyone, go with them. And, as a reader of this site, you'll get a discount when you click the link!
Rome 2 Rio – This website allows you to see how to get from point A to point B the best and cheapest way possible. It will give you all the bus, train, plane, or boat routes that can get you there as well as how much they cost.
World Nomads – I buy all my travel insurance from World Nomads. They have great customer service, competitive prices, and in-depth coverage. I've been using them since I started traveling in 2003. Don't leave home without it!
Fernando de Noronha Gear and Packing Guide
If you're heading on the road and need some gear suggestions, here are my tips for the best travel backpack and for what to pack!
The Best Backpack for Travelers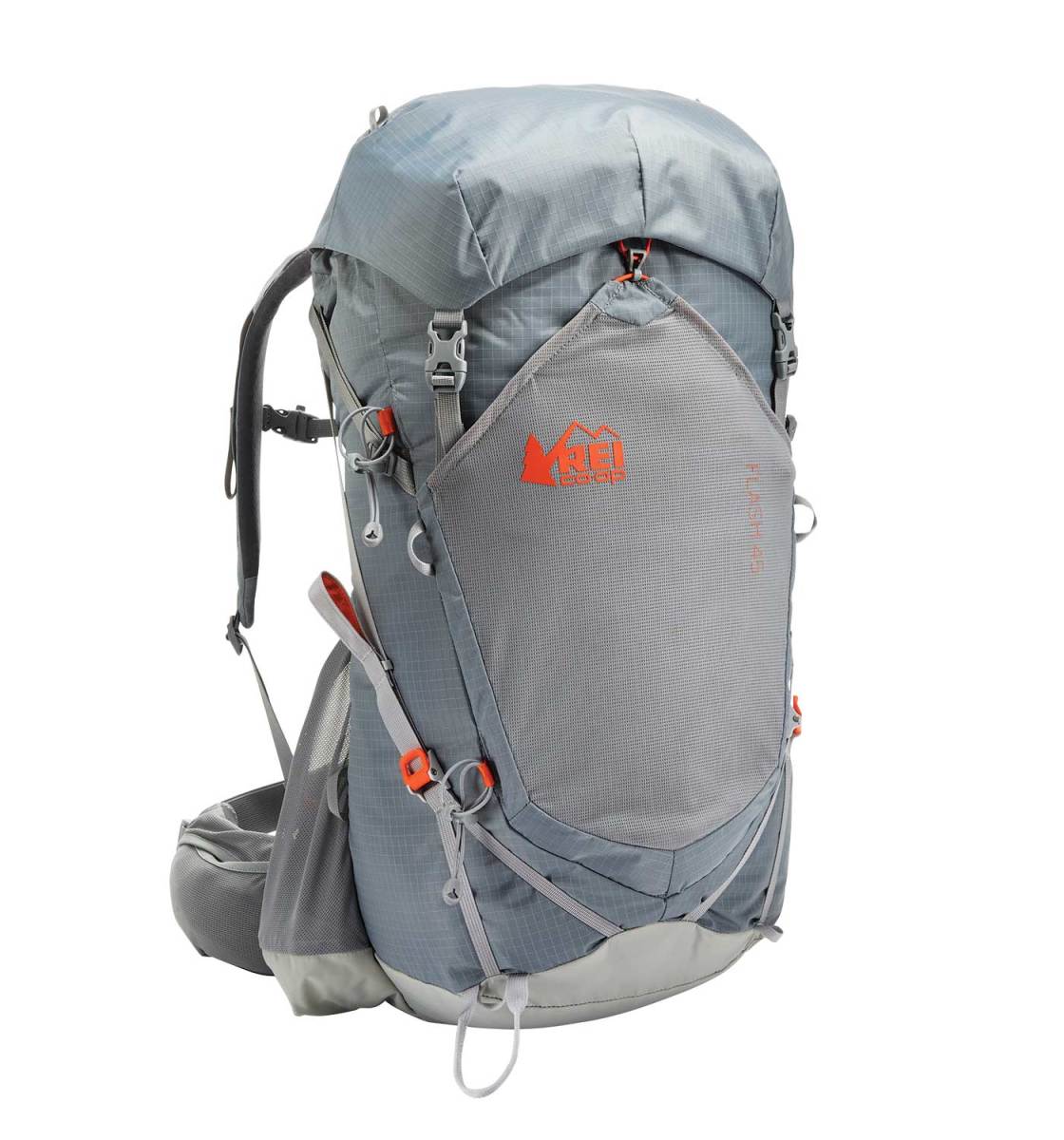 What's the best backpack for traveling long-term? I recommend the
REI Flash 45 Pack
. It's light and comfy, front loading, and fits perfectly in an airplane's overhead bin.
Size:
45-47L
Straps:
Thick and cushy with compression technology that pulls the pack's load up and inwards so it doesn't feel as heavy.
Features:
Removable top lid, large pocket at the front, hydration compatible, contoured hip belt
If you want something different, refer to my article on how to choose the best travel backpack for tips on picking a pack and other backpack suggestions.
What to Pack for Your Trip
Clothes
1 pair of jeans (heavy and not easily dried, but I like them; a good alternative is khaki pants)
1 pair of shorts
1 bathing suit
5 T-shirts (Unbound Merino is my preferred company. If you're a member of NM+, you can get 15% off your purchase)
1 long-sleeved T-shirt
1 pair of flip-flops
1 pair of sneakers
6 pairs of socks (I always end up losing half)
5 pairs of boxer shorts (I'm not a briefs guy!)
1 toothbrush
1 tube of toothpaste
1 razor
1 package of dental floss
1 small bottle of shampoo
1 small bottle of shower gel
1 towel
Deodorant
Small Medical Kit (safety is important!!!)
Miscellaneous
Female Travel Packing List
I'm not a woman, so I don't know what a woman wears, but Kristin Addis, our solo female travel guru, wrote this list as an addition to the basics above:
Clothing
1 swimsuit
1 sarong
1 pair of stretchy jeans (they wash and dry easily)
1 pair of leggings (if it's cold, they can go under your jeans, otherwise with a dress or shirt)
2-3 long-sleeve tops
2-3 T-shirts
3-4 spaghetti tops
1 light cardigan
Toiletries
1 dry shampoo spray & talc powder (keeps long hair grease-free in between washes)
1 hairbrush
Makeup you use
Hair bands & hair clips
Feminine hygiene products (you can opt to buy there too, but I prefer not to count on it, and most people have their preferred products)
For more on packing, check out these posts:
Fernando de Noronha Travel Guide: Related Articles
Want more info? Check out all the articles I've written on backpacking/traveling Brazil and continue planning your trip: