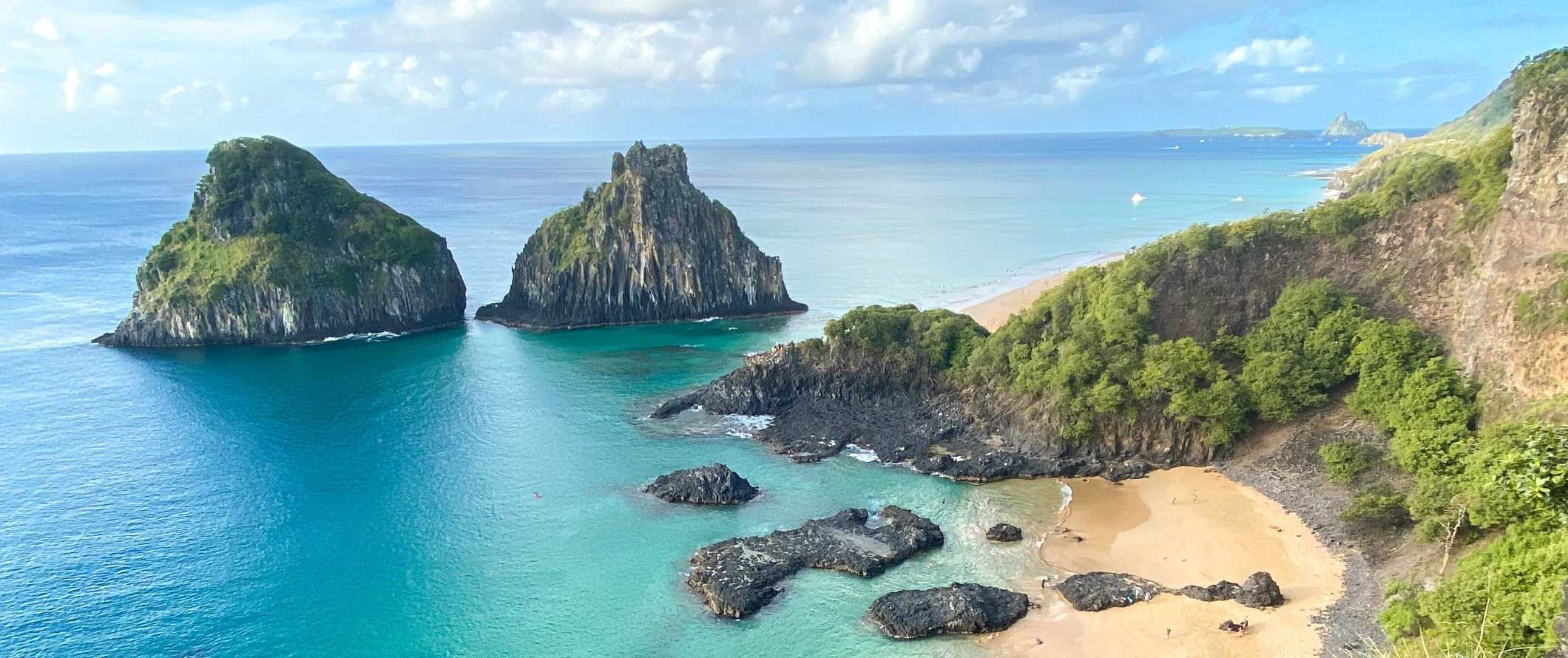 Fernando de Noronha is an isolated archipelago of volcanic islands 354 kilometers (220 miles) off the coast of Brazil. Its main island — commonly referred to as simply "Noronha" — is unspoiled and boasts some of the most beautiful tropical landscapes in South America.
It's also the site of Brazil's first national marine park (70% of the island is protected), so only about 500 people are permitted on the island at a time. While that means you need to plan your visit in advance, it also means that you get this unspoiled haven almost to yourself.
Aside from lounging away the day on the beach, Fernando de Noronha also offers diving, surfing, hiking, snorkeling with turtles, and more. At the end of an active day, watch the sun dip into the sea from the stunning Boldro Beach.
Unfortunately, paradise comes at a cost and the region is one of the most expensive in the country. A 10-day admission pass to the park costs 330 BRL, in addition to a daily environmental conservation fee to access this UNESCO World Heritage Site.
However, if you're looking for a deserted island experience with a pinch of luxury, then Noronha is the place for you!
This Fernando de Noronha travel guide will help you plan your trip, save money, and ensure you make the most of your time in this tropical paradise.
Top 5 Things to See and Do in Fernando de Noronha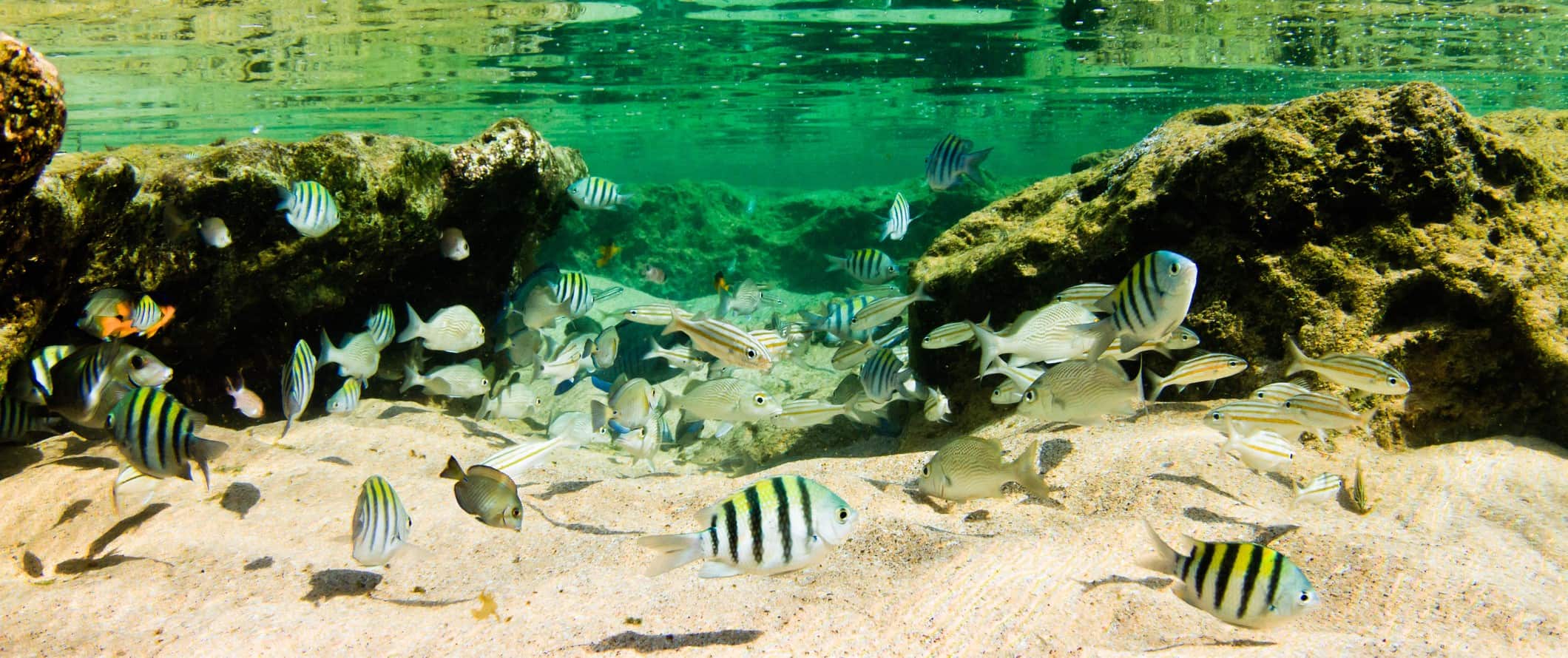 1. Visit Projeto Tamar
Projeto Tamar is a Brazilian environmental organization focused on turtle conservation. The center is worth a visit to learn more about what is endangering the turtles and what is being done to protect them. During hatching season (December-June), you can watch newly hatched turtles scramble towards the sea. Admission is free.
2. Enjoy the beaches
Praia do Sancho is a favorite among the locals for its white sand, turquoise waters, and dramatic rock formations while Baia dos Porcos is better known for its craggy peaks and clear waters. For long stretches of golden sand, head to Boldro, where the sunset paints the sky with vivid pinks, oranges, and reds every evening.
3. See the historical sites
Despite being an ecotourism hotspot today, Noronha was once set up as a military base. A walking trail on Vila dos Remedios passes by some of the remaining historical sites, including the Palacio of São Miguel, the Church and Fort of Nossa Senhora dos Remédios, the Noronha Memorial (a historical museum), and some remnants of forts.
4. Go diving
With year-round warm water and excellent visibility, Fernando de Noronha is considered one of the best diving areas in South America. You can dive in an underwater cave at Buraco do Inferno, see the rocky wall of sponges at Caverna da Sapata, or learn how to dive at Morro de Fora. A discovery dive costs around 870 BRL.
5. See Atalaia Beach
When the tide goes out at Atalaia Beach, little tide pools are left between the reefs, forming natural aquariums. Fish tend to get stuck in these pools until the tide comes back in, so this is a great opportunity to get up close with marine life like fish and starfish. (Look, but don't touch!)
Other Things to See and Do in Fernando de Noronha
1. Explore on horseback
On horseback, you can traverse the island's trails and back roads, as well as some of the shorter beaches. Your best bet for finding a tour is to ask your accommodations to hook you up, as there are only a handful of guides on the island (and none have official websites).
2. Go dolphin watching
For the best dolphin watching, head to the aptly named Bay of Dolphins. This area is part of the National Marine Park, so the only way you'll be able to get here is by walking a path along the cliff's edge to the lookout. Arrive in the morning around 6am for the best chances of seeing dolphins in the bay — sometimes there are a thousand or more!
3. Drive dune buggies
Renting a dune buggy is the most common way to get around Fernando de Noronha, and you can explore the more secluded parts of the island that lie off the main road (including much of the muddy road that follows the coast). I recommend LocBuggy for buggy rentals as they have the most options, with rentals costing about 450 BRL a day.
4. Go hiking
There are plenty of trails leading to deserted beaches between the cliffs, caves, and hills that are completely inaccessible unless you've got your hiking boots on. My favorite hike is the route along or above Praia do Leão because it offers unobstructed scenic views of the beach and the Atlantic Ocean. You can go all the way to the lighthouse on Ponta de Sapat if you don't mind jumping from rock to rock in some places. The route is only a few miles long.
5. Go kayaking
Take to the waters on a three-hour paddle from Porto Santo Antonio along the island's sheltered coast, with a stop at beaches along the way (including Praia de Conceição). Most tours come with snacks and water. Your accommodations can help set you up on a tour, which costs about 220 BRL.
6. Cruise the island
If you want a unique view of Fernando de Noronha, hop on a boat tour. You'll get a different perspective of the long white beaches, jungle-like vegetation, and towering cliffs. Plus, most tours usually include a visit to some hidden caves and islands, as well as Ponta de Sapat. You can also tie in some snorkeling time (most tours include snorkel gear in the price). Your accommodations can help you arrange a trip but expect to pay about 250 BRL for a half-day tour and at least 375 BRL for a full-day tour.
7. Visit the Shark Museum
This free museum on the northern peninsula is small, but if you're interested in learning more about the island's marine life, visiting here is a must-do. Displays include information (and skeletal remains) about reef sharks, hammerheads, and even whale sharks. You'll get a good idea of how large these guys are — and how sharp their teeth are!
8. Circumnavigate the island
On an 8-hour Ilha Tour, you'll cover the entire island by 4×4, exploring the main sights as well as hidden ones, such as lesser-known coves and beaches. It's a great way to get your bearings on your first day and see what else you might want to explore during your time here. All tour agencies on the island offer this full-day tour, which generally costs about 350 BRL.
9. Catch the sunset
At the end of a long day of exploring, there's nothing better than kicking back and watching a beautiful sunset. The sunsets over the water are magnificent no matter where you are on the island, but some popular spots are Nossa Senhora dos Remédios Fort, São Pedro do Boldró Fort, or Boldro Beach.

For more information on other cities in Brazil, check out these guides:
Fernando de Noronha Travel Costs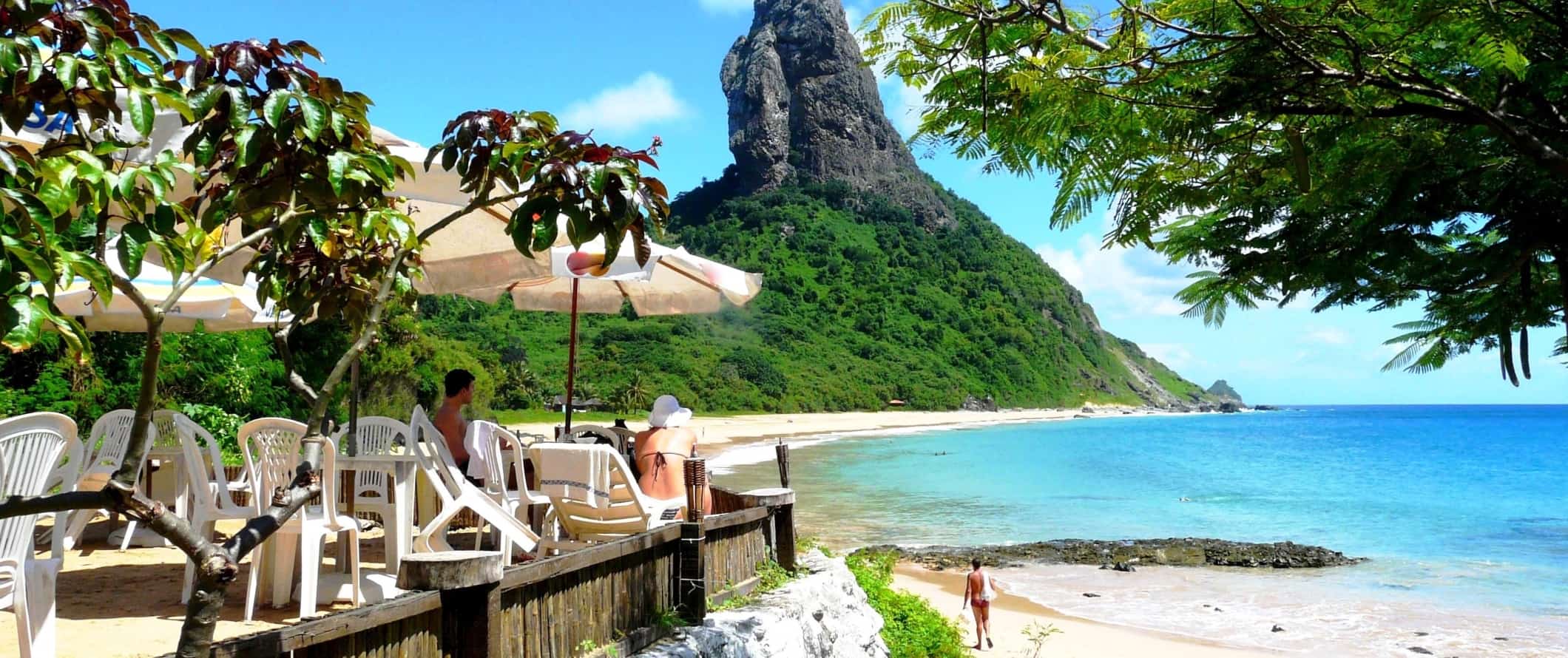 Hostel prices – In the low season, a bed in a 4-6-person dorm costs 130-150 BRL per night. Beds can be as high as 225 BRL in the high season. A private double room in a hostel is about 350 BRL per night. Free Wi-Fi isn't available everywhere, and no hostels include free breakfast. If you plan on cooking your own meals, make sure you book accommodation with a kitchen.
Budget hotel prices – A double room with an ensuite bathroom in a basic two-star hotel costs 300 BRL in the low season and closer to 400 BRL in the high season. That's about as budget-friendly as it gets here. Basic amenities include Wi-Fi and air-conditioning. Most budget hotels do not include free breakfast.
There are lots of Airbnb options in Fernando de Noronha to choose from. A private room costs about 250-350 BRL per night while an entire apartment/home is about 600-800 BRL per night.
Average cost of food – Brazilian cuisine – like the country itself – is a mix of many cultures, with European, Amerindian, African, and (more recently) Japanese influences. As such a large country, food varies per region, with seafood plentiful on the coastlines and Brazilian barbecue dominating plates in the south. Rice and beans are a staple throughout the country.
Common vegetables include tubers like cassava and yams, tomatoes, red peppers, okra, and more. There's also a huge variety of native fruit to sample, with the most famous likely being superfood açaí. Cupuaçu, mango, papaya, guava, orange, passion fruit, pineapple, are all commonly found across the country as well.
Feijoada is Brazil's national dish, a meaty bean stew that's traditionally eaten for Wednesday or Saturday lunch. Other popular dishes include moqueca(fish stew), polenta, and vatapá (a stew of bread, shrimp, coconut milk, and peanuts), among countless others.
As an island, the cuisine of Fernando de Noronha is dominated by fish and seafood, with various fish stews and grilled or fried fish on offer at the island's restaurants.
Overall, prices are higher here as most food must be imported. A sandwich and a drink at a juice bar costs around 25 BRL, though prices on the beach are much higher, with a snack or sandwich costing 50-90 BRL at these. Some places, like Farmacia de Maezinha, offer a "pay by weight" buffet-style option, costing 100 BRL per kilo.
A typical Brazilian meal at a mid-range restaurant costs about 80-100 BRL. There are also many higher-end seafood restaurants on the island, with dishes costing 165-200 BRL (keep in mind though, that at seafood restaurants, these dishes are usually large platters consisting of an entire fish with sides, meant for two people). The all-you-can-eat seafood buffet at Restaurante Zé Maria costs 230 BRL.
There are a couple of mid-range restaurants offering international cuisine, though virtually none of the typical takeout options that budget travelers can turn to. A personal pizza is 50-70 BRL, and a burger is 40-50 BRL.
A bottle of water costs 5-8 BRL, while beer is about 10-20 BRL. A glass of wine is 20 BRL, and a cocktail is 25-30 BRL. A cappuccino is 12 BRL.
You can save money by shopping at the local grocery stores. While it'll cost significantly more than on the mainland, it's still cheaper than eating out. A week's worth of groceries costs about 400-450 BRL. Depending on how long you're staying, consider bringing some food with you to the islands.
Backpacking Fernando de Noronha Suggested Budgets
If you're backpacking Fernando de Noronha, budget about 450 BRL per day. This budget covers staying in a hostel dorm, cooking most meals, limiting your drinking, taking the bus to get around, and sticking to mostly free activities like enjoying the beaches and hiking.
On a mid-range budget of about 610 BRL per day, you can stay in a private room in a hostel or a private Airbnb room, eat out for most meals, enjoy a few drinks, take the occasional taxi to get around, and do more paid activities like snorkeling or boat tours.
On a "luxury" budget, expect to spend 1,825 BRL or more per day. This covers staying in a hotel, eating out for all your meals, drinking more, renting a dune buggy, and doing whatever tours and activities you want, like going diving. This is just the ground floor for luxury though. The sky is the limit!
Note: All visitors to the island need to pay an environmental tax, which starts at 87 BRL per day. There's also a national park fee of 330 BRL which covers 10 days on the island. If you're staying for three days (as an example), you have to add about 590 BRL to your budget.
Accommodation
Food
Transportation
Attractions
Average Daily Cost
Backpacker
150
150
25
125
450
Mid-Range
300
250
90
220
610
Luxury
600
375
450
400
1,825
Fernando de Noronha Travel Guide: Money-Saving Tips
Fernando de Noronha is more expensive than the rest of Brazil due to its remote location and limited tourism infrastructure. But if you want to try, here are some ways to save when you visit:
Bring cash – ATMs and money changers are virtually non-existent here, and many places only take cash. Bring plenty with you.
Visit during low season – Noronha is always more expensive than the rest of Brazil, but traveling in the low season between April and November offers cheaper accommodation.
Shop around – Booking tours or excursions is a casual experience here, often done on behalf of your accommodation. Shop around for various prices before committing.
Take advantage of comida por peso – At lunchtime, there are plenty of restaurants which offer the "food by weight" deal which allows you to pile your plate high for very little money.
Stay with a local – Couchsurfing connects you with locals who can give you a free place to stay and share their insider tips and advice. It's the best way to meet locals and save money. There aren't many hosts here though, so if you're trying to couchsurf here, reach out well in advance.
Pack a water bottle – The tap water here isn't safe to drink so bring a water bottle with a filter to save money and reduce your single-use plastic usage. My preferred bottle is LifeStraw as it has a built-in filter to ensure your water is always clean and safe.
Where to Stay in Fernando de Noronha
There are only a couple hostels in Fernando de Noronha. Here are my suggested places to stay:
How to Get Around Fernando de Noronha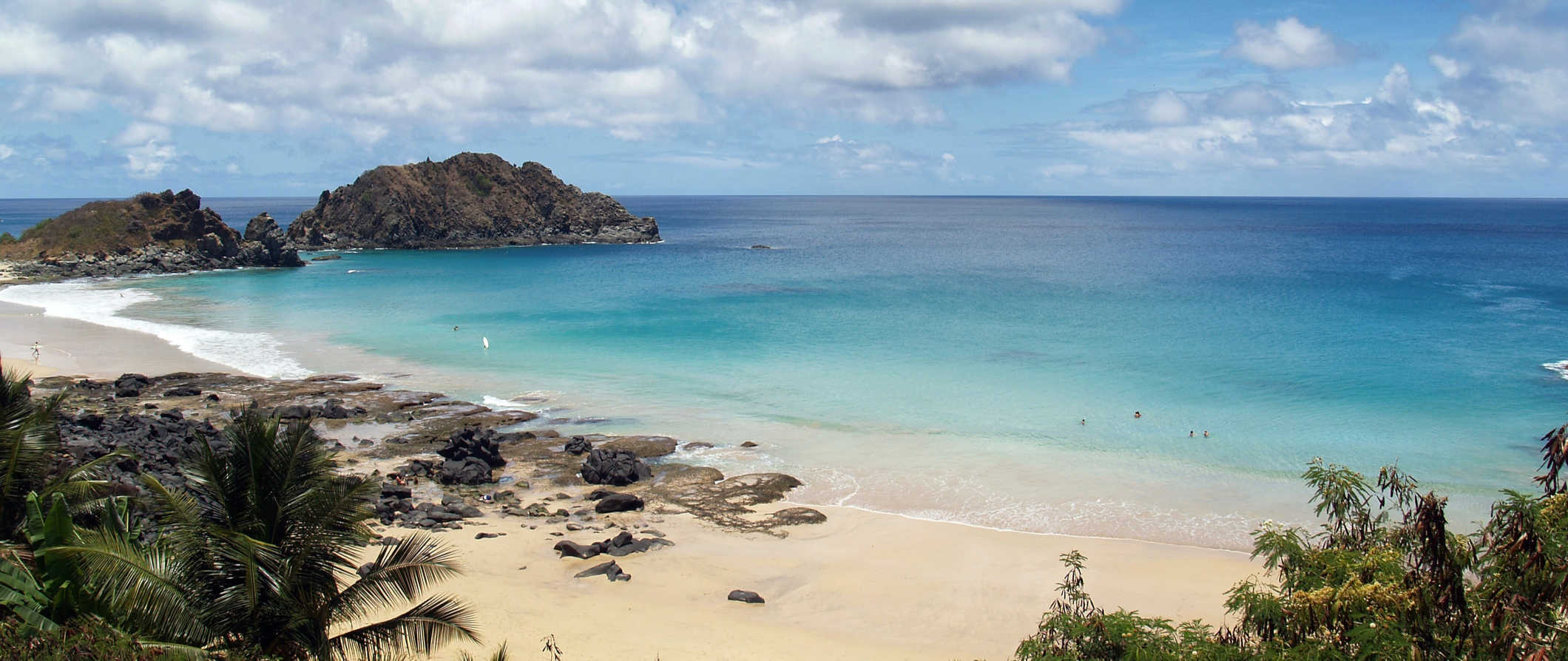 Public transportation – A bus runs from one end of the island to the other (between Vila dos Remédios and the airport) for about 5 BRL per ride. These buses depart every 30-40 minutes between 7am-11pm, and you'll see stop signs all along the road.
Taxi – Taxis here work on a fixed rate between 20-45 BRL, depending on how far you're going. It's 30 BRL between the airport and Vila dos Remédios, and 25 BRL between the airport and the port.
Buggy – Renting a buggy is the most fun and convenient way to get around the island. LocBuggy is the best option for buggy rentals, with rentals costing from 450 BRL a day, not including the cost of fuel. You'll need a Class B driver's license.
Hitchhike – It is common for people to hitchhike around Fernando de Noronha, and the locals will be eager to get to know you. Just make sure they know they are picking up a hitchhiker and not someone looking for a taxi.
When to Go to Fernando de Noronha
Temperatures don't vary much here. According to the Guinness Book of World Records, the island has the most consistent temperatures in the world: it never gets colder than 18°C (64°F) or hotter than 30°C (90°F).
The rainy season lasts from May to August, but rainfall is sporadic and never lasts long. The rainy season is also the low season, so you'll find cheaper accommodation and tour deals during this time since there are fewer people visiting.
April is the best month for diving since the ocean is usually the calmest during this time.
August to December are the driest and most popular times to visit. But since the island only allows less than 500 people on it at a time, it's never too crowded.
How to Stay Safe in Fernando de Noronha
Fernando de Noronha is a safe place to travel — even if you're traveling solo and even as a solo female traveler. Since the island has limited tourism, you don't have to worry too much about petty theft here. It's one of the few places in Brazil where it's safe to bring your valuables to the beach (although I still recommend leaving them at your accommodation).
Solo female travelers should feel safe here, though the standard precautions apply (don't accept drinks from strangers, don't walk around alone at night, etc.).
There aren't really any tourist scams here to speak of, but if you're worried about getting ripped off while traveling you can read about common travel scams to avoid here.
ATMs are few and far between here so bring cash with you and always keep it secure and out of reach just to be safe.
Mosquitos are abundant here so bring repellant or you'll get eaten alive.
Always trust your gut instinct. Make copies of your personal documents, including your passport and ID. Forward your itinerary along to loved ones so they'll know where you are.
If you experience an emergency, dial 190 for assistance.
For more in-depth coverage of how to stay safe in Brazil, check out this post that answers some frequently asked questions and concerns.
The most important piece of advice I can offer is to purchase good travel insurance. This is especially true on this island as there is limited healthcare, so if you get seriously injured, you may require emergency evacuation. Travel insurance will protect you against illness, injury, theft, and cancellations. It's comprehensive protection in case anything goes wrong. I never go on a trip without it as I've had to use it many times in the past.
Fernando de Noronha Travel Guide: The Best Booking Resources
These are my favorite companies to use when I travel. They consistently have the best deals, offer world-class customer service and great value, and overall, are better than their competitors. They are the companies I use the most and are always the starting point in my search for travel deals.
Skyscanner – Skyscanner is my favorite flight search engine. They search small websites and budget airlines that larger search sites tend to miss. They are hands down the number one place to start.
Hostelworld – This is the best hostel accommodation site out there with the largest inventory, best search interface, and widest availability.
Booking.com – The best all around booking site that constantly provides the cheapest and lowest rates. They have the widest selection of budget accommodation. In all my tests, they've always had the cheapest rates out of all the booking websites.
Get Your Guide – Get Your Guide is a huge online marketplace for tours and excursions. They have tons of tour options available in cities all around the world, including everything from cooking classes, walking tours, street art lessons, and more!
SafetyWing – Safety Wing offers convenient and affordable plans tailored to digital nomads and long-term travelers. They have cheap monthly plans, great customer service, and an easy-to-use claims process that makes it perfect for those on the road.
LifeStraw – My go-to company for reusable water bottles with built-in filters so you can ensure your drinking water is always clean and safe.
Unbound Merino – They make lightweight, durable, easy-to-clean travel clothing.
Top Travel Credit Cards – Points are the best way to cut down travel expenses. Here's my favorite point earning credit cards so you can get free travel!
Fernando de Noronha Travel Guide: Related Articles
Want more info? Check out all the articles I've written on backpacking/traveling Brazil and continue planning your trip: