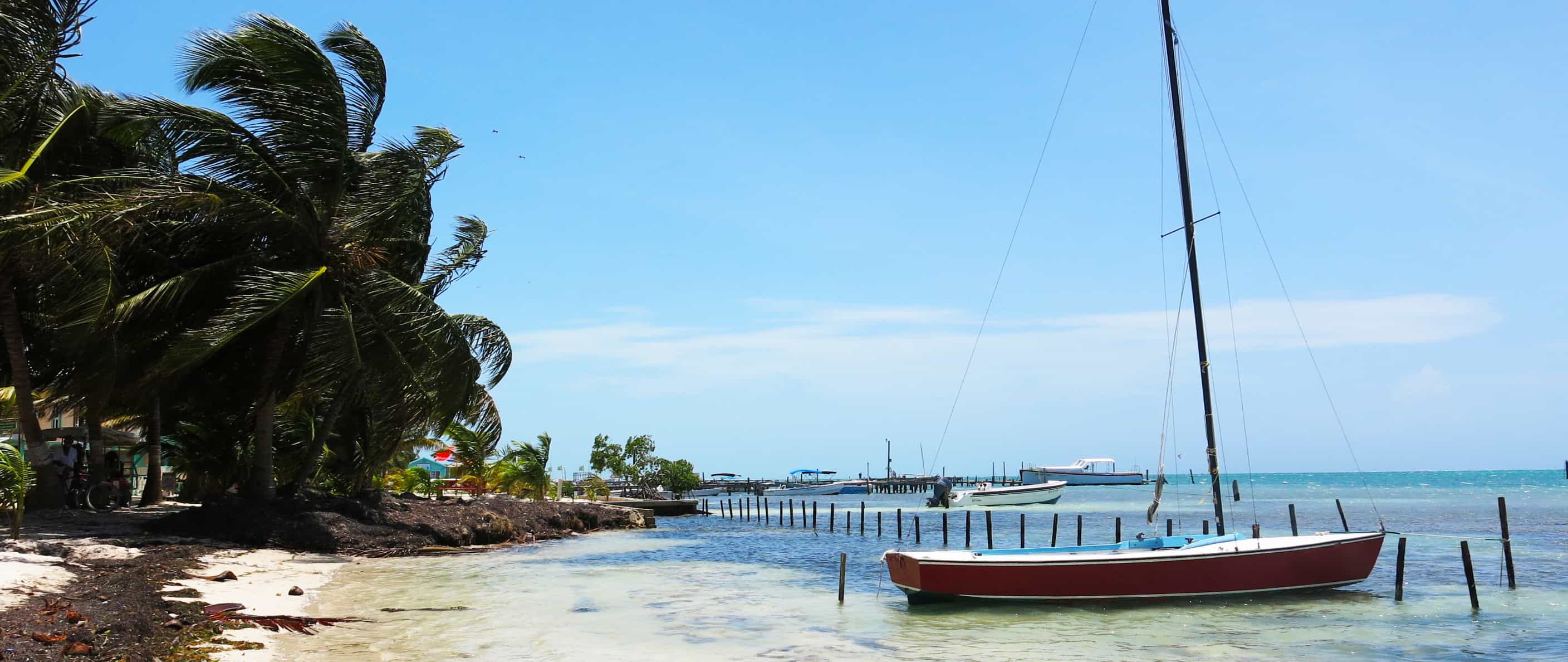 For years, Caye Caulker has been popular with backpackers looking to sample the laid-back atmosphere of Belize but reluctant to pay the high prices on nearby Caye Ambergris.
In Caye Caulker, life moves at a snail's pace. No one is in a rush. There aren't any real roads (you drive around in golf carts). You visit Caye Caulker to relax on the beach, get a tan, eat lobster, and spend the evenings dancing at one of the reggae bars.
Diving and snorkeling are also popular here due to the nearby Belize Barrier Reef and world-class dive sites like the Blue Hole Natural Monument.
But, overall, there isn't a whole lot to do here other than slowing down and enjoying the natural surroundings of this tropical paradise.
This Caye Caulker travel guide will help you plan your trip, safe money, and make the most out of your time in this tropical paradise!
Top 5 Things to See and Do in Caye Caulker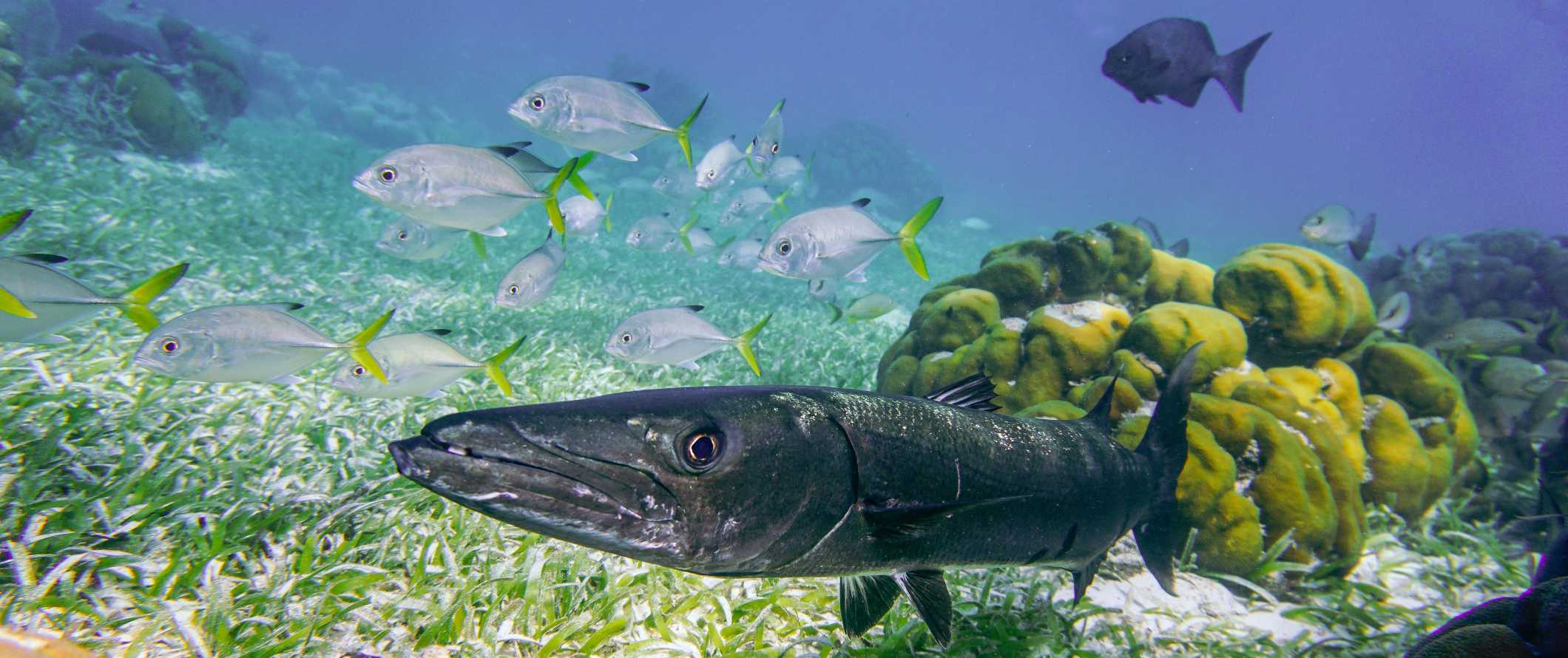 1. Visit Caye Caulker Forest Reserve
This beautiful nature reserve on the island of Caye Caulker takes up 100 acres of the island and is home to a plethora of sea life, plant life, and over 170 species of birds. The reserve is home to the glossy black catbird, known for its curious ability to mimic cats, as well as the white-crowned pigeon and several species of herons. This delicate ecosystem has little lagoons and mangroves that are home to turtles, iguanas, boas, and other reptiles — including the American crocodile. Kayakers are welcome here, and kayaks are usually available to rent at your accommodation if you want to explore.
2. Feast at Lobsterfest
July marks Lobsterfest in Caye Caulker, the festival honoring all things crustacean. This nationwide culinary event and huge celebration also takes place in San Ignacio and Placencia but expect slightly cheaper prices in Caye Caulker. Tourists and locals alike can enjoy competitions, cocktails, beach parties, and music by top DJs and local bands. Visitors can check out restaurants and cafes for the chef's best take on their lobster dishes, allowing you to feast on every conceivable lobster dish, from lobster ice cream to lobster ceviche. Just be sure to book your accommodation in advance as the island fills up.
3. Explore the Split
A visit to this Caye Caulker wouldn't be complete without a visit to "the split,' a stretch of water that divides the island in two. With its stunning crystal shades of blue water and natural tropical biodiversity, it's one of the most popular spots on the island. Hurricanes ripped through the island in the 1960s and 90s forming "the split" and on one side are the mangroves of the Caye Caulker Marine Reserve and, on the other is the inhabited part of the island. The Split is great for lounging around, swimming, snorkeling, or having a drink. The best snorkeling spot is by the Lazy Lizard pier where you can see coral, live sponges, and colorful sea anemones as well as puffer fish, starfish, and even stingrays. You can rent a kayak or a canoe for about 15 BZD an hour as well. It's the place to be on the island.
4. Go manatee watching
Manatees are huge, docile but highly endangered animals and are protected in Belize. There are only about 300-700 manatees throughout Belize so it's a real treat to see these gentle creatures up close since they average around 3.5 meters in length (about 12 feet) and weigh up to 1,500 kilos (2,500 pounds)! You can see them on one of the many tours to Swallow Caye Wildlife Sanctuary, an ideal manatee spotting site. Entrance to Swallow Caye is 10 BZD, but it's usually included in the price of a tour (the only way to get there). A full-day tour starts at around 190-240 BZD.
5. Snorkel Shark Ray Alley
Snorkelers flock to Shark Ray Alley at the Hol Chan Marine Reserve for the chance to get up close and personal with nurse sharks, sting rays, and sea turtles at feeding time. Don't worry, the nurse sharks are only around 4-5 feet long (1.2-1.5 meters) and harmless. The water is warm and clear, so you can get in to swim, pose for pictures with them, and even pet them as they are used to human contact. Tours are around 4-5 hours and start around 180 BZD.
Other Things to See and Do in Caye Caulker
1. Go snorkeling
The Belize Barrier Reef is just a few minutes from the island and provides an ideal underwater world for snorkelers to explore. The largest reef in the Northern Hemisphere (and the second largest in the entire world), it spans almost 200 miles (300 kilometers). The reef is a UNESCO World Heritage Site and is home to rays, sharks, sea turtles, whale sharks, dolphins, and much more. Half-day tours start at 80-130 BZD while full-day tours start at 180 BZD.
2. Go diving
Caye Caulker and its surrounding areas are a diver's paradise. There is the barrier reef, as well as Blue Hole Natural Monument and Half Moon Caye. The Great Blue Hole is a 400-foot-deep (121-meter) hole with a cave and is one of the most popular dive sites in the world. A half-day tour with two dives starts from 260 BZD. The trips to the Blue Hole are full-day, 3-tank tours and start from 600 BZD.
3. Windsurf
Year-round winds and warm shallow waters make windsurfing a big draw here. If you're experienced, a board rental for a half day costs about 150 BZD, but if you're a newbie, you can take a one-hour beginner's lesson for 150 BZD or a two-hour group lesson for around 175 BZD.
4. Go kayaking
Sea kayaks are available to rent all around the island and you can head to the northern island, past the Split, to explore the mangroves. Kayak rentals start from 15-20 BZD per hour or 50 BZD for a full day. Check out Ocean Academy to support the local high school, as you can make a donation in exchange for rentals.
5. See the South End
The southern end is an area rich in crocodiles, bird-nesting, and raw natural beauty. Swimming at this end of the island offers a wide array of anemones, sponges, gorgonians, fish, and more. Most people don't come down here, so you'll have the area all to yourself.

If you're heading to other parts of Belize, check out some of our other city guides:
Caye Caulker Travel Costs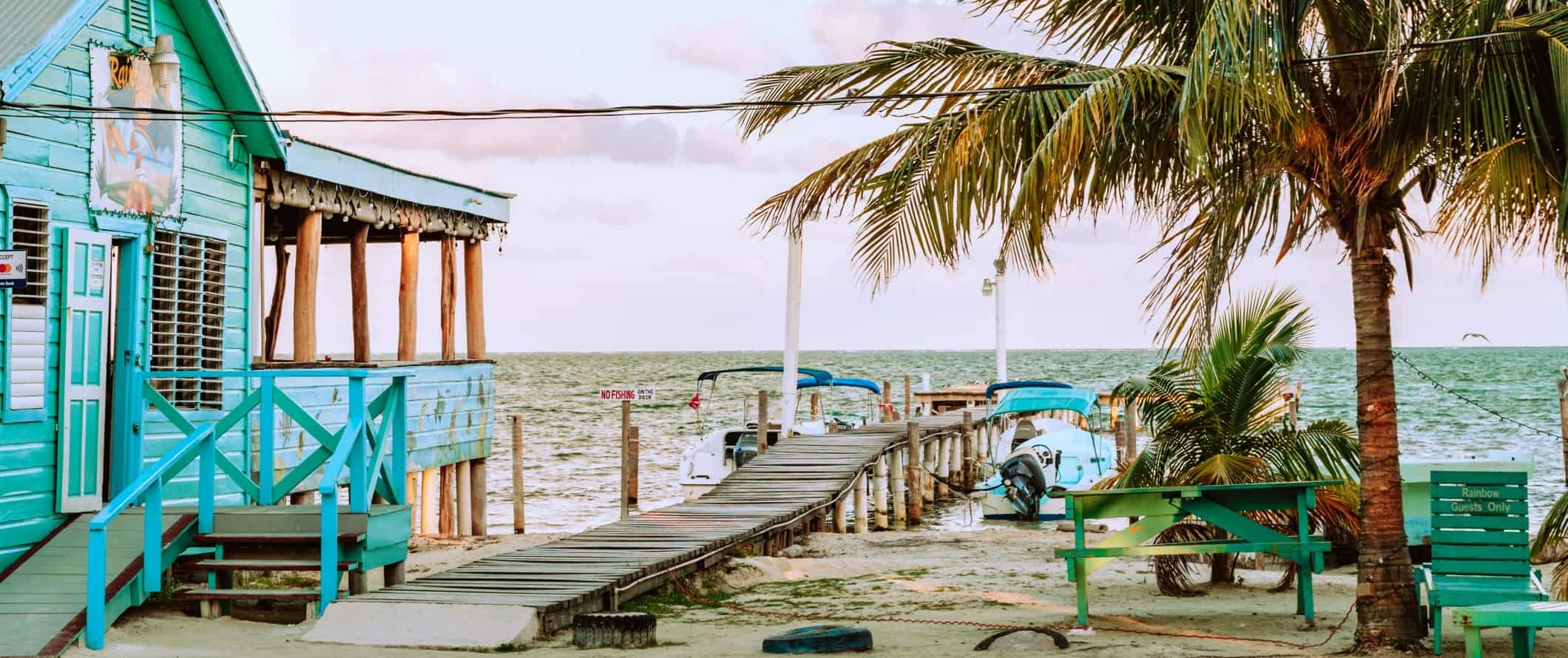 Hostel prices – Hostel dorms with 8-16 beds cost around 26 BZD per night, while smaller dorms start from 32 BZD. A standard private room in a hostel costs 80-90 BZD per night. Free Wi-Fi is standard and most (but not all) have self-catering facilities.
Budget hotel prices – There aren't a whole lot of budget hotels around Caye Caulker. Double rooms at hotels and resorts start from 120 BZD per night. Most other 2-3 star hotels are around 150 BZD per night, and they can reach up to 300 BZD during peak season. Standard amenities include private bathrooms, free Wi-Fi, and air-conditioning.
On Airbnb, private rooms start from 50-85 BZD. You can get a basic cabana (a tiny house studio) or apartment from 100 BZD, but often you'll have to pay extra for Wi-Fi. Nicer apartments, including those with swimming pools, start from 200-300 BZD.
Food – Belizean cuisine leans heavily on beans, rice, cheese, and tortillas. Rice and beans is a common lunch choice, and you can always find tamales, panades (fried meat pies), onion soup, chicken stew, and garnaches (beans, cheese, and onion in a fried tortilla) pretty much everywhere you go. Expect a lot of seafood here, including lobster, shrimp, red snapper, sea bass, and halibut.
Most restaurants on the island cost between 14-22 BZD, with breakfast at a cafe starting from 6 BZD. You can get fast food (grilled meats, BBQ seafood, pastries) from 13 BZD.
If you plan to buy your own groceries and cook, a week's worth of food costs between 80-120 BZD for basic staples like rice, vegetables, and some chicken or fish.
Make sure you eat at Wish Willy's, the best restaurant on the island. You get a great chicken or fish meal there. It's tasty and affordable!
Backpacking Caye Caulker Suggested Budgets
If you're backpacking Caye Caulker, my suggested budget is 90 BZD per day. This budget covers staying in a hostel dorm, cooking most of your meals, walking everywhere, and enjoying lots of free activities like swimming and lounging on the beach. It's a tight budget but doable if you cut your drinking. If you want to party or eat out more, add another 20 BZD per day.
On a mid-range budget of about 215 BZD, you can stay in a budget Airbnb room, eat out for most meals, enjoy a few drinks, rent a bicycle to get around, and do watersports like snorkeling or windsurfing.
On a "luxury" budget of 425 BZD or more, you can stay in a hotel or private Airbnb, eat out for all your meals, rent a golf cart or bicycle, and do more tours (such as diving trips). This is just the ground floor for luxury though. The sky is the limit!
Accommodation
Food
Transportation
Attractions
Average Daily Cost
Backpacker
30
20
10
30
90
Mid-Range
100
50
20
50
220
Caye Caulker Travel Guide: Money Saving Tips
Caye Caulker can be an expensive place to visit if you do a lot of tours and activities. But, if you're just chilling on the beach and staying in a dorm, you won't spend a ton of money. Here are ways to save money in Caye Caulker during your visit:
Shop around – There are a lot of dive companies on Caye Caulker and competition is fierce so be sure to shop around. Most will give you a free dive in the hopes of getting you to sign up for their PADI certification course.
Snorkel The Split – If you snorkel the Split, you'll be able to see a wide variety of fish without paying money for an expensive tour of the reef. Same animals, cheaper price.
Travel off-peak – The most expensive time to visit is between October and April. By traveling in the off-season, you can significantly reduce prices for accommodation and flights.
Combine trips – Many tour operators offer trips that combine popular excursions. These are a good way to save on transfers to each tourist destination as well as possibly get dropped off at your next destination.
Happy hour – Most bars have a happy hour in the late afternoon and offer discounts on drinks. Ask your accommodation staff for tips on where to go to save.
Pack a water bottle – A water bottle with a purifier will come particularly in handy here. Save money and thousands of plastic bottles and get a bottle that can purify the tap water for you. My preferred bottle is LifeStraw as it has a built-in filter to ensure your water is always clean and safe.
Where to Stay in Caye Caulker
Caye Caulker only has a couple of options for budget travelers. Here are my suggested places to stay:
How to Get Around Caye Caulker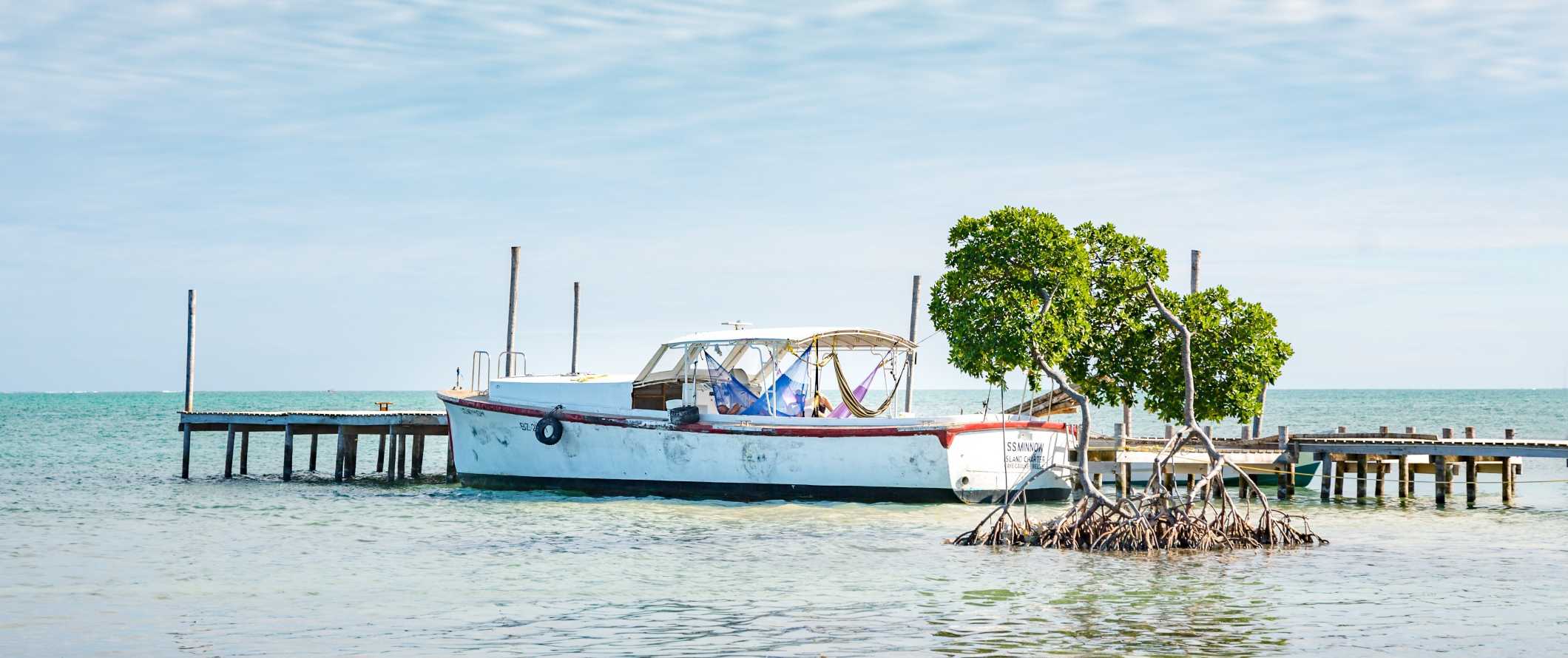 Caye Caulker is a relatively small island and is easily walkable. If you're staying outside the main village, there are a few other ways to get around:
Bicycle – Other than on foot, bicycle rentals are your cheapest option for getting around. You can find them for as little as 15 BZD per day, or 60 BZD per week. Ask your hostel if they have bikes to rent.
Golf cart – Golf carts are definitely not a budget option, with hourly rentals starting from 25 BZD. You can also rent them daily for 125-150 BZD, or weekly from 550-600 BZD. I don't recommend this mode of transportation unless you have mobility issues or have a group of friends you want to share one with.
Water taxi – Water taxis can take you to the mainland for about 35-40 BZD for a round-trip. The two water taxis that service Caye Caulker are:
Caye Caulker Water Taxi
San Pedro Water Taxi
When to Go to Caye Caulker
The best time to visit Caye Caulker is from the end of November to mid-April. This is Belize's dry season (and it's also peak season). However, it never gets too crowded at Caye Caulker. The temperature here never varies much and very rarely dips below 77°F (25°C). January and February can be a little cooler, with occasional lows of 68°F (20°C)
November to April is also the best time for diving, as the waters are clearest during this time.
The rainy season lasts from September to October, so I would avoid traveling to Caye Caulker during those months.
How to Stay Safe in Caye Caulker
Caye Caulker is a very safe place to visit. Violent crime is rare, although theft can be a problem. There have been several reports of hotel keys being stolen and then used to ransack the room, so make sure you have your valuables stored safely.
Don't leave your valuables unattended at the beach and if you go out to the bar, only bring the money you need.
Solo female travelers should generally feel safe here, however, the standard precautions apply (never leave your drink unattended at the bar, never walk home alone intoxicated, etc.).
Scams here are rare and not something I would worry about.
If you experience an emergency, dial 911 for assistance.
For more in-depth coverage of how to stay safe in Belize, check out this post we wrote that answers some frequently asked questions and concerns.
The most important piece of advice I can offer is to purchase good travel insurance. Travel insurance will protect you against illness, injury, theft, and cancellations. It's comprehensive protection in case anything goes wrong. I never go on a trip without it as I've had to use it many times in the past.
Caye Caulker Travel Guide: The Best Booking Resources
These are my favorite companies to use when I travel. They consistently have the best deals, offer world-class customer service and great value, and overall, are better than their competitors. They are the companies I use the most and are always the starting point in my search for travel deals.
Skyscanner – Skyscanner is my favorite flight search engine. They search small websites and budget airlines that larger search sites tend to miss. They are hands down the number one place to start.
Hostelworld – This is the best hostel accommodation site out there with the largest inventory, best search interface, and widest availability.
Booking.com – The best all around booking site that constantly provides the cheapest and lowest rates. They have the widest selection of budget accommodation. In all my tests, they've always had the cheapest rates out of all the booking websites.
Get Your Guide – Get Your Guide is a huge online marketplace for tours and excursions. They have tons of tour options available in cities all around the world, including everything from cooking classes, walking tours, street art lessons, and more!
SafetyWing – Safety Wing offers convenient and affordable plans tailored to digital nomads and long-term travelers. They have cheap monthly plans, great customer service, and an easy-to-use claims process that makes it perfect for those on the road.
LifeStraw – My go-to company for reusable water bottles with built-in filters so you can ensure your drinking water is always clean and safe.
Unbound Merino – They make lightweight, durable, easy-to-clean travel clothing.
Top Travel Credit Cards – Points are the best way to cut down travel expenses. Here's my favorite point earning credit cards so you can get free travel!
Caye Caulker Travel Guide: Related Articles
Want more info? Check out all the articles I've written on backpacking/traveling Belize and continue planning your trip: