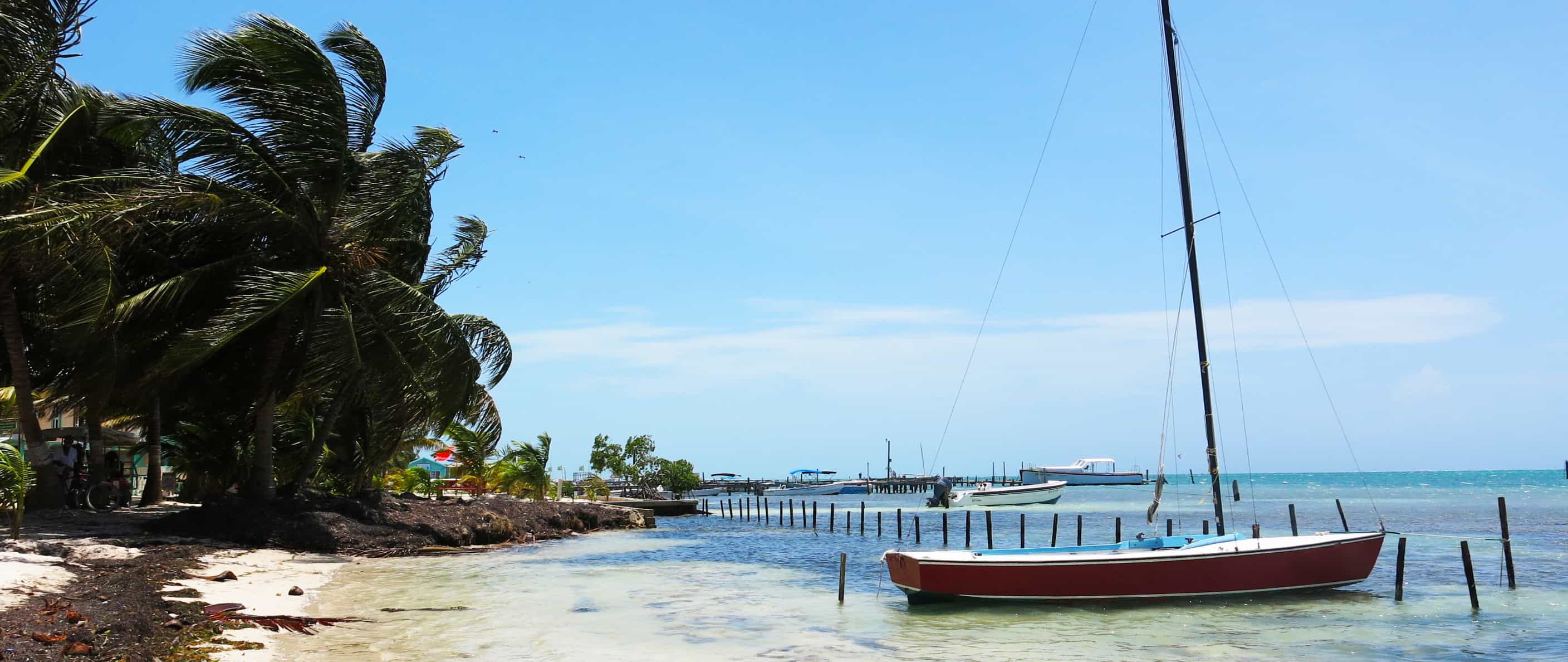 For years, Caye Caulker has been popular with backpackers looking to sample the laid back atmosphere of Belize but reluctant to pay the high prices on nearby Caye Ambergris.
In Caye Caulker, life moves at a snail's pace. No one is in a rush. No roads. (You drive around in golf carts.)
You visit Caye Caulker to relax on the beach, get a tan, eat lobster, and spend the evenings dancing at one of the reggae bars. Don't come here if you are in a rush! (Diving and snorkeling are also popular here due to the nearby Belize Barrier Reef and world-class dive sites like the Blue Hole Natural Monument.)
There isn't a whole lot to do other than slowing down and enjoying the natural surroundings of this tropical paradise.
I've put my best tips into this Caye Caulker travel guide to help you travel cheaper, better, and smarter during your next visit!
Top 5 Things to See and Do in Caye Caulker
1. Caye Caulker Forest Reserve
This reserve takes up 100 acres of the island and is home to a plethora of sea, plant, and bird life. Keep an eye out for rare species, like the black catbird! Kayakers are welcomed here, and kayaks are available to rent at your accommodation, or at Chocolate's Gift Shop.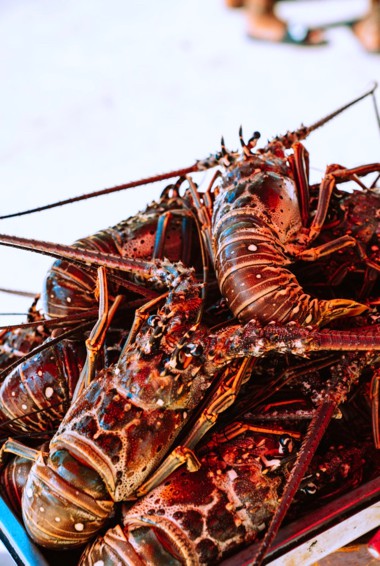 2. Visit Lobsterfest
July marks Lobsterfest, the festival honoring all things crustacean. Tourists and locals alike enjoy contests, food, cocktails, and music by top DJs and local bands. There's also the chance to try every conceivable lobster dish from lobster ice cream to lobster ceviche.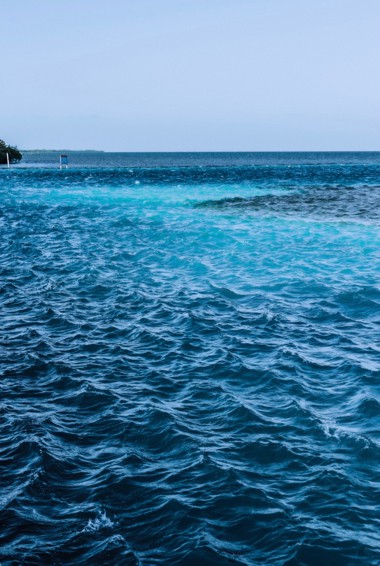 3. The Split
Hurricanes ripped through the island in the 1960's and 90's forming "the split." On one side are the mangroves of the Caye Caulker Marine Reserve and, on the other, well, the inhabited part of the island. The Split is great for lounging around, swimming, snorkeling, or having a drink. It's the place to be on the island.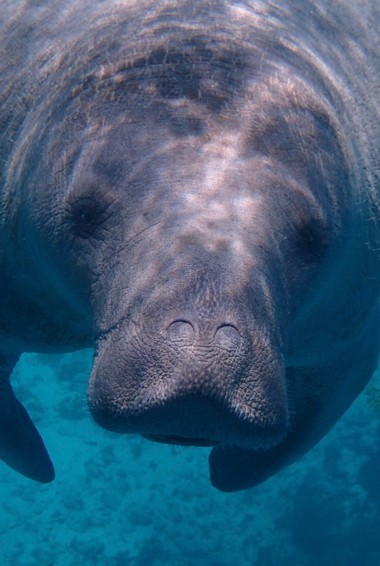 4. Manatee watching
Manatees are huge, docile but highly endangered animals. There are many tours on to Swallow Caye, an ideal manatee spotting site. Entrance to Swallow Caye is 10 BZD ($5 USD), but it's usually included in the price of a tour. A half-day tour starts around 75 BZD ($37 USD) while full-day tours are as much as 180 BZD ($90 USD).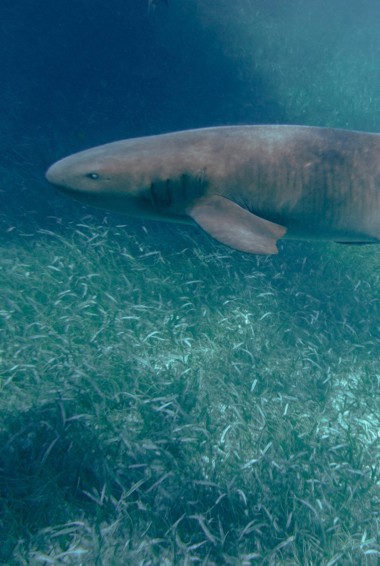 5. Shark Ray Alley
Snorkelers flock to Shark Ray Alley for the chance to get up close and personal with nurse sharks and rays at feeding time. You can pose for pictures, pet them, and even get in a swim as they are used to human contact. A ton of tours and boaters will take you.
Other Things to See and Do in Caye Caulker
1. Go snorkeling
The Belize Barrier Reef is just a few minutes from the island and provides an ideal underwater world for snorkelers to explore. The different kinds of coral and species of fish are astonishing. Half-day tours start at 70 BZD ($35 USD) while full-day tours start at 130 BZD ($65 USD).
2. Go diving
Caye Caulker and its surrounding areas are a diver's paradise. There is the barrier reef, as well as Blue Hole Natural Monument and Half Moon Caye. The Blue Hole is a 1000 foot x 400 foot deep hole with a cave and is one of the most popular dive sites in the world. A one-tank dive starts around 150 BZD ($75 USD) while a half-day tour with two dives starts from 220 BZD ($110 USD).
3. Windsurf
Year-round winds and warm shallow waters make windsurfing a big draw here. If you're experienced, then board rental for two hours will cost about 140 BZD ($70 USD), but if you're a newbie, you can take a beginner's lesson for 110 BZD ($55 USD).
4. Go kayaking
Sea kayaks are available to rent, and you can head to the northern island, past the Split, to explore the mangroves. Kayak rentals start from 20 BZD ($10 USD) per hour or 30 BZD ($15 USD) for a half-day. Go to Lisa's Kayak Rentals at Maya House. That's where you will get the best rates.
5. See the South End
The southern end is an area rich in crocodiles, bird-nesting, and raw natural beauty. Swimming at this end of the island offers a wide array of anemones, sponges, gorgonians, fish, and more. Most people don't visit come down here, so you'll have the area all to yourself.
Be sure to visit our city travel guides for more detailed information about what to see and do in each place:
Caye Caulker Travel Costs
Hostel prices – Dorms with 8-16 beds cost around 24 BZD ($12 USD) per night, while smaller dorms start from 32 BZD ($16 USD). A standard private room in a hostel is between 50-70 BZD ($25-35 USD) per night.
Budget hotel prices – There aren't a whole lot of budget hotels around Caye Caulker, but you can find budget-friendly double rooms at resorts starting from 100 BZD ($50 USD). Most other 2-3 star hotels are around 150 BZD ($75 USD) per night, and they can reach up to 300 BZD ($150 USD) during peak season. Standard amenities include private bathrooms, free wifi, and air-conditioning.
On Airbnb, shared rooms start around 32 BZD ($16 USD) per night, and private rooms are from 60 BZD ($30 USD). You can get a basic cabana (a tiny house studio) or apartment from 70 BZD ($35 USD), but often you'll have to pay extra for WiFi. Nicer apartments, including those with swimming pools, are from 150 BZD ($75 USD).
Average cost of food – Most restaurants on the island cost between 14-22 BZD ($7-11 USD) per main meal, with breakfast at a cafe starting from 6 BZD ($3 USD). You can get fast food from 8 BZD ($4 USD). A week's worth of food is between 100-120 BZD ($50-60 USD) for basic groceries like pasta, vegetables, and chicken. Make sure you eat at Wish Willy's, the best restaurant on the island and a local. You get a great chicken or fish meal there, and it comes with a drink. There are no set prices, but it's cheap!
Backpacking Caye Caulker Suggested Budgets
If you're backpacking Caye Caulker, my suggested budget is from 84 BZD ($42 USD) per day. This budget will cover staying in a hostel dorm, cooking most of your meals, walking everywhere, enjoying lots of free activities, and also enjoying a paid activity or two. It's a tight budget but doable if you cut your drinking. If you want to party or eat out more, add another 20 BZD ($10 USD) per day.
On a mid-range budget of about 236 BZD ($118 USD), you'll get a room at a two-star budget hotel, a private room at an Airbnb, or one in a hostel. You'll be able to eat and drink however you want (within reason), rent a bicycle to get around if you want and take more tours while you're here.
For a luxury budget of 548 BZD ($272 USD) or more, you can stay at a nice resort, eat out for all your meals (lobster and drinks), and even do a one-tank dive. You'll be able to snorkel, windsurf, and more. If you want the ease of getting around, you can also rent a golf cart.
You can use the chart below to get some idea of how much you need to budget daily. Keep in mind these are daily averages – some days you'll spend more, some days you'll spend less (you might spend less every day). We just want to give you a general idea of how to make your budget. Prices are in USD.
Accommodation
Food
Transportation
Attractions
Average Daily Cost
Caye Caulker Travel Guide: Money Saving Tips
Caye Caulker can make it an expensive place to be if you do a lot of tours and activities. But, if you're just chilling on the beach and staying in a dorm, you won't spend a ton of money. But, if you want to lower your costs, here are save money in Caye Caulker during your visit:
Shop around – There are a lot of dive companies on Caye Caulker and competition is fierce so be sure to shop around. Most will give you a free dive in the hopes of getting you to sign up for their PADI certification course.
Snorkel The Split – If you snorkel the Split, you'll be able to see a wide variety of fish without paying money for an expensive tour to the reef. Same animals, cheaper price.
Travel off-peak – The most expensive time to visit is between October and April. By traveling in the off-season, you can significantly reduce prices for accommodation and flights.
Combine trips – Many tour operators offer trips that combine popular excursions. These are a good way to save on transfers to each tourist destination as well as possibly get dropped off at your next destination.
Happy hour – Most bars have a happy hour in the late afternoon and offer 2 for the price of one drinks.
Pack a water bottle – A water bottle with a purifier will come particularly in handy here. Save money and thousands of plastic bottles and get a bottle that can purify the tap water for you. My preferred bottle is LifeStraw ($49.99).
Where To Stay in Caye Caulker
Need a place to stay while you travel in Caye Caulker? Here are my favorite and suggested places to stay on the island:
How to Get Around Caye Caulker
Caye Caulker is a relatively small island and is easily walkable. If you're staying outside the main village, there are a few other ways to get around:
Bicycle – Other than on foot, bicycle rentals are your cheapest option for getting around. You can find them for as little as 16 BZD ($8 USD) per day, or 60 BZD ($30 USD) per week. Ask your hostel if they have bikes to rent.
Golf Carts – Golf carts are definitely not a budget option, with hourly rentals starting from 25 BZD ($12.50 USD). You can also rent them daily from 125 BZD ($62 USD), or weekly from 725 BZD ($360 USD). I don't recommend this mode of transportation unless you have mobility issues.
Water Taxi – Water taxis will take you to the mainland for 30-40 BZD ($15-20 USD) for a round-trip. The two water taxis that service Caye Caulker are:
Caye Caulker Water Taxi
San Pedro Water Taxi
When to Go to Caye Caulker
The best time to visit Caye Caulker is from the end of November to mid-April. This is Belize's dry season (and it's also peak season). However, it never gets too crowded at Caye Caulker. The temperature here never varies much and very rarely dips below 77°F (25°C). January and February can be a little cooler, with occasional lows of 68°F (20°C)
November to April is also the best time for diving, as the waters are clearest during this time. The rainy season lasts from September to October, so I would avoid traveling to Caye Caulker during those months.
How to Stay Safe in Caye Caulker
Caye Caulker's laidback lifestyle doesn't tend to involve any violent crime, although theft can be a problem. There have been several reports of hotel keys being stolen and then used to ransack the room, so make sure you have your valuables stored safely.
If you're worried about getting scammed, you can read about the 14 travel scams to avoid right here.
People are generally friendly and helpful, and you're unlikely to get into trouble.
Always trust your gut instinct. Avoid isolated areas at night, and be aware of your surroundings at all times. Make copies of your personal documents, including your passport and ID.
If you don't do it at home, don't do it in Caye Caulker! Follow that rule, and you'll be fine.
The most important piece of advice I can offer is to purchase good travel insurance. Travel insurance will protect you against illness, injury, theft, and cancellations. It's comprehensive protection in case anything goes wrong. I never go on a trip without it as I've had to use it many times in the past.
Caye Caulker Travel Guide: The Best Booking Resources
These are my favorite companies to use when I travel to Caye Caulker. They are included here because they consistently find deals, offer world-class customer service and great value, and overall, are better than their competitors. They are the ones I use the most and are always the starting points in my search for travel deals.
Momondo – This is my favorite booking site. I never book a flight without checking here first.
Skyscanner – Skyscanner is another great flight search engine which searches a lot of different airlines, including many of the budget carriers that larger sites miss. While I always start with Momondo, I use this site too as a way to compare prices.
Airbnb – Airbnb is a great accommodation alternative for connecting with homeowners who rent out their homes or apartments. (If you're new to Airbnb, get $35 off your first stay!)
Hostelworld – This is the best hostel accommodation site out there, with the largest inventory, best search interface, and widest availability.
Couchsurfing – This website allows you to stay on people's couches or spare rooms for free. It's a great way to save money while meeting locals who can tell you the ins and outs of their city. The site also lists events you can attend to meet people (even if you're not staying with someone).
Booking.com – The best all around booking site that constantly provides the cheapest and lowest rates. They have a no money down policy, great interface, and the widest selection of budget accommodation. In all my tests, they've always had the cheapest rates out of all the booking websites.
Intrepid Travel – If you want to do a group tour around Belize, go with Intrepid Travel. They offer good small group tours that use local operators and leave a small environmental footprint. If you go on a tour with anyone, go with them. And, as a reader of this site, you'll get a discount when you click the link!
Rome 2 Rio – This website allows you to see how to get from point A to point B the best and cheapest way possible. It will give you all the bus, train, plane, or boat routes that can get you there as well as how much they cost.
World Nomads – I buy all my travel insurance from World Nomads. They have great customer service, competitive prices, and in-depth coverage. I've been using them since I started traveling in 2003. Don't leave home without it!
Caye Caulker Gear and Packing Guide
If you're heading on the road and need some gear suggestions, here are my tips for the best travel backpack and for what to pack!
The Best Backpack for Travelers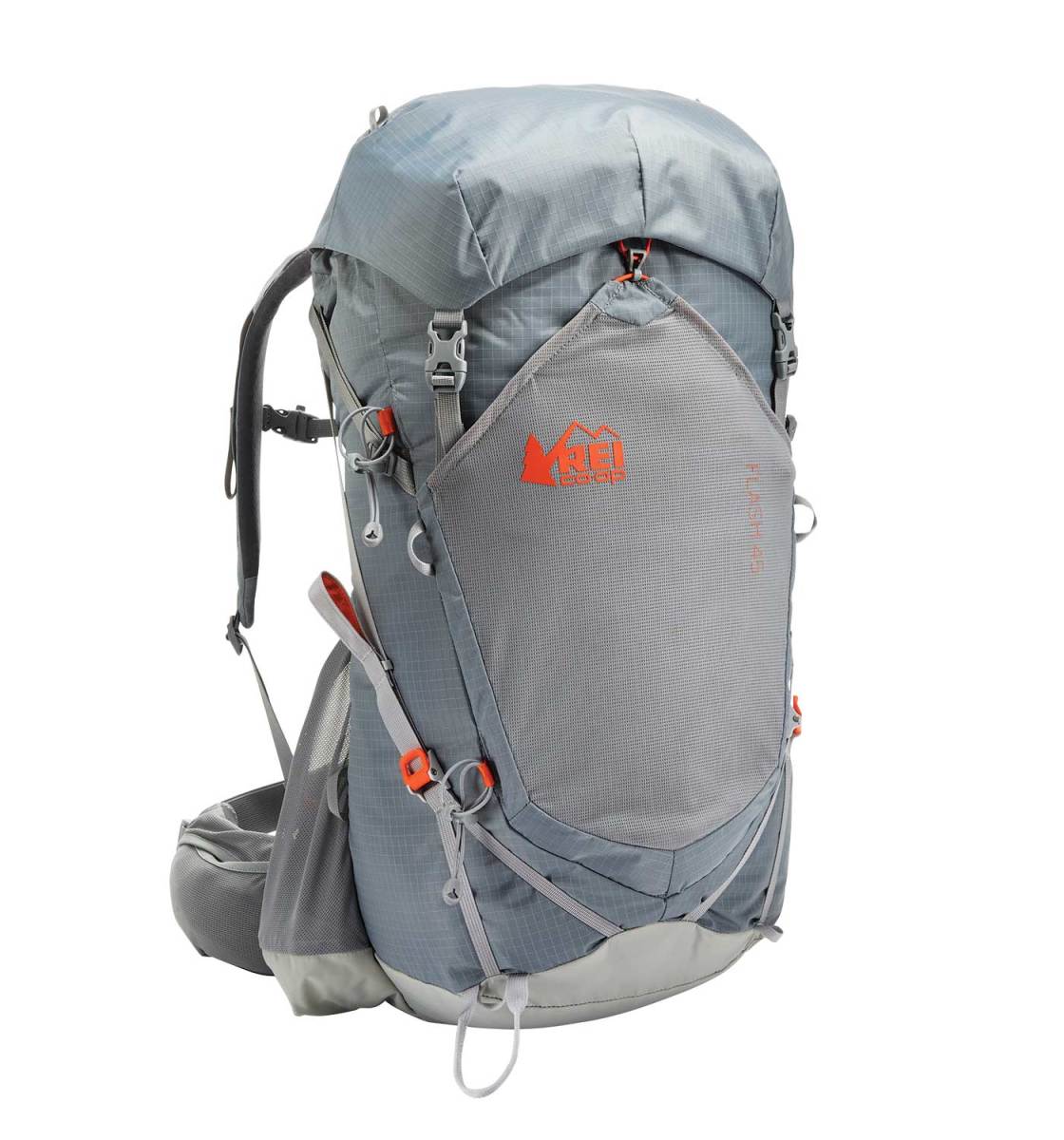 What's the best backpack for traveling long-term? I recommend the
REI Flash 45 Pack
. It's light and comfy, front loading, and fits perfectly in an airplane's overhead bin.
Size:
45-47L
Straps:
Thick and cushy with compression technology that pulls the pack's load up and inwards so it doesn't feel as heavy.
Features:
Removable top lid, large pocket at the front, hydration compatible, contoured hip belt
If you want something different, refer to my article on how to choose the best travel backpack for tips on picking a pack and other backpack suggestions.
What to Pack for Your Trip
Clothes
1 pair of jeans (heavy and not easily dried, but I like them; a good alternative is khaki pants)
1 pair of shorts
1 bathing suit
5 T-shirts
1 long-sleeved T-shirt
1 pair of flip-flops
1 pair of sneakers
6 pairs of socks (I always end up losing half)
5 pairs of boxer shorts (I'm not a briefs guy!)
1 toothbrush
1 tube of toothpaste
1 razor
1 package of dental floss
1 small bottle of shampoo
1 small bottle of shower gel
1 towel
Deodorant
Small Medical Kit (safety is important!!!)
Miscellaneous
Female Travel Packing List
I'm not a woman, so I don't know what a woman wears, but Kristin Addis, our solo female travel guru, wrote this list as an addition to the basics above:
Clothing
1 swimsuit
1 sarong
1 pair of stretchy jeans (they wash and dry easily)
1 pair of leggings (if it's cold, they can go under your jeans, otherwise with a dress or shirt)
2-3 long-sleeve tops
2-3 T-shirts
3-4 spaghetti tops
1 light cardigan
Toiletries
1 dry shampoo spray & talc powder (keeps long hair grease-free in between washes)
1 hairbrush
Makeup you use
Hair bands & hair clips
Feminine hygiene products (you can opt to buy there too, but I prefer not to count on it, and most people have their preferred products)
For more on packing, check out these posts:
Caye Caulker Travel Guide: Related Articles
Want more info? Check out all the articles I've written on backpacking/traveling Belize and continue planning your trip: