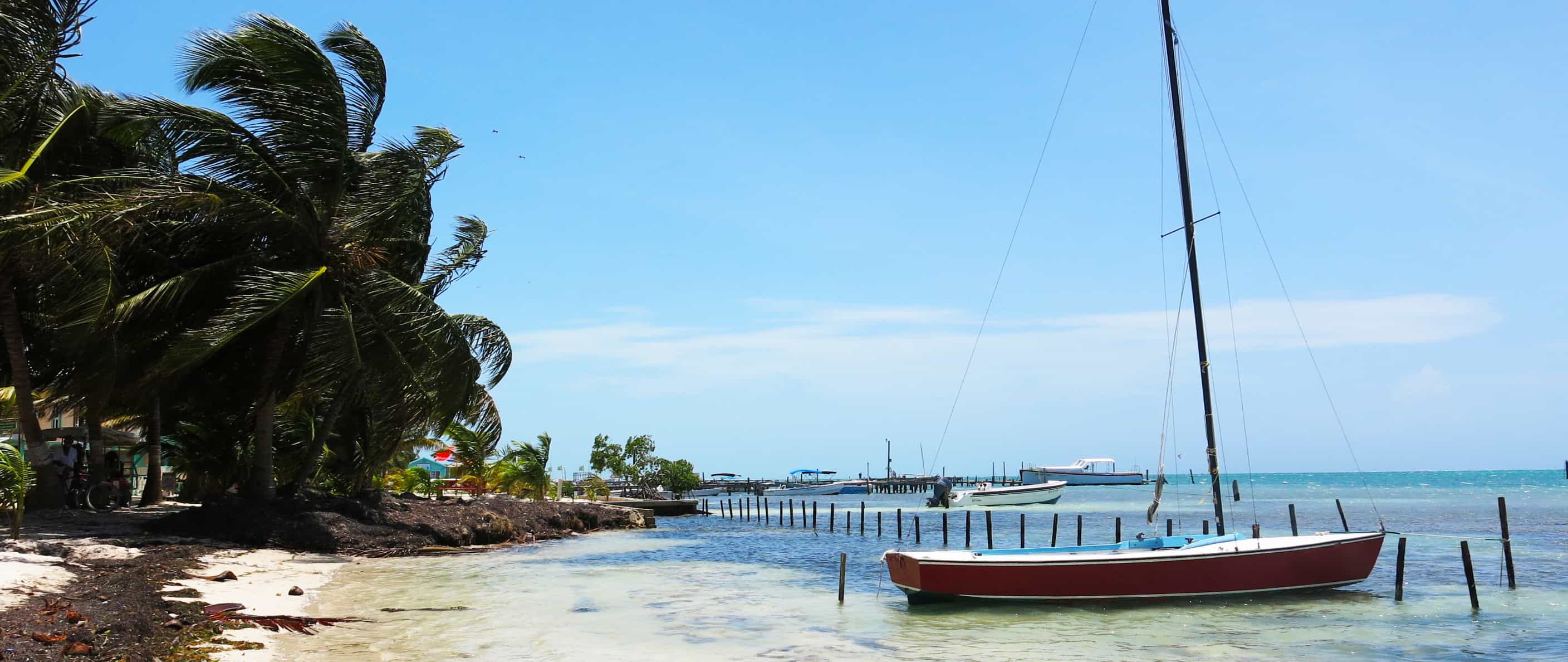 For years, Caye Caulker has been popular with backpackers looking to sample the laid back atmosphere of Belize but reluctant to pay the expensive prices on nearby Caye Ambergris. Life moves at a snail's pace. No one is in a rush and travelers end up extending their trips. Diving and snorkeling are popular here due to the nearby Belize Barrier Reef and world class dive sites like the Blue Hole Natural Monument. However, most people come here just to relax on the beach, get a tan, eat food, and spend the evenings dancing at one of the reggae bars. Don't come here if you are in a rush!
Top 5 Things to See and Do in Caye Caulker
1. Caye Caulker Forest Reserve
This reserve takes up 100 acres of the island and is comprised of mostly red, black, and white mangrove. It is home to a plethora of sea, plant, and bird life. Kayakers are welcomed here, and kayaks are available to rent at your accommodation, or at Chocolate's Gift Shop.
2. Visit Lobsterfest
July marks Lobsterfest, the festival honoring all things crustacean. Tourists and locals alike enjoy contests, food, cocktails, and music by top DJs and local bands. There's also the chance to try every conceivable lobster dish from lobster ice cream to lobster ceviche.
3. The Split
Hurricanes ripped through the island in the 1960's and 90's forming "the split". On one side are the mangroves of the Caye Caulker Marine Reserve and, on the other, well, the inhabited part of the island. The Split is great for lounging around, swimming, snorkeling, or just having a drink. It's the place to be on the island.
4. Manatee watching
Manatees are huge, docile but highly endangered animals. There are many tours on the island which will take you to Swallow Caye, an ideal manatee spotting site. Entrance into Swallow Caye is 10 BZD, but it's usually included in the price of a tour. A half-day tour ranges from 75-100 BZD.
5. Shark Ray Alley
Snorkelers flock to Shark Ray Alley for the chance to get up close and personal with nurse sharks and rays at feeding time. You can pose for pictures, pet them, and even get in a swim as they are used to human contact. A ton of tours and boaters will take you.
Other Things to See and Do
(Click the title to expand the text)
1. Go snorkeling
The Belize Barrier Reef is just a few minutes from the shores and provides an ideal underwater world for snorkelers to explore. The different kinds of coral and species of fish are amazing, but it's best to go with a guide who can point out all the animals. The marine reserve is also a popular spot for snorkelers. Half-day tours start at 50 BZD.
2. Go diving
Caye Caulker and its surrounding areas are a diver's paradise. There is the barrier reef, as well as Blue Hole Natural Monument and Half Moon Caye. The Blue Hole is a 1000 ft x 400 ft deep hole with a cave and is one of the most popular dive sites in the world. A one-tank dives starts around 40 BZD.
3. Windsurf
Year-round winds and warm shallow waters make windsurfing big here. If you're experienced, then board rental will cost 80 BZD, but if you're a newbie, you can add a beginner's lesson for an extra 80 BZD. Kitesurfing is a recent addition to the island, with lessons and board rental also available.
4. Go kayaking
Sea kayaks are available to rent, and you can head to the northern island, past the Split to explore the mangroves. Kayak rentals are about 20-30 BZD per hour.
5. See the South End
The southern end is an area rich in crocodiles, bird-nesting, and just raw natural beauty. If you are feeling really adventurous, swimming at this end of the island offers a wide array of anemones, sponges, gorgonians, fish, and more. Most people don't visit here, so you'll have the area all to yourself.
Typical Costs
Hostel prices
– Dorm rooms with 6 beds cost around 30 BZD per night. A private room in a hostel with a shared bathroom ranges from 40-70 BZD per night. Hostels here offer free linens and WiFi. My suggested places are:
Budget hotel prices – The cost of a double room at a 2-star hotel will start at 100 BZD, with most budget options settling around 150 BZD. But know that even budget options can reach up to 300 BZD during peak season. Common amenities include private bathrooms, free WiFi, and air-conditioning. On Airbnb, shared rooms start around 20 BZD per night and entire homes start around 120 BZD.
Average cost of food – Most restaurants cost between 14-22 BZD per main meal, with breakfast usually coming in at 6 BZD in a café. Fast food is about 8 BZD. Make sure you eat at Wish Willy's, the best restaurant on the island and a local icon. You get a great chicken or fish meal there, and it comes with a drink. A week's worth of food is between 100-120 BZD for basic groceries like pasta, vegetables, chicken, and other basic foodstuffs.
Transportation costs – The island is pretty small and easily walkable. Check with your hotel about bikes — often they will lend them out for free or a small fee. Otherwise, you can get around using golf carts, which cost about 25 BZD an hour or 125 BZD a day. Water taxis will take you to the mainland for 30-40 BZD for a round-trip.
Suggested daily budget
80-100 BZD / 40-50 USD (Note: This is a suggested budget assuming you're staying in a hostel, eating out a little, cooking most of your meals, and using local transportation. Using the budget tips below, you can always lower this number. However, if you stay in fancier accommodation or eat out more often, expect this to be higher!)
Money Saving Tips
Shop around – There are many dive companies on Caye Caulker so be sure to shop around. Most will give you a free dive in the hopes of getting you to sign up for their PADI certification course.
Snorkel The Split – If you snorkel the Split, you'll be able to see a wide variety of fish without paying money for an expensive tour to the reef. Same animals, cheaper price.
Travel off-peak – The most expensive time to visit is between October and April. By traveling in the off-season, you can significantly reduce prices for accommodation and flights.
Combine trips – Many tour operators offer trips that combine popular excursions. These are a good way to save on transfers to each tourist destination as well as possibly get dropped off at your next destination.
Happy hour – Most bars have a happy hour in the late afternoon and offer 2 for the price of one drinks.
Couchsurf – If you plan ahead, you can usually find really nice Couchsurfing hosts all throughout the country. This way, you not only have a place to stay, but you'll have a local host that can tell you the best places to go and things to see.
My Other Must Have Guides For Traveling to Caye Caulker