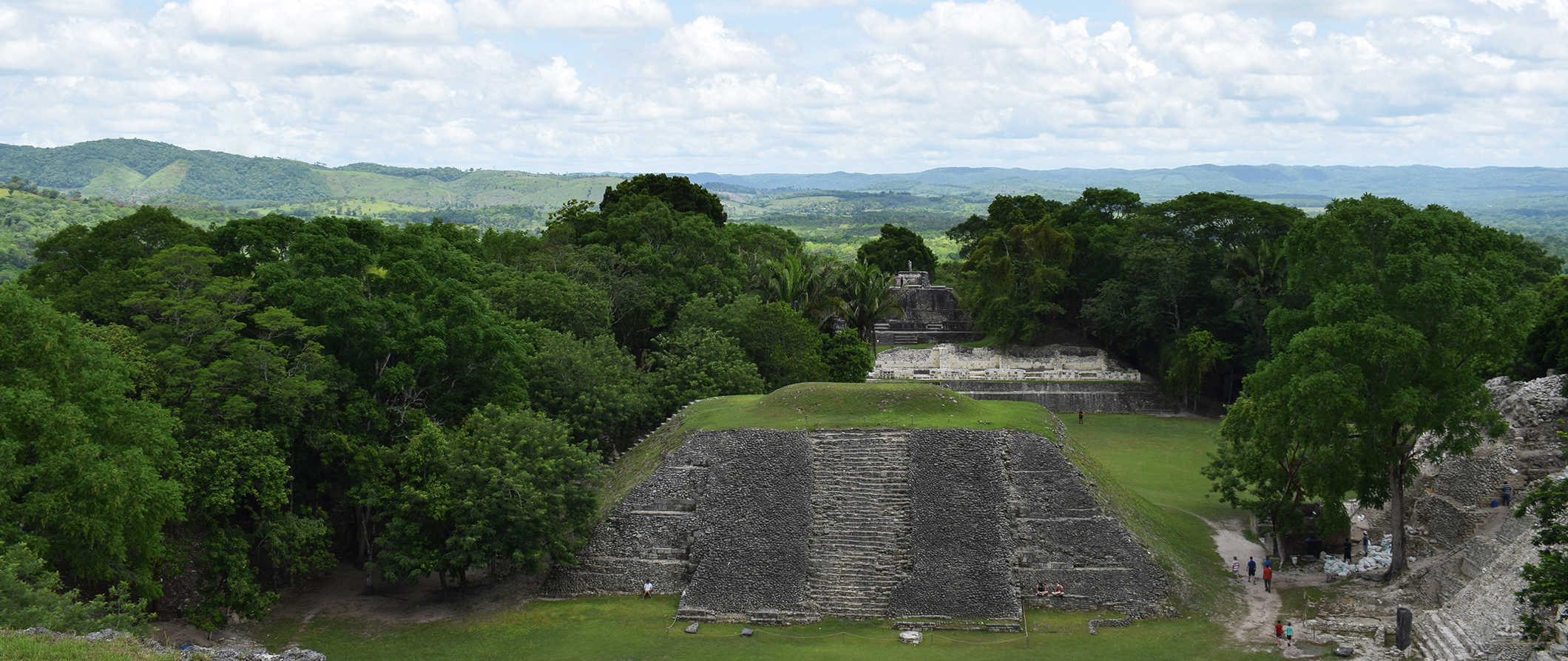 San Ignacio, otherwise known as "Cayo," is a lively backpacker hub on the Macal River in Belize. Most travelers stop here as they pass to and from Guatemala.
San Ignacio is the perfect base for exploring several nearby Mayan ruins, including Caracol and Xunantunich. Since the town is so close to the border with Guatemala, a visit to the impressive Tikal archaeological site is also easily doable. If you're lucky enough to be in town on a Saturday, the San Ignacio Market draws farmers and vendors from all over to sell local fruits and veggies, crafts, clothing, and even medicinal herbs.
Much of San Ignacio's activity focuses on Burns Avenue (otherwise known as "the strip") — the main street cutting through town, lined with candy-colored shops, restaurants, and bars. Grab a sidewalk table and a drink, enjoy the sun, and take in the parade of fellow backpackers and locals passing by. It's one of the greatest pleasures you'll have while backpacking in San Ignacio.
This San Ignacio travel guide will help you plan your trip, stay safe, and have fun in this popular backpacker hub!
Top 5 Things to See and Do in San Ignacio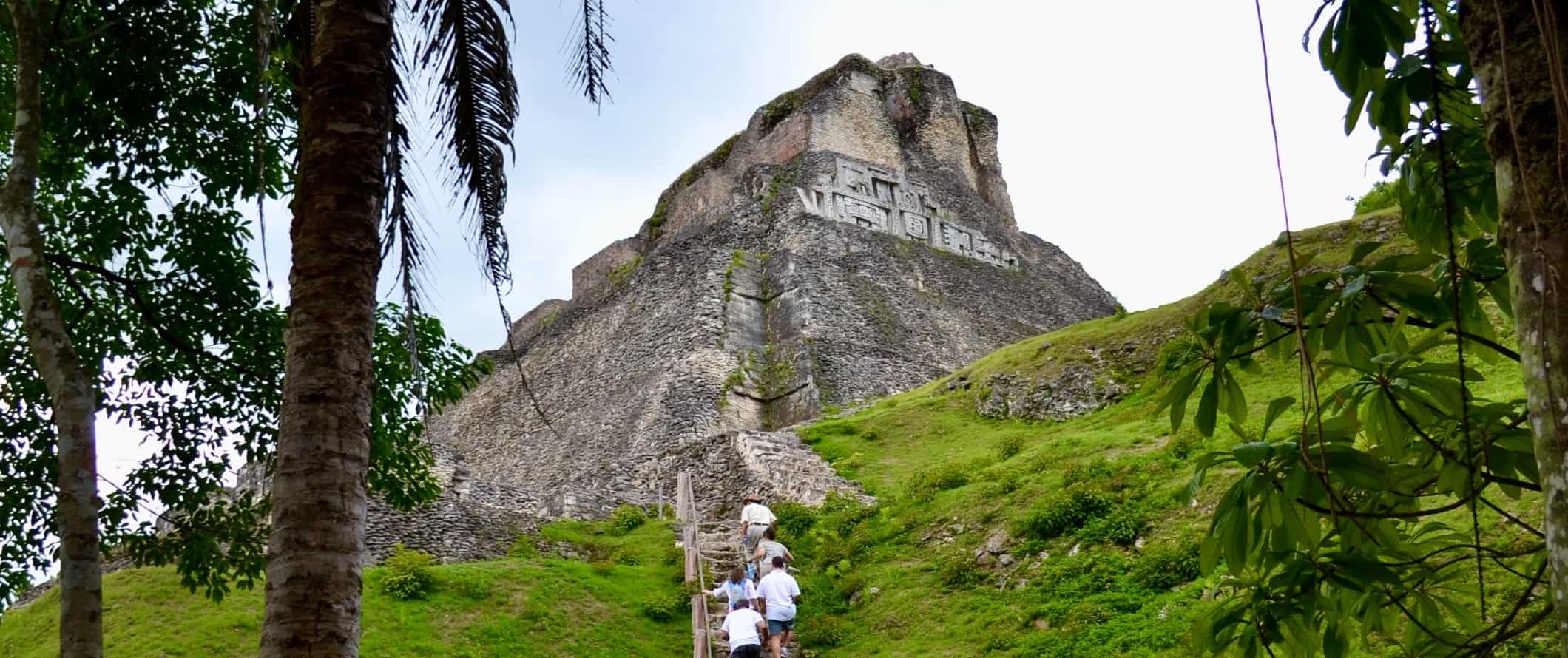 1. Visit Xunantunich
Otherwise known as the "the Maiden of the Rock," Xunantunich is a ruined Mayan city in the middle of the jungle possibly dating back to before 600 BCE (the exact date is unknown). Legend has it that a dark, ghostly Mayan woman was sighted during different time periods climbing up and down the pyramid and then disappearing. Regardless of whether you're into folklore, this gorgeous, architecturally rich site is where you can climb the El Castillo pyramid for a sweeping view of the entire site and the Mopan and Macal rivers. The pyramid itself has ancient carvings of astronomical symbols on both the eastern and western sides. At the visitor center, you learn more about the site and also check out some of the unearthed artifacts. Make sure to bring lots of water, sunscreen, bug spray, and good walking shoes.
2. Float into the Barton Creek Cave
One of the most popular day trips from San Ignacio is to the ancient Barton Creek Cave in the Cayo District. Once an ancient Mayan ceremonial ground, this cave is nestled in the jungle and famous for its unique rock formations. Here you can either explore in a canoe, inner tube, or swim through the waters in the cathedral-like chambers. Barton Creek Cave is the longest subterranean river cave in Belize (it's roughly 4.5 miles/7 kilometers), allowing you to float around while taking in the pottery, skulls, and rock formations dating back to when it was a Mayan sacrificial site. A two-hour tour starts at 50 BZD and a four-hour tour starts at 150-200 BZD.
3. Explore Cahal Pech
Cahal Pech is the oldest known Mayan site in the area, located right outside San Ignacio on the banks of the Macal River. The ruins are located on top of a hill, so you'll have a bit of a climb to get there, but you'll be treated to incredible panoramic views of the ruins and the jungle along the way. Today, there are remnants of 36 structures including temple pyramids, palaces, and ancient ball courts. It's a smaller site in comparison to some of the other ancient ruins but the buildings, tunnels, and passageways all weave together like a maze. It's much less crowded than other sites and very close to town too. Admission is 10 BZD.
4. Canoe the Macal River
For a relaxing day with incredible scenery, rent a canoe and glide along the crystal clear Macal River, paddling through lush green canopied jungle while keeping an eye out for exotic birds like orange-breasted falcons as well as exotic butterflies and iguanas. The river flows slowly so it's beginner-friendly and also safe to hop out and cool off in the water. Some tours include a stop at the Belize Botanical Gardens where you can enjoy all kinds of beautiful plants, or a stop at Chaa Creek resort to see Blue Morpho Butterfly Farm. This activity is best enjoyed during the dry season mid-November to mid-April. Make sure to bring water shoes! Self-guided half-day tours start at 70- 100 BZD and a full-day guided canoe trip is about 150 BZD.
5. Visit Actun Tunichil Muknal
Located in the Tapir Mountain Nature Reserve, the Actun Tunichil Muknal cave, which means "Cave of the Crystal Sepulchre," is an ancient Mayan ceremonial ground. This place is perfect for those who are up for adventure as you can swim into the cave and come face to face with the remains of those who were sacrificed to the Mayan Gods, including the skeletons of Mayan children who died here over a century ago. For this activity you're required to go with a guide who takes you through the jungle to the cave, where you can wade around, climb and crawl around the narrow passageways and enjoy the enchanting colors of the water. Make sure and bring a dry change of clothes. Tours include safety gear and lunch. Prices for full-day tours start around 225-250 BZD.
Other Things to See and Do in San Ignacio
1. Visit the market
If you're in town on a Saturday or Tuesday morning, head to the town's busy market on the banks of the river. The market is open every day, but these days are the busiest. Farmers from all over the district come here to sell fresh fruit, vegetables, and dairy products. Other vendors sell crafts, artwork, and even medicinal herbs. The Cayo District is made up of many different groups of people, including the Maya and Creole, so the market turns into a whirlwind of activity as the locals come together to share gossip and news.
2. Spot wildlife at the Green Iguana Exhibit
The San Ignacio Resort Hotel runs a conservation program for the Green Iguana to create awareness and educate visitors and locals about these endangered creatures. You'll get some hands-on interaction with the iguanas while learning about their entire life cycle, from egg to rearing. The resort itself sits at the top of a hill amongst 14 acres of rainforest home to 150 species of birds, various wildlife, and 70 species of trees and plant life. Admission is 23 BZD, and tours are offered daily.
3. Walk the Medicinal Jungle Trail
Directly facing the Green Iguana Exhibit is the entrance to the Medicinal Jungle Trail. The trail isn't tough, and it only takes about 45 minutes to walk it, but along the way, you're likely to encounter iguanas, anteaters, and a huge variety of birds. If you're with a tour guide from the Green Iguana Exhibit, they can explain all the surprising medicinal uses of the plants along the trail. It's incredibly informative!
4. Visit the Green Hills Butterfly Ranch
Green Hills is the largest butterfly display in Belize. It's home to about 30 species native to Belize, as well as a collection of passion flowers, heliconias, and orchids. Jan and Tineke are the friendly Dutch couple who operate the place, and they'll tell you anything you want to know about the butterflies. Admission is 40 BZD. Private tours last 1.5 hours and cost 30 BZD.
5. Explore the Belize Botanic Gardens
The Belize Botanic Gardens sprawl across a full 45-acre area, with about 1,000 different plant species native to Belize. Take your time to wander the 2-mile (3-kilometer) trail amongst the fruit trees and Maya medicinal plants, and enjoy the solitude by the two ponds. Admission is 15 BZD, and guided tours last 1.5 hours and cost 30 BZD (including admission).

If you're heading to other places in Belize, check out some of our other guides:
San Ignacio Travel Costs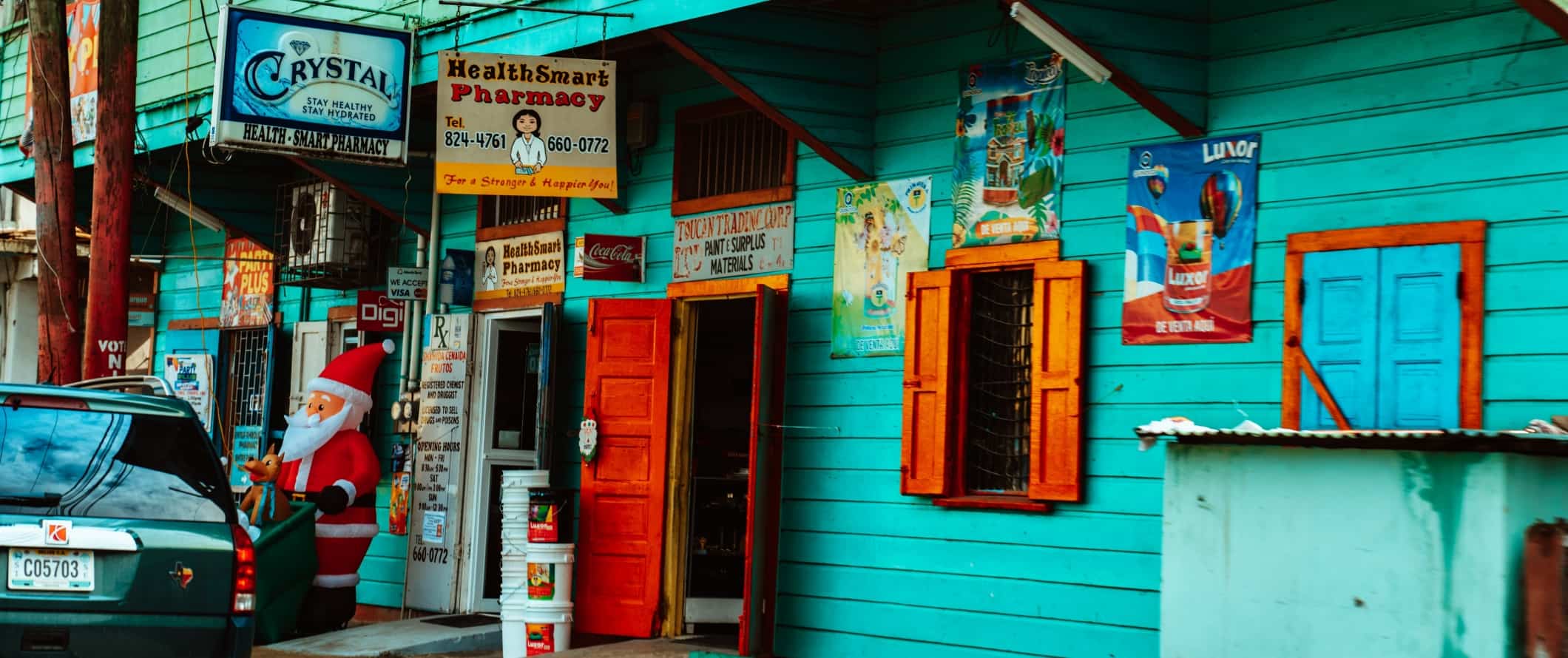 Hostel prices – There are only a handful of hostels in San Ignacio, and prices start at about 25 BZD for a bed in a dorm with 8-12 beds. Free Wi-Fi is standard, but breakfast is not. However, nearly every hostel has excellent kitchen facilities or a BBQ area for cooking your meals. Private hostel rooms average 70 BZD per night, but not all have ensuite bathrooms.
Budget hotel prices – Rooms at three-star hotels (including resorts) with free Wi-Fi, swimming pools, air conditioning, and free breakfast start at around 70 BZD per night. That's as budget-friendly as it gets for a hotel here.
However, you have lots of Airbnb options in San Ignacio to choose from. Private rooms start from around 70 BZD but most average closer to 100-120 BZD. You can find full apartments or homes for 100-250 BZD per night.
Food – Belizean cuisine leans heavily on beans, rice, cheese, and tortillas. Rice and beans is a common lunch choice, and you can always find tamales, panades (fried meat pies), (onion soup), chicken stew, and garnaches (beans, cheese, and onion in a fried tortilla) pretty much everywhere you go.
Street food like pupusas (flatbread) and tacos are less than 2 BZD each, and you'll find lots of options at the San Ignacio Market.
Meals at Belizean restaurants will cost around 10 BZD for dishes like rice and beans, or ceviche. I recommend eating at Cenaida's or Pop's, but there are also tons of places to eat on Burns Avenue. A beer to go with your meal shouldn't cost more than 4 BZD.
If you want western food like pasta and burgers, expect to pay between 20-30 BZD per dish. The Guava Limb Cafe is a good option for western food, as is Erva's Restaurant.
If you plan to do some cooking, you'll find the best prices in the market. A week's worth of groceries costs about 75-95 BZD for items like veggies, chicken, rice, beans, and eggs.
Backpacking San Ignacio Suggested Budgets
If you're backpacking San Ignacio, I'd budget about 75 BZD per day. That covers staying in a hostel dorm, eating street food, cooking most meals, the occasional beer, using public transportation, and doing a few paid activities like visiting the ruins.
On a mid-range budget of about 180 BZD per day, you can stay in a private room in a hostel or Airbnb, eat out more, take a few taxis, enjoy a few more drinks, and do more paid activities such as canoe or kayak tours.
On a "luxury" budget of 290 BZD per day, you can stay in a hotel, eat out for all your meals, drink whatever you want, do whatever tours you want, and take more taxis or rent a car. This is just the ground floor for luxury though — the sky is the limit!
Accommodation
Food
Transportation
Attractions
Average Daily Cost
Backpacker
25
20
15
15
75
Mid-Range
80
40
30
30
180
San Ignacio Travel Guide: Money-Saving Tips
There aren't many ways to save money in San Ignacio as it's a very small town with limited accommodation and dining options. It's super affordable as it is. Nevertheless, here are some ways to save when you visit:
Shop around – There are many activity and tour providers in town, so be sure to shop around to find the best deal.
Hitchhike – It's a common custom among the locals to simply hitchhike everywhere they need to go. You see old ladies, children, and families on the side of the road looking for a ride. It's just what they do. My friends and I met great people thumbing it across the country without spending any money at all.
Happy hour – Most bars have a happy hour in the late afternoon that offers cheap drinks. Ask your hotel/hostel staff for suggestions on where you can drink cheaply.
Stay with a local – If you plan ahead, you might be able to find a nice Couchsurfing host. This way, you not only get a free place to stay, but you'll have a local host that can share their insider tips and advice.
Pack a water bottle – A water bottle with a purifier will come particularly in handy here as the tap water in Belize isn't always safe. Save money and thousands of plastic bottles and get a bottle that can purify the tap water for you. My preferred bottle is LifeStraw as it has a built-in filter to ensure your water is always clean and safe.
Where to Stay in San Ignacio
There are only a few hostels in San Ignacio, but they are social and affordable. My suggested places to stay are:
How to Get Around San Ignacio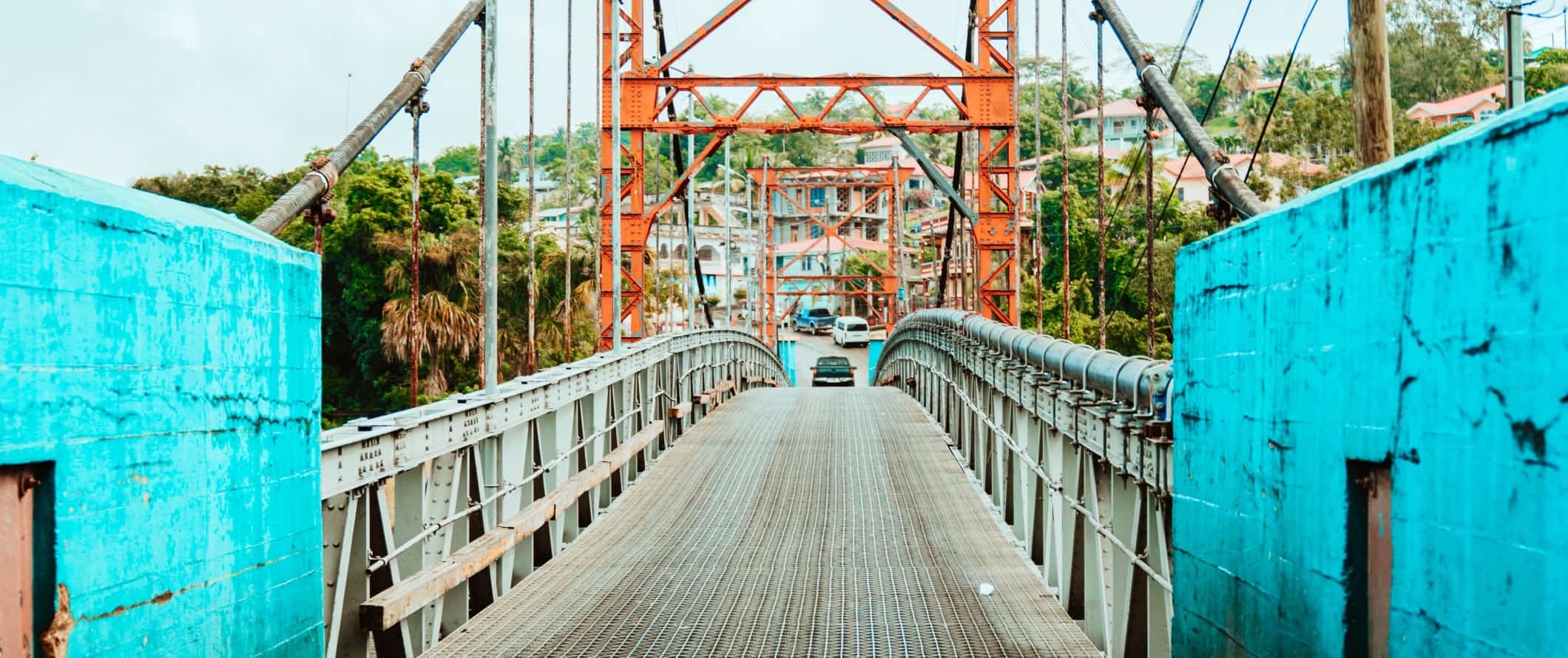 Bus – The town is small and easily walkable, but to explore more of the Cayo District you can also take shuttle buses. Just show up at the lot on Savannah Street and find a bus headed your way. You'll pay less than 5 BZD for most trips.
Taxis – Trips start at 5 BZD and go up around 9 BZD per mile. While affordable, they add up fast so skip them if you can.
Car rental – As the area is so small here, a car rental really isn't necessary. If you do want a car, rentals start at around 70 BZD per day for a multi-day rental. Drivers usually need to be at least 25 and have an IDP (International Driving Permit), though drivers 21 and up might be able to rent a car for an extra fee. I'd just skip to the bus, however, as it's easier and super affordable.
For the best car rental prices, use Discover Cars.
Hitchhike – It is common for people to hitchhike in Belize, and the locals will be eager to get to know you. HitchWiki has a lot of information on hitchhiking in Belize if you plan to explore the country this way.
When to Go to San Ignacio
San Ignacio is hot and humid year-round. The hottest months are from April to June, with temperatures usually around 93°F (34°C) each day, with warm nights rarely dripping below 66°F (19°C).
If your primary reason to visit San Ignacio is to see the Maya ruins, the cool season is the best time to visit. This is from November to February, when daily temperatures hover around 85°F (30°C) or less. It's still hot, but it's less humid, and you'll find it much more comfortable to walk around and explore the sites. The ruins (and the town) are more crowded during this time, but it's not unbearable. Prices are slightly inflated, but overall, it's still cheap to visit.
How to Stay Safe in San Ignacio
San Ignacio is a safe place to visit. Violent crime is very rare here. Petty theft can occur so keep your valuables secure and out of reach when out and about but, beyond that, it's a small town and nothing bad really happens.
Solo female travelers should generally feel safe here, however, the standard precautions apply (never leave your drink unattended at the bar, never walk home alone intoxicated, etc.).
Scams here are rare but you can read about common travel scams to avoid here.
If you experience an emergency, dial 911 for assistance.
For more in-depth coverage of how to stay safe in Belize, check out this post we wrote that answers some frequently asked questions and concerns.
The most important piece of advice I can offer is to purchase good travel insurance. Travel insurance will protect you against illness, injury, theft, and cancellations. It's comprehensive protection in case anything goes wrong. I never go on a trip without it as I've had to use it many times in the past.
San Ignacio Travel Guide: The Best Booking Resources
These are my favorite companies to use when I travel. They consistently have the best deals, offer world-class customer service and great value, and overall, are better than their competitors. They are the companies I use the most and are always the starting point in my search for travel deals.
Skyscanner – Skyscanner is my favorite flight search engine. They search small websites and budget airlines that larger search sites tend to miss. They are hands down the number one place to start.
Hostelworld – This is the best hostel accommodation site out there with the largest inventory, best search interface, and widest availability.
Booking.com – The best all around booking site that constantly provides the cheapest and lowest rates. They have the widest selection of budget accommodation. In all my tests, they've always had the cheapest rates out of all the booking websites.
Get Your Guide – Get Your Guide is a huge online marketplace for tours and excursions. They have tons of tour options available in cities all around the world, including everything from cooking classes, walking tours, street art lessons, and more!
SafetyWing – Safety Wing offers convenient and affordable plans tailored to digital nomads and long-term travelers. They have cheap monthly plans, great customer service, and an easy-to-use claims process that makes it perfect for those on the road.
LifeStraw – My go-to company for reusable water bottles with built-in filters so you can ensure your drinking water is always clean and safe.
Unbound Merino – They make lightweight, durable, easy-to-clean travel clothing.
Top Travel Credit Cards – Points are the best way to cut down travel expenses. Here's my favorite point earning credit cards so you can get free travel!
San Ignacio Travel Guide: Related Articles
Want more info? Check out all the articles I've written on backpacking/traveling Belize and continue planning your trip: