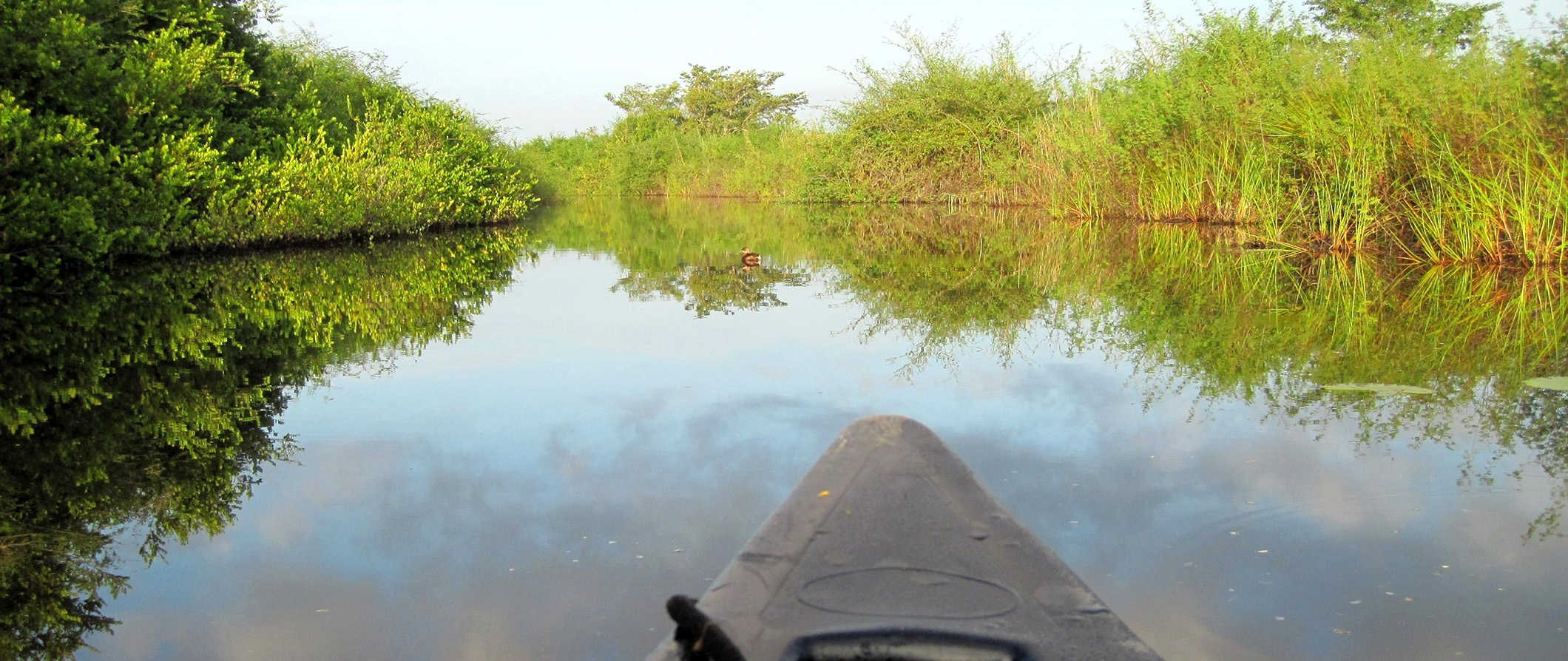 The Orange Walk area of Belize has a diverse range of locals from Creoles to Mennonites. The town of Orange Walk is an ideal location for exploring the ruins of Altun Ha and Lamanai, a variety of nature parks, and is often used as a stop on the way to Mexico. However, honestly, there's not much in town, and I wouldn't suggest spending more than a few days here before moving on. It's a bit run down, and with so many other places to visit in Belize, I don't find it worth an extended stay. See the ruins, head back down to the beaches!
Top 5 Things to See and Do in Orange Walk
1. Shipstern National Reserve
Shipstern covers an area of more than 27,000 acres and protects a diverse range of habitats. The reserve is home to all five cat species in Belize, the endangered Baird's Tapir, 300 species of birds, and a myriad of other plants and animals. Admission is 10 BZD. Open daily from 8am-5pm.
2. Altun Ha
The main attraction here is the Temple of the Masonry Altars, dating from the 7th-century. The climb to the top rewards you with a panoramic view of the pyramids and plaza below. I found it to be one of the most impressive sites in the country. Admission is 10 BZD and it's open daily from 8am-5pm.
3. Rio Bravo
The Rio Bravo occupies 4% of Belize's total land area and consists of 406 square miles of protected rainforest. Jaguars are a common sight here as are toucans, iguanas, and Baird's tapir. There are also nearly 400 species of birds within the forest which makes it one of Belize's most popular birding destinations.
4. Lamanai
Lamanai, or "submerged crocodile," is easily the most impressive Mayan site in Belize. The journey there is filled with wildlife and bird watching opportunities. The ruin site itself features various plazas, temples, stellae, colonial structures, the remnants of two 16th century Spanish churches, and a colonial sugar mill.
5. Crooked Tree Wildlife Sanctuary
Birdwatchers will enjoy Crooked Tree Wildlife Sanctuary. The sanctuary sits on a site of 25 square miles which is made up of swamps, lagoons, and waterways. For just 8 BZD, you'll have the opportunity to see over 286 species of birds. It's open daily from 8am-4:30pm.
Other Things to See and Do
(Click the title to expand the text)
1. Go back in time at Cuello
Dating back to the early years of the Mayan Civilization, Cuello is the oldest Mayan Site in Belize. It is estimated that the site is between 2,000-3,000 years old and is located on private land, so you must gain permission from the Cuello family whose land the site sits on.
2. See the Mennonite Communities
There are many Mennonite communities throughout Belize, but Orange Walk has the most. Most communities are sustained by farming, and locals can be seen riding around in their horsedrawn carriages and speaking a form of old German.
3. La Inmaculada Church
La Inmaculada is one of the few Spanish colonial churches in Belize and is located in the center of town. It's small and run-down but a reminder of the Spanish influence in the country's history.
Typical Costs
Hostel prices
– There aren't hostels in Orange Walk. Look for an
Airbnb
room, Couchsurfing, or a cheap hotel room.
Budget hotel prices – You can expect to pay between 70-100 BZD for a single room with a private bath and no air-conditioning and 140-200 BZD for a double room with a bathroom in 2-3 star hotels. Use Booking.com as they consistently return the cheapest rates. On Airbnb, shared rooms start around 24 BZD and entire homes start around 100 BZD.
Average cost of food – Food is cheap up here with most meals costing about 10 BZD. Fast food will cost about 8 BZD and there are a lot of street vendors here that sell cheap chicken and corncakes for 2-6 BZD. Conversely, a sit-down meal at a restaurant with drinks will be upwards of 40 BZD. A week's worth of food is between 100-120 BZD for basic groceries like pasta, vegetables, chicken, and other basic foodstuffs.
Transportation costs – Buses from Belize City to Orange Walk leave every 30 minutes and cost about 5-8 BZD for a 90-minute journey. As for getting around the town, it's small enough that you can walk around, so don't worry about public transportation here. Taxis cost a minimum of 3 BZD and fares are 4.50 BZD per km.
Suggested daily budget
100 BZD / 50 USD (Note: This is a suggested budget assuming you're staying in an Airbnb, eating out a little, cooking most of your meals, and using local transportation. Using the budget tips below, you can always lower this number. However, if you stay in fancier accommodation or eat out more often, expect this to be higher!)
Money Saving Tips
Shop around – Prices for excursions can vary greatly based upon what is included. For instance, a trip to Lamanai including lunch can be up to 30 BZD more expensive than one without.
Take the bus – Try to use the public bus system when possible rather than going on a shuttle service. The public bus is designed to reflect local income, whereas the shuttles reflect tourist prices!
Travel off-peak – The most expensive time to visit is between October and April. By traveling in the off-season, you can significantly reduce prices for accommodation and flights.
Bring your own food – Because many trips cost extra for lunch, bring your own food and save money.
Happy hour – Most bars have a happy hour in the late afternoon and offer 2 for the price of one drinks.
Couchsurf – If you plan ahead, you can usually find really nice Couchsurfing hosts all throughout the country. This way, you not only have a place to stay, but you'll have a local host that can tell you the best places to go and things to see.
My Other Must Have Guides For Traveling to Orange Walk