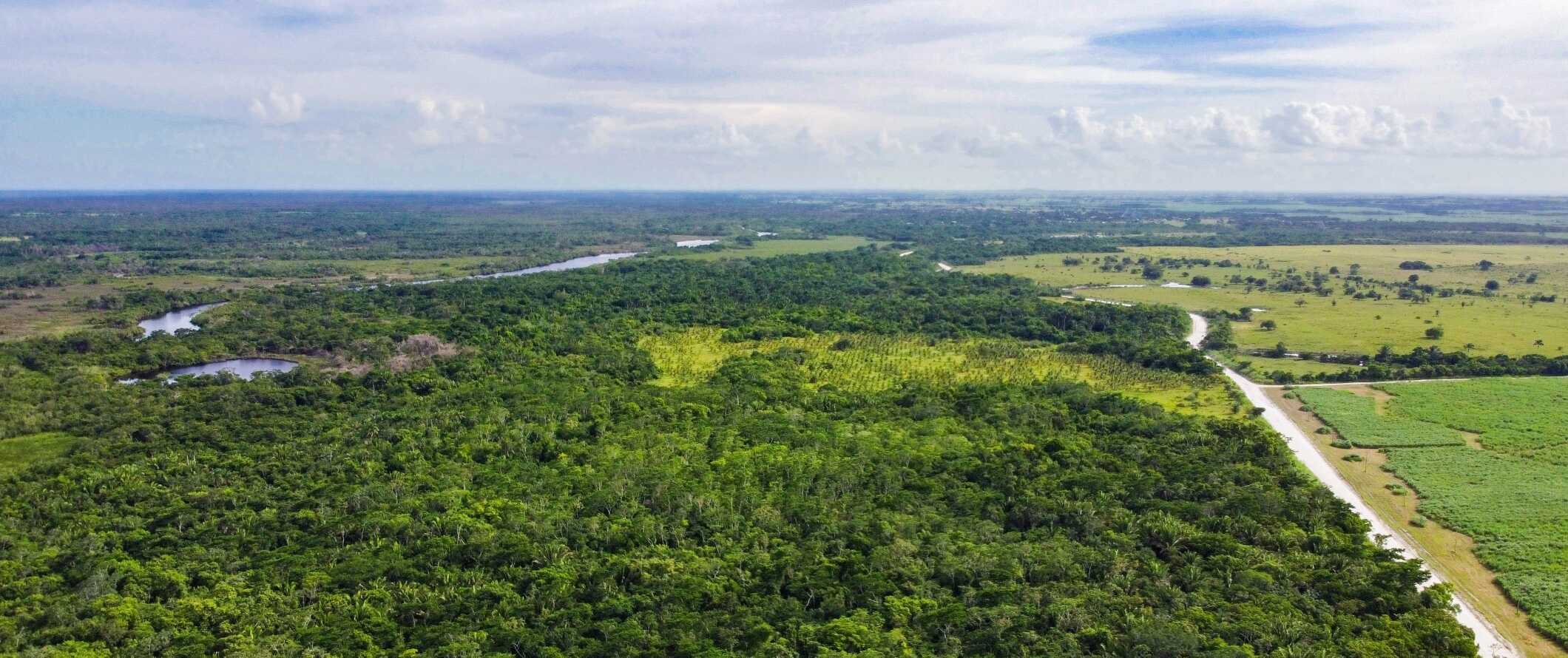 Orange Walk is a small, quiet town north of Belize City. Most people visit the city as a stop on the way to (or from) Mexico.
There isn't a whole lot to see and do here, but it's an ideal location for exploring the ruins of Altun Ha and Lamanai, two Mesoamerican archaeological sites and major cities of the Mayans. There are a variety of nature parks in the area as well.
Orange Walk is also a surprisingly diverse town with a scenic location on the New River. The street food scene is fantastic too.
However, that's about all there is to it. With just 13,000 people here, Orange Walk is a place to slow down and relax before heading onwards. I wouldn't suggest spending more than a night here before moving on. It's a bit run down, and with so many other places to visit in Belize, I don't find it worth an extended stay.
But it's worth a quick visit to see the nearby ruins.
This travel guide can help you plan your trip, save money, and ensure you make the most out of your visit!
Top 5 Things to See and Do in Orange Walk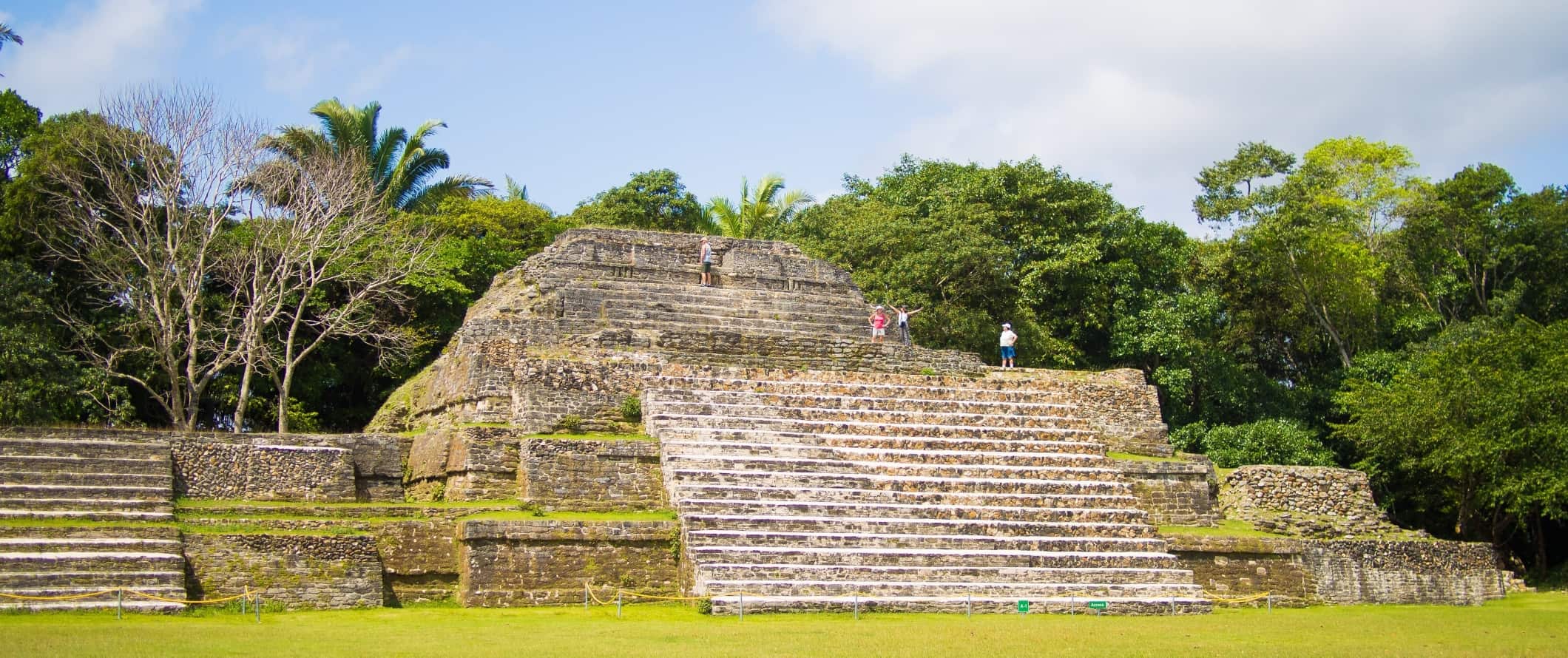 1. Visit Shipstern Conservation & Management Area
Shipstern covers an area of more than 27,000 acres and protects a diverse range of habitats, including the largest inland lagoon in the country. The reserve is home to all five cat species in Belize (jaguar, puma, ocelot, jaguarundi, and margay), the endangered Baird's Tapir, 300 species of birds, and a myriad of other plants and animals like armadillos, deer, raccoons, crocodiles, and more. There is even a butterfly breeding farm with over 200 species at the visitor center, which is a good place to start your visit to Shipstern. Just make sure to bring bug spray! Admission is 10 BZD. There are extra tours available to the Xo-pol lagoon for 70 BZD.
2. Tour Altun Ha
Altun Ha was once a Mayan trading center located 31 miles (50 kilometers) outside of Belize City in a beautiful area rich with flora and fauna, including crocodiles, foxes, and armadillos. The main attraction of these ruins is the Temple of the Masonry Altars, dating to the 7th century. At the top of the Temple, you're rewarded with a panoramic view of the pyramids and plaza below. Unlike some of the other Mayan ruins in the region, this one has no carved stelae. However, this site uncovered a massive jade carving, the famous "Kinich Ahau." This 10-pound (4.5-kilogram) jade head is a national treasure and you'll recognize it from the image on Belize's currency. Admission is 10 BZD. You can also get a tour for 100 BZD.
3. Explore Rio Bravo
The Rio Bravo occupies 4% of Belize's total land area and has 406 square miles (1,051 square kilometers) of protected rainforest, broadleaf forests, and pine savannah formations. There are around 745 species of plants in total here and jaguars are a common sight here as well, as are toucans, iguanas, and tapirs. There are also nearly 70 mammals as well as 350 species of birds within the forest, which makes it one of Belize's most popular birding destinations. There's also the La Milpa site here, which was an important Maya ceremonial center and the third-largest ancient Maya archeological site in Belize. There is no entrance fee to La Milpa either.
4. See Lamanai
Lamanai is easily the most impressive pre-classic Mayan site in Belize, located right on the banks of the New River in Orange Walk. The ruin site itself features various plazas, the famous Jaguar temple with incredible panoramic views, colonial structures, the remnants of two 16th-century Spanish Ramada churches, and a colonial sugar mill. One of the highlights of Lamanai involves taking a scenic boat ride, where you can see monkeys, iguanas, exotic birds, otters, and crocodiles. Admission is 10 BZD, or you can get a tour for 150 BZD (including the boat ride and lunch).
5. Explore Crooked Tree Wildlife Sanctuary
The Crooked Tree Wildlife Sanctuary sits on 25 square miles (65 square kilometers) of swamps, lagoons, and waterways. For just 8 BZD, you'll have the opportunity to see over 286 species of birds as well as howler monkeys, iguanas, crocodiles, and a lizard that appears to walk on water(it's unofficially called the "Jesus Christ lizard" though it's officially known as the common basilisk). For bird-watching aficionados, the best way to get the most out of the experience is to take a guided birding walking tour or a boating tour for around 190 BZD. You can also check out the Crooked Tree Village, which is one of the oldest Creole communities in Belize. They live on a small island in the middle of the sanctuary.
Other Things to See and Do in Orange Walk
1. Go back in time at Cuello
Dating back to the early years of the Mayan Civilization, Cuello is the oldest (and probably the most mysterious) Mayan site in Belize. There are several prominent burials here. Some may have been captured warriors who were sacrificed and others seem to be more elite burials as they were found with ornate jade and shell ornaments used by wealthier inhabitants. There have been discrepancies on the age of the site but experts agree it could have been established between 2600 BCE and 1200 BCE. Today, Cuello is located on private land, so you must gain permission from the Cuello family before visiting. Call the Cuello Distillery to arrange a time during their business opening hours.
2. See the Mennonite Communities
There are many Mennonite communities throughout Belize (something that surprises a lot of visitors), but Orange Walk has the most. There are around 200 families of Plautdietsch-speaking Russian Mennonites. This particular group of Mennonites left Mexico in the early 1960s over disagreements about the use of mechanical tools, which the community is against. Most communities are self-sustained by farming without the use of modern technology, and locals still ride around in horse-drawn carriages.
3. La Inmaculada Church
La Inmaculada is one of the few Spanish colonial churches in Belize and is located in the center of town. It's small and run-down but a reminder of the Spanish influence in the country's history.
4. Visit Nohmul
Nohmul is one of the lesser-known Mayan sites near Orange Walk. Nohmul means "Great Mound" in Maya, and it was home to 3,000 people in the Late Classic Period. This place popped up in international news in 2013 when a construction crew bulldozed one of the main site's temples to make way for a new road. The temple was ruined, but you can still wander around the jungle-covered structures that remain. If you're a history buff, it's a nice addition to your itinerary.

If you're heading to other parts of Belize, check out our other city guides:
Orange Walk Travel Costs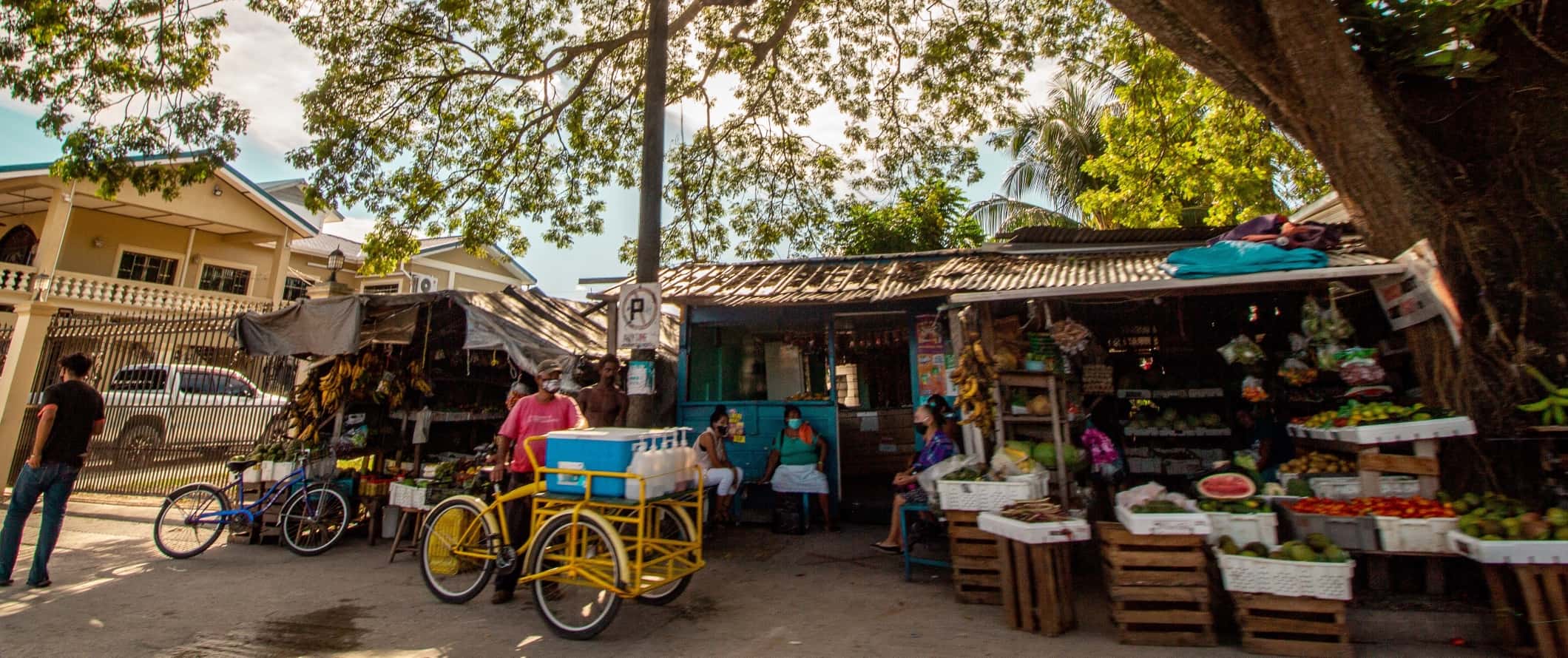 Hostel prices – There is one hostel in Orange Walk. A bed in their 4-person dorm costs 25 BZD. They have free Wi-Fi and a kitchen and are just three blocks from the bus terminal.
Budget hotel prices – There are only a few budget hotel options here and prices can change depending on the season. Hotel de la Fuente has economy double rooms starting at 100 BZD. Lamanai Hotel & Marina is outside the center with room prices starting at around 185 BZD for a double room. Day and Night hotel starts around 200 BZD.
For a hotel with a pool, expect to pay at least 400 BZD per night. For budget guesthouses, you'll need to just show up and book on the spot as they aren't on any online booking platforms.
You'll find more options on Airbnb (though they are limited here as well). Private rooms start around 50-150 BZD per night. Entire apartments (or even quaint cabins) start around 100-200 BZD.
Food – Belizean cuisine leans heavily on beans, rice, cheese, and tortillas. Rice and beans is a common lunch choice, and you can always find tamales, panades (fried meat pies), onion soup, chicken stew, and garnaches (beans, cheese, and onion in a fried tortilla) pretty much everywhere you go.
Food is cheap up here, with most meals costing about 7-10 BZD. Fast food (think burger and fries) costs about 15 BZD, and there are a lot of street vendors here that sell cheap chicken and corncakes for under 10 BZD.
A sit-down meal at a restaurant with drinks costs upwards of 40 BZD. A beer costs around 3.50 BZD while a cappuccino or latte is around 6.50 BZD. Bottled water is 1.50 BZD.
If you plan to cook your own meals, a week's worth of food costs around 75-85 BZD. This gets you basic staples like rice, beans, produce, and some fish or chicken.
Backpacking Orange Walk Suggested Budgets
If you're backpacking Orange Walk, look to spend around 75 BZD per day. This gets you a hostel dorm, an occasional meal from a street vendor, and getting around everywhere on foot. You'll be cooking most of your own meals and limiting your drinking on this budget, as well as sticking to mostly free or cheap activities such as hiking and exploring the ruins.
On a mid-range budget of about 185 BZD, you can stay in a private room on Airbnb, tour the wildlife sanctuaries and visit Altun Ha, eat out for most meals, take the occasional taxi, and enjoy a few drinks out.
On a "luxury" budget of about 330 BZD, you can stay in a private Airbnb apartment or cabin, eat out for all your meals, and have lots of drinks. You can taxi around or rent a car, and also enjoy a daily tour to any of the ruins. This is just the ground floor for luxury though. The sky is the limit!
Accommodation
Food
Transportation
Attractions
Average Daily Cost
Backpacker
25
20
10
20
75
Mid-Range
75
35
25
50
185
Luxury
150
80
40
60/span>
330
Orange Walk Travel Guide: Money-Saving Tips
This part of Belize is very affordable but here are some ways to save even more money in Orange Walk:
Shop around – Prices for excursions can vary greatly based upon what is included. For instance, a trip to Lamanai that includes lunch can be up to 30 BZD more expensive than one that does not include lunch. Shop around to find the best deals.
Travel off-peak – The most expensive time to visit is between October and April. By traveling in the off-season, you can significantly reduce prices for accommodation and flights.
Bring your own food – Because many trips cost extra for lunch, bring your own food and save money.
Happy hour – Most bars have a happy hour in the late afternoon and offer cheap drinks. As your hostel or hotel staff for tips on where to drink to save money.
Stay with a local – Orange Walk has a small Couchsurfing community. If you plan ahead, you might find a Couchsurfing host who can give you a place to stay and share their insider tips. Just make sure to send your request early since there are not many hosts here.
Pack a water bottle – A water bottle with a purifier will come particularly in handy here. Save money and thousands of plastic bottles and get a bottle that can purify the tap water for you. My preferred bottle is LifeStraw as it has a built-in filter that ensures your water is always clean and safe.
Where to Stay in Orange Walk
There's only one budget accommodation in Orange Walk. Be sure to book early so you can secure a spot!
How to Get Around Orange Walk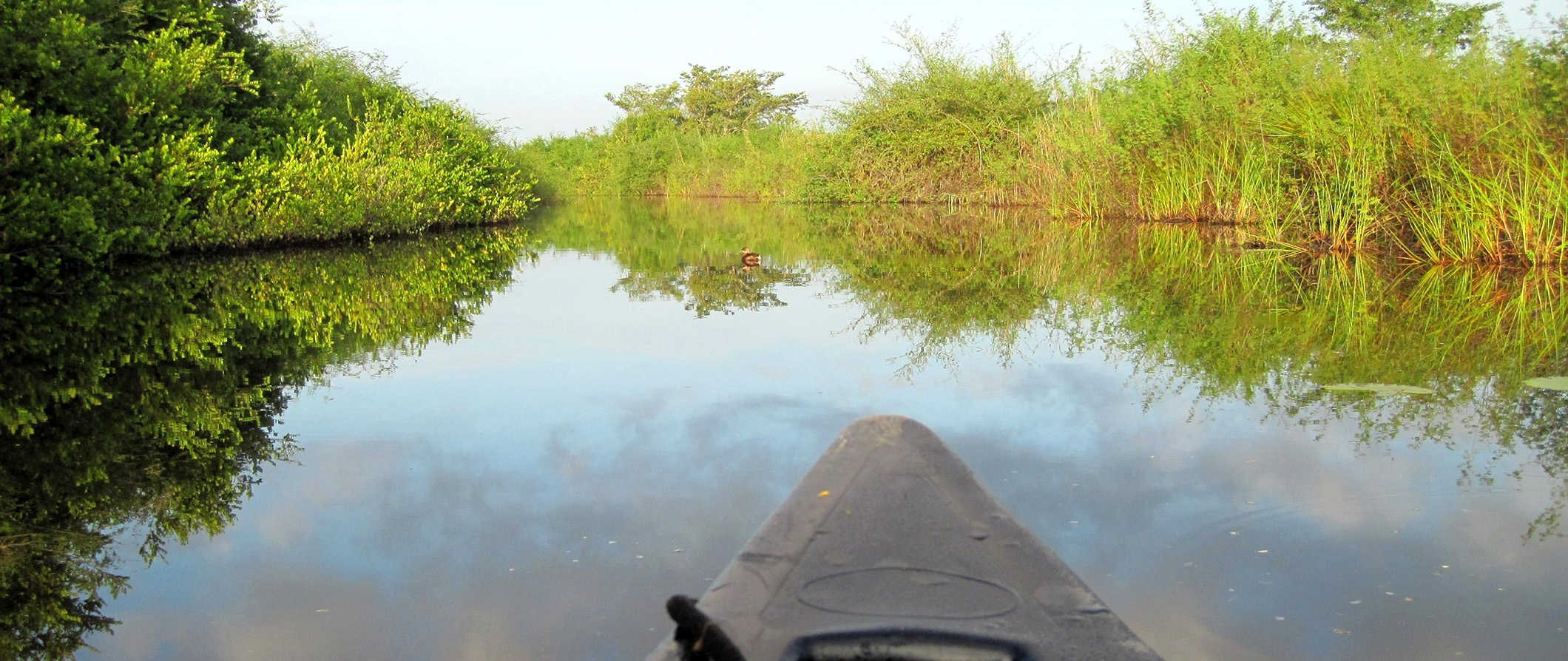 Walking – Orange Walk is small enough that you can walk everywhere (there are just 13,000 people here), so don't worry about public transportation.
Bus – To leave the town as you travel onward, the bus is your best choice. Buses from Belize City to Orange Walk leave regularly and cost around 5-15 BZD for the 90-minute journey.
Taxi – Taxis cost a minimum of 7 BZD and fares are 6 BZD per kilometer. Skip them if you can!
Car rental – As the area is so small here, a car rental really isn't necessary. If you do want a car to explore the region, rentals start at around 70 BZD per day for a multi-day rental. However, there are no car rental places here so you'll need to rent it in Belize City. Drivers usually need to be at least 25 and have an IDP (International Driving Permit), though drivers 21 and up might be able to rent a car for an extra fee.
For the best car rental prices, use Discover Cars.
When to Go to Orange Walk
It's hot in Orange Walk year-round and temperatures are usually between 66-91°F (19-33°C). It rarely drops below 59°F (15°C). Peak season is from November to mid-April, during the dry season, which is ideal for visiting ruins or wildlife parks.
April to June are the hottest months and are also really humid.
Orange Walk is never really busy compared to other destinations in Belize so you won't experience much price inflation or crowds whenever you go.
How to Stay Safe in Orange Walk
Orange Walk is a generally safe place to backpack and travel around. Violent crime is rare but there's a lot of petty theft so I'd keep an eye out on that. To avoid petty theft, keep your luggage and valuables secure as you explore. Make sure windows and doors lock correctly in your room, and use hotel safes where provided.
Be careful flashing valuables and walking home alone at night.
Scams here are rare. You can read about common travel scams to avoid here.
If you experience an emergency, dial 911 for assistance.
For more in-depth coverage of how to stay safe in Belize, check out this post we wrote that answers some frequently asked questions and concerns.
The most important piece of advice I can offer is to purchase good travel insurance. Travel insurance will protect you against illness, injury, theft, and cancellations. It's comprehensive protection in case anything goes wrong. I never go on a trip without it as I've had to use it many times in the past.
Orange Walk Travel Guide: The Best Booking Resources
These are my favorite companies to use when I travel. They consistently have the best deals, offer world-class customer service and great value, and overall, are better than their competitors. They are the companies I use the most and are always the starting point in my search for travel deals.
Skyscanner – Skyscanner is my favorite flight search engine. They search small websites and budget airlines that larger search sites tend to miss. They are hands down the number one place to start.
Hostelworld – This is the best hostel accommodation site out there with the largest inventory, best search interface, and widest availability.
Booking.com – The best all around booking site that constantly provides the cheapest and lowest rates. They have the widest selection of budget accommodation. In all my tests, they've always had the cheapest rates out of all the booking websites.
Get Your Guide – Get Your Guide is a huge online marketplace for tours and excursions. They have tons of tour options available in cities all around the world, including everything from cooking classes, walking tours, street art lessons, and more!
SafetyWing – Safety Wing offers convenient and affordable plans tailored to digital nomads and long-term travelers. They have cheap monthly plans, great customer service, and an easy-to-use claims process that makes it perfect for those on the road.
LifeStraw – My go-to company for reusable water bottles with built-in filters so you can ensure your drinking water is always clean and safe.
Unbound Merino – They make lightweight, durable, easy-to-clean travel clothing.
Top Travel Credit Cards – Points are the best way to cut down travel expenses. Here's my favorite point earning credit cards so you can get free travel!
Orange Walk Travel Guide: Related Articles
Want more info? Check out all the articles I've written on backpacking/traveling Belize and continue planning your trip: