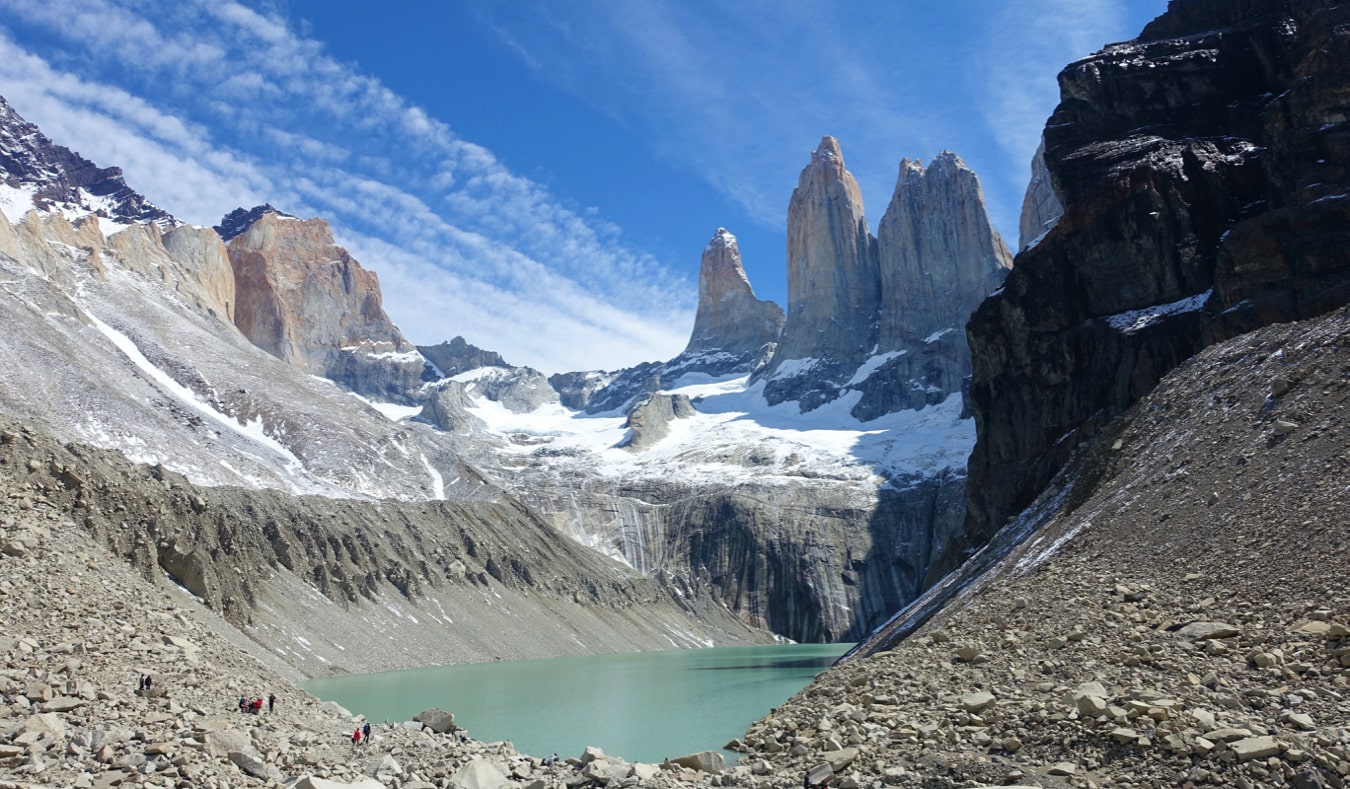 Posted: 03/11/16 | March 11th, 2016
Last month, as part of my "go offline" February, I went to Patagonia with Intrepid Travel and hiked the famous W Trek in Torres Del Paine (as well as the Perito Moreno Glacier in El Calafate).
I've never done a multi-day trek before and, by the end, my legs were incredibly sore (and so were my eyes because I stopped blinking for four days. Torres was AMAZING!). But the trip was one of the best things I've done and made me realize I need to get out into nature more.
While I've shared some of the best spots in Patagonia, today I wanted to share some of my photos from the trip.
I don't often post photo posts because I'm not a world-class photographer. But, since Patagonia was one of the most beautiful places I've ever seen, I feel compelled. Everything is huge there — the mountains, glaciers, waterfalls, and lakes — and you just feel so small. You really get a sense of just how tiny we are compared to nature!
Here are some of my favorite photos from the trip to help inspire you to add it to your bucket list: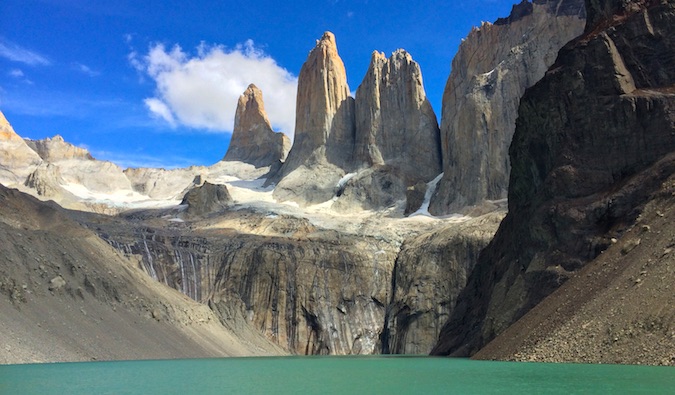 The famous Torres Towers. Getting here requires a 22km hike and 900-meter steep ascent. But seeing them on such a beautiful day was the highlight of the trip for me. I spent close to two hours here just enjoying the moment. No photo does the view justice!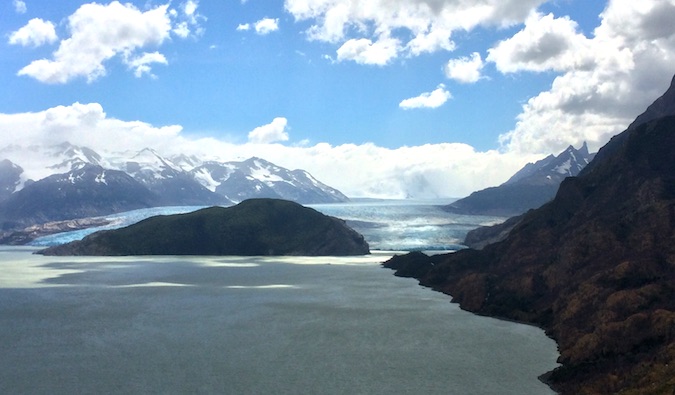 Grey Glacier is a massive glacier that stretches over 6km (3.7 miles) and stands 30 meters (98 feet) high. It's one of the biggest glaciers in the entire region.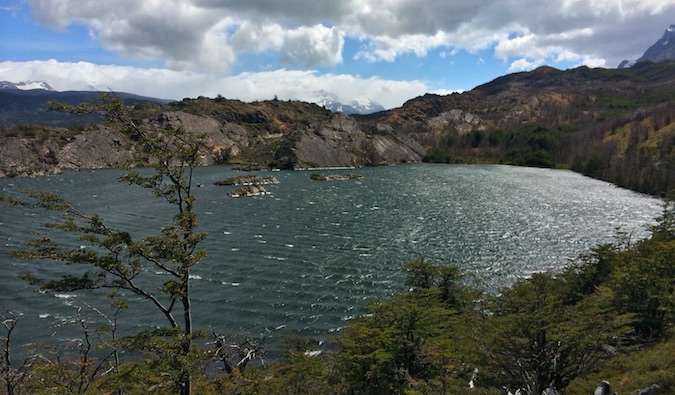 One of the many scenic views on the way to Grey Glacier. We were lucky to have such incredible weather during our hike!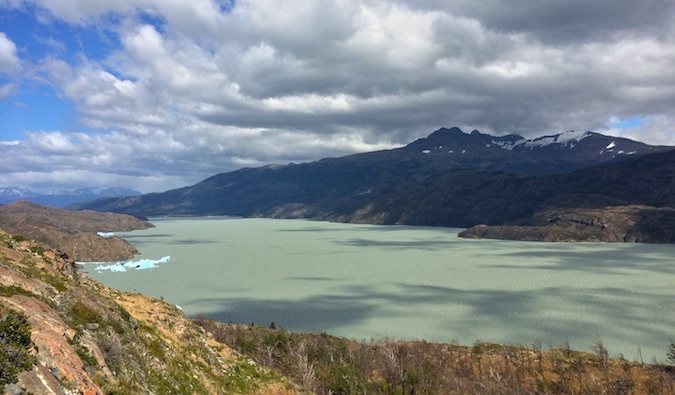 On the way to Grey Glacier, there's a beautiful lake (which is the terminus of the glacier and shares its name) full of icebergs! The water is grey because of the dirt and silt that melts with the glacier (hence the name of the lake/glacier).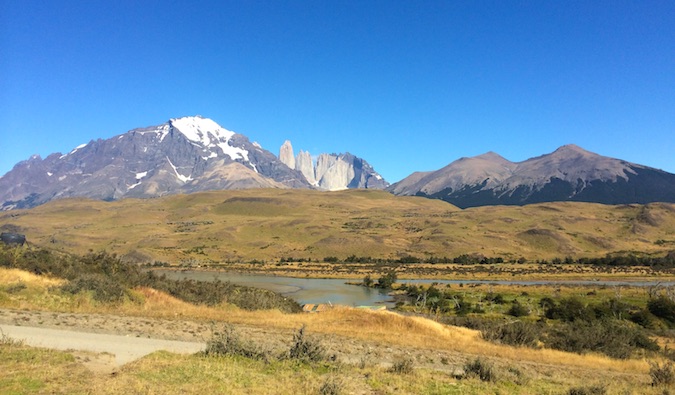 This is the view as you enter Torres del Paine National Park. Established in 1959, the park spans almost 500,000 acres and sees over 250,000 visitors each year. The park is home to all sorts of wildlife, including birds of prey, foxes, puma, and guanaco (which are similar to llamas).
You can see the Torres Towers in the distance.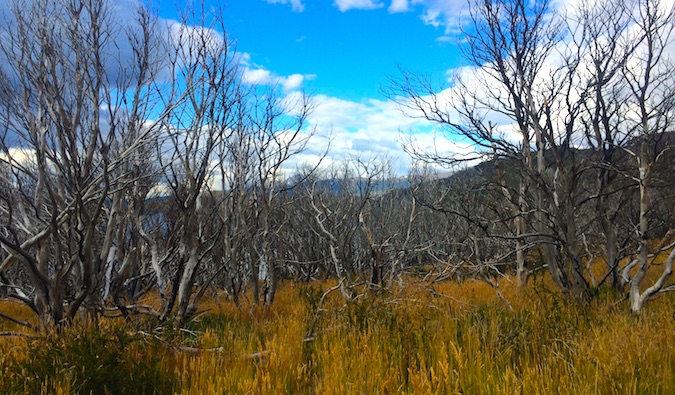 The remnants of trees burned in a fire on the way to the French Valley. There have been several large fires here — fires lasting days and burning hundreds of kilometers of forest — that were caused by careless tourists. So don't play with fire while you're here and be sure to follow all signs and safety regulations!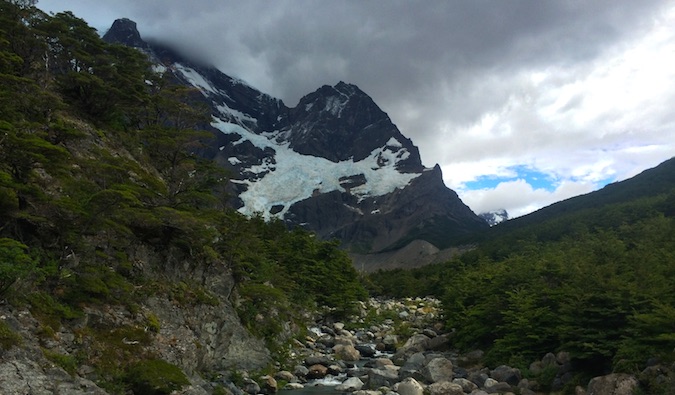 The steep, rocky ascent up to Glacier Frances (French Glacier) in the French Valley, one of the 4 main valleys in the park.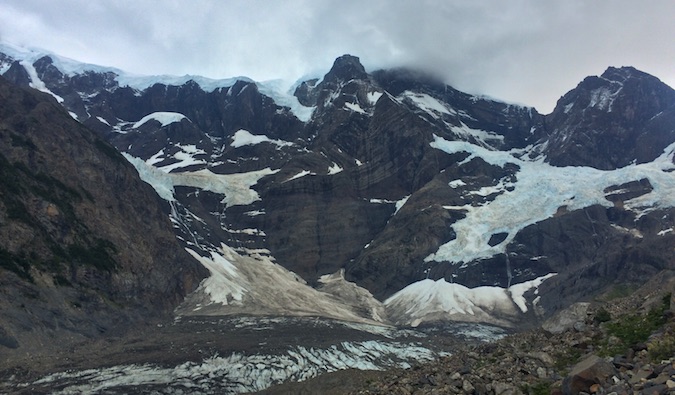 Glacier Frances in the French Valley. While not the best photo, see the ice edging off the mountain was amazing. You develop a much greater appreciation for how much time it takes for these glaciers to shift and move over centuries.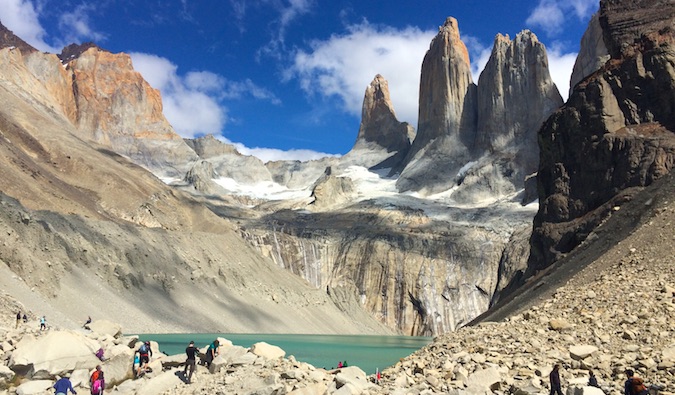 Another classic photo of the Torres Towers. You can see people in the foreground o help you get a sense of just how spacious and massive this entire area is. I'll never get bored of that view!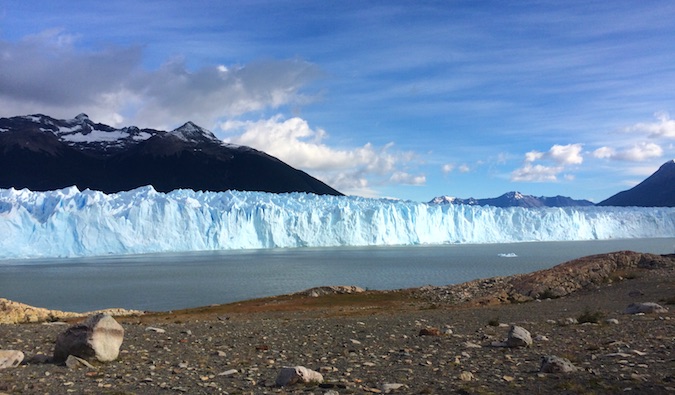 Perito Moreno Glacier, located outside El Calafate, is another one of the most popular stops in the area. The glacier covers 250 square kilometers (97 square miles), spanning 30km (19 miles) in length. It's like the Wall from Game of thrones — but real!
If you're not on a multi-day hike and just visiting on a day trip, it's possible to book a tour to go hiking on the glacier itself (we hiked on it and it was absolutely incredible).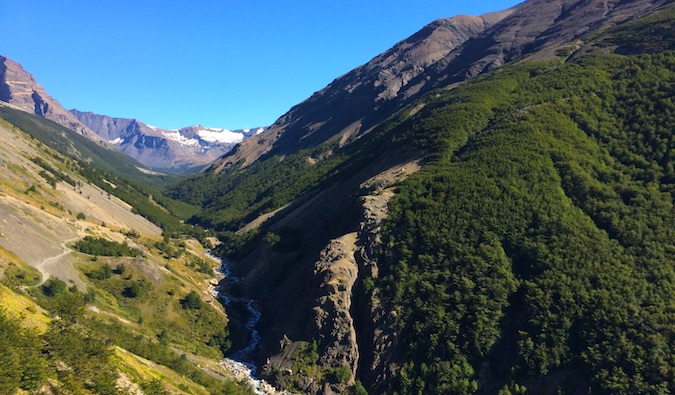 Valley Ascencio and one of the many picturesque views on the way to the Torres Towers.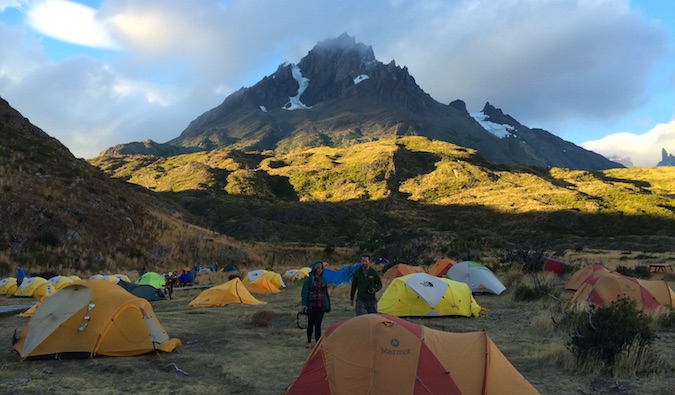 Our campsite at Refugio Paine Grande. This is what it looks like camping along the trek. Since it's such a popular tourist attraction, you'll encounter lots of other groups and travelers hiking and camping here. Fortunately, there is plenty of space so your tents aren't too cramped together (but bring earplugs if you're a light sleeper).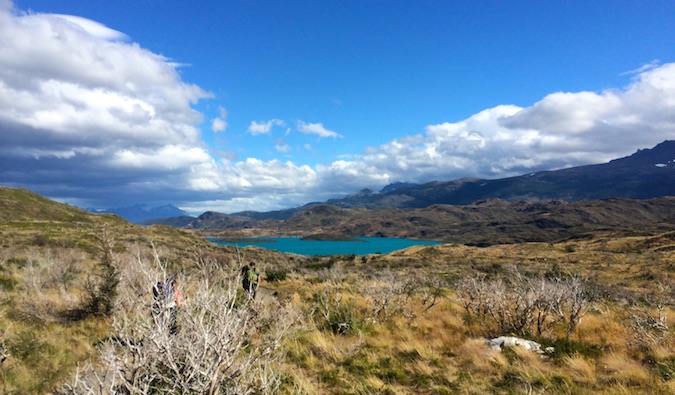 On the way to the French Valley!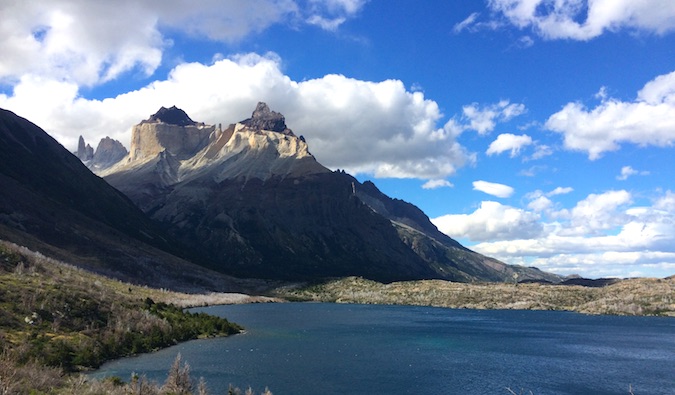 On the way to the French Valley with Paine Granite Towers ahead!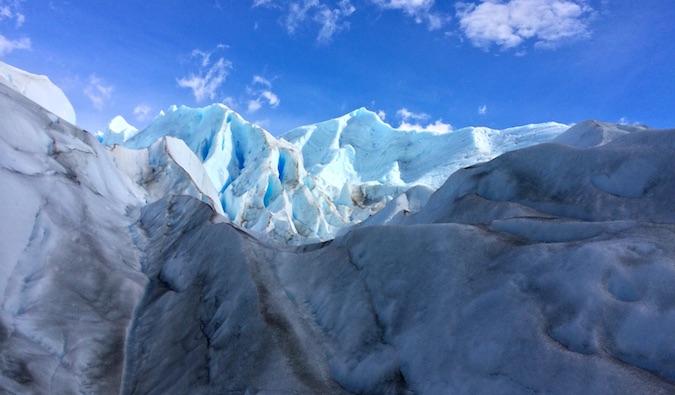 Perito Moreno Glacier! I walked across (my first time ever hiking on a glacier) and it was like being on another planet. It's like nothing I've ever done before — it was great!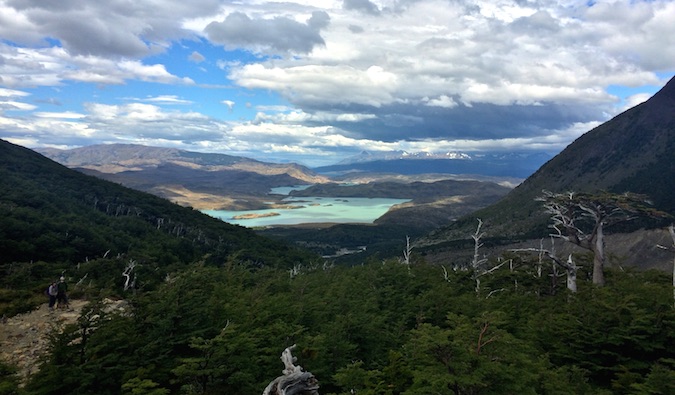 Looking back out over the French Valley.
***
I hope you enjoyed these photos. None of them do justice to the majestic natural beauty of the park, but I hope they at least give you a glimpse into just how epic and amazing his hike is.
Even if you're not an avid hiker or camper, I'd still recommend adding this to your travel bucket list. You won't be disappointed!
Book Your Trip to Argentina: Logistical Tips and Tricks
Book Your Flight
Find a cheap flight by using Skyscanner or Momondo. They are my two favorite search engines because they search websites and airlines around the globe so you always know no stone is left unturned.
Book Your Accommodation
You can book your hostel with Hostelworld. If you want to stay somewhere other than a hostel, use Booking.com as they consistently return the cheapest rates for guesthouses and cheap hotels. I use them all the time.
Don't Forget Travel Insurance
Travel insurance will protect you against illness, injury, theft, and cancellations. It's comprehensive protection in case anything goes wrong. I never go on a trip without it as I've had to use it many times in the past. I've been using World Nomads for ten years. My favorite companies that offer the best service and value are:
Looking for the best companies to save money with?
Check out my resource page for the best companies to use when you travel! I list all the ones I use to save money when I travel – and I think will help you too!
Looking for more information on visiting Argentina?
Check out my in-depth destination guide to Argentina with more tips on what to see, do, costs, ways to save, and much, much more!
Note: I went on this trip in Chile as part of my ongoing partnership with Intrepid Travel. They covered the cost of this tour and any additional costs during the course of the trip. I received no money for going on this trip.