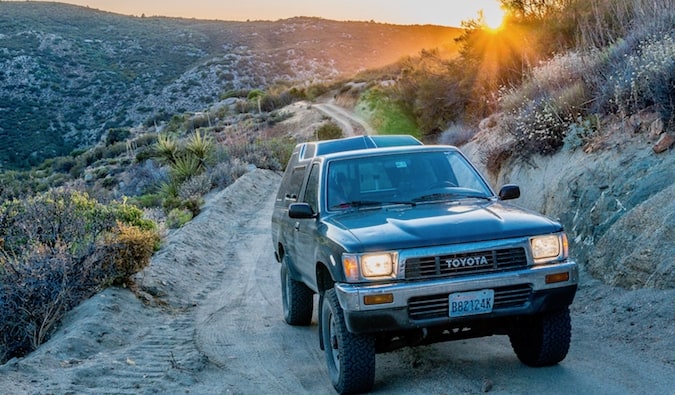 Posted: 5/15/17 | May 15th, 2017
I hate driving. It's not that I'm bad at it. It's just that I do it so infrequently that it makes me nervous these days (I only really drive when I'm on a road trip).
For that reason, so I'm always fascinated by people who travel by car.
Back in the early days of this blog, I met a group of guys driving a trip around the world. They had crazy stories. A few months ago, I announced we were going to start doing more reader stories to highlight some of your crazy stories.
In our first reader spotlight, we're talking to Ryan who is driving from Seattle down to Argentina with his girlfriend! (Which, let's be honest, sounds like an amazing adventure!)
Nomadic Matt: Tell everyone here about yourself!
Ryan: I'm 33 years old and originally from Seattle, Washington, but after college I spent five years working in Washington, DC in the halls of Congress.
When my boss decided to retire in 2012 instead of run for re-election, I opted to take a yearlong sabbatical to road-trip across the American West and to hike and climb as much as I could. When the year came to an end, though, I wasn't ready to give up the nomadic lifestyle, so I just kept going.
So how did you get into travel?
My first overseas travel experiences were thanks to studying abroad in college, with lengthy stays in Florence, Italy, and Sana'a, Yemen. Both trips instilled in me a sense of wanderlust that stuck with me through my years of working a desk job, and I believe they played a significant role in eventually getting me out there on the road.
Where has this amazing trip taken you so far?
Following my yearlong road trip through the American West, I headed down to Colombia with a buddy and we set out explore the country. We only made it as far as Medellín, where I settled down. I felt a need to slow down after living out of my truck and then a backpack for about 15 months — and then meeting a great local girl.
My girlfriend and I drove my truck from Seattle to Medellín, traveling overland through every country in Central America and having an amazing time.
We had to ship the truck from Panama to Colombia since there are no roads through the Darién Gap (the missing link in the Pan-American Highway).
We stopped in Medellín for a bit again to regroup, but we are now getting ready to head out on part two of the road trip: driving all the way to the southern tip of Patagonia, which is a place I have long dreamed about visiting.
We will mostly be traveling along the Andean spine on this journey, and I'm looking forward to immersing myself in the mountain scenery.
What made you decide to go on this trip?
My solo road trip across the American West was an absolutely transformative experience, and the seed of driving to Patagonia got planted in my mind and took root over a few years. I began to think, why just drive across America when you can drive across all of the Americas?
I also like exploring new cultures and foods and immersing myself in different languages whenever I travel overseas. I long to get a little farther afield, to get off the well-worn tourist track, and that can be quite difficult.
I've traveled the backpacker circuit and schlepped my bag around colorful little towns and hopped on and off public buses — but when you've got your own wheels, a whole new world of travel opens up and allows you to get away from the crowds and immerse yourself in local life.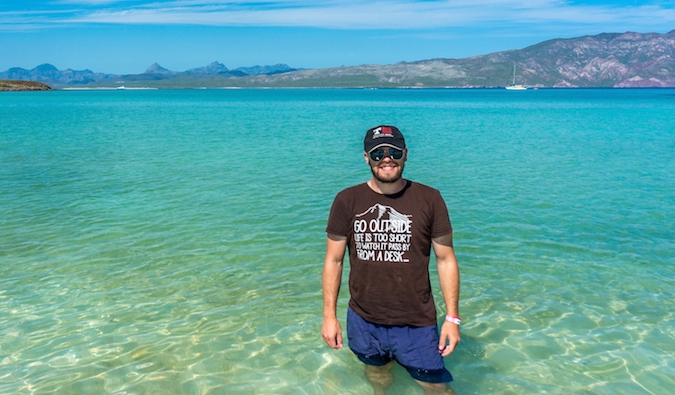 What's been the biggest lesson so far?
Just how doable this sort of trip is!
When you take in the whole scope of driving across Central America — traveling into "dangerous" Mexico, dealing with corrupt cops or protests and blockades, and contemplating the logistical hassles of crossing eight or nine international borders with your vehicle and then loading it into a shipping container to South America — it can all just be overwhelming. It seems almost impossible.
But when you break it down into a day-to-day journey, it was all quite easy. One thing flowed from another, nothing was as hard as we imagined it would be, and we came out more confident and capable with every little bump in the road.
What's your number one piece of advice for a trip like this?
I'd say one of the best parts about travel is overcoming challenges and embracing the unknown, so just let go of the idea of waiting for things to be perfect!
In the overland travel community, I've seen countless people who plan for years and years, investing more and more money into their vehicles and accessories, and spending more time and money on the "getting ready" stage than they do on the actual travel and adventures. It's as if the planning becomes the substitute for actually doing.
But as for more concrete advice for a new traveler, I'd highly, highly recommend learning as much of the target language you can before leaving.
The first time I came to Colombia, I had the basics of Spanish: ordering food, getting around in a taxi, other formalities. But my travels have become so much more rewarding as my language skills improved and I could really communicate with the people I was meeting on a daily basis.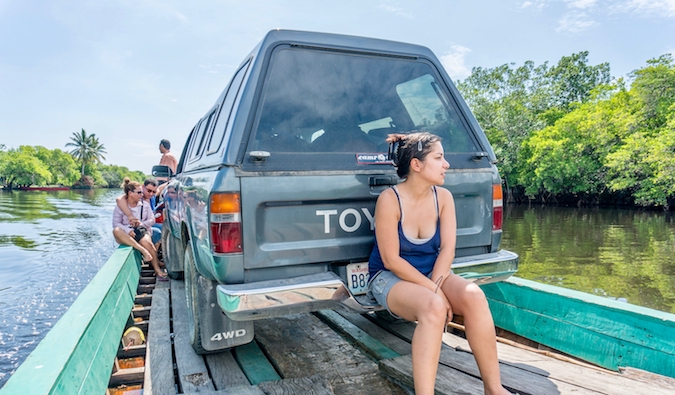 What are the logistics of a trip like this? Is it hard to plan?
Logistically, there are a few basics you should have covered, which would entail having the originals (and lots of copies) of all the relevant vehicle documents: your title, registration, etc.
But you don't actually need much more beyond your passport, and a general idea of where you are going (or in some cases, places you shouldn't go, for safety's sake). But if you add in some equipment to allow you to camp and cook, you'll be much more versatile on the road and have more options for saving money.
One incredible resource that initially planted the idea of driving all this way was the annual Overland Expo in Flagstaff, Arizona, where a few thousand people gather every spring to talk about all aspects of overlanding.
They offer seminars and talks from experienced travelers on everything from safety and security to camp-cooking recipes to border-crossing tips and tricks. Attendees are a mix of people who have completed massive drives across the Americas or Africa, people in the planning stages for a big international trip, and those who just like camping out of their vehicles in the USA.
Being around so many like-minded people who had "been there, done that" was what initially made me feel like this was possible — though it was another two years before I drove across the border into Mexico.
Due to the sheer scale and uncertainty of a monster trip like this, it can indeed be difficult to plan everything out in advance in terms of where to go, where to stay, etc. Before leaving, we planned in broad strokes the route we would take, about how long we thought we would take in each country, etc., but we were open to being flexible throughout the journey.
Luckily there have been many travelers who have documented their trips on their blogs and can provide a good frame of reference on border crossings, where to camp, safety concerns as a driver abroad, and so forth.
One of my favorite resources while on the road was a website called iOverlander.com, where fellow travelers add prices, descriptions, and GPS coordinates to everything from free campsites to cheap hotels with secure parking lots. It has become the go-to resource for overland travelers.
What's been the most difficult part of your journey?
The hardest part and the easiest part are both the same: traveling with your vehicle. An obvious foreign license plate can attract interest, both good and bad: friendly locals will take notice and chat you up about your travels — and more unscrupulous people might target your vehicle for the valuables inside.
Traveling with your own vehicle provides added worries at times. You must always be somewhat conscious of the general security of your vehicle so as to not expose yourself to potential break-ins when parking on the street — or even in some parking lots — and there are the added difficulties of traveling into small colonial cities with narrow roads. Then there's finding a hotel that also offers secure parking for your vehicle when so many cater to the backpacker crowd.
That being said, we had no break-ins or anything like that on the whole journey, and while we were cautious, we weren't overly so or paranoid.
The easiest part of this trip, though — again — is having your own vehicle, which means you are free to bring quite a bit more stuff than if you were backpacking. We travel with gear for cold and warm weather, for general camp comfort, and for cooking, as well as quite a few electronics: laptops, cameras, a small solar panel, etc.
We also have the freedom to go when and where we want, without being tied to public transportation or the traditional backpacker circuit.
So there are two sides to the same coin, but I'd say the benefits of "overland" travel like this far outweigh the negatives.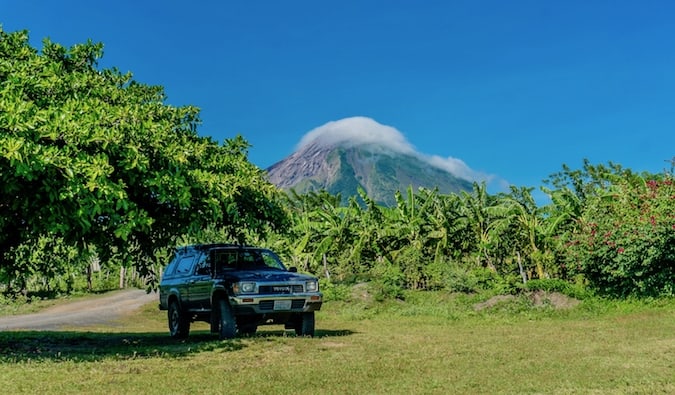 Does this cost a lot to do? How do you keep costs down?
The big up-front cost for overland travel is obviously the vehicle. Vans, trucks, or SUVs are generally the vehicle of choice for most overlanders, given their size and the ability to create a space to sleep inside the vehicle (or on top of it, with a roof-top tent).
If you already have a truck or van, you've overcome the biggest cost. I used my old 1991 Toyota 4×4 pickup — the same truck I've had since high school — and it served me well with the addition of an elevated canopy and a simple build-out of the back to create a sleeping platform and storage system.
If you have to purchase a vehicle, you would do well to look for an older rig that is sold all over the world, like a Toyota, so you won't deal with more obscure vehicle brand or engine parts that might be hard to come by in other parts of the world.
If you're looking to buy, you could also join overlanding groups and try to purchase from a fellow traveler who has recently completed the trip and is looking to unload the vehicle at a cheap price rather than ship it overseas to their home country. They typically sell in Panama, Colombia, Argentina, or Chile.
There are people who have done the trip with a traditional car and many who complete the drive by motorcycle or even by bicycle — so don't let the fact that you don't have the "perfect" vehicle stop you from this adventure.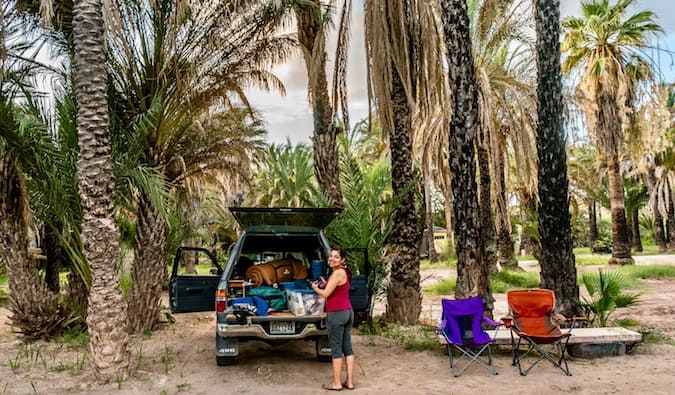 In terms of the actual costs during the trip, it can vary a lot from country to country and depending on the exchange rate, but I'd say our general rule of thumb for the entire trip thus far was about $75 USD per day, as a couple. That price is overall for everything, including gasoline, hotels or camping, food, etc. As always, you could do it for either less or more money, depending on the individual traveler.
The price breaks down to around $20 USD/night for lodging, $20 USD/day for food, and $35 USD/day for vehicle expenses (gas, toll roads, paid parking, maintenance, etc.). But those daily averages can vary a lot from place to place.
Sometimes a country, like Mexico, is so cheap to travel in that we find ourselves eating out frequently and finding budget hotels. But other times a country is so expensive, like Costa Rica (for gas, lodging, food, everything!), that we spend virtually all our time camping and only occasionally eating out. Our strategy for keeping costs down is to sleep more often in the back of the truck at cheap or free camping areas and to cook a little more often.
Surprisingly, there aren't many costs associated with bringing your vehicle into each country. Some countries require you to purchase insurance, others don't; some have small fees ($10-15 USD) associated with bringing your vehicle across (temporary import permit, insurance, fumigation), some are free, some are kind of expensive, like Honduras ($40 USD).
But overall it is quite affordable to cross international borders with a vehicle, and your biggest expenses remain the regular costs of gasoline and maintenance.
If you want to follow up on Ryan, he is the author of Big Travel, Small Budget and the blogger behind Desk to Dirtbag, detailing his travels and outdoor adventures after leaving his Washington, D.C. desk job. Follow his adventures on Facebook, Instagram, or Twitter.

Book Your Trip: Logistical Tips and Tricks
Book Your Flight
Find a cheap flight by using Skyscanner. It's my favorite search engine because it searches websites and airlines around the globe so you always know no stone is being left unturned.
Book Your Accommodation
You can book your hostel with Hostelworld. If you want to stay somewhere other than a hostel, use Booking.com as it consistently returns the cheapest rates for guesthouses and hotels.
Don't Forget Travel Insurance
Travel insurance will protect you against illness, injury, theft, and cancellations. It's comprehensive protection in case anything goes wrong. I never go on a trip without it as I've had to use it many times in the past. My favorite companies that offer the best service and value are:
Want to Travel for Free?
Travel credit cards allow you to earn points that can be redeemed for free flights and accommodation — all without any extra spending. Check out my guide to picking the right card and my current favorites to get started and see the latest best deals.
Need Help Finding Activities for Your Trip?
Get Your Guide is a huge online marketplace where you can find cool walking tours, fun excursions, skip-the-line tickets, private guides, and more.
Ready to Book Your Trip?
Check out my resource page for the best companies to use when you travel. I list all the ones I use when I travel. They are the best in class and you can't go wrong using them on your trip.