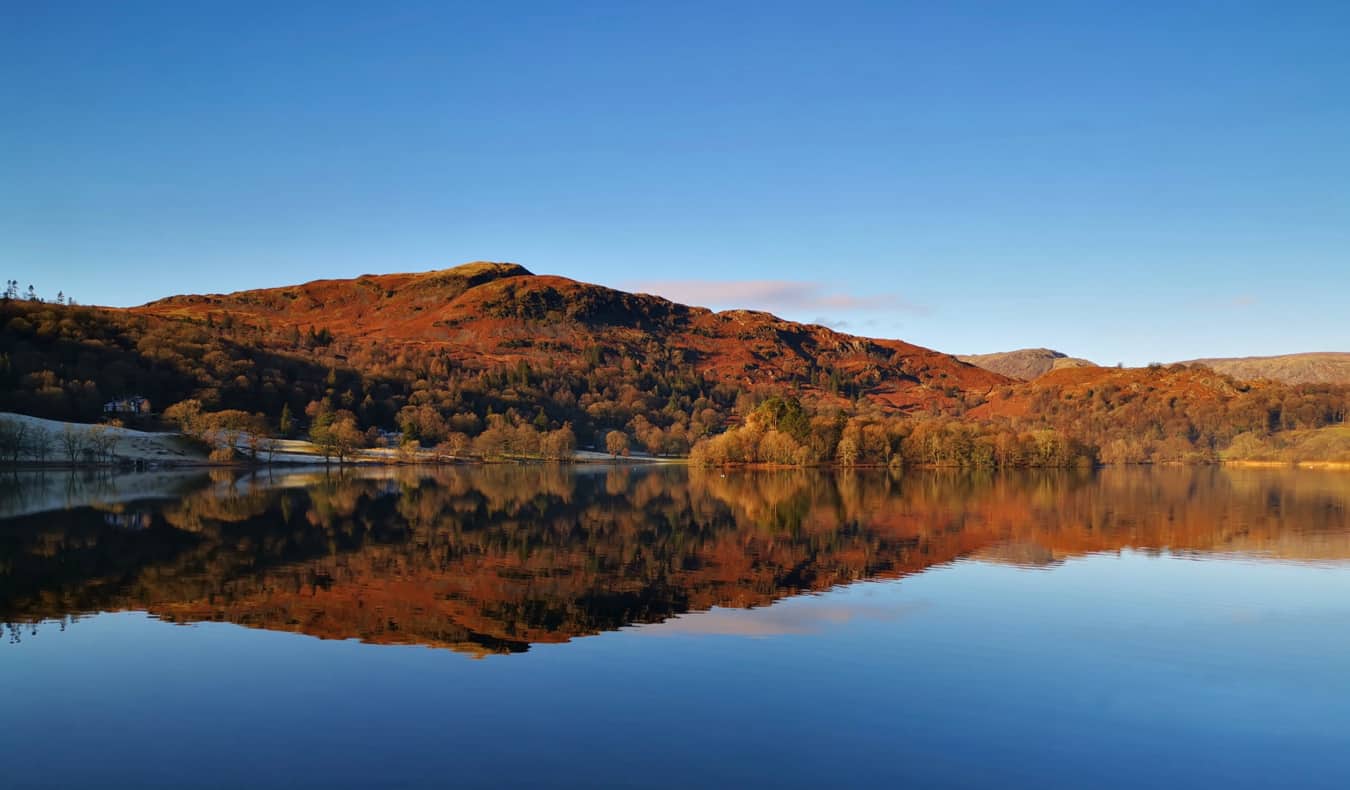 Posted: 8/5/08 (Updated on 2/19/22 with added resources)
The Lake District is located in Cumbria, on the northwest coast of England, about an hour from the border with Scotland. It is to northern England what Cornwall is to the south: a natural, rural paradise that embodies the best of England.
(I can't figure out which one I enjoyed more. I'm thankful I got to experience both on one trip!)
The lakes in the region are a result of the last ice age. Receding glaciers cut the U-shaped valleys that are now filled with water.
I was in the area visiting friends in Lancaster. We had met years prior at a hostel in Cambodia and I was excited to see them again. To have local guides in such a cool part of England? What more could you ask for?!
My friends and I drove up on a Sunday in an attempt to avoid the crowds. The highways were packed with people returning after a relaxing weekend at the lakes.
Upon seeing the region, I understood why the place was so popular during the summer.
We started the journey up north at Ullswater. It's the second-largest lake in the region, almost 15km (9 miles) across, but also one of the quietest. The surrounding hills and mountains give the lake something of a Z shape. It's an incredibly photogenic area, a popular holiday destination since the 1890s, when the British aristocracy started to visit due to the excellent sailing and hunting on offer. It's also often compared to Switzerland's Lake Lucerne — and I could see why.
Ullswater is located in a rugged area and is surrounded by mountains, hiking trails, and sheep farms. It was very reminiscent of New Zealand and looked a lot like Milford Sound but without all the ice.
Pooley Bridge Village, located at the northern end of the lake, is famous for the little stone bridge that gives the town its name. The bridge was nothing special, but the river is shallow enough to walk across and, despite its cold temperature, had many kids playing in it.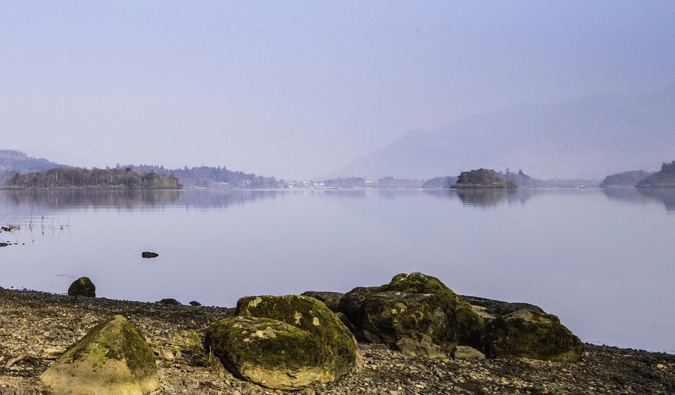 From there, we made our way south to Windermere. It's the largest natural lake in the country, home to 18 islands and stretching some 18km (11 miles) in length but narrow (less than 2km wide). It started to grow in popularity as early as the 1850s after new railway lines made it accessible. (An interesting fact about Windermere: the home of Beatrix Potter, who wrote the Peter Rabbit books, is located here.)
I noticed that the lake was busier than Ullswater, and that trend continued as we kept exploring. The farther south we went, the busier it got. I enjoyed the northern lakes more because of this.
Driving south, we passed mountain after mountain and farm after farm. There are a lot of sheep in this area, which is another reason the region made me think of New Zealand.
We drove through Kirkstone Pass (at 454 meters/1,490 feet), which provided stunning views of the whole area, including a few of the lakes. Little streams trickle downhill, and there are a number of swimming holes. There's also a quaint inn at the top of the pass that is home to one of the highest pubs in the country. (Kirkstone Pass gets its name from Old Norse, in which kirk means "church" — a nearby stone was thought to look like a church's steeple.)
However, once we crossed the pass, we reached the southern part of the district, which is more heavily touristed. Houses started to spring up all around, more cars were on the road, and people seemed to be everywhere.
Once we hit the traffic and crowds, I longed for the serenity of the northern lakes. We didn't even stop in Windermere because, after driving around for 20 minutes, we just couldn't find parking.
But I wasn't too bothered. I like avoiding crowds.
Not only is the Lake District amazing, but so are the surrounding areas. They're more populated but still have all the same charm. I woke up to this each morning: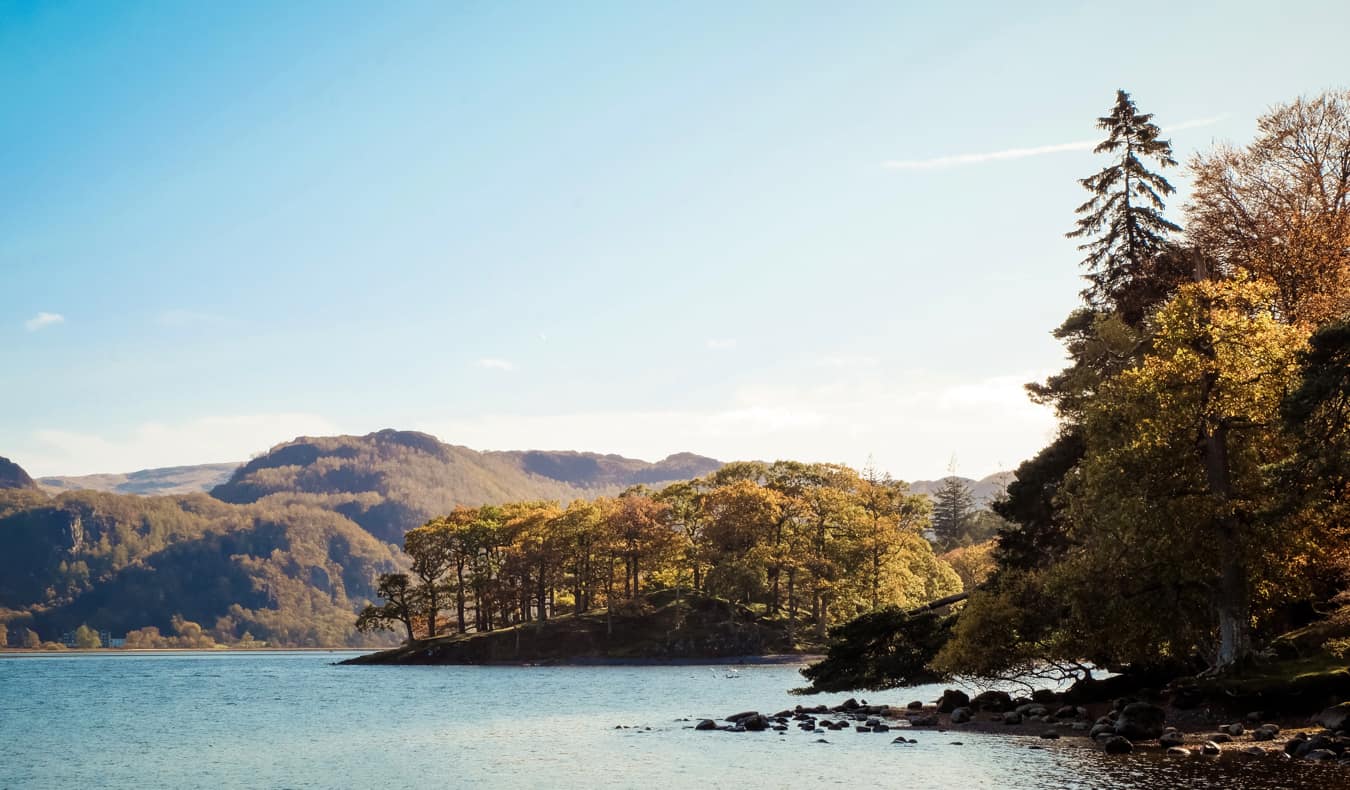 Ancient stone walls sectioned off vast numbers of sheep, green hills rolled on forever in all directions, and tiny stone cottages dotted the landscape. This whole area had an "English country" feel that I've yet to see elsewhere, and it took me back a few centuries. The whole area is so well preserved and so perfect, I often wondered if the locals got together and decided to rebuild everything like it was in the 1700s for the tourists. But people here have just maintained these ancient houses of their own free will.
Out of all the time I spent in England, my weekend in Lancaster and the Lake District felt the most "English." The cottages, the sheep, the hills, and the Sunday venison roast caught by a man wearing this: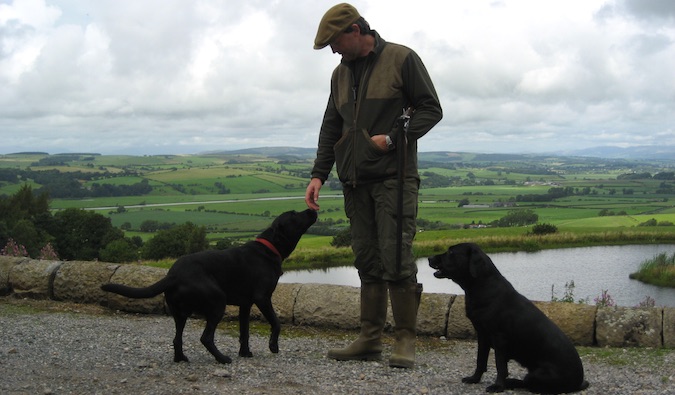 How to Visit the Lake District: Logistics
The Lake District is located around 500km (310 miles) north of London. National Express buses are available from London and are the cheapest way to get to the area. The journey takes around 10 hours and will cost 35-50 GBP each way.
The train is much faster, with journeys from London taking between 4-6 hours. However, tickets can be much more expensive. Expect to pay anywhere from 50-200 GBP ($47-68 USD) for a one-way ticket.
If you're coming from Edinburgh or Glasgow, the train ride is just over 2 hours and costs 40-90 GBP ($54-122 USD) per person for a one-way ticket.
The best way to explore the region is to rent a car. You'll have much more freedom and flexibility, as it is quite a large region, and public transportation is few and far between.
Booking Your Trip to England: Logistical Tips and Tricks
Booking Your Flight
Use Skyscanner or Momondo to find a cheap flight. They are my two favorite search engines, because they search websites and airlines around the globe, so you always know no stone is being left unturned. Start with Skyscanner first though, because it has the biggest reach!
Booking Your Accommodation
You can book your hostel with Hostelworld as it has the biggest inventory and best deals. If you want to stay somewhere other than a hostel, use Booking.com as it consistently returns the cheapest rates for guesthouses and hotels. My favorite places to stay in the area are:
Don't Forget Travel Insurance
Travel insurance will protect you against illness, injury, theft, and cancelations. It's comprehensive protection in case anything goes wrong. I never go on a trip without it, as I've had to use it many times in the past. My favorite companies that offer the best service and value are:
Looking for the best companies to save money with?
Check out my resource page for the best companies to use when you travel. I list all the ones I use to save money when I'm on the road. They will do the same for you too.
Want More Information on England?
Be sure to visit our robust destination guide on England for even more planning tips!