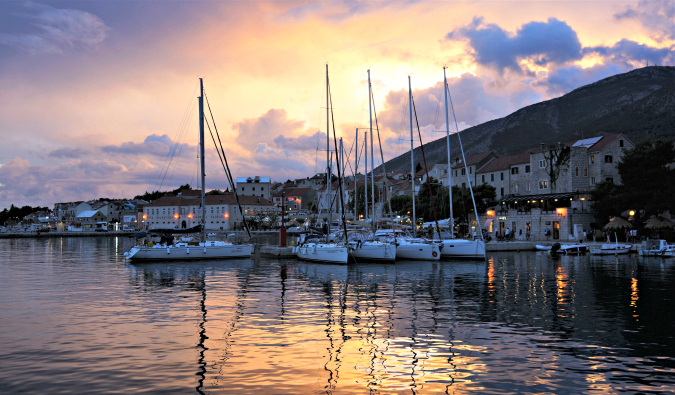 Updated: 7/10/18 | July 10th, 2018
For years, I've been hearing about the tour company Busabout. They offer hop-on, hop–off-again bus tours throughout Europe, similar to the Kiwi and Oz Experience. Like then, Busabout has set routes through Europe and along that route, you can leave and rejoin the bus whenever you want. I've never used them before as I've always just taken trains around Europe.
However, in addition to their bus trips, Busabout also offers sailing tours around Croatia. I continuously met travelers in Europe who rave about their experience on this trip so I decided to experience it for myself.
I took the Split-to-Split sailing tour, which was a seven-day cruise around the Dalmatian coast of Croatia. My boat, the Plomin, had 33 passengers (of which I was the only one not from Australia or New Zealand), our guide (also Australian), and five crew members.
From a business point of view, I was impressed with their product. The trip was well organized, the boat was nice, the itinerary was well put-together, and there were a few on-shore activities included. Additionally, the guide knew what he was talking about and gave excellent advice, and everything ran like clockwork.
How I Spent My Week with Busabout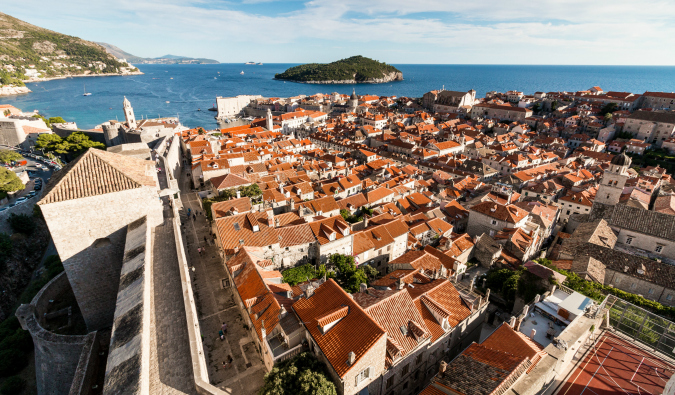 Day 1 – Hvar
We left Split around 2 pm and, after taking a brief swim, arrived at the island of Hvar around 6. After dinner, we had some drinks and went out to the bars on the islands, where the crowded atmosphere was a little much to handle. I don't like being constantly bumped into while I'm trying to have a beer. If you are into drinking, Hvar is the spot to enjoy the crazy nightlife.
Day 2 – Mljet
Mljet is home to a big national park with an island in the middle of the lake. There's hiking, camping, and other fun activities that would have been nice if we had more than a few hours to enjoy them. There's not much on this island and we just spent the night hanging out on the boat, getting to know the other people on the tour.
Day 3 – Dubrovnik
We arrived here midday, which was disappointing because I had hoped to spend more time here at one of the biggest destinations in Croatia. Dubrovnik was beautiful, and I'll be coming back here for a longer stay. After wandering the city streets for a while, our group went out for dinner — where I had the best calamari I've had in recent memory — before heading to the club in a fortress called "Revelin."
Day 4 – Korcula
Korcula is famous for being the alleged birthplace of Marco Polo. The town is a beautiful medieval walled city that I enjoyed walking around. There wasn't much going on in the city, and since my group was still tired from Dubrovnik, we spent the evening on the ship, watching movies, and getting some rest.
Day 5 – Markaska
Makarska is a huge spot for beachgoers, and there are a lot of water sports here. I wasn't a big fan of this place; the beaches were overflowing with people and I felt more like I was in Bangkok during rush hour than on a beach. I walked the boardwalk, had an ice cream, and went to dinner. The highlight of my time here? Partying in a cave. Yes, that was as cool as it sounds. Outside of that though, I'll skip Markaska in the future. There are too many people on too small of a beach.
Day 6 – Omis
Our last night before returning to Split was spent in the tiny town of Omis. There is a place to swim, a place to eat, and one main bar. After frying in the sun the whole morning, I dipped into a café and relaxed. That night was the captain's dinner and the famous pirate party. On all the cruises, Busabout groups have a dress-up party on their last night. All boats are in Omis that night, so you end up in town with people from multiple boats. Everyone heads to the one bar, and it looks like a scene out of Pirates of the Caribbean. It was quite fun and many (many) pirate jokes were had.
Day 7 – Split
Back in Split, we were left to our own devices for the day before returning to the boat for one last night out.
A few notes on the tour:
In between all of our destinations, there was a midday swim stop. Lunch was served on the boat every day. Beer and alcohol were also served but cost extra. Water also cost extra, which was an unfortunate surprise. I also found the added costs of the BBQ and captain's dinner huge wastes of money and would recommend simply heading into the villages for better and cheaper food. In short, avoid eating on the boat if you want to save money.
How much does it cost?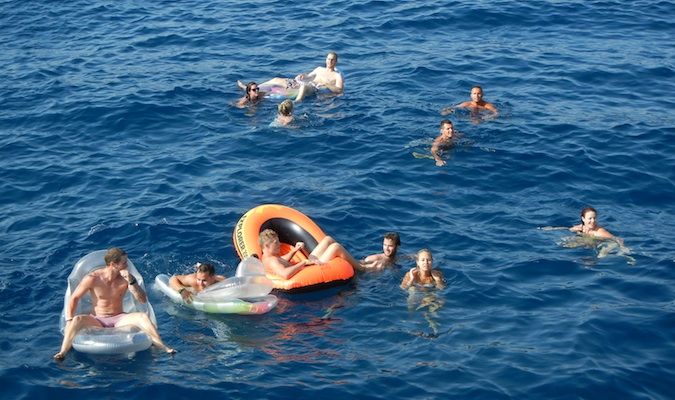 These tours cost upwards of $1,800 USD in peak season, and when coupled with the other incidental expenses of the trip, people usually end up averaging about $250 per day. That's a lot of money! I could enjoy a five-star holiday in Paris for that amount!
However, when compared with the other operators such as Fanatics, Contiki, or Sail Croatia, Busabout is the cheapest option for an organized Croatia boat trip.
However, if you take a sailing tour around Croatia during the shoulder season of early May and September, prices for these tours are about 50-60% cheaper. It's easier to find deals and there are fewer crowds in each port.
Would I recommend this Busabout tour?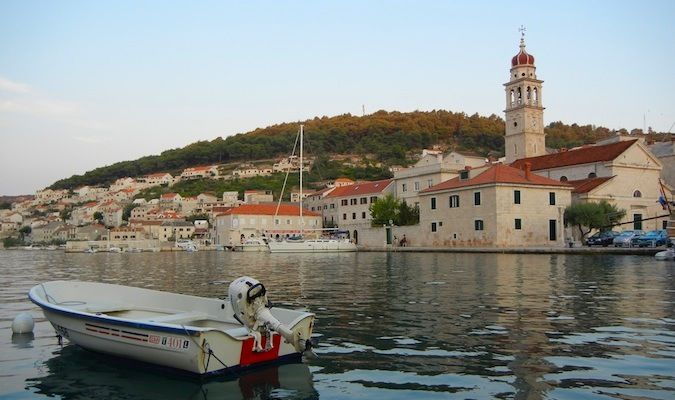 Before going in to this tour, I only knew two things about Busabout: it would be mostly Aussies (Busabout is very popular with Australian backpackers) and there would be a lot of drinking.
Both those things proved true.
I had a really good time and walked away having met a few people I'll stay in touch with in the future. However, I don't think I would take one of these tours again. There's not enough time spent in each destination and I'm well over the "travel to party" mode that most of the other people on the boat were in. The boat was fun, the people nice, and the weather perfect — but I'd rather watch a movie and go to bed than stay out drinking until dawn.
But just because I wouldn't do it again doesn't mean you shouldn't go. I think if you are a solo traveler, a couple, or a pair of friends looking to meet other travelers and party, sailing with Busabout would be a fantastic experience for you. (Sadly, there is no hop-on, hop-off boat, which would be AWESOME, but I think that option is just called a ferry.)
I always ask people on trips like these, "Would you recommend it to friends, and did you have fun?" And while many people on my boat had similar complaints as me, every person I asked said they enjoyed themselves. "They'd do it again in a heartbeat," they said. (In fact, for some, this was their second or third Busabout tour.)
I think that says a lot about how good the company and experience is.
My Busabout Croatia sailing trip turning out to be a good deal of fun, more than I thought it would be. These tours aren't my cup of tea anymore, but if you're looking for a party, want to hang out with a bunch of other young (and older — there were two 40-year-old women on my boat) travelers, this Busabout boat is for you.
After all, how many companies organize massive pirate-themed parties?!
Book Your Trip: Logistical Tips and Tricks
Book Your Flight
Find a cheap flight by using Skyscanner. It's my favorite search engine because it searches websites and airlines around the globe so you always know no stone is being left unturned.
Book Your Accommodation
You can book your hostel with Hostelworld. If you want to stay somewhere other than a hostel, use Booking.com as it consistently returns the cheapest rates for guesthouses and hotels.
Don't Forget Travel Insurance
Travel insurance will protect you against illness, injury, theft, and cancellations. It's comprehensive protection in case anything goes wrong. I never go on a trip without it as I've had to use it many times in the past. My favorite companies that offer the best service and value are:
Want to travel for free?
Travel credit cards allow you to earn points that can be redeemed for free flights and accommodation. They are what keep me traveling so much for so little. Check out my guide to picking the right card and my current favorites to get started and see the latest best deals.
Ready to Book Your Trip?
Check out my resource page for the best companies to use when you travel. I list all the ones I use when I travel. They are the best in class and you can't go wrong using them on your trip.
Note: Busabout provided the tour for free. Flights, drinks, off-ship meals, and other incidentals were paid for by me.