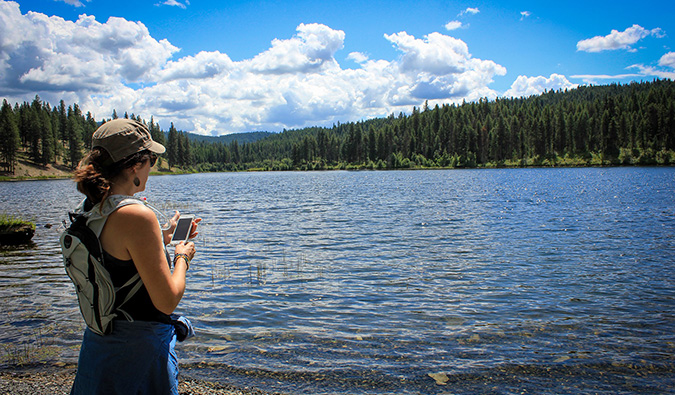 Posted: 12/7/2017 | December 7th, 2017
Kristin Addis from Be My Travel Muse writes our regular column on solo female travel. It's an important topic I can't adequately cover, so I brought in an expert to share her advice for other women travelers to help cover the topics important and specific to them! She's amazing and knowledgeable. In this column, Kristin shares some insights from solo female travelers who aren't millennials!
Every now and then I think about Julie, a 77-year-old woman who stayed at the beach bungalow next to me on the island of Gili Air in Indonesia.
She regaled with me stories about being invited by locals to beach barbecues, her adventures, and the fun she had traveling the world. I felt so empowered during our conversations. She was so laid-back and at peace. This was a woman who had lived a long life and bucked the belief that solo female travel was something for the young. The confident role model in front of me showed me that women of any age can enjoy and benefit from travel.
Over the years while writing this column, I have seen a growing number of women asking, "What about those of us who aren't twenty-something? Where can I read their stories and connect with narratives that are closer to my own?"
The Internet is awash with young, often Western, women traveling the world. They blog and Instagram and get their stories told in big media. There's that bias toward youth.
But solo female travelers come in all ages, from all kinds of backgrounds, and from all over the world.
Today, I want to share some of the stories of older women travelers and add their voices to the narratives. So I sat down (virtually at least) with seven women and asked them for their travel advice.
Anne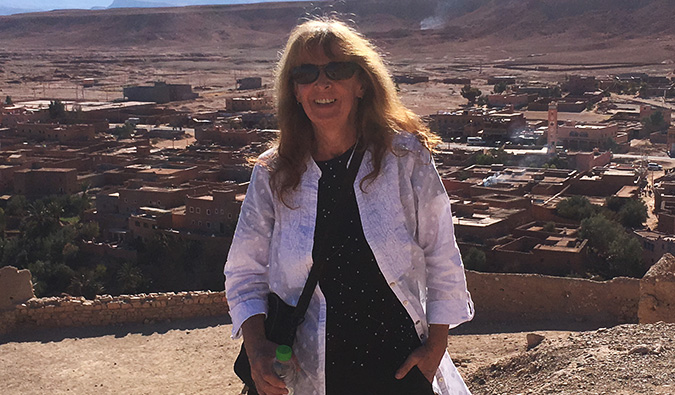 From: United Kingdom
Age: 59
Professional background: Civil servant
Anne had a decent job, a comfortable house, a nice car, and lots of friends and family, but for as long as she could remember, she had felt a desire to leave everything behind and travel the world:
"I was feeling rather bored with my life. I had, for as long as I can remember, felt a desire to travel. Several things kinda coincided to bring me to my decision to 'just go,' I fit the new criteria for 'career breaks' at work, so I applied for a year of unpaid leave."
For Anne, the reason for going solo was simple: no one was able to travel with her and she had spent too long waiting for the right time or companion, so she just decided to go alone.
"Do it! Don't wait for anyone to do it for you, if you really want to travel, then find a way and don't let anyone stop you. I am very fortunate in having taken a partial early retirement so I have a small pension, and I allowed myself a budget from the sale of my house. However, I financed some of my travel by using Workaway. The beauty of this for me was not just the financial side of it but more importantly that you are usually living in your hosts' home and you become integrated into their family and learn the culture of the country."
Anita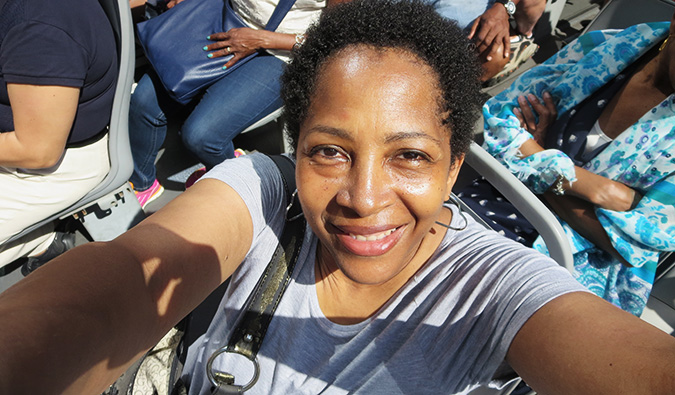 From: Chicago, IL
Age: 53
Professional background: Customer account executive
Anita was resistant to traveling alone at first as her mind raced through all the negatives and what if's that could happen:
"I thought that traveling solo would be lonely, depressing, and not fun. Those opinions turned out to be totally false. I always end up meeting some of the most interesting people while traveling solo. And I always have the most amazing fun doing my thing, traveling by myself."
"I would love to say my decision to travel solo was about making a statement to the world, being a brave trendsetter for my generation, all about girl power. But I basically went into solo travel kicking and screaming and resentful. However, my need to travel was stronger than my objection to traveling by myself."
And, like others, she didn't want to want any longer for the perfect companion or the perfect time. As she told me, "I didn't want to put it off until the perfect travel soul mate came along so we could travel together on these life-changing adventures. As I got older I realized that time is of the essence. I might not ever meet my travel soul mate…and that's OK. I've come to love traveling by myself."
When it comes to naysayers, she says, "I show them my travel photos. But in my head, I'm saying to myself 'while you're sitting around getting old and judging me, I'm traveling and having the time of my life.'"
Helen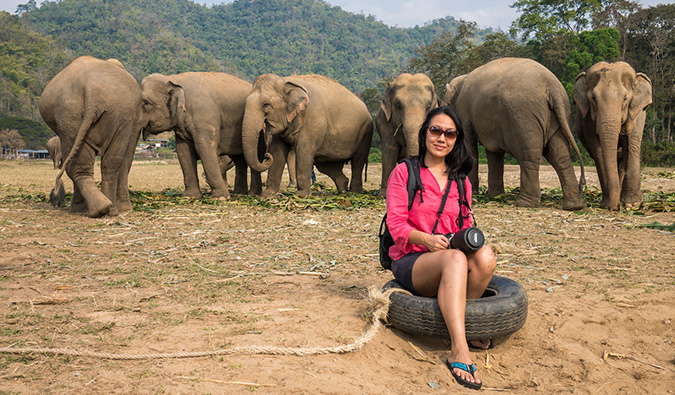 From: Toronto, Canada
Age: 44
Professional background: Marketing and operations
Helen lived a seminomadic life for a year and a half before returning home to work. She has traveled solo to the Galápagos Islands, Kenya, Tanzania, India, Turkey, Jordan, Israel, the West Bank, Malaysia, Thailand, Vietnam, Laos, Indonesia, and South Korea.
Of traveling solo, she says she did it "to gain new perspectives on both the world and myself. My travel pursuits have not (and still do not) always match those of my friends and family, but I'm fiercely independent, so I don't let that deter me from reaching my travel goals."
Her advice to solo travel hopefuls is to "go for it! You'll likely discover that you're stronger and more independent than you thought you were. You'll learn to be more comfortable with your own company. At the same time, solo travel is a great opportunity to build your social skills, as you'll find yourself in situations where you're forced to interact with complete strangers. Don't be paranoid but trust your instincts — if a location or person seems 'off,' steer clear. For a first solo trip, I suggest dipping your toe in the water by choosing a destination that would fit your comfort level, perhaps within your own country or a city where people speak the same language as you do."
You can read more about Helen's travels on her blog, Not Without My Passport.
Cate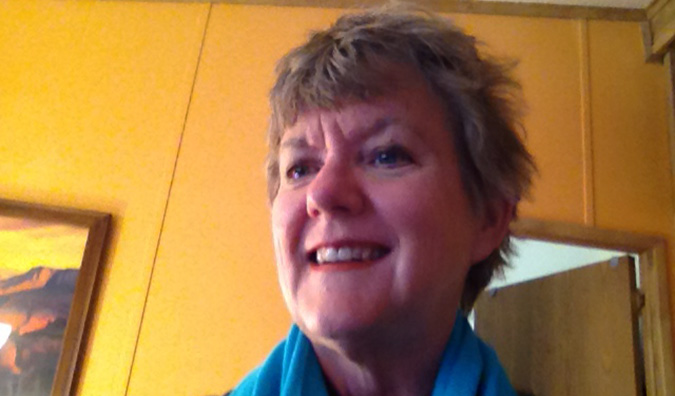 From: Arizona, USA
Age: 72
Professional background: Retired occupational therapist
Cate decided to travel alone since her friends didn't have the time or the money to do so.
"I went to Hawaii, then pretty much focused on Europe. So far, Rome was way too intimidating. I loved Florence (I have been back several times), and I adore Paris.
She doesn't worry much about safety as she follows many of the common sense safety rules in the past:
"I avoid trouble by not going out much at night or going to really crowded places. I eat my big meal at noon, have an aperitif in the late afternoon, and a light dinner in my room. I like Airbnb, because someone will know if I don't come home or will help if I run into trouble."
She likes to immerse herself, adding, "I try to go for a month at a time, so I don't feel rushed. I need time to absorb things, to rest, to meditate, etc., so may spend a day doing nothing, and not feel a bit guilty. Using Airbnb makes staying longer an option. Fifty dollars a night for a room is about average, which beats the heck out of $100/night in a hotel. And I try to take tours or classes so I have some contact with people. I spent a week in the Dordogne painting, took a week of French language classes in Tours, then a three-day tour of Andalusia. It was a joy to have someone else deal with the luggage!"
Her advice is "Take your time. Don't rush. Travel light. Don't try to cram too much into too little time. Follow your passions. And you can go back to places you really like."
Julie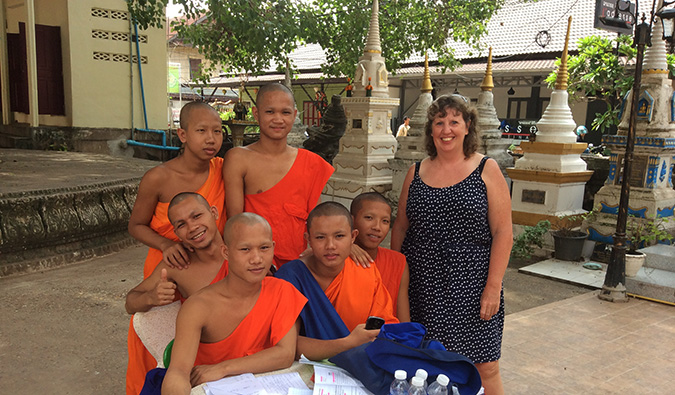 From: Manchester, United Kingdom
Age: 57
Professional background: Personal and professional development coach
Travel was a dream of Julie's for more than 30 years. And, when the stars aligned at last, she didn't dream of waiting for anyone else to join her: she went on a solo backpacking trip.
"It wasn't daunting, but instead exciting, to be going alone. Doing my own thing, relying solely on myself wasn't new, and I loved the freedom to find myself again at a point in my life when I was ready to change. I also relished the challenge of finding my own way around. I did have a reputation in the family that I always get lost — and I did! But really, that set me up for this trip — knowing I would get lost and also that I always found my way back home safely!"
When it comes to dealing with naysayers, she says, "You just have to want it enough like I did — I yearned to go 'one day' and ached at the thought of missing out on seeing with my own eyes what is 'out there' — and that you will find a way somehow, someday."
Julie also came home with a lot of beautiful new realizations about the world, including "that you can and will overcome problems you meet along the way, that people are there to help too, and you will grow and learn, and develop new skills you would never expect or plan for! Now, for example, I can find my way around and create maps in my head. I just never could do that before."
Julie currently runs her own business, coaching for personal and professional development, at clearmindco.co.uk. She also maintains a travel blog at Clear Mind Thinking.
Maia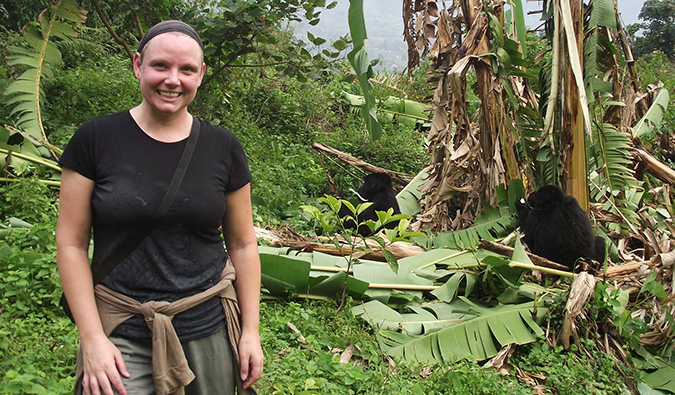 From: Montreal, Canada
Age: 40
Professional background: ESL teacher
Maia first went to Europe in her early twenties with a group of girlfriends. She loved the experience and kept planning trips, and when people couldn't come with her, she went anyway.
"Why wait for someone else, the 'right' time, more money, a better plan? Tomorrow isn't guaranteed to any of us, and if you don't go and see the world, that's on nobody but you."
On her favorite solo travel spot, she says, "Africa is probably my favorite place to travel, period. I've been four times to six countries, Tanzania being my favorite for sure. I've gone solo each time, but you never really stay that way. The people I've encountered have always been so welcoming that I've always felt like I was leaving my family and friends even as I returned to Canada."
And like the other, she didn't let negatively or people's opinions get in the way of what she was doing:
"I had someone in my family once say to me that they were against me traveling to Africa alone, so I kind of turned it around: I profusely apologized, said I completely understood such a position and would definitely not burden that person with any of my planning, promised no Africa talk whatsoever and no news while I was there. It didn't take long for this person to realize that I was going anyway and what a long six weeks that would be with no info from me. Let's just say he came around fairly quickly and got on board with my trip. I think that's what people have to do more of. I say do your thing, and if they come around, great, but if not, that's on them, not you."
***
As I corresponded with these women, I couldn't help notice some central themes: the desire not to let negativity get in their way, the fear but excitement over traveling alone, and the realization these fears were wrong. It's something I dealt with when I traveled. There's a certain universality to these fears that knows no age limit. Maybe our preferences and tastes change over time, but wanderlust never wanes for those of us who are adventurers at heart.
And, I think in this online age with so many young bloggers (myself included), it's easy to forget that every day women of all ages set out to travel the world and, like Julie did for me, help inspire more women to head out on the road too.
Kristin Addis is a solo female travel expert who inspires women to travel the world in an authentic and adventurous way. A former investment banker who sold all of her belongings and left California in 2012, Kristin has solo traveled the world for over four years, covering every continent (except for Antarctica, but it's on her list). You can find more of her musings at Be My Travel Muse or on Instagram and Facebook.


Book Your Trip: Logistical Tips and Tricks
Book Your Flight
Find a cheap flight by using Skyscanner. It's my favorite search engine because it searches websites and airlines around the globe so you always know no stone is being left unturned.
Book Your Accommodation
You can book your hostel with Hostelworld. If you want to stay somewhere other than a hostel, use Booking.com as it consistently returns the cheapest rates for guesthouses and hotels.
Don't Forget Travel Insurance
Travel insurance will protect you against illness, injury, theft, and cancellations. It's comprehensive protection in case anything goes wrong. I never go on a trip without it as I've had to use it many times in the past. My favorite companies that offer the best service and value are:
Want to Travel for Free?
Travel credit cards allow you to earn points that can be redeemed for free flights and accommodation — all without any extra spending. Check out my guide to picking the right card and my current favorites to get started and see the latest best deals.
Ready to Book Your Trip?
Check out my resource page for the best companies to use when you travel. I list all the ones I use when I travel. They are the best in class and you can't go wrong using them on your trip.