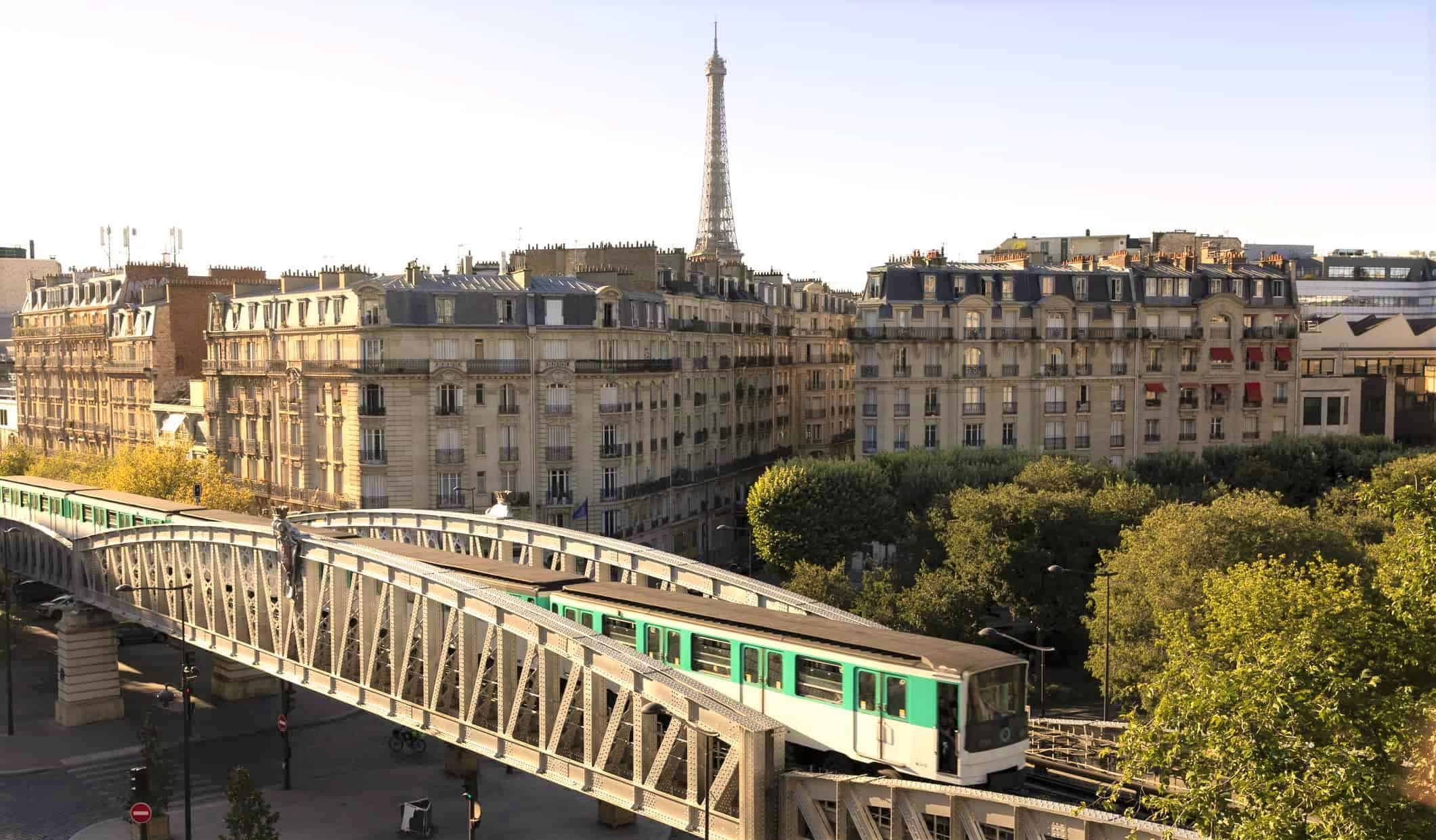 Last Updated: 7/30/23 | July 30th, 2023
Uncorking a bottle of French wine on a sunny day, spreading brie on a baguette, gazing out on the Paris skyline in front of the Sacré-Coeur in Montmartre. To me, that's the perfect day in Paris.
Paris is one of my favorite cities in the world thanks to its cobblestone streets, historic architecture, incredible music, savory delicious food, and smartly dressed locals. Paris is a city I just melt into. I love it so much I moved there to live out my cliched "writer in Paris" fantasy. (It was everything I wanted it to be.)
But Paris is a city that melts wallets as much as it does hearts.
Paris' plentiful restaurants, bars, and attractions can quickly lighten you of euros if you aren't careful. However, it doesn't have to be expensive. Yes, it's pricey but it doesn't need to bust your wallet. Compared to other places in the world, residents don't take home a high percentage of their salary. As such, there are plenty of ways to enjoy Paris without breaking the bank.
Once you get out of the city center and away from the restaurants designed for tourists, the city isn't that expensive. I found living here to be quite affordable.
Below are 24 ways to save big money on your next visit to the City of Lights based on my years of traveling and living in Paris:
1. Visit the Louvre for free
Admission to the famous Louvre Museum is free the first Sunday of each month from October to March. It's also free on Friday evenings for anyone under 26. Moreover, to avoid the massive ticket lines, enter via the Carrousel du Louvre entrance and you'll get right to the ticket counter. You can skip the lines if you have a Paris Museum Pass, which I recommend getting (see below).
Just keep in mind that there are more people visiting during the free days so you'll want to arrive as early as you can.
2. Save at the Musée d'Orsay
Tickets to the museum are only 9 EUR after 4:30pm (except on Thursdays, when they're reduced to 9 EUR at 6pm until 9:45pm). Entry is also free the first Sunday of the month. Regular ticket prices are 12 EUR.
3. Buy a Paris Museum Pass
I'm a huge fan of tourist cards, and Paris is one of the best places to get one. There are so many museums and attractions worth seeing that ticket prices can really add up quickly. The Paris Museum Pass will help you save money as it offers free and discounted admission to 60 museums and monuments around the city — and it lets you skip the ticket lines! Post-COVID, the lines in Paris have got really long and you aren't going to want to wait in them. I always get this pass when I'm museum hopping in the city. It saves so much money and time. I can't recommend it enough.
It comes in 2-, 4-, and 6-day versions costing 55, 70, and 85 EUR respectively. It pays for itself after three museums so if you plan on seeing the main sights, get this pass.
4. First Sunday of the month? Free museums!
If you happen to find yourself in Paris on the first Sunday of the month between October and March, most of the city's major museums offer free admission. During the other months, admission is free for those under 26 and from the EU. The Louvre is free on Friday nights for everyone. The downside is that they will all be super crowded as this is no secret!
Here's a list of museums that participate:
Musée National d'Art Moderne – Centre Pompidou
Musée des Arts et Métiers
Musée de la Chasse et de la Nature
Musée National Eugène Delacroix
Musée National Gustave Moreau
Musée National Jean-Jacques Henner
Musée National du Moyen Âge – Thermes de Cluny
Musée National de l'Orangerie
Musée d'Orsay
Musée National Picasso
Cité de l'Architecture et du Patrimoine
Cité Nationale de l'Histoire de l'Immigration
Musée du Quai Branly – Jacques Chirac
Musée National des Arts Asiatiques Guimet
There are also other museums that offer free admission on the first Sunday but only at certain times of the year. Check the Paris tourism website for an exhaustive list.
5. Take public transport from Charles de Gaulle Airport
Save money right when you land by taking public transportation into the city. You have two options:
Take the RER B (regional train): This option costs 11.45 EUR and takes 25–50 minutes (depending on your destination and whether you get an express train). Once you get into the city, you can transfer to the metro to reach your final destination.
Take a bus: The "RoissyBus" costs 16.20 EUR per person and takes around 60 minutes.
I prefer the RER, but depending on where you're going, the bus might be more direct, as you may not have to transfer to a local metro.
6. Skip taxis
Taxis are convenient but they add up fast. Prices start at 5 EUR and go up by almost 2 EUR per kilometer. Uber is cheaper, but it adds up fast too so skip the private rides unless you don't have an option.
7. Stick to public transportation
Bus and metro tickets cost 2.10 EUR each. They're way cheaper than taxis or Uber and can get you pretty much anywhere you need to go. They run late too, usually until after 1am, so as long as you plan ahead you can likely save a good chunk of money.
8. Use the Vélib'
Paris' bike-share program boasts over 20,000 bikes at 1,800 stations throughout the city. It's 3 EUR for a 45-minute one-way trip, 5 EUR for a one-day pass (10 EUR for an e-bike) or 20 EUR for a three-day pass. You'll need a pin-and-chip card to use the machines. If you don't have that type of credit card, you can buy a ticket online and use your access code at the stations.
9. Stay in hostels
Hostels offer great accommodations for those on a budget, especially since most hotels in Paris are beyond expensive. Dorm rooms in Paris start at 20 EUR and private rooms in hostels begin around 50 EUR. One of my favorite hostels to stay at is St. Christopher's Canal.
For more suggestions, here is a complete list of my favorite hostels in the city.
Additionally, get a HostelPass to save even more. This card gives you up to 20% off certain hostels in Europe, including many in Paris. Use code NOMADICMATT for 25% off when you sign up!
10. Drink in hostel bars
Even if you aren't staying in a hostel, you should still consider drinking at their bars. They offer amazing happy hours, with beers as little as 2 EUR. They're a great place to start your night out in Paris without busting your budget.
11. Visit the free sights
The city has a lot of free attractions, including museums (like the Musée d'Art Moderne, Maison de Balzac, and Maison de Victor Hugo), most churches, and parks (like the Jardin du Luxembourg). Also free are the Musée Carnavalet (the Paris History Museum), the Musée d'Art Moderne de la Ville de Paris, the Musée de la Prefecture de Police (Police Headquarters Museum), and the Fragonard Perfume Museum.
12. Take a free walking tour
One of the first things I do in a new city is take a free walking tour. It's the best way to see the sights and connect with a local that can share their insider tips and advice.
Free walking tours of Paris's central sights are available from several tour companies. My favorite is New Europe. There's also Paris Greeters, where locals lead you on a free tour of their city. Just remember to tip your guide at the end!
For paid tours, check out my list of the best walking tours in Paris.
13. Get free water
When you order water at a restaurant, make sure you ask for tap water. They'll try to provide bottled water and charge you for it, but tap water is free and safe to drink.
If you eat out, do so at lunch and get the prix fixe menu (two- or three-course set menu). Restaurants throughout town offer this set menu during lunch, and with prices between 15-20 EUR, it's a way better deal than the regular dinner menu!
15. Pick up lunch at outdoor markets
Paris is a market city, and each neighborhood has its own food market. If you want to save big on meals, head to one of the markets, pick up some cheese, wine, bread, meats, or anything else, and head to the park for a picnic or sit down by the river (or grab a sandwich for later). You can buy wine starting at around 3 EUR a bottle so skip the bars and sit outside. You'll find the locals doing the same thing, and it's one of the cheaper ways to get a true taste of French food.
Some great markets to check out are:
Marche d'Aligre (Tuesday-Sunday)
Marché couvert les Enfants Rouges (Tuesday-Sunday)
Marche Bastille (Thursday and Sunday)
16. Head to the grocery store for basics
Grocery shopping is a no-brainer way to eat cheap. They have all the ingredients you need for basic meals as well as prepared meals. They sell wine too. It may not be fancy, but you can't beat a picnic on the grass in front of the Eiffel Tower.
17. Enjoy free summer festivals
During the summer, you can find free entertainment almost any night of the week, such as the Paris Jazz Festival and outdoor film screenings like Cinéma en Plein Air.
18. Fill up your water bottle around town
Paris has more than 800 water fountains located throughout the city where you can fill your water bottle. The water is filtered and safe to drink. To ensure your water is safe, bring a LifeStraw reusable bottle. You'll reduce your reliance on single-use plastic, save money, and always have clean water.
19. Eat away from the tourist centers
There are so many world-class restaurants in Paris that if you stick to eating close to where the tourists are, you'll eat terrible food and have terrible service. There's like an invisible line tourists never seem to cross. My rule: always walk five blocks away from any tourist sight to find good local cuisine.
Some good areas to eat are the Latin Quarter, Bastille, Montmartre, Le Marias, the 5th arrondissement, and the 13th arrondissement.
20. Check the local tourism office for free stuff
The local tourism office's job is to save you money and help you plan your way around the city. They are a grossly under-utilized resource by travelers. They know everything going on. Go into their office, ask questions, find free things, and get discounts on tours and attractions throughout the city.
21. Find discounts on food via La Fourchette
Find good and cheap food on websites like La Fourchette. La Fourchette (The Fork) offers discounts of up to 50% off at more than 1,000 restaurants across Paris. It's the best app to use to help you eat like a Parisian.
22. Stay in an affordable neighborhood
Like every city, Paris has budget-friendly neighborhoods as well as those that, while nice, will blow your budget out of the water. To save money, stay in Montmartre. It's one of the most popular budget-friendly areas to stay in. Bastille is another budget-friendly arrondissement.
Here's a list of my favorite neighborhoods in Paris and suggested places to stay.
23. Get an ISIC card
If you're a student, get an ISIC card. You'll be able to save money on a few attractions in the city, including 10% off Generator Hostels, 10% off New Europe tours, and free access to the National Museums if you're under 26 (including the Louvre, the Musée Picasso, and more).
24. Get dinner at Middle Eastern restaurants
If you want to eat out on a budget, find your local Middle Eastern restaurants. You can get an entire plate of food that includes kebab, skewers or rotisserie chicken, fries or rice, and salad for around 12-15 EUR. It's delicious and filling!
***
Paris is an expensive city and visiting on a budget has become harder in the last couple of years. But, like any major city, there are plenty of budget options if you know where to look.
By making a few small adjustments and following the tips above you can find big savings that will make any trip to Paris fun, affordable, and memorable!


Get Your In-Depth Budget Guide to Paris!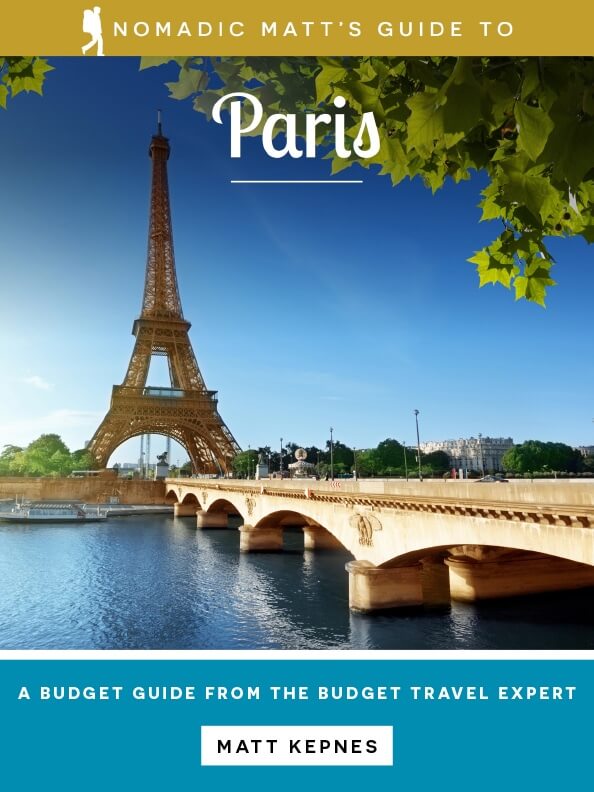 For more in-depth information, check out my guidebook to Paris written for budget travelers like you! It cuts out the fluff found in other guides and gets straight to the practical information you need to travel around Paris. You'll find suggested itineraries, budgets, ways to save money, on- and off-the-beaten-path things to see and do, non-touristy restaurants, markets, bars, transportation and safety tips, and much more! Click here to learn more and get your copy today!
Book Your Trip to Paris: Logistical Tips and Tricks
Book Your Flight
Use Skyscanner to find a cheap flight. They are my favorite search engine because they search websites and airlines around the globe so you always know no stone is left unturned.
Book Your Accommodation
You can book your hostel with Hostelworld as they have the biggest inventory and best deals. If you want to stay somewhere other than a hostel, use Booking.com as they consistently return the cheapest rates for guesthouses and cheap hotels. Some of my favorite places to stay are:
If you're looking for more places to stay, click here for my favorite hostels in Paris. If you're wondering what part of town to stay in, here's my neighborhood breakdown of the city!
Don't Forget Travel Insurance
Travel insurance will protect you against illness, injury, theft, and cancellations. It's comprehensive protection in case anything goes wrong. I never go on a trip without it as I've had to use it many times in the past. My favorite companies that offer the best service and value are:
Looking for the Best Companies to Save Money With?
Check out my resource page for the best companies to use when you travel. I list all the ones I use to save money when I'm on the road. They will save you money when you travel too.
Want More Information on Paris?
be sure to visit our robust destination guide to Paris for even more planning tips!