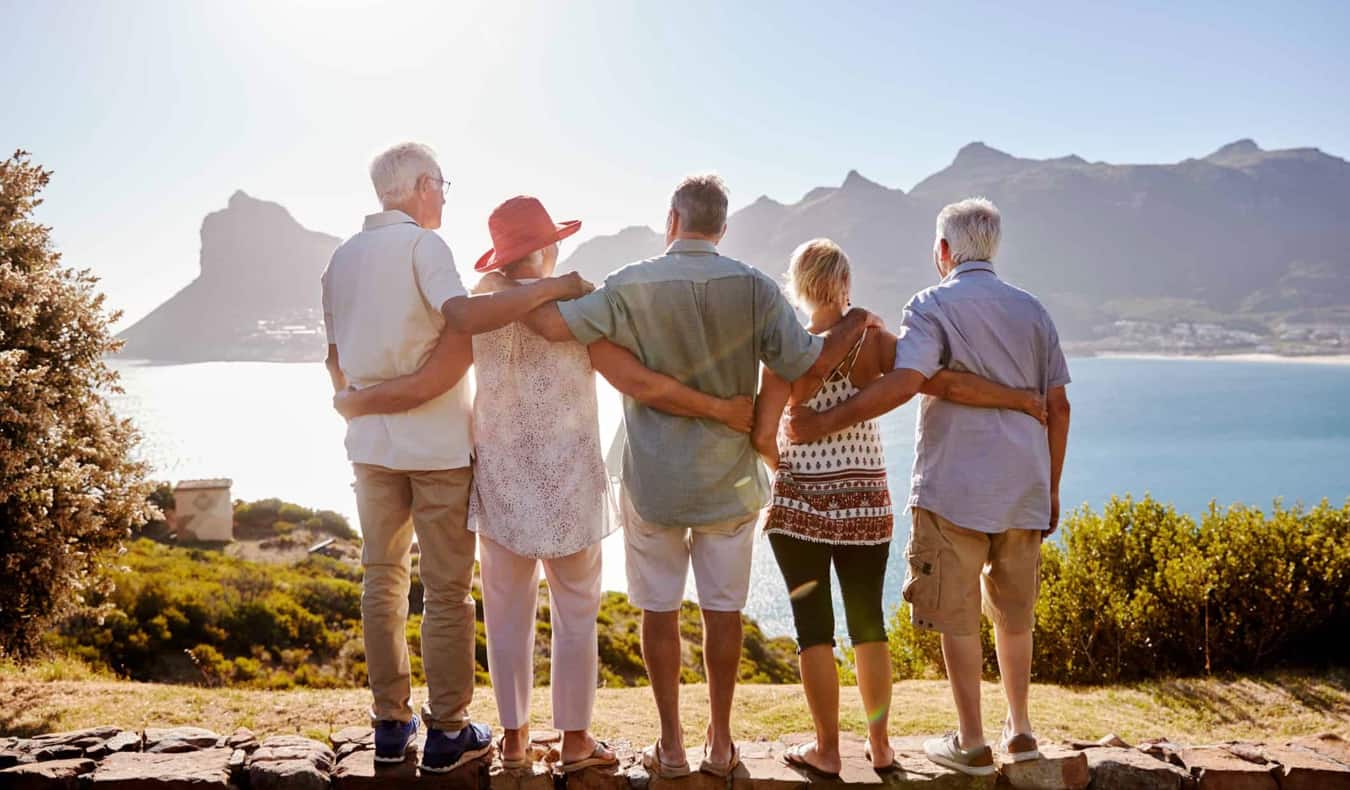 Last Updated: 7/21/23 | July 21st, 2023
When it comes to planning a trip, there is one expense far too many travelers overlook: travel insurance.
It's a boring topic to research and read about — and it is an added expense many budget travelers aren't excited about paying. Chances are nothing is going to go wrong, right? Why not just save the money and spend it on more travel?
Unfortunately, as many people have learned the hard way — myself included — things can go wrong at the drop of a hat. I've had my luggage lost, had brand new gear broken, and needed emergency medical help while traveling (on multiple occasions).
And these are just the "serious" incidents. I've also experienced countless flight delays and cancellations — events that are also covered by travel insurance.
In short, things can (and will) go wrong on the road. Why not make sure you're prepared?
This is especially important for older travelers.
While older travelers generally have a bit more sense than younger backpackers (when was the last time you saw a 65-year-old jumping a burning skipping rope at the Full Moon Party in Thailand or bombing down Death Road in Peru?), there are often health and medical issues that need to be considered.
Even if you're a healthy 55+ traveler, buying travel insurance is a necessary step in your planning. It will cover you for delays and cancelations, injuries, and worse. It's a safety net for you and your loved ones that will not only help you avoid massive medical expenses but also provide you with peace of mind so you can enjoy your trip without worry.
I never leave home without it. You shouldn't either.
Here's everything you need to know about buying travel insurance as an older or senior traveler.

What to Look for in a Comprehensive Insurance Policy
Insurance is a billion-dollar business, and everyone wants their hand in the cookie jar. Consequently, you face a mind-numbing number of companies and policies, some with terminology that can be confusing and overwhelming.
So, what should you do?
First, make sure your travel insurance offers a high coverage limit on your medical expenses. Most travelers can get by with $100,000 USD in coverage. However, if you're older or have a medical condition, then you may want more ($250,000-500,000 USD would be my suggestion).
High coverage limits are important because if you get sick, injured, or need serious attention and have to seek professional care, you'll want to make sure your high hospital bills are covered. The worst thing you can do is go cheap and get a policy with a $20,000 USD coverage limit, then break a leg and reach that limit before they are done taking care of you.
Second, you want to make sure your travel insurance policy covers emergency evacuation and care that is separate from your medical coverage. For example, if you are hiking in the woods and you break your leg, your policy should cover your evacuation to the nearest acceptable medical facility.
If a natural disaster occurs and you need to be evacuated to somewhere else, your plan should cover that as well, ideally up to $300,000 USD.
Additionally, make sure you understand if your evacuation coverage will pay for you to get home or if it will just send you to the nearest acceptable facility. For example, if you break your leg abroad, most insurance policies will pay for your hospital bills. However, they won't pay for you to get home since it's not a life-threatening injury requiring advanced care.
Standard emergency evacuation coverage frequently only pays for a flight home if your current facility is inadequate or if it's "medically necessary."
In short, double-check if your company will cover the cost of your flight back home if you need it.
If you'd prefer not to stay in a foreign hospital for treatment and recovery, you should look into a medical transport membership program like Medjet, which ensures that, should you be hospitalized abroad, you'll be able to be repatriated — something many travel insurance policies can't guarantee (read more about Medjet in my comprehensive review).
Third, great travel insurance plans always include the following provisions:
Coverage for most countries (including the places you plan on visiting)
Coverage for injury and sudden illnesses
Coverage for lost, damaged, or stolen possessions, like jewelry, baggage, documents, etc.
Some coverage for your electronics (and the option for a higher coverage limit)
Coverage for cancelations for hotels, flights, and other transportation bookings if you have a sudden illness, death in the family, or some other emergency
Coverage for political emergencies, natural disasters, or strife in the country that may cause you to head home early
Financial protection if any company you are using goes bankrupt and you are stuck in another country
24/7 assistance (you don't want to call to be told to call back later)
A quick note on electronics: Most companies only have a small limit (usually up to $500 USD per item), as part of their basic coverage. You can often buy supplemental insurance for more coverage. If you're traveling with lots of expensive gear, make sure you buy supplemental coverage.
Additionally, as an older traveler, you may also want:
Policies that cover preconditions (if you have them). Since most policies exclude these, you'll need to shop around for a plan that will cover them.
Insurance plans that include a "cancel for any reason" clause. If you think you may need to cancel your trip before you depart and don't want to risk losing your money, find a policy that offers this. It's less common (and more expensive), but it might be useful if you have a medical condition that might impact your trip.
The Best Travel Insurance Companies for Senior Travelers
Medjet


Medjet isn't an insurance company per se. Rather, it's a membership program that offers comprehensive medical transportation services all around the globe. Members have 24/7 access to hundreds of air ambulances and expert medical transport escorts and staff, located all over the world. While most insurance companies make sure you get to the "nearest acceptable facility" after an injury, Medjet ensures you get home.
Here's a quick overview of Medjet:
Extensive medical transport coverage
Offers regular coverage up to age 74 (with extended coverage up to age 84)
Coverage for COVID-19
Limited time spent in foreign medical facilities
Both short-term and annual plans
Available to residents of the US, Canada, and Mexico
Learn more
Insure My Trip


Insure My Trip is an insurance aggregator that compiles policies from over twenty different companies to help you find the best policy for your needs and budget.
As an older traveler, this is the best place for you to shop around and get a quote. You'll be able to find policies for travelers over 70 as well as plans that have a "cancel for any reason" clause. It also offers policies that include coverage for certain pre-existing conditions.
Here's a quick overview of IMT:
Comparisons of plans from over 20 different companies to ensure you get the best one
Guaranteed low prices
Coverage for travelers over 65
"Anytime advocates" ask the insurer to give your claim a second look if you think it was unfairly denied
Learn more
A Note on COVID-19 (and Other Pandemics)
As many travelers learned the hard way in 2020, most travel insurance policies historically did not cover pandemics. Until recently, that really wasn't a concern for most travelers, including me. Prior to 2020, I never really gave the "pandemic clause" much thought when reading my insurance policies.
However, these days pandemic coverage is at the forefront of every traveler's mind (and rightly so).
Fortunately, over the past few years, insurance companies adapted and most companies now provide limited coverage for COVID-19 (or other pandemics). This limited coverage usually includes trip cancellation or delay, though some also have medical coverage for COVID or transportation home (as is the case with Medjet).
Before you buy a plan, read the fine print regarding pandemics and COVID-19. Make sure you fully understand what is and is not included so you can take appropriate action should a situation arise. When in doubt, call them and speak to a representative. Don't risk your health on assumptions!
***
Everyone should buy travel insurance before they leave home — regardless of their age. While most travelers only experience minor hiccups, such as delayed flights or lost baggage, it's always better to be safe rather than sorry should a health emergency arise.
However, older travelers in particular should make sure they have the coverage they need in case something goes awry. While their options are usually less robust (and more expensive), there are still plenty of affordable ones to ensure you are protected as you enjoy your well-earned travels.
Book Your Trip: Logistical Tips and Tricks
Book Your Flight
Find a cheap flight by using Skyscanner. It's my favorite search engine because it searches websites and airlines around the globe so you always know no stone is being left unturned.
Book Your Accommodation
You can book your hostel with Hostelworld. If you want to stay somewhere other than a hostel, use Booking.com as it consistently returns the cheapest rates for guesthouses and hotels.
Don't Forget Travel Insurance
Travel insurance will protect you against illness, injury, theft, and cancellations. It's comprehensive protection in case anything goes wrong. I never go on a trip without it as I've had to use it many times in the past. My favorite companies that offer the best service and value are:
Want to Travel for Free?
Travel credit cards allow you to earn points that can be redeemed for free flights and accommodation — all without any extra spending. Check out my guide to picking the right card and my current favorites to get started and see the latest best deals.
Need Help Finding Activities for Your Trip?
Get Your Guide is a huge online marketplace where you can find cool walking tours, fun excursions, skip-the-line tickets, private guides, and more.
Ready to Book Your Trip?
Check out my resource page for the best companies to use when you travel. I list all the ones I use when I travel. They are the best in class and you can't go wrong using them on your trip.