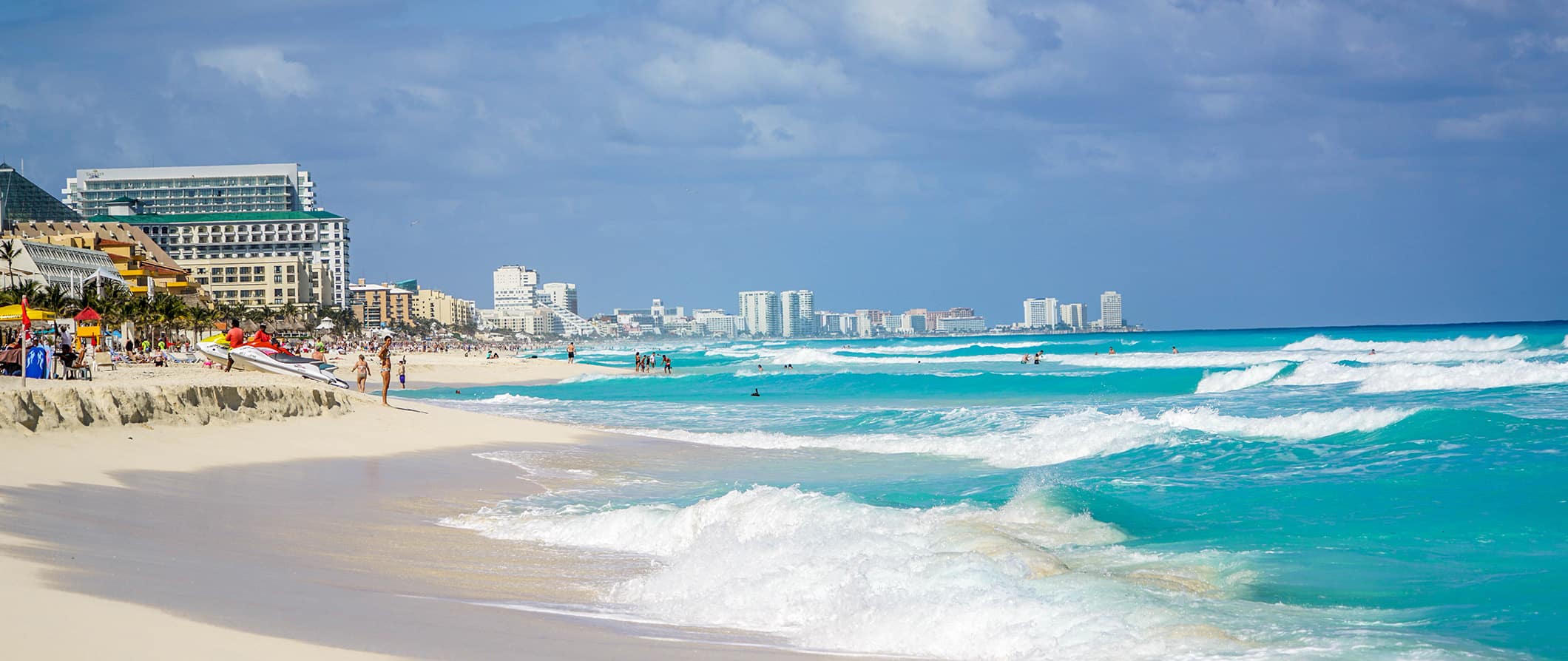 Cancun is synonymous with luxury, parties, spring break, large resorts, and beautiful beaches. It's often seen as an American playground. During spring break, college kids flock here to get drunk and tan. However, if you leave the main resort area of Cancun, you'll find a very local city with few tourists and friendly people. There are also some Mayan ruins nearby the city. Don't let the party reputation fool you – Cancun has much, much more than that, but you do have to go looking for it.
Top 5 Things to See and Do in Cancun
1. Relax on Isla Mujeres
Translated as the 'Island of Women', Isla Mujeres is just a short ferry ride away from Cancun. Originally a fishing village, the island still maintains its charming atmosphere, even with its bustling tourist trade. Kayaking, fishing, and sailing are popular here, as well as swimming with sharks.
2. Hidden Worlds Cenote Adventure Park
In Cancun, you can find the world's most widespread range of underwater caves and cavern systems. Several major documentaries have been filmed here. You can take a snorkel tour through the pristine waters, ride zip lines, or power through the trees on a SkyCycle.
3. Explore Chichén Itzá
The large Mayan archaeological site Chichen Itza is 2.5 hours from Cancun. The most impressive structure on the site is the giant Temple of Kukulkan but the elaborate wall carvings and columns throughout the entire site make this a world-class attraction. To get the most out of the site, spend two days here.
4. Check out Cancun Underwater Museum
This Museo Subacuático de Arte features over 400 sculptures, which are platforms for coral growth to regenerate the damaged ecosystem. Since its founding in 2009, a lot of growth has occurred and every spring, more plants bloom. It's open daily from 7am-8pm and costs 930 MXN.
5. Shop at Market 28
The traditional downtown area is home to most of the colorful local craft markets in Cancun. Market 28 in the downtown area is by far the largest of the marketplaces. Leather, silver, pottery, glassware, artwork, handicrafts, and traditional Mexican blankets are all sold here. It's open daily 9am-8pm.
Other Things to See and Do
(Click the title to expand the text)
1. Visit Tulum
Tulum is famous for its Mayan ruins and is Mexico's third most popular architectural attraction. Be warned, this place gets seriously hot, so you'll need plenty of water and bug spray. Also, bring a towel – you can cool off in the beach at the site. It's open daily from 8am-5pm and admission is 65 MXN.
2. Go clubbing
Cancun has nightlife to rival any other big city. Most of the nightlife is concentrated around the Hotel Zone in an area known as "party central." All music tastes are accounted for and the world's biggest DJs make regular appearances in the many clubs. During spring break, things get far more crowded and more expensive.
3. Do the Selvatica Canopy Expedition
It's no surprise that Selvatica is Mexico's number one tourist attraction. Within the park you'll have the opportunity to ride ziplines over the rainforest canopy, go off-roading, quad biking, scuba diving and swimming in a cenote. Opt for the Night Flight adventure which includes zipping through the canopies, followed by a 3-course dinner. It's open daily from 9am-5pm. The all-access pass is 4,125 MXN.
4. Hit the spa
Cancun is one of the top spa destinations in the world – and for good reason. There are tons to choose from, all offering varying treatments and package deals. Consider an 'ancient Mayan' healing session or go with a classic massage.
5. Visit Museo INAH
This is a cool little museum is found on the south side of the Centro de Convenciones. Among various ancient artifacts and exhibits highlighting local history, there is a unique exhibit of deformed Maya skulls. It's open daily (except Mondays) from 9am-7pm and costs 65 MXN.
6. Go diving
Cancun lies along the Great Mesoamerican Reef, the largest reef in the western hemisphere. The area has over 100 types of coral and more than 160 types of reef-inhabiting fish. For even better opportunities, head over to Cozumel, or Playa del Carmen.
7. Birdwatch at Isla Contoy
An easy day trip from Cancun, Isla Contoy is a small island nature reserve with stunning beaches and over 100 species of birds. Tours can be arranged through agencies and hotels, as the island is uninhabited, and regulations limit the number of daily visitors (permission is granted after visitors apply at the park offices – there is a branch in Cancun).