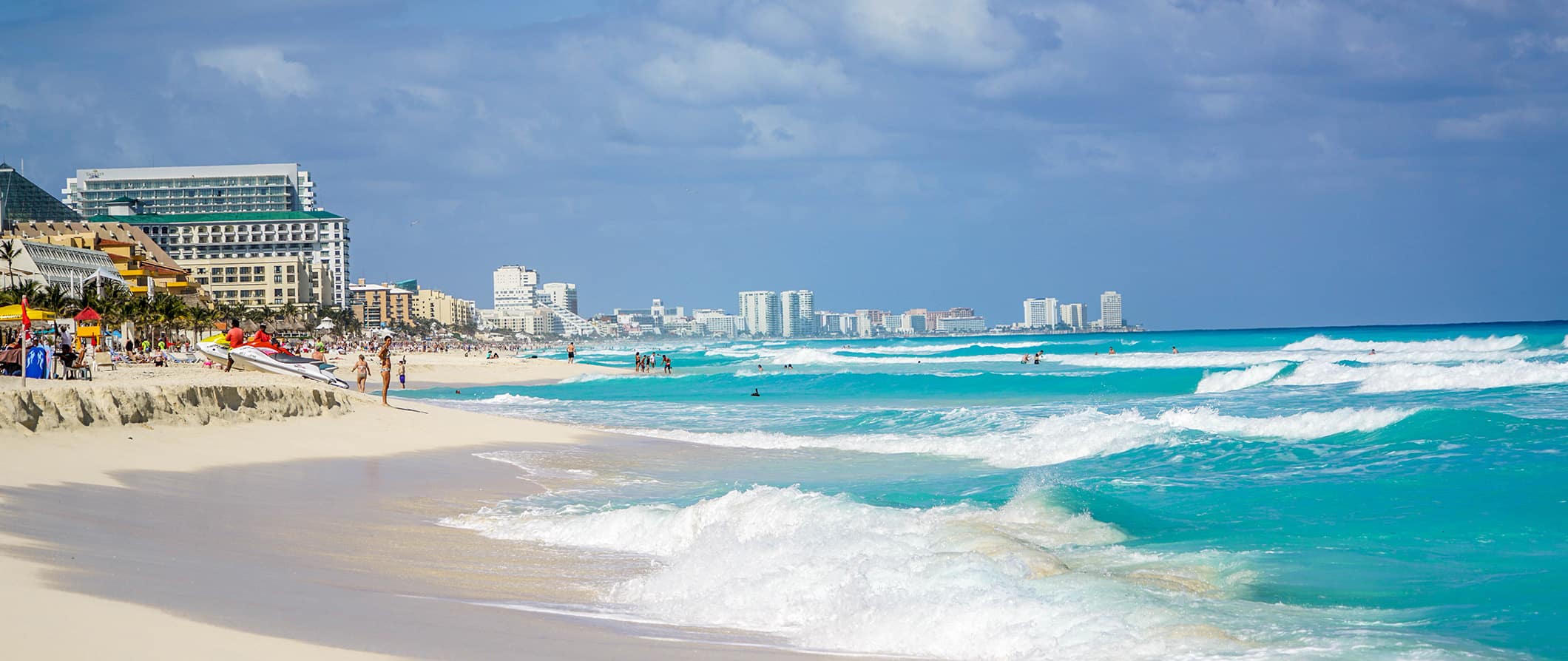 Cancun is synonymous with luxury, partying, spring breakers, resorts, and beautiful beaches. It's often seen as an American playground.
During spring break, college kids flock here to get drunk and tan. The main drag is very touristy and kind of terrible. It's a good place to go for your stereotypical vacation but there's not much more than that there.
However, if you leave the main resort area of Cancun, you'll find a city with friendly people, character, and amazing food. There are also some Mayan ruins nearby the city. Don't let the party reputation fool you – Cancun has much, much more than that, but you do have to go looking for it.
This travel guide to Cancun can help you get off the beaten path, away from the resorts, and the most out of your trip.
Top 5 Things to See and Do in Cancun
1. Relax on Isla Mujeres
Isla Mujeres is just a short ferry ride away from Cancun. Originally a fishing village, the island still maintains its charming atmosphere. Kayaking, fishing, sailing, and swimming with sharks are popular activities. This island is also a hatching ground for baby sea turtles.
2. Visit Hidden Worlds Cenote Adventure Park
In Cancun, you can find some of the world's best underwater cenotes and cavern systems. Several major documentaries have been filmed here. You can take a snorkel tour through the pristine waters, go diving, ride zip lines, or power through the trees on a SkyCycle.
3. Explore Chichén Itzá
Chichén Itzá dates back to 550 CE and was home to an estimated 35,000 people. Today, it is one of the largest (and most popular) Mayan archaeological sites in Mexico. Today you can wander the site's ruins, including temples, intricately carved columns, tombs, and even ball courts. Entry is 254 MXN.
4. Check out Cancun Underwater Museum
This Museo Subacuático de Arte features over 400 sculptures, which are platforms for coral growth to regenerate the damaged ecosystem. Since its founding in 2009, a lot of growth has occurred and every spring, more plants bloom. It's open daily from 7am-8pm and costs 930 MXN.
5. Shop at Market 28
The downtown area is home to most of the colorful local craft markets in Cancun. Leather, silver, pottery, glassware, artwork, handicrafts, and traditional Mexican blankets are all sold here. It's open daily 9am-8pm.
Other Things to See and Do in Cancun
1. Visit Tulum
Once a vital Mayan port city, Tulum is located 85 mi (136 km) from Cancun. It is best known for its Mayan ruins, which rest on 12-meter (136 ft) bluffs overlooking the Caribbean Sea. T. Today, the ruins are a popular tourist attraction, however, the town of Tulum is equally popular with its beautiful beaches, surfing, markets, and cheap eats (though I hated my time there). From Cancun, a bus to Tulum will cost around 196 MXN. The ruins are open daily from 8am-5pm and admission is 80 MXN.
2. Go clubbing
Cancun is famous for its night life. Most of the nightlife is concentrated around the Hotel Zone in an area aptly known as "party central." Many of the world's biggest DJs make regular appearances in the many clubs. During spring break, things get even more crowded and more expensive. Coco Bongo, La Vaquita, and Grand Mambo Cafe are among the most popular places to go.
3. Hit the spa
Cancun is one of the top spa destinations in the world. There are tons of options to choose from, all offering varying treatments and package deals. Consider an 'ancient Mayan' healing session or go with a classic massage. Temazcal Cancun offers massages for 650 MXN and are best known for their temazcal experiences. A type of sweat lodge, temazcal rituals date back to ancient Mesoamerica to cleanse and purify after a battle, or to aid with healing the sick, and women giving birth. This experience lasts 2-3 hours and includes a temazcalero guide, volcanic stones, a bonfire, medicinal herbs, cleansing, and teas. The cost is 600 MXN.
4. Visit Museo Maya de Cancún
This is a cool Avant-Garde style museum is found on the south side of the Centro de Convenciones, Cancun's convention center. Home to around 400 artifacts from important Mayan sites throughout the Yucatan Peninsula and throughout Mexico. The museum is one of the best sites in Mexico for learning about Mayan culture and history. It's open daily (except Mondays) from 9am-7pm and costs 80 MXN. Admission to the museum also includes access to the San Miguelito Archaeological Zone.
5. Go diving
Cancun lies along the Great Mesoamerican Reef, the largest reef in the western hemisphere. The area has over 100 types of coral and more than 160 types of reef-inhabiting fish and 5 different species of sea turtles. Scuba diving costs around 2,700 MXN.
6. Swim with Whale Sharks at Isla Contoy
An easy day trip from Cancun, Isla Contoy is a small island nature reserve with stunning beaches and over 100 species of birds. It is also home to a large concentration of whale sharks. Whale sharks can grow up to 15 meters (almost 50 feet) in length but don't worry, they are gentle giants! The island itself is small, about 5.3 mi (8.5 km) in length and only inhabited by a handful of biologists. Only 200 people are allowed on the island each day. You can book tours through a tour agency or hotel, or you can apply to visit with the park office in Cancun. Contoy Adventures is a well-known tour agency with whale shark experiences for 3,260 MXN. Tours operate from June 1st until September 17th.
7. Take a Cooking Class
Cooking classes are one of the best ways to learn about a new culture. Mexico Lindo is one of the best in the Cancun area. Located in the jungle, the class duration is roughly 5.5 hours and includes breakfast, cooking a 6-course meal, snacks, and a tequila tasting. Cooking classes are scheduled Monday through Friday, with a different menu each day. The cost is 2,140 MXN.
8. Go on a Street Taco Tour
Street tacos are one of the best things about traveling in Mexico. Cancun Food Tours offers a 3.5-4.5-hour tour through downtown Cancun which includes a market tour and plenty of yummy taco tastings, with the opportunity to make your own tortillas, too. They also have vegetarian substitutions available. Tours cost 1,406 MXN.
For information on other cities in Mexico, check out these guides:
Cancun Travel Costs
Hostel Prices – Hostels are extremely cheap, probably because there are so many of them in Cancun. There are 6-person dorm rooms for as little as 135 MXN, though 200 MXN is a more realistic price. 600-1,000 MXN is normal for a private room that sleeps two in a hostel. Most hostels offer free Wi-Fi and free breakfast.
Budget Hotel Prices There are plenty of budget hotels in Cancun with prices starting around 230 MXN per night for a room that sleeps two. Hotels at this price have private bathrooms and offer free Wi-Fi.
You can find rooms in a 3-star hotel for as low as 850 MXN per night, which includes a private bathroom, WiFi, and usually breakfast as well.
For AirBnb, a private room averages around 525 MXN. However, there are very few private room options available here. Entire homes (including studio apartments) range from 545-705 MXN.
Average Cost of Food – Typical Mexican dishes include tacos, mole (a sauce with lots of ingredients, often including chocolate), salsa, enchiladas, tamales (stuffed corn pockets), pozole (hominy stew topped with onion, avocado, and chili) guacamole. You'll find a lot of rice, beans, fruits, and veggies like tomatoes, corn, avocado, and peppers in Mexican cuisine.
Street stalls and markets are the best way to go for authentic and inexpensive food. Tacos, quesadilla, sopas, tortas, and other street foods are generally 15-45 MXN. Sometimes, you'll find tacos for as cheap as 10 MXN. In Mexico, the street food is the best – and most affordable- option.
A beer is about 20 MXN in the street but double that at a restaurant.
Restaurants found in the Hotel Zone or near the beach are good but they are expensive as they cater mostly to the tourists staying in the zone. You can expect to pay 500 MXN or more for a meal in these restaurants.
Closer to downtown, you'll find a variety of restaurants with dishes between 100-300 MXN. Choose from sushi joints and cafés serving bagels, pizza and pasta, to Indian, Middle Eastern, and French restaurants. Try La Troje, Café Con Garcia, or Café Antoinette.
A meal at a local Mexican restaurant will cost you around 75-135 MXN. Look for the ones filled with locals as that is generally a sign that the food is really good.
Tap water is not safe to drink in Mexico. Bring a portable water purifier or use bottled water (LifeStraw makes a good one.
If you plan to cook your meals, expect to pay between 500-585 MXN per week for groceries that will include rice, vegetables, chicken, tortillas, and beans. However, with street food so cheap and, most hostels and hotels without kitchens, it's best to simply eat local rather than cook.
Backpacking Cancun Suggested Budgets
If you're backpacking Cancun, you will spend at least 1,000 MXN per day. This budget will get you a hostel dorm, street food and self-cooked meals, local transportation, and a few attractions each day. If you're drinking a lot, I'd add another 200-400 MXN per day depending on how much you want to party here.
On a more mid-range budget of about 1,850 MXN per day, you will stay in a budget hotel or Airbnb, eat at local restaurants, visit more attractions, drink more, take public transportation per day but also a few taxis or Ubers.
A luxury budget will cost you at least 4,900 MXN per day and up. You will stay at a four-star hotel, eat out for all your meals, have plenty of drinks, take taxis everywhere, and do some guided trips. The sky is the limit above that.
You can use the chart below to get some idea of how much you need to budget daily, depending on your travel style. Keep in mind these are daily averages – some days you'll spend more, some days you'll spend less (you might pay less every day). We want to give you a general idea of how to make your budget. Prices are in MXN.
Accommodation
Food
Transportation
Attractions
Average Daily Cost
Backpacker
200
250
100
400
950
Mid-Range
550
400
200
600
1,850
Luxury
1,400
1,925
400
1,200
4,925
Cancun Travel Guide: Money Saving Tips
Outside the resort and tourist area, Cancun, like the rest of Mexico, won't break the bank. Inside that area, well, everything is priced for tourists and you'll burn through your money pretty easily. It takes a lot of work not to spend a lot of money in that part of town. Get out of that area to save money. Here are some other ways to save in Cancun:
Eat street food – The street stalls that line. The streets in Mexico are safe to eat at and provide the cheapest and tastiest food around. If you don't want to eat there, find restaurants that cater to locals. If you start eating that's designed for tourists, you'll pay triple what you should!
Travel off-peak – Try to visit Cancun in the off-season between June and November as accommodation is significantly reduced.
Stay at a Hola Hostel – Hola Hostels is a network of hostels predominantly in South and Central America. They offer a 10% discount to their members, as well as other discounts for restaurants, transportation, and activities. Joining is free and their hostels are also committed to environmentally sustainable practices.
Couchsurf – Don't want to book a room at a resort? Use Couchsurfing to stay with locals who have extra beds and couches for free. Get a chance to meet great people too.
Save money on rideshares – Uber is way cheaper than taxis and are the best way to get around a city if you don't want to wait for a bus or pay for a taxi. The Uber Pool option is where can you share a ride to get even better savings (though you can get your own car too).
Buy biodegradable sunscreen before your trip – If you plan doing anything in the ocean, be sure to pack biodegradable sunscreen before you leave for your trip. The guides on your snorkeling/diving excursions sometimes won't tell you until the last minute that regular sunscreen is not allowed (it's damaging to the coral and overall water quality).
Being a water filter – Since the tap water here isn't safe to drink and single-use plastic is bad for the environment, bring a water filter. LifeStraw makes reusable bottles with a built-in filter so you can ensure your water is always clean and safe.
Where To Stay in Cancun
Still need a place to stay on your trip? Here are some of my favorite places to stay in Cancun:
How to Get Around Cancun
Public Transportation – Cancun is pretty easy to get around. The bus service is 24-hours and costs 8.50 MXN per ticket.
Taxi – In Cancun, taxis are not metered, but 24 MXN is a good guideline for city center travel. Uber, the taxi alternative, operates in Cancun. A ride from the hotel zone to downtown will cost around 198 MXN.
Car rental – If you want to rent a car to explore the area, expect to pay around 500 MXN per day. An international driver's license is not required.
When to Go to Cancun
Summer (May to October) is rainy season in Cancun. You can expect it to rain each day heavily, but the downpour is usually short. Temperatures during this time are somewhere between 75-90°F (24-32°C).
From the beginning of August to the end of November is hurricane season and is not a good time to visit.
December to the end of April (winter) is the busiest tourist season and Cancun is packed with travelers from all over North America and Europe. This is the best time to visit if you're looking to take advantage of Mexico's tropical environment. The hotel zone will be overflowing at times, so think about saying outside the zone. The average daily temperature during this time is 82°F (28°C). Prices will also be higher during this time, especially in the hotel zone.
Spring break is probably one of the busiest times in Cancun as college and university students flock to the hotels and hostels. It is a crazy party and things can become very crowded very quickly. Prices also spike during this time, especially near the beaches. I would avoid coming here during this time.
How to Stay Safe in Cancun
Cancun has long been the playground of tourists from throughout North America and Europe. As with most tourist hotspots, the most common crimes here are pickpocketing and bag snatching. Especially on crowded areas, and on the beach when you're not paying attention.
During busy times like spring break, petty crimes increase. Don't leave drinks unattended and be vigilant with your valuables. Be careful and aware of your surroundings when withdrawing your cash from an ATM.
Dangerous crimes against tourists are uncommon here, most of the conflicts in the area, when they occur, are between the authorities and Mexican drug cartels. The people who do tend to be involved in some sort of incident are usually drinking or doing drugs or taking part in sex tourism. Avoid all of that and you'll greatly reduce your risks here.
Locals are friendly and helpful. It's helpful too to learn a little bit of Spanish, even just the basics like greetings, "please" and "thank you." A little goes a long way!
If you are traveling during COVID and need a Health Visa, this post has more information on that process.
If an emergency occurs, dial 911. If that doesn't work (since 911 isn't available everywhere), dial 066.
Always trust your gut instinct. Avoid isolated areas at night, don't wander around alone at night, and be aware of your surroundings at all times. Make copies of your personal documents, including your passport and ID.
If you wouldn't do it at home, definitely don't do it here!
The most important piece of advice I can offer is to purchase good travel insurance. Travel insurance will protect you against illness, injury, theft, and cancellations. It's comprehensive protection in case anything goes wrong. I never go on a trip without it as I've had to use it many times in the past.
Cancun Travel Guide: The Best Booking Resources
These are my favorite companies to use when I travel. They consistently have the best deals, offer world-class customer service and great value, and overall, are better than their competitors. They are the companies I use the most and are always the starting point in my search for travel deals.
Skyscanner – Skyscanner is my favorite flight search engine. They search small websites and budget airlines that larger search sites tend to miss. They are hands down the number one place to start.
Hostelworld – This is the best hostel accommodation site out there with the largest inventory, best search interface, and widest availability.
Booking.com – The best all around booking site that constantly provides the cheapest and lowest rates. They have the widest selection of budget accommodation. In all my tests, they've always had the cheapest rates out of all the booking websites.
Intrepid Travel – If you want to do group tours, go with Intrepid. They offer good small group tours that use local operators and leave a small environmental footprint. And, as a reader of this site, you'll get exclusive discounts with them too!
Get Your Guide – Get Your Guide is a huge online marketplace for tours and excursions. They have tons of tour options available in cities all around the world, including everything from cooking classes, walking tours, street art lessons, and more!
SafetyWing – Safety Wing offers convenient and affordable plans tailored to digital nomads and long-term travelers. They have cheap monthly plans, great customer service, and an easy-to-use claims process that makes it perfect for those on the road.
Cancun Gear and Packing Guide
If you're heading on the road and need some gear suggestions, here are my tips for the best travel backpack and for what to pack!
The Best Backpack for Travelers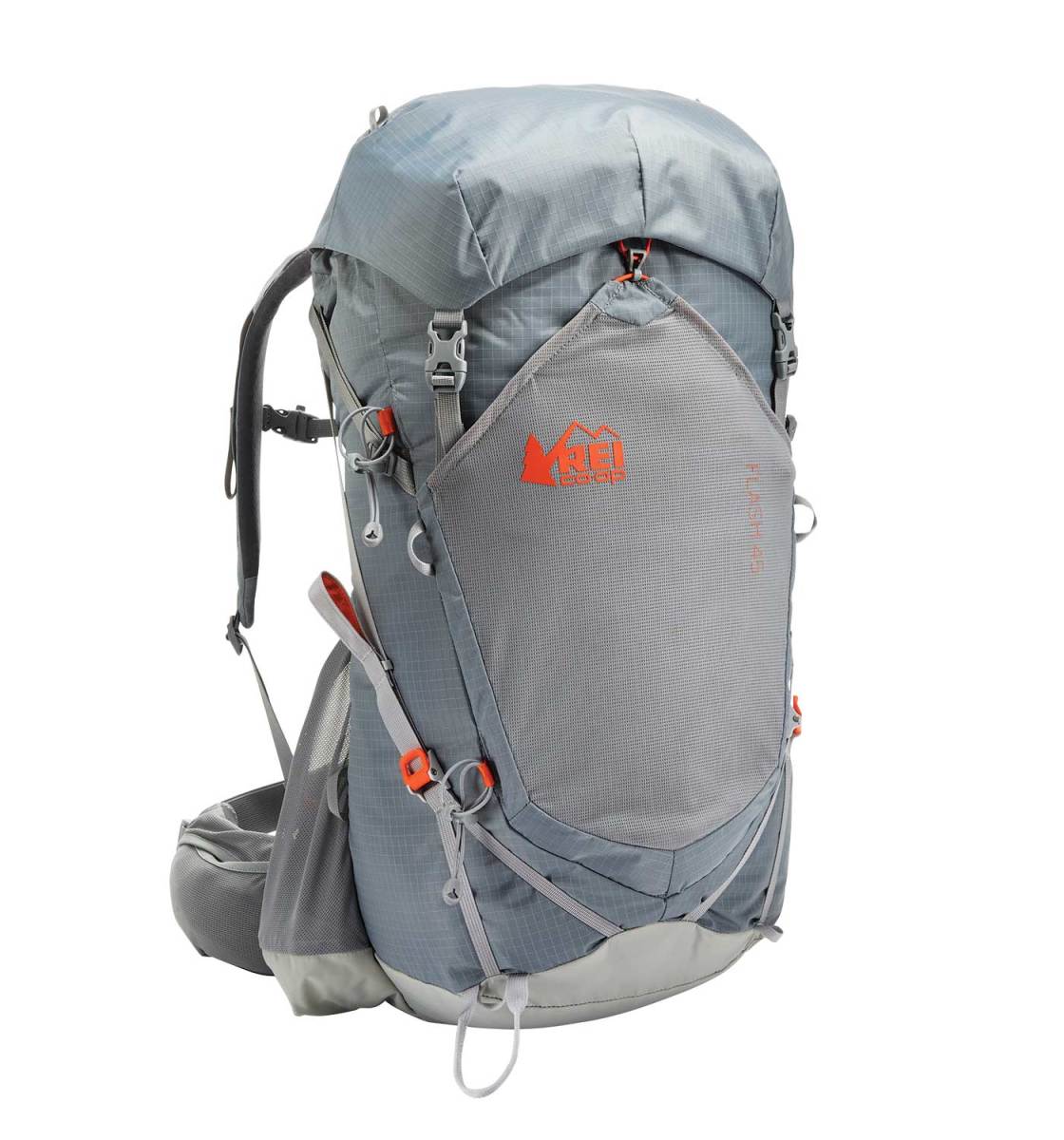 What's the best backpack for traveling long-term? I recommend the
REI Flash 45 Pack
. It's light and comfy, top loading, and fits perfectly in an airplane's overhead bin.
Size:
45-47L
Straps:
Thick and cushy with compression technology that pulls the pack's load up and inwards so it doesn't feel as heavy.
Features:
Removable top lid, pocket at the front, hydration compatible, contoured hip belt
If you want something different, refer to my article on how to choose the best travel backpack for tips on picking a pack and other backpack suggestions.
What to Pack for Your Trip
Clothes
1 pair of jeans (heavy and not easily dried, but I like them; a good alternative is khaki pants)
1 pair of shorts
1 bathing suit
5 T-shirts (Unbound Merino is my preferred company. If you're a member of NM+, you can get 15% off your purchase)
1 long-sleeved T-shirt
1 pair of flip-flops
1 pair of sneakers
6 pairs of socks (I always end up losing half)
5 pairs of boxer shorts (I'm not a briefs guy!)
1 toothbrush
1 tube of toothpaste
1 razor
1 package of dental floss
1 small bottle of shampoo
1 small bottle of shower gel
1 towel
Deodorant
Small Medical Kit (safety is important!!!)
Miscellaneous
Female Travel Packing List
I'm not a woman, so I don't know what a woman wears, but Kristin Addis, our solo female travel guru, wrote this list as an addition to the basics above:
Clothing
1 swimsuit
1 sarong
1 pair of stretchy jeans (they wash and dry easily)
1 pair of leggings (if it's cold, they can go under your jeans, otherwise with a dress or shirt)
2-3 long-sleeve tops
2-3 T-shirts
3-4 spaghetti tops
1 light cardigan
Toiletries
1 dry shampoo spray & talc powder (keeps long hair grease-free in between washes)
1 hairbrush
Makeup you use
Hair bands & hair clips
Feminine hygiene products (you can opt to buy there too, but I prefer not to count on it, and most people have their preferred products)
For more on packing, check out these posts:
Cancun Travel Guide: Related Articles
Want more info? Check out all the articles I've written on backpacking/traveling Cancun and continue planning your trip: