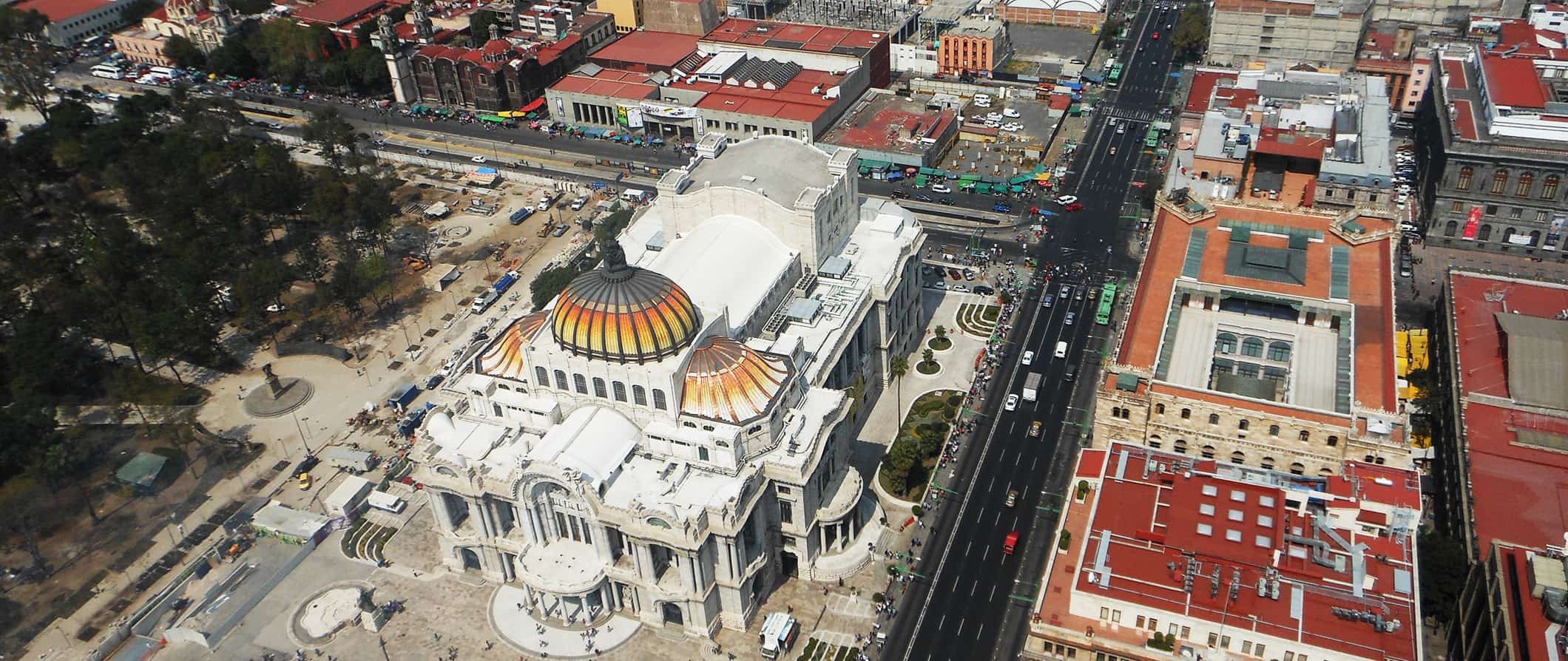 As one of the largest cities in the world with a vast population of almost 9 million (and almost 22 million in the greater metropolitan area), Mexico City is a sprawling, chaotic, mess – in a good way. There's always something to do here and, as most tourists avoid it, tourist free! Here you will find museums, historic churches, plazas, buildings, and incredible parks. Most of its tourist attractions are all centered around a fairly small geographical area and, better still, they are all inexpensive.
Top 5 Things to See and Do in Mexico City
1. Walk through the Zócalo
Encompassing the Templo Mayor, the Palacio Nacional and the Plaza de la Constitución, the Zócalo truly is the heart of Mexico City. Situated just off the Zócalo is La Catedral Metropolitana. This magnificent building is fortified with gold and is a fine example of Spanish colonial architecture.
2. Relax in Chapultepec Park
As one of the largest city parks in the world, it's no surprise that Chapultepec is packed full of activities. Enclosed within its vast grounds are the Zoo, and La Feria amusement park.
3. Participate in Dia de los Muertos
Every November, on the 1st and 2nd of the month, the entire country joins in a mass celebration of the dead. Everywhere you go, there are decorated sugar skulls, candy treats, and baked goods (Pan de Muerto). It's a must experience event.
4. Visit Frida Kahlo's House
Frida Kahlo and her husband Diego Rivera are two of the biggest names in Mexican art. A tour to their old home, the "Casa Azul" is an interesting and worthwhile experience. You can find her house in the colonial Coyoacán district. (Note: Buy tickets to Casa Azul online in advance because tickets are high in demand.) Admission is 120-140 MXN.
5. Check out the Art and History Museums
From the expansive Museum of Anthropology (Museo Nacional de Antropología) to the National History Museum (Galería de Historia) to the Modern Art Museum (Museo de Arte Moderno) and the National Art Museum (Museo Nacional De Arte), Mexico City can compete with any other culturally-rich city.
Other Things to See and Do
(Click the title to expand the text)
1. Visit Castillo de Chapultepec
This impressive and beautiful castle also is the Museo Nacional de Historia. It's open daily (except Mondays) from 9am-5pm. It costs 64 MXN.
2. Explore Templo Mayor
Mexico City is a hotbed of historical landmarks, particularly those dating back to the Aztec period, and there is no finer example than The Great Temple. It's open daily (except Mondays) from 9am-5pm and costs 65 MXN.
3. Eat in the Zona Rosa
One of the most popular areas of the city, Zona Rosa boasts an array of bars, restaurants, and nightclubs. This is the best nightlife area in the city. Make sure to dress well here too.
4. Visit the Museo Nacional de Antropología
Found within Chapultepec Park, this world-class anthropology museum houses a vast collection of sculptures, jewels, and artifacts from ancient Mexican civilizations. The museum is open daily (except Mondays) from 9am-7pm and costs 65 MXN.
5. Visit a megalibrary
Situated among gardens, this temple to books is referred to as a "megalibrary" for its gigantic size. Transparent walls and intentionally mismatched floors allow you to get lost in a maze of books. This is one of the best libraries I've ever seen.
6. Climb the Torre Mayor
At almost 1000 feet, the Torre Mayor is one of the tallest buildings in Latin America and offers a unique way to view the skyline.
7. Participate in the Loteria Nacional
Believe it or not, the national lottery is a pretty popular thing here. On the west side of Paseo de la Reforma, in the art deco tower, you can go try your luck and hope the wooden balls with your numbers get picked.
8. Flock to the Basilica de Guadalupe
This Catholic shrine is world-famous, drawing thousands every year, from all over. The yearly celebration is December 12th, which makes this a crazy place to be during that time. It's open daily from 6am-9pm.
9. Marvel at the Soumaya Museum
Housing 66,000 pieces of Central American and European art, the Soumaya Museum was donated and constructed by one of the world's richest men, Carlos Slim Helú. In Northern Mexico City, the Soumaya Museum covers 170,000 square feet and has a very unique architectural structure. Admission is free. Open daily 10:30am-6:30pm all days except Tuesday when the museum is closed.
10. Attend a lucha libre
Mexican free wrestling is a favorite past time among locals. Extremely entertaining and affordable, this is a unique show and fun experience. Grab a beer and get ready to holler some Spanish jeers.
Typical Costs
Hostel prices
– Beds in hostel dorms range around 140-160 MXN on the lower end. Expect to pay at least 330 MXN for a private room that sleeps two. Most hostels offer breakfast and WiFi in the price. You can book your hostel with
Hostelworld
.
Budget hotel prices – Hotel accommodation is pretty inexpensive in Mexico City. A night in a 2-star hotel in a room that sleeps two starts around 170 MXN per night. Rooms at that price include basic amenities like private bathrooms, a TV in the room, and free WiFi. Use Booking.com as they consistently return the cheapest rates. On Airbnb, shared rooms start around 240 MXN per night and entire homes (including studio apartments) start around 650 MXN per night.
Average cost of food – Food here is generally very affordable. By purchasing food on street stalls or in markets you can expect to spend around 240 MXN per day or less, with a less restrictive budget coming in at around 480 MXN if you choose to eat at reasonably priced sit-down restaurants. A combo meal at McDonald's costs around 80 MXN. A meal at a nicer sit-down restaurant is around 300-500 MXN. You can get some pretty bad-ass tequila for as cheap as 240 MXN. If you cook your meals, expect to pay 585 MXN per week for groceries that will include rice, vegetables, chicken, and other basic foods.
Transportation costs – Mexico City is very large and the best way to get around is the subway (metro) system. It's usually busy and crowded but it's efficient. A ride costs 2 MXN. A public city bus costs the same. You also can ride a Microbus (or a Pesero as it's commonly known), which are privately-run. A ticket for these is between 2.50-4 MXN. Taxi fares start from around 6 MXN and go to 10 MXN. Uber, an alternative to taxis, operates in Mexico City and is pretty cheap. Cicloestaciones (bicycle rental stations) also offer free rental but you'll need to leave your ID.
Suggested daily budget
830-1,035 MXN / $40-50 USD (Note: This is a suggested budget assuming you're staying in a hostel, eating out a little, cooking some of you meals, and using local transportation. Using the budget tips below, you can always lower this number. However, if you stay in fancier accommodation or eat out more often, expect this to be higher!)
Money Saving Tips
Cycle around – Although inexpensive, the city's public transport can be very crowded – a great alternative is to make use of the free bike rentals available at Cicloestaciones.
Eat street food – Save money on food by eating at the big markets or from the vendors on the street. You'll get big, flavorful, and filling meals for only a few dollars. If you're weary, just eat wherever you see children eating. If kids can eat that food, you'll be fine!
Couchsurf – Use Couchsurfing to stay with locals who have extra beds and couches for free. Plus, you get a local host who will show you around and, in a city this size, you'll want one!
Go on a free walking tour – Learn the history behind the places you are seeing and to avoid missing any must-see stops in Mexico City. Estacion Mexico Free Tours has a historic downtown tour at 11am can show you what the city has to offer. Advance bookings online are recommended.
Save money on rideshares – Uber is way cheaper than taxis and are the best way to get around a city if you don't want to wait for a bus or pay for a taxi. The Uber Pool option is where can you share a ride to get even better savings (though you can get your own car too). You can save $15 off your first Uber ride with this code: jlx6v.
My Must Have Guides For Traveling to Mexico City