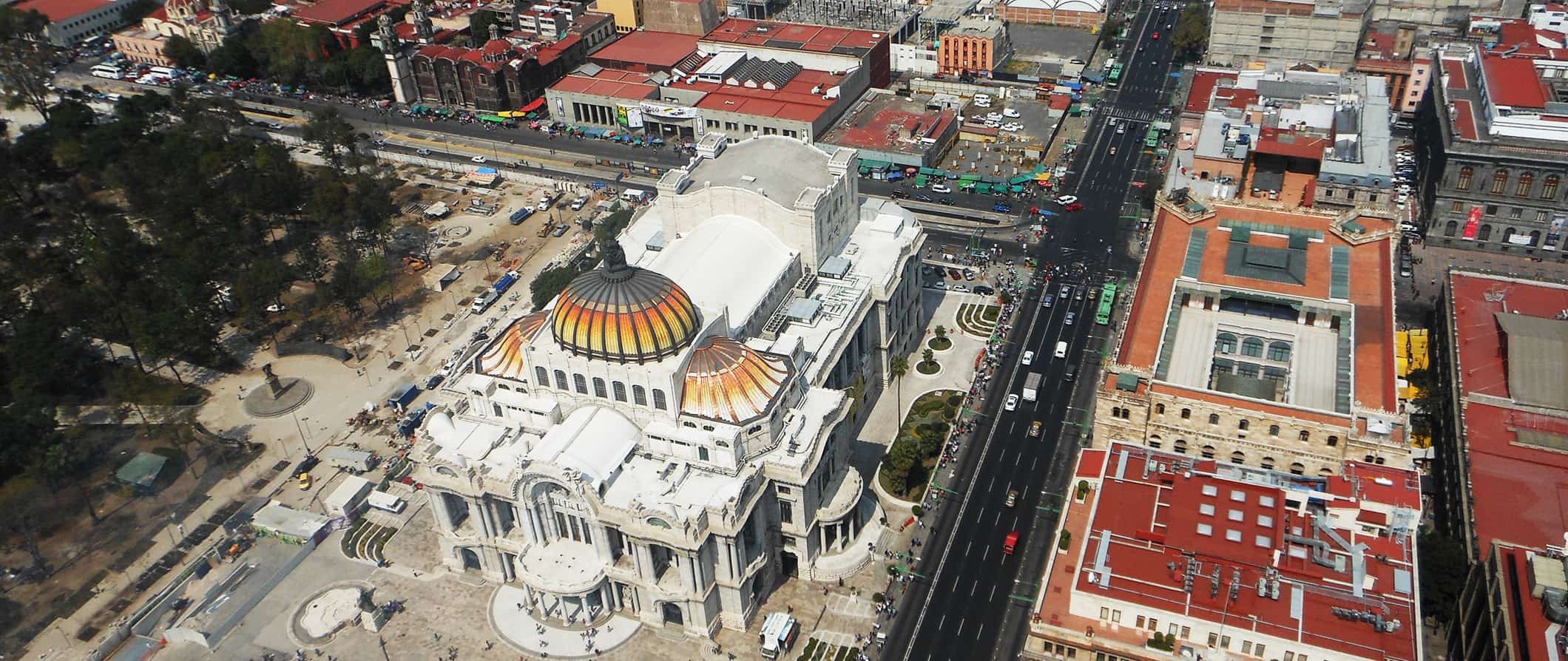 Mexico City is a sprawling, chaotic, messy city in the best way possible. Here you'll find world-class museums, monumental churches, grand plazas, historic buildings, lush parks, and one of the best food scenes in the world. It's no surprise that travelers fall in love with all aspects of this dynamic city.
Founded in the early 14th century by the Aztecs, Mexico City is one of the oldest capital cities in the Americas. Today, it is one of the most fascinating cultural destinations in the world, with eclectic art galleries, animated food markets, bustling nightlife, and grandiose historic buildings on tree-lined streets.
I was late to visit Mexico City, but once I spent time here I fell in love. The museum, parks, and food scene make this a world-class city in my view. It's also super affordable and has a growing expat/digital nomad scene so it's easy to visit long-term and make connections.
This travel guide to Mexico City can help you make the most out of your trip, save money, help you stay safe, and ensure you have an amazing visit!
Top 5 Things to See and Do in Mexico City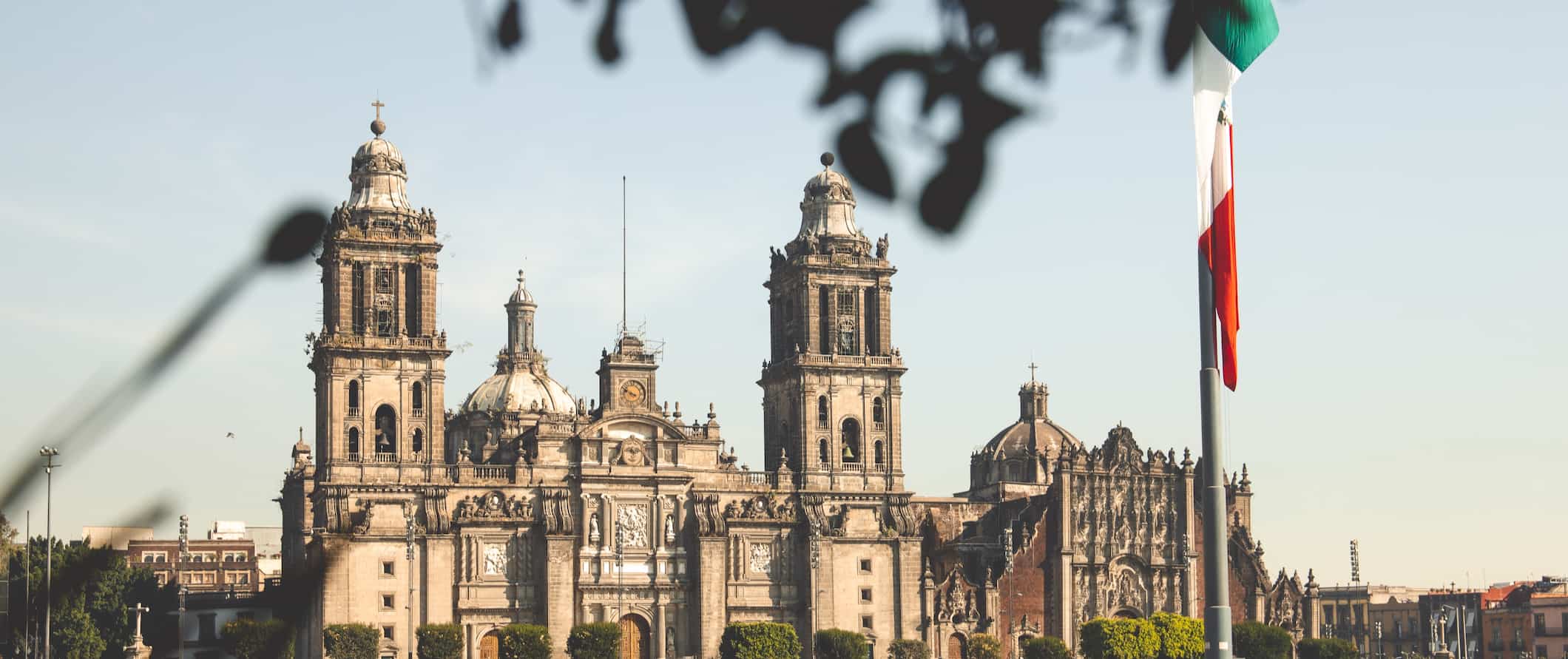 1. Walk through the Zócalo
Encompassing the Templo Mayor, Palacio Nacional, and Plaza de la Constitución, the Zócalo is the heart of Mexico City's Historic Center. Originally the site of an Aztec Temple, the Templo Mayor was destroyed to make room for a new Spanish cathedral in 1521. Rediscovered in the 1970s, you can now view ancient artifacts uncovered from the site alongside the stunning Spanish colonial architecture of La Catedral Metropolitana. Exploring the Zócalo area is the perfect introduction to Mexico City's rich culture and history. Start your visit here.
2. Relax in Chapultepec Park
Spanning 1,695 acres in the heart of Mexico City, here you'll find a zoo, La Feria amusement park, and nine unique museums. Chapultepec Park is one of the world's most visited urban parks, and you can spend days strolling around forest paths and relaxing by the water. Here you'll find the Museum of Anthropology, which houses a vast collection of sculptures, jewels, and artifacts from ancient Mexican civilizations (admission is 70 MXN). You can also rent a rowboat or paddle boat and go out on Chapultepec Lake for 60 MXN. And history buffs will love a visit to Chapultepec Castle, the former home of Emperor Maximilian I and Empress Carlota. It was built on a sacred Aztec site. Admission costs 80 MXN and is free on Sundays.
3. Participate in Day of the Dead
Every November, on the 1st and 2nd of the month, the entire country joins in a mass celebration of the dead. Everywhere you go, there are decorated sugar skulls, candy treats, and baked goods known as Pan de Muerto. The festival is a vibrant and lively affair with celebrations for those who are gone but not forgotten, including parades of elaborate and colorful costumes. It's a must-do and an incredibly vibrant cultural experience you will never forget. All you have to do is show up!
4. Visit Frida Kahlo's House
Frida Kahlo and her husband Diego Rivera are two of the biggest names in Mexican art. Frida was particularly famous for her portraits and self-portraits. A tour of their old home (the "Casa Azul") is a worthwhile experience to see where and how she lived, as well as some of her original artwork. Caza Azul also hosts a variety of artistic workshops monthly, so check out the schedule if you're interested in learning a new skill during your Mexico City trip. Tickets are 250 MXN. Buy tickets in advance because tickets are high in demand.
5. Check out the art and history museums
There are tons of museums and galleries in Mexico City, perfect for art enthusiasts and history buffs alike. Worthwhile museums include the Museum of Anthropology, the National History Museum, the Modern Art Museum, the National Art Museum, and the Museo do Arte Populare (folk art museum). Mexico City can compete with any other culturally rich city so be sure to spend some time admiring these massive collections. Tickets start at 70 MXN.
Other Things to See and Do in Mexico City
1. Visit Castillo de Chapultepec
The only castle in North America to house sovereigns, Chapultepec Castle was built in 1725 as a large manor house for the Viceroy (the colonial administrator from Spain). Abandoned during the Mexican War of Independence in 1810, Chapultepec later became the residence of Emperor Maximilian I and Empress Carlota in 1864 during the Second Mexican Empire (1864–1867). Today, Chapultepec Castle is home to Museo Nacional de Historia, which tells the story of Mexico from the time of Tenochtitlan to the Mexican Revolution. It costs 85 MXN.
2. Explore Templo Mayor
Mexico City is a hotbed of historical landmarks, particularly those dating back to the Aztec period, and there is no finer example than the Great Temple of Tenochtitlan. Located in the heart of the Historic Centre of Mexico City and Xochimilco, Templo Mayor is an example of life in Mesoamerica before the arrival of the Spanish in 1519. The Aztecs believed the area to be the literal center of the universe, and it was here where they sighted the eagle perched on a cactus with a snake in its beak — the symbol of Mexico today. Admission is 85 MXN and includes entrance to the museum and the archeological site.
3. Feast in the Zona Rosa
One of the most popular neighborhoods in Mexico City, Zona Rosa is historically known for being the heart of the city's gay community and boasts an array of bars, restaurants, and nightclubs. This is the best nightlife area in the city. Make sure to dress well here too. Try places like Cafeteríra El Péndulo, Xaman Bar, and Cabaretito Fusión. If you have a taste for Korean barbeque (Zona Rosa has a huge Korean community!), head to BiWon.
4. Visit the Museo Nacional de Antropología
Found within Chapultepec Park, this world-class anthropology museum is the largest museum in Mexico, at 45,000 square meters (it's also the most-visited museum in the country). Open since 1964, the museum houses a vast collection of sculptures, jewels, and artifacts from ancient Mexican civilizations. There's an exhibition on the culture of Native Americans in Mexico as well as numerous rotating temporary exhibitions (often on other great cultures from around the world, such as Iran, China, and Greece). Admission is 85 MXN.
5. Tour a megalibrary
Situated among gardens, the Biblioteca Vasconcelos is a temple to books, often referred to as a "megalibrary". Opening its doors in 2006, the library features transparent walls and intentionally mismatched floors, six floors, and houses over 600,000 books! The library also offers cultural activities like concerts, plays, and dance performances, and there's also a 26,000-square-meter garden filled with trees, shrubs, and herbaceous plants. Admission is free. Check the website to see what events are happening during your visit.
6. Check out the Basilica de Guadalupe
The Basilica de Guadalupe is a Catholic church, basilica, and world-famous shrine, drawing thousands of pilgrims every year from all over Mexico. The yearly celebration of the shrine is on December 12th, which makes this a crazy, festival-like place to be during that time. Take time to explore the grounds, as well as the basilica and shrine. The old basilica was constructed from 1695-1709, built on the spot where the Virgin of Guadalupe had first appeared to the peasant-turned-saint Juan Diego in 1531. The old basilica began to sink in its foundation, and a new basilica was constructed from 1974-1976. Just make sure to dress respectfully during your visit as it is a place of worship.
7. Marvel at the Soumaya Museum
Housing 66,000 pieces of Central American and European art, the Soumaya Museum displays works not only by Mexican artists like Diego Rivera and Rufino Tamayo, but also by famous masters like Botticelli, Dalí, and Rodin, to name a few. The museum was donated and constructed by one of the world's richest men, Carlos Slim Helú (a Mexican business magnate). In Northern Mexico City, the Soumaya Museum is a stunning building covered with 16,000 aluminum hexagonal tiles, which sparkle in the sunlight. It's considered to be the most beautiful modern building in Mexico City. Admission is free.
8. Attend a lucha libre
Mexican free wrestling is a favorite pastime among locals. Extremely entertaining and affordable, Lucha libre takes wrestling to a whole new level, and the cheers and heckles from the crowd add to the fun. Grab a beer or a shot of tequila, and get ready to holler some Spanish jeers – and whatever you do, do not look away during a match as anything can, and will, happen. General seating tickets can be as little as 56 MXN each. Don't go with a tour or book ahead of time as you'll pay a lot more. Do not buy from scalpers either, because the police are always around and you'll get in trouble. Look for a tequila (ticket booth) sign to be sure that you are paying the right price. Do not bring your camera, as you will be forced to check it at the door.
9. Visit the UNAM Botanical Garden
If you need to escape the hustle and bustle of Mexico City for a little while, The Botanical Garden at the National Autonomous University of Mexico is the perfect place. Keeping with the Aztec traditions of having gardens for both medicinal and ornamental purposes, there is also an added focus on conservation and environmental education. Built on top of and around lava formations from the eruption of the volcano Xitle, visitors can explore the naturally formed grottoes, ponds and waterfalls. This garden has the most diverse cactus collection in the world (800 different kinds!), ponds full of koi and turtles, an orchidarium, and a medicinal garden.
This green space is not only a haven for people but the local wildlife as well. Keep an eye out for woodpeckers, owls, hummingbirds, rattlesnakes, lizards, and the Pedregal tarantula, which is a species only found in this small area of Mexico City. Admission is free.
10. Have some tacos at Taqueria los Cocuyos
There are tons of taquerias (taco stands) around Mexico City, but this 50-year-old establishment in the Historic Center has a vast array of meats to choose from. They have standard fillings like carnitas or chorizo, but why not try a tripe, brains (they have a creamy consistency), or tongue (this melts in your mouth like pot roast) taco? Anthony Bourdain absolutely loved this taqueria so need I say more?

For information on other cities in Mexico, check out these guides:
Mexico City Travel Costs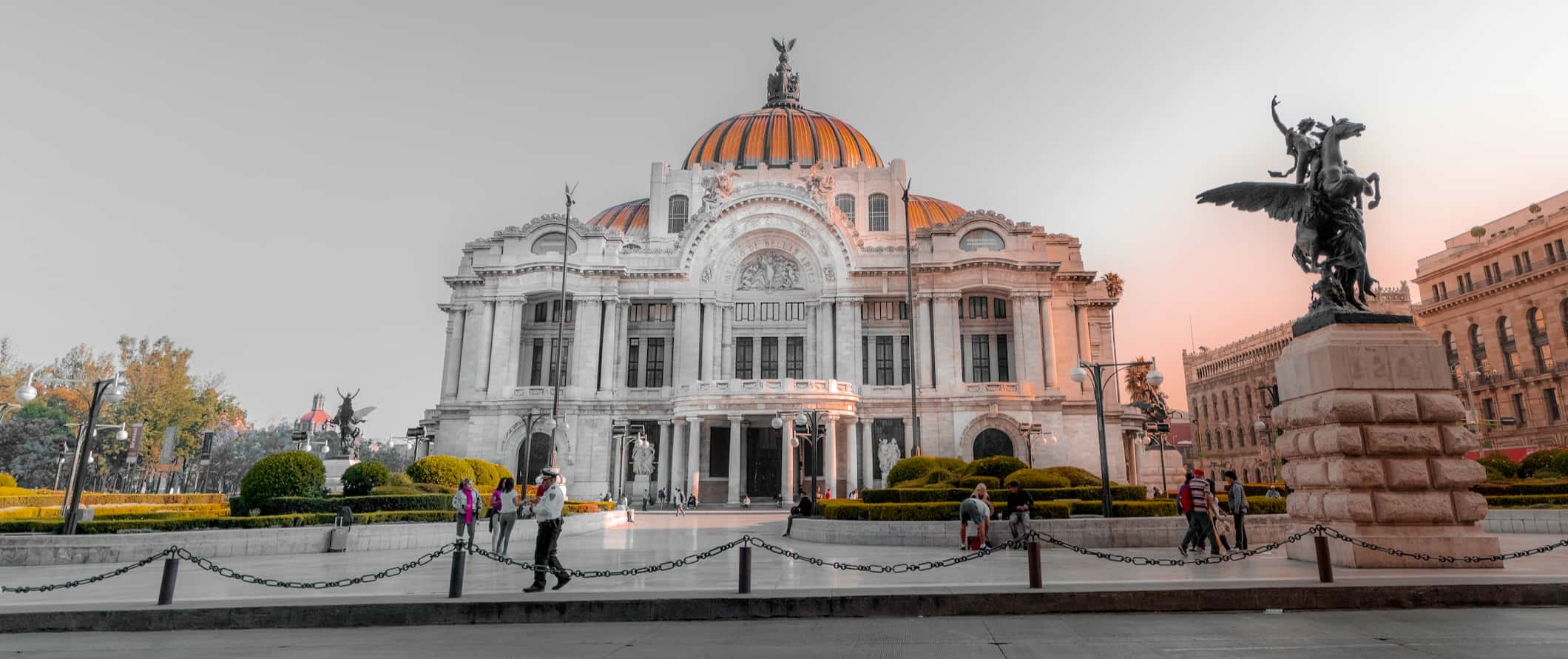 Hostel prices – During peak season, the price per bed in a 4-6-bed dorm starts at 300 MXN per night, whereas a private room for two ranges from 600-1,900 MXN per night. In the shoulder season, those prices drop to 225 MXN and 850 MXN respectively. Free Wi-Fi is standard and many hostels also include free breakfast.
Budget hotel prices – Budget two-star rooms in Mexico City start around 300 MXN, while a three-star hotel ranges from 500-900 MXN. Expect basic amenities like free Wi-Fi, TV, AC, and occasionally free breakfast.
Airbnb is also an option in Mexico City, with private rooms starting at 220 MXN per night (though most are around 600 MXN). Entire homes and apartments start at 700 MXN and go up from there. Book early to find the best deals.
Food – Typical Mexican dishes include tacos, mole (a sauce with lots of ingredients, often including chocolate), salsa, enchiladas, tamales (stuffed corn pockets), pozole (hominy stew topped with onion, avocado, and chili) guacamole.
Street stalls and markets are the best way to go for authentic and inexpensive food. Tacos, quesadilla, sopas, tortas, and other street foods are generally 15-45 MXN. Sometimes, you'll find tacos for as cheap as 10 MXN.
A cheap meal at a restaurant costs around 150 MXN. Look for the ones filled with locals as that is generally a sign that the food is really good. If you want to splash out, a three-course meal costs around 325 MXN.
Fast food (think McDonald's) costs around 130 MXN for a combo meal. Pizza starts at 400 MXN while Chinese food costs around 200 MXN for a main dish.
Beer is 50-80 MXN while a latte/cappuccino is 55 MXN.
Tap water is not safe to drink in Mexico. Bring a portable water purifier or use bottled water (LifeStraw makes a good one.)
If you plan to cook your meals, expect to pay between 500-585 MXN per week for groceries that will include rice, vegetables, chicken, tortillas, and beans. However, with street food so cheap and most hostels and hotels without kitchens, it's best to simply eat local rather than cook.
Backpacking Mexico City Suggested Budgets
If you're backpacking Mexico City, expect to spend 1,050 MXN per day. This budget gets you a hostel dorm, street food and self-cooked meals, public transportation, and a few attractions (such as museums and galleries) each day. If you plan on eating out more or drinking, you'll need to add another 100 MXN per day.
On a mid-range budget of about 1,900 MXN per day, you can stay in a private hostel room or Airbnb, eat out at restaurants serving cheap traditional cuisine for every meal, visit more attractions, enjoy a few drinks, and take the occasional taxi to get around.
On a "luxury" budget of 3,800 MXN or more per day, you can stay at a hotel, eat out for all your meals, have plenty of drinks, take taxis everywhere, and do some guided trips and tours. This is just the ground floor for luxury though. The sky is the limit!
Accommodation
Food
Transportation
Attractions
Average Daily Cost
Backpacker
350
200
100
450
1,050
Mid-Range
600
500
200
600
1,900
Luxury
1,000
1,400
400
1,000
3,800
Mexico City Travel Guide: Money-Saving Tips
Mexico City is a really affordable city to visit. While prices have risen in the last couple of years, there's tons of affordable street food and accommodation. Plus, lots of free activities to help keep your costs down. To help keep your budget intact, here are some ways to save in Mexico City:
Eat street food – Save money on food by eating at the big markets or from the vendors on the street. You'll get big, flavorful, and filling meals for only a few dollars. If you're wary, just eat wherever you see children eating. If kids can eat that food, you'll be fine!
Stay with a local – Use Couchsurfing to stay with locals who have extra beds and couches for free. Not only will this lower your accommodation costs but you'll get to connect with a local insider who can share their tips and advice.
Go on a free walking tour – Learn the history behind the places you are seeing and to avoid missing any must-see stops in Mexico City. Estacion Mexico Free Tours has a historic downtown tour that can show you what the city has to offer. Just remember to tip your guide at the end!
Save money on rideshares – Uber is cheaper than taxis and is the best way to get around a city if you don't want to wait for a bus or pay for a taxi.
Drink less – Alcohol is cheap in Mexico City, but it's definitely more expensive at bars and clubs. Try to buy your alcohol from a local store instead of drinking at the bar if you're on a budget.
Take public transit – Public transportation is the most affordable way to get around. You can purchase a rechargeable Smartcard at any of the metro stations and you can use the card for the metro and metro buses.
Being a water filter – Since the tap water here isn't safe to drink and single-use plastic is bad for the environment, bring a water bottle with a built-in filter. LifeStraw is my go-to choice as it ensures your water is always clean and safe.
Where to Stay in Mexico City
Mexico City has a bunch of affordable hostels that are fun and safe. Here are some of recommended places to stay:
For more hostel suggestions, check out my completes list of the best hostels in Mexico City!
How to Get Around Mexico City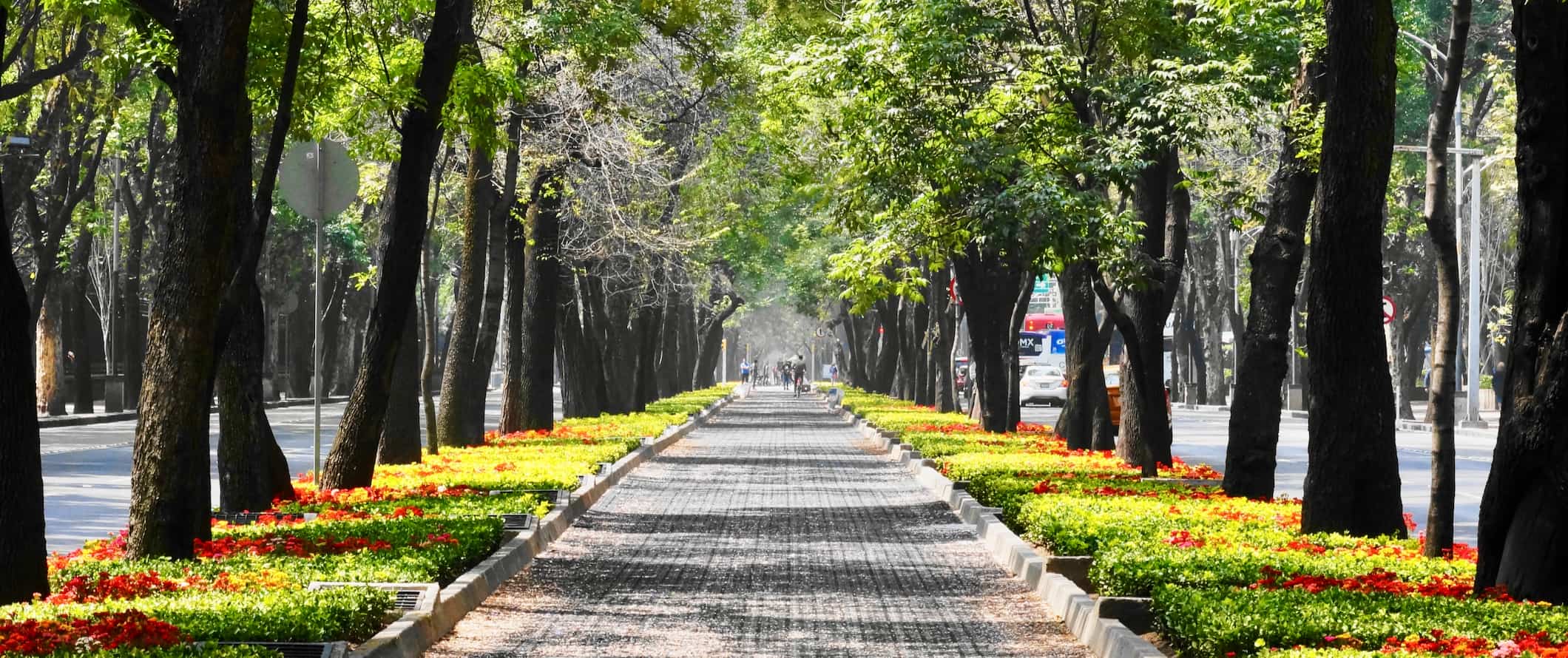 Public transportation – Mexico City is very large and the best way to get around is the subway (metro) system. It's usually busy and crowded but it's efficient. You can buy a rechargeable smart card at any of the Metro stations for 16 MXN (this includes the first 5 MXN ticket), and you can use the card for the metro and metro buses. A public city bus costs 6 MXN. You also can ride a Microbus (or a pesero as it's commonly known), which are privately-run. A ticket for these costs 2.50-4 MXN.
Alternatively, Turibus is a touristy hop-on hop-off bus with four routes in Mexico City. These buses can be a good way to get your bearings and discover areas of the city you may want to explore further. A 1-day ticket is 160 MXN on weekdays and 180 MXN on the weekends.
Bicycle – For bike rentals, check out EcoBici, a bike-sharing program. It offers the first 45 minutes free. After that, your first hour is 25 MXN and each hour after is an additional 50 MXN. A full day is 118 MXN. After you're done riding, you can return the bike to any kiosk with an open dock (indicated by a green light).
Taxis – Taxi fares start from around 25 MXN and then each kilometer is an additional 16 MXN. Don't hail a taxi which is passing on the street. Instead, take one from outside a hotel or restaurant as these are authorized taxis and safer to use.
Ride-sharing – Uber, an alternative to taxis, operates in Mexico City and is generally cheaper than taxis.
Car rental – Driving in Mexico City is not recommended as the traffic is slow and the drivers are aggressive. Cars cost around 800-900 MXN per day for a multi-day rental. To find the best prices, use Discover Cars.
When to Go to Mexico City
Summer (June to October) is the rainy season in Mexico, but mostly in the center of the country. You can expect it to rain each day heavily, but the downpour is usually short. It hardly ever rains in the northern part of the country, and humidity is thick in the south and along the coastal areas. Temperatures during this time are somewhere between 26-32°C (79-90°F).
April to June are typically the hottest months with temperatures averaging a high of 27°C (80°F). This is also one of the busiest times of year so be sure to book early.
Semana Santa is one of the biggest holidays in Mexico, next to Christmas and Day of the Dead. It takes place the week before Easter, when a re-enactment of the crucifixion takes place. Día de la Independencia takes place September 16th, but the celebrations begin the night before in Mexico City's Zócalo, complete with fireworks. This is Mexico's independence day, not Cinco de Mayo which is a celebration of the battle of Puebla which takes place in the state of Puebla, to the south of Mexico City.
In November, the streets and cemeteries of Mexico come alive as locals celebrate Día de Muertos (Day of the Dead), a time when locals hold all-night vigils and commune with loved ones who have died. It's also a time of parties and parades and sugar skulls. An unforgettable experience, especially in Mexico City. If you want to visit for the festival, book well in advance. The city books up fast and accommodation prices rise.
How to Stay Safe in Mexico City
The media (especially the American media) likes to paint Mexico City as a dangerous place to visit, but the reality is that a lot of Mexico City is completely safe. While petty theft (including bag snatching) is common here, most of the serious conflict is between the authorities and Mexican drug cartels, which will have little impact on your trip.
Stay away from neighborhoods like Tepito and Iztapalapa, and be aware of your surroundings in large crowded markets where it is easy to be targeted by pickpockets. Do your best to blend in and always keep your valuables secure and out of reach.
The people who tend to get in trouble are often involved in doing drugs or taking part in sex tourism. Stay away from that stuff for many reasons.
Locals are friendly and helpful. If you're not sure about a neighborhood, ask a local. They can tell you whether or not it is a good idea to go there.
A local once described the city as a night city, which meant that, since there are lots of people out at night, there are eyes everywhere which helps reduce the likelihood of crime. I've never felt unsafe walking alone, especially when I'm in areas like Condesa, Roma Norte, or Jaurez, which are the areas you are likely to be in as a tourist.
Solo female travelers should generally feel safe here, though I would take extra caution at night. The standard safety precautions apply (never walk home alone intoxicated, never leave your drink unattended at the bar, etc.). Be sure to read one of the many solo female travel blogs for specific tips.
Keep an eye out for common scams against tourists, such as fake ATMs, taxis that don't use a meter, and questionable tour operators.
If you need emergency services, dial 911.
While Mexico's water purification and treatment systems have improved, it's still not safe to drink tap water when visiting. Use a LifeStraw to avoid single-use plastic and ensure your water is safe. It has a built-in filter to purify your water.
Always trust your gut instinct. Avoid isolated areas at night, and be aware of your surroundings at all times. Make copies of your personal documents, including your passport and ID.
The most important piece of advice I can offer is to purchase good travel insurance. Travel insurance will protect you against illness, injury, theft, and cancellations. It's comprehensive protection in case anything goes wrong. I never go on a trip without it as I've had to use it many times in the past.
Mexico City Travel Guide: The Best Booking Resources
These are my favorite companies to use when I travel. They consistently have the best deals, offer world-class customer service and great value, and overall, are better than their competitors. They are the companies I use the most and are always the starting point in my search for travel deals.
Skyscanner – Skyscanner is my favorite flight search engine. They search small websites and budget airlines that larger search sites tend to miss. They are hands down the number one place to start.
Hostelworld – This is the best hostel accommodation site out there with the largest inventory, best search interface, and widest availability.
Booking.com – The best all around booking site that constantly provides the cheapest and lowest rates. They have the widest selection of budget accommodation. In all my tests, they've always had the cheapest rates out of all the booking websites.
Get Your Guide – Get Your Guide is a huge online marketplace for tours and excursions. They have tons of tour options available in cities all around the world, including everything from cooking classes, walking tours, street art lessons, and more!
SafetyWing – Safety Wing offers convenient and affordable plans tailored to digital nomads and long-term travelers. They have cheap monthly plans, great customer service, and an easy-to-use claims process that makes it perfect for those on the road.
LifeStraw – My go-to company for reusable water bottles with built-in filters so you can ensure your drinking water is always clean and safe.
Unbound Merino – They make lightweight, durable, easy-to-clean travel clothing.
Top Travel Credit Cards – Points are the best way to cut down travel expenses. Here's my favorite point earning credit cards so you can get free travel!
Mexico City Travel Guide: Related Articles
Want more info? Check out all the articles I've written on backpacking/traveling Mexico City and continue planning your trip: