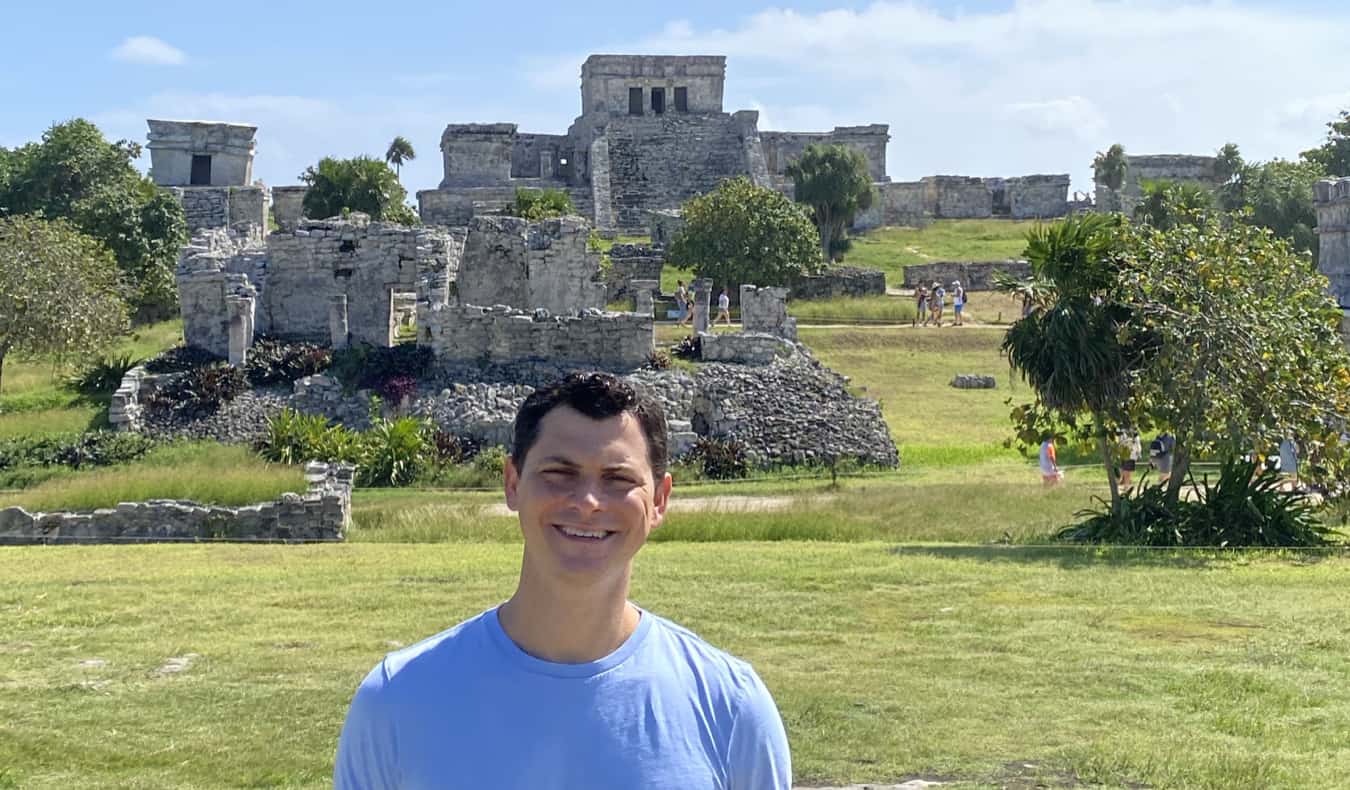 Last Updated: 3/30/22 | March 30th, 2022
While I was in Tulum, I went back to the ruins of Tulum. While modern Tulum is an overrun tourist trap, the ancient Mayan city is a must-see if you're in the area. Though I'd visited in 2011, I wanted to see them again because a) they are that beautiful and b) to see how the area has developed.
To help you make the most of your visit (and beat the crowds), here's everything you need to know to plan your trip to the ruins of Tulum:

A History of the Ruins of Tulum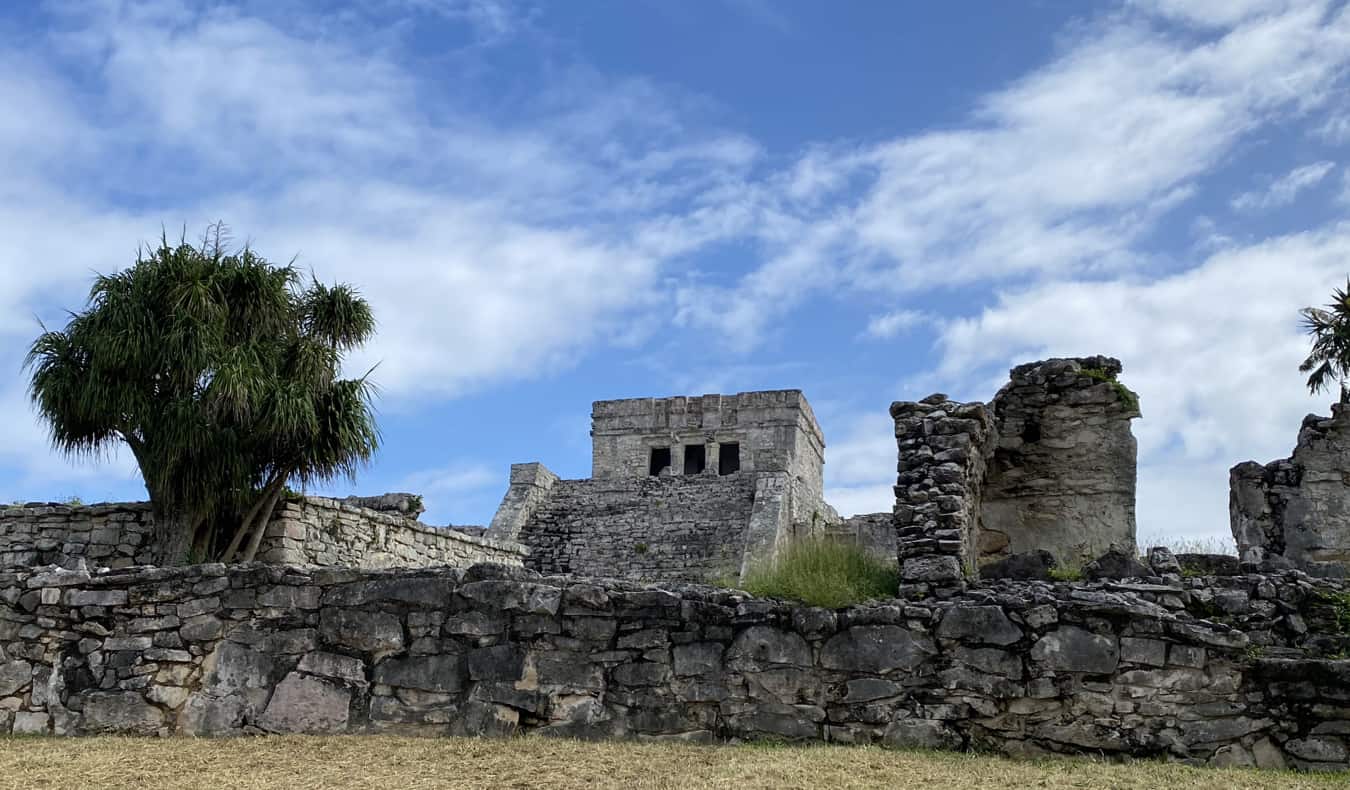 Constructed between 1200-1500 CE, Tulum was originally known as Zamá, which means "City of Dawn." It was a thriving capital and trading city owing to the fact that it had access to both land and water trade routes. It was easily defensible and become a pivotal trading center for nearby Chitzen Itza. The region was inhabited as far back as 564 CE and the city continued to thrive until the Spanish arrived and destroyed it in 1518.
Around 500 people lived in the city center while up to 10,000 lived outside the walls by the time Spanish arrived. Much of the local population succumbed to diseases introduced by the Europeans not long after their arrival and conquest. After that, Tulum was abandoned and left to the jungle.
After its rediscovery in 1840, it became one of the most popular ruins in Mexico.
It's incredibly beautiful, especially given its location near the ocean. Several buildings are still intact while many more lay in varying stages of decay.

The Ruins of Tulum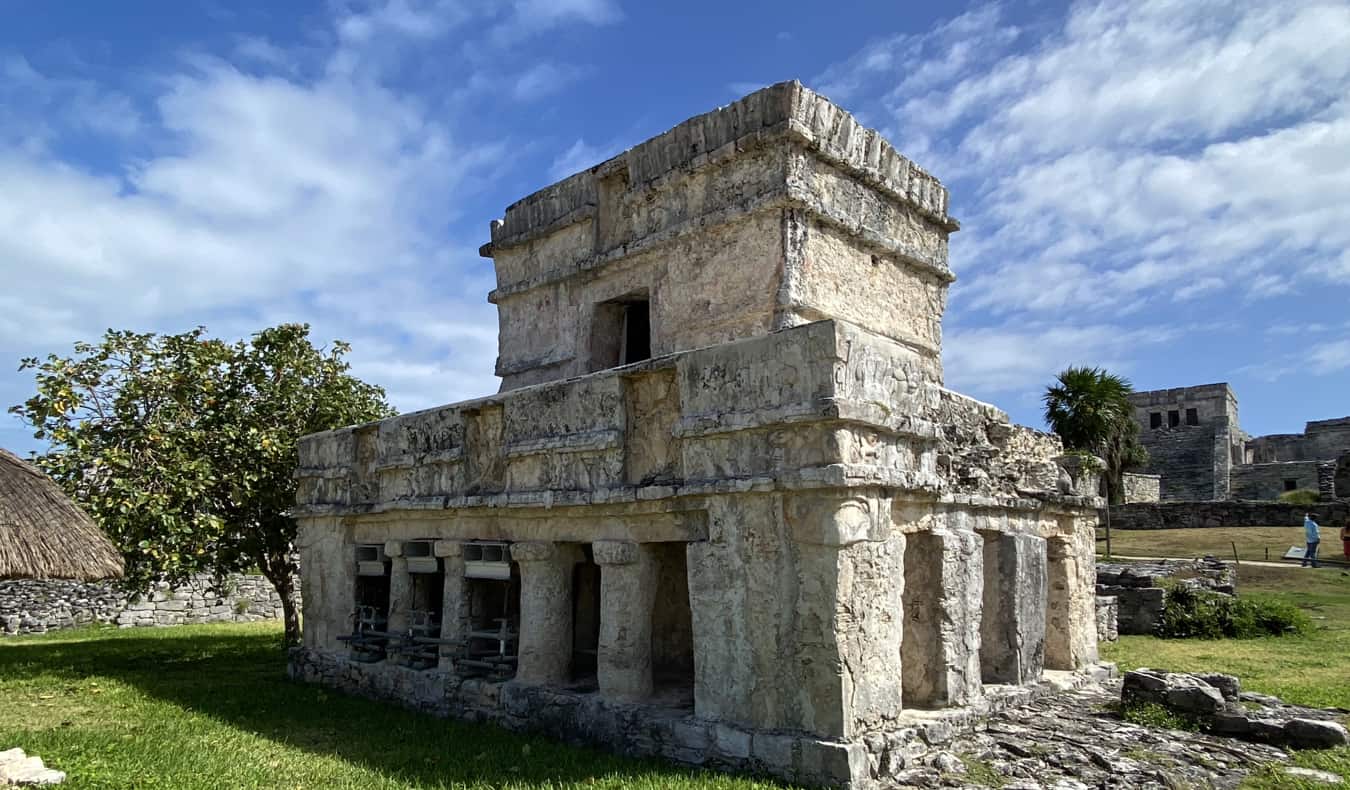 You have the beautiful Temple of the Frescoes. (Note: These are not original names. They are names archeologists gave to the buildings.) This is one of the most important structures in Tulum. It was also used as an observatory for tracking the sun. There are several carvings of the "diving god" (Venus) found here. The outer temple has sculptures in three niches, including a central figure representing the descending god Venus and human figures carved into the frieze.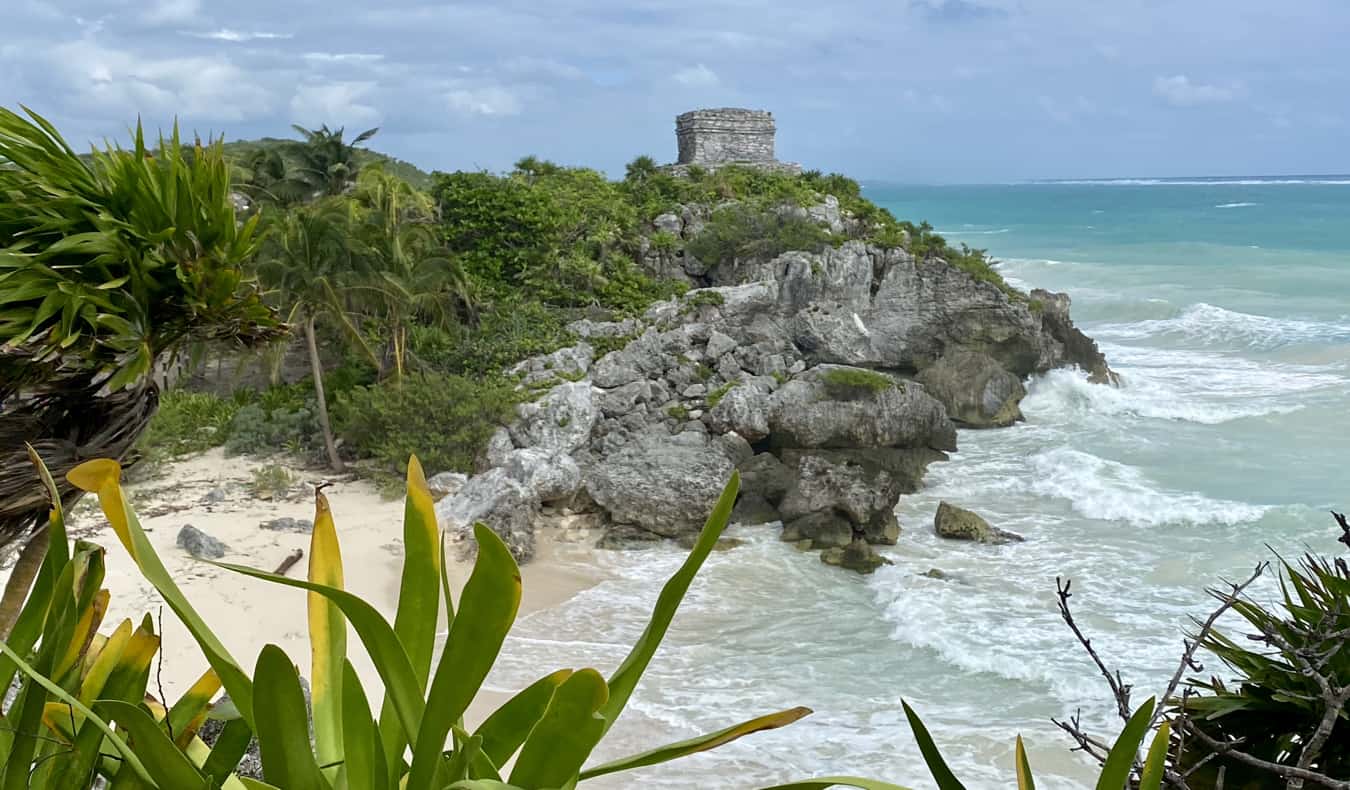 The southwest and northwest corners there are small structures that have been identified as watch towers, showing again how well defended the city was. Tulum was protected on one side by a huge bluff, which would have taken a great deal of energy and work on behalf of the Maya.
There are five narrow gateways in the wall, with two each on the north and south sides and one on the west. A small cenote on the northern side of the wall provided the entire city with water.
The Castillo (the castle) is the largest building in Tulum and it likely served as a landmark for sailors. There are serpent motifs carved into the upper rooms, and the building was originally painted red and covered in stucco.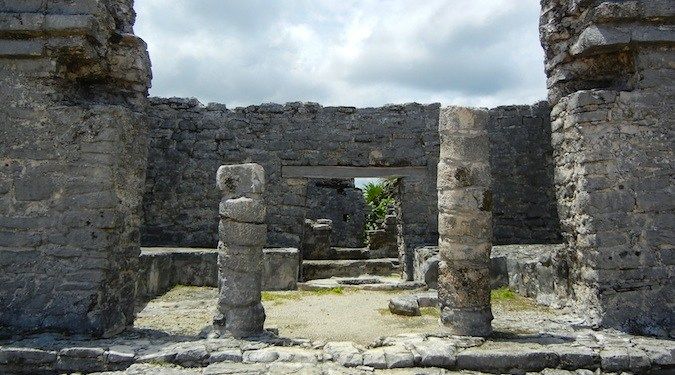 The House of Columns is one of the more complex structures in Tulum. It was likely built in stages. Shaped like an "L," six columns supported the roof. It's likely someone important lived here.
Nearby, a shrine marks a break in the barrier reef that is opposite the site. Here you'll find a cove and beach that would have been perfect for trading canoes coming in.

When to Visit the Ruins of Tulum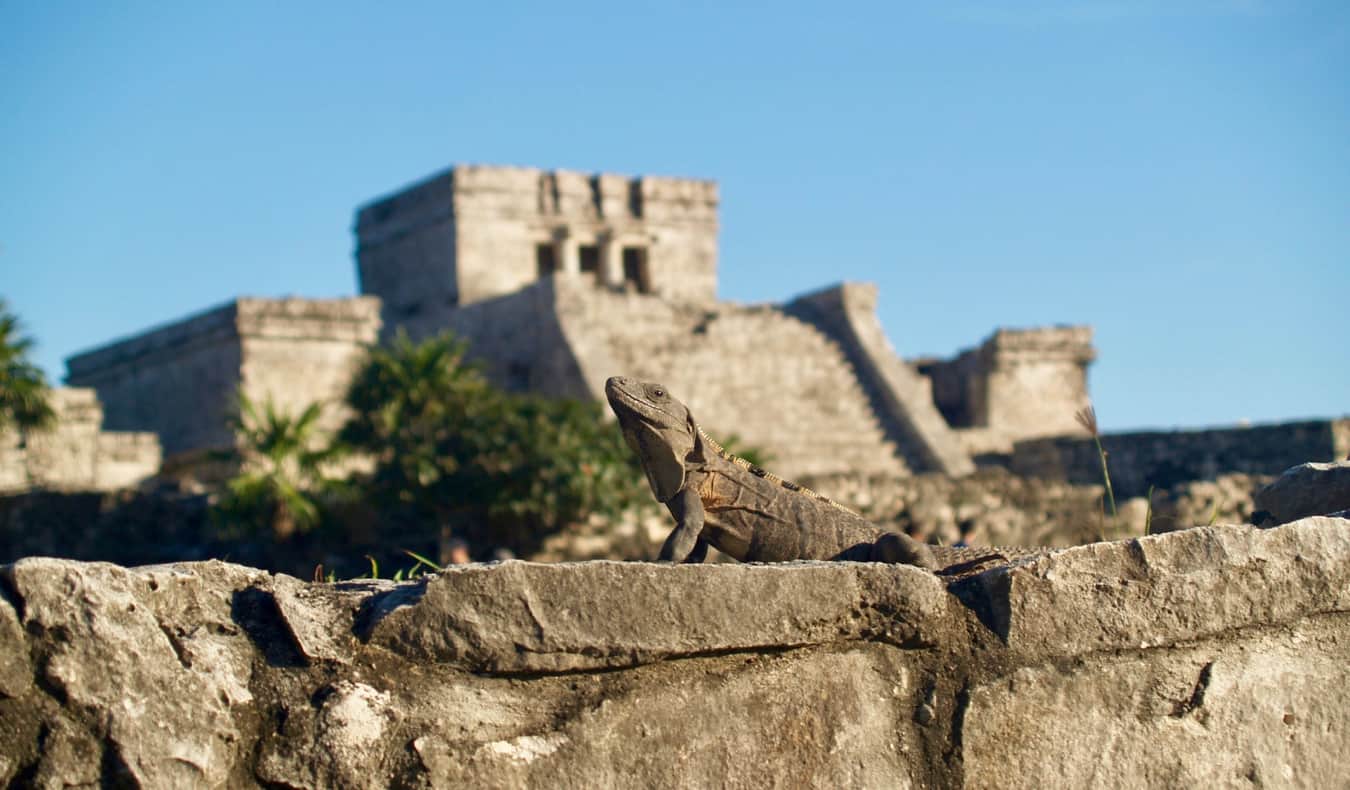 Today, the area around the ruins is now very developed with shops, bars, and even a Starbucks. There are a lot of people here too. It's best to come between 8-9am or after 3-4pm to avoid the sun as well as all the day-trippers from Playa del Carmen and Cancun. This place gets packed so arrive early or late to beat the crowds.
You can see the ruins in around one hour, though you might want to spend closer to two if you plan on swimming.
You can also swim here (bring a bathing suit!) under the old ruined fortress, which is a cool experience. However, the beach fills up fast so if you want to swim be sure to arrive early!
Though the ruins are more touristy than on my first visit, they are still as beautiful and awe-inspiring as I remember and are definitely worth a visit. Even if you're not a history buff like me, there is a lot to see and appreciate.

How to Visit the Ruins of Tulum
The ruins are located around 3 kilometers (1.8 miles) from the town of Tulum. You can reach the ruins in just under 2 hours from Cancun and in around 45 minutes from Playa del Carmen.
From the town of Tulum, you can reach the ruins on foot in under an hour. Otherwise, you can take a 10-minute taxi for around 150 MXN ($7.50 USD).
The ruins are open daily from 9am-5pm and costs 80 MXN ($4 USD). Parking costs around 100 MXN ($5 USD).
I'd also recommend hiring a guide. It's around 680 MXN ($35 USD) (regardless of how big your group is). The signage here isn't super great. You'll get a lot more information and detail with a guide.
***
While I'm not a big fan of Tulum, these ruins are a must-see. Even if you're not a history buff like me, they are worth taking the time to up close. And, if you follow the tips above, you'll be able to visit without the crowds, making the experience even more memorable!
Book Your Trip to Mexico: Logistical Tips and Tricks
Book Your Flight
Use Skyscanner to find a cheap flight. They are my favorite search engine because they search websites and airlines around the globe so you always know no stone is left unturned!
Book Your Accommodation
You can book your hostel with Hostelworld as they have the biggest inventory and best deals. If you want to stay somewhere other than a hostel, use Booking.com as they consistently return the cheapest rates for guesthouses and cheap hotels.
Don't Forget Travel Insurance
Travel insurance will protect you against illness, injury, theft, and cancellations. It's comprehensive protection in case anything goes wrong. I never go on a trip without it as I've had to use it many times in the past. My favorite companies that offer the best service and value are:
Looking for the Best Companies to Save Money With?
Check out my resource page for the best companies to use when you travel. I list all the ones I use to save money when I'm on the road. They will save you money when you travel too.
Want More Information on Mexico?
Be sure to visit our robust destination guide on Mexico for even more planning tips!