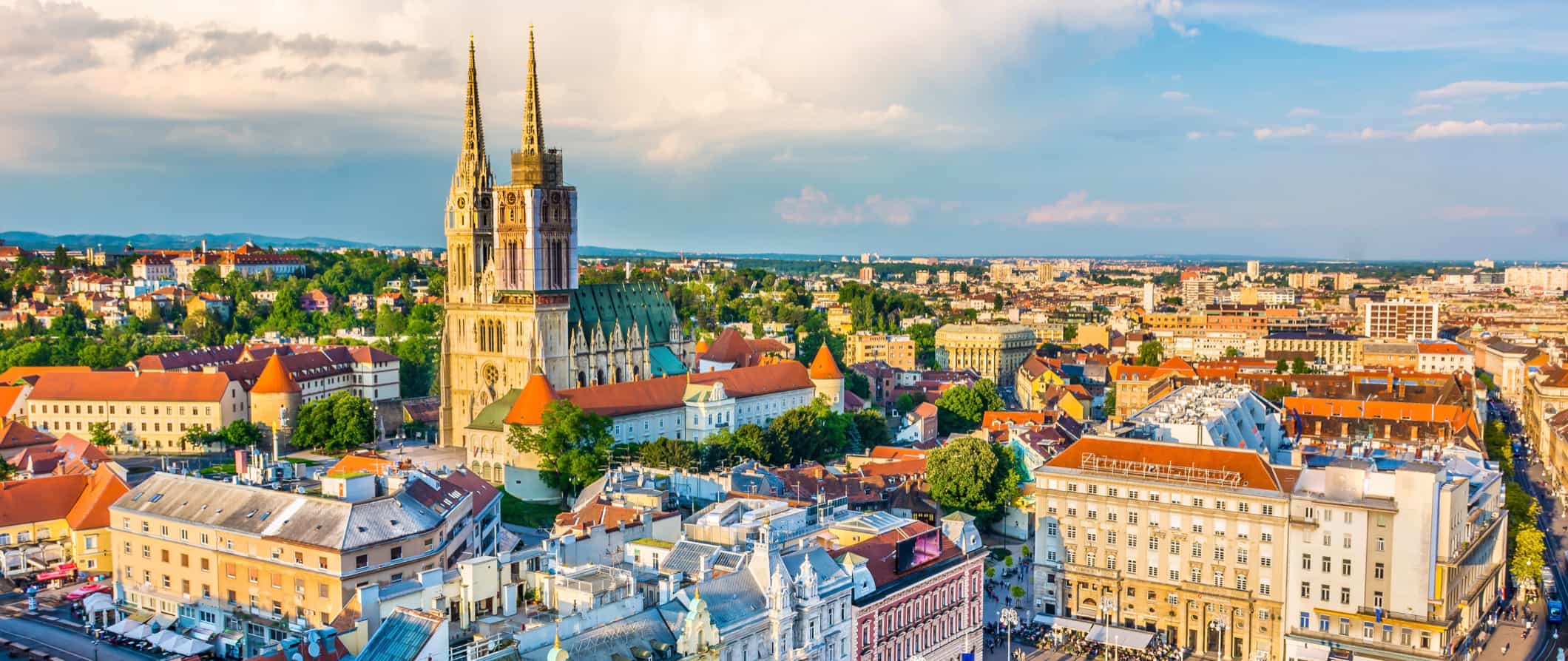 Underrated and underappreciated, the Croatian capital Zagreb is incredible. I really loved my time here. It's super affordable, there are not a lot of tourists, and it's beautiful with its parks and historic buildings.
Moreover, Zagreb has a remarkable museum scene, including quirky offerings like the Museum of Broken Relationships, the Hangover Museum, and the Mimara Museum, to name a few. Plus, there's a budding restaurant scene and handfuls of fun pubs to quaff beer and rakija, the stomach-melting fruit brandy that is ubiquitous in the Balkans.
While most tourists in Croatia are sunning themselves on the (crowded) Dalmatian Coast, you'll likely be enjoying Zagreb with a handful of other visitors as it sees a fraction of the tourists compared to Split and Dubrovnik.
And everyone here is super chill. The national pastime is sitting at one of the gazillion outdoor cafes that are spread out among the large squares and along the cobblestone streets of the city center and nursing a coffee for as long as humanly possible.
This travel guide to Zagreb will allow you to get the most out of your trip here.
Top 5 Things to See and Do in Zagreb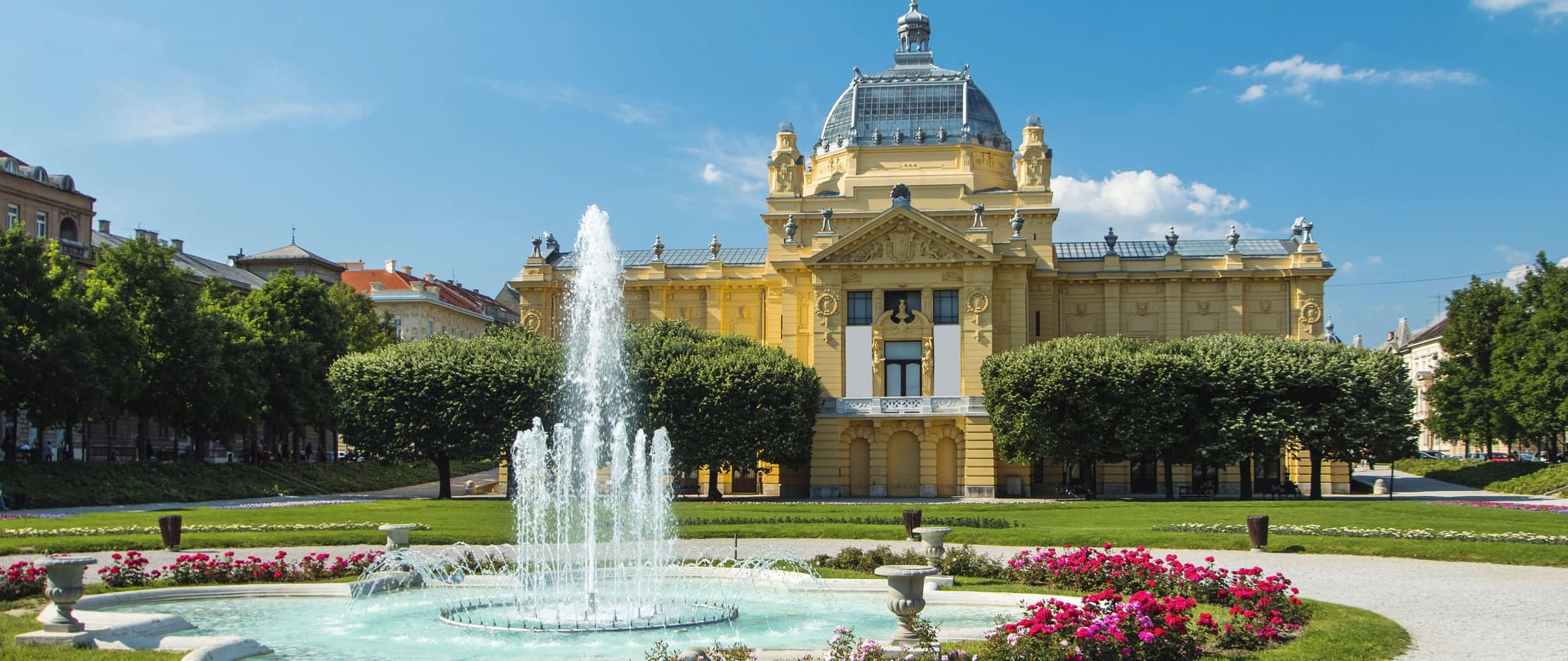 1. Visit the Museum of Broken Relationships
Originally created as a traveling exhibit by two Croatian artists after their romantic relationship ended, this museum hosts a collection of random (and weird) but meaningful objects that the broken-hearted have donated. These objects symbolize now-broken relationships and you can read descriptions of them to learn about the relationships they represent. Objects include items such as an "ex-axe," used by a woman to destroy her ex's furniture when their relationship suddenly ended. In addition to the physical exhibits, there is a virtual space where visitors can add their own stories, photos, or documents to the museum's archives. Admission is 52 HRK.
2. Explore the Upper Town
Enter Zagreb's "Upper Town" or Gradec, in the local parlance, by trudging through the medieval city gate. According to local lore, there was a great fire in 1731 that burned down most of the gate, save a 17th-century painting of the Virgin and Child. That painting is still there and locals regularly stop to pray in front of it or light a candle in honor of this supposed miracle. Located on a hillside, Upper Town is the oldest part of the city, with winding streets, historic sites, museums, and rustic taverns for when your feet need a break and you get thirsty. Main sights here include the Zagreb Cathedral, Saint Mark's Church (one of Zagreb's most iconic buildings), and the 13th-century Lotrscak Tower which offers great views over the city.
3. Go on a bar crawl on Tkalciceva Street
Named after a 19th-century Zagreb historian, this car-free street lies on top of the former river that was the hub for much of Zagreb's historic industrial activities. It was paved over in the 19th century due to pollution and has been attracting visitors ever since. In the early 20th century it was home to the city's red-light district, but today the brothels have been replaced by bars. The entire street, which begins at the city's main square, Ban Jelacic, is now lined with bustling bars, outdoor cafes, and small boutiques.
4. Marvel at Zagreb Cathedral
The second tallest building in Croatia, the twin neo-gothic spires of this cathedral dominate the city's skyline. Technically called the Cathedral of the Assumption of the Blessed Virgin Mary, the church's foundations go back to the 13th century. A fire in the late 19th century destroyed a good portion of the structure and it was rebuilt in the neo-gothic style. Inside, look for the tomb of Cardinal Alojzije Stepinac, which was done by famed Croatian sculptor Ivan Meštrovic. The cathedral's organ, with its 6,000 pipes, is one of the largest and most famous organs in the world. It even has its own festival over the summer when world-renowned organ players come and perform. Admission to the cathedral is free. Unfortunately, due to the earthquake in March 2020 that struck Zagreb, the cathedral is undergoing repairs and entrance is not currently possible. It's set to reopen by summer 2023.
5. Check out the art at Mimara Museum
The Museum Mimara was born when Croatian art collector Ante Topic Mimara bequeathed a good portion of his 3,700-piece collection of art to the city. Housed in a new-Renaissance building in the Lower Town, the museum boasts works by Bronzino, Bosch, Van Dyck, Rubens, Goya, and Velázquez, among many others. As far as great art museums are concerned, this one is really underrated, though not without its share of controversy, as some experts suggest that not all of the works are authentic. Even so, it's an impressive collection and a great way to spend an afternoon. Admission is 40 HRK. (Currently closed due to damage from an earthquake).
Other Things to See and Do in Zagreb
1. Take a free walking tour
One of the first things I do in a new destination is take a free walking tour. It's the best way to get the lay of the land, see the main sights, and connect with an expert local guide. Free Spirit Tours offers a detailed two-hour walking tour that covers all the main highlights. Just be sure to tip your guide at the end!
2. Visit the Zagreb City Museum
If you want to get a deeper sense of the Croatian capital, the city museum is a nice place to start. Housed in a 17th-century convent, this museum takes visitors through prehistory to the Roman period, through the Middle Ages, and all the way into the 20th century. There are more than 75,000 objects in the collection that collectively provide insight into how the city has transformed through the centuries. There are all kinds of maps, paintings, furniture, maps, furniture, flags, and military uniforms. Admission is 30 HRK.
3. Admire the Zagreb Botanical Garden
To escape the hustle and bustle of the city, head to the botanical garden for a stroll. Founded in 1889 by a professor from the University of Zagreb, the garden is located in the center of the city and spans 12 acres. It's a great way to spend a few hours, taking in the sights and smells of over 10,000 species of plants and flowers from around the world. Entry costs 10 HRK. If you're looking to save a bit of cash, the entrance is free on Mondays and Tuesdays.
4. Nurse your hangover at the Museum of Hangovers
Did you spend last night drinking your way down Tkalciceva Street, pounding beers and doing shots of rakija along the way? Then point yourself to this unique museum. The Museum of Hangovers is a fun (and sometimes painful) journey through the world of hangovers. There are rooms dedicated to things people found in the morning after a night of hard boozing and a room where you can even tell your own worst hangover story, among other interesting exhibitions. Admission is 40 HRK.
5. Snack your way through the Dolac Market
Set in the hungry heart of Zagreb's city center, the Dolac Market (pronounced "Doe-latz") is a feast for the senses. Pop into this market (first opened in 1930) before 1pm to get the best experience. Expect to see locals buying up fresh fruits and veggies, just-pulled-from-the-river fish, and various parts of the pig. For food to eat on the go (or for a picnic) pick up some sir i vrhnje (a creamy cheese) and kružnjak (cornbread), two very typical Zagreb staples, and eat them together.
6. Take a spooky history tour
Learn about Zagreb's shady side with this fun, small-group guided tour that focuses on the gloomy and ghoulish, the eerie and the evil history of this southeast European metropolis. You'll venture through graveyards, possibly meet ghosts, and learn about the witch hunts of the past that took place here. There's also talk of a secret dragon society in the city too! Secret Zagreb Ghosts and Dragons tours cost 75 HRK and last just under two hours.
7. Take a time-out in Maksimir Park
Opened in 1794, this large swath of green just east of the city center is a great way to get away from it all. Walk through the grand gate and you'll enter a verdant landscape that seems far from the bustle of downtown Zagreb. Filled with meadows, streams, and old-growth oak groves, the park is a fine place for a picnic. Admission is free. It's also home to the Zagreb Zoo, which costs 30 HRK.
8. Stroll through Gric Tunnel
The 1,150-foot Gric Tunnel (pronounced "Greech") was first built during World War II as a potential bomb shelter. After that, the tunnel, which goes right under the Upper Town, fell into disrepair and was practically forgotten about. In early '90s, it was used as the spot for one of the earliest raves in Zagreb and was a party spot for the city's youth. In 2016, though, the city government renovated the pedestrian tunnel and opened it up to the public. It's good for a shortcut from one part of the city to another, but really it's a fun atmospheric stroll in a World War II-era tunnel. And it's free.
9. Learn about Communism and the Croatian Homeland
This in-depth-guided tour teaches you the history of (what is now modern-day) Croatia during World War II. You'll learn about the former Yugoslavia and its formation and ironclad rule by Josip Broz Tito, the eventual civil war during the 1990s, the end of communism and Tito's regime, and the rebuilding of the country as newly formed Croatia. Tours with Free Spirit Tours cost around 225 HRK and last around two hours.
10. Walk the Green Horseshoe
If you arrive in Zagreb by train, the "horseshoe" may be the first thing you encounter when leaving the railway station and trudging to the center of town with your backpack. And what a lovely welcome it is. Conceived in 1882 by Milan Lenuci, the Green Horseshoe (also sometimes called the Lenuci Horseshoe) is a U-shaped series of connected squares and parks in the city's Donji Grad, or Lower City. Along the way, you'll encounter many of the city's museums as well as century-old mansions that once belonged to the city's old-moneyed aristocrats.
11. Ride the funicular
The ride won't take very long, but it beats trekking up the steep steps from the Lower Town to the Upper Town. One of the shortest funiculars in the world, this slanted train was built in 1888. A ride on the funicular will set you back a whopping 5 HRK. If you're hankering for a snack on the lower end of the funicular, on the same block is the traditional and rustic Croatian restaurant Vallis Aurea.
12. Take a day trip to Jarun Lake
Just 8 kilometers (5 miles) from the city center, this man-made lake is built for warm weather days when you need a respite from the heat and you don't feel like going all the way to the Dalmatian Coast for a dip in the water. There are actually two lakes here: Malo Jarun ("Small Jarun") and Veliko Jarun ("Big Jarun"). Swim or kayak in the lake or take a bike around them. Trams 5 or 17 will get you there.
13. Take a day trip to Plitvice Lake
Tucked between Zagreb and the Dalmatian Coast, Plitvice Lakes National Park is a UNESCO World Heritage Site. It's composed of 16 interconnected lakes and over 90 waterfalls. It's beautiful but super popular so arrive early (expect crowds). Admission is 80-300 HRK depending on the month (prices rise in the summer). You can book a day trip with Get Your Guide for around 745 HRK.

For more information on other cities in Croatia, check out these guides:
Zagreb Travel Costs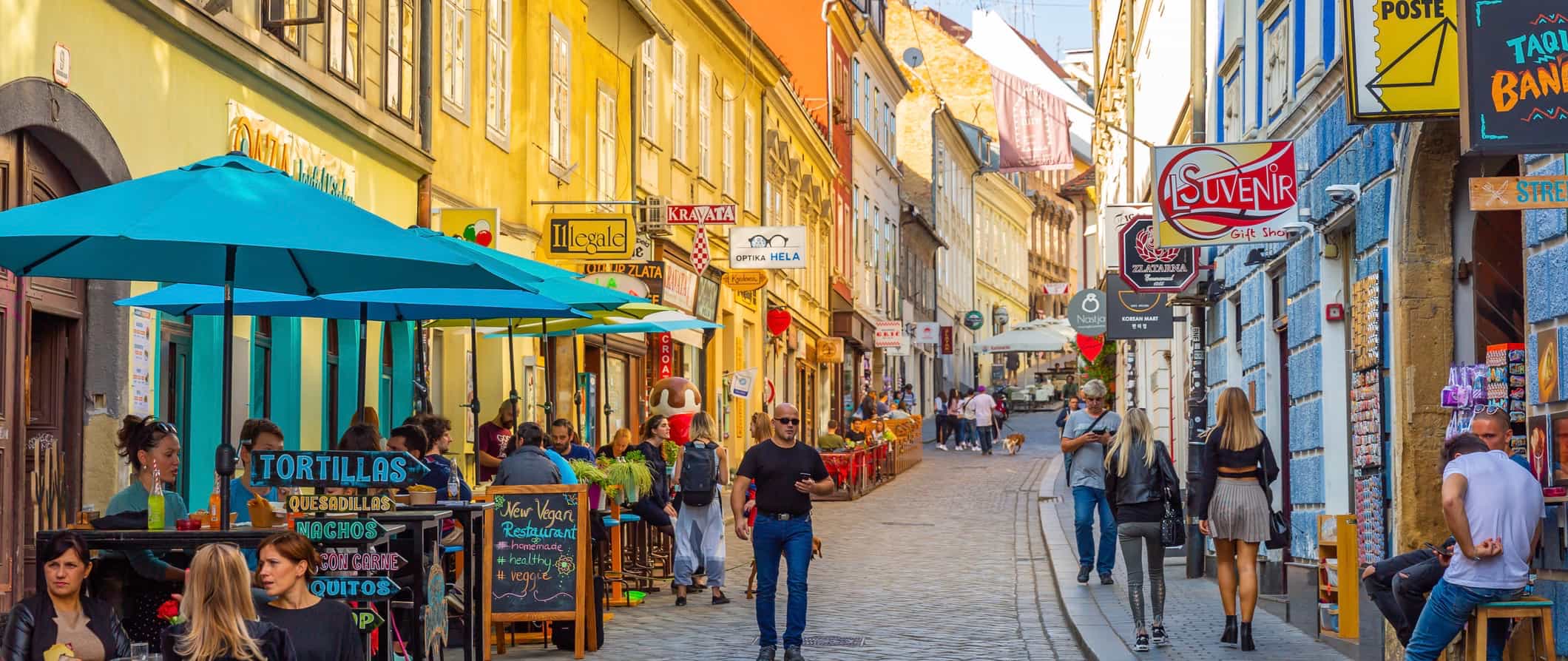 Hostel prices – There are dozens of hostels in Zagreb, many offering comfortable, clean dorm rooms and/or private accommodation. Expect to pay 130-160 HRK per night for a room with 8-10 beds, or 180-200 HRK for a bed in a dorm with 4-6 beds. A private double room in a hostel costs 300-500 HRK. Free Wi-Fi is standard and many hostels also include free breakfast.
Budget hotel prices – The average two-star hotel costs 400-525 HRK per night for a double room, depending on the season. Free Wi-Fi is included, and many also offer free breakfast.
For Airbnb, in the off-season, expect to pay 350-500 HRK for a one-bedroom apartment in or near the center of town. In summer, the prices are at least 450 HRK per night. Private rooms are closer to 350 HRK per night.
Food – Croatian cuisine has influences from Central Europe, the Mediterranean, and the Balkans. Seafood is a prominent staple along the coast, with scampi and octopus salad being two local favorites. Tuna, cuttlefish risotto, squid, and breaded catfish are other common fares. Sausage and schnitzel can be found at most traditional restaurants as well, as can a variety of pasta dishes (usually with a creamy mushroom sauce or minced meat). Stews are also common, especially goulash.
Meals at an inexpensive restaurant start at 70 HRK. Meals for two people at a mid-range restaurant start at around 330 HRK.
Traditionally, the main meal of the day is lunch. If you have a sweet tooth, Croatia is a haven for pastries. Be sure to try savijaca (apple strudel).
For travelers looking for super-affordable fare in Zagreb, there are two great options: the cheap, multi-course daily brunch called gablec or buying some provisions at the Dolac Market and eating in a park or a square. Asian restaurants (like Chinese or Indian) also offer cheap meals, with dishes costing 65-80 HRK.
Otherwise, Zagreb has everything from rustic, salt-of-the-earth taverns and Michelin-starred restaurants. For the former, expect to pay about 150-170 HRK for a starter and a main dish (without drinks) at a typical tavern (or konoba) in or near the city center and for the latter, a fine dining experience will run about 1,000 HRK per person.
Fast food (think McDonald's) is around 45 HRK. Beer costs 18-20 HRK while a latte/cappuccino is around 13 HRK. Bottled water is around 9.50 HRK.
If you are planning to cook your own food, a week's worth of groceries costs around 250-300 HRK for staples like milk, cheese, pasta, seasonal vegetables, and some chicken.
Backpacking Zagreb Suggested Budgets
If you are backpacking Croatia, my suggested budget is 350 HRK per day. This assumes you're staying in a hostel dorm, cooking all of your meals, limiting your drinking, doing free activities like hiking and free walking tours, and using public transportation to get around. You'll need to budget more if you're visiting in the summer or if you plan on drinking.
On a mid-range budget of 800 HRK per day, you can stay in a private Airbnb or private hostel room, eat out for all your meals, have a few drinks, take some guided tours, take the occasional taxi to get around, and visit more museums and attractions (like the funicular).
On a "luxury" budget of 1,600 HRK per day, you can stay in a hotel, rent a car to get around, do private guided tours, eat and drink as much as you'd like, and visit as many museums and attractions as you want. This is just the ground floor for luxury though. The sky is the limit!
Accommodation
Food
Transportation
Attractions
Average Daily Cost
Backpacker
150
70
35
45
300
Mid-Range
300
275
100
125
800
Luxury
525
550
275
250
1,600
Zagreb Travel Guide: Money-Saving Tips
Zagreb is pretty affordable. It's not anywhere near as expensive as destinations on the coast and there's a lot of budget friendly restaurants, free tours, and accommodation. Here are some general ways to save money when you travel around Zagreb:
Walk everywhere – Zagreb is a very walkable city. Most of the sites you want to see are within a 20 or 30-minute walk (at most) from the city center. Skip public transportation if you're on a tight budget.
Bring a water bottle – The tap water here is safe to drink so bring a reusable water bottle to save money and reduce your plastic use. LifeStraw is my go-to brand as their bottles have built-in filters to ensure your water is always clean and safe.
Pay with the local currency – When paying with a credit card, if you're asked whether you want to pay in the local currency rather than US dollars (or whatever currency your card is tied to), always choose the local currency. You always get a better rate with the local currency.
Travel during shoulder season – Zagreb doesn't have the surge of tourists that towns on the Dalmatian Coast get during the summers. But prices do drop in the shoulder season (April-May; September-October) and they definitely drop during the winter months, so if you're looking for a more affordable trip, plan according to the season.
Embrace brunch – In Croatia, there's a thing called a marenda, if you're on the Dalmatian Coast, or gablec (pronounced "gob-letz") in Zagreb. This is basically a daily brunch that occurs starting around 11am. It's a cheap, sometimes multi-course, and usually hearty early lunch, originally for low-wage laborers who started work early and would get hungry by the late morning. Stroll the Zagreb streets looking for sandwich boards in front of restaurants that will be advertising the menu of their daily gablec that day. Sometimes it might just say "danas" (Croatian for "daily") atop the sandwich board and then list the menu underneath. Expect to pay around 40-60 HRK.
Buy a Zagreb card – A Zagreb card offers free transportation on trams and buses, admission to the city's best museums, and even entrance to the zoo. The cost is 98 HRK for 24 hours and 135 HRK for 72 hours. You can buy a Zagreb card online or at any of these locations in the city.
Where to Stay in Zagreb
Zagreb has plenty of budget-friendly hostels. Here are my recommended places to stay when you visit:
How to Get Around Zagreb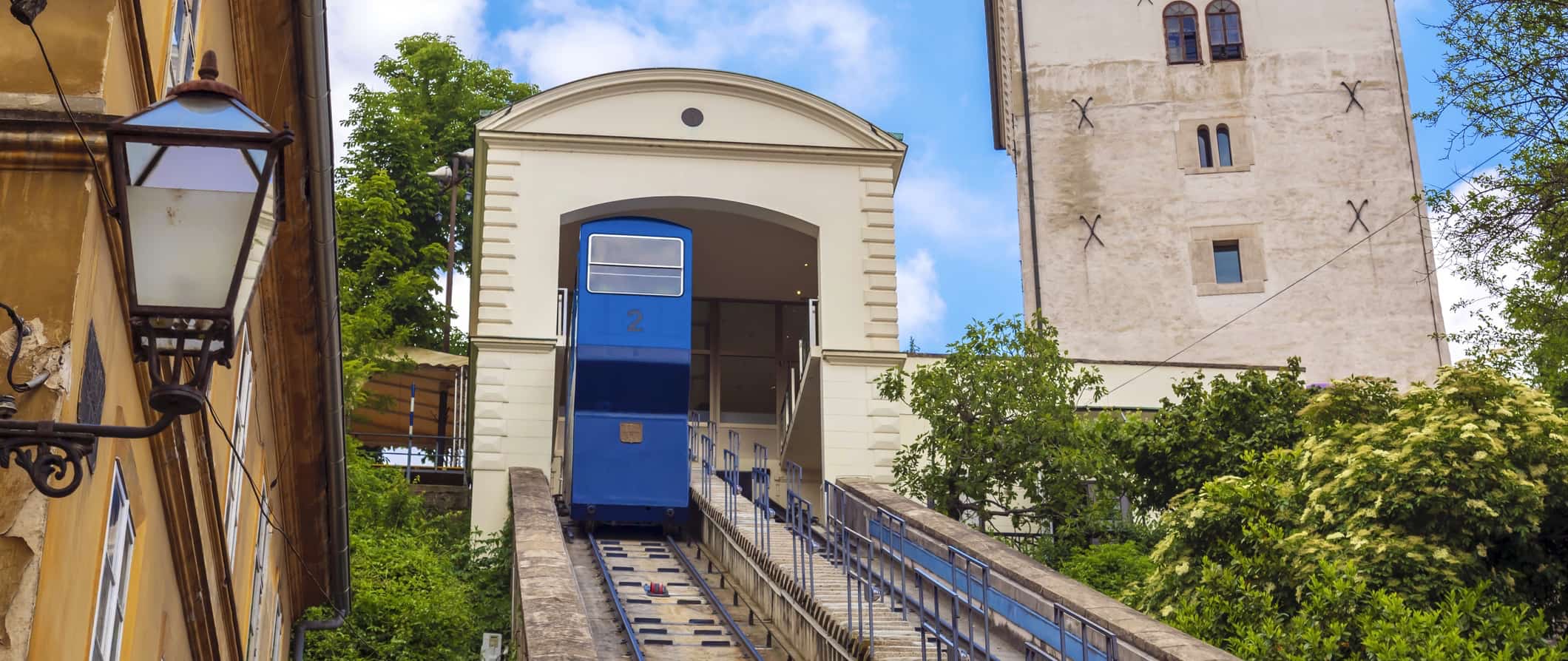 Public transportation – The city has a fairly extensive tram system. There are 19 different lines – 14 during the day until 12am and 5 tram lines that run from midnight to 4am – and you can buy a ticket at any Tisak street kiosk. The cost is 4 HRK for a 30-minute ride and 7 HRK for a one-hour ride.
Make sure you validate the ticket via the small yellow onboard box upon getting on the tram. Buses are similar and traverse the city where trams don't go.
Getting to and from Zagreb's relatively new airport is easy. Hop on the Croatian Airlines bus outside the arrivals hall. It leaves every 30 minutes and costs 35 HRK each way, depositing travelers at the city's main bus station, about a 15-minute walk to the city center.
Taxi – Taxis here are affordable, starting at 15 HRK and going up 6 HRK per kilometer. That said, taxis add up quickly so I'd skip them if you're on a budget.
Bike rental – Zagreb is an easy city to bike around and you can find full-day rentals for around 100 HRK from Blue Bike.
Car rental – Car rentals are super affordable in Zagreb, costing as little as 100 HRK per day for a multi-day rental. You won't need a car to get around the city, but if you want to explore the region then a car will be helpful. For the best rental car deals, use Discover Cars.
When to Go to Zagreb
Unlike other super-popular destinations where you have to strategize when to go to avoid the crush of other tourists, Zagreb is a place that can be visited any time of the year. Naturally, summer is going to be more crowded and prices might go up a bit, but you're not going to be overwhelmed here. Expect summer highs around 28°C (82°F).
The shoulder season of April-May and September-October are some of the best times to visit as the crowds will have thinned out and the weather is still pleasant.
If you're absolutely allergic to other tourists, come to Zagreb in winter; you'll have to deal with colder temperatures around 7°C (low to mid 40s °F) and often-dreary skies but it will just be you and the locals.
How to Stay Safe in Zagreb
Zagreb is a safe place to backpack and travel — even if you're traveling solo or are a solo female traveler. Take your normal precautions while in Zagreb but generally, the Croatian capital is very safe. Violent crimes are rare. Pickpocketing and petty theft might be the most common danger, but even that isn't as frequent as in other European metropolises.
That said, always keep your valuables secure and out of sight when out and about. It's just a good habit.
Solo female travelers should feel safe here, though the standard precautions apply (never leave your drink unattended at the bar, avoid walking home alone if you've been drinking, etc.). For more tips, check out one of the many solo female travel blogs about the city. They can provide specific tips.
While scams here are rare, you can read about common travel scams to avoid right here.
If you do experience an emergency, dial 112 for assistance.
Always trust your gut instinct. Make copies of your personal documents, including your passport and ID. Forward your itinerary along to loved ones so they'll know where you are.
The most important piece of advice I can offer is to purchase good travel insurance. Travel insurance protects you against illness, injury, theft, and cancellations. It's comprehensive protection in case anything goes wrong. I never go on a trip without it as I've had to use it many times in the past. You can use the widget below to find the policy right for you:
Zagreb Travel Guide: The Best Booking Resources
These are my favorite companies to use when I travel. They consistently have the best deals, offer world-class customer service and great value, and overall, are better than their competitors. They are the companies I use the most and are always the starting point in my search for travel deals.
Skyscanner – Skyscanner is my favorite flight search engine. They search small websites and budget airlines that larger search sites tend to miss. They are hands down the number one place to start.
Hostelworld – This is the best hostel accommodation site out there with the largest inventory, best search interface, and widest availability.
Booking.com – The best all around booking site that constantly provides the cheapest and lowest rates. They have the widest selection of budget accommodation. In all my tests, they've always had the cheapest rates out of all the booking websites.
HostelPass – This new card gives you up to 20% off hostels throughout Europe. It's a great way to save money. They're constantly adding new hostels too. I've always wanted something like this and glad it finallt exists.
Get Your Guide – Get Your Guide is a huge online marketplace for tours and excursions. They have tons of tour options available in cities all around the world, including everything from cooking classes, walking tours, street art lessons, and more!
The Man in Seat 61 – This website is the ultimate guide to train travel anywhere in the world. They have the most comprehensive information on routes, times, prices, and train conditions. If you are planning a long train journey or some epic train trip, consult this site.
Rome2Rio – This website allows you to see how to get from point A to point B the best and cheapest way possible. It will give you all the bus, train, plane, or boat routes that can get you there as well as how much they cost.
FlixBus – Flixbus has routes between 20 European countries with prices starting as low 5 EUR! Their buses include WiFi, electrical outlets, a free checked bag.
SafetyWing – Safety Wing offers convenient and affordable plans tailored to digital nomads and long-term travelers. They have cheap monthly plans, great customer service, and an easy-to-use claims process that makes it perfect for those on the road.
LifeStraw – My go-to company for reusable water bottles with built-in filters so you can ensure your drinking water is always clean and safe.
Unbound Merino – They make lightweight, durable, easy-to-clean travel clothing.
Top Travel Credit Cards – Points are the best way to cut down travel expenses. Here's my favorite point earning credit cards so you can get free travel!
Zagreb Travel Guide: Related Articles
Want more info? Check out all the articles I've written on Croatia travel and continue planning your trip: