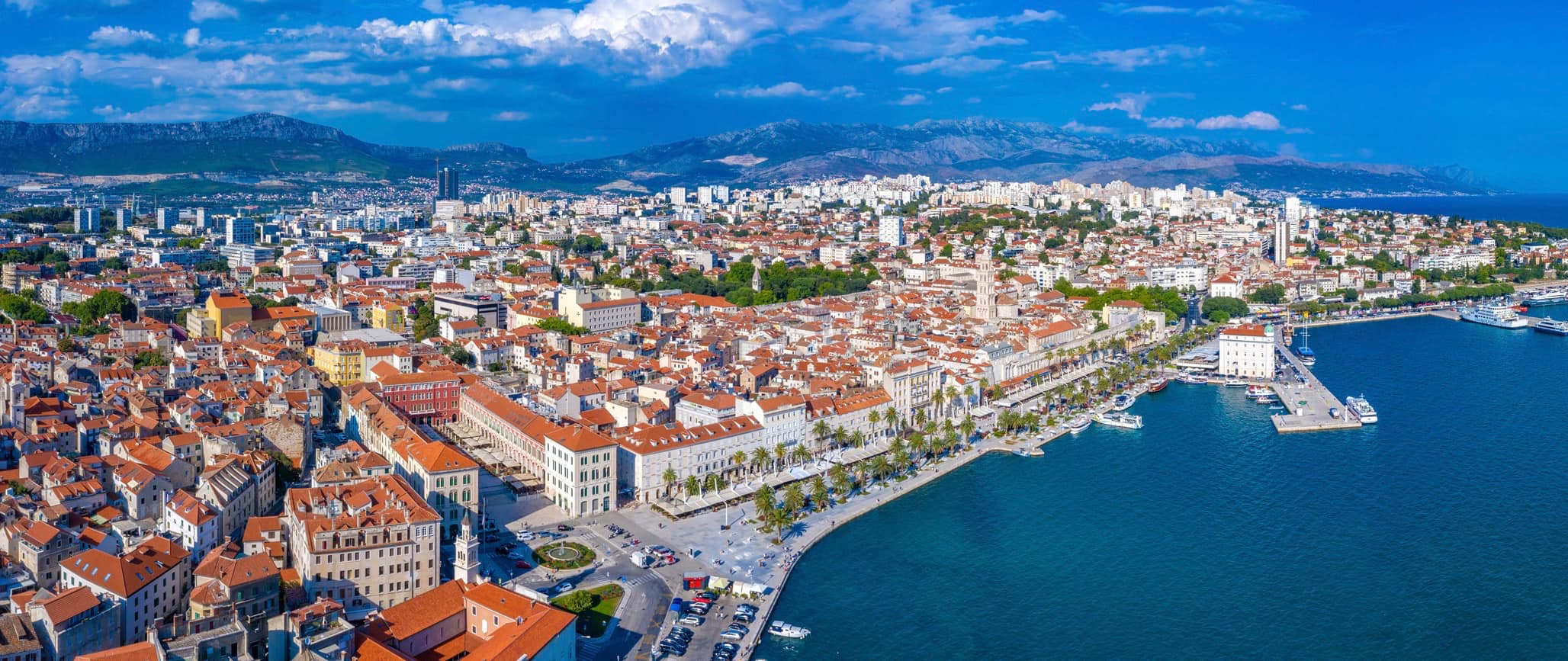 Everyone who visits Croatia seems to gravitate to Split. This stunning UNESCO World Heritage Site is a major launching pad for boat tours off the coast and a ferry hub for island-hopping. It's also home to the gigantic Diocletian's Palace. In short, it's the cultural and economic heart of the Dalmatian coast.
For all these reasons, Split is a perfect place to plant yourself for a while. Explore the fascinating 1,600-year-old Roman palace; amble along the Riva, or seaside promenade; and take as many day trips as time will allow, since this city of 180,000 people is well situated to reach various islands, as well as underrated but dazzling towns such as Trogir, just north of town.
While the Dalmatian coast is the busiest (and most expensive) part of Croatia, it's definitely worth exploring for a few days. While you might have to jostle some crowds, Split has a ton to offer travelers of all stripes and budgets, regardless of your interests.
This travel guide to Split can help you to make the most out of your visit.
Top 5 Things to See and Do in Split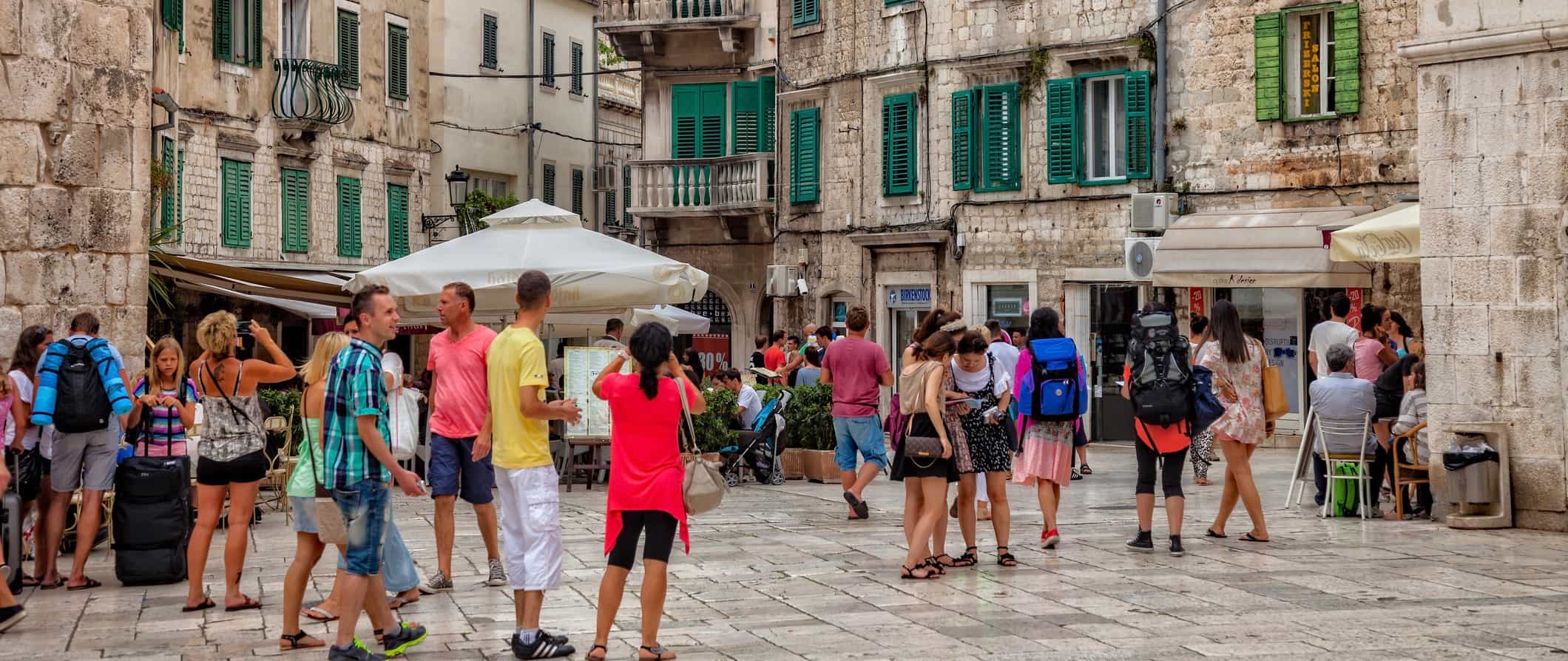 1. Explore Diocletian's Palace
While this palace complex was built in the fourth century for Roman emperor Diocletian, he died just a few years after he moved in, causing it to fall into decline (as did the Roman Empire). The entire complex occupies seven acres and is one of the earliest designated UNESCO World Heritage Sites in the world. Today, it's still (sort of) with us, but the city has moved in. The massive palace ruins form a large part of Split's historic center, which is filled with a maze of shops, restaurants, and hotels, as well as many of the major sites in town.
2. Trek up Marjan Hill
Pronounced "mar-yahn," the hill dominating Split can be a fun trek, especially if you're looking to burn off all that Dalmatian wine. Nicknamed "the lungs of the city" because it's blanketed in forest, Marjan juts out into the Adriatic. The base of the path can be reached by heading to the end of the Riva promenade along the waterfront. While it's a paved path intermixed with staircases, be aware that some sections are quite steep, though you'll be awarded amazing views from the top!
3. Climb the campanile of St. Domnius Cathedral
Famous for its towering spire that dominates the skyline, the Cathedral of St. Domnius was built in the seventh century around the mausoleum of Diocletian. It's considered the oldest Catholic cathedral still in use in its original structure. The interior is a fascinating study in early medieval architecture, and the 57-meter (187-foot) 12th-century bell tower offers Insta-worthy views. For 80 HRK you can get a combined ticket that includes entry to the cathedral, crypt, baptistery, treasury, and bell tower.
4. Learn local history at the Split City Museum
City museums are a nice way for first-time visitors to get a primer on a locale. The 75-year-old Split City Museum is located in Diocletian's Palace. One of the highlights is ambling around the 15th-century Gothic building, which includes rooms furnished as they were when the nobility lived in the townhouse. There are three floors of displays and artifacts showcasing Split's history from the Roman period through Yugoslavia (which dissolved in 1992); the main exhibits include Renaissance-era weaponry, medieval sculpture, and documents and drawings detailing the city's history. Entry is 25 HRK.
5. Ramble along the Riva
This wide seaside promenade lined with palm trees is the place to be in Split. It's officially known as Obala hrvatskog narodnog preporoda, but everyone knows it simply as "the Riva." Locals come here to nurse coffees for hours at cafés, people-watch, and gossip about friends. It's also a great place to catch the sunset, watch some street musicians, or take in all the boats coming and going in the harbor. Once the sun goes down, the bars liven up along this strip as well.
Other Things to See and Do in Split
1. Take a free walking tour
The first thing I do in a new city is take a free walking tour. It's the best way to see the highlights while connecting with a local guide who can answer all my questions. Free Split Walking Tour organizes a regular free tour that covers all the main sights around town. Just be sure to tip your guide at the end!
2. Try to feel fjaka
Split is the capital of fjaka (pronounced "fe-yahka"), an untranslatable word that only exists on the Dalmatian coast. It's a feeling of relaxation, not working too hard, and enjoying a balanced life. Some call it "Dalmatian Buddhism." Asking for tips on achieving maximum fjaka is a good conversation starter with locals.
3. Chill out on Kašjuni Beach
This beach is made up of small pebbles, typical of the seashore along the Dalmatian coast. It's for families but also a local favorite, thanks in part to the fact that its idyllic, tranquil vibe feels like you're miles and miles away from town (when you're only a couple of miles away). From the city center, take bus number 12, which goes right by the beach.
4. Take a day trip to Trogir
Located 32 kilometers (20 miles) north of Split, Trogir is the most beautiful town you've probably never heard of — and one of the easiest day trips from Split. This town of 10,000 people is small but packs a punch. It's surrounded by medieval walls and handsomely clad in white limestone. Medieval churches are sprinkled about. And fortunately, you won't find an army of cruise-ship tourists invading the place. Don't miss the towering Cathedral of St. Lawrence (whose construction began in the late 12th century), and if the tall, 15th-century bell tower is open (and you're not afraid of heights), trudge up to the top for a great view. Catch one of the frequent buses to Trogir from Split's main station, Sukoišanska.
5. Wander around the Meštrovic Gallery
Croatia's most famous sculptor, Ivan Meštrovic, was an artist and writer who lived an interesting 20th-century life: he traveled Europe in exile during World War I, showcasing his art, and spent months in prison during World War II. A visit to his main gallery and museum is a study of what it was like to live in early Yugoslavia. You also get to gawk at many of the legendary sculptor's works in a neoclassical building that he designed himself. Admission is 50 HRK.
6. Get medieval at Klis Fortress
Game of Thrones fans (or people who just like medieval fortresses) should put Klis on their priority list. Because this imposing citadel sits at an important passageway between the coast and inland, it was fought over and invaded many times during the past ten centuries. The Mongols, Ottomans, Venetians, and eventually Croatians all controlled it (or died trying). Today it is a fun trip just 13 kilometers (8 miles) north of Split. Game of Thrones aficionados will recognize the fortress from the show (which filmed many of the scenes in Meereen here). Take bus #22 from central Split to reach Klis. Admission is about 75 HRK.
7. Visit the Ethnographic Museum
You needn't be an anthropologist to love a good ethnographic museum. And the one in Split is good, particularly if you're interested in broadening your knowledge of the people of the central Dalmatian coast and their history. The museum boasts displays of local crafts that have been done here for centuries, including embroidery and pottery. Admission is 20 HRK.
8. Cheer on the home team at a Hajduk Split soccer match
The most popular and beloved team on the Dalmatian coast, Hajduk Split is a powerhouse of a football (soccer) team. If you're in town during the season — which is almost year-round — then you're in luck. You're even luckier if Hajduk is playing its arch-rivals, Dinamo Zagreb. Poljud Stadium holds about 35,000 people and is the second-largest in Croatia.
9. Day-trip it to Salona
Set in the sleepy suburb of Solin, just a few miles from the center of town, these ancient ruins were part of a Roman colony some 2,200 years ago. There's plenty to see here, including a necropolis, early Christian chapels, city walls, 1,800-year-old towers, public baths, and an amphitheater. It's all enough to warrant the common nickname "the Pompeii of Croatia." Take bus #1 from central Split for the short journey to Salona. Admission is 30 HRK.
10. Visit the Archaeological Museum
You can visit the ancient Roman site of Salona — and you most definitely should — but it's a good idea to pair it with a stop at this fascinating museum. That's because it houses a plethora of historic objects found in Salona, plus some Greek, medieval, and even pagan and pre-Christian ones. The museum is just a short walk from the city center and is a must for history buffs. Admission is 40 HRK.
11. Explore the fish market
Split's fish market is a wonder to behold. Tsukiji in Tokyo it is not, but Dalmatia's largest fish market has all the bustle you'd expect from a seaside city that traffics in super fresh seafood. The market is open from 6am-1pm every day.
12. Tour a local winery
Croatia is one of the world's top wine producers, mainly focusing on white wines due to the area's climate. Visit Putalj Winery just outside of Split to learn more about this Croatian tradition and to sample the wines right at the vineyard. Paired with the tastings are local specialties like cheeses, prosciutto, bread, and olive oil made at the vineyard. The tour is hosted by Anton, the winemaker himself, whose family has a long history (hundreds of years!) of winemaking. Tours cost 750 HRK and occur daily.
13. Visit the Game of Thrones Museum
Although small, this museum dedicated to the famed HBO series is a must for fans. Learn about the various filming locations around Split, and see select detailed costumes and props from the series up close. Admission is 100 HRK.
14. Experience Froggyland
For a truly weird and offbeat experience, step into Froggyland. This small museum features 507 taxidermied frogs arranged in everyday human situations, such as having dinner, chopping wood, going camping, and playing musical instruments. The work of Hungarian taxidermist Ferenc Mere, the unique collection is over a hundred years old. Admission is 70 HRK.
15. Visit the Gallery of Fine Arts
This art museum features the work of many major Croatian artists, from the 14th century to the present day, with modern art forming the largest portion of the collection. Founded in 1931, there are over 3,500 works in the collection, including a large selection of icons (religious works of art). Admission to both the permanent and temporary collections is 80 HRK.
16. Take a food tour
Delve into the Croatian culinary landscape on a food tour guided by a local. Eat in Split Food Tours offers a variety. Walk around the historic center while sampling traditional foods like prosciutto and cheese, handmade pasta, truffles, and local seafood, all paired with south Croatian red and white wines. Tours start at 640 HRK.
17. Go boating
Split is right on the coast, making it the perfect jumping-off point for some maritime excursions to one of the many nearby islands. Many boat tours combine a visit to a historic port town (such as Trogir or Hvar) with a stop for snorkeling in the crystal-clear Blue Lagoon. Half-day tours last 4-5 hours and start at 450 HRK per person.
18. Enjoy a sunset cruise
Split is a city with gorgeous architecture from the shore. Check out the sunset cruises that leave frequently from the harbor for a great way to appreciate the coast while having a drink and marveling at the beautiful colors of the water as the sun goes down. Cruises start at around 200 HRK and usually last 1.5 hours and typically include one drink.

For more information on other cities in Croatia, check out these other guides:
Split Travel Costs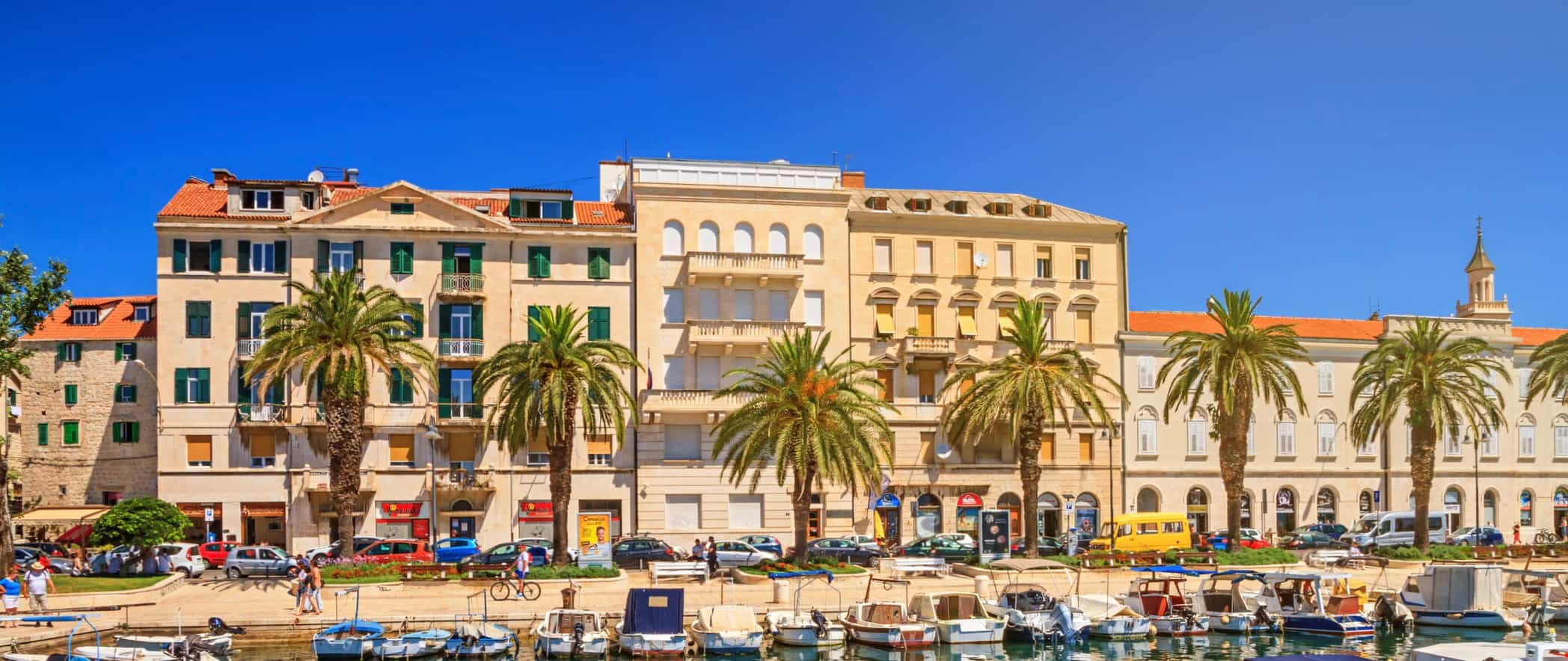 Hostel prices – There are a handful of hostels sprinkled around Split. Prices range from 130 HRK per night for a bed in a 8-10-bed dorm to 325 HRK per night for private rooms. Free Wi-Fi is standard, and many hostels also have self-catering facilities. Some have free breakfast as well.
Budget hotel prices – Like anywhere, hotel rates in Split depend on location, i.e., how close you are to the sea and the historic center. They also depend on the season. Low-season rates for a two-star hotel can be as low as 285 HRK per night, while in high season, prices can increase to 775 HRK per night. Expect basic amenities like free Wi-Fi and TV, and occasionally free breakfast.
Airbnb is available here but prices have skyrocketed in recent years. An entire apartment on Airbnb during the shoulder or low season starts at about 350-525 HRK per night for a place in the center of town. During peak season, prices increase for the same apartments and start at around 515-575 HRK per night.
Food – Croatian cuisine has influences from Central Europe, the Mediterranean, and the Balkans. Seafood is a prominent staple here. Sausage and schnitzel can be found at most traditional restaurants as well, as can a variety of pasta dishes and stews, especially goulash. Tuna, cuttlefish risotto, squid, and breaded catfish are other common fares.
Traditionally, the main meal of the day is lunch. If you have a sweet tooth, Croatia is great for pastries. Be sure to try savijaca (apple strudel).
Split is loaded with restaurants and wine bars. Your best bets are the konobas, or taverns, which offer traditional, rustic Dalmatian staples for prices that won't bust your budget. For lunch or dinner consisting of a starter and main dish (without drinks), expect to pay around 150-160 HRK total per person.
Fast food (think McDonald's) is closer to 45 HRK, while meals at Thai or Chinese restaurants cost around 45-85 HRK. Pizza is available pretty much everywhere and costs 45-55 HRK for a medium.
If you want to splurge, a higher-end lunch (like a fresh fish fillet) with wine costs around 150 HRK.
Expect to pay 20 HRK for a beer and about 13 HRK for a latte or cappuccino. Bottled water is around 11 HRK.
If you are planning to cook your own food, a week's worth of groceries costs around 240-260 HRK for staples like pasta, seasonal vegetables, and some meat or fish.
Backpacking Split Suggested Budgets
If you are backpacking Split, my suggested budget is 275 HRK per day. This assumes you're staying in a hostel dorm, cooking all of your meals, limiting your drinking, doing free activities like hiking and walking tours, and using local transportation to get around. You'll need to budget more if you're visiting in the summer or if you plan on drinking.
On a mid-range budget of 800 HRK per day, you can stay in a private Airbnb or private hostel room, eat out for most of your meals, enjoy a few drinks, visit some islands, take the occasional taxi, and visit more museums and attractions.
On a "luxury" budget of 1,575 HRK per day, you can stay in a hotel, rent a car to get around, do private guided tours, eat and drink as much as you'd like, and visit as many museums and attractions as you want. This is just the ground floor for luxury though. The sky is the limit!
Accommodation
Food
Transportation
Attractions
Average Daily Cost
Backpacker
130
70
25
50
275
Mid-Range
350
250
50
150
800
Luxury
550
400
250
375
1,575
Split Travel Guide: Money-Saving Tips
Split is one of the most expensive cities in Croatia, especially during the peak summer months. I won't sugarcoat it: it's going to be really hard to save money here then. If you're on a tight budget, it's best to come during the shoulder season when accommodation costs come back into the realm of reality. Here are some ways to save money regardless of when you visit though:
Get a SplitCard – Get free entry to museums (or a serious discount) when you present your SplitCard. Free entry includes the Split City Museum, the Ethnographic Museum, and the Natural History Museum, among many other places. Plus, it includes free use of public transportation. Best of all, the SplitCard is free. You just have to pick one up at any Tourist Information Center in town.
Walk everywhere – Split may be Croatia's second-largest city, but don't be fooled by superlatives. It's not that big. You can save some money by walking to most sites. Skip the public transportation if you're on a tight budget.
Bring a reusable water bottleThe tap water in Split is safe to drink, so bring a reusable water bottle to save money and reduce your reliance on single-use plastic. LifeStraw makes a portable filter that will keep your water clean and safe.
Travel during shoulder season – Split really calms down during the low season, also known as winter. Prices drop too. If you want slightly warm weather and cheap prices, aim to visit during shoulder season (April-May; September-October). If you're looking for a more affordable trip, plan according to the season.
Cook your own food – If you're on a tight budget, stay in a hostel or Airbnb that has a kitchen. That way you can buy groceries and cook your own meals. It won't be glamorous, but it will be significantly cheaper than eating out all the time.
Stay with a local – The best way to cut accommodation costs in Split is to stay with a local via Couchsurfing. You'll not only get a free place to stay but also connect with a local who can share their insider tips and advice with you.
Take a free walking tour – A free walking tour is the best budget-friendly way to see the main highlights and get a feel for the city on arrival. Just be sure to tip your guide at the end!
Where to Stay in Split
Split has tons of fun, social, and affordable hostels. Here are my favorite places to stay:
How to Get Around Split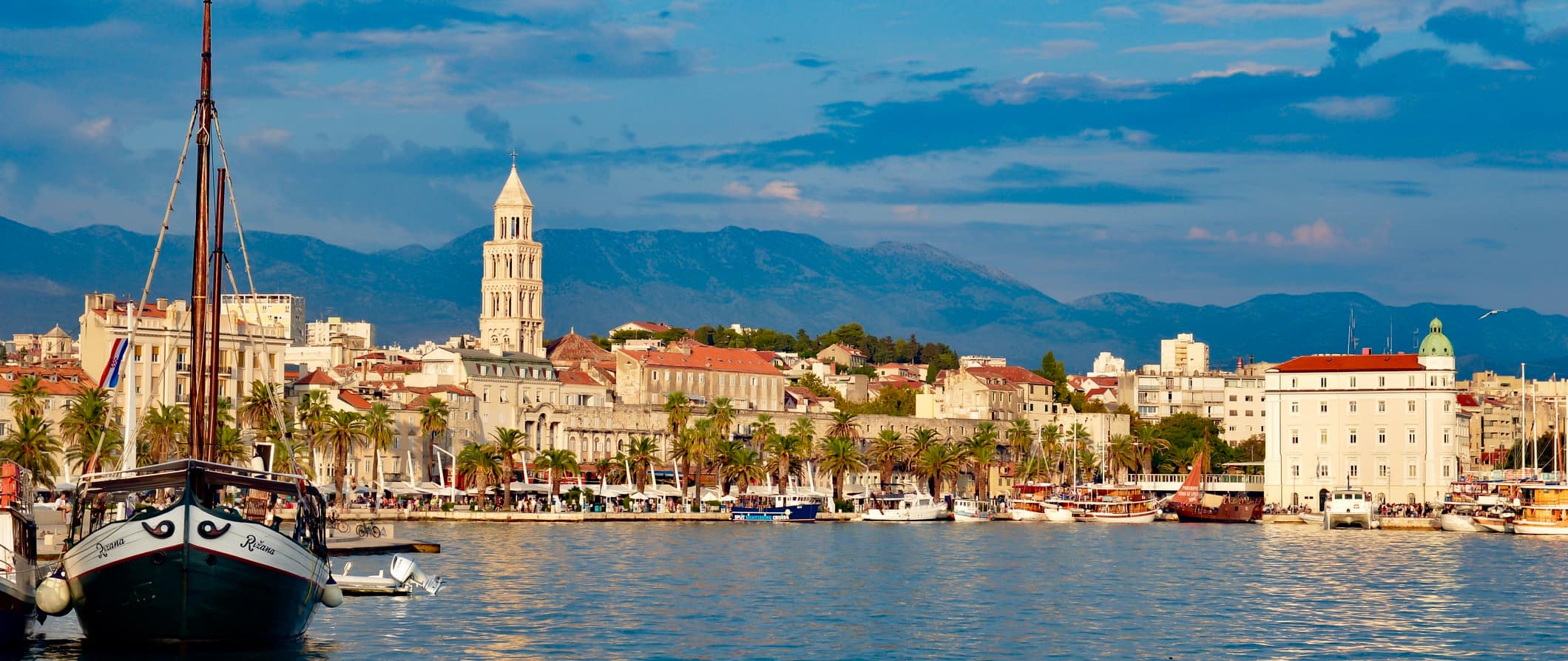 Public transportation – Strolling around Split is easy. But if you need to go further than your feet will allow, there are a lot of bus lines. Numbers 1 to 18 and 21 and 22 run from 5am-11 pm, and then three different night buses take over. Prices start at 11 HRK for a ride.
Taxis – Taxis start at 20 HRK and go up by 10 HRK per kilometer. This can add up fast, so skip them if you can!
Bicycle – Split has a bike-sharing program called NextBike. Download the NextBike app and get pedaling. Prices start at under 5 HRK for a 30-minute ride and 10 HRK for an ebike.
Car rental – Car rentals can be found for around 130 HRK per day for a multi-day rental. However, unless you're leaving the city to do some day trips, you won't need a car. An international driving permit (IDP) is required before you can rent a car (it's usually not enforced, but it's better to be safe than sorry). For the best car rental prices, use Discover Cars.
When to Go to Split
Split doesn't attract the army of tourists that march through Dubrovnik, but summertime can still experience a miasma of tourists here. The city is more lively during this time, with average daily highs around 31°C (88°F).
Personally, I think September and October offer the best compromise: there are fewer tourists and the weather is still warm, usually hovering between 20-25°C (68-77°F).
Temperatures drop a lot in winter, dipping below 11°C (52°F), until they go back up again starting in April. Crowds are virtually gone, and prices drop a little too. Some places have reduced hours during the winter, so be sure to plan ahead if you visit during this time.
How to Stay Safe in Split
Croatia is a very safe place to backpack — even if you're traveling solo, and even if you're a solo female traveler. Compared to the rest of Europe, crime is much lower in Croatia in general, and Split in particular.
That said, there's always the issue of petty theft, such as pickpockets, especially around popular tourist landmarks. Always keep your valuables out of sight while on public transportation and in crowds, and never leave your things unattended when at the beach.
Solo female travelers should feel safe here. However, as in any city, if you go out, always keep an eye on your drink as spiking can occur here due to the city's lively party scene. For more tips, check out one of the many solo female travel blogs about the city. They can provide specific tips.
While scams here are rare, you can read about common travel scams to avoid here.
If you experience an emergency and require assistance, dial 112.
Always trust your gut instinct. Make copies of your personal documents, including your passport and ID. Forward your itinerary along to loved ones so they'll know where you are.
The most important piece of advice I can offer is to purchase good travel insurance. It protects you against illness, injury, theft, and cancelations. It's comprehensive protection in case anything goes wrong. I never go on a trip without it, as I've had to use it many times in the past.
Split Travel Guide: The Best Booking Resources
These are my favorite companies to use when I travel. They consistently have the best deals, offer world-class customer service and great value, and overall, are better than their competitors. They are the companies I use the most and are always the starting point in my search for travel deals.
Skyscanner – Skyscanner is my favorite flight search engine. They search small websites and budget airlines that larger search sites tend to miss. They are hands down the number one place to start.
Hostelworld – This is the best hostel accommodation site out there with the largest inventory, best search interface, and widest availability.
Booking.com – The best all around booking site that constantly provides the cheapest and lowest rates. They have the widest selection of budget accommodation. In all my tests, they've always had the cheapest rates out of all the booking websites.
Get Your Guide – Get Your Guide is a huge online marketplace for tours and excursions. They have tons of tour options available in cities all around the world, including everything from cooking classes, walking tours, street art lessons, and more!
SafetyWing – Safety Wing offers convenient and affordable plans tailored to digital nomads and long-term travelers. They have cheap monthly plans, great customer service, and an easy-to-use claims process that makes it perfect for those on the road.
LifeStraw – My go-to company for reusable water bottles with built-in filters so you can ensure your drinking water is always clean and safe.
Unbound Merino – They make lightweight, durable, easy-to-clean travel clothing.
Top Travel Credit Cards – Points are the best way to cut down travel expenses. Here's my favorite point earning credit cards so you can get free travel!
BlaBlaCar – BlaBlaCar is a ridesharing website that lets you share rides with vetted local drivers by pitching in for gas. You simply request a seat, they approve, and off you go! It's a cheaper and more interesting way to travel than by bus or train!
Split Travel Guide: Related Articles
Want more info? Check out all the articles I've written on backpacking and traveling in Croatia and continue planning your trip: