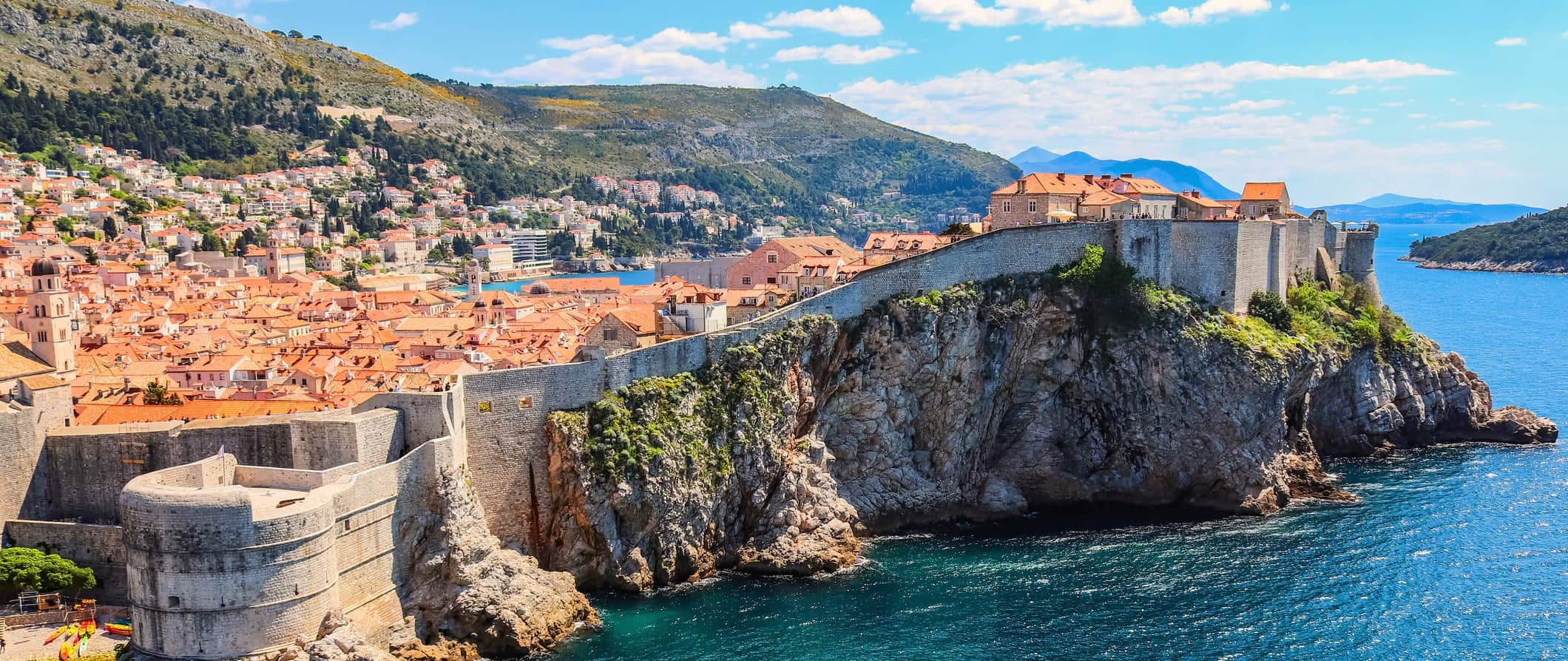 Located on the southern coast of Croatia, Dubrovnik is the most popular destination in the country. Already a booming tourist destination, it was made significantly more popular by Game of Thrones (which filmed here regularly) as well as a recent influx of cruise lines.
On everyone's radar these days, Dubrovnik is beautiful and everything you might want it to be. The city is one of the wonders of Europe, combining a fantastically preserved medieval town surrounded by thick, 24-meter (80-foot) high walls with a glimmering azure sea as its backdrop. It's simply striking.
And, as a bonus, the food and wine scene here has improved by leaps and bounds, and accommodations are plentiful and world-class.
While Dubrovnik does struggle with overtourism, that doesn't mean you shouldn't go. Just be prepared for crowds in the summer (though I would totally skip the summer and go in early spring or late fall). If you get out of the old walled city, you can find a ton of places in the new part of town and in the surrounding regions that are free from the hordes of tourists.
This travel guide to Dubrovnik can help you plan your trip and beat the crowds as you explore Croatia's iconic destination.
Top 5 Things to See and Do in Dubrovnik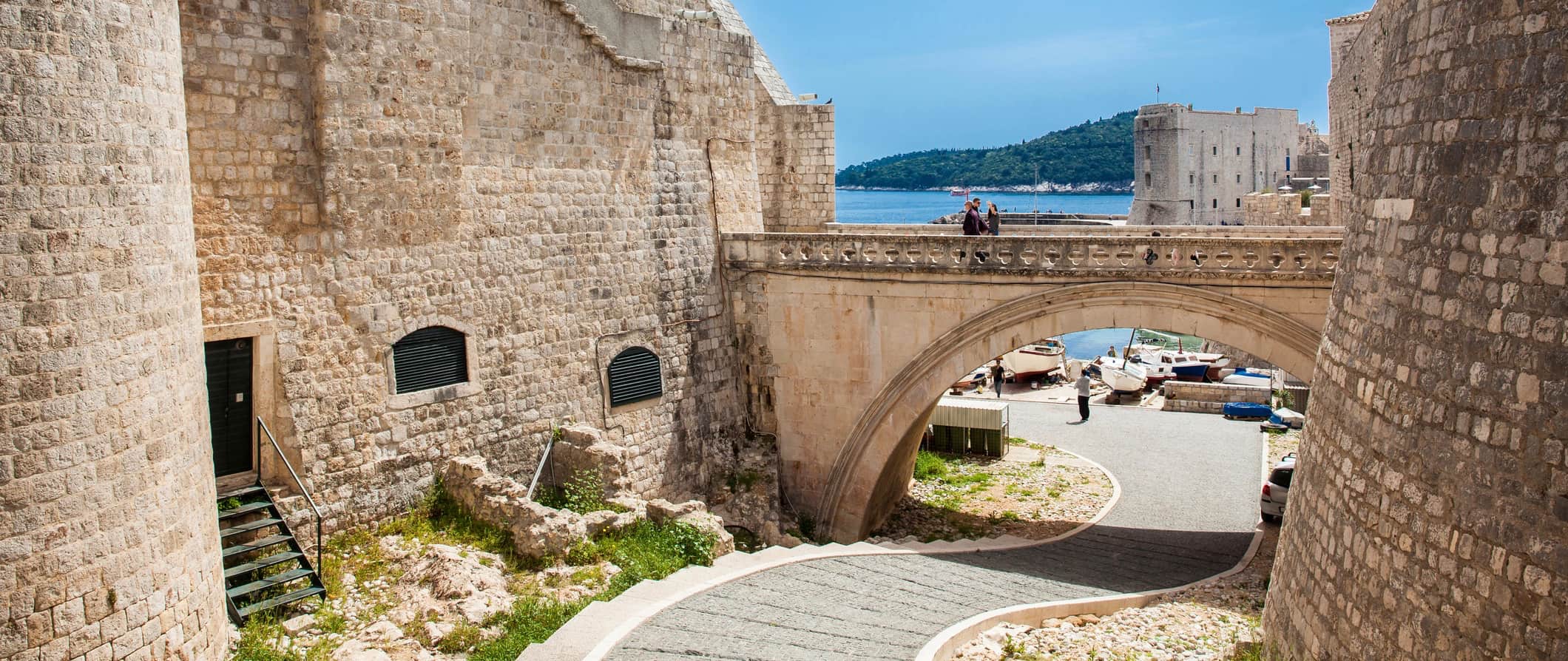 1. Walk the medieval city walls
Walking the walls, which were constructed in the 12th-17th centuries and are still incredibly well preserved, is an obligatory activity for first-timers in Dubrovnik. It's not cheap (and the price seems to go up just about every year), but the 2 kilometer (1.2-mile) journey around Old Town, or Stari Grad, is worth the price. With parts of the walls reaching a maximum height of 25 meters (83 feet), this is the best way to view the city from above. Along the length of the walls, there are an impressive 4 gates, 2 round towers, 2 corner towers, 12 forts, and 5 bastions. Admission is 250 HRK.
2. Explore the beaches
Lapad Uvala is a lovely sandy beach (a rarity in Croatia) on which to plant yourself for a day of swimming and sun-worshipping. Its proximity to restaurants, as well as the long, café-flanked Lapad promenade, makes it popular with both locals and tourists. If you're staying near Old Town, take bus #2 from Pile Gate.
If you don't mind a pebbled beach, Banje is located just a five-minute walk from Old Town. There's a public section as well as the private Banje Beach Club, where you can dance the night away once it turns into a nightclub in the evenings.
3. Take a boat trip
Taking a boat trip is the best way to explore all the islands, coves, caves, and beaches near Dubrovnik. The Elaphites is a nearby archipelago popular for day trips by boat. Take your pick from the variety of tours on offer, including glass-bottom boats, sailing trips, kayaking tours, and sunset and dinner cruises. Another popular boat trip is to the so-called Blue Cave, a phenomenon in which sunlight pouring through the top of a cave lights up the limestone seafloor with a radiant blue color. Boat tours start at 210 HRK for three hours while boat tours to the Blue Cave that also visit Sunj Beach and include drinks are around 600 HRK.
4. Spend time on Lokrum Island
Lokrum, just a 15-minute ferry ride away, is a peaceful, verdant island, ideal for swimming and sunbathing. It boasts hiking trails, viewpoints, a fortress built by Napoleonic soldiers, and a botanical garden. There's even a mini "Dead Sea" on the island — a small, calm lake with very high salt content, in which one can float. Locals also swear that the restaurant Lacroma has the best fried calamari in Croatia. Ferries run every 30 minutes June to September and hourly during the low season (200 HRK round-trip). You can find the schedule here.
5. Visit the Cultural History Museum
A 14th-century Gothic-Renaissance palace hosts Dubrovnik's Cultural History Museum, featuring over 20,000 objects related to the city's history, as well as rooms decorated in period style. The collections include paintings, prints, furniture, textiles, ceramics, metals, icons, glass, photographs, and more, ranging from the 14th to the 20th centuries. The building was also a prominent Game of Thrones filming location (standing in for the Spice King's mansion in Qarth). Admission is 100 HRK.
Other Things to See and Do in Dubrovnik
1. Take a free walking tour
The first thing I do in a new city is to take a free walking tour. It's the best way to see the main sights, learn about local history and culture, and connect with an expert guide who can answer all your questions. Free Dubrovnik Tours offers regular free tours that cover all the highlights around town. Just be sure to tip at the end!
2. Trek up to Fort Lovrijenac
Game of Thrones fans will recognize this imposing citadel as the Red Keep from King's Landing. Nicknamed "the Gibraltar of Dubrovnik" (you'll know why once you lay eyes on it), this 11th-century fort just outside the western walls of Old Town was built in an attempt to keep the dreaded Venetians from invading — and it succeeded. The walls facing the sea are 11-meters (39-feet) thick, allowing Dubrovnik — then called the Republic of Ragusa — to remain an antonymous city-state beyond the control of Venice (this lasted all the way up to 1808, before it succumbed to Napoleon and then the Austro-Hungarian Empire). With your ticket to the walls, you get entry to this fort and thus a very different angle and view of the city. And a very good one at that.
3. Tour the Red History Museum
Dubrovnik is not really known for its museums. But this newish spot, located near the new port in the district of Gruž, is worth the trek from Old Town. The exhibits tell the story of Yugoslavia, a country that included Croatia that dissolved in 1992, making it a good primer for anyone not familiar with the former country's history. There are re-creations of a typical Yugoslav living room from the '60s and '70s, installations on the good parts of socialism, and text-heavy explanations of the country's darker side. Admission is 50 HRK.
4. Drink local craft beer
When the founders of the Dubrovnik Beer Company wanted to open a brewery in this 1,300-year-old city, they did some research in the archives to learn about past breweries in Dubrovnik — only to learn that there had never been one. It seems hard to believe, but, then again, this part of Croatia is all about wine. But you'll want to switch from wine to beer once you sip the delicious sudsy stuff they're brewing here, located in the Gruž neighborhood. Hop on a stool in the taproom and sip from a variety of beers, including the refreshingly crisp lager Maestral, named after the warm northwesterly winds that blow down the Adriatic coast in the summer. The brewery is just around the corner from the Red History Museum, so after taking in some Communist history, you may want a beer or three to digest everything.
5. Visit the War Photo Ltd. Museum/Gallery
When New Zealand-born Wade Goddard decided to retire from capturing combat zones on film, he started an incredible photo gallery dedicated to war photography. This Old Town museum is a must-see, especially for those who want to get a better understanding of the Balkan wars of the 1990s and the 1991-92 siege of Dubrovnik. The images are sometimes shocking and often saddening, but a visit here is important. Admission is about 70 HRK.
6. See the spot where quarantines were born
The denizens of Dubrovnik know a thing or two about quarantines. That's because the practice was first put into regular use here. In 1377, authorities of the city (then known as Ragusa) instituted a 40-day quarantine for incoming visitors due to the Black Plague that was ravaging Europe at the time. The place they designated for this 40-day stay was just east of Ploce Gate, today the most well-preserved historical lazaretti (quarantine structures) in the northern Mediterranean. They are now used for concerts and art exhibitions and other public events.
7. Explore an abandoned Yugoslav-era hotel
A 25-minute walk from Old Town's Ploce Gate is the Hotel Belvedere. Until 1991, when it was bombed during the war, it was a luxurious five-star resort; it even had a helipad for the super-rich. Today it sits unloved and abandoned, making it an intriguing place to visit. If you squint a bit, you can imagine what Yugoslavia may have been like. You may also recognize some parts of the ruined hotel from scenes in Game of Thrones. There's long been talk that a Russian oligarch has purchased the property and plans to restore the hotel to its five-star glory. But until that happens, visitors can still stroll around the ruined grounds before the 1% retake the space.
8. Gawk at medieval art
On the eastern end of Stradun near the clocktower sits the Dominican Monastery, founded in the late 14th century. It's a fun stroll through the complex and admire its Gothic architecture and design, and the cloisters are the most striking part. Make sure you see the art collection and don't miss "Mary Magdalene with SS Raphael, Blaise, and Tobias," the amazing painting by Venetian master Titian (Blaise is the patron saint of Dubrovnik). Admission is 30 HRK.
9. Stroll on Stradun
In the early evening, when tourists and tour leaders retreat, locals descend upon Old Town to stroll the Stradun, its "wide" main street. Specifically, they do a dir — pronounced "dzeer," derived from the Italian giro for doing a "tour" — a slow amble, while greeting old friends and neighbors to gossip. It's a time-honored, centuries-old Dubrovnik tradition.
10. Ride the cable car up to Mt. Srd
There's no better view of town than from the cable car as it soars 1,361 feet up to the top of the mountain. A Napoleonic-era fort at the summit has been turned into a museum dedicated to the siege of Dubrovnik and the wars that broke up Yugoslavia. A round-trip ticket is 200 HRK, available April to October. (Alternatively, you can hike up and down the mountain via a hiking trail.)
11. Explore the Homeland War Museum
While you're at the top of Mt Srd, spend some time visiting this museum dedicated to the 1991–95 Croatian war of independence. Located in a historic fort that played a role in defending the city, the museum features a variety of military memorabilia as well as an English-language documentary. It's a great place to understand more about this dark period of the country's recent history. Admission is 30 HRK (cash only).
12. Go on a Game of Thrones tour
For an in-depth look at many filming locations for the famous HBO series, a tour is the way to go (most King's Landing scenes were filmed here). There are countless to choose from, from walking tours to sailing tours, some complete with props so you can stage your own photos on location. The Ultimate Game of Thrones Tour lasts two hours and costs around 150 HRK.
If you're on a budget, there's also now a free Game of Thrones tour — just remember to tip your guide at the end!
13. View works by Croatian artists
Visit the Museum of Modern Art Dubrovnik (MoMAD) to gain a deeper understanding of Croatian culture through the eyes of Croatians themselves. The museum is located in a former shipbuilder's mansion and features over 3,000 works by prominent Croatian modern artists. Free admission is available as part of the Dubrovnik Pass.
14. Enjoy a wine tour
Croatian winemaking dates back over 2,500 years to the ancient Greeks. Today, Croatia is one of the world's top producers, mainly focusing on white wines due to the area's particular climate. On a tour, you'll explore the rolling hills covered in vineyards, learning about the country's beloved winemaking traditions that haven't changed in centuries. Dubrovnik Wine Tours offers full-day tours starting at 1,130 HRK.
15. Take a food tour
If you prefer to skip the wine and just focus on the food, there are plenty of tours that do just that. Sample traditional Croatian favorites like freshly caught seafood, prosciutto, black risotto, and traditional desserts, like rožata (caramel flan). Dubrovnik Food Tours offers a variety, including an Old Town tour, a culinary boat cruise, and even cooking classes, starting at 565 HRK per person.
16. Day-trip to another country
Dubrovnik's location makes it ideal for popping into another country for a day. Mostar in Bosnia and Herzegovina and Kotor in Montenegro are both picturesque historic cities that can easily be visited in a day. If you don't want to go solo, Super Tours organizes full-day tours into Montenegro for just 375 HRK per person while full-day tours to Mostar are just 300 HRK.
17. Visit the Maritime History Museum
Visit this more off-beat museum for an in-depth look at this important port's maritime history. The small but fascinating museum includes artifacts such as old maps, navigational instruments, objects uncovered from shipwrecks, models of historic ships, and more. Admission is 130 HRK, which also includes entry to all the Dubrovnik city museums.

For more information on other cities in Croatia, check out these other guides:
Dubrovnik Travel Costs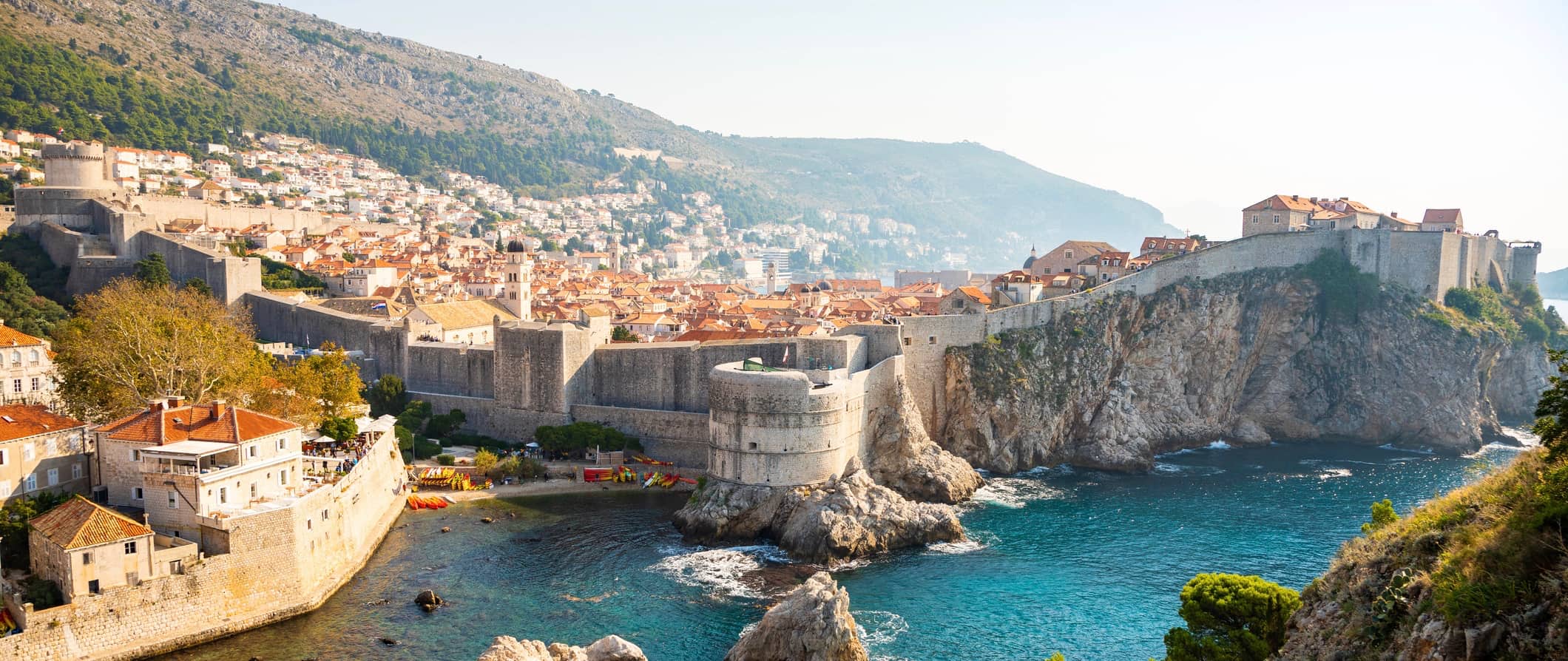 Hostel prices – Hostels in Dubrovnik's Old Town are few and far between. And they are expensive, with prices starting at 195 HRK per night for a dorm (120 HRK in the off-season). Private rooms start at around 375 HRK per night. Free Wi-Fi is standard, though self-catering facilities are rare.
Note that many hostels close in the winter.
Budget hotel prices – Hotels are not cheap in Dubrovnik, especially in Old Town. For a typical two-star hotel, expect to pay around 450 HRK per night during the low season and about 800 HRK during the high season. This gets you basic amenities like free Wi-Fi and TV, and occasionally free breakfast.
If you want your own apartment in Dubrovnik, expect the cost to fluctuate depending on location. In Old Town, which is basically one giant Airbnb these days, high-season apartments cost around 400-600 HRK per night for a one-bedroom flat. For apartments outside of the center, expect to pay around 300 HRK per night. During low season, Old Town apartments can drop down to about 250 HRK per night.
Food – Croatian cuisine has influences from Central Europe, the Mediterranean, and the Balkans. Seafood is a prominent staple in Dubrovnik, owing to its location on the coast, and sausage and schnitzel can be found at most traditional restaurants as well, as can a variety of pasta dishes and stews, especially goulash.
Like everything else in Dubrovnik, eating out is not exactly cheap. Expect to pay about 130-190 HRK per person (without drinks) at most restaurants. If you want to splurge, a three-course meal at a mid-range restaurant costs around 250 HRK.
For fast food (think McDonald's), a combo meal costs around 50 HRK. Sandwiches from Milnar (a bakery chain) are your cheapest to-go option, usually costing around 30 HRK.
Beer costs around 30-40 HRK, while a latte or cappuccino is around 15 HRK. Bottled water is usually around 15 HRK.
If you plan on cooking your own food, expect to spend 230-275 HRK for a week's worth of groceries. This gets you basic staples like rice, pasta, seasonal produce, and some meat or fish.
Backpacking Dubrovnik Suggested Budgets
If you are backpacking Dubrovnik, my suggested budget is 355 HRK per day. This assumes you're staying in a hostel dorm, cooking all of your meals, limiting your drinking, doing free activities like hiking and walking tours, and using local transportation to get around. You'll need to budget more if you're visiting in the summer or if you plan on drinking.
On a mid-range budget of 925 HRK per day, you can stay in a private Airbnb or private hostel room, eat out for most of your meals, have a few drinks, take some guided tours, take the occasional taxi to get around, and visit more museums and attractions, like walking the walls and going to the Game of Thrones museum.
On a "luxury" budget of 1,825 HRK per day, you can stay in a hotel, rent a car to get around, do private guided tours, eat and drink as much as you'd like, and visit as many museums and attractions as you want. This is just the ground floor for luxury though. The sky is the limit!
Accommodation
Food
Transportation
Attractions
Average Daily Cost
Backpacker
200
75
30
50
355
Mid-Range
450
325
75
125
925
Luxury
700
600
200
325
1,825
Dubrovnik Travel Guide: Money-Saving Tips
Dubrovnik is the most expensive city in Croatia, especially during the peak summer months, when prices shoot through the roof. It's simply not a budget destination during the summer. It's best to visit in the shoulder seasons if you're on a budget, as accommodation prices become much more affordable. Here are a few ways to save money no matter when you go though:
Buy a Dubrovnik Card – Purchase a Dubrovnik Card at the main tourist office at Pile Gate outside of Old Town and you'll get free entry to the walls, the Franciscan Monastery, the Rupe Ethnography Museum, and the Museum of Modern Art, in addition to a handful of other sites. It also gives you free transportation on city buses and up to 30% discount on certain restaurants, shops, and excursions. There are three types of cards: 1 day for 250 HRK, 3 days for 300 HRK, and 7 days for 350 HRK.
Walk everywhere – Dubrovnik's outsized reputation and popularity belies its small size. It's a very walkable city. You could trek from one side of town to the other in about an hour. But most of the sites you'll want to visit are less than a 30-minute stroll.
Bring a reusable water bottle – The tap water in Dubrovnik is safe to drink when there's not a rainstorm (for reasons that are too complicated to explain here). Bring a reusable water bottle to save money and reduce your reliance on single-use plastic. LifeStraw is my go-to choice, as it makes a bottle with a built-in filter that ensures that your water is always clean and safe.
Travel during off-season or shoulder season – To avoid the higher summer prices, visit during the shoulder season (see below for details). Additionally, stay outside the Old Town in the Gruz, Lapad, and Zupa areas. Prices are much lower there.
Cook your own meals – Dubrovnik is the most expensive city in Croatia, so avoid eating out here if you're on a tight budget. Head to the market, grab some fresh food, and cook your own meals. You'll save a fortune.
Stay with a local – The best way to save on accommodation is to Couchsurf. You'll not only get a free place to crash but also connect with a local insider who can teach you about the city and its culture. If you don't want to stay with a stranger, you can also use the app to meet people for coffee and other activities.
Take a free walking tour – Free tours are the best way to learn about a destination and see the highlights on a budget. Just be sure to tip your guide at the end!
Visit accessible destinations – Instead of going on tours, which can often be way more expensive, consider going to destinations that are fully accessible by public transportation. For example, instead of Lokrum Island (150 HRK return), consider Lopud (also one of the gorgeous Elafiti islands) on the Jadrolinija ferry for around 46 HRK return. Additional destinations that can be easily reached by public ferry include to Pomona (on Mljet) for as little as 35 HRK.
Eat at Milnar – The best way to eat on a budget besides cooking is to eat sandwiches and slices of pizza at shops like Milnar. These offer the cheapest foods in the city.
Pay in local currency – When paying with a credit card, if you're asked whether you want to pay in the local currency rather than US dollars (or whatever currency your card is tied to), always choose the local currency. You always get a better rate with the local currency.
Where to Stay in Dubrovnik
Dubrovnik has plenty of fun, social, and affordable hostels. Here are some of my favorite places to stay there:
How to Get Around Dubrovnik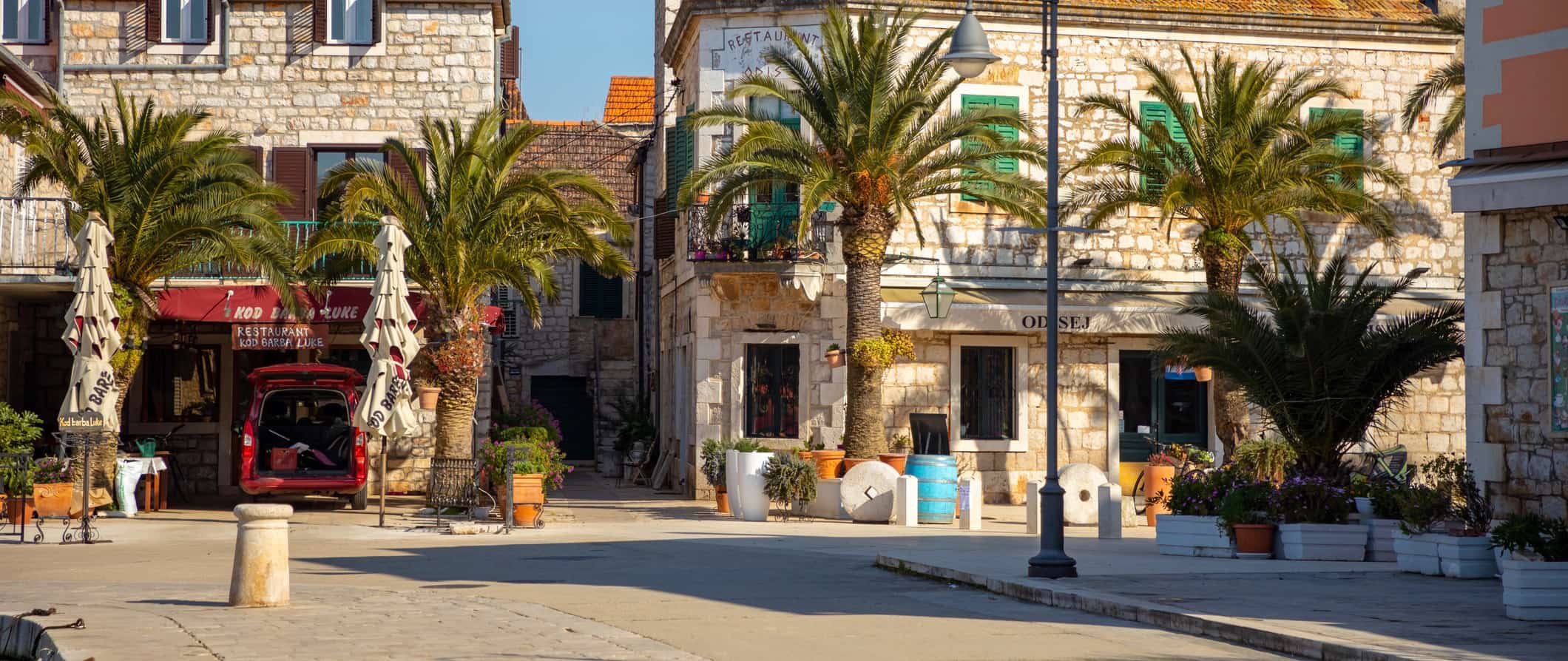 Public transportation – City buses are the way to go in Dubrovnik. There are nine lines, and nearly all of them end up at Old Town at some point. You can buy a ticket onboard or purchase one at any newspaper kiosk and validate it once you board. Tickets from kiosks cost 12 HRK; onboard they cost 15 HRK.
Taxis – Taxis start at 25 HRK and go up by 8 HRK per kilometer. Skip them if you can, as that adds up quickly and will blow your budget. A taxi from the bus station to Old Town is around 90 HRK. Prices are also set, so don't try to negotiate a lower fare. You'll get nowhere.
Ridesharing – Uber is available and cheaper than taxis. One thing to keep in mind is that drivers are notorious for canceling. If you're planning to use a rideshare, budget some extra time for your trip just in case one cancels.
Bike rental – Dubrovnik isn't a great city for biking, owing to its busy roads. Bike rentals aren't super cheap either, costing around 150 HRK per day.
Car rental – You don't need a car to get around town. However, if you plan to explore the region, a vehicle might come in handy. Rentals start around 100-130 HRK per day for a multi-day rental. Drivers need an international driving permit (IDP).
For the best car rental prices use Discover Cars.
When to Go to Dubrovnik
Dubrovnik changes dramatically from summer to winter and back to summer again. In summer, it is overwhelmed with tourists. In winter, it's almost dead, and a lot of shops and restaurants close until March or April.
Fortunately, there's always that happy medium: shoulder season. April-May and mid-September to the first week of November are excellent times to go. Prices are lower than in summer, and there are fewer tourists. Expect highs in the shoulder season to be around 23°C (73°F).
If you must choose between the spring and autumn shoulder seasons, go with April-May. Locals are very happy to get back to work after a winter of doing nothing, so they welcome visitors with open arms. By September or October, though, they start to get tired and crabby from working hard during the long tourist season and are not as pleasant.
If you go in winter, time your visit to the annual Dubrovnik Winter Festival, a multiweek extravaganza that centers around Old Town. It's the one time you'll see only locals using the historic center the way it had been for centuries: a place for residents and not tourists. It usually runs from the last week of November until January 6.
How to Stay Safe in Dubrovnik
Dubrovnik is a safe place to backpack — even if you're traveling solo, and even as a solo female traveler. The city is relatively free of crime, even petty theft. There have been spurts of pickpocketing in the last couple of years, but the police have done a good job of stomping it out.
That said, always keep your valuables secure and out of sight when in crowded areas and when on public transportation, just to be safe. Also, never leave your things unattended when at the beach. Thefts are rare but they can occur.
Solo female travelers should feel safe here but, the standard precautions apply (never leave your drink unattended at the bar, never walk home alone at night if you've been drinking, etc.). For more tips, check out one of the many solo female travel blogs about the city. They can provide specific tips.
Luckily, save for the shady, dodgy restaurants on Prijeko Street in Old Town, there are very few scams in Dubrovnik. Still, if you're worried about getting ripped off here's a list of common travel scams to avoid.
When hiking, always bring water and sunscreen. Be sure to check the weather before you depart, and dress accordingly.
If you experience an emergency, dial 112 for assistance.
Always trust your gut instinct. Make copies of your personal documents, including your passport and ID. Forward your itinerary along to loved ones so they'll know where you are.
The most important piece of advice I can offer is to purchase good travel insurance. It will protect you against illness, injury, theft, and cancelations. It's comprehensive protection in case anything goes wrong. I never go on a trip without it, as I've had to use it many times in the past.
Dubrovnik Travel Guide: The Best Booking Resources
These are my favorite companies to use when I travel. They consistently have the best deals, offer world-class customer service and great value, and overall, are better than their competitors. They are the companies I use the most and are always the starting point in my search for travel deals.
Skyscanner – Skyscanner is my favorite flight search engine. They search small websites and budget airlines that larger search sites tend to miss. They are hands down the number one place to start.
Hostelworld – This is the best hostel accommodation site out there with the largest inventory, best search interface, and widest availability.
Booking.com – The best all around booking site that constantly provides the cheapest and lowest rates. They have the widest selection of budget accommodation. In all my tests, they've always had the cheapest rates out of all the booking websites.
Get Your Guide – Get Your Guide is a huge online marketplace for tours and excursions. They have tons of tour options available in cities all around the world, including everything from cooking classes, walking tours, street art lessons, and more!
SafetyWing – Safety Wing offers convenient and affordable plans tailored to digital nomads and long-term travelers. They have cheap monthly plans, great customer service, and an easy-to-use claims process that makes it perfect for those on the road.
LifeStraw – My go-to company for reusable water bottles with built-in filters so you can ensure your drinking water is always clean and safe.
Unbound Merino – They make lightweight, durable, easy-to-clean travel clothing.
Top Travel Credit Cards – Points are the best way to cut down travel expenses. Here's my favorite point earning credit cards so you can get free travel!
BlaBlaCar – BlaBlaCar is a ridesharing website that lets you share rides with vetted local drivers by pitching in for gas. You simply request a seat, they approve, and off you go! It's a cheaper and more interesting way to travel than by bus or train!
Dubrovnik Travel Guide: Related Articles
Want more info? Check out all the articles I've written on backpacking and traveling Croatia and continue planning your trip: